Rest in Abrau-Dyurso
Abrau-Durso is a beautiful and picturesque resort located in the mountains, 18 kilometers from Novorossiysk. The settlement consists of two parts. Abrau – in the mountains, 5 km from the sea coast, along the shores of the lake of the same name. Dyurso – near the Black Sea.
The resort is good because here you can combine beach seaside recreation with mountain walks, excursions to the Abrau-Dyurso champagne factory.
This article contains information about Abrau-Dyurso: the best time to go, what to do, what the prices are, where to live, and how to get to the resort.
When to go on vacation
The best time to vacation in Abrau-Dyurso is the second half of summer and September. That's if beach vacation is a priority. If it's not in first place, you can come here at any time of year. But in late autumn and winter it is cloudy and rainy in Abrau-Durso. At the rest of the time clear and sunny weather is almost always.
Where to relax
The main part of the village of Abrau-Dyurso occupies a picturesque valley in the mountains along the shore of Lake Abrau. It has the most accommodation options from luxury hotels "Imperial" and "Wings" to modest economy class hotels and rooms in the private sector.
A smaller part of the resort is Dyurso farm, located near the Black Sea coast. Here hotels appeared recently, they are all new. In the private sector, the choice of housing is small.
Beaches
Central beach of Dyurso (Photo: Pavel Spirin | Fotobank Lori)
In Abrau-Dyurso you can swim both in the sea and in the lake. The bottom of Lake Abrau is flat, the entrance to the water is mostly flat. But there are no equipped beaches, but you can take a ride on a boat or catamaran.
Beaches on the coast delight you with crystal clear water. The major beach of Dyurso is covered with small pebbles, elsewhere you will find bigger stones.
Beaches of Abrau-Dyurso
Central beach "Dyurso"
Wild Diana beach
Abrau Beach (landscaped part of the beach "Sweet estuary")
The beach of the boarding house "Moryak
What to see
Wine tourism center of Abrau-Dyurso (Photo: Natalia Garmasheva | Fotobank Lori)
In Abrau-Dyurso, guests mainly come to visit the champagne factory and tunnels in the mountain where the champagne ripens. In the daytime you can go hiking in the mountains, where among the vineyards there are interesting tourist sites "Grape House" and "Yoga House"; visit a master class on operating a mini yacht or a sailing board – in the yacht club of Lake Abrau. In the evening – enjoy a large-scale light and music performance of "singing fountains", beating directly from the lake.
Sights of Abrau-Dyurso
Abrau-Durso" champagne factory
"Wine Maker's House"
"Yogi House"
Abrau lake quay
The King Bottle of champagne
Monument to Utesov
Entertainment in Abrau-Dyurso
Mountain hiking (there are several tourist routes of different complexity)
Yacht Club
"Singing" fountains
Cultural and tourist complex "Russia
Abrau-Durso equestrian school
Soccer World" base
Excursions
Interesting excursions in Abrau-Dyurso are conducted by local guides. Walks around the lake, vineyards, visiting the champagne factory and tasting drinks – you can choose the most suitable option.
Excursion Abrau-Dyurso magnificence
An excursion around Abrau-Dyurso, during which guests of the resort will walk along the picturesque lake, stories about Prince Golitsyn and a visit to the champagne factory. Guide will tell the most interesting stories about local attractions and events.
Order tours online
You can choose and order a private or group tours online. The cost of the tour starts at 400 rubles per person.
Rest with children
For a holiday with children Abrau-Dyurso is well suited. There are a lot of cozy places and entertainment for kids on the waterfront. On the square in front of the winery at weekends and holidays are entertaining programs for children – with animators, mascots, fun competitions. It is interesting to spend time in the entertainment complex "Russia" or during a hike in the mountains.
Note that the Chetornomorsky beach "Dyurso" – fine pebble, with a gentle shore and smooth entrance to the water is ideal for recreation and swimming for children.
Depending on the level of the hotel or resort, a place for one person in the season costs from 1 to 6 thousand rubles per day. In the off-season the cost is almost not reduced, because in Abrau come all year round, not only for beach recreation.
Sanatoriums and resorts
There are no medical and preventive institutions in Abrau-Dyurso. To the north of the beach "Dyurso" is a boarding house "Moryak". Rest there is recommended for those who want to improve their respiratory system. "Moryak" is located in a pristine cypress-mozhzhevel forest with healing air.
To the south of the beach "Dyurso" in a secluded tract of Maly Liman is a boarding house "Zvezdny. On its territory there is an indoor swimming pool and well-developed sports complex. Therefore, in addition to vacationers, soccer teams often come to "Zvezdny" for training camps.
To visit the sanatorium, consult your doctor. Possible contraindications. Reservations for sanatoriums are made through the website of the "Expert Medical Center".
Hotels and hotels
In Abrau an excellent choice of hotels of all levels of comfort and service. A week's stay costs from 7 thousand roubles (2-star hotel "Sport") up to 70 thousand roubles (4-star hotel "Imperial") per person.
Staying in Dyurso costs from 7 thousand roubles (hotels "Laguna", "Dyurso") up to 42 thousand roubles (new hotel-castle "Dyurso Tower") per person per week.
Check prices and book rooms in Abrau-Dyurso conveniently via Yandex.Travel.
Avianity hotel search offers a large selection of accommodation options and shows interesting offers with discounts of up to 60%.
Accommodation for rent
In Abrau-Dyurso rent rooms in the private sector, at prices from 800 rubles per day. But the offers are not many. The local rental market is dominated by mini-hotels and guest houses. You can get a room in them from 1 thousand rubles per person per day.
You can find the current prices of accommodation in Abrau-Dyurso and book it on "Sudno.ru". The service shows 60 proposals from the owners of the apartments.
In Abrau-Dyurso there are establishments of any level: canteens, cafes, bars, restaurants. For example, the canteen of the winery is decorated in the vintage style, "like the USSR," where the average bill for a set meal starts at 250 rubles. On the beaches of "Dyurso" and "Abrau Beach" there are cozy beach cafes.
Popular establishments of Abrau-Dyurso:
Petit Cafe
Dining Room № 1
Aqua Barbeque Bar
1870 Wine & Food Bar
Abrau Junior Family Cafe
Imperial Restaurant
Villa Roses Restaurant
"Grand Cafe Abrau-Durso
Cafe "Round lake"
Cafe "Buffet
Abrau-Durso" Confectionery
Food-court in Abrau-Dyurso
There is a supermarket "Magnit", stores "Grotto" and "Wine Cellar" and a fair (food market) in Abrau-Dyurso.
Address of the fair in Abrau: Industrialnaya st., 18 (Yandex Maps | Google Maps)
How to get there
You may get to Abrau-Dyurso by car or by bus. Trains go to Novorossiysk (21 km), airplanes fly to airports in Gelendzhik (57 km) and Vityazevo in Anapa (73 km).
Plane
Planes arrive at the airports of Gelendzhik and Anapa from many cities in Russia and neighboring countries. Flights are performed by Pobeda, Aeroflot, Russia, S7 Airlines, Utair and others.
Address of Gelendzhik airport: Solntedarskaya street, 10 (Yandex Maps | Google Maps)
Address of Anapa airport: Anapa-7, Vityazevo village (Yandex Maps | Google Maps)
Air ticket prices to Gelendzhik
Moscow – Gelendzhik from 1 500 rub.
St. Petersburg – Gelendzhik from 2 500 rub.
Yekaterinburg – Gelendzhik from 2 000 rub.
Irkutsk – Gelendzhik from 8 300 rubles.
Ufa – Gelendzhik from 4 100 rub.
Tyumen – Gelendzhik from 6 000 rub.
Cheapest air tickets to Gelendzhik
The cheapest tickets to Gelendzhik, which bought through Avianiti search.
Excursion to Abrau-Durso Winery (Abrau-Durso village, Novorossiysk, Russia) – review
Abrau-Durso winery-2022: types and schedule of tours, current prices and information. What we chose and how it was.
I love it when on trips I get to go on excursions, see, learn something new.
And being in Novorossiysk, could not miss a chance to visit Abrau-Dyurso.
I doubt that in the expanses of our country someone (except for children) does not know this name.
And of course it was the sparkling wine produced under this brand that made it so famous. We went on a tour to the plant.
In general, this company is actively working to attract tourists. And it is encouraged not only by the beauty of the surroundings where the winery is located and the vineyards, but also by the rich history of the enterprise, which has already existed for more than 150 years.
At first "quiet wines" were produced here, and the first sparkling wine from the winery was on sale in 1898.
And "indulging" the interests of fans of both sparkling and still wines in Abrau-Dyurso offers a variety of themed tours, with or without the tasting. There are many of them, the schedule is very dense, judge for yourself:
For example, route #1 – Historical Excursion without tasting – is suitable even for children 3+, and from 3 to 5 years old is free. And the retro-bus tour (route #8) can theoretically be taken even by newborns.
See the table below for tour options, programs, and prices.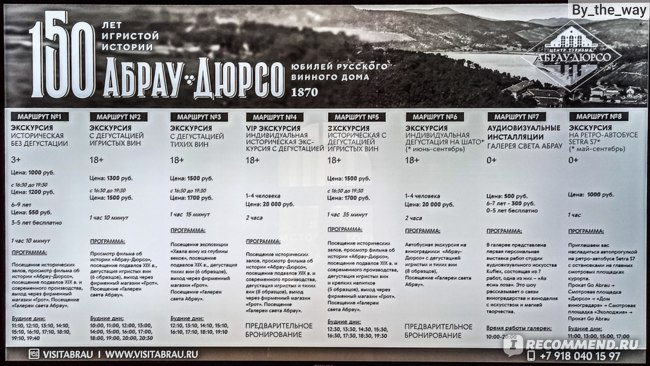 We chose Route #5: Historical excursion with tasting of sparkling wines 18+.
Its price is 1500 rubles per person, children tickets/discounts are not expected in connection with the tasting, in the evening (from 16:30) the price goes up to 1700 rubles.
The logic of the pricing is simple: since July began the fountain shows, which are held at 21:00 and 22:00, and apparently many people prefer to use the opportunity to visit both the tour and the show, arriving in the 2nd half of the day.
In my opinion, unless you take exclusive/individual tours, this tour is the most comprehensive.
I will say right away that in our group was 15-20 people (but I repeat: I think there are more willing in the evening), crowded anywhere was not, the guide was heard perfectly: it broadcasts into the microphone with a portable speaker. But first things first.
For tickets you go to the ticket office, which is near the bottle fountain, and then you wait for the start in a cozy little patio courtyard.
As a form of entertainment, you can read quotes from famous people who have ever mentioned Abrau products.
The tour starts in the historical halls.
Here you can see portraits of Abrau-Durso landmark people,
numerous awards won by the products at exhibitions in different years,
shows how the packaging/labels of Abrau-Durso changed.
This includes a story of Victor Dravigny, under whose leadership the process of champagnization was launched in Abrau-Durso. There are a few of his personal belongings on display.
I liked the display case with vintage champagne glasses.
The next room talks about the historical nuances of agricultural techniques in the region, and how things have changed.
At the end of this brief lecture you are taken to the cinema room, where a short (7 minutes) film is shown.
And then there's a walk through the halls, where future produce is roaming/ripening/maintaining in the damp darkness.
It tells how the classic champagne production method looks like,
What is assemblage and why is it needed,
how the approach to production changed and what was done to make an elite drink for the "counter-revolutionary" elements appear on every New Year's table in Soviet families.
You walk past batches of the real, bottled celebrity drink ripening.
At one more place the guide pauses to tell you that now in Abrau-Dyurso there is also cheese production.
You go into a modern workshop, where the process is already automated.
And finally you get to the tasting room.
On the bar next to the guide are the tasting products.
There are 5 glasses for each taster: 4 for champagne and 1 for cognac.
As it turned out, there are 4 kinds of sparkling wine and 1 kind of cognac to try.
Moreover, the cognac is Dagestan, KVVK, and the brand name Abrau-Durso, as a guarantee of quality, and only.
Of those offered, I probably liked the Blanc de Blanc and the Blanc de Noir (#3 and #4). But: the drinks were served very chilled, the glasses were fogging quickly even though it was cool in the hall (you understand that it reduces the expressiveness of flavors, both positive and not so positive). Salted pretzels were offered as a taste neutralizer (there was a bowl on every table).
But cognac was not impressed: its taste seemed to me stiff and flat, with a pronounced bitterness. The aroma did not seem pleasant either.
Under the description of each drink you can see the price . Use it as a guide to understand how much this product costs in the company's brand stores. It is in one of them ("Grotto") that you are taken out at the end of the tour.
There are also other kinds of champagne, souvenirs (such as "Tula" gingerbread with firm name (150 rubles)), cheese (3500 rubles), etc.
People buy enthusiastically. But you want to be honest? We often buy Abrau-Durso in stores and we know our way around prices. And I'll say this: the prices in the factory stores are intended for the "heated" public.
But this is often the case in tourist places, so we'll treat everything philosophically and act according to the dictates of reason / heart – who are used to.
Yes, and more of useful information: in the basement temperature drops to 14 degrees, it's better to have something to put on your shoulders.
Photography on the tour, as you can see, is allowed, but the video is prohibited.
This ticket gives you the right to visit another activity: the audio-visual installation, which is called in the sign as route #7. It is located in another place, just before the ticket office up the stairs.
As a summary: despite the fact that I had been to the wineries before, I liked the tour. It's quite a non-stressful/entertaining event that fits perfectly with my idea of a vacation. So I recommend it and give it an A.