Krasnaya Polyana: recreation tips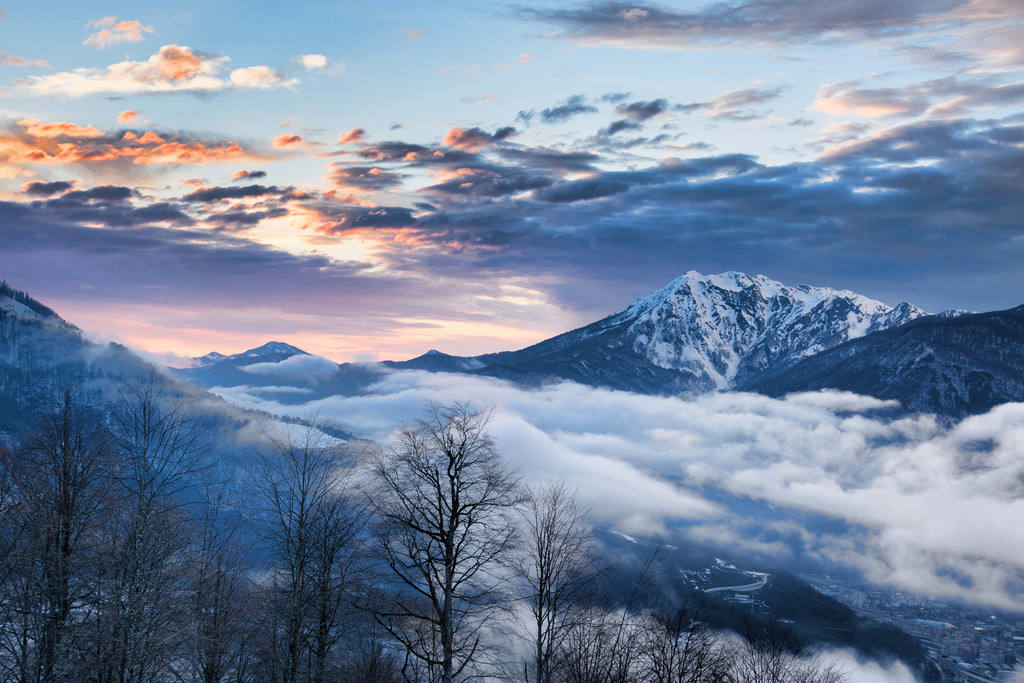 Find out what reviews left by tourists about rest in Krasnaya Polyana in 2021. What the weather, hotels, cable cars, excursions and entertainment. The nuances of recreation at the resort in winter and summer.
Content:
Pros and cons of rest in Krasnaya Polyana
A mountain resort in the valley of the river Mzymta is attractive to tourists all year round. In the cold months here skiing and snowboarding. In the warm season, fans of hiking, horseback riding, cycling, quad biking safaris and rafting come to Krasnaya Polyana.
Advantages of rest in Krasnaya Polyana in 2022, according to tourists' reviews:
Convenient to get from Sochi.
Many comfortable hotels.
Water parks and swimming pools.
Modern spa centers.
In summer, prices are much lower than in winter season.
Interesting excursions.
The purest mountain air.
The heat is easier to bear than on the Black Sea coast.
Gorgeous nature.
Curt2018: "Looked around on the way up. What Switzerland is like there, ours is no worse.
Disadvantages :
Expensive vacation.
If you go on a day trip, a lot of time is spent on the road.
Poor service in some cafes and restaurants.
Ekaterina Ivanova: "Sometimes I thought they would throw a menu at me or put a pizza I ordered on my head.
Rosa Khutor ski resort, Krasnaya Polyana. Photo: irinabal18 / Depositphotos.com.
Reviews of the weather in Krasnaya Polyana
Skiing in Krasnaya Polyana begins in November. The best months for winter sports are February and March. In April, most of the slopes are closed. In spring and summer, fans of trekking come here. The trails in the valley are available from May and on the peaks from June.
Air temperature in Krasnaya Polyana in summer:
June +23°C;
July +24 ° C;
August +25 ° C;
September +23 ° C.
If you decide to go up the cable car, even in the heat of summer, take warm clothes with you. Up there can be a cold wind and rain.
VishnyaRed: "It's much colder at the top, so you can warm up in one of the many cozy cafes with panoramic views."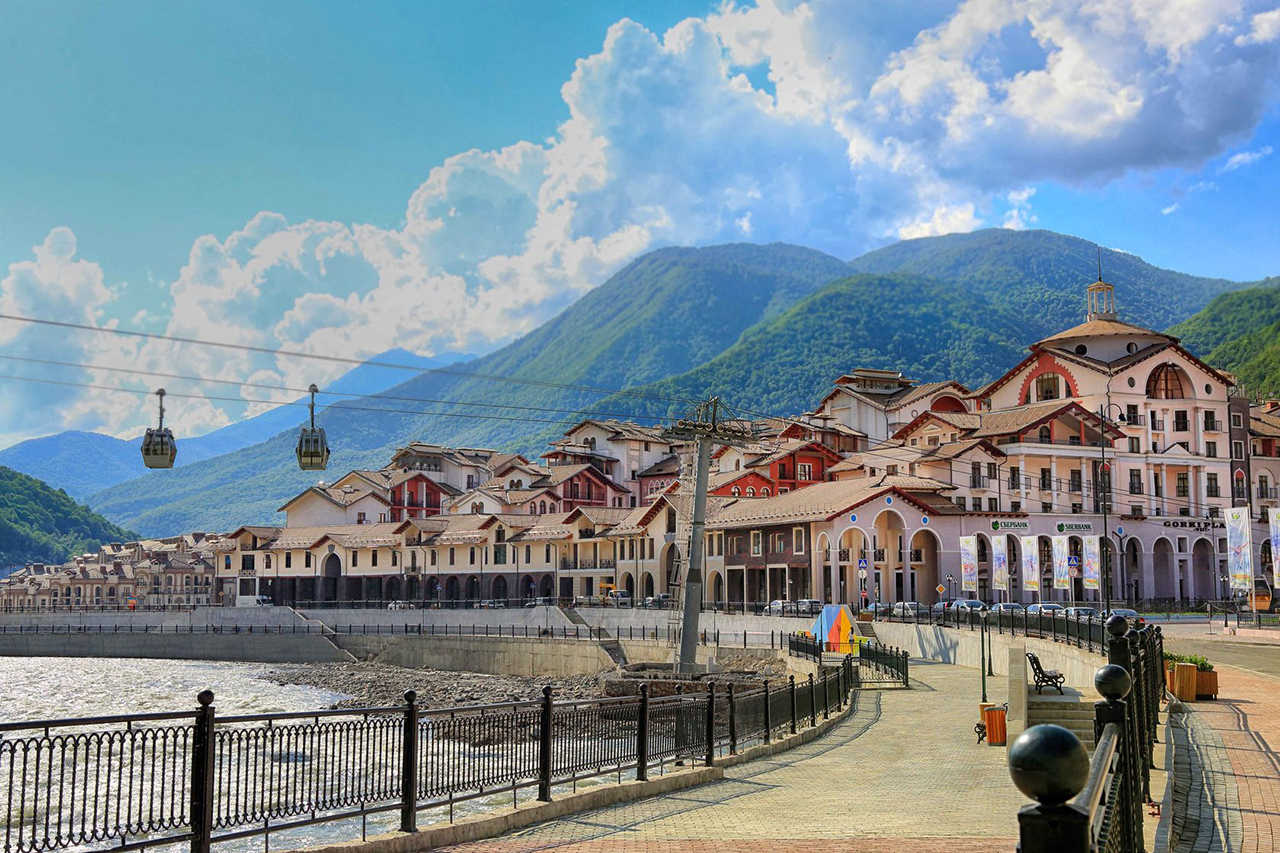 Gorky Gorod Resort at Krasnaya Polyana in summer (Photo: tripster.ru)
Hotel reviews in Krasnaya Polyana
Look for discounted hotels on Rumguru and private accommodation on Sushtov. Here are the main rules of hotel search.
The choice of hotels in Krasnaya Polyana is huge – over 200 options. Most of the hotels are newly built, so the infrastructure is good. Near the village of Krasnaya Polyana is the village of Esto-Sadok, where the main Olympic facilities are located: "Alpika-Service", "Gornaya Karusel", "Gorky Gorod", the resort "Rosa Khutor", "Gazprom" and "Laura". Private sector in Krasnaya Polyana →
Hotels 2-3* prevail in Krasnaya Polyana. There are about two dozen comfortable hotels 4-5*. Accommodation at the resort is more expensive in winter, during the New Year holidays. In summer 2022 a double room in a 3* hotel costs 1200-1500 rubles per day, and in a 4-5* hotel – 3200-4500 rubles.
The tourists left a lot of positive feedback about Krasnaya Polyana hotels.
Lyubov: "In the" Sochi Marriott "breakfast varied, hungry just will not go away. The chairlift to the mountains is a ten minute walk. We have a supermarket, a shopping mall, and a lot of cafes nearby.
Nikolay : "The kitchen, washing machine and dishwasher are definitely pluses of Skypark Hotel. Excellent option for those traveling by car.
Alexandra : "Bridge Mountain has a gorgeous mountain view, clean room and friendly staff. We are really happy.
Dashahova : "We stayed in Walnut Grove, it was a spacious room with a big balcony, a huge bed and a beautiful view. Responsive hosts, the kitchen has everything for cooking.
Galina : "The Spa Hotel "Belarus" is perfect for a family vacation. The view of the mountains is very beautiful from any point. The territory is landscaped, excellent playgrounds for children.
Rosa Khutor in winter (Photo: tomkellyphoto / flickr.com)
Reviews about excursions and entertainment in Krasnaya Polyana
According to tourist reviews, during the vacation in Krasnaya Polyana, it is interesting to climb the highest observation platform of Sochi – Stone Pillar Mountain (2509 m). We advise to visit the Caucasus Biosphere Reserve, a bee nursery and near the spring of the Pslukh.
Tourists have written many positive reviews about the water park Krasnaya Polyana "Galaxy". The water entertainment center is located on the territory of the tourist center "Gazprom".
Popular excursions in Krasnaya Polyana:
Looonely_Traveller: "Galaktika water park's outdoor pool is large, with several hot tub areas, a gorgeous view of the mountains and a very proper water temperature."
According to the reviews, excursions from Krasnaya Polyana to Sochi, Adler Sochi Park, Akhshtyrskaya Cave and Psakho Canyon are popular among tourists.
Anastasia: "We went biking. We are very pleased. The route is picturesque, there are a lot of stops for taking a breath and photos. Read more about the tour →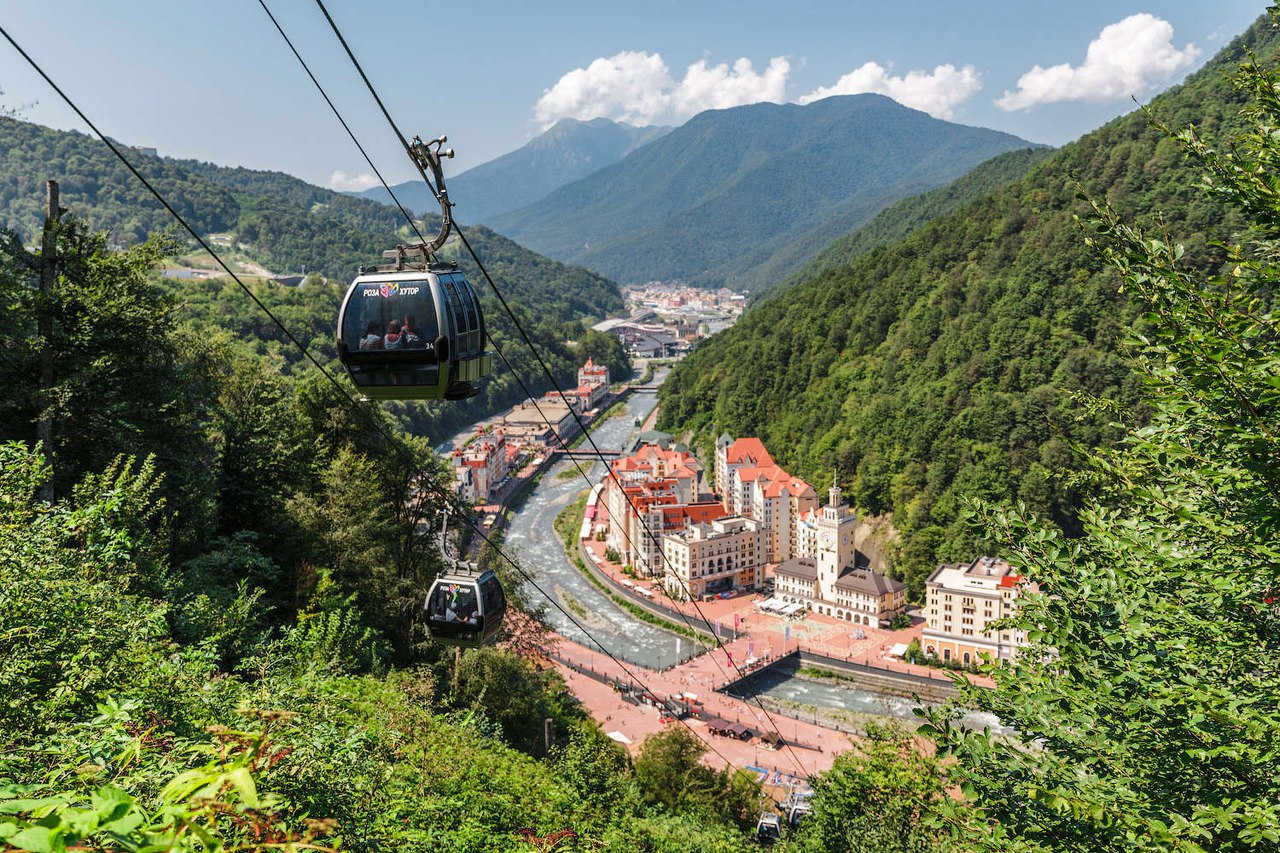 Elevator in Krasnaya Polyana (Photo: tripster.ru)
The nuances of vacationing in Krasnaya Polyana
Sochi resort is versatile. According to tourist reviews, Krasnaya Polyana is liked by parents with children, elderly travelers and lovers of active recreation in years. There are good balneological centers and hotels for family vacations. In winter the slopes of the mountains are available for skiers and snowboarders, and in summer for fans of trekking, biking trails and extreme attractions.
Fidelio1974: "We toured the entire resort. The impressions are very positive. Transportation is excellent: cabs, buses, trains. Everything is of the highest order.
Budget accommodation in Krasnaya Polyana is in demand. Book your favorite accommodation a few months in advance.
There are plenty of places to eat, but the prices are high. A three-course dinner for one person costs between 1200 and 1500 rubles. Look for budget food in canteens and food courts. There the average bill for one meal is 500-700 rubles.
All mountain resorts in Krasnaya Polyana have their own ropeways. The prices depend on the discounts and weekends and start at 500 rubles. Hotels near the elevators are more expensive. If you have not come to ski, there is no point in overpaying for such accommodations.
Reviews for excursions in Krasnaya Polyana
I liked the tour very much. Anna is very friendly and interesting person, we did not walk aimlessly and learned a lot of new information about the resort. All was excellent!
Thanks for the fascinating excursion! Guide Astanda pleasant, attentive and charming!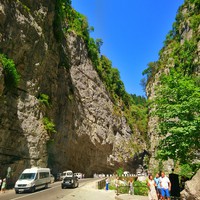 Very pleased with the photo walk! 1) A variety of locations that are really close to each other 2) The work of the photographer with the team – you feel like a model and everything is easy and relaxed 3) The absence of strangers in the photo, even in crowded places. It's magic! 4) Interesting stories about the places we passed and where we shot. 5) A bonus video was the final pleasant surprise. As a result – we had a great time, we quickly got great photos and we would like to work together again next time we come. Very much I recommend!
A very rich tour, it is clear that the organizers wanted to show as many places of Abkhazia as possible, but it would have been desirable to stay in some places longer. But it's great, the nature is wonderful, the sea is clean, friendly people.
Interesting, picturesque excursion round Krasnaya Polyana, thanks Anna for the useful and informative information.
We were lucky with the weather and wonderful views, but most of all with our guide, Anna is a great professional. The itinerary was probably changed a bit, as at the beginning Anna softly and unobtrusively told us what we would like, she told us about the history of Krasnaya Polyana, she took us to the most beautiful places. And the hot air balloon flight and dinner at the White Mushroom with exquisite menu and excellent service made our day unforgettable. Anna, my sincere thanks to you!
We went on excursion with Anna) very informative, not boring, with a lot of interesting information for both adults and children (we were 9, 11 and 17 years old), historical facts. It is nice that Anna was sympathetic to our wishes (we wanted to have a snack, then run in the snow), Anna is friendly, pleasant to talk to, she will tell us where we should go or go, what to see. My son said (he is 11 years old): very good guide (and children are the most fastidious clients) Good luck to you, Anna!
We ordered this excursion to Krasnaya Polyana on 08.11.2022. We were met by a very nice and open girl, Anna. We had the feeling that we knew each other for a long time. But most importantly we got a lot of positive emotions and views from this meeting. Anya took into account all our wishes. Everything was very harmonious. Everything we wanted to get from the trip, we got, even more. The whole story of the beginning of Esta Sadok, all the peaks of the resort K P. Everything was explained and shown in detail. Thanks a lot Anna. We will definitely come back here and more than once. I wish we had more hospitable people like you.
Be prepared that the low cost of the tour will be compensated by some costs. So, in the beginning you will be forced to taste at the roadside establishments: – real Abkhazian wine in plastic "cans" – real Abkhazian tea – Abkhazian smoked cheese – Abkhazian honey. It is impossible to refuse this part of the program, unlike other items of the tour program. Only after that, as well as after an hour visit of dubious quality beach directly begins excursion. But as you start to be late because of the "tastings" the driver, in order to "avoid traffic jams", begins to hurry the guide, and part of the program is delayed or on the way back, or you are invited to choose by voting – for example, to go to the village, which is not in the program, but which is actively proposed by guide, who makes no secret that he takes everyone there mainly for the market, or to the waterfall "Bird's Beak". Further, for the same reason of lack of time you are left with a choice – either New Athos Monastery, or the cave. The intermediary from Tripster also does not understand very well that sells, the description on a site contains mistakes also from the point of view of organizational questions: the excursion takes much more than 12 hours, in Abkhazia already some years everywhere accept bank cards (but for excursion the guide persistently accepts only cash!), prices for additional tickets are not actual, they have already grown.
Today I was on a super, just bombastic horseback riding tour. I was so excited to see something new and experience riding in the mountains and it went great. Thank you Martha for the details, how to dress, what to bring and where to go, good job Thank you Leonid for such an unforgettable ride, it was my first time on the horse galloping – it was just the highest level What views we had, and most importantly wild forest, wild lakes, in general I was 100% satisfied Thank you! Who doubts, don't doubt, you will be satisfied And you will also be treated to delicious tea and honey❤️