Rhodes or Crete: Where should I vacation in 2022?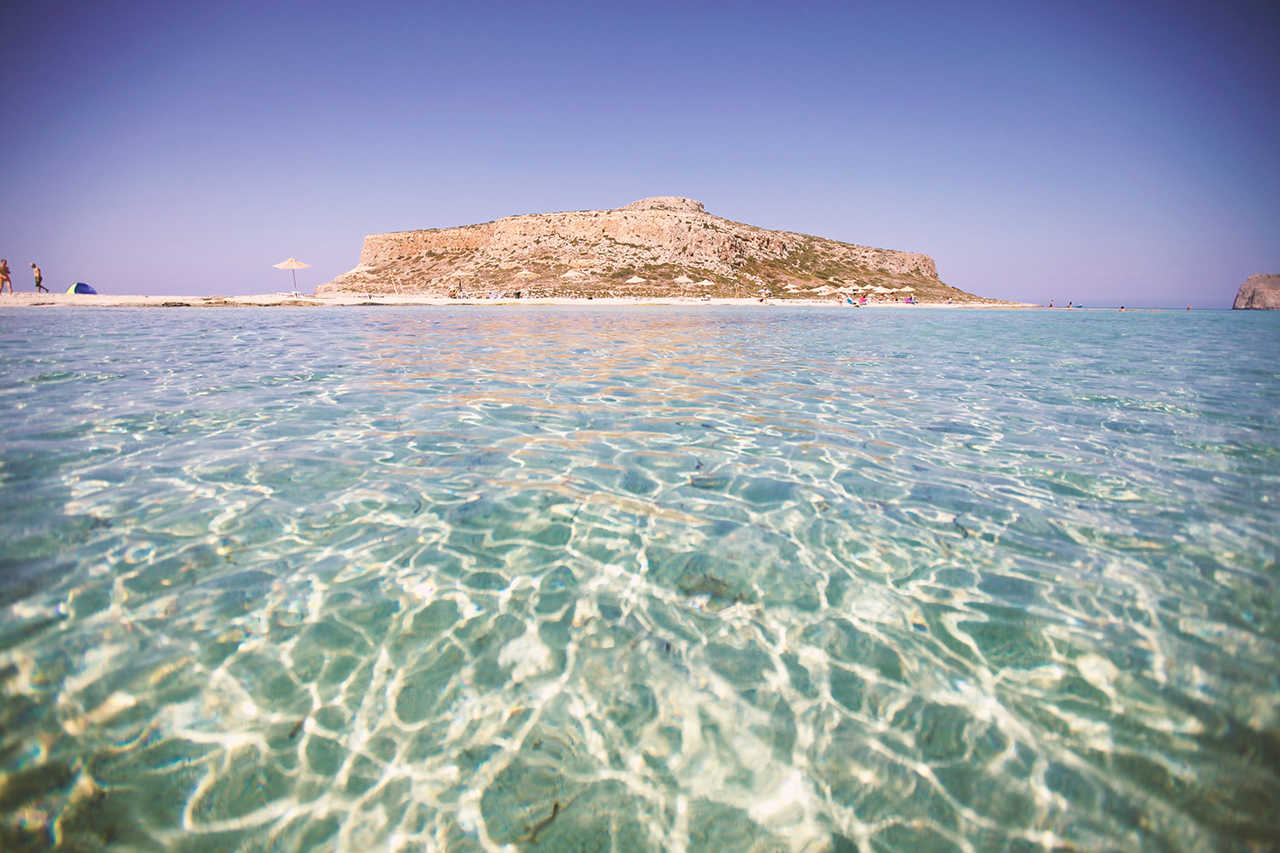 Which is the best place to go to sea – Rhodes or Crete? We tell you where to spend your holidays in 2022. Learn about tour costs, beaches, weather, sights and prices for vacations in the Greek islands.
Content:
To go to Greece without hassle, it is enough to buy a trip. Let's compare the cost of tours to Rhodes and Crete in the high season of 2022 for two people for 7 nights, with flight from Moscow.
Crete. Cheap tours are offered from November to April. The tours without meals at hotels 1-2* start at 33 thousand rubles. During the summer the prices almost double.
The prices for tours to Crete in 2022 in rubles:
| | | |
| --- | --- | --- |
| Type of hotel | Price ₽. | Example |
| Hotel 1-2* | from 62 000 | Minoas |
| Hotel 3* | from 66 000 | Agrabella |
| 4-5* Hotel | from 73 000 | Creta Suites |
Rhodes. At low season in Rhodes, tours sell from 33 thousand rubles without meals and from 37 thousand rubles with breakfast. For this money tourists are placed in 2-3* hotels.
Tour prices for Rhodes in the high season 2022, in Rubles:
| | | |
| --- | --- | --- |
| Type of hotel | Price ₽. | Example |
| Hotel 1-2* | from 46 000 | Tsambika Sun |
| Hotel 3* | from 54 000 | Fortuna |
| 4-5* Hotel | from 97 000 | Oceanis Park |
What to choose. Tours in Rhodes and Crete cost about the same. In low and high season, there are tours on both islands. In the high summer, when the sea rushes a lot of tourists, the vacation in Rhodes and Crete is cheaper than at any other resort in Greece.
Beaches and sea
Crete. A picturesque island in the Mediterranean Sea is ideal for beach activities. Crete has rocky, pebbly and sandy beaches. Many of them are Blue Flag awarded for their cleanliness and environmental friendliness. Long sandy beaches with a gentle approach to the sea are in any of the four resort regions of Crete, so it is best to relax here with a child.
Rhodes has a coastline of 220 km. It is also famous for its excellent sand, pebble and rocky beaches. The west is bathed by the cool and windy Aegean Sea, offering great surfing and sailing. And in the east there is a quiet and warm Mediterranean Sea – it is better to rest there with a child. Most resorts are located on the east coast.
Where is better. Crete or Rhodes – in terms of beach holidays, they are the same. All Greek beaches are municipal, which means that entry is free. There are well-appointed beach areas near the resorts, and beautiful places for secluded vacations in the distance.
In Crete and Rhodes the sea water is very clean. Vacationers are offered many water activities – boat trips, diving, snorkeling, parasailing, riding "bananas" and jet skis.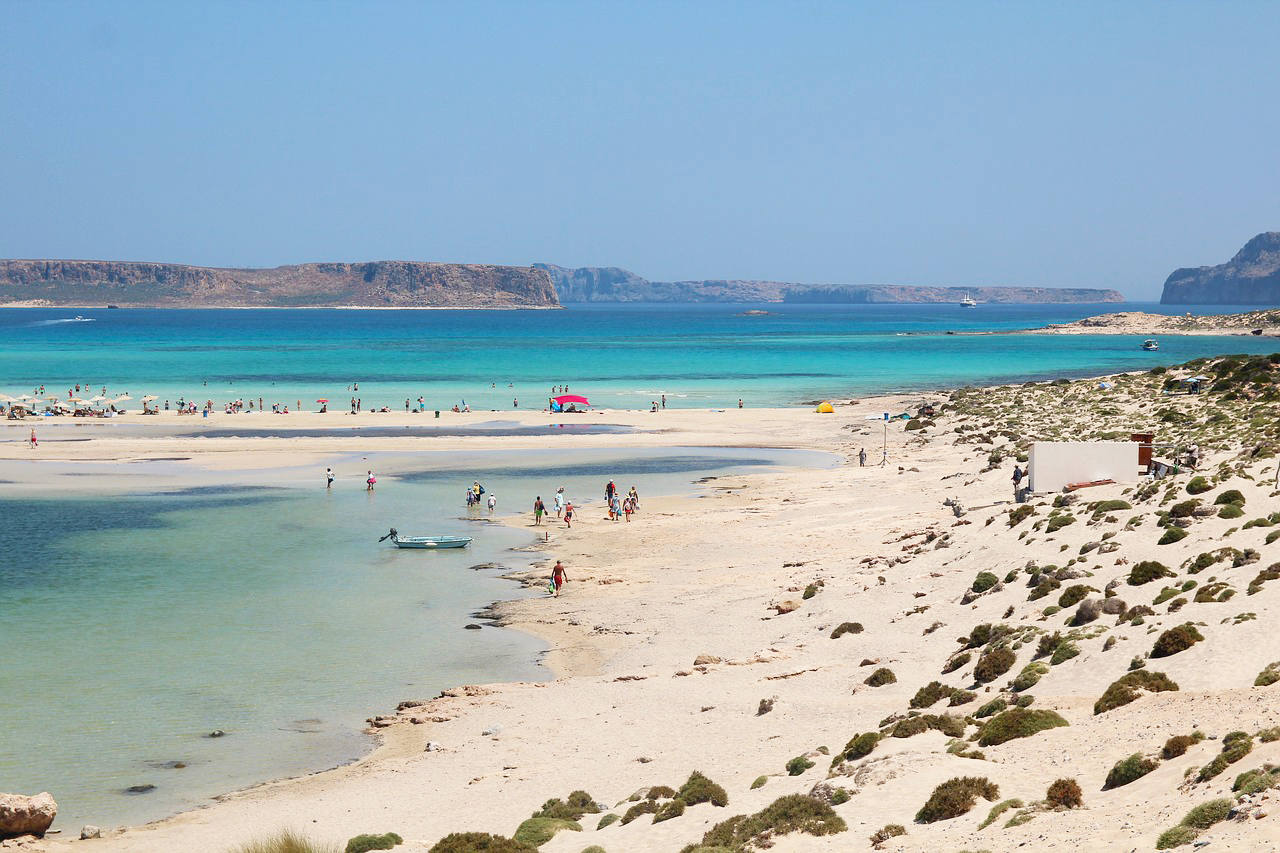 Balos beach in Crete (Photo: stefanlanghp1 / pixabay.com)
Weather and climate
Both islands lie in the warm Mediterranean climate zone. Even in winter, the temperature does not drop below +10 ° C. Is it warmer in Rhodes or Crete?
Крит. Территория острова большая, поэтому погода в его разных частях отличается. Вторая половина лета очень жаркая +35…+38°С. Осенью ветра, которые дуют с севера, стихают, и на северном побережье почти не бывает волн. Погода на Крите по месяцам >>
Rhodes. Summers in Rhodes are also hot and dry, with almost no precipitation. But this island is situated further east. Storms occur here less often, with temperatures 1-2 ° higher than on Crete.
Which is better – Crete or Rhodes? Both islands are famous for their strong winds. At the height of summer, sea breezes bring freshness and high waves. With a child in Crete or Rhodes, it is better to vacation in June or September, when the islands are not in the heat of the year. The temperature during these months is quite comfortable for walks +24 … +26 ° C, and the sea is warm +22 … +25 ° C. In October the weather is changeable. Although the sea water is still pleasant to swim +23 ° C, the wind from the sea increases and it begins to rain.
Beach Tsambika in Rhodes (Photo: Amaniero / flickr.com)
Prices for vacations
Let's compare the basic costs of a vacation. Where is it cheaper to vacation in Greece – Rhodes or Crete?
Accommodation prices. Accommodation in Crete is slightly cheaper. A slight difference in price occurs because Crete is a big island. There are a lot of proposals for accommodation, competition is stronger, and the dispersion of prices is greater.
Most of the comfortable hotels and all-inclusive Crete hotels are located in the northern part. In the south there are a lot of budget apart-hotels, hostels and private houses. Rhodes guarantees a luxurious vacation. There are many 5* hotels on this island, and even 3* hotels have their own restaurants and swimming pools.
Prices per double room in Crete and Rhodes during the peak tourist season 2022:
Food prices. Meals in Crete are cheaper than in Rhodes. The average bill in an inexpensive cafe per person is 10€, and in a restaurant, excluding liquor, 20€. Some places offer budget set meals for 12-14 €. For this money you will be served a salad, grilled meat and wine. The cost of food in Rhodes is 10-12% higher.
Prices for excursions . One-day bus tours, walking tours and boat trips are offered everywhere. A tour of Crete with a visit to the Palace of Knossos, the Archaeological Museum and Heraklion costs 30 €, a jeep safari – 63 €. In Rhodes, the popular "Meeting Antiquity and the Middle Ages Under Sail" tour costs 48€, and the "All Sights of Rhodes" tour is 60€.
Prices for transport rentals . Car hire in Crete is a little cheaper – from 15-20 € per day. In Rhodes you can rent a car for 20-25 € a day.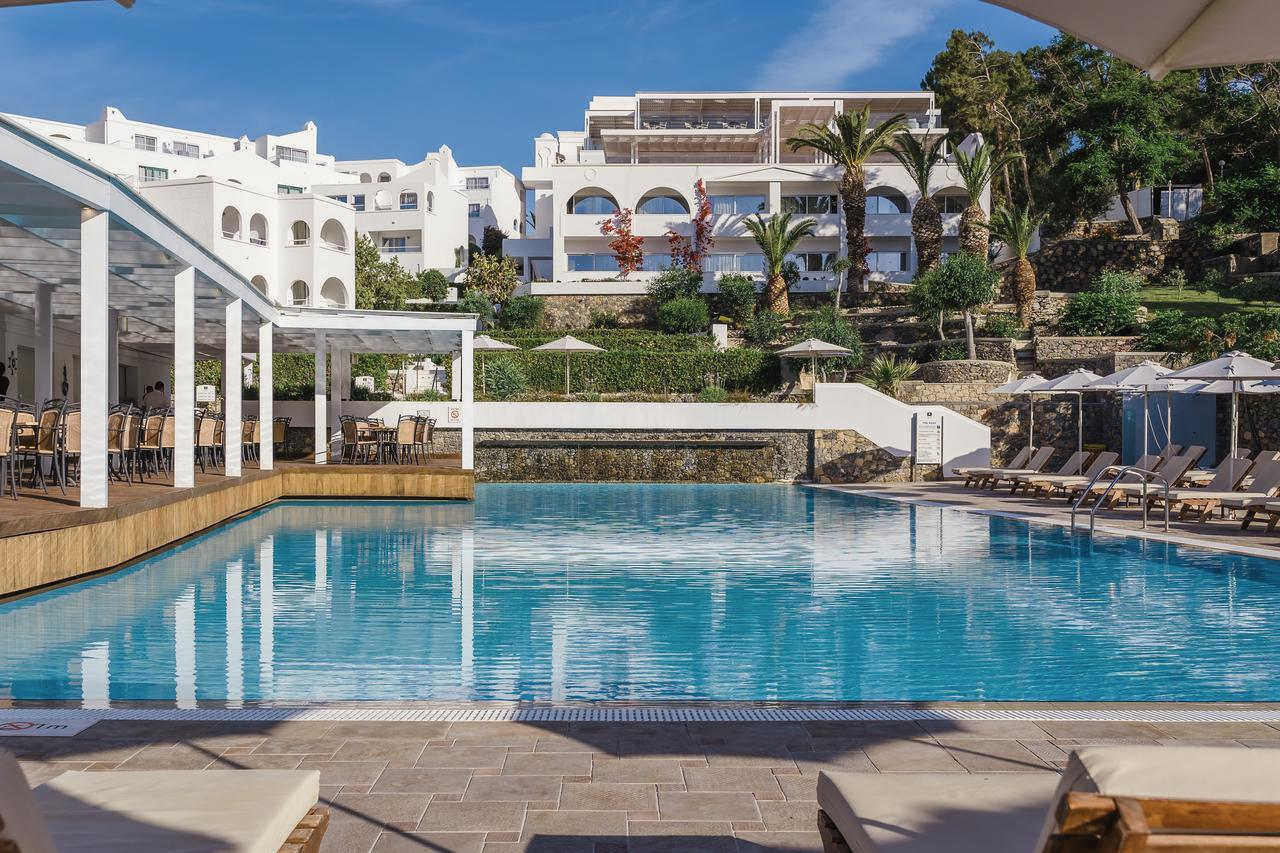 Lindos Village Resort and Spa (Photo: booking.com / Lindos Village Resort and Spa)
Attractions
Look for author's interesting excursions on Tripster. Individual and group, without crowds of tourists and in Russian.
Greece is a country with a rich culture and on its territory there are a lot of historical sights. Where are more interesting monuments – Crete or Rhodes?
Crete. There are so many ancient buildings and ruins on the island that you can't see them all in one trip. Tourists like the ancient ruins, fortresses, beautiful Christian monasteries, the ancient cities of Chania and Rethymno.
Rhodes. On the island there are beautiful ancient buildings of Lindos, Kamiros and stone knightly forts. See the historic part of the capital of Rhodes and visit the mighty Rhodes Fortress. What to see in Rhodes →
Which is the best way to explore the culture – Crete or Rhodes? You will not be bored on the islands. There are archaeological sites, interesting museums and medieval fortifications everywhere.
But there are more natural curiosities on Crete. Rhodes can boast only the Valley of Butterflies, Prasoniti Peninsula and the Seven Springs. The island has the exotic plateau of Lassithi, the famous Diktei Cave, the fresh water reservoir Kournas and deep picturesque gorges. For this reason, Crete is preferred by lovers of outdoor activities.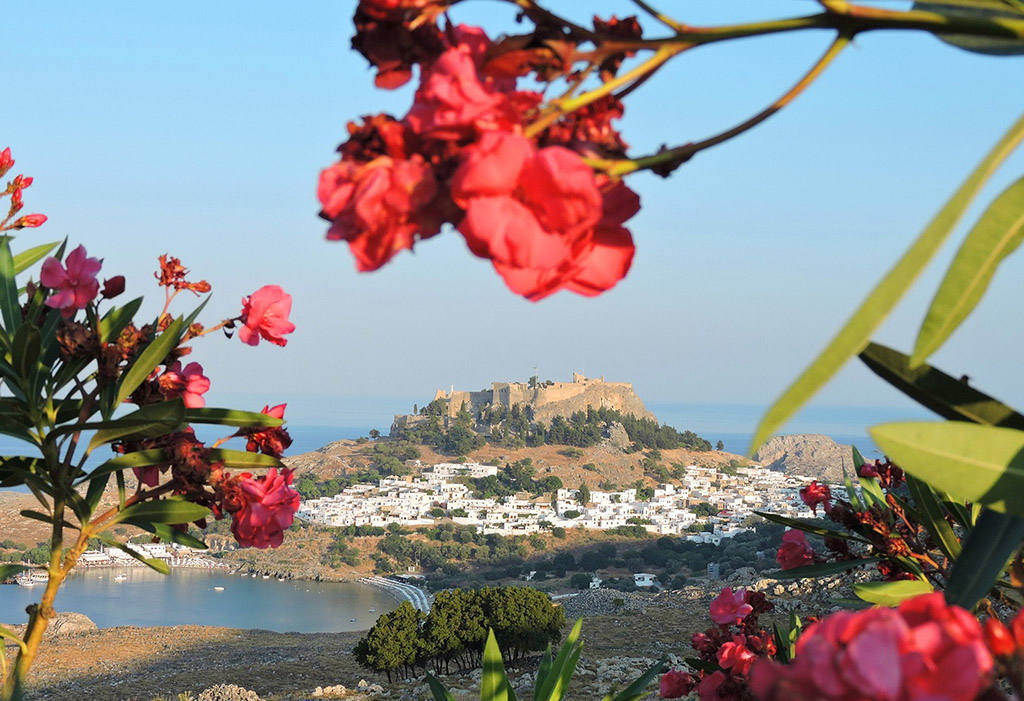 Lindos. Above the ancient town is the Acropolis of Lindos, the second largest in Greece. (Photo: Manolis_D / pixabay.com)
Which is better – Crete or Rhodes?
The Greek islands are about the same in terms of vacation conditions and costs. Tour prices in Rhodes at any time of the year are slightly lower. If you are traveling on your own and want to save a little money, choose Crete. The largest Greek island wins in the cost of housing, food and rental car. In addition, the choice of accommodation in Crete is greater.
The difference between Crete and Rhodes is the time it takes to get to the desired resort. An air flight from Moscow to Rhodes takes about 4 hours, and to Crete – 4.5 hours. Rhodes is more compact, there is only one airport, so the road to the resorts takes an hour and a half. There are two airports in Crete. Charters take only Heraklion. The transfer to the nearest resorts will take from 30 minutes to an hour, and the trip to Chania takes about 3 hours.
Where should I go with my child – Crete or Rhodes? For a trip with a child are good on both islands. Everywhere there are comfortable beaches, good family hotels and plenty of activities. Vacation with kids is good in early summer or first half of autumn, when Greece is not so hot. In Rhodes, many hotels are focused on tourists who come from Britain and Germany. Animation in Russian is more common in Crete.
To save money, rent an apartment and cook your own food. On both islands, the cost of products in stores is almost the same. Inexpensive vegetables, fruits, meat, fish and seafood are sold at farmers markets, which in Greece are called laiki.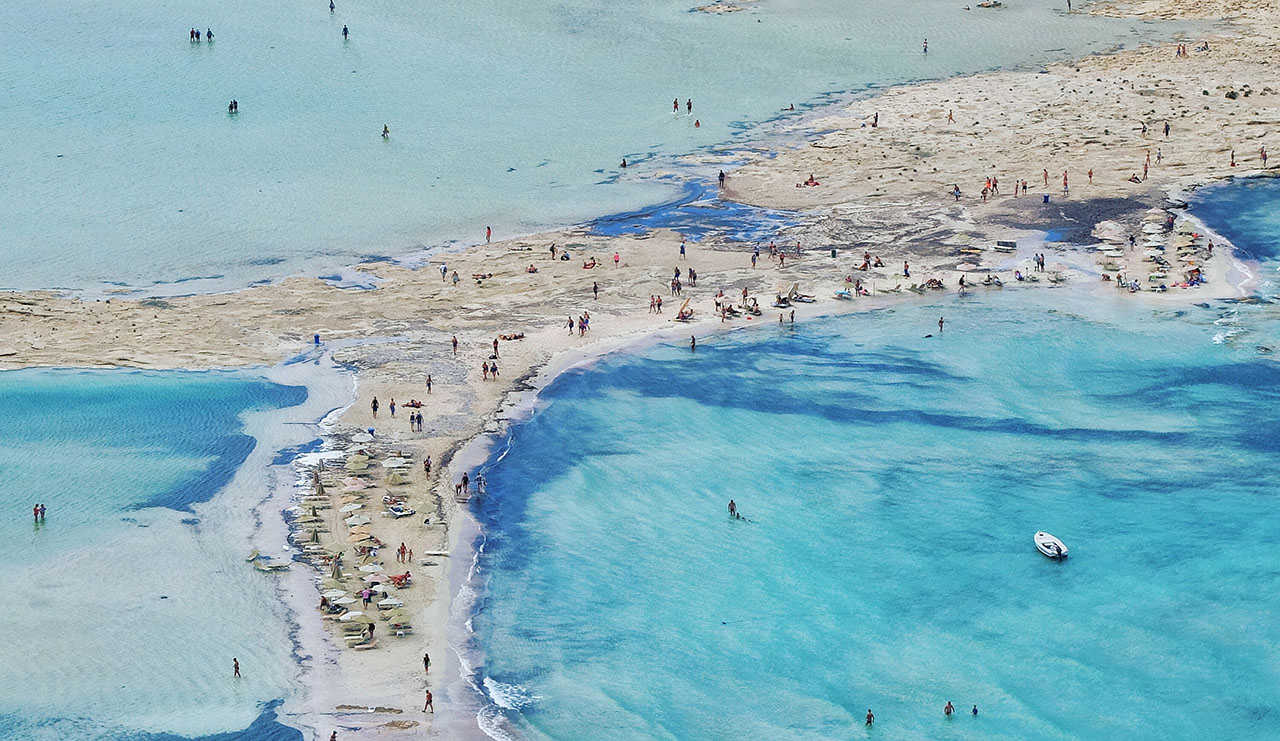 Beach in Crete (Photo: unsplash.com / @enza)
Rhodes or Crete, the two Greek islands between which it's so hard to choose the best
Rhodes and Crete are two of the most popular islands in Greece that tour operators take Russian tourists to. We personally did not have to choose between them – from Omsk we took only Rhodes one year, and Crete the next. So we visited both islands and now I can compare and advise which of them is better to go on vacation.
Content:
Weather: spring/summer/autumn.
My least favorite thing to do is to predict the weather on the other side of the world for years to come. Nevertheless, a word about the weather in Crete and Rhodes is necessary, otherwise how will you determine.
In Rhodes we were in late September/October – and the weather was just perfect. No exhausting heat, the sea is still warm, no overcast days at all. On Crete at this time the weather is similar (but in October it already begins to deteriorate).
In Crete in May, all is not so clear – firstly, the water temperature is to your liking (21-22 degrees), and secondly, there were a few overcast days and rain a few times. But the most interesting is that we had 10 days of overcast days on the other side of Heraklion (in Rethymno area), because our friends were having holidays with us. And if we came back from Crete tanned and happy, they were a little less happy and completely white.
In summer, on both islands is hot, the sea is not cool and, in general, it is a rest for the amateur (children and the elderly will be heavy).
In general, the climate in Rhodes and Crete is very similar, but because of the huge size of Crete the weather can vary greatly in different parts of the island (especially at the beginning and end of the season). On the one hand it is good, you can take a car and go to the sun, but on the other hand, if you are unlucky with the weather, you will not be able to travel every day.
=> Useful: How to look for a cheap tour – a step by step guide
The Beaches of Crete and Rhodes
Both islands have plenty of beaches, but if in Rhodes you can drive around them all in a few days, in Crete you can visit only a small fraction of the nearby beaches.
In Crete there are a lot of big cities and corresponding beaches – noisy, crowded, dirty. On the other hand, on the smaller and less famous beaches you might find yourself alone at all.
In Rhodes there are much less small and cozy beaches, mostly surrounded by hotels and not all of them are accessible (like our hotel beach). All big beaches are well known to tourists and you will not be alone on them in the season.
But of course the most important thing is to choose the beach near which you will live.
Beaches of Crete
In Crete, I would recommend hotels a little away from the big resorts (especially if your priority is the beach holidays), ideally in its own bay or in a small village (Stalida, Malia, Milatos, etc).
The beaches of Crete that I liked:
Malia – nice sandy beach.
In Stalida – long sandy, crowded in season. We liked it.
Pre-Hersonissos – I liked very much the small beaches between Stalida and Hersonissos, but sometimes it is crowded.
The beach of Karteros is our favorite beach with a view of the landing of the planes
Pancritio Stadium beach – from the photos it is a nice wide and long sandy beach near Heraklion
Elounda – A good sandy beach for holidays with children. It is shallow and there is a playground for kids.
Kitroplatia beach in Agios Nikolaos – I liked very much the beach with fine pebbles in a very popular tourist town. There are probably crowds in the seasong.
Voulisma – highly recommended on the internet, too bad we didn't make it
Rhodes Beaches.
I didn't see any crowded beaches at all in Rhodes at the end of the season, and I liked them all to a greater or lesser degree. The water is said to be colder on the Aegean coast, but personally I am more confused by the fact that it is somehow quite deserted on that side of the island. I would stay at any of the Mediterranean beaches from sandy Faliraki to pebbly Gennadi, but ideally in its own bay.
Gennadi is pebbly, but long and deserted.
Pefki – A nice sandy beach, not many people, some stones.
Lindos – very shallow sandy, good for kids, a lot of people
Tzambika – my favorite sandy beach, the entrance is rough.
Stegna – did not like it, dirty and the road along the beach.
Faliraki – sandy, wide, long with a smooth entrance to the sea
The Rhodes – not nice because of the road, noisy and crowded.
Attractions
It is believed that Rhodes is less interesting in terms of sightseeing, but I do not agree. You will have enough places of interest for one vacation, regardless of whether you see them on your own by car or take an organized tour.
I recommend to see the island of Rhodes
I recommend to see it in Crete.
Holidays with children
I am not a big fan of sitting in a hotel, and even the presence of a child restrains me only partially. To brighten up a lazy family vacation, I recommend renting a car and driving around the island (and categorically do not recommend organized excursions – children are very hard to bear them).
In Rhodes, traveling by car with a child will be much more comfortable, because the distances between towns and attractions are short. From one end of the island to the other can be done in 1.5 hours, with every half hour you can stop in a town or on the beach.
In Crete, in 1.5 hours you can drive around the immediate neighborhood and you will be constantly attracted by the famous sights, which are located 2-3 hours away. I do not know about your child, but with ours, even an hour's travel is a feat, so we were constantly torn between the desire to see something and the objective possibility of getting there. In Rhodes, there were almost no such problems.
Hotels that are suitable for recreation with children, and enough in Rhodes, and on Crete, but of course, on the huge Crete will be a bigger choice.
The Choice of Hotel
It seems to me that you still need to choose not between the two islands, because each of them is beautiful in its own way, but precisely between the hotels that you can book within your budget.
There are a few points that I recommend to pay attention to when choosing between hotels in Crete and Rhodes:
Beach – be sure to read beach reviews and look at pictures. We like either small bays of 1-2 hotels or long wide beaches that don't get crowded. If you go with a child, be sure to read what the entrance to the sea, whether there are rocks, etc.
Resort – if you are going with a child, it is better to choose a hotel a little away from the main resort life, but that you have the opportunity to walk or quick drive to the stores and restaurants. If you're young and active, then look for a hotel in a major (!) resort town, where there will be something to do every night after the sun goes down (otherwise you'll get bored watching Greek soap operas and news).
Rating – I always recommend looking at the hotel rating on all major sites – booking (at least 7), tophotels (more than 4), tripadviser (more than 3.5). Read the reviews with the highest and lowest ratings and draw conclusions.
If you are satisfied with the quality of the beach, the activity of the resort and the tourist reviews, you can book the hotel in Crete or Rhodes. Both are very beautiful, there is something to see, and about the same weather.
In general, it is believed that Crete is more budget holiday, and the Rhodes tours will cost more. This situation can be easily explained. Since Crete is huge, there are enough inexpensive hotels on its territory, among which you can always choose something interesting. Again, because of the large variety of hotels, trips to Crete are more likely to "burn".
In small Rhodes, there are far fewer inexpensive hotels and they fill up quickly, so if there are burning tours, then more often in more expensive hotels. Otherwise, the prices on the two islands are very similar. Souvenirs, groceries in the stores, tours, car rent – it all costs about the same.