Sheregesh ski resort
Ski resort Sheregesh, located in the south of the Kemerovo region, is rightly considered one of the best sports facilities not only beyond the Urals, but throughout Russia. Let his slopes are no Alpine drops and extreme trails, but here can rest virtually any tourist, thanks to a competent pricing policy. Well, and Siberian flavor and picturesque landscapes of the village, surrounded by impenetrable taiga, leave no one indifferent.
Weather in Sheregesh is unpredictable – the resort is located in the sharply continental climate, and despite the southern location, the temperature drops are severe. First frosts can fall to -32 degrees centigrade in early December, and then 0 to +3 degrees centigrade the next day. Official season in Sheregesh lasts from November to the end of April, but the decision on the shutdown of elevators is made on the basis of the current weather, it is possible to ski even in May.

The success story of the ski resort began relatively recently – in 1981, when the Kuzbass mountain was selected for the Spartakiad of the RSFSR peoples on winter sports. Especially for her equipped two tracks – for slalom and downhill, and at the foot of built a few judges' houses, which later became the base for the first hotel for 70 people, which opened its doors during perestroika.
Difficult 90s began with several years of oblivion, but then, despite the default and other economic turmoil, Sheregesh began to actively develop. In 2000 the first chair elevator Doppelmayr from Switzerland was brought here by special order, and in four years the resort territory was divided into several sectors, each of which had its own independent ski lift and cottage hotel base.

Today Sheregesh is a European level resort area, which is an integral part of the Shorsky National Park. Up to 20,000 skiers can stay on its territory at one time, and this figure increases every year. At the sports base opened several schools of skiing and snowboarding for children and adults, there is a large skating rink, helicopter pad, and the opportunity to rent snowmobiles for self-guided tours around the area.
Since 2013, Sheregesh holds an annual Grelka Fest – a festival dedicated to the closure of the season. Initially it was planned to make a one-day event, where there will be only one event – the mass descent in bathing suits. But after the hot Siberian skiers and snowboarders appeared in the Guinness Book of Records, it was decided to stretch the festival days from the second week of April to 7-8 days. A free concert is organized for all participants, for 2022 such bands as Leningrad and The Hatters have managed to be here.
You can also go to Sheregesh in the summer – some of the elevators work as viewing platforms. In addition, in the village is organized full tourist life – equestrian tours, hiking with overnight stays in the middle of the taiga, or "civilized" recreation at the hotel with swimming pools and tennis courts. For schoolchildren and students created several health and educational camps, including dedicated to learning foreign languages with guest teachers from abroad.
Hotels in Sheregesh
For 2022 hotel base Sheregesh has more than 70 hotels, chalets, cottages and apartments within walking distance of the slopes. You can find hostels at affordable prices for the whole family, or luxurious rooms, the level of strong 4-star, as the class of service and the services offered – swimming pools, gyms, etc.
For those who prefer to rent apartments, there are options in the village. Prices here are much lower, but you will need to walk to the nearest elevator a few kilometers. Another disadvantage – the age and condition of the houses, where the apartments are located. Most – Soviet five-storey buildings without major repairs and with poor soundproofing.
Popular hotels in Sheregesh not far from the elevators:
Prices in Sheregesh 2022
Prices for elevators in Sheregesh depend on the sector and type of the ropeway. The higher its speed and capacity, the more expensive it is. Entrances are equipped with modern turnstiles, breakdowns are rare, in case of malfunction tourists will be offered to switch to another elevator with a full refund.
The cost of a single lift:
Sectors A and B (Cascade) – from 90 rubles (rope tow), from 140 rubles (chair).
Sector E – from 800 rubles per day (rope tow), from 250 rubles (gondola).
Sector F (Freestyle) – from 150 rubles.
Bugel hotel Olga and Sportotel (guests only) – from 50 rubles .
Prices for Ski-Pass:
Sector A and B (Cascade) – from 2100 rubles / day.
Sector E – from 1750 rubles / day.
Sector F (Freestyle) – from 1,200 rubles /day.
The trail for tubing – 500 rubles / hour.
Since December 2018 the single ski pass in Sheregesh is CANCELLED! The resort management had to take the extreme measure because of the increasing incidence of speculation and fraud. Now to get on all slopes of each of the three main sectors, you must buy a separate card. When passing through the turnstiles, the pass is blocked for at least 15-20 minutes, so that in case of loss, it could not be used by someone else.
Children under 8 years old are free to enter the elevators, in Sector A teenagers under 14 years old receive a 30% discount. Those who do not want to stand in the general queue are encouraged to buy a VIP Ski-Pass. In 2022 it costs 3,150 rubles/day – its owners pass to the ski lift through a separate turnstile and are served first.
Rental prices in Sheregesh
Rent equipment in Sheregesh is carried out at several points directly at the elevators and hotels nearest to them. Prices are not regulated, but if you compare with other Russian resorts, the Kuzbass ski base pleasantly surprised – the rates are most democratic, with a discount on the principle: the longer, the cheaper.
The cost of renting sports equipment in 2022:
Set of skis/snowboard + boots – from 700 rubles /8 hours.
Helmet/sticks/gloves/mask (per item) – from 50 rubles /8 hours.
Jacket / ski pants – from 100 rubles / 8 hours.
Sheregesh pistes
To date, the ski resort Sheregesh offers visitors 15 equipped slopes, each of which has its own elevator, snow park for those who like to perform tricks on the board, cross-country skiing and a separate slope for tubing. The maximum height difference is 650 meters, and the average slope is 32-35 degrees.
Two gentle slopes are recommended to beginners and those who are not confident in their abilities:
Slopes of medium (blue and red) complexity include:
"Dollar";
"Helena";
"Panorama";
"Sector E."
There are no black slopes in Sheregesh as such, but the Utuya slope, which is under construction, is of higher complexity. So far there are no elevators, and you can get to the top only on a snowmobile for extra money. The trail is ideal for freeride, it is not serviced by compactors and snow cannon systems.

Elevators
As of 2022, there are 17 elevators in Sheregesh:
3 gondola type – Sector E, Panorama and Sky Way;
6 rope tow lifts – the lower levels of Sector E and Cascade, the upper level of Sky Way, as well as small lifts at Sportotel and Hotel Olga;
8 open chairlifts – all other trails.
From time to time ropeways are closed for service, resort guests are warned about it well in advance, so that there are no queues.
Interesting facts
Sheregesh is the first Russian ski resort, where the millionth ski pass was sold. This happened in the 2013-2014 winter season, just a month before the opening of the Sochi Olympics. After that, Rosa Khutor took over the "millionaire" title several times, but the Siberian base won the well-deserved title at least twice. According to these statistics, every fourth skier or snowboarder in Russia at least once visited Sheregesh.
The snow in the resort area is often called "puhlyak. In the jargon of athletes this word means a soft, loose and dry piste, which almost does not need artificial compaction. The average annual thickness of the snow cover on the slopes is 50 centimeters, which makes the local mountains stable to sudden temperature changes – snow caps on the main tops start melting only by mid-summer, or even stay white for the whole year.
Yeti cave is one of the main tourist attractions in the vicinity of Sheregesh. This karst formation is located in Ust-Kabyrza settlement, and is accessible year-round. For almost 10 years enthusiasts and venerable scientists are trying to track down the legendary Bigfoot, but the unknown life-form does not want to show itself. Perhaps, someday the master of taiga will be found, and if not – at least be photographed against the background of snow-covered slopes.

The popular name of the resort was immortalized by the social network Vkontakte. Since 2018, any user can add bright colors to communication by buying a set of stickers Gesh. In the view of the artist, "brought to life" the ski donkey is a playful Siberian Husky puppy breed, which not only demonstrates the natural cheerfulness, but also the willingness to go on adventures and ride on fresh snow on your favorite snowboard.
The area where Sheregesh is located is Gornaya Shoria, so named in tune with the indigenous population. Shorians are one of the small peoples of Siberia, who have lived here in isolation from the outside world for several centuries. Today, colorful "aborigines" in national costumes are a real decoration of the resort. Mostly they sell wooden and fur souvenirs, shamanic amulets and jewelry for women.
Around Sheregesh there are many curious sights with unusual and even strange names. The Camel Cliffs and Devil's Finger are interesting in their own right, and are also regularly used as viewing platforms. In Ust-Kabyrza there is an interactive museum of Gulag, where every guest can try on the prisoner's uniform, and from the Poklonnyi Cross on Zelenaya Mountain freeride skiers constantly start.
Sheregesh ski resort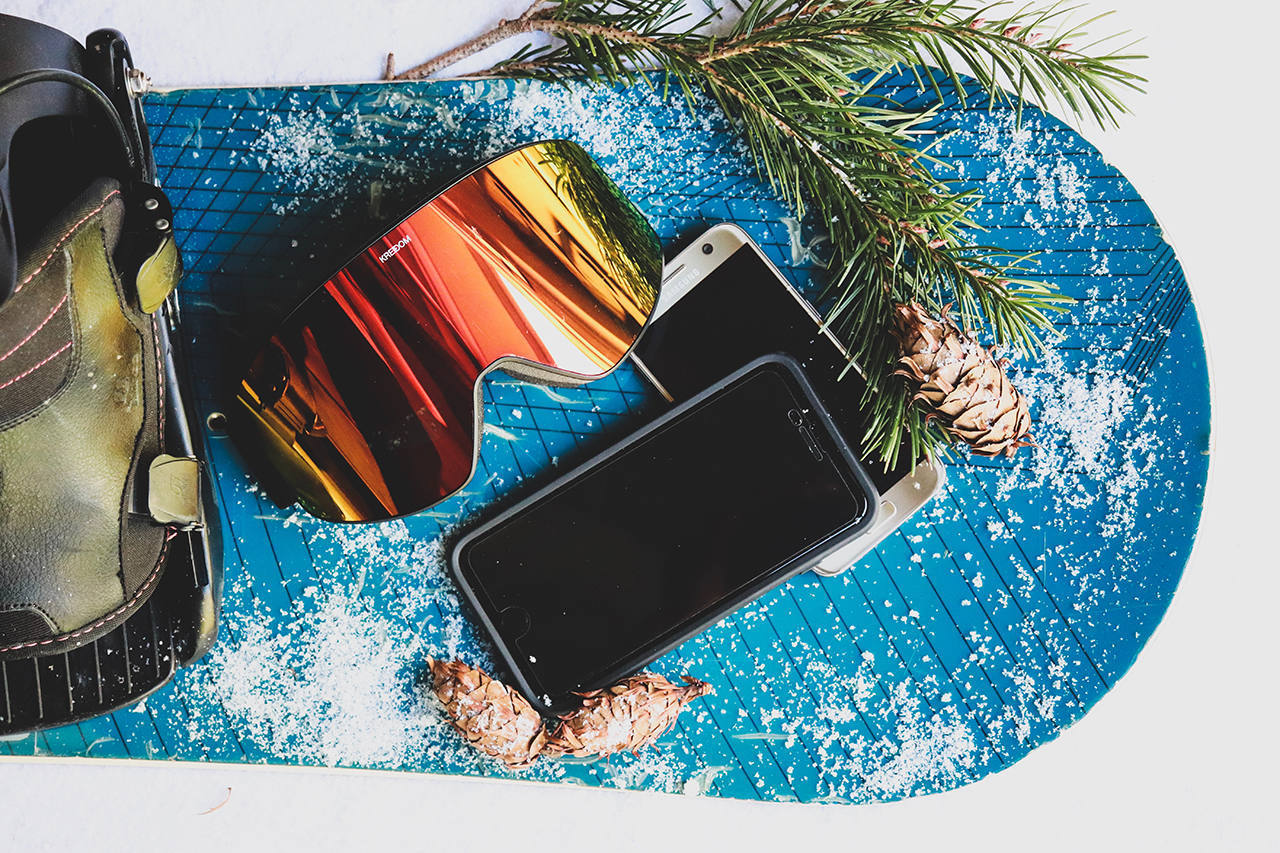 Want to relax at one of the best ski resorts in Russia – Sheregesh? Learn about the weather, slopes, and prices for trips, ski passes, rentals, food, and hotels in 2022. How to get to Sheregesh and what to do besides ski? Reviews and tips for tourists.
Look for discounted accommodations on Hotellook. Here are the top rules for finding hotels.
Contents:
Where is the ski resort Sheregesh
A small village with a center of winter recreation is located in the Kemerovo region. It is located in the Mountain Shoria, on forested picturesque peaks. Sheregesh attracts fans of skiing and snowboarding with its soft snow, clean air and well-equipped, modern slopes.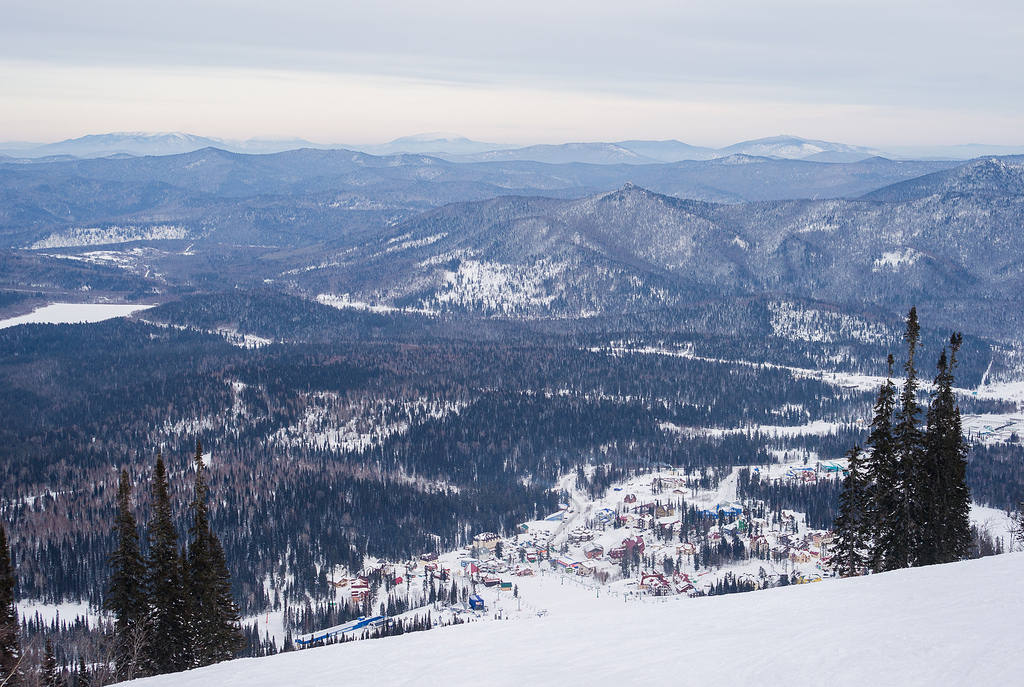 View of the Sheregesh resort (Photo: Egorov Vladimir / flickr.com)
Weather and climate of Sheregesh
The resort lies in a sharply continental climate. Summer is hot and winter is relatively cold. Season with a steady snow cover lasts from November to May. In the middle of winter the thickness of snow on the slopes reaches 2 meters.
The best times for skiing at Sheregesh skiing resort are from November till the end of December and from early March to the second decade of April. The weather is good during this time, there is no heavy frosts, and there is a lot of snow.
From December to February the average temperature is -10. -15°С. It is not uncommon for the thermometer to fall below -20°C. The weather is sunny and windless during the cold season and there is heavy snowfall during the warm season. In the spring there is the velvet season. At night the temperature drops to -10. 0 ° C, and during the day it gets warmer to +10. +15°С.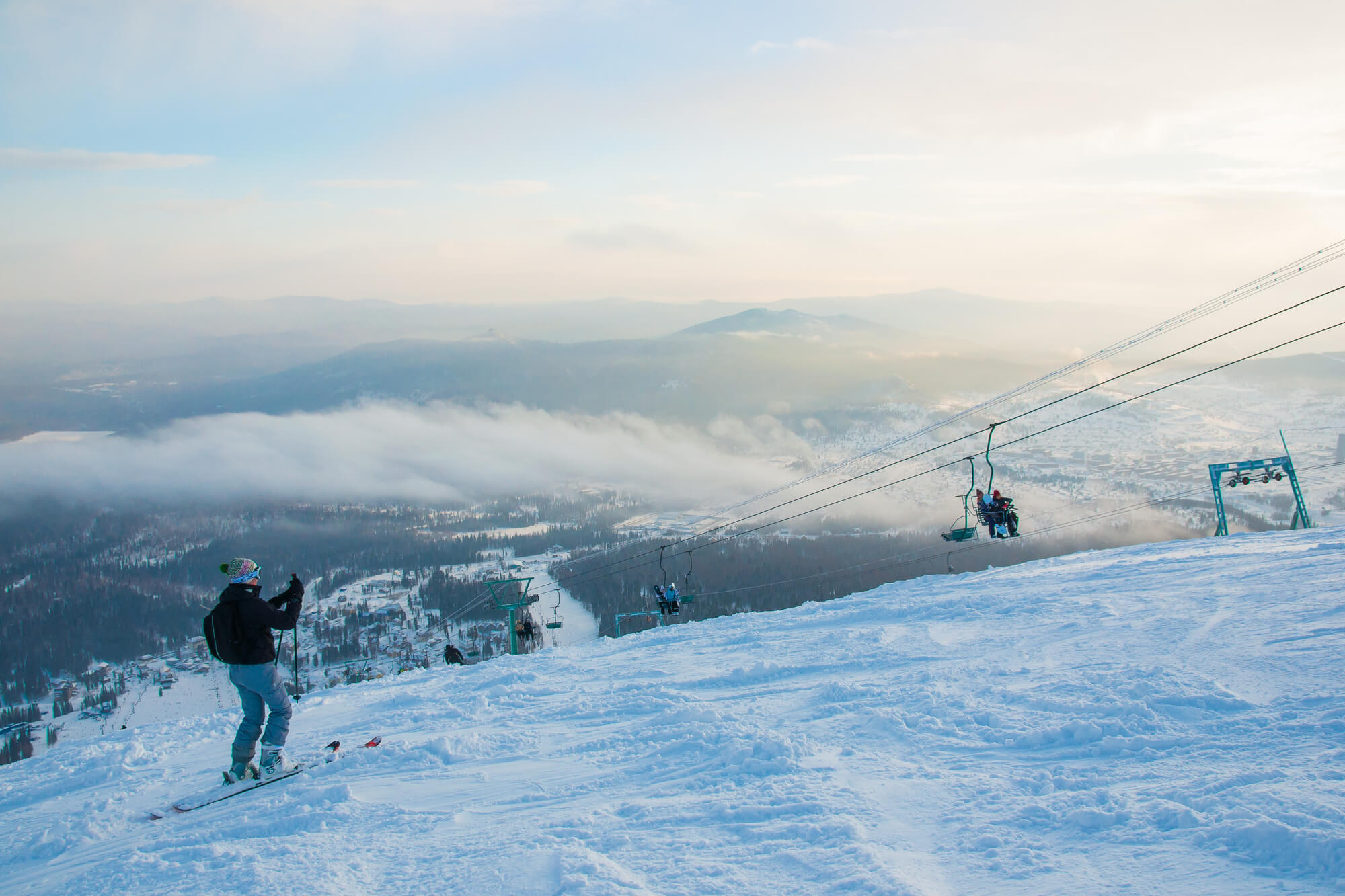 There are almost no avalanches in Sheregesh. Photo: depositphotos.com
How to get to the Sheregesh ski resort
Where to find cheap tickets? Use the Aviasales search engine – it compares prices of all airlines. Learn the secrets of finding cheap airline tickets.
Tourists from Moscow fly to Novokuznetsk. Round trip airline tickets cost from 20 thousand rubles. From Spichenkovo airport to the Sheregesh ski resort you can get there in 3 hours by cab. During the season there is an electric train from Novokuznetsk to the Chugunash railway station – 150-300 rubles. From there to Sheregesh buses ply – 50 rubles.
How to get from Novosibirsk? One convenient option is a passing bus to Tashtagol. True, it goes more than 9 hours. The ticket costs from 1200 rubles. Some book an individual or group transfer from Novosibirsk or Novokuznetsk – it is more comfortable.
The cost of a ticket to Sheregesh in 2022
Tickets for the ski resort Sheregesh in 2022 sell from Omsk. Tour for two people for 7 days costs 12 thousand rubles. The price includes the road, a pass for the elevator, accommodation in a double standard room, breakfast and dinner.
Trails
The total length of the tracks at the ski resort Sheregesh is almost 40 kilometers. For skiing tourists are available to the entire area of the slopes. They are happy to drive off the top and use the spruce-covered slopes.
There are a lot of places for freeride at the resort. There are slopes for beginners, intermediate skiers and experienced athletes. Slopes are served by 20 chairlifts, gondola elevators and rope tow elevators. Artificial snowing is not used.
There are schools for training beginners. Individual lessons with an instructor cost 1500 rubles per hour. Children are taught to ski from 3 years, and on a snowboard – from 6 years.
Map of trails and resort Sheregesh. Download in large format. (Photo: www.sheregesh.su) Ski elevator in Sheregesh (Photo: mksystem / flickr.com)
Prices for ski-passes in 2022 at Sheregesh ski resort
Elevators work from 9:00 to 17:00. A single ride costs from 30 to 200 rubles. There is no single payment. However, there are variants of ski-passes that connect the most popular elevators. The cost of a 4-hour skiing session is 500-850 rubles; a 1-day ski pass costs 700-1250 rubles, and a 3-day pass costs 1500-3300 rubles. Children under 8 years of age ride for free.
Prices for ski passes in Sheregesh (photo: www.sheregesh.su)
Prices for rent of equipment and clothes
Rent at the ski resort Sheregesh is well established. One can rent a full set of skiing or snowboarding equipment for 200 rubles per hour or 800 rubles for 8 hours. Skis for the day cost 400 rubles, snowboard – 700 rubles, boots – 300 rubles, poles – 100 rubles, and overalls – 300 rubles. Rental of goggles, gloves, protective helmet, jacket and ski pants – 200 rubles per day.
Prices for rent in Sheregesh (Photo: www.sheregesh.su)
Hotels
At the ski resort Sheregesh a lot of accommodation. About 40 hotels, cottages and camping sites can accommodate tourists. To save money many people rent apartments in the private sector – 1500 rubles per day, or find lodging a few kilometers from the slopes.
Double room price in Sheregesh hotels during winter season, in rubles:
| | |
| --- | --- |
| Guest houses at a distance from the slopes | 1500 |
| Guest houses and apartments near the slopes | 2400 |
| Hotel 2* | 3900 |
| Hotel 3* | 4000 |
| Hotel 4* | 4400 |
Tip . If you are going to the resort with a group of friends or a large family, choose a separate cottage. Two-storey houses with all conveniences rent from 7000 rubles, and one-storey cottages from 4500 rubles.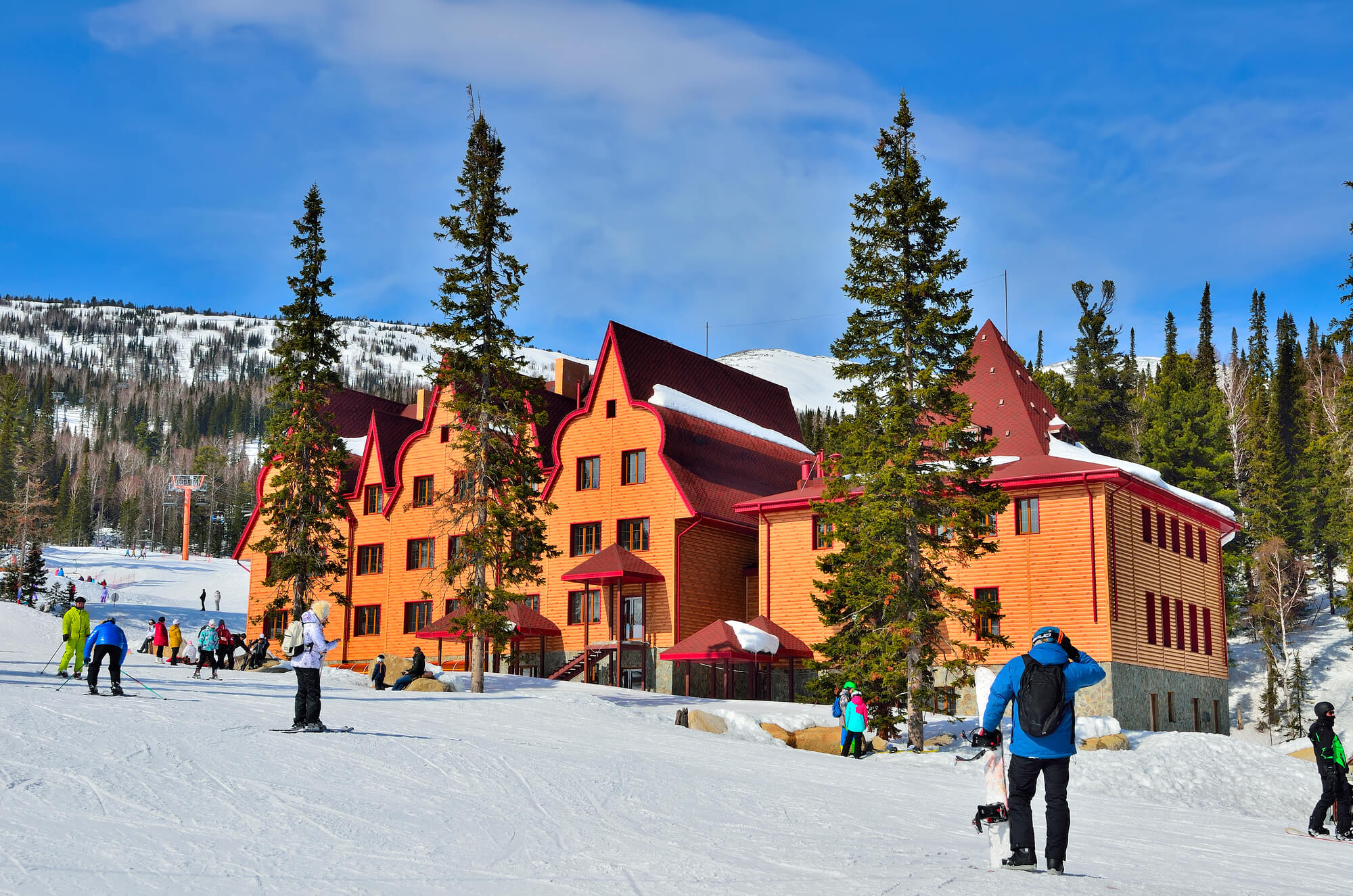 At the ski resort Sheregesh a lot of accommodation. Tourists receive about 40 hotels, cottages and campgrounds. Photo: Ruvo233 / Depositphotos.com.
Prices for food in cafes and restaurants
Restaurants, cafes, bars, kebab houses, canteens and pancake houses work. Some of them are situated at hotels, while others serve food for tourists near the elevators. Most places have changing rooms and places where you can put your skis and snowboards.
Prices for food at Sheregesh ski resort are quite high. A complex dinner costs from 450 rubles, a portion of french fries from 150 rubles, and shashlik from 200 rubles. A dinner for one at a restaurant without alcohol will cost 700-1000 rubles.
Tip . Cheaper food is offered by establishments with discreet design, which are located away from the slopes.
What to see and do
In addition to skiing and snowboarding, you can ride tubing at the resort: 1 hour – 500 rubles. There are cross-country skiing and snowmobile tracks from the "Medvezhonok" campground. Every year in spring there is GrelkaFest – a jolly festival, during which skiers and female skiers race over the slopes in swimsuits and bathing suits.
Throughout the winter season, vacationers ride horses and huskies. A round on a sled to the station and back costs 1000 rubles. The same price will be for an hour-long horseback ride. The 2 km route on the dog sled costs 1,500 rubles.
At the ski resort of Sheregesh there is a modern indoor ice rink. Prices are reasonable:
Skate rental – 100 rubles per hour;
Skating on weekdays – 150 rubles per hour, and on weekends – 200 rubles per hour.
For children at any time – 100 rubles per hour.
The center of nightlife in Sheregesh is Ays-Bunker club, which is located on the ground floor of the AYS CLUB hotel. There are discos and DJs from different cities of the country come here. Another popular place for party-goers is the karaoke bar at the "Bear" camp, the Grelka bar, and the "Mountain Patrol" bar.
After the active day it's nice to relax in the spa. A sauna for four people costs 600-2000 rubles per hour. Many tourists choose the health complex "Hamam". During a holiday with children, go to the funny Yeti Park and look at the attraction "Upside-down House".
In warm seasons the resort welcomes fans of water and horse tourism. Horseback riding tours through the taiga and rafting on the mountain river Mras-Su are organized for them. In summer, paragliding and rock climbing are in demand.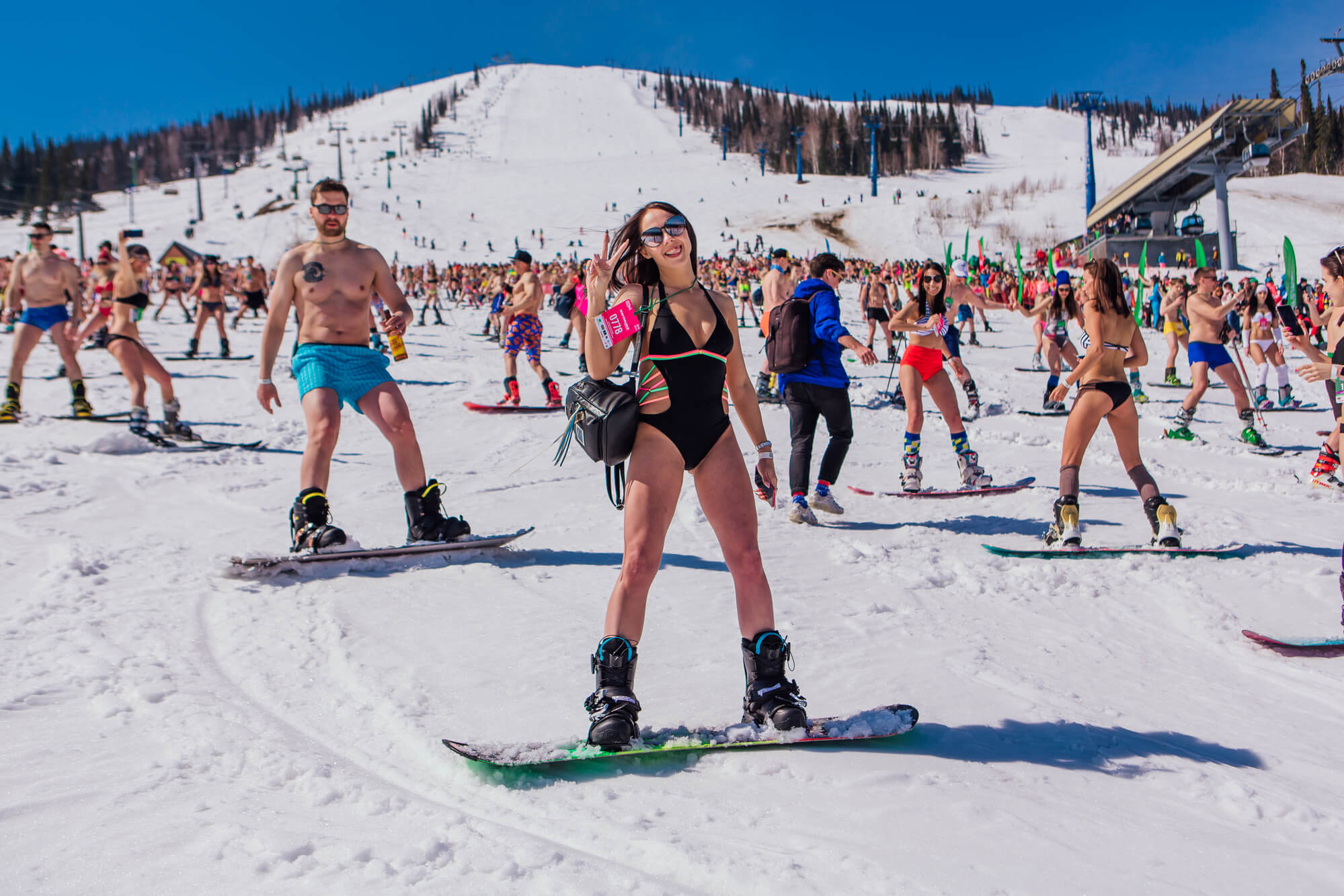 Participants of the Grelka Fest. Photo: Smile19 / Depositphotos.com.
Tourist reviews and tips
Most vacationers leave positive reviews about the ski resort Sheregesh and note its advantages :
Convenient location for tourists from the central regions of the country and Siberia.
Picturesque skiing spots.
Well-established transfer.
Sufficient number of hotels, campgrounds and cottages.
Well-groomed slopes and elevators. No heavy passable areas, deadwood and rocks.
Well-established rental and catering.
Disadvantages :
Compared to the quality of service is overpriced.
As the owners of different elevators, there is no single ski pass.
Evening skiing on the rope tow elevator slope organized only on Fridays and Saturdays. Moreover, there are no lifeguards at this time.
The resort does not accept any cards. The payment is made only in cash.
There is a small choice of clothes in rent.
Those who have already been to the ski resort Sheregesh give some useful tips:
The highest prices are in January and February. To save money, go to the resort in early winter or spring.
You can come to the resort without equipment – everything you need is available for rent. However, if you have the height of an excellent average, snowboarding and skiing is worth taking care of before the trip.
The cost of ski passes and discounts for hotel guests is easier to understand on the spot.
You can easily get to the slopes from the settlement by cab – 150 rubles. A bus runs to Zelenaya mountain on weekends and holidays – 30 rubles.
If you want to save money on food, you should rent a place with a kitchen area and cook by yourself. The groceries are sold in the supermarkets of the settlement.
Useful selection: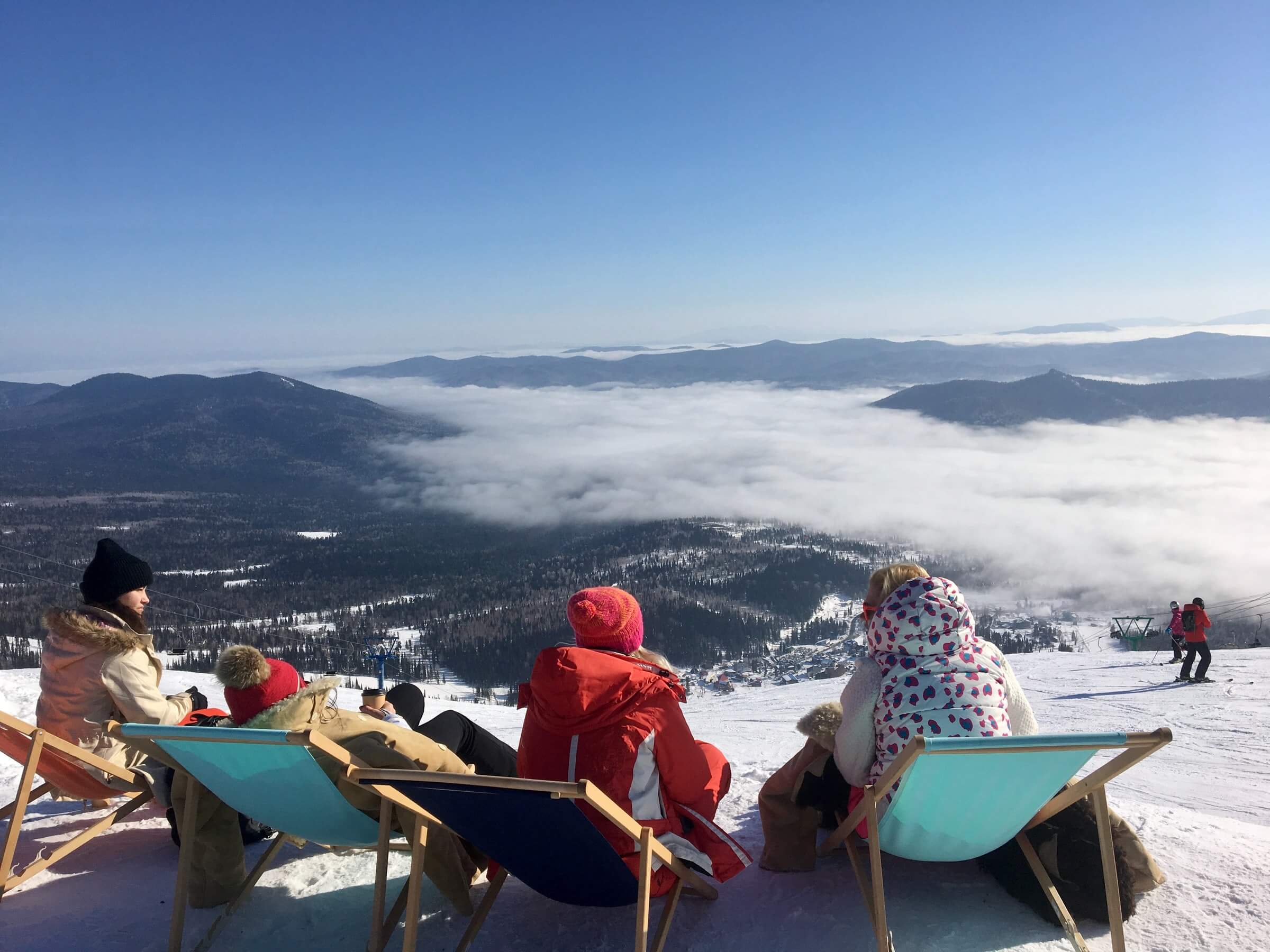 In Sheregesh there are many picturesque places for skiing. Photo: isakhanyansergey / unsplash.com.