Sigiriya, Sri Lanka – How to see the rock for $3 instead of $30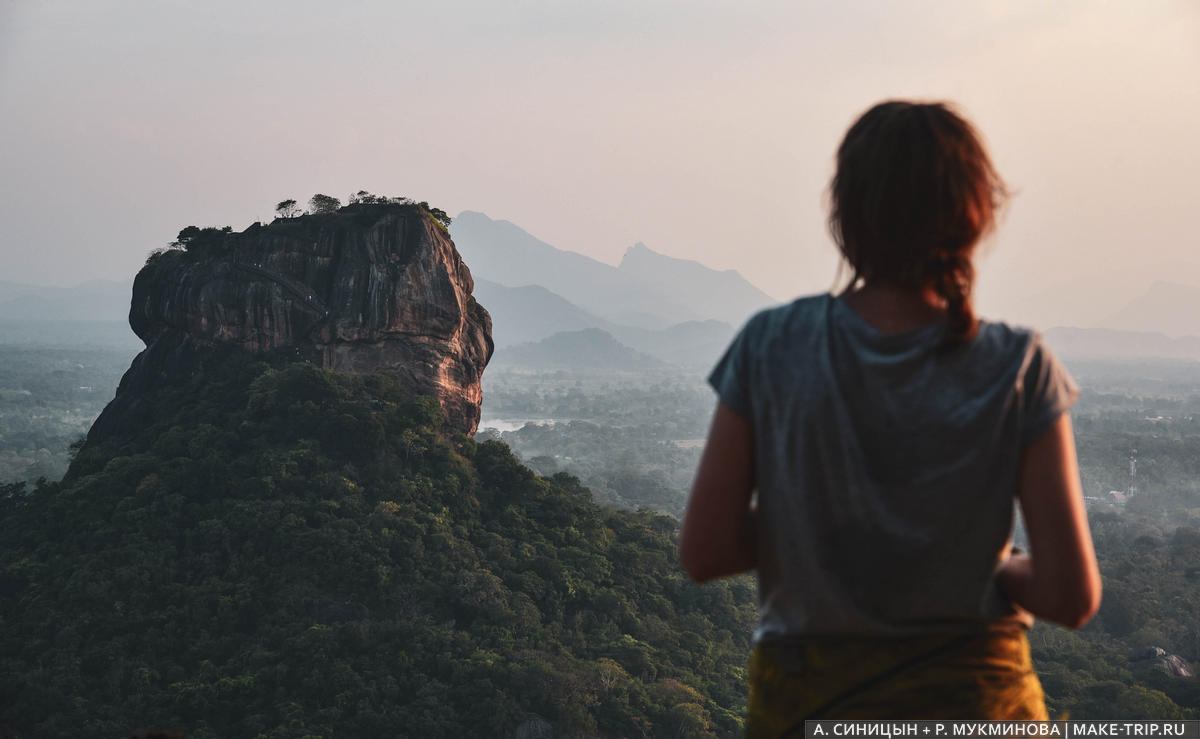 Our review of Sigiriya. Should you see the "eighth wonder of the world"? We tell you how to get there, nearby attractions, hotels, and cafes. Find out how much a ticket to Lion's Rock costs and how to see it for $3 instead of $30.
Sigiriya is a famous cliff 170 meters high and one of the main attractions in Sri Lanka. It is also a three-street village of the same name with minimal tourist infrastructure. Most people come here from Dambulla for half a day, have lunch and leave. We decided to stick around for a few days and didn't regret it.
If you want a quiet village life in nature with monkeys, geckos, birds and chipmunks – settle in Sigiria. It's so quiet and nice, we settled for three days. Just choose a hotel a little off the main road, but not too far from the center. Read our report: Living in Paradise for $25.
If well-developed infrastructure and convenient logistics are important, stay in the neighboring town of Dambulla. From here there are buses to popular destinations such as Anuradhapura, Pollonaruwa, Kandy, Sigiriya, etc. Dambulla is noisy, but there are many hotels and cafes.
Content:
Iguanas everywhere! Sigiriya is remembered as a quiet place where animals are at every turn.
How to get to Sigiriya
You can only get there with one or two transfers. It's not easy! The trip is very exhausting and takes all daylight. I don't know if it's worth it. The way we went to Sigiriya from Negombo was like this:
First, an air-conditioned mini-bus to Kurunegala. Take a seat in the front – the seats in the back and the seats above the wheel are shaky and seasick. It takes two hours to get there and picks up passengers on the way. It costs 230 rupees. There are also simple buses without air conditioning.
In Kurunegala, the bus stops at the bus station. Go down and ask where the bus to Dambulla is. We read that there is a mini-bus with AC, but the locals deny it. We had to take the regular one without AC – 100 rupees, 2 hours. We advise to sit away from the speakers with music and plug in earplugs.
In Dambulla walk about 1 km down the street – there will be a bus stop to Sigiriya (#490/1 and #499/1). The tuk-tuks will talk you into going with them and tell you that the bus runs once every 1.5 hours. Don't believe it – they run every 30 minutes. There are no air-conditioned ones. The price is 40 rupees. Ride for about an hour because they pick up everyone.
Plan your route from any city at lanka.ru.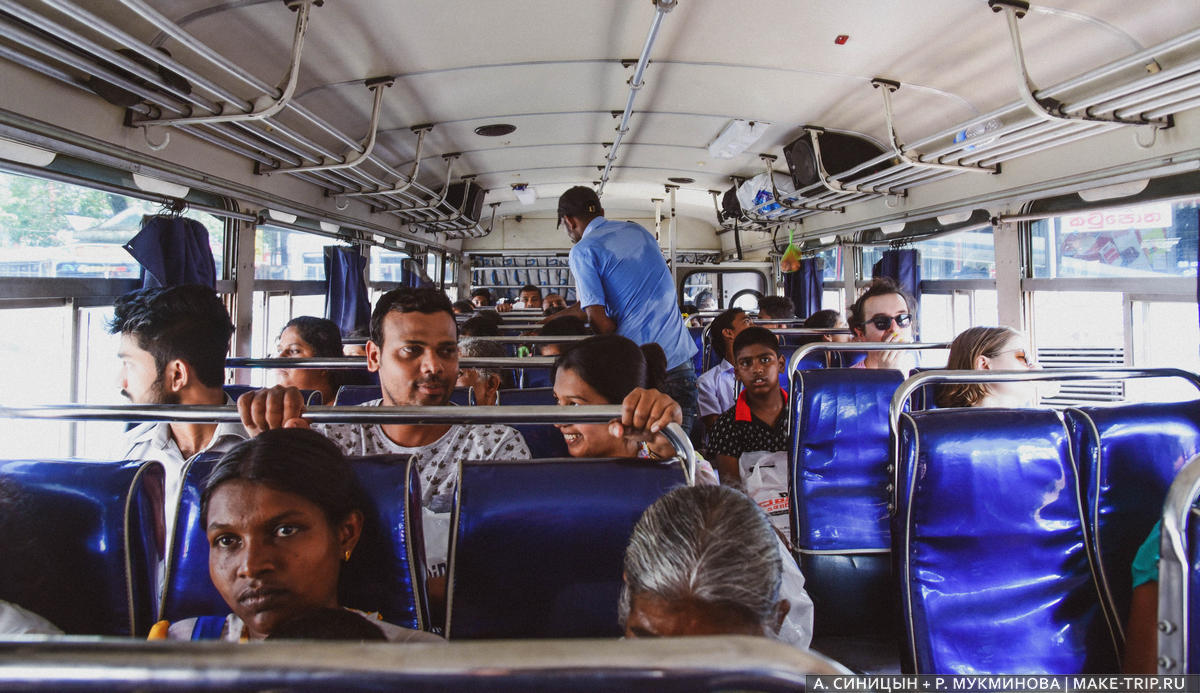 Bus from Kurunegala to Dambulla. No air conditioning, only open windows.
Hotels in Sigiriya
There are many hotels, hostels, and hostels. There are no high-rise ones. Some are along the main road, others are off to the side. Accommodations with air conditioning and private baths on Hotelluk cost from $12.
We chose Sunrise Cottage almost in the jungle because we wanted peace and nature. And we weren't wrong! There are multi-voiced bird concerts around the clock, no traffic noise comes through, the occasional local bike or bicycle passing by. Lots of birds flying around, chipmunks running around, rabbits, two white pet rabbits. The owner is very accommodating.
In the morning there is a wake-up call from the bird band and a traditional Lankan breakfast on the terrace. It is included in the price ($24 per day). It all takes you back to the 19th century – felt like colonists. It's about 1.5 km to the center of the village with restaurants, stores and bus stops.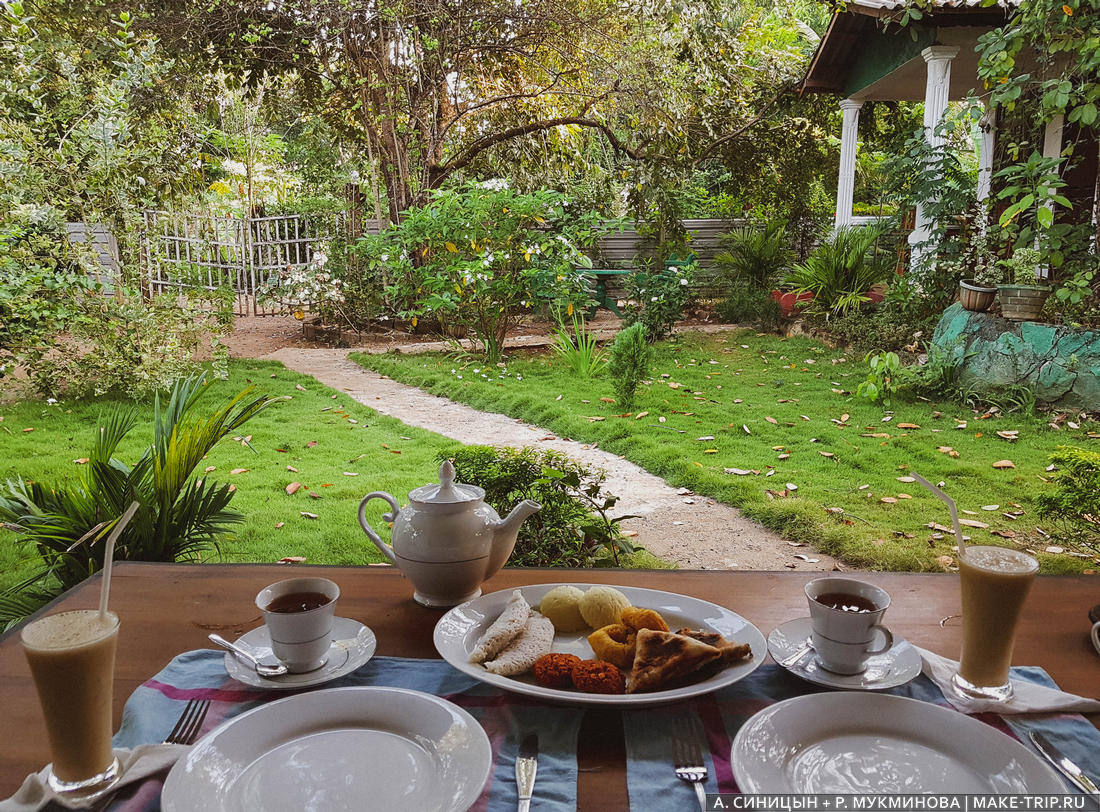 Breakfast in the garden of Sunrise Cottage with the birds singing.
Where to eat in Sigiriya
Before going to Sigiriya, we read in travelers' reports that there is absolutely nowhere to eat there – everything is expensive, unsanitary, only places for locals. This is not true: there are enough decent restaurants in the center of the village, aimed at tourists. But there are no decent cafes near the rocks, so settle closer to the center of the village.
On TripAdvisor we found the best place by price, quality and reviews – Pradeep. The restaurant is centrally located near the main road to Sigiriya Rock and the bus stop. The minimum bill for two is 1500 rupees. Service charge is not included, you can leave a tip at Tip Box. There's a delicious avocado kottu, chicken and avocado salad, and all sorts of lassi and fraiche. Pradeep has low prices, nice staff and tasty food, so there are always a lot of people there. There weren't even always seats available in the evening.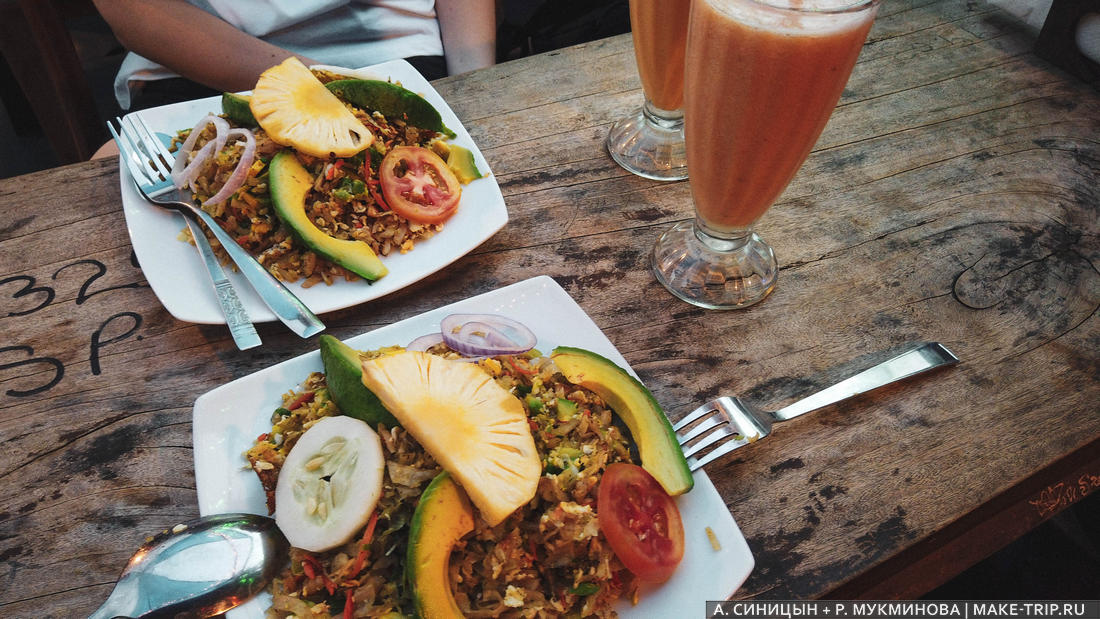 Two avocado kottu + two juices – such an uncomplicated vegetarian meal at Cafe Pradeep costs about 1,700 rupees, which is $10.
Sightseeing in Sigiriya
The Lion's Rock – Sigiriya
Sigiriya is the so-called eighth wonder of the world. Tickets cost as much as $ 30, and for locals – pennies. Free is only a walk around the moat, which surrounds the rock. Along the way you will meet monkeys, termites, birds, monitor lizards, and if you are lucky – you will see a crocodile in the moat. Ascent to the rock by stairs. At the top – the ruins of the fortress, of which almost nothing is left, and the view.
Is it worth looking at the Lion's Rock? We didn't – it's too hyped and popular, and the same views are much cheaper to see from neighboring Pidurangala. And anyway, why climb Sigiriya when the best view is from Pidurangala?
The view of Sigiriya from the main street of the village. On the way to the cliff we found termite mounds.
Pidurangala Rock.
We call it "Second Sigiriya" – the alternative to the road Lion Rock. It is also a plateau, with beautiful views of Sigiriya and the surrounding area, but nothing extraordinary. We expected more.
Usually there are sunrises or sunsets on the rock. There are many tourists, but fewer than at Sigiriya. There are even traffic jams on the way up and down. A few years ago, no one knew about this rock, and you could climb alone. But today it has almost caught up with Lion's Rock in popularity! The enterprising Lankans will soon be charging $30 for the climb.
Why climb the Lion's Rock when the best view is from Pidurangala?
To go up, you have to go through the cave monastery (500 rupees). On the way you will see cells, a pond, an ancient Brahman inscription and a brick reclining Buddha. The ascent is easy, but very hot and humid. It takes about 20 minutes to climb. First up the steps, then over boulders and crevices. Be sure to take water, wear a hat (there is almost no shade at the top) and athletic shoes. When you enter the temple, shoes should be taken off, walk through the area, and then you can put them on. Shoulders and knees should be covered. There are handkerchiefs at the entrance and exit.
Tip: If you're watching the sunset, take care of your return trip. You can order a tuk-tuk back and forth and the driver will wait for you. We don't know how much it costs because we walked. However, the locals assure us that it is not safe to walk there at dusk – there are wild elephants.
On the ascent to Pidurangala, you will see a brick reclining Buddha.
Excavations near Pidurangala
Our unexpected find, which impressed more than Sigiriya and Pidurangala, was the excavation. If you walk a little further than the entrance to the cave monastery, you will see picturesque ruins on your left. It's cool, quiet and charming there. There are no tourists, only locals clearing leaves. Not bad preserved stupa – beautiful and unrestored. Admission is free.
A beautiful stupa near Pidurangala. Excavations near Pidurangala. Do not be lazy and go – no tourists, quiet and peaceful. Especially while it's free.
What else to see in Sigiriya.
Not much else to see! Local offer elephant safari, a boat ride on the lake and an ethnographic safari. To see more sights, you have to go to Dambulla and from there to the Golden Triangle of Sri Lanka.
Even monks climb Pidurangala. Sri Lanka in general has a strong domestic tourism industry. Sometimes the sights have more locals than foreigners. Lankans are friendly and love to pose.
Cabs in Sigiriya.
Travel around the village by tuk-tuks and on foot. The drivers are terribly spoiled – for a 3 km ride they ask 300 rupees instead of 80 and do not want to haggle. Unfortunately, the Pick Me app doesn't work here.
If you don't want to encourage the monopolists, walk like we did – the distances are short and the walk through the jungle is pleasant. Bonus animals along the way: we saw varans, lots of monkeys, various birds, and I think a crocodile in a moat.
Walk: you will see beautiful scenery and meet all kinds of animals. There are a lot of monkeys on the way to Sigiriya. They are begging for food. Do not hold beverages and food, they can take it away. It is better not to take anything at all, except water in the bag.
Sigiriya – detailed guide with photos of the Sri Lankan tourist attraction worth seeing
Sigiriya is one of the most famous sights in Sri Lanka, which is not surprising. There is mystery, tragedy, beauty, seduction and. many steps. In this article, you'll find a detailed guide to the rock fortress of Sigiriya – where to look, what to photograph, how to prepare for climbing the rock, and, most importantly, how not to miss the most interesting points of this impressive "lion" attraction in Sri Lanka.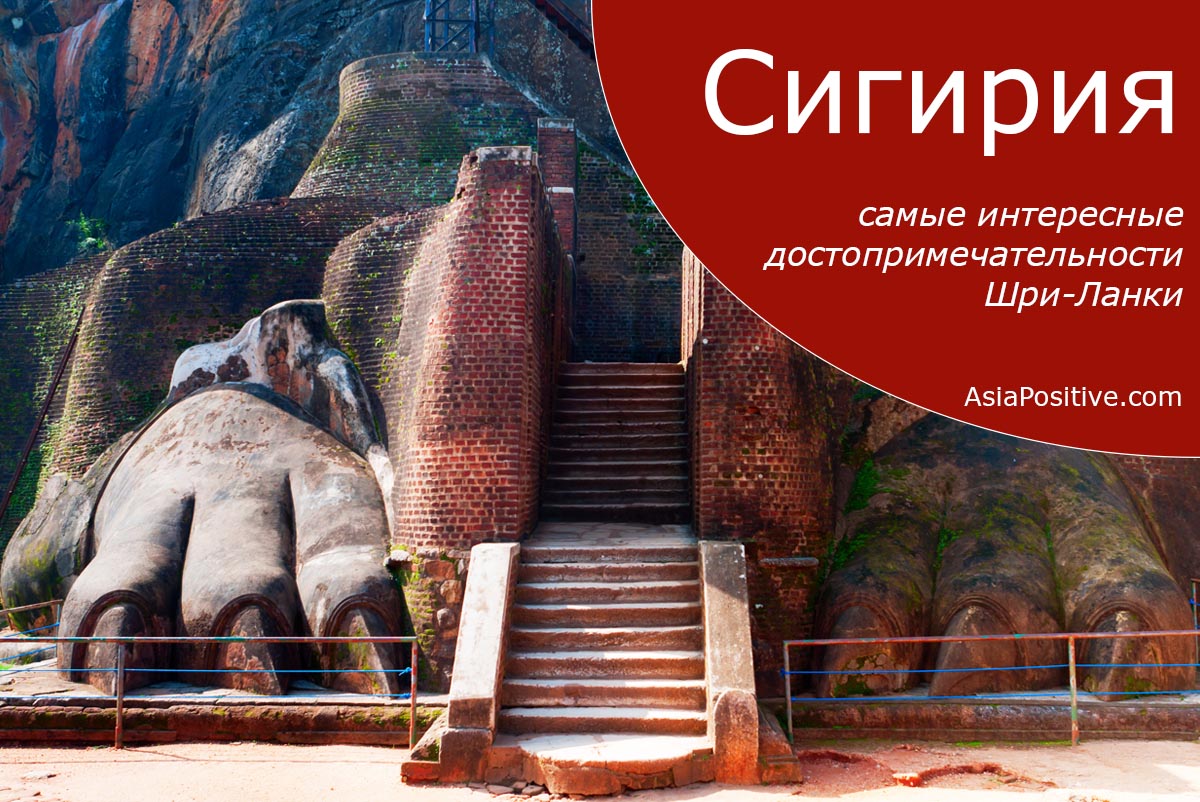 From this article you will learn:
Where is Sigiriya, you can read in the article Sigiriya on a map and how to get to Sigiriya.
Legend and history of Sigiriya, the rock fortress of Sri Lanka
I think you have already read the article about Sigiriya on Wikipedia in Russian and made sure that there is almost no information about this attraction in Sri Lanka. So I just have to write at least one paragraph about the history of Sigiriya, or more precisely, about the legend of Sigiriya.
To this day, scholars argue about what exactly was at the top of the Lion's Rock. A royal palace or a temple?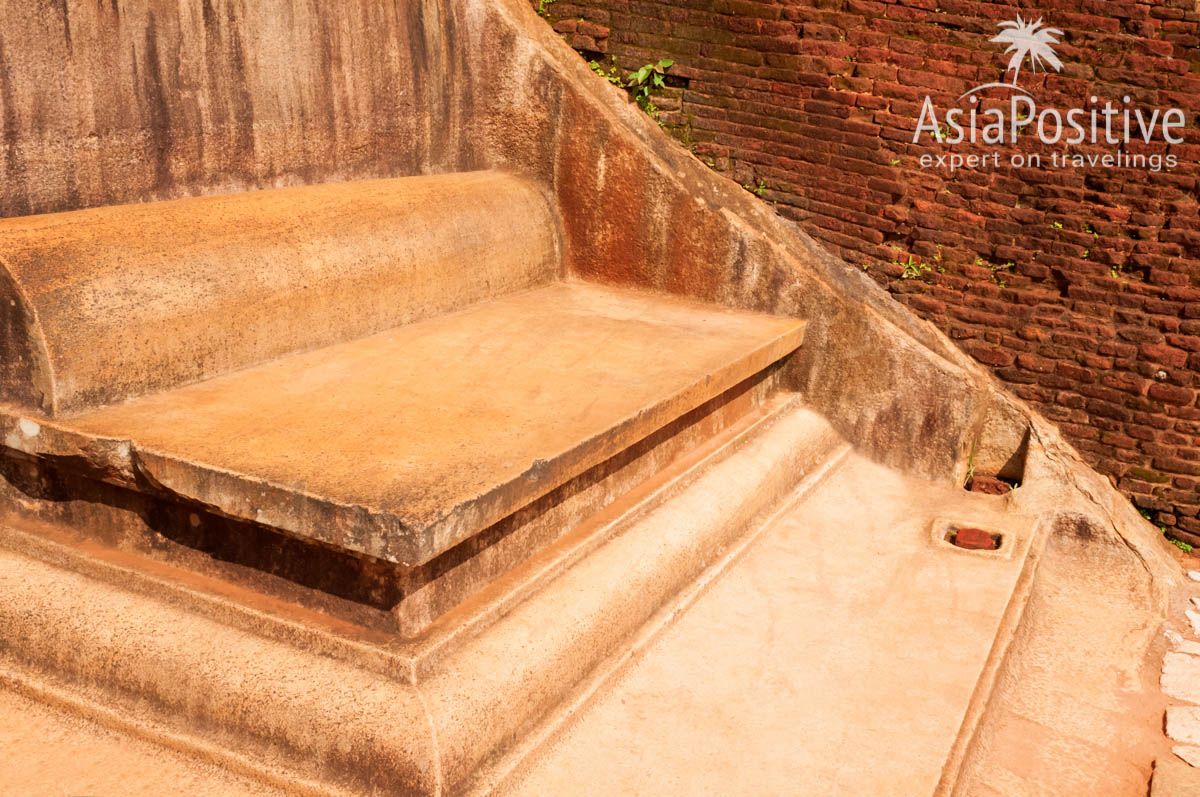 Is there a stone throne at the top of the rock or was it a meditation spot
The legend of the palace sounds fascinating – the son by his younger wife (his name was Cassapa) did not want to cede the throne to the rightful heir – the son of the king's older wife. Kasapa overthrew his father and walled him up alive in the palace wall, moved the capital to Sigiriya, and built an impregnable fortress on a rock.
Eleven years later the rightful heir returned with an army from India (where he had fled after killing his father) and engaged Kassapa. This is where the legend gets confused.
First, for some reason Kassapa personally, on an elephant, took part in the battle. Instead of sitting on a fortified rock.
Second, he committed suicide with his own knife.
Why is everything so illogical and strange? You can hear many versions on the subject-the elephant got scared, Kassapu got surrounded, he fell off the elephant. Admittedly, there is no limit to the fantasies of Sri Lankan guides.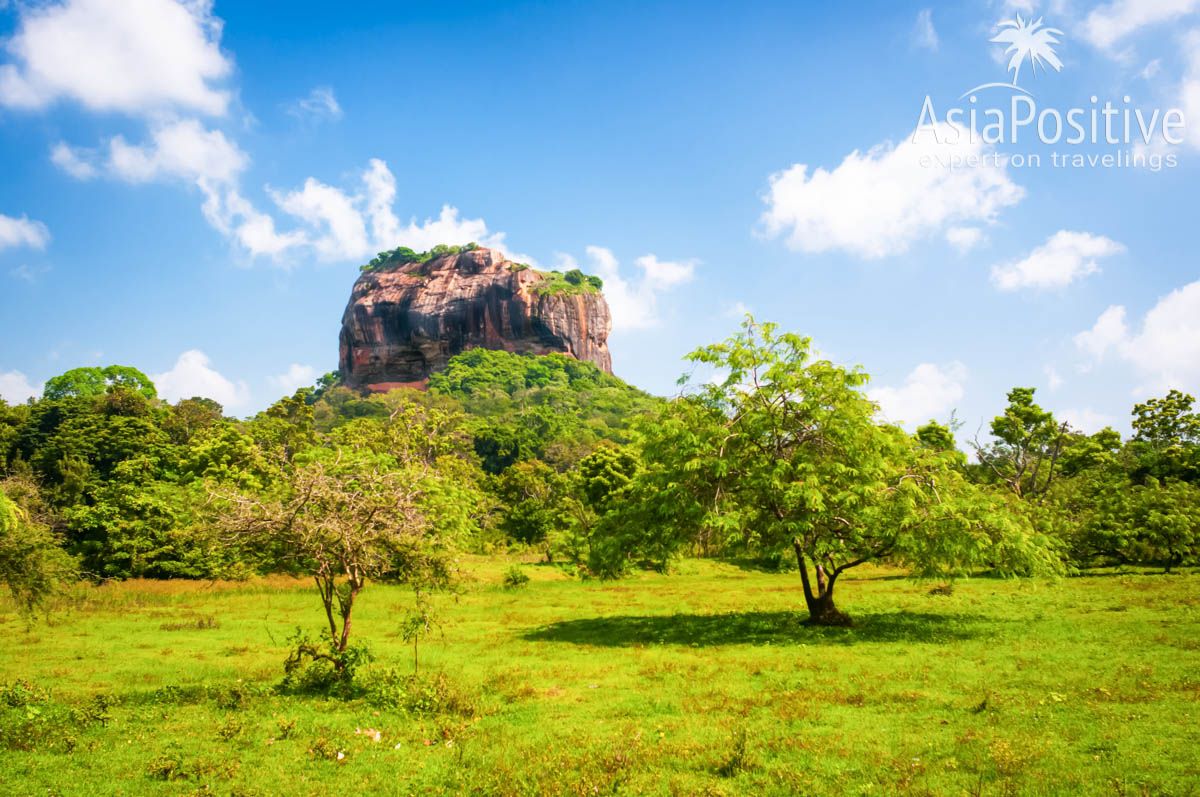 The impregnable rock of Sigiriya and you have to climb it.
The above described passions took place somewhere between 477 and 495. After Kassapa's death the fortress was abandoned and the capital was returned to Anuradhapura.
In time monks settled in Sigiriya and for a while there was a Buddhist monastery, proof of which can be found at the foot of the rock – you can see with your own eyes the inscriptions and drawings in the caves.
Then Sigiriya was swallowed up by the jungle and in 1831 a major of the Indian army (at that time Sri Lanka, or more precisely Ceylon, was a British colony) stumbled upon the ruins. About the historical find Major reported, but the study of Sigiriya began only in 1895.
To the famous frescoes of cloud maidens reached only in 1938, brought from London and installed a spiral staircase, which to this day in the frescoes climb tourists.
Planning a solo trip to Sri Lanka? We recommend you to read the itinerary of the tour "The Best of Sri Lanka in 12-14 days".
What is Sigiriya
The Lion's Rock of Sigiriya rises 180 meters above the surrounding jungle and drops precipitously on all sides.
On top of the rock are the remains of the royal palace (or ancient temple) in front of the rock – the royal gardens and ponds, which apparently served as swimming pools.
Tourist map of Sigiriya will help navigate the area.
All tourists must buy entrance tickets to enter Sigiriya through the west entrance.
Entrance tickets cost $30 for adults and $15 for children. Tickets should be kept until the exit, as you may need to show them to the inspector.
Please note that the ticket does not include a visit to the museum. You have to pay another $5 for the museum.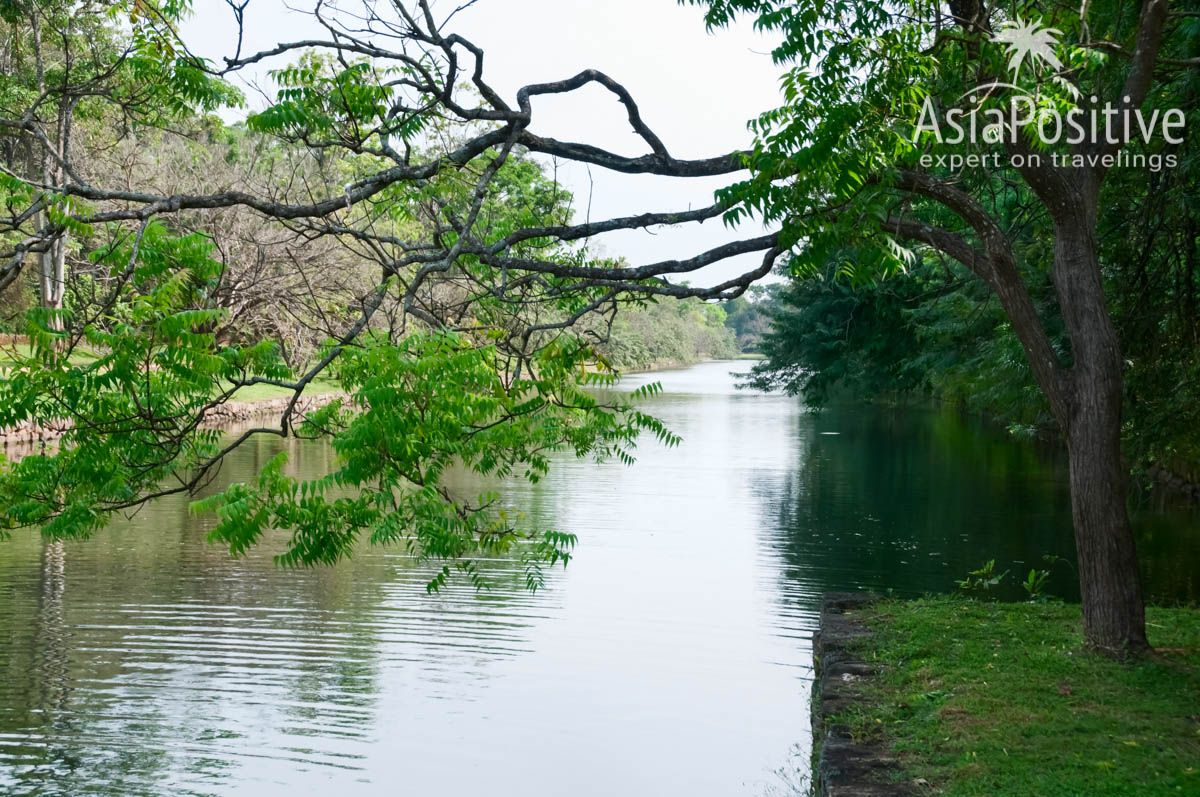 Along the outer walls of Sigiriya stretches a moat of water
Visitors have many steps to climb, so it is advised:
arrive at Sigiriya early in the morning (opening hours: 07:00 -17:00),
lubricate exposed skin with sunscreen,
be sure to bring water and drink it constantly to avoid dehydration,
If you like historical relics and are tired of the tropical heat, visit the museum, which is located a few steps from the ticket office.
Unusual excursions from the locals
What to see in Sigiriya – descriptions and photos of the most interesting places
I would recommend to take a good Sri Lankan guide, who will be able to point out important architectural and cultural elements of Sigiriya, which you might not know how to see.
For example, you can book an individual tour with a Russian-speaking guide in Sigiriya and Dambulla on the website Tripster, which also includes a transfer from your hotel on the coast to Sigiriya and back.
If you want to save money – look for excursions to Sigiriya on the site GetYourGuide (drivers and guides speak English).
If you plan to walk around Sigiriya on your own, write down or remember what to look out for and what to take pictures of.
We will begin at the entrance to Sigiriya, before which you will walk across a bridge over a moat with water, behind which there are still the remains of several rows of fortress walls. If you are not a fan of ancient stones, there is not much to interest you here.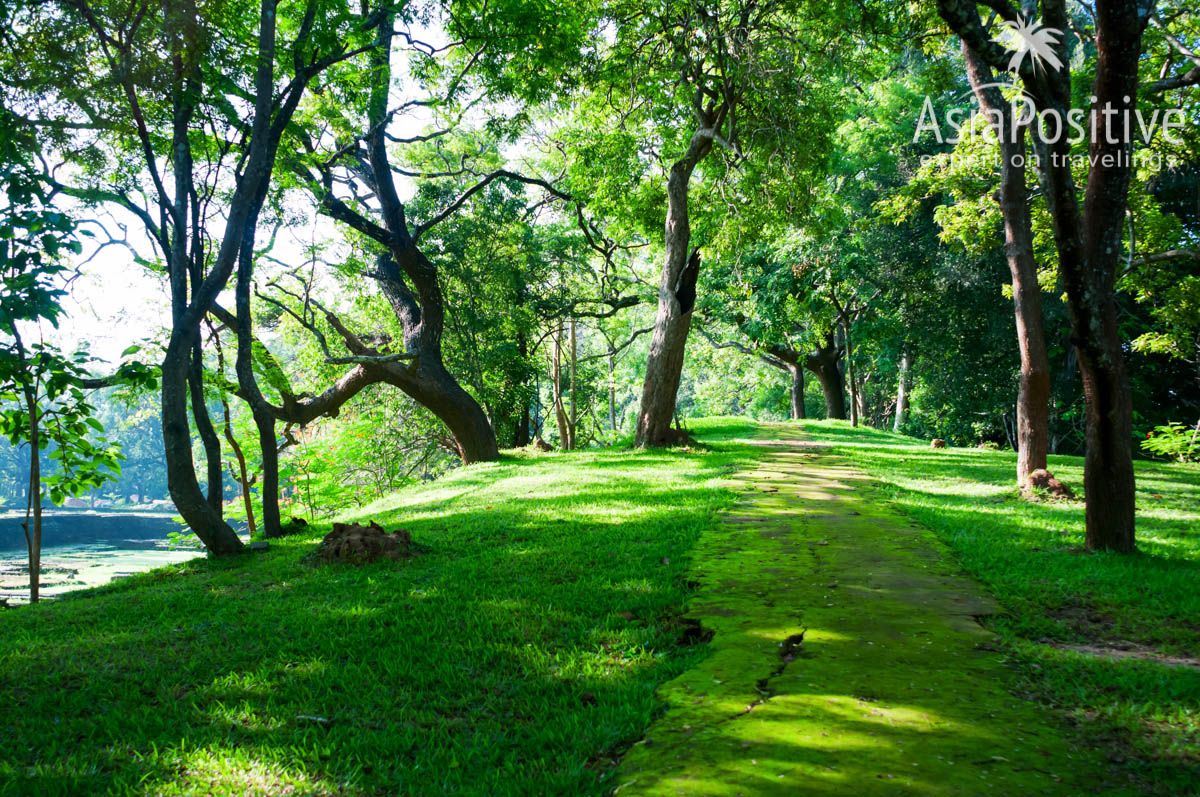 The path along the walls of Sigiriya
On either side of the road to the cliff are water gardens with remnants of luxury – overgrown pools and the modern rural idyll of cows grazing around them.
If you get to Sigiriya after the rains, there's a chance to see a bubbling man-made fountain that's still functioning.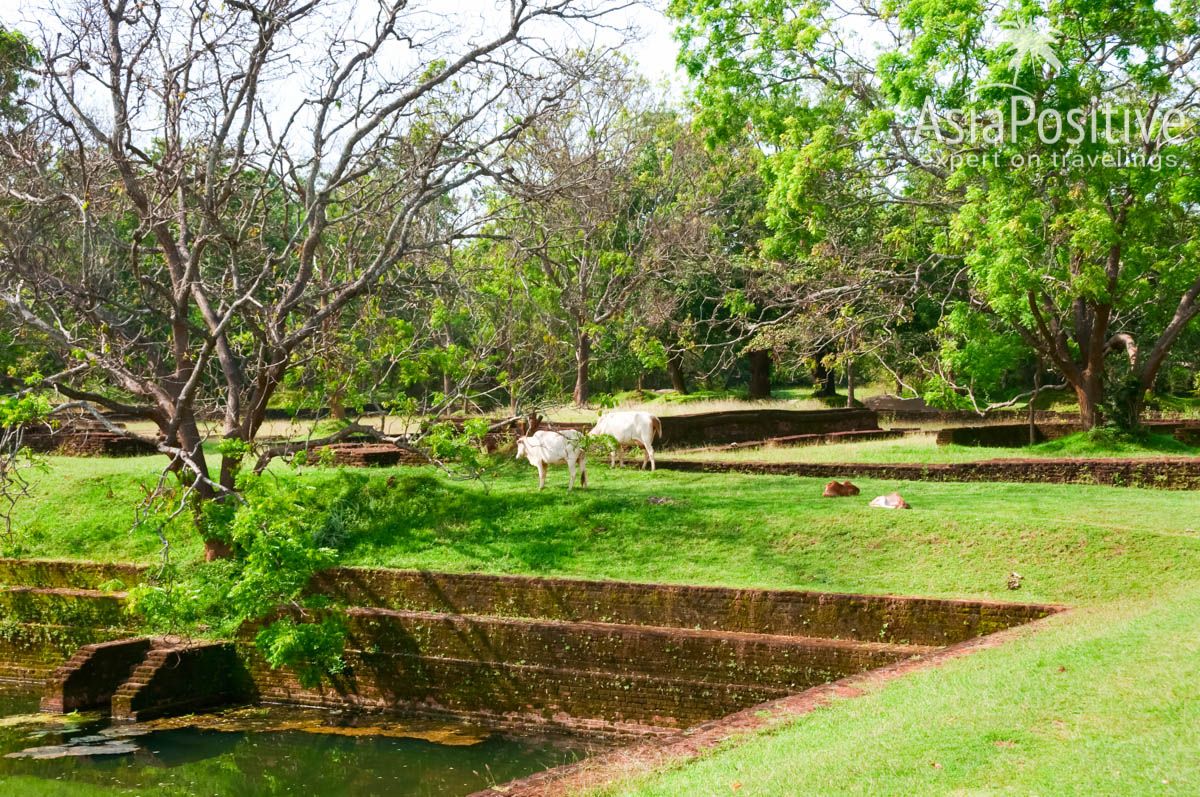 With a little imagination, you might see swimming pools
On the approach to the cliff begin the steps. There will be many of them. As will be willing to help you Lankans. Here and there will appear "pushers". They are ready to push you to the very top, hoping to get a reward for their labors.
If you do not need their services, it is better to put an end to their ardor with a simple phrase: "no money" (no money = no money).
The pusher is an unforgettable service))) There are many steps waiting for you
Step by step, you will reach the spiral staircase. The same stairs that until 1938 worked as a staircase on the London Underground. It is long overdue to be written up as a Sigiria landmark, it is so old. You have to climb this staircase. Otherwise there is no way to get to the famous murals of the cloud maidens.
If you follow the legend of Sigiriya as a royal palace, the maidens on the frescoes are wives and concubines of the King of Sri Lanka with their maids . Although there is a theory that they are Apsaras – demigoddesses, spirits of clouds and water in Indian mythology.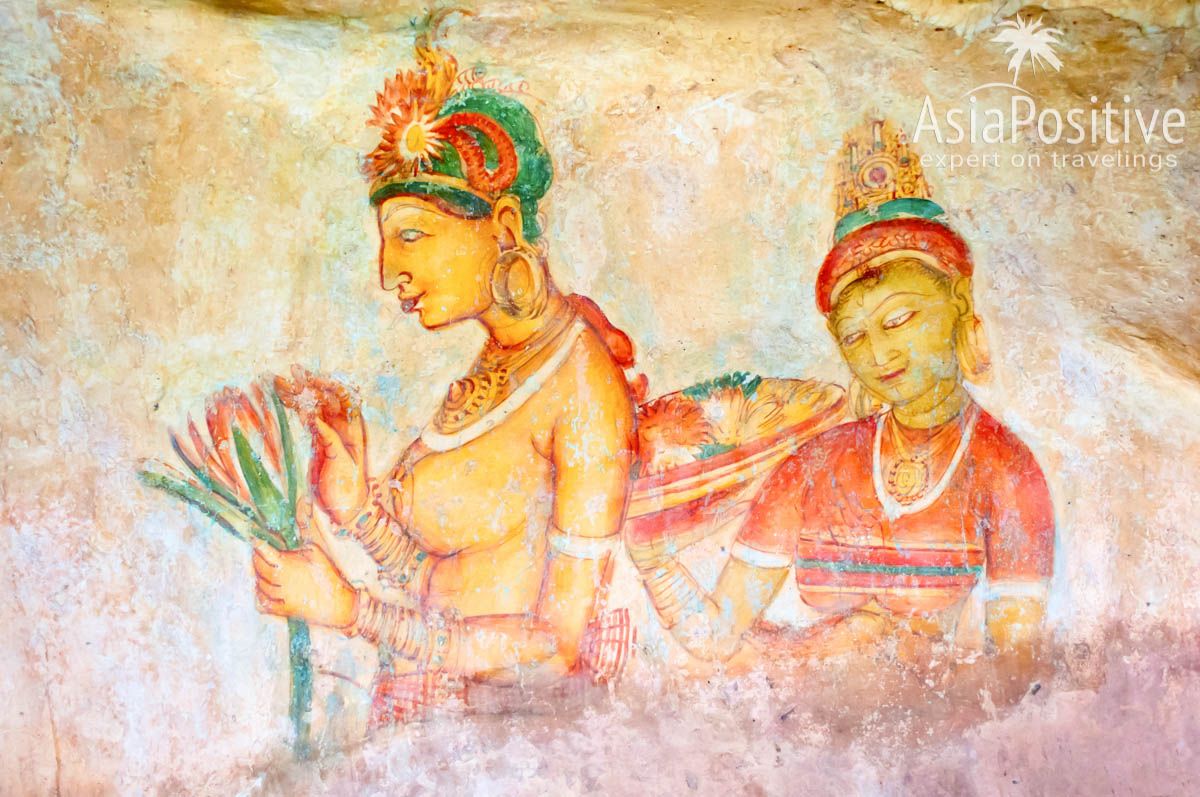 Cloud Maidens of Sigiriya
If you believe the ancient writings, originally there were "500 golden maidens", but time has spared only 22 of them.
Considering that the frescoes are at least 1.5 thousand years old, the vividness of the colors is striking. The frescoes are painted in tempera and if you look closely, you can see the mistakes of the artist (the contours of a third hand or chest).
Please note that it is forbidden to take pictures of the frescos with a flash, without a flash you can.
The beauty of a thousand years old Some of the frescoes are damaged.
After the cloud maidens you will find a mirrored wall on which connoisseurs of the ancient Sinhalese language will be able to read graffiti from thousands of years ago. True, you have yet to find them among the more modern inscriptions.
The wall is indeed polished to a shine – it was coated with a mixture of lime, egg white and honey.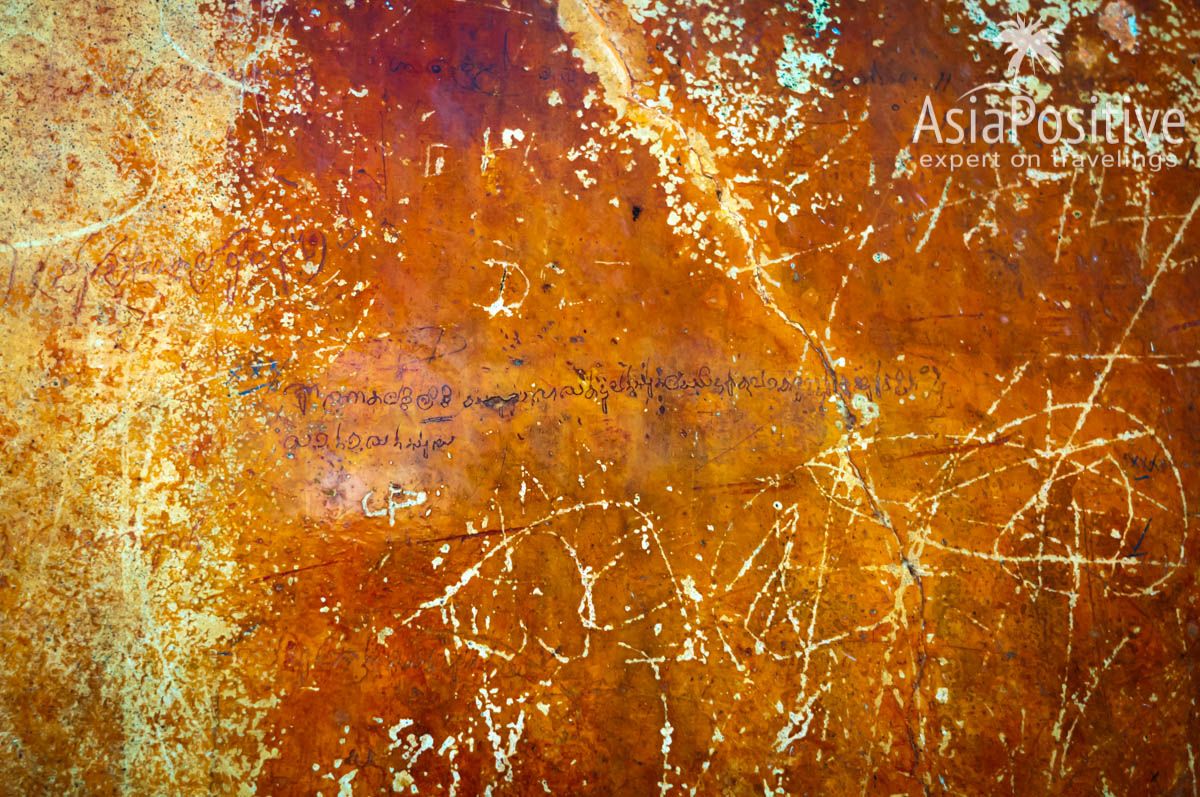 Thousand-year-old graffiti on the Mirror Wall
Tired of climbing the stairs? Gather your strength. One last climb and you're on top of the world. Or should I say, the top of Sigiriya Rock.
But first, rest by the giant lion's paws framing the stairs to the summit. Archaeologists believe that a lion's head towered over the paws and that's why the rock is called Sigiriya (from "sinhagiri" – "lion rock").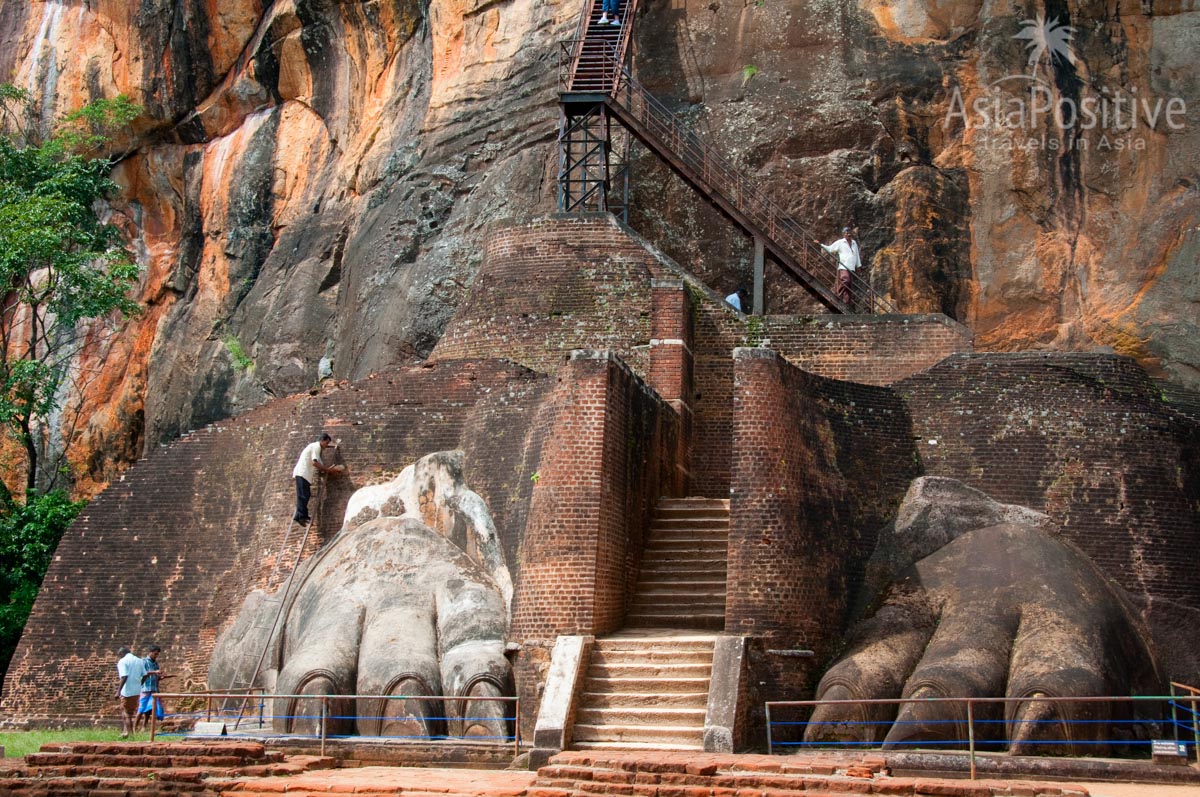 Lion's Paws and Steps to the Top of Sigiriya Rock (Sri Lanka)
Take a bottle of drinking water with you and climb to the top for stunning views of the valley, the ruins of the royal palace, a swimming pool, and a throne carved into the rock.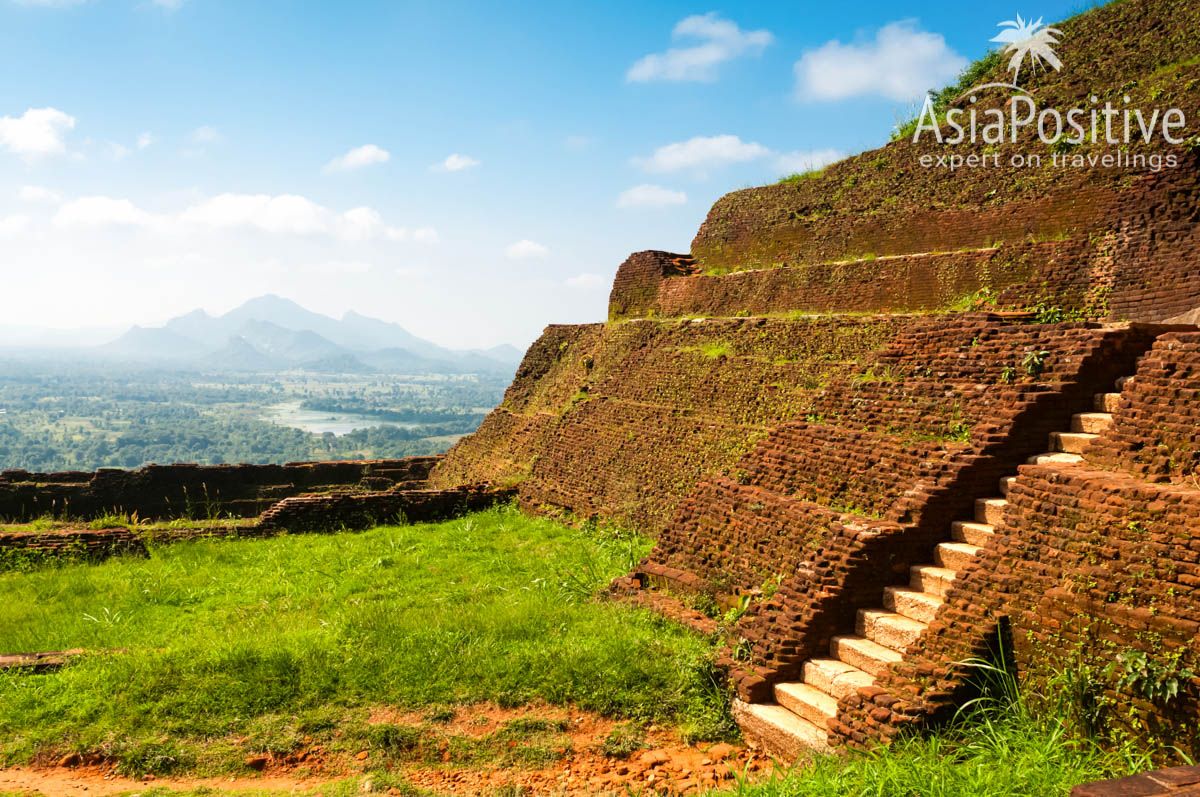 Palace ruins and views of the valley from the summit of Sigiriya
Take your time going down – enjoy a 360-degree view, explore the pools, and find the stone throne.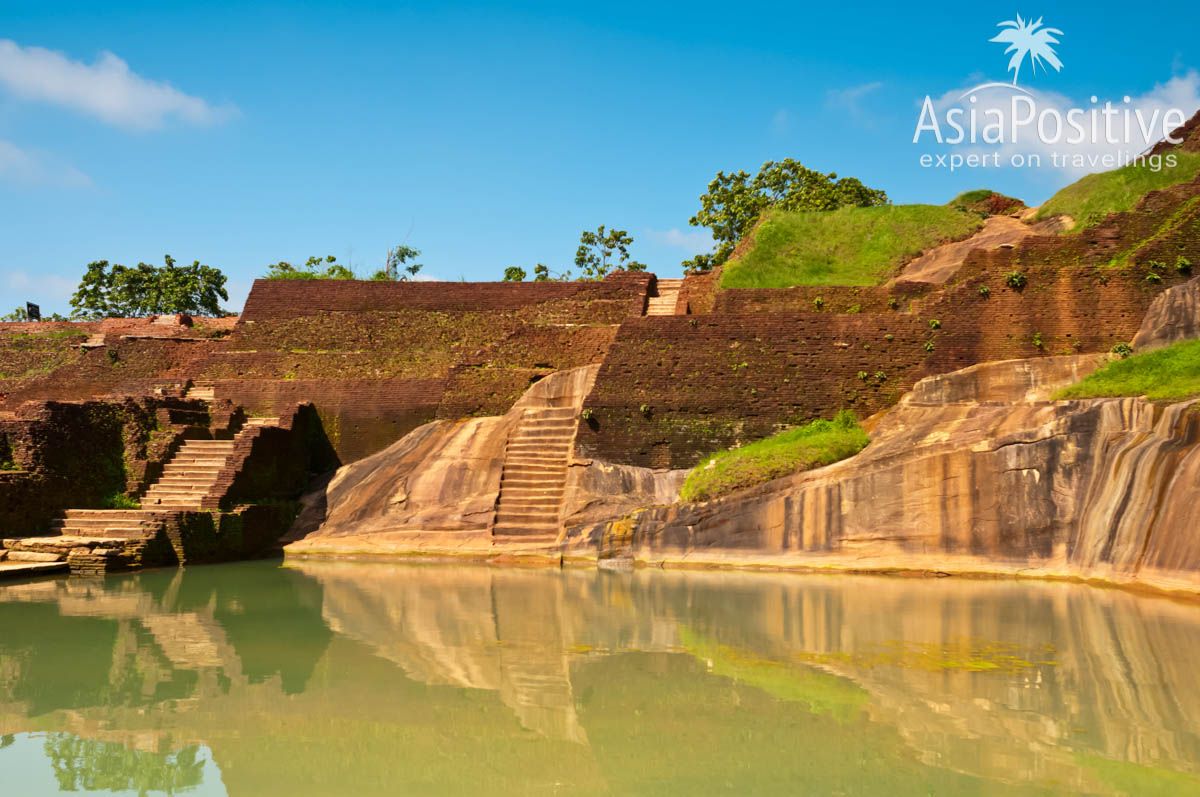 The pool at the top of Lion's Rock
When you decide you're ready to say goodbye to the summit of Sigiriya, head down and take a slightly different route to the exit – along the side of the cliff. You should still see:
The audience hall (you'll recognize it by its flat surface with a stone throne),
the caves of the Buddhist monks opposite the audience hall,
the cobra-shaped rock, which you can't see without a guide,
souvenir shops (what can you do without them).
The tourist map of Sigiriya will help you find the described points, but I can not attach photos, because they are resting in the depths of an unexpectedly broken computer disk.
Where to stay in Sigiriya
My advice to those who are planning to visit other attractions in Sri Lanka (Dambulla, Polonnaruwa, Minneriya National Park or Anuradhapura) – stay in a hotel in Habarana.
In Khabaran is much better infrastructure, more hotels, easier to find transportation or buy excursions.
I recommend Habarana Village by Cinnamon 4*, a wonderful hotel with a beautiful large area, which is 100% worth its money.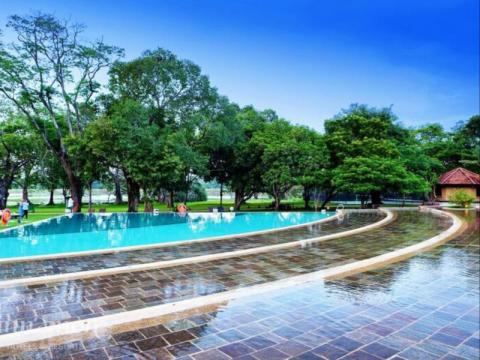 Habarana Village by Cinnamon 4*, Habarana
A great value for money lakeside hotel with a huge area, beautiful pool, delicious breakfasts.
If you want to stay in Sigiriya, here are four options for every budget, from a luxury ($$) five-star hotel to a cozy and inexpensive ($) private hostel: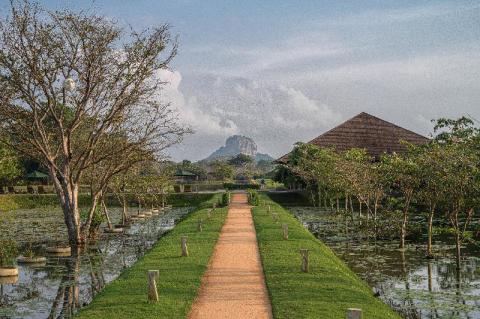 Water Garden Sigiriya 5* $$$, Sigiriya
A chic five-star luxury hotel with a view of Sigiriya Rock, a huge swimming pool and beautiful grounds, large beautifully furnished rooms.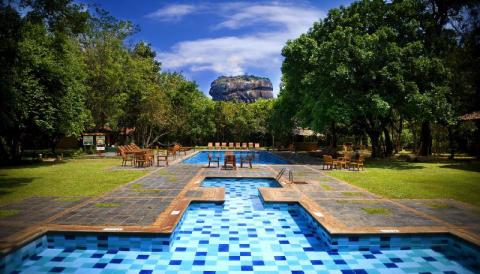 Hotel Sigiriya 4* $$, Sigiriya
One of the most beautiful views of Sigiriya, tasty food in the restaurant, well-groomed green area, cozy rooms.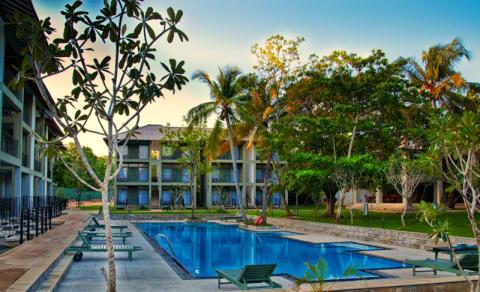 Fresco water villa 3*, Sigiriya
Beautiful, well maintained area with a pool, delicious breakfast in the cafe. The room has everything you need – kettle, cups, refrigerator with drinks.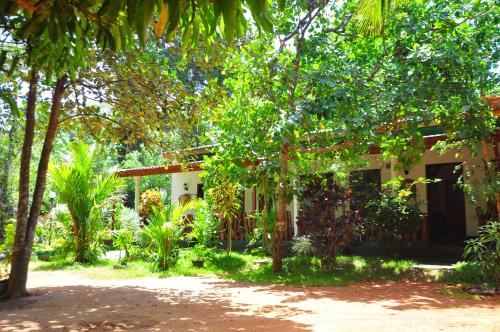 Sigiri Rock Side Home Stay $, Sigiria
Homey and clean for little money, within walking distance of Sigiri Rock, life surrounded by rural living and tropical greenery.
Still haven't decided where to go next, after Sigiriya? For inspiration, an itinerary of the most interesting places in Sri Lanka for 12-14 days.