The best ski resorts in Azerbaijan with prices and an overview of the slopes
Where to ski and snowboard in Azerbaijan? How much is an all-day ski pass for adults and children? What are the conditions for skiing and where is the best place to stay for a vacation? Let's look at planning a winter vacation and find out how much it costs to go to the eastern part of Transcaucasia, what to do in the mountains, what hotels are better to book.
Skiing is associated with France and Switzerland, sometimes with Italy, Germany and Sochi. But in Azerbaijan there are as many resources for this sport, as in other familiar places. Therefore, wishing to join the almost extreme sport should go here.
Weather for skiing in the mountains
If the skiing season in the mountains of Italy is missed, or there is no chance to go there for various reasons, then it makes sense to visit a neighboring state. No need for a visa, quite a short distance, the exclusion of language difficulties, affordable accommodation fees and the loyalty of the locals are the main reasons to go to Azerbaijan for a holiday in winter or summer.
There are nine climatic zones on the territory of the state. For comparison, there are 11 of them on the planet. The early cold starts in October at the ski resorts and near them. And in the last month of autumn there is a full-fledged ski season in Shahdag. In Tufandag this moment comes in December . Winter holidays in the mountains of Azerbaijan are not clouded by sudden thaws, though the Caspian Sea is located nearby, the climate is ideal for traveling with children. The average temperature ranges from -13 to -20 degrees Celsius. In this case, the conditions do not seem harsh to tourists. The mountains are diluted with forests, canyons and even waterfalls can be found everywhere.
The best ski resorts in Azerbaijan
Shakhdag resort.
Construction of the ski complex meets the latest technical requirements. The facility began its work in 2011, at that time there was only 1 ropeway and 1 piste. Now there are more than 10 active slopes. The longest one is 1.8 km long. The total length of all ski slopes is 17 kilometers. In addition to a couple of zones for freestyle skiers, there are 4 red, 5 green and 5 blue routes. The highest point on Shahdag is 2.1 kilometers above sea level. Thanks to an active treatment of the slopes with artificial snow it is possible to prolong the time for skiing. The administration has trained instructors that can teach beginners how to ski in 1 or 2 sessions. There are 12 elevators, rental shops, dozens of restaurants and hotels.
Most Russians fly to Baku by plane. It is faster and more convenient than getting there by train or bus. Regular flights to Baku are organized from Moscow and St. Petersburg. Besides direct flights there are also transit flights via Kazan, Astana and Minsk. From the Azerbaijani capital to the ski resort travels by bus and car. Air ticket search services help to save money.
If you leave Baku for Shahdag by car, you can reach your destination in 3 hours. If you choose public transportation, you initially go to Gusarov, and from the bus station of this city you take a cab. There is no need to get a visa, you only need to present your passport. Regularly (once every 1.5 hours) from the Baku bus station there are buses to Gusar, the fare is 4 manat. Cab services charge from 10 to 15 manat, depending on the chosen operator.
The cost of a skipass in Shahdag for the 2022 season is 25 manat. But if you want to get admission for the whole ski season, you have to pay 390 AZN. For 50 you can attend a two-hour personal lesson with an instructor.
For a ski set from skis with poles and boots one has to give 20 manats, for a snowboard with boots – 25 manats. Important: those who come with their own equipment can take only boots, it will cost from 10 to 15 manat. Conclusion: the average cost is 2 or 3 times less than in Europe.
The question of where to stay in Shahdag is no less important than the arrival. It is possible to rent a room in a five-star hotel for an average of $ 70 per day. Three- and four-star hotels offer their rooms for $35 to $40 a day at least. Staying at the Shahdag Guest House, you can view the mountains from the windows. Each room is equipped with satellite TV, and continental breakfasts are served daily in the morning. There is no need for a credit card. If you stay alone in a double room, you have to pay 480 euros per week.
What to do in the evening after skiing?
If the answer to the question of where to ski in Azerbaijan in winter is "in Shahdag," the infrastructure of the complex will please tourists. There is an ice rink and a school for training skiers. This allows you to use your free time to improve your skills. But also offer a lot of other entertainment. Thus, visitors to the resort are available hiking and Nordic walking. Equestrian rides and trips on snowmobiles and quad bikes are available. Another kind of active leisure is paintball. Connoisseurs of animals and plants often go to the national park. At nighttime in 90% of the hotels there are bars with discos. In addition, the prices at Shahdag ski resort in winter attract fans of spa treatments, fitness.
Tufandag ski resort (Gabala)
This facility has been operating since 2014. The creators of the resort are working diligently to form an infrastructure that is not inferior to the leading alpine examples. Rental centers for equipment are deployed, 5 ski slopes are in operation.
The downhill courses are located on the heights from 1 to 1.92 kilometers. The total length of the sections is 17 kilometers, and the altitude difference between the highest and the lowest point is 591 meters. There are four elevators to the starting point, which together can lift 3,000 tourists a day. The slopes are improved with the help of snow groomers and artificial snow making complexes. You can ski in Tufandag in December, January, February and March.
The important question is by what and how to get to the Tufandag resort. The way from Baku (accommodation selection) takes 220 kilometers. Cars (cabs, rented cars) and tourist buses cover this distance for 210 – 240 minutes, depending on the driving qualities and road conditions. Planes arrive in Baku from Moscow, Nizhny Novgorod, and St. Petersburg. They spend about 3 hours in the air. The train from Moscow to Baku takes 60 hours. Fee for travel by air and on the rails is constantly changing, so you need to clarify it before the trip.
Tourists pay 25 manat per day. But for children the fee is 20 manat. Another 10 units need to pay extra for the use of ski elevators. Training in ski school costs 35 manat for 1 hour for adults and 20 manat for the same time for children.
The cost of renting equipment for the day
If you rent skis, boots, poles and helmets you pay 20 manat. For the same amount of money they give out boots together with a snowboard and helmets. To rent a set of pants and a jacket for skiers costs 10 manat.
Those tourists who stay at the hotels located close to the bottom stations of the elevators often give positive reviews of the ski resorts of Azerbaijan. In this case you will need to pay at least $73 per room per night. If you prefer a three-star and four-star hotels, you can reduce the payment to 30 or 40 dollars a day. Staying at Qafqaz Tufandag Mountain, travelers will have access to a fitness center, a restaurant, and an optional continental or American breakfast. A 40-square-meter room costs 749 euros for a week.
What to do in the evening after skiing?
Gabala is a pleasant place for lovers of hiking in the mountains. Fans of fishing and hunting in the winter willingly come here. Their leisure time is 100% provided by local excursion service. Skiers in their free time explore the ancient architecture, go to the amusement park and to the winery.
Blue slopes are for beginners;
Red – slopes of medium complexity for confident skiers;
Black – for active downhill skiing and snowboarding.
How to save on your trip? Working tiphacks!
We recommend looking for the best hotel prices on ROOMGURU . The search engine searches among all the hotel databases on the internet, even from giants like Booking, and compares prices. If you like to use your smartphone, the Lodging Search app is a must. It's very convenient to open your options upon arrival and book immediately.
Advantageous to insure your health and life while traveling will help service TRIPINSURANCE, the search engine shows the results of all major insurance companies. You need to choose only the most favourable option, but we advise you not to save on your health!
Airfare? We advise you to use AVIASALES, it is still the no.1 search engine among independent travelers.
My name is Sergei, and I work as a guide in various cities in Europe, Asia, eastern Russia, also work as a manager in a large travel agency. During my travels I have experienced a lot of emotions, learned useful information about rest and prices, saw unique places, about which I hurry to share on the pages of my blog about tourism.
Ski resorts in Azerbaijan
To rest in winter on a European level, but at the same time not to overpay, to go abroad, but not to experience any difficulties – it is possible. Go to Azerbaijan!
Ski resorts are a new and promising vacation destination in this country. There are many advantages: it is quite close, Russian tourists do not need a visa, there is no language barrier, and the local population is loyal to Russian tourists. Major ski resorts in Azerbaijan now two – Shahdag and Tufandag.
During the winter holidays you can combine sightseeing in Baku with skiing and snowboarding in the mountains – that's a full and interesting trip, and even at a very good price. In addition, some closeness of mentality facilitates understanding between staff and tourists. Azerbaijanis know very well what to offer you and when to do it.
Exchange rate: 1 Azerbaijani manat (AZN) ≈ 44 RUB.
Content:
The climate in the resorts.
Azerbaijan has 9 of the 11 climatic zones. The first frosts in the areas of ski resorts begin in October, so already from November the ski season opens in Shakhdag, and in December – in Tufandag. The average temperature during winter months ranges from -13. -20°С
Nature here is diverse: forest massifs, mountains covered with glaciers, waterfalls and canyons. There are many options for hiking, there are hiking trails for professionals and beginners.
How to get there
It is convenient to get to Baku by plane. Regular flights are made from Moscow and St. Petersburg. From Baku you can get to the resort by bus or car. There are also routes with connections in Astana, Kazan or Minsk. Baku Airport →.
Where to find cheap tickets? Use the search engines Aviasales and Skyscanner – they compare prices of all airlines. Learn the secrets of finding cheap airline tickets.
Where to stay
5* hotels cost on average from $70 per room. There are 3* and 4* hotels with room rates starting from $35 and $40 per night, respectively.
Look for discounted hotels on Skyscanner Hotels. Here are the top hotel search rules.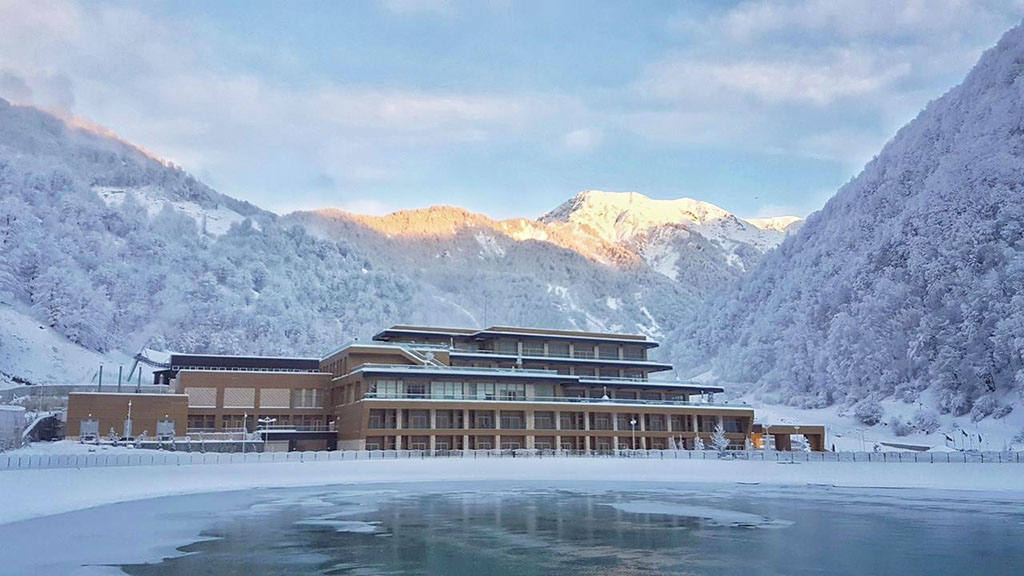 Shahdag
This is historically the first and largest ski resort in Azerbaijan. It is 215 km from Baku, near the town of Gusar.
Shahdag is considered the most beautiful part of the Caucasus Mountains, it is known for the purest mountain air and curative climate. The weather at the resort is ideal for winter outdoor activities and in summer for eco-tourism. In the summer months, biking, paintball, trekking, water slides, and even paragliding are popular. In winter, in addition to ski slopes, there are slopes for snow tubing, jumps for snowboarding, dog riding and other entertainment.
In Shahdag, there are all conditions for comfortable rest. At the foot of the mountain are about 20 restaurants and five hotels from 3* to 5*, including accommodation type "apartment": Shahdag Hotel & Spa, Zirve Hotel, Gaya Residence, Pik Palace and Park Chalet. At the same time hotels can accommodate more than 1500 guests.
There is a medical center, a school for beginner skiers, children's areas and a large parking lot.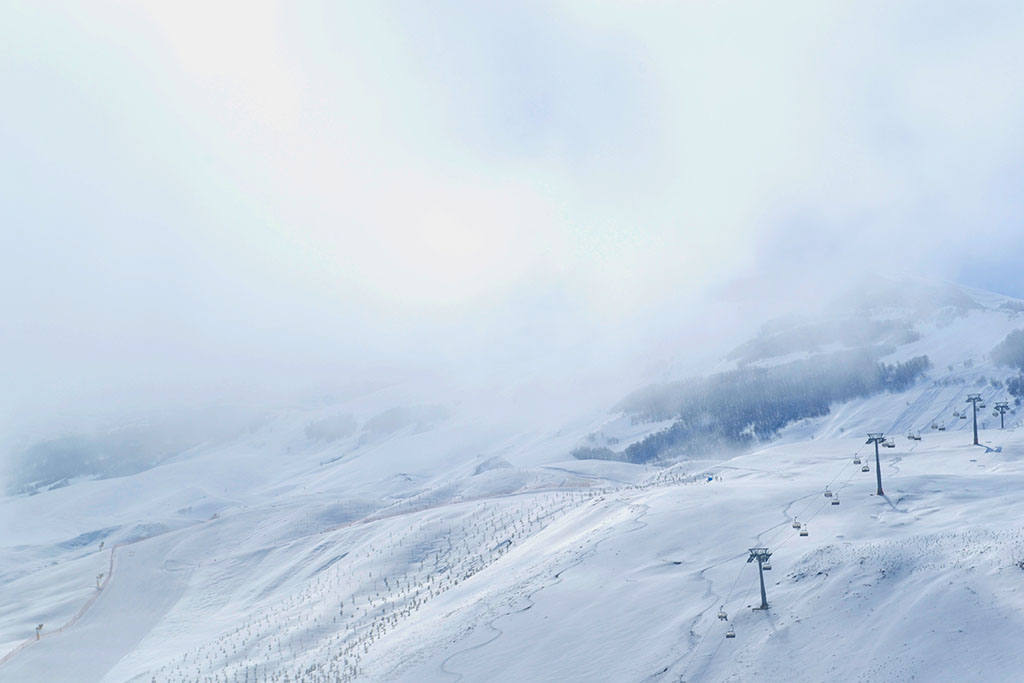 (Photo: unsplash.com / @shabnam)
Trails
The complex's infrastructure is state-of-the-art. The first ropeway and track were opened in 2011. Now there are 14 tracks, the longest of which is about 1800 meters, the total length of the tracks is 17 km. There are 5 green, 5 blue, 4 red trails and 2 zones for freestyle.
The highest point of the resort is 2100 meters. Ski tracks are additionally treated with artificial snow, which extends the skiing season.
Experienced instructors work in the resort, and you can learn how to ski literally in 1-2 sessions.
Scheme of ski tracks in Shahdag (large size)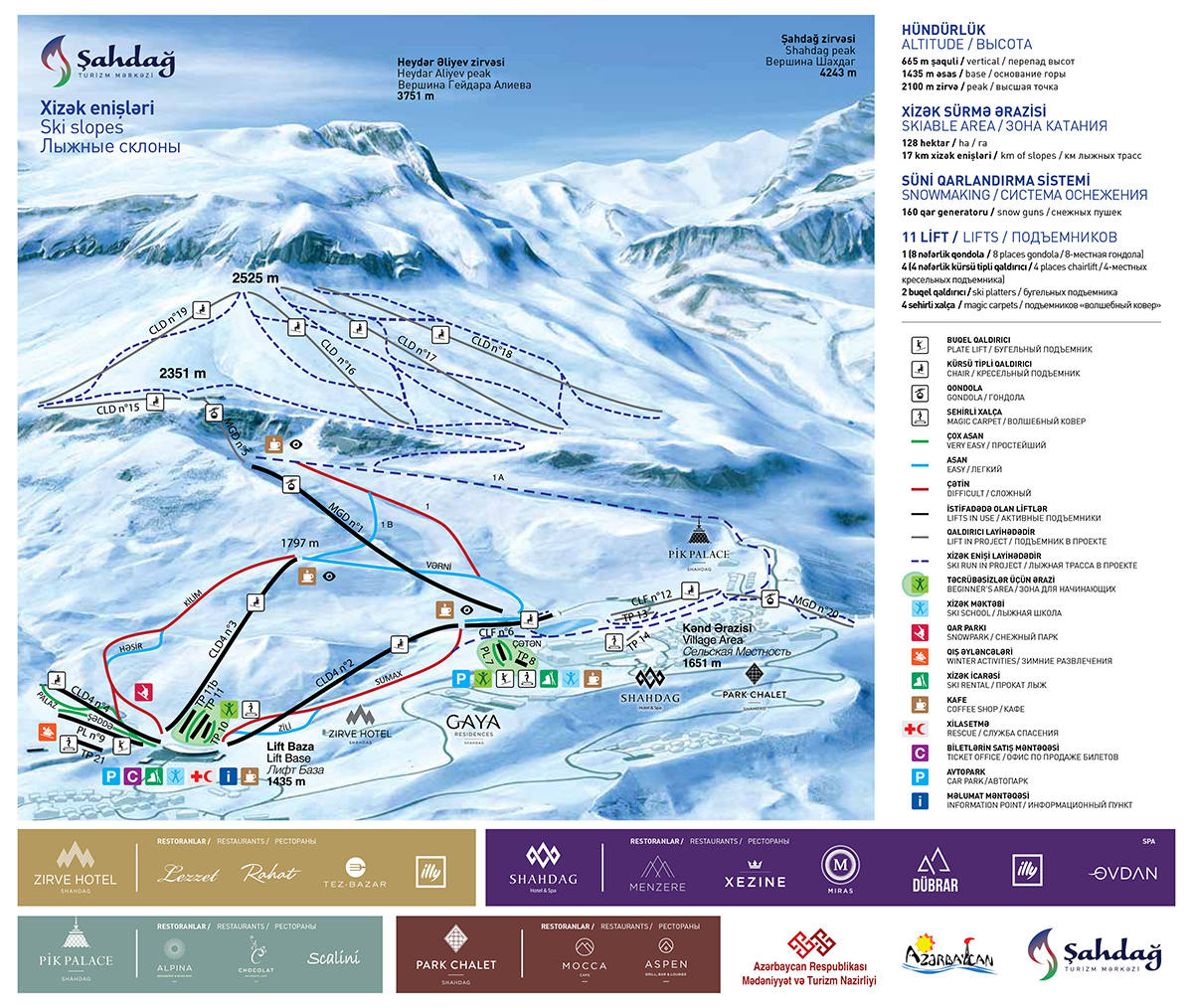 Prices for ski passes and rentals
Ski pass – 25 manat.
Ski rental (set – skis, poles, boots) – 20 manat.
Rent of snowboard with boots – 25 manat.
Boots – from 10 to 15 manat.
Individual training with instructor (2 hours) – 50 manat.
The ski pass for the season is 390 manat.
The ticket for the big ropeway in Shahdag costs 5 manat, the rest – 3 manat. These prices are about 3 times lower than in Europe.
Speeding down from the highest to the lowest point of the Shahdag resort
Tourist Reviews
Hotels, according to vacationers, are not inferior to European hotels: equipped with spa centers, massage rooms, gyms. Many come to Azerbaijan with a little anxiety, because not much is known about this destination. But the impressions are the best! Every room has beautiful views of the Caucasus Mountains, and the Azerbaijani cuisine is to the taste of almost any tourist.
The best months to visit are February and March, when there is a lot of snow and no frost. In other months, some slopes may be closed because of the small amount of snow.
Ski resorts in Georgia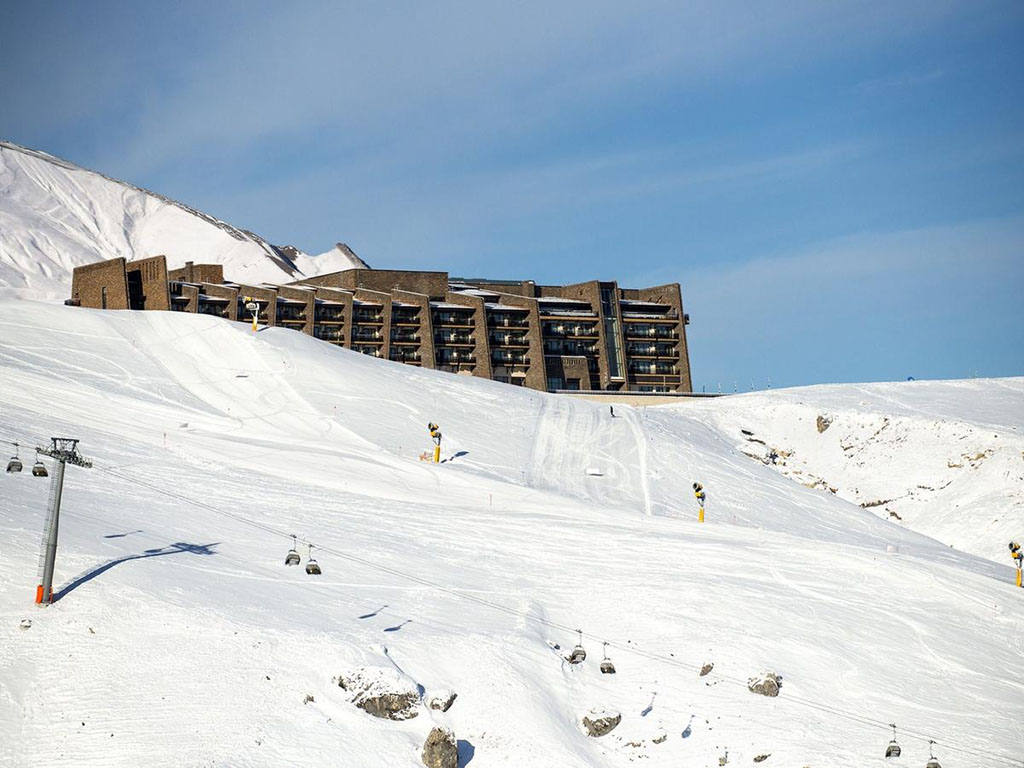 Tufandag
Tufandag, or Tufan, is Azerbaijan's second most popular ski resort. It can accommodate up to 3,000 people a day. The complex opened in 2014 near the Azerbaijani town of Gabala.
Tufandag is a winter resort, but people also come here to rest in the summer. What is there to do? Tourists advise to climb the mountain Bazarduzu and visit the sights of the city of Gabala: excavations, the museum of the history of the city, the famous ruins of the Gabala Gate, fragments of the ancient ceramic waterworks. In addition, there are picturesque lakes not far from Tufan Mountain. According to legend, there is a fragment of Noah's Ark in one of them. A little further, 30 km from the resort, there is a winery Savalan – tourists can buy alcohol there for a bargain price.
Panorama of the resort
Trails
Tufandag operates from mid-December to the end of March. The altitude of the mountains here is slightly lower than in Shahdag – 965-1920 meters above sea level. There are 4 ropeways and 10 ski tracks with the total length of 17 km in the resort. The tracks vary in level: 3 blue, 3 red and 4 black. Sometimes, some of the slopes are closed due to insufficient snowfall. There is an artificial snowmaking system.
Tufandag slopes scheme (large size)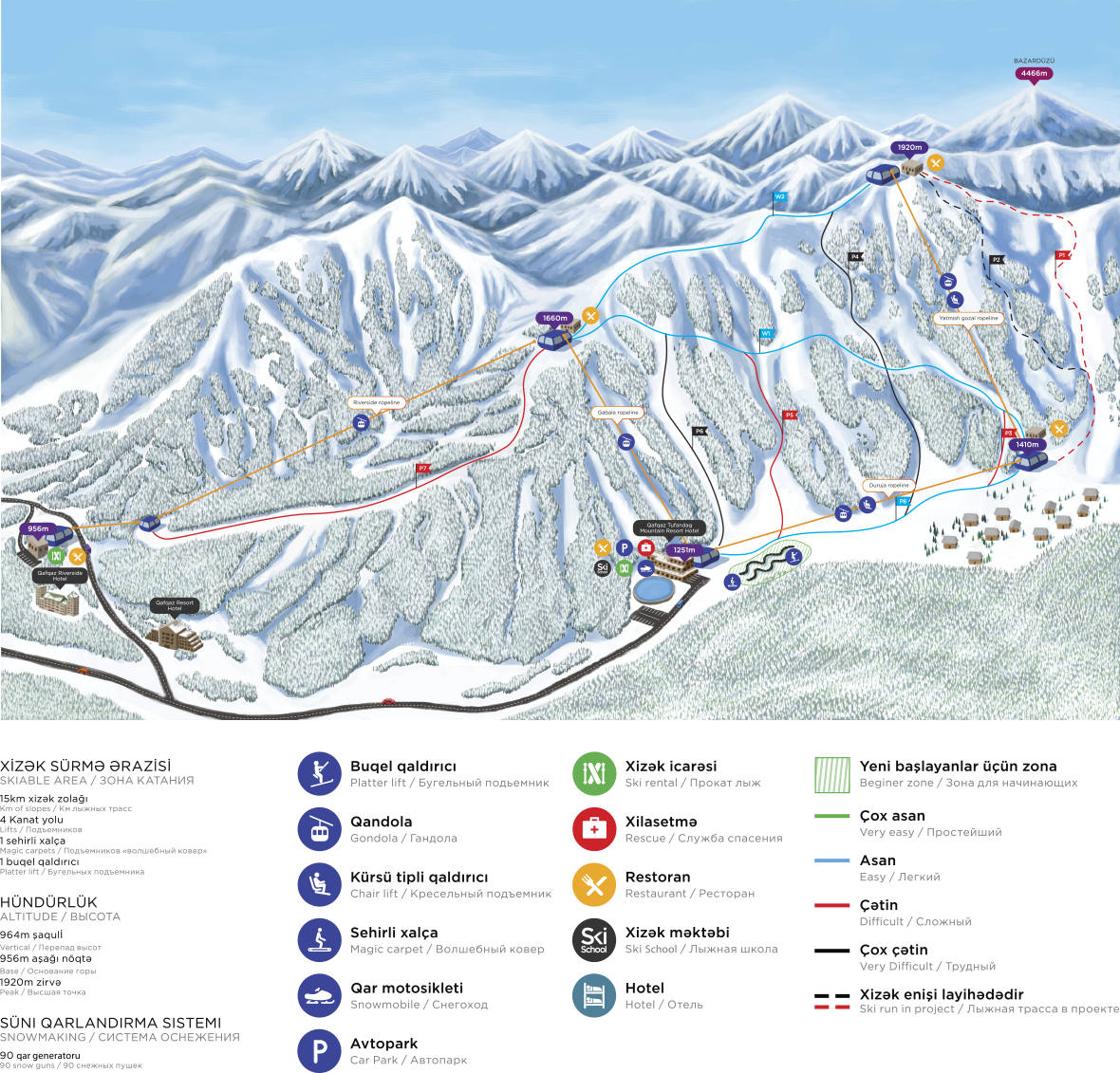 Prices for ski passes and rentals
A ski pass is 15 manat.
Ski rent (a set of skis, poles and boots) – 15 manat.
Rent of a snowboard with boots – 15 manat.
Skiing clothes set (helmet, goggles, jacket, pants, gloves) – 15 manat.
Individual lessons with an instructor – 40 manat.
All prices are for one day per person. Passes for two, three or more days are cheaper. Individual sessions with an instructor cost more than a group session.
Tourist Reviews
Infrastructure at the second most popular ski resort in Azerbaijan is developed: there are cafes and restaurants, hotels, stores and equipment rental points. At the resort you can learn how to ski, visit the sports center of Qolf Resort, organize leisure time for your child in the children's recreation areas.
Reception in hotels operates around the clock, to the staff tourists have no complaints – employees do everything for the comfort of tourists.
Trails Tufandag often cause a real delight to holidaymakers. "Meet all safety requirements", "at the highest level" – so tourists speak of the slopes of this resort.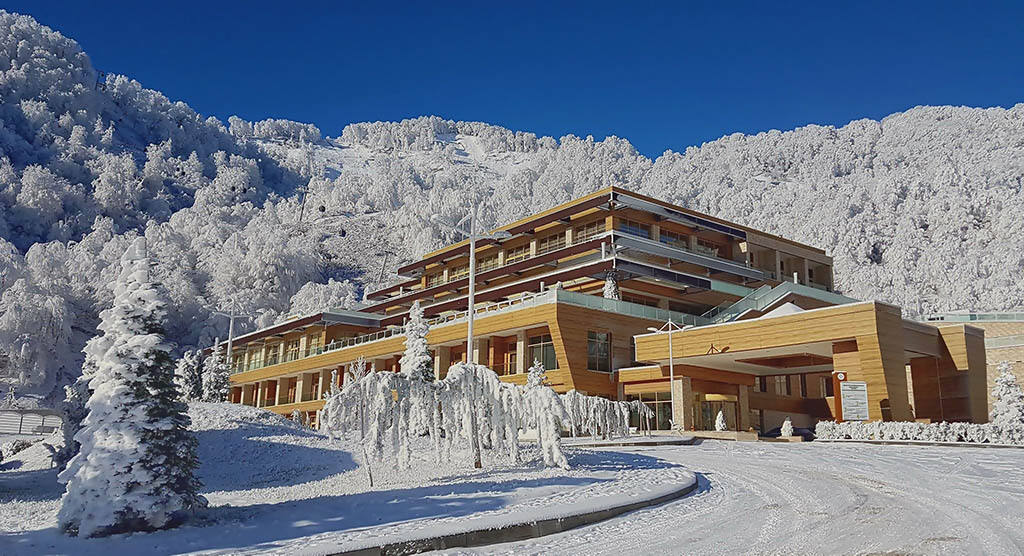 What the color of the slopes means
Green slopes – simple and almost straight slopes for beginners. When descending do not allow to gain high speed.
Blue trails are the second most difficult. These routes are steeper, the terrain is more diverse, but there are no sudden drops in altitude. There are a lot of gentle sections.
Red routes are the most popular and interesting. They require some preparation. The slope is rather steep; there are not too many flat sections. This category also includes off-piste routes, which usually run parallel to the main list, and are not recommended for beginner skiers.
The black slopes are the most difficult. Usually, they are not groomed by groomers, and the terrain can be dangerous: sharp turns, hillocks, trees, and narrow steep sections. This group also includes snowboard jumps. In some countries, there are also extreme double black slopes only for very experienced skiers
Tips for vacationers
Exchange your currency for manat in advance. You can do this at the airport or in Baku in bank branches. Tourists are also advised to take more cash, because there are many interesting excursion routes in Azerbaijan. Prices for food in Baku →.
Hotel, most likely, will accept at least rubles, even dollars, but souvenirs in the street shop can be bought only with local currency. The same applies to excursions purchased outside the hotel.
If you go to Azerbaijan for more than 10 days, you need a temporary registration. Hotel administration takes care of this issue. hotels are very popular among the local population, and in the past couple of years are gaining popularity among Russian tourists, so take care of booking a hotel room in advance – at least a month and a half.
Take a passport (Russian is enough) and a driver's license if you want to rent a car, a camera and a first-aid kit for tourists. Medical insurance is just for your own peace of mind.
Conclusions
Ski resorts in Azerbaijan are not popular yet, but this is only for the best for tourists: there are not too many people yet, but the level of organization is very good.
Both in Shahdag and Tufandag there are tracks of all levels – educational, beginner, intermediate and advanced. But in Shahdag there are more tracks – the area of the resort is wider and there is less forest. Usage of the resorts is average, so there are almost no queues at the elevators.
Tourists who visited both resorts say that Tufandag would be better for beginners, as the slopes there are much gentler. If you're planning a long vacation, head to Shakhdag: you'll have enough time to learn how to ski on the gentle slopes and to try the more challenging slopes.
The resorts of Azerbaijan are not inferior to European resorts, but you will be pleasantly surprised by the prices. Tufandag is a little cheaper, but both resorts are available, well equipped and will suit any tourist.