The 6 Best Budapest Restaurants with National Cuisine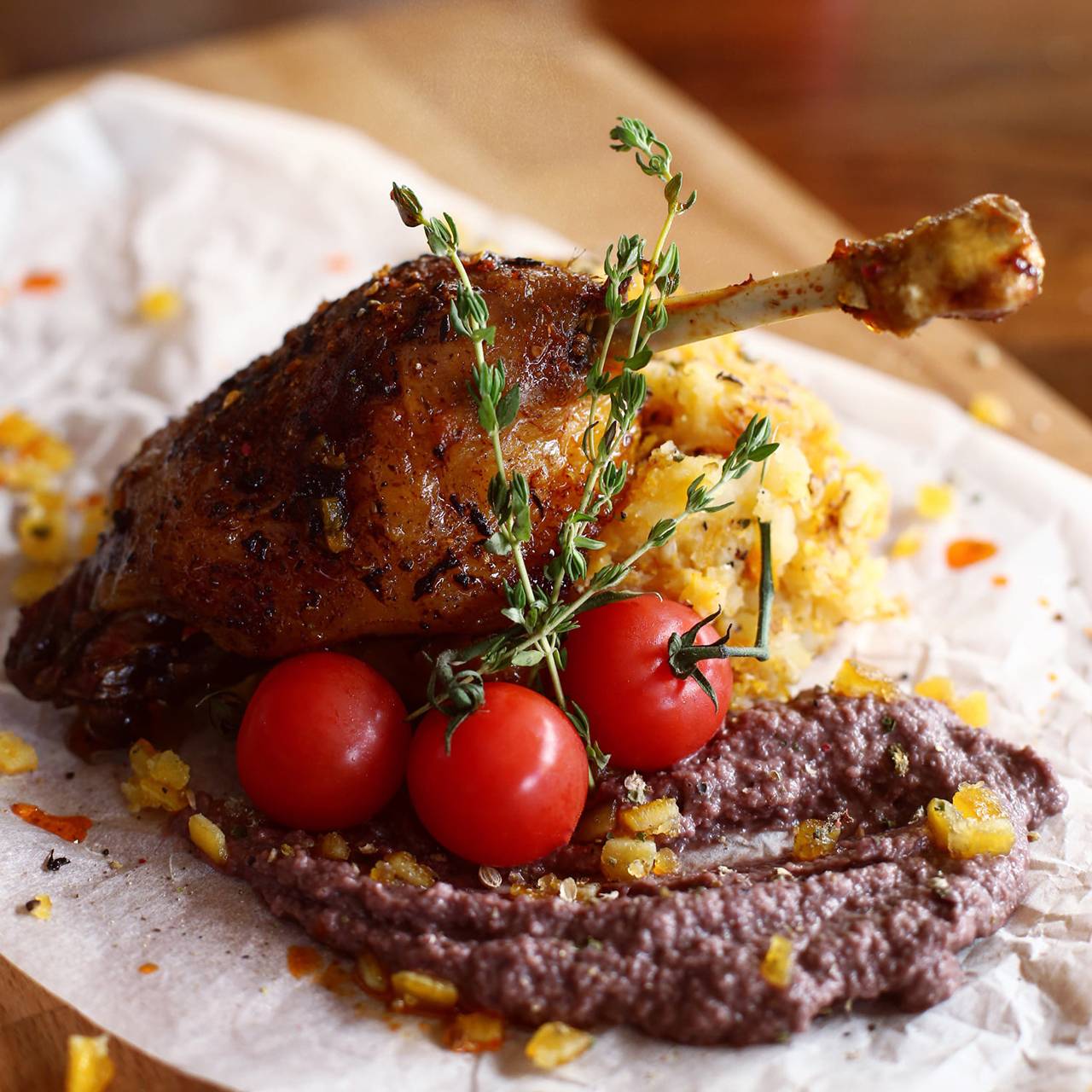 Want to try the tastiest Hungarian dishes? We tell you about the best restaurants in Budapest with national cuisine, which are located in the city center. We advise you how to choose the most authentic restaurant.
Exchange rate: 100 forints (HUF) ≈ 25 RUB.
Trofea Grill Restaurant
This popular establishment is located in Buda, near Margit Bridge. In the Trofea restaurant in Budapest, prices are below average. The most inexpensive dishes are prepared in the afternoon from 12:00 to 17:00.
A lunch set costs HUF 4,999 (€14.64). A great opportunity to have a hearty meal and try traditional Hungarian dishes! Tourists like the "Hungarian plate", mushroom cream soup, goulash and roast duck with braised cabbage.
Average check . A dinner for two will cost 15700 HUF (47€).
Address : Margaret Bridge Margit Krt. 2.
Official website: trofeagrill.eu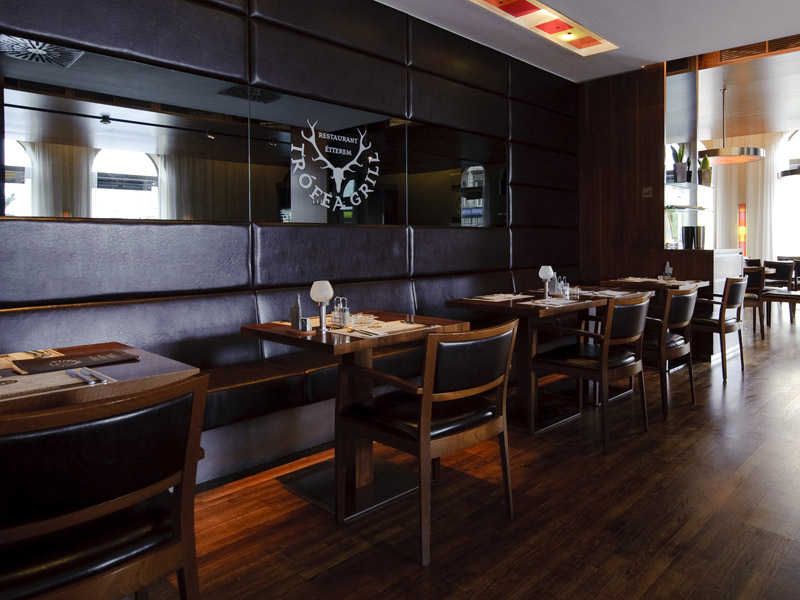 Trofea Grill Restaurant (Photo: trofeagrill.eu)
Alma & Korte Restaurant
One of Budapest's newest restaurants is loved for its excellent food, romantic interior and light live music. Tourists recommend the apple and selery cream soup, the rabbit leg, grilled wild mushrooms and the national dessert somlói galuska . Roasted greens with goat cheese costs 2,100 HUF (6.27€), and duck liver pate with porcini mushrooms is 2,800 HUF (8.37€).
Average Check . Prices are above average. A dinner for two would cost 16700 HUF (50€).
Address : Lorinc pap ter, 3.
Official website : almaeskorte.hu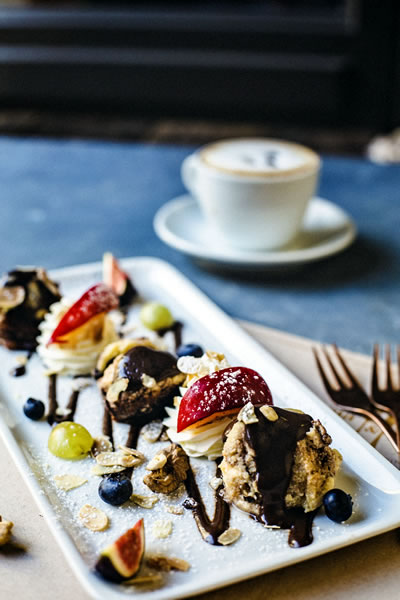 National dessert somlói galuska (Photo: almaeskorte.hu)
New York
Strange as it may seem, one of the best restaurants in Budapest with national cuisine is called New York Café. The establishment is located in the Jewish Quarter, 800 meters from the Great Synagogue, and is strikingly beautiful. New York restaurant in Budapest is located in a building that was built at the end of XIX century in the traditions of the Italian Renaissance. When you walk in here, you feel like you're in a museum.
Try the chiken paprikash, beef goulash, Hungarian schnitzel and grilled foie gras. Order the signature tea set for two. For HUF 19500 (65€), you'll get handmade cakes, candies and macaroons, freshly squeezed orange juice, tea or coffee.
Average check . A dinner for two will cost 11,700 HUF (36€).
Address : Erzsebet korut 9-11.
Official website : newyorkcafe.hu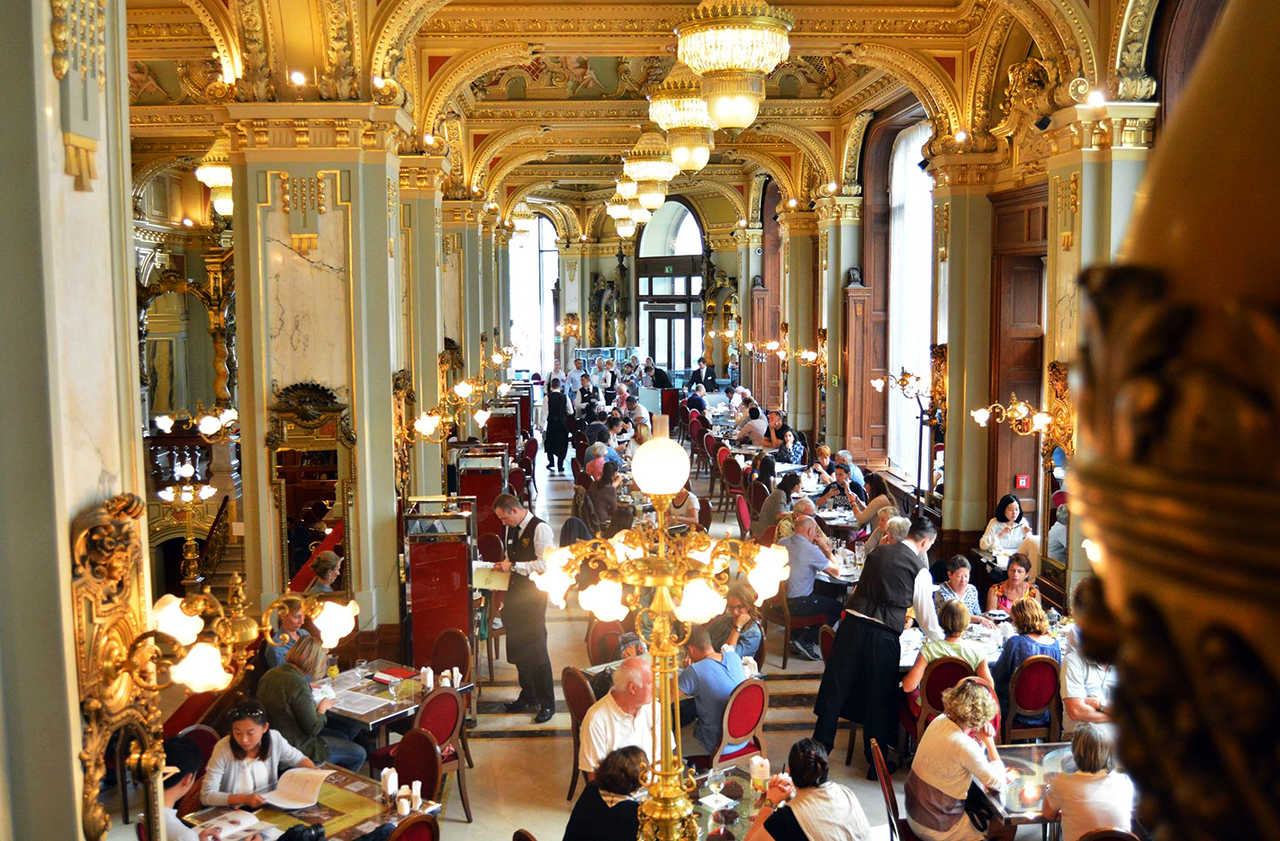 New York Restaurant (Photo: facebook.com/NewYorkCafeBudapest)
Hungarikum Bisztro.
This cozy bistro welcomes guests with a pleasant atmosphere with hints of antiquity, homemade checkered tablecloths and live music. The restaurant is so popular among the tourists and citizens of Budapest that the table should be reserved in advance. Visitors praise the lightly salted cucumbers with sour cream and paprika. We suggest ordering a two-course set of goulash soup and crispy duck leg with a side of steamed onion puree and cabbage for 5,690 HUF (17€)
Average check . A dinner for two would cost 13400 HUF (40€).
Address : Steindl Imre u., 13.
Official website: hungarikumbisztro.hu
Crispy duck leg with side dish (Photo: hungarikumbisztro.hu)
Retek Bistro
Half a kilometer from the famous Chain Bridge is a small restaurant that knows how to make you feel good and serves delicious food. As a compliment, guests are offered a glass of specialty liquor.
Spend a couple of hours in the bistro and try the meat dishes, red Hungarian wine and the delicate national dessert túrógombóc . Grilled home-made sausage costs HUF 1,850 (€5.53) and crispy duck leg with strudel of stewed cabbage and mashed potatoes costs HUF 3,390 (€10.13).
Average check . A dinner for two costs 8,400 HUF (25€).
Address: Merleg utca, 10.
Official website: retekbisztro.hu
Retek Bistro (Photo: retekbisztro.hu) Retek Bistro (Photo: retekbisztro.hu)
Paprika
In the Jewish Quarter, 800 meters from the Heroes' Square, there is one of the most iconic national restaurants in Budapest. "Paprika" is a small and cozy establishment that occupies the first floor of an old house with mascarons.
Broccoli cream soup with roasted almonds costs 950 HUF (2.84€), goulash with homemade noodles is 1500 HUF (4.48€). If it's just the two of you, order the Paprika specialty plate for 6,700 HUF (20€). You'll get beef or pork medallions, goose leg, breaded turkey, stuffed sausage, cheese, rice, fried potatoes and steamed red cabbage.
Average check . A dinner for two is reasonably priced at HUF 8,700 (€26).
Address: Dozsa Gyoergy ut, 72.
Official website: paprikavendeglo.hu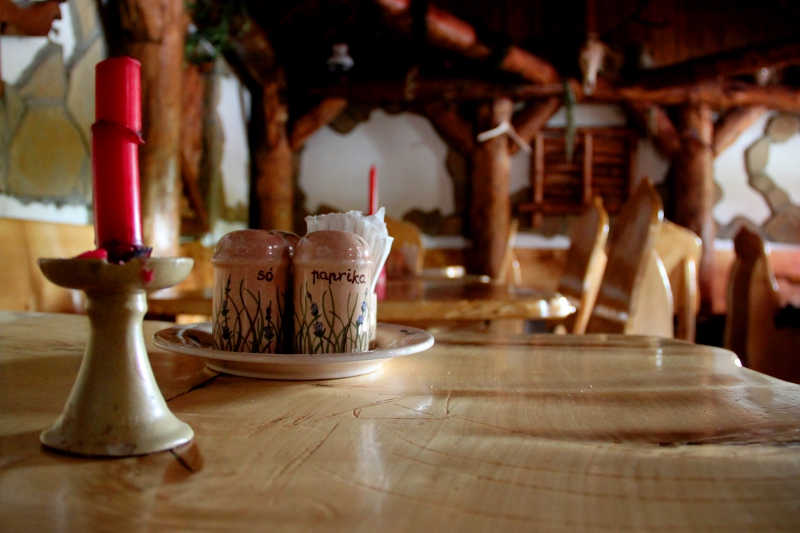 Paprika (Photo: paprikavendeglo.hu)
Tips on how to choose the best restaurant in Budapest
The capital of Hungary is one of the centers of world gastronomy, so choosing a place to eat in Budapest is not easy. If you want to taste the most exquisite Hungarian cuisine for any money, go to Michelin-starred establishments. Costes and Costes Downtown , Onyx , Borkonyha , Stand and Babel offer expensive but delicious food.
Do you want to admire a beautiful panorama of the city while dining? Try the restaurants in Budapest DNB Budapest , Up&Down , Dubarry Restaurant , Varosliget Cafe & Restaurant and Búsuló Juhász Restaurant . You will not only taste the Hungarian food but also enjoy the wonderful views.
If you are looking for restaurants and cafés in Budapest with national cuisine and low prices, check out Tüköry Étterem , MOST Kortárs Bisztró , Café Csiga , Csulok Csarda or Klauzál Café .
For those with a sweet tooth we recommend the coffee houses that serve delicious coffee, great Hungarian desserts and inexpensive breakfasts: Madal, Tamp&Pull, Lumen, Kelet Cafe, Jegbufe and Cafe Zsivago.
Top 5 Hungarian Restaurants in Budapest
In this article I will tell you about the best restaurants in Budapest with Hungarian cuisine. Of course, this is my purely IMHO top restaurants, which makes no claim to 100% objectivity. But in all the places I will describe below, I was more than once, I ordered different dishes and I continue to go even now. Looking ahead, I want to congratulate those who do not speak foreign languages. Almost all of these restaurants in Budapest have menus in Russian and you do not have to sit with an interpreter to order goulash and duck leg.
There are a huge number of restaurants in Budapest, including Hungarian cuisine. I don't hope to ever visit all of them, but I don't rule out that my "Best Restaurants in Budapest" rating will change over time. There are already reviews of restaurants I've been to on the site, there are even two.
But not one of them made it into the Best Restaurants in Budapest article. For various reasons. For example, Klauzál Café got spoiled, judging by the reviews of readers who have been there after me. More precisely, the level of food there remained the same, but the prices went up noticeably.
I have arranged my favorite restaurants of Budapest with national cuisine in their places, starting with the fifth – the least favorite of my favorites, and at the end I will tell you about my favorite restaurant in the Hungarian capital.
Important! Although I write in an article about the best restaurants in Budapest with Hungarian cuisine, I will note that all five establishments are on the side of Pest. There will definitely be an article about the restaurants that are located in Buda. And I'll leave the link here.
Fifth place: Fatál Étterem
Address: Váci u. 67.
Opening hours: from 12:00 to 00:00.
Menu in Russian: Yes.
Payment by card: no.
Service charge: no.
Fatál Étterem is located on the most tourist street of Budapest – Váci Street, near the Central Market. It is positioned as a traditional Hungarian restaurant. To be honest, I do not like institutions with a high concentration of tourists. Therefore I sat at the Fatál Étterem table with caution. In the warmer months the restaurant opens a veranda with tables. The menu is large, there are many items to choose from, and if the name of the dish does not say anything, you can ask the waiter about it. The main accent is on the Hungarian cuisine, but there are international dishes too.
I ordered myself garlic soup and Gundelev-style pancakes with chocolate sauce and grated nuts. The soup is served in bread and looks spectacular. Both dishes are 5 out of 5. As I waited for my meal and ate, I watched what was brought to the neighboring tables. Portions are large, I was twice asked to pack the rest of the food with me. Prices are higher than average, it is a touristy place.
As for the minuses, I noticed that there is no possibility to pay by credit card. In the XXI century it looks strange. From the readers of the site, asked about the restaurants of Budapest with the Hungarian cuisine, I learned about a strange rule of the institution, which, undoubtedly, I will include to the disadvantages. If there are three of you, two of you want to eat and the third one just wants to drink a beer, for example, you can be refused service. They say you came to the restaurant – order a dish. A strange rule, I would say idiotic.
Fatál Étterem website review
Official website: fatalrestaurant.com.
The site features versions in English, German, and Russian. The design of the site sends greetings from the 90s, but there is all the necessary information. There is an address of the restaurant, opening hours and contact phone number. There is a "Menu" section, but at the time of writing I could not view it, the site was swearing that it lacks some kind of plugin. I am sure that the problem is on the side of the site and not with me, because from two different smartphones, the menu also did not want to open. A definite plus is the ability to book a table online, including in Russian.
Fourth place: Tüköry Restaurant
Address: Hold u. 15
Open from 11am to 11pm.
Menu in Russian: Yes.
Payment by cards: Yes.
Service charge: no.
This place is in the category "Restaurants in Budapest with menu in Russian", what will please a lot of people. Traditional Hungarian restaurant. Located near Freedom Square and the Hungarian Parliament. At first glance may seem too simple. So it is! But the menu presents all national dishes that are prepared very well. In summer the veranda is open and there are plenty of tables inside as well.
Everything here is really very simple and the waiters are the same. It may seem that they walk slowly and serve for a long time. You might even refer the service in the restaurant to its disadvantages. And immediately I'll name one more minus – the toilet reminds of a restroom of a Soviet canteen. It's clean, but somehow very poor.
But for me, the determining factor in choosing the best restaurants in Budapest is the price to quality ratio. At Tüköry Restaurant it is not bad. There are dishes from the chef that change from time to time, there is a regular menu. I have eaten here three times and I liked everything they brought. A solid 4 on a scale of 5.
Tüköry Restaurant website review
Official website: tukoryetterem.hu.
Another hello from the 90s, at most the early 2000s. In addition the page is only in Hungarian. They are too lazy to translate it into other languages. It can be seen that the site is updated, since the weekly offer has a fresh date. You can see the prices of all dishes and drinks, but again, only in Hungarian.
For Chrome browser users, I'll let you in on a little secret. Open the page with the menu, right-click and in the window that appears, click on "Translate into Russian". The translation will come out sloppy, but quite understandable. There is no possibility to book a table on the site.
Third place: Király 100 Gastro Corner.
Address: Király u. 100.
Open from 12:00 to 24:00.
Menu in Russian: Yes.
Payment by cards: Yes.
Service charge: 10%.
Király100 Gastro Corner takes third place in my rating "Best ethnic restaurants in Budapest". The restaurant is popular among Russian-speaking tourists, so at the entrance there is a menu in Russian. There are a lot of tables inside, including on the gallery. The interior is pleasant, a lot of wood, national items. The restaurant collects a collection of banknotes from different countries of the world – anyone can look at them and contribute their own.
The menu offers traditional Hungarian cuisine – a lot of meat and fish dishes, there are several vegetarian dishes. The wine list is dominated by local alcohol. The food at Király100 Gastro Corner is tasty: our company ordered veal paprikáš, salad with grilled cheese and goose liver. Loved all of the dishes, served with very tasty bread.
Prices are above average, but thanks to the atmosphere, great service and delicious food you don't think about the cost of the dishes. Even the fact that the service is a priori included in the bill does not spoil the impression. It is 10%. Of course you can leave the waiter an extra tip.
Király 100 Gastro Corner website review
Official website: kiraly100.hu/en.
The site is modern and stylishly designed. All the necessary information is listed, you can thumb through the menu. The site, besides the Hungarian one, is translated into English. There is a separate page for booking a table online. You can do this at least 24 hours before the planned visit. After filling out the form, the employees of Király100 Gastro Corner should contact you.
Second place: Paprika Vendéglő
Address: Dózsa György út 72.
Opening hours: from 12:00 to 23:00.
Menu in Russian: Yes.
Payment by cards: Yes.
Service charge: no.
Paprika Restaurant (Budapest) is located next to the Varoshliget Park, Heroes' Square and the Vajdahunyad Castle. It is a traditional Hungarian institution. The veranda is open in summer, and the interior is rustic: lots of wood, large tables and benches. There are often not enough seats, so I advise you to book a table here in advance. You can do it by phone (in Hungarian or English).
The menu has a wide range of dishes: pork, beef, poultry and fish. There are some dishes for vegetarians. Most of the recipes come from the national cuisine.
The soups I recommend are Jokai bean soup, Halasle fish soup, and of course goulash. Desserts are also traditional for Hungarian cuisine.
Somlói galuska (Somlói galuska).
Gesztenyehab csokiöntettel és tejszínhabbal.
Túrógombóc.
Cherry retesch (Meggyes rétes fahéjas vaníliasodóval).
The waiters are cordial, and some even speak a little Russian. The food prices are average. Paprika restaurant (Budapest) is in my top two places.
Paprika Vendéglő website review
Official website: paprikavendeglo.hu.
The design of the site is not bad, but I can't call it modern. When you enter the site you must choose a language version of the site: Hungarian, English or German. On the site in addition to contact information posted all the menu of the restaurant. There is no online booking function.
Finally, I am pleased to present you the leader of my rating "Best Hungarian Restaurants in Budapest".
First place: Regős Vendéglő
Address: Szófia u. 33.
Opening hours: from 12:00 to 15:00, from 18:00 to 22:00.
Menu in Russian: Yes.
Payment by cards: Yes.
Service charge: no.
My favorite restaurant in Budapest with Hungarian cuisine and the undoubted leader in the rating Regős Vendéglő. I go to this restaurant at least once a week, sometimes more often. I love their cuisine, interior, and I almost consider the waiters my friends. Located near Andrassy Avenue (10 minutes walk from the House of Terror).
The restaurant has been open since 2002 and is located in the basement of an apartment building. Don't be intimidated by the word basement, come and see for yourself how it has been arranged. Regős Vendéglő has two small rooms with a dozen tables for 2-8 people. The prices are below average, and there is also a daily menu or, in Russian, a business lunch. And you can order it not only on weekdays but also at weekends!
You can have soup and main course or main course with dessert for 1,700 forints and soup, main course and dessert for 2,100 forints. The selection of dishes, even on the daily menu, is large. There are seven or eight soups alone.
90% of the cuisine is Hungarian, such as goulash, jalasle, paprikáš, perkelt, hortobágy-style pancakes and so on. Read more about Hungarian cuisine in a separate article.
The food is served quickly, it's all very tasty, the serving is standard and without extravagances, but for such prices it's a shame to complain. I advise you to try all Hungarian dishes, if possible. Or at least take a nibble :). On every table there is a small vase with spicy paprika. Really spicy, so be careful. You can buy a jar of spicy paprika right there.
My favorite dishes at Regős
I will tell you what I tried at Regős.
Cucumber salad – thinly sliced pickles with paprika. Mmmm, it's perfect with a hot meal!
Mushroom soup – rich, with sour cream!
French Onion Soup – croutons (served separately), lots of onions. Good stuff!
Cheese soup – thick cream soup, salty. Give me two :).
Mushroom paprikash – aaaahhhh, my favorite! I won't even say anything, you just have to try it. They also serve chicken paprikash: just as good. Paprikash is served with dumplings.
Gestenepure is a dessert with cream. The mashed potatoes are made of chestnuts, the taste is unusual.
Pancakes with nuts/jam/chocolate (your choice) are a great dessert option.
Retesch with cherries is the same as strudel, only retesch.
Along with the bill, the waiters bring little lollipops with fruit flavors. Small things, but nice. It's little things like this that make going to a restaurant more enjoyable, and memorable, you'll agree.
Regős Vendéglő website review
Official website: regosvendeglo.hu.
The site is nicely designed, there are English and Russian versions. However, in the Russian version not all pages are translated into Russian. In addition, I noticed that the information on the site is outdated. For example, it says a daily menu for 950 HUF, although now 1,300 HUF. However, in the main (Hungarian) version of the site the price is updated. However, under "Menu" the prices are correct, at least the dishes that I often take, the prices are the same.
Restaurants in Budapest I wouldn't recommend.
Since there is a rating, there must be an anti-rating. I decided that it's too much of an honor to tell about the bad restaurants in Budapest in a separate article, so I'll briefly go through them right here. So far in my anti-rating there are three establishments. I will give their names and addresses, so you do not accidentally wander there. I'm not mentioning the opening times, you're not going there, are you?
Pipa étterem: don't believe the ads
When you visit the Budapest Central Market, you might come across a smartly dressed girl handing out advertising brochures for the Pipa restaurant. I beg you, don't fall for them! I fell for it, which I regretted bitterly. The menu is poor, the service is even worse. Except that the interior is interesting, but for the sake of beauty I recommend to go to other places. To the Hungarian parliament, for example, or to the Fishermen's Bastion.
The woman of indeterminate age, who served us, did not show any sympathy. We had the impression that we were uninvited guests, taking the last bite from the hostess. The coffee was served cold, and there was a lot of oil in the salad. Not good!
Bécsiszelet Vendéglő restaurant: fú and bé
Address: József körút 63.
You've probably heard the saying "You make fun of people by hastening", right? Well, not only do you make fun of them, you also get a bad meal. We were in a hurry and we were hungry, so we took a seat at the first restaurant on József körút. Alas, it turned out to be Bécsiszelet Vendéglő.
To be more precise, it was like this. We were looking for a restaurant and saw Bécsiszelet Vendéglő. We remembered that we had eaten there also on Kiraly Street. It wasn't great, but it was very edible. So we decided to have a meal at the Bécsiszelet Vendéglő (whether it was a chain or just a restaurant under one sign, I don't know) at József körút 63. We ordered different things, but we didn't like any of them. The chop salad had sour cheese, which we told the waiter. He only shrugged, promising to tell the chef. After the bill was served it turned out that you have to pay for the side dish separately (plus the main course) and the service fee is a priori included into the bill and counts 15% (. ). Don't go to Africa to eat Bécsiszelet Vendéglő.
Kantin restaurant: Don't be fooled by the 10 euros.
There are two Kantin restaurants on Andrássy Avenue. If you walk from the Opera building, you will see an ordinary one first (you will see why I call it that). A little further you will see another Kantin, where the bet is the following chip. For a certain fee (I think 10 euros in forints) you get 3 dishes (soup, main course and dessert). The options for these dishes are few and in reality they are likely to be less than on the menu. The food is not tasty, the service is so poor and the impression of a lovely evening spent walking around the city was ruined after such a dinner. Do not recommend!
Top 5 best restaurants in Budapest on the map
I do not want to end on a sad note, especially since the main characters of the article are the best restaurants of Budapest with national cuisine, and not vice versa. Therefore, at the very end I will leave a map on which I marked the best restaurants of Budapest. It's visually easier to visualize where they are and if you're far away from them.
Want to tell me about your best Hungarian restaurants in Budapest? Leave a review of the ones I described above? Please do so in the comments. Be sure to write a review if you've been to one of these places. Tell me what you liked and what you did not like, how your opinion coincided with mine. Readers' opinions are very important to me.
Always yours, Daniel Privolnov.
Individual and group tours of Budapest and Hungary from Sputnik! Discount of 5% on ANY excursion with promo code TRIPANDME21 Choose excursion
Our adventures in the format #twotachkneescountingthebeast – subscribe to our Youtube-channel.
The site's channel on Telegram. Join in! And here I'm posting some beautiful pics