Varadero Hotels
Due to historical reasons Cuba is not a rich country, so the quality level of the hotel base here is lower than, for example, in the neighboring Dominican Republic. The Republic's government is working to develop the tourist destination, but everything in its time. Meanwhile most hotels in this country are represented by "four" and "three", there are also modest "two-star". Luxury five-star hotels of famous brands are few and most of them are concentrated in Varadero, because the beaches of this resort place are among the ten best beaches in the world and, of course, the famous hotel chains could not ignore this fact.
Look for good hotels on Hotellook – the site compares prices from a variety of booking systems (Booking too) and finds the best one. Read our guide on how to find a good and inexpensive hotel on your own.
Varadero Hotels Features
In Varadero, any vacationer can choose a place to stay according to his taste and the state of his bank account. There are quiet family hotels, where elderly couples like to come, and for recreation with children, and youth hotels with a disco, and those that offer accommodation only for adult tourists. Buildings are mostly of old construction, but there are also new modern complexes, which meet all the standards of the tourist business.
Almost all hotels in Varadero work on the usual system for our travelers "All Inclusive", which necessarily includes not only a variety of food, but also several kinds of alcoholic beverages and cocktails.
If the hotel has its own beach, its entire infrastructure guests can use for free – umbrellas from the sun, deck chairs, towels.
Many travelers are concerned about the question: "What are the outlets in Cuba?", because on vacation you always need to recharge your phone or gadget. Voltage in the power grid in Cuba differs from ours by the number of volts. Older hotels and private homes have a voltage of 110 volts, then you need an adapter, which you can buy on the spot or bring with you. New complexes have double voltage and European-type outlets, so there is no need for any additional devices.
As for the Internet, then on Cuba, with it all is not so simple. There are access points in every hotel, some restaurants or bars, but they are all paid. In addition, local Internet access is not fast, sites can take several minutes to load, and it "eats up" the paid time.
When choosing a hotel please refer to the map with hotels in Russian. It shows the location, beaches, and entertainment nearby.
Use the site "Tophotels.ru", which contains photos, thematic selections, good hotels by tourists' reviews. The difference of this site is that all the reviews here are real, so you can trust them. Look for photos of hotels and beaches, often colorful images provide more information than dry descriptions. And you will have a better idea of where you are going to spend a few wonderful days of your vacation.
Below you will see our hotel rating of Varadero.
Best Varadero Hotels
Grand Memoris Varadero 5 stars GRAND MEMORIES VARADERO
The map shows that the hotel is located on one of the most prestigious beaches of the resort. It offers all kinds of equipment for windsurfing, diving, deep-sea fishing. You can take a boat or catamaran ride. There is a rich choice of dishes and alcoholic drinks on the all-inclusive system. There is a SPA-salon, a gym, a massage room, a pool with Jacuzzi and waterfalls. For children a games room, clubhouse, small pool, huge selection of ice cream. The hotel has air conditioning in all rooms and Internet access. Reviews especially praise the seafood dishes.
Melia Peninsula Varadero 5 stars.
A modern hotel complex with a large territory, on which are scattered cozy bungalows. The beach is on the first line, surrounded by lush vegetation, soft sand, gentle entrance to the sea. There are two pools, for children and adults with a bar right in the water. For active tourists – water sports, diving, volleyball, tennis, water skiing. All rooms are air-conditioned, Wi-Fi is paid. In the evening, a nightclub opens its doors, and children are entertained by animators. Reviews recommend this hotel as one of the best in Cuba.
Iberostar Laguna AZUL 5 stars IBEROSTAR LAGUNA AZUL
The hotel was built in the colonial style and is very popular with tourists, noting the high level of service. A superb beach with a smooth entrance to the water, and on the territory of several cascading pools with waterfalls. All inclusive system, meals in several restaurants and bars, there is an internet cafe. Many services for children – pool, game club, discos, animators and babysitters. For adults, there is a SPA-salon, wellness center and fitness room. You can windsurf, explore the ocean floor, or go sailing on a yacht. The hotel organizes excursions to Havana and nature reserves.
LABRANDA VARADERO RESORT 4 stars LABRANDA VARADERO RESORT****
The hotel has its own beach, which is famous for its snow-white sand and crystal-clear water. Among the beach activities are banana boat rides, catamaran rides, water skiing, scooter. Amazingly beautiful coral thickets attract fans of underwater diving. The restaurant offers delicious dishes of meat and seafood, a lot of drinks and cocktails in the bars. Large green area, swimming pools, pond with fish, playground. Many services for self-care or sports. Recent reviews praise the smiling staff and evening animation.
Hotel Iberostar Tainos 4 stars HOTEL IBEROSTAR TAINOS****
Iberostar Tainos 4* is a Caribbean village on a white sandy beach. The coast is securely protected by coral reef, so there are no waves, and the underwater world is picturesque and colorful. Diving lessons will bring a lot of interesting discoveries. During the day you can work out in the fitness room, go for a massage or take care of your body. And in the evening the guests are welcomed by entertainment events. There are several restaurants and bars on the territory, including by the pool. Children spend time on the playground or in the mini-club under the supervision of animators. Tourist reviews highlight the excellent beach, friendly staff and retro car rides.
Brisas Del Caribe 4 stars Brisas Del Caribe****
A large hotel complex with its own equipped beach. There are several swimming pools on the territory, including children's pools. The restaurant and bars serve tourists on an all-inclusive basis. For small guests open mini-club and playground, ice cream and fruit in unlimited quantities. You can play tennis or billiards, book an excursion, rent a bike and ride around the area. Animators hold competitions on the beach, teaching Cuban dancing. Reviews praise the local cuisine, fun show programs and fresh renovations.
Bella Costa 4 stars BELLA COSTA****
A beachfront hotel complex with parkland and beach. Adult and children's pool, all-inclusive meals, cocktails and snacks at the bar. Beach activities include catamaran rides, snorkeling or scuba diving, boat rides. Animators organize fun activities, in the pool, athletes in synchronized swimming triple performances. Reviews of travelers note the high professional level of cooking, evening events and friendly service.
Starfish Varadero 3 stars STARFISH VARADERO***
Hotel with a large picturesque park and its own beach. Meals are organized in the restaurant and several bars, all kinds of drinks are also offered here. It is possible to take water procedures in the pool, visit massage room, choose wellness program in the SPA-center. Children have fun in the small pool or club, and there is a special menu for them. The hotel offers excursions, diving lessons, evening entertainment. Reviews highlight the beautiful beach, the abundance of seafood in the restaurant and the excellent work of the animators.
HOTEL CLUB KAWAMA 3 stars***
Hotel with bungalows scattered among the shady alleys of the park and its own beach on the first line. The restaurant offers several world cuisines, the bars are full of a variety of cocktails, and there is a dietary menu. Younger tourists can engage in games in the mini-club, on the playground, or splash in the children's pool. For adults, there are water and regular sports, body care, body and facial treatments. The friendly staff is always ready to help, and the evening salsa with live music leaves no one indifferent. In their reviews, tourists recommend the hotel because of the warm atmosphere and quality food.
The 7 best all-inclusive 4-5 star hotels in Varadero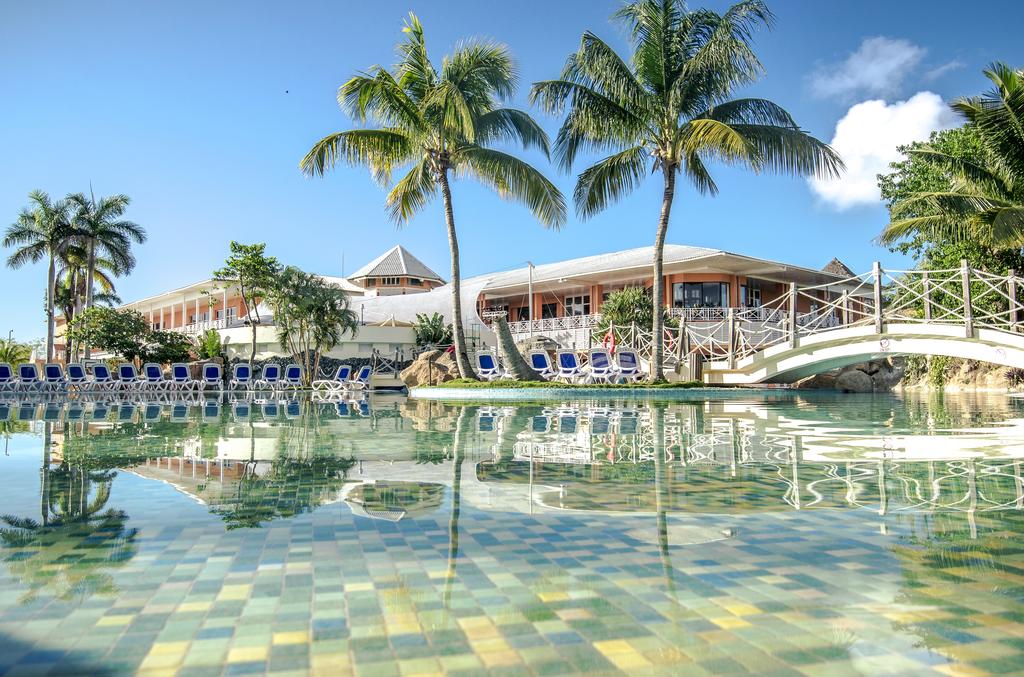 At Cuba's most popular beach resort, almost everywhere accepts tourists on an all-inclusive basis. We tell you about the best Varadero 4-5 star hotels. Find out what the average price of a tour for two for 10 days if flying out of Moscow.
Features of hotels and services in Varadero
Are there features of all inclusive in Varadero? Cuban service is a little different from what we are used to in Turkey, Egypt, Cyprus or the Dominican Republic. The all-inclusive concept in Varadero does not operate at certain hours, but around the clock.
The 4-5-star hotels offer three meals a day, snacks and several free visits to a la carte restaurants. Because of political sensitivities, there are far fewer imported products in Cuba than in the rest of the Caribbean. Sprite, Coca-Cola and world brand spirits are virtually non-existent here. However, the quality of local drinks, such as the famous Cuban rum, is high.
Many all-inclusive hotels in Varadero offer tourists free entertainment and services. You can relax in the sauna and jacuzzi, go windsurfing, ride a catamaran and play billiards.
Look for last minute tours on OnlineTours – the best deals among different tour operators. Want to save money? Check out our 7 rules for buying tours and how to book a hotel in Cuba.
Melia Las Antillas 4*
Price: on average from 185 thousand rubles for two people for 10 nights.
On the picturesque peninsula Icacos is one of the best inexpensive hotels Varadero 4 stars. Distance to the airport – 37 km. Great sandy beach, grocery and souvenir stores, swimming pool, restaurant, internet cafe and bar – everything you can dream of in Cuba! Reviews about the hotel are contradictory, but most tourists praise it.
Melia Varadero 5 *
Price: an average of 210 thousand rubles for two people for 10 nights.
Rating of the best 5-star Varadero hotels heads a modern hotel complex, which is located a little away from the resort. Nearby there is a shopping center. The main plus of the hotel is the luxurious food. Tropical fruits, delicious vitamin salads, fish, seafood and meat dishes. You'll even see honeycomb and chocolate fountains in the restaurants!
Melia Paradisus Varadero Resort & Spa 5 *
Price: on average from 215 thousand rubles for two people for 10 nights.
One of the best hotels in Varadero for a romantic vacation consists of 28 elegant bungalows. Some rooms have individual pools with hydromassage. Infrastructure of the hotel is amazing – 5 restaurants, 3 bars, 6 swimming pools, tennis courts, equipment for windsurfing, water-skiing, diving and other water activities. Tourists are taught Cuban dancing and the basics of Spanish. Enjoy amenities, sea, and fellowship with each other!
Blau Varadero 4*
Price: on average from 257 thousand rubles for two for 10 nights.
Hotel for adults 18+ is located on the spit of Varadero. The original building was built in the traditions of the Olmec and Maya. The light construction of glass and concrete looks like a bird, which spread its wings. The lobby is decorated with lush greenery, and the territory resembles a tropical park.
Iberostar Varadero 5*
Price: on average from 268 thousand rubles for two for 10 nights.
Good reviews leave about the hotel in Varadero, which belongs to the Spanish network Iberostar. The modern resort town consists of 11 three-story buildings. It is 4 km to the center of the resort, and only 100 meters to the long, wide beach. The water entrance is shallow, so it is convenient to rest here with small children. Find out where to vacation with children in Cuba.
Royalton Hicacos Resort & Spa 5*
Price: on average from 290 thousand rubles for two people for 10 nights.
On the Icacos Peninsula, 3 km from the center of the resort, is the hotel, which many consider the best in Varadero. It operates under the 18+ concept, only for adults. The area is closed to outsiders. It has everything you need for a comfortable resort life – stores, restaurants, cafes, exchange office, outdoor pool, jacuzzi and other delights. Bar on the beach is paid.
Melia Las Americas 5*
Price: on average from 305 thousand rubles for two for 10 nights.
According to tourist reviews, the best Varadero hotels are located on the Icacos Peninsula. Hotel Melia Las Americas 5 stars accepts adult tourists. True, there are few young people. Mostly family couples in age come here. The long beach is covered with fine white sand, and the sea water has a pleasant turquoise hue. All vacationers praise the food. The restaurant prepares delicious dishes of seafood and vegetables, fresh frash and juices. At night you can always snack on sandwiches and fast food.