The best sandy beaches in Russia: Black, Azov, Baltic and Caspian Seas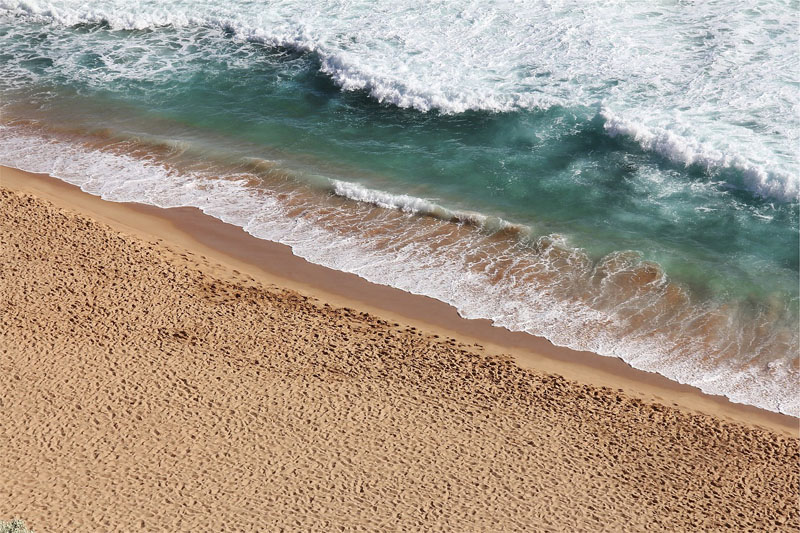 Where in Russia to find the best sandy beaches? We tell you about the best beaches of the Black, Azov, Baltic and Caspian Seas, according to tourist reviews. A map of sandy beaches.
Sandy beaches occupy the leading place in popularity among vacationers. In Russia, the resorts on the coast of the Black and Azov Seas are in greatest demand. Less popular because of their climatic and geographical peculiarities beaches of the Baltic and Caspian Seas.
Travellata – search favorable tours
Content:
Sandy beaches on the map of Russia
Sandy beaches on the Black Sea in Russia.
Where in Russia are the sandy beaches? First of all it is the Black Sea coast of Crimea and Krasnodar region. By the resorts with sandy beaches in Russia include Kerch, Feodosia, Sudak, Sevastopol and Evpatoria in Crimea, as well as the Greater Anapa area in the Krasnodar region: Anapa, Vityazevo, Dzhemete.
Feodosia
Feodosiya Golden Beach is considered one of the best on the coast. It is 10 kilometers long strip of bright yellow sand with an admixture of small shells, well equipped and clean. On the beach there are special areas for children, a few cafes and areas for entertainment.
The beach in Beregovoye is wide, in Primorskoye – a few meters, near the beach there is a lively highway Kerch-Sevastopol. From the drawbacks tourists called the remoteness of the beach from the city, the average level of infrastructure development and the presence of boulders on the shore, designed to detain algae. There are mosquitoes.
How to get there? From Feodosia to the beach you can get by bus or minibus. The transport leaves every 10-20 minutes.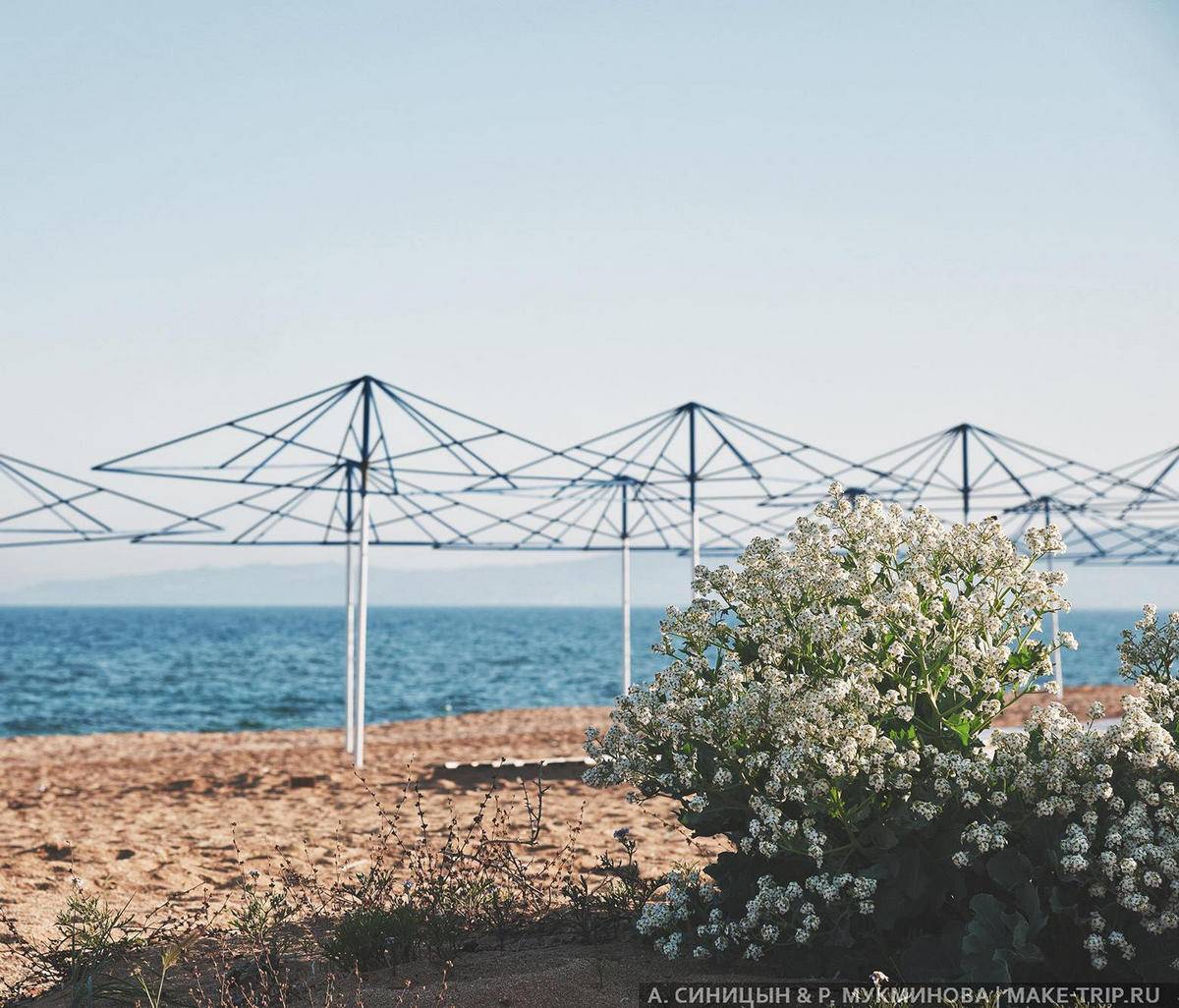 Beach in Feodosia.
Evpatoria
Evpatoria is a popular children's resort with a clean shallow sea and partially landscaped beaches. One of the best sandy beaches of the Black Sea in Russia are considered "Oasis", "Solaris" and the beach sanatorium "Robinson". Everywhere there are changing cabins, toilets and showers, volleyball nets and playgrounds for children.
The main drawback of all Evpatoria beaches – too crowded. Therefore wishing solitude it is easier to go to any suburb – Mirny, Popovka, Shtormove or Zaozerne.
How to reach? You can get to Evpatoria by bus or route cab from Simferopol. You can get to suburban beaches by shuttle-busses or by bus from Yevpatoria bus station.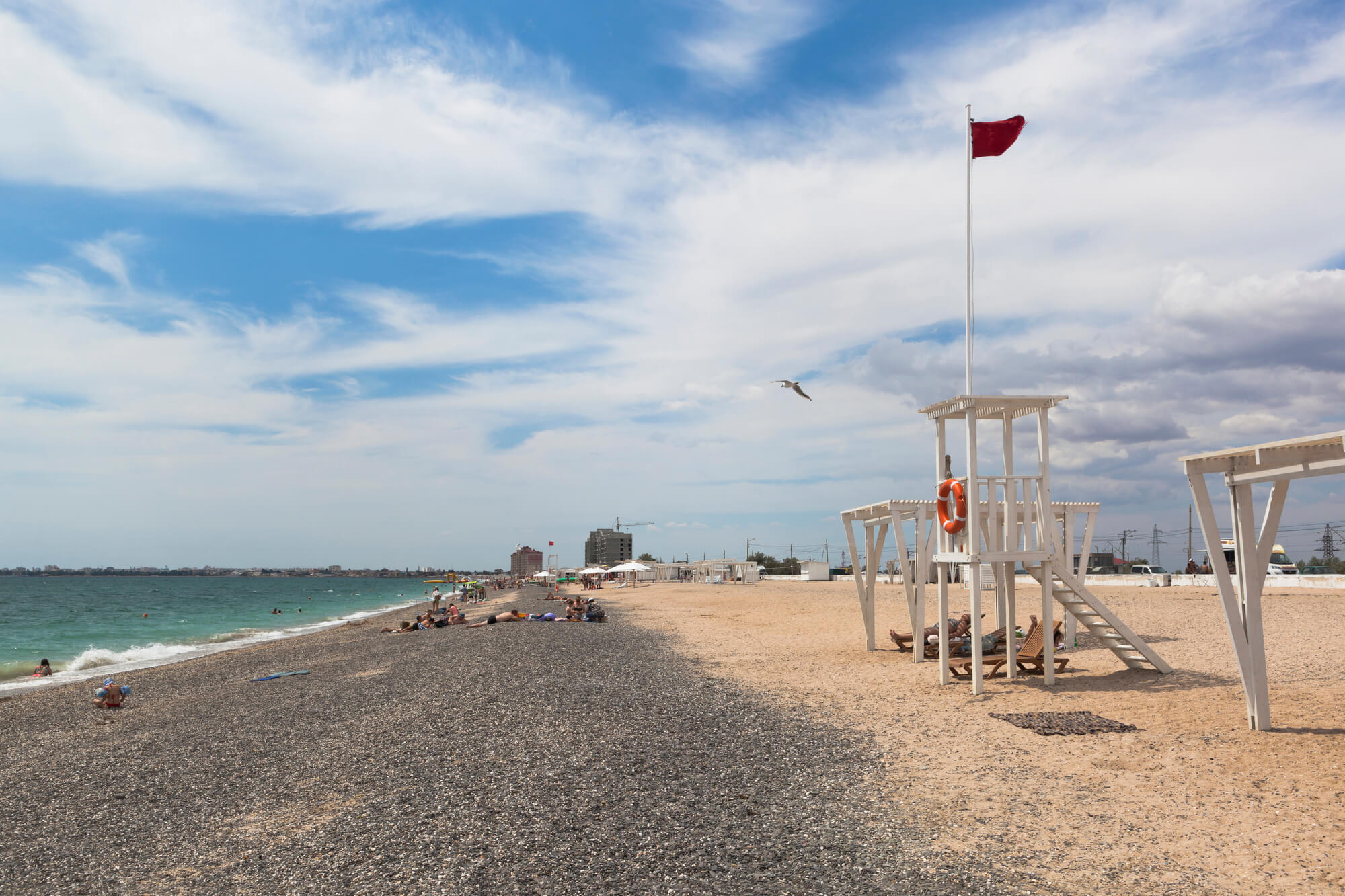 Novy and Golden Sands beaches. Photo: muhor / Depositphotos.com.
Big Anapa
Big Anapa – a resort with a well-developed infrastructure, in some places acquiring chaotic features. Perhaps some of the most popular sandy beaches in Russia are concentrated there. Especially attracting tourists Central City Beach Anapa, Central beach Vityazevo, Vityazevo wild beach and beach Dzhemete.
Central beaches in Anapa and Vityazevo are large, well equipped and regularly cleaned. There are sun beds, umbrellas, wooden decking and a developed network of beach cafes. Vacationers have fun banana rides and catamarans, boat rides and fishing. For children – inflatable slides and trampolines, mini-platforms with carousels and rides. In Anapa the beach is conveniently located, next to the promenade and amusement park.
In the peak season, the central beaches become crowded. Most of all holidaymakers in Anapa and Vityazevo, Dzhemete is freer. Besides this coast is rather specific: the shallow water is such that adults have to depart on 20-30 meters from a coast to take a dip.
Finally, the main drawback, which is often mentioned by tourists – in the middle of the summer the water in the sea blooms, algae nailed to the shore, and bathing becomes unpleasant. The situation is similar in Vityazevo and Dzhemete.
How to get there? You can reach the Central Beach of Anapa through any of the streets: Astrakhanskaya, Krasnodarskaya, Vladimirskaya, Grebenskaya and Krasnoarmeyskaya. From Anapa to the Central Beach of Vityazevo you can take a shuttle bus or walk along the Black Sea street of the village. How to get to Anapa →
The beaches of Dzhemete stretch to the north of the Central Beach of Anapa, you can get to them from Pioneer Avenue. If you drive from Vityazevo in the direction of Blagoveshchenskaya Stanitsa, then the wild beaches of Vityazevskaya spit begin behind the pension "Niko". Infrastructure and entertainment is absent here, so go with a decent supply of water and food.
Read also about the best housing options in the private sector of Anapa on the link.
Where to rest better:
Central beach in Anapa. Sand on the beach.
Sandy beaches of the Azov Sea
Most of the sandy beaches of the Azov Sea with coquina, with shallow water at the shore and a shallow entrance. Because of silt sediments the water can be muddy. The most famous resorts are Yeisk, the villages Dolzhanskaya and Golubitskaya Krasnodar region and Crimean resorts near Kerch and Cape Kazantip – read a comparison of the best resorts of the Azov Sea. The coast is also quite a lot of wild sandy beaches.
Krasnodar region
Of all the beaches in Krasnodar Krai, the most comfortable is the Central City Beach of Yeisk: cabins for changing, sun loungers, a network of cafes. The beach is very wide with clean sand and comfortable entrance to the sea. Many entertainments for children and adults, water skis and scooters for rent. The only drawback – a lot of tourists. Private sector in Jeisk →.
But the beaches in Kuchugury, Dolzhanskaya and Golubitskaya stanitsa tourists praise for the purity of water and sand, but note the poor infrastructure, claim the need for personal transportation, the presence of mosquitoes and other disadvantages of "rustic" vacation at the sea. The beaches are poorly equipped, there are few entertainments. Many people come here for wild recreation with tents. However, the infrastructure of these small resorts is developing, there are a lot of guest houses and hotels, a lot of proposals for accommodation in the private sector.
How to get here? You can get to the central beach of Yeisk from any part of the city by minibus cab.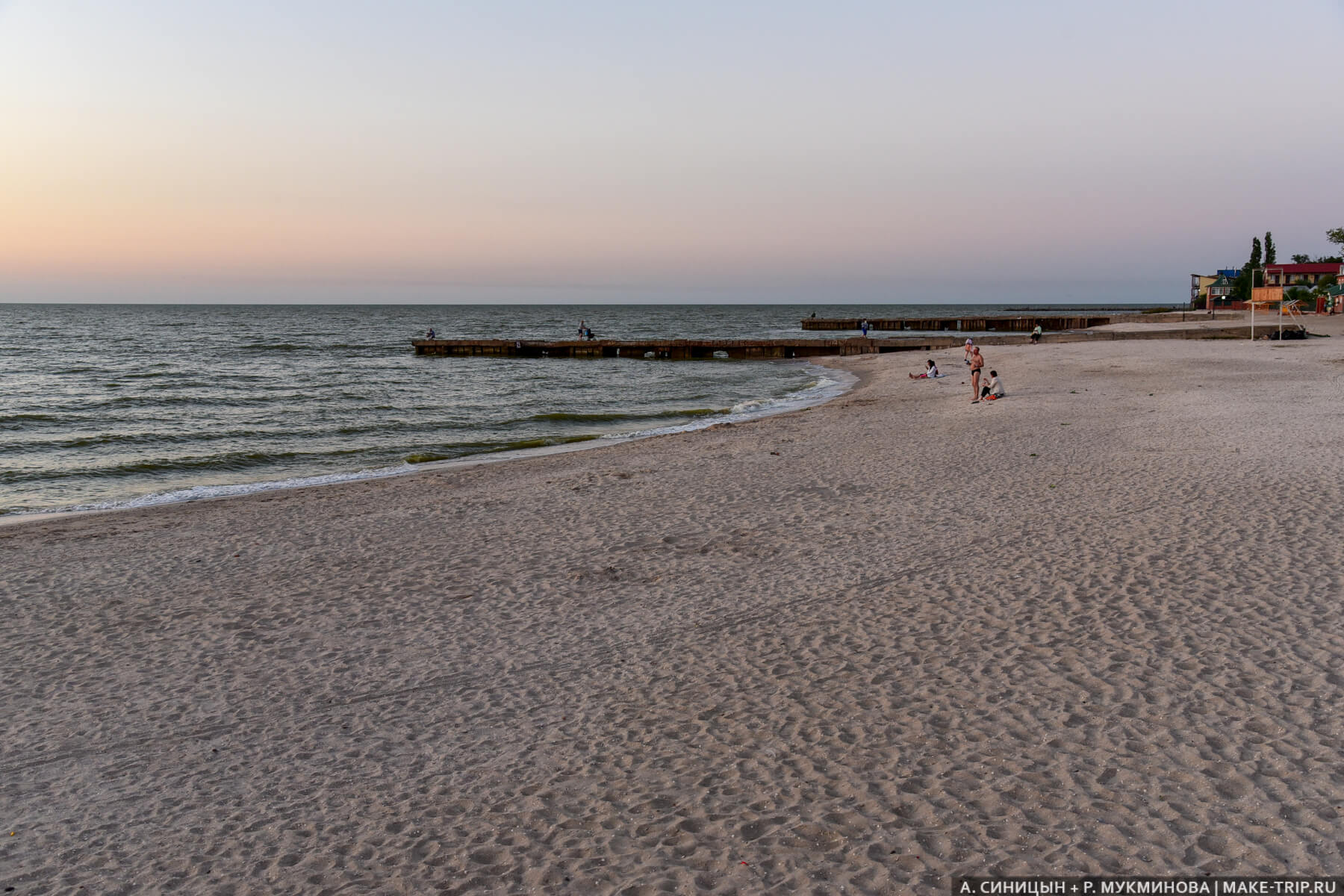 The central beach of Yeisk at sunset.
Shchyolkino
The best sandy beaches are considered "Central" and "Tatarka". The first – landscaped with sun beds, awnings and a network of cafes, the second – semi-wild with shallow water and exotic bays. Both beaches are not crowded, the depth varies everywhere, which suits all ages of tourists. The drawback is that it is difficult to get to the beach.
How to get there? From Simferopol from the bus station by bus or train from Kerch to the village Lenino, and from there – by cab.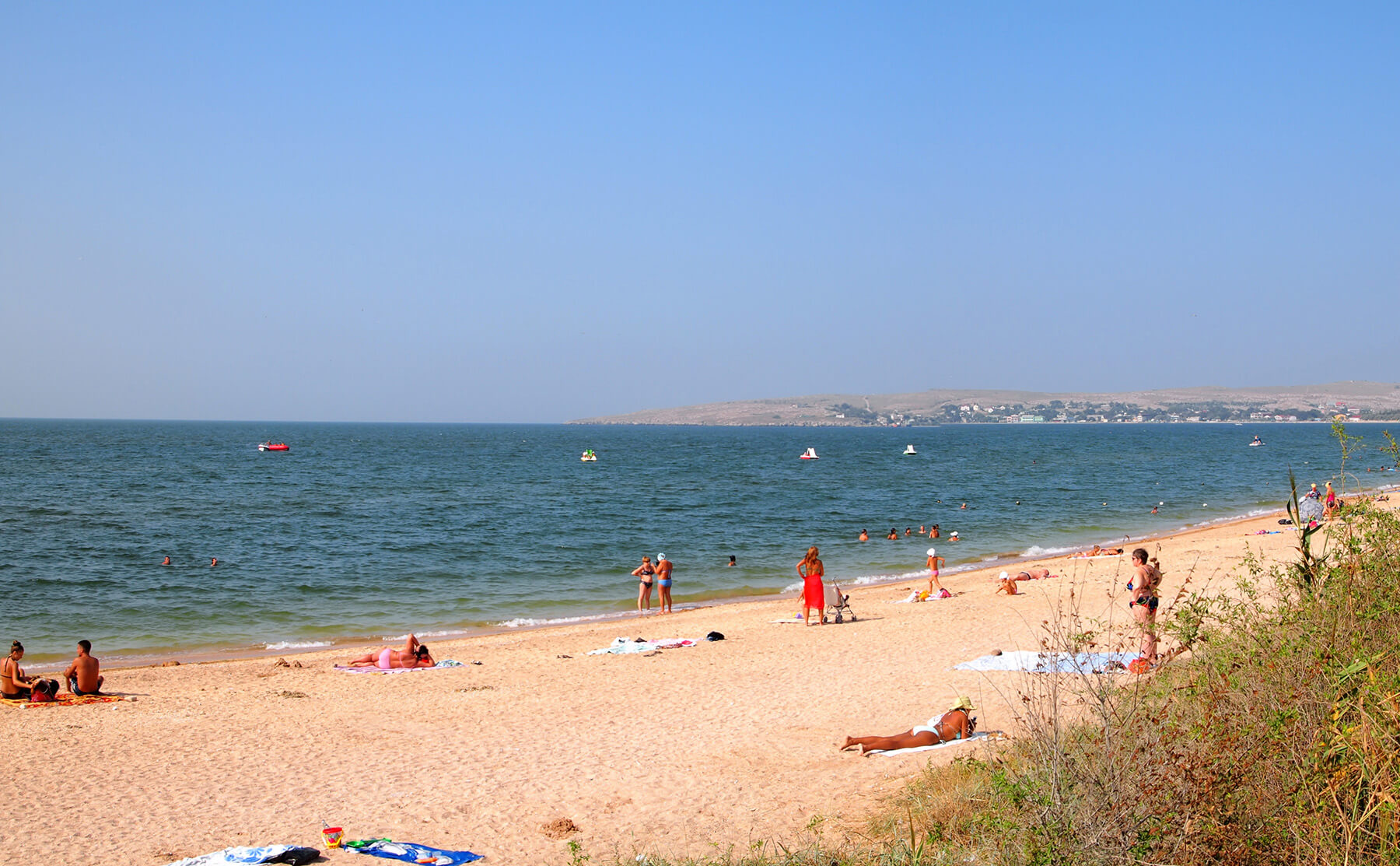 The beach in Shchyolkino. Photo: Tiia Monto / wikimedia.org / CC BY-SA 3.0.
The sandy beaches of the Baltic Sea
Domestic resort area of the Baltic Sea – Kaliningrad seashore, which is a 60-kilometer coastal strip from Baltiysk to Zelenogradsk, and 50 km line of the Curonian Spit, so that the sandy beaches of the Baltic Sea are plentiful.
Curonian Spit
Spit is a national park with a sandy beach. On one side of the territory is washed by the Baltic Sea, on the other – the Curonian Bay. This place is ideal for a relaxing vacation by the sea. Very fine white sand, dunes, pine trees and cool water, which in the hottest heat does not get warmer than +22 ° C.
The infrastructure is underdeveloped: the beaches are equipped only in Lesnoye and Rybachiy villages and near the tourist camp "Dunes". There are cabins for changing clothes, toilets, a small promenade, bars and cafes. You can taste delicious smoked fish from local fishermen and buy amber souvenirs. The rest of the beaches are wild, but you can't stand there with a tent.
How to get there? You can get there from Kaliningrad or Zelenogradsk by bus or by car. The village of Lesnoy is the first on the spit, the way to the sea goes through a pine forest.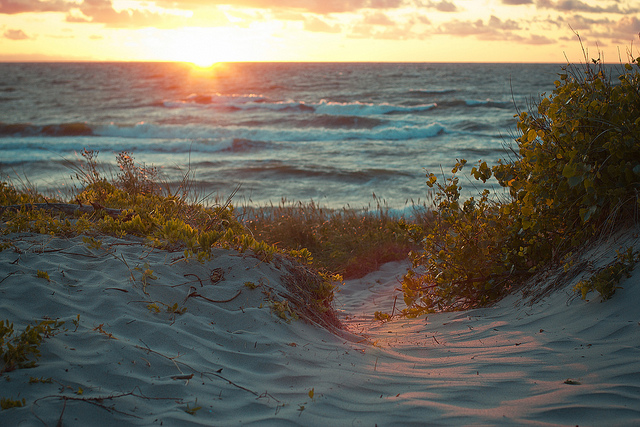 (Photo: Ekaterina Sotova / flickr.com / CC BY-NC-ND 2.0 license)
Kaliningrad seashore
The most popular among vacationers are Svetlogorsk with its well-developed infrastructure, Zelenogradsk and the village of Yantarny. All beaches are clean and well equipped, with promenade for walks, changing cabins, toilets, volleyball courts, cafes and restaurants.
The best sandy beach on the Baltic Sea is considered to be the beach in Yantarny. It is very wide and not crowded, but it is not convenient to get there by public transport. In Svetlogorsk it will be rather difficult to have a rest with kids because of the mountainous landscape.
How to get there? To get to the beaches of Svetlogorsk, Zelenogradsk and Yantarny more convenient by bus or car from Kaliningrad. Busses go every 15-20 minutes, and to Yantarny in summer go every half an hour.
Did you know that sometimes a tour costs cheaper than a flight and it is possible to buy it instead of a ticket to a regular flight? In this case the price of the tour includes a flight, accommodation, transfer, insurance and meals of your choice. Last minute tours at the best prices can be found on the service Level.Travel – it compares the proposals of 120 tour operators, and therefore can find the best option. You can buy tours online, which is very convenient.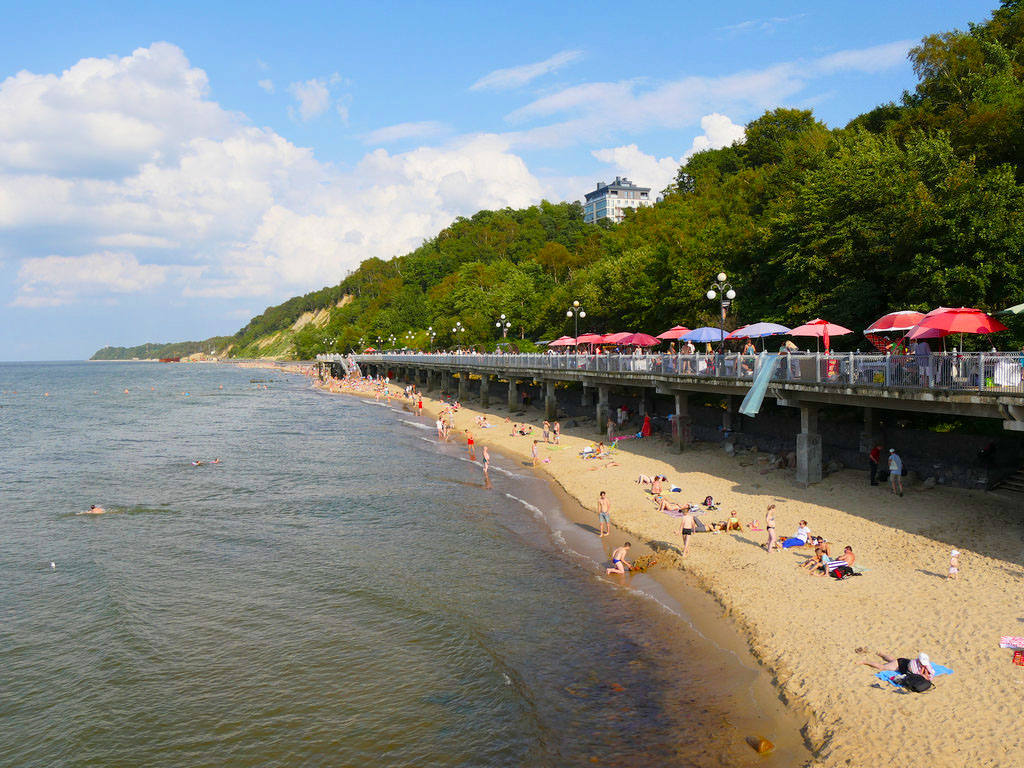 (Photo: tjabeljan / flickr.com / CC BY 2.0 license)
Beaches of the Caspian Sea
The beaches of the Caspian Sea are located in Astrakhan Oblast, Dagestan and Kalmykia – almost 700 km of coastline. In the northern part, from the mouth of the Volga to the mouth of the Terek River, a long shoal stretches for many kilometers, these shores are not suitable for swimming and recreation. The most popular Dagestan resorts are those near the mountains and mineral springs.
Read more about rest on the Caspian Sea in this material.
Dagestan, Makhachkala
Conflicting reviews about the beaches of the Caspian Sea in Dagestan. The city beaches of Makhachkala many vacationers called untended and dirty. They speak well of the beaches of the boarding houses, in particular, the beach of the hotel complex "Dzhami" and the sanatorium "Kaspi". All beaches are closed and well-equipped: neat umbrellas, deckchairs, changing cabins and showers. A lot of beach entertainments and well-groomed green area.
How to get there? Sanatorium "Caspiy" is situated in 35 km from Makhachkala, you may get by train to the station "Manas" or by car by Rostov-Baku highway. Jami complex can be reached by car/taxi or you can order a transfer from Makhachkala airport.
Read also about the best places to rest in Russia in our special review.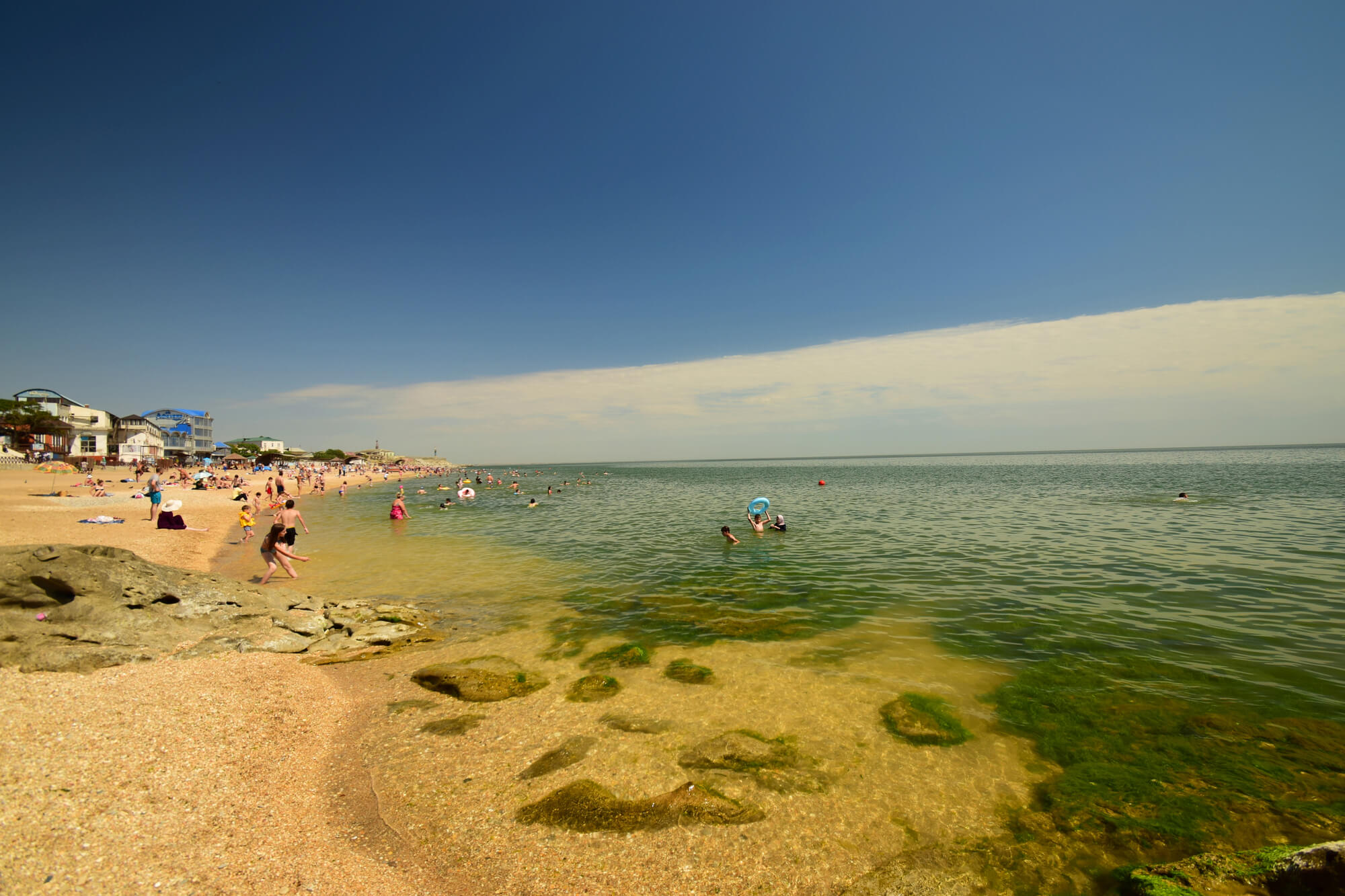 Makhachkala beach. Photo: MaykovNikita / Depositphotos.com.
Beaches of Russia 2022
Summer holidays are always associated with the sea and beaches. Bathing in the sun-heated water is soothing and revitalizing. Not in vain all parents want to bring a child to the coast to strengthen immunity.
Beaches of Russia in 2022 will please any tourist. Big Sochi is famous for its pebble beaches, in the Crimea you will find Maldivian landscapes, completely different views on the Baltic Sea, and in the Far East – already the Pacific Ocean.
Choose the best beaches in Russia in 2022 for a great vacation.
Popular resorts
Gelendzhik
Sevastopol
Anapa
Evpatoria
Adler
Feodosia
Kabardinka
Sudak
Alushta
Tuapse
Sukko
Kerch
Which sea are we going to?
Black Sea
Sandy and pebbly beaches. Water parks, dolphinariums, palaces and walks on yachts. Recreation on the Black Sea is the most popular in the country. Krasnodar and Crimean resorts offer everything for a great vacation with kids, recreation and options "all inclusive". Choose your place in the southern sun.
Azov Sea
As early as May warm water, shallow, flat flat bottom and sandy beaches beyond the horizon. This is why families with small children, nature lovers and enthusiasts of active recreation love Azov resorts: blown from all sides by steppe winds, the Azov Sea has become a center of kite and windsurfing in Russia.
Caspian Sea.
A paradise for fishermen. A dream for romantics. A paradise for families with children. Everyone will find something to his/her liking here. You can come to rest from the Astrakhan region, colorful Dagestan or Buddhist Kalmykia. Each time it will be a new discovery and adventure.
Baltic Sea
It is cool, but very romantic. Holidays at the Baltic Sea – it's wide beaches, comfortable hotels in resort towns and diversified health resorts. Here is the easiest to acclimatize, and the air, even in hot weather is clean and fresh.
Hotels with a Beach
Sunmarinn Resort Hotel All inclusive
Address
Phone
At any time of year Sunmarinn Resort Hotel All inclusive in Anapa is waiting for its guests. Own beach, view from the window at the sea, animation for children – from the rest only pleasant emotions will remain. Comfort is added by several heated swimming pools for children and adults, rooms of different categories and the system "all inclusive".
Hotel Orchestra Horizont Gelendzhik Resort
Address
Phone
An all-inclusive vacation is not necessarily expensive, as the Orchestra Horizont Gelendzhik Resort hotel proves. It undertakes all cares of organization of your rest, and you only have to enjoy the sea, the sun and the fresh air: the hotel is surrounded by a park, where coniferous trees saturate the air with useful phytoncides. Children will appreciate the nearby water park.
Cipresso*4 in Alushta is a cozy hotel with high level of service
Address
Phone
Small and, at the same time, very comfortable, quiet and at the same time located in the central part of the city – all this is hotel Cipresso *4 in Alushta. The level of service and comfort of home have brought the hotel great popularity among tourists. Many of them come here not for the first year. A swimming pool, baths and spa treatments, excellent cuisine and comfortable rooms – this is by no means the full list of services Cipresso*4 in Alushta provides for its guests. Learn more about it and come, guests are appreciated and welcome.
Hotel Orchestra Crystal Sochi Resort
Address
Phone
The hotel is conveniently located, with easy access to both the sea and the mountains. The all-inclusive system in season allows for a carefree vacation and distraction from everyday life, which is especially important for families with children. While adults sunbathe on the beach (and there is a big and well-equipped one) or by the pool, children are entertained by animators.
Aurum Family Resort & Spa
Address
Phone
It's only a minute from the cottages to the sandy beach, and there's a private promenade, pool, and playground. The hotel also has its own aqua-thermal complex, where you can take pearl, milk and body baths, as well as Sharko showers. Buffet meals, Georgian restaurant, cafe-bar with alcoholic drinks, snack-bar on the beach, gym – there is everything for your pleasant rest.
GRAND NOY Hotel
Address
Phone
The rooms are in Italian style and the sea is only five minutes away. Isn't it the dream of a wonderful vacation? You don't have to fly far, because the hotel GRAND NOY 4* is situated at the Black Sea coast in Tuapse. Here you can find a quiet area, enjoy nature and in solitude to read a book, which is so lacking in normal life. There is a place for noisy companies as well – there is a barbecue area for them. And if you come with children, there will be entertainers to entertain them.
CORUDO Family Resort&Spa
Address
Stylish and comfortable rooms, excellent service and a panoramic swimming pool on the roof are what makes the anapa hotel CORUDO Family Resort&Spa memorable for its guests. The "all-inclusive" system makes it clear that you do not need to fly to Turkey, when we have great offers for our guests. And what views from the window!
Hotel Mriya Resort & SPA
Address
Visiting time
All the entertainments your imagination can think of are packed into the "Day Dreams" program of Mriya Resort & SPA. Come here to swim in the pool, have a sauna, go for a ride in the attractions, watch a movie, listen to the stars, do yoga in the Japanese garden and of course swim in the sea. Arrange a day of rest and fun for the whole family.
Guest House "Triera"
Address
Phone
In-room breakfasts, cozy streets and beautiful scenery. How pleasant to spend a vacation in such a romantic place! Triera Hotel is suitable both for young couples (by the way, weddings are organized here) and for families with children, who appreciate comfort and an unhurried pace. On the territory you can roast a shashlik and even join the ceremony itself.
E.V.A." Hotel and restaurant complex
Address
E-mail
In the center of the main foot street of the city – Cypress avenue – the hotel-restaurant complex "E.V.A." is located. Pleasant prices for rooms, equipped according to European standards, are kept all year round. There is a store and a canteen in the hotel building, and you can walk to the sea in ten minutes.
Mini-hotel "Aileron
Address
Phone
The small and cozy mini-hotel "Eleron" is located right on the seafront – to the sea to go down no more than a couple of minutes. The hotel is quiet – there are not many rooms, but they are equipped with everything you need for comfortable rest. And the main Sudak's attractions – the Genoese Fortress and Alchak-Kaya Reserve – are within walking distance from 'Eleron'.
Gurzuf Riviera Hotel
Address
Accommodation
Gurzuf Riviera Hotel is located in the most picturesque place of the Crimea. It is a real pleasure to stay in the hotel. Children will love the animation programs and game room. Adults will appreciate the SPA-complex, sports fields, Crimean cuisine and panoramic views from the terrace with outdoor pool – the sea and mountains seem to lie at your feet.
Eco-hotel "Levant"
Address
Coordinates
Eco-hotel "Levant" in Yalta offers rooms with panoramic windows overlooking the sea. Near the Seaside Park and the beach. It is no coincidence that "Levant" is translated as "east". Admire the colorful sunsets – such can be seen only here. The hotel has provided rooms for the whole family and game rooms for children.
Sirius Hotels at Sirius
Address
Phone
Classic beach tours no longer surprise anyone. Tourists are increasingly paying attention to unusual chips. "Smart tourism" is offered to guests in Sirius. Rest on the comfortable beaches with clear water can be combined with training in more than 40 programs of different formats for adults and children. And even rest in Sirius hotels is a concert of world stars, attractions Sochi Park, golf carts, a planetarium or a show of the Singing Fountain. An eventful vacation is guaranteed!
More Spa & Resort: well-thought-out recreation
ADDRESS
Hotel More Spa & Resort in Alushta is located in a unique location, just 10 meters from the sea. This is a great place for summer holidays, including family holidays. On the territory there are relict forest, outdoor and indoor pools, areas for outdoor activities, playgrounds, restaurants. There are both standard rooms and villas with their own pool and luxurious veranda.
Sanatoriums with beach
Sanatorium complex DILUCH
Address
Phone
The sanatorium has been working for almost 100 years, for this time it became one of the largest multi-profile sanatoriums in Krasnodar region – over 400 kinds of checkup and treatment are provided here. There are departments of balneology and mud cure, pump room with mineral water, medical and cosmetology center. Plus six three-star hotels, gym, spa-complex, playgrounds, swimming pool with sea water and sauna, healing pebble and sand beaches. This is the only health resort in Anapa, taking families with children of any age, and for treatment – from two years.
Sanatorium "Krasnaya Talka".
Address
Phone
In this place you can relax – the sanatorium is surrounded by pine trees next to the sea, as well as to improve their health. Problems of endocrine, nervous, musculoskeletal, genitourinary, cardiovascular systems are being treated here, metabolism is being restored, rehabilitation is going on and they help to get rid of stress. Specialists, marked by diplomas and awards, have created unique programs: there is one for those, who had COVID-19. Not only adult patients, but also children from 4 years old are waiting for treatment in the health resort.
Sanatorium "Zapolyarye"
Address
Phone
Luxurious rest. A beautiful seaside, pleasant recreational procedures, fitness-club and clinic of aesthetic medicine: it seems that you have everything for a healthy rest. And also our tourists' favorite buffet. Proper nutrition and rejuvenation programs will do incredible things – return home full of strength and energy.
Sanatorium "Southern Vzmore".
Address
Phones
Sanatorium "South Seaside" is designed for those who choose a conscious way of life for health and longevity. Sochi's mild southern climate, new medical technologies, atmosphere of luxury and comfort combined with international level of service will give you a heavenly delight. Health, youth and beauty are the main accents of the legendary resort with 55 years of history. Every year the health resort is trusted to health, comes for rest and treatment different celebrities, politicians, sportsmen and cosmonauts. Recently the resort has become a magnet for Russian pop stars and media personalities.
Sanatorium Mriya medical center
Address
Working mode
Treatments
Treatment can be not only useful, but also very pleasant, especially in the medical center of a five-star hotel on the beach, which has the most modern medical equipment. Mriya medical center offers its guests a wide range of procedures: therapeutic, restorative, cosmetological, anti-aging and preventive. Combine summer vacation with self-care, and your body will say "thank you"!
Ribera Medical SPA sanatorium complex
Address
E-mail
Ribera Medical & SPA complex is situated on the seashore, where the sun shines almost all year round and the air is full of scents of herbs. Healing muds and mineral waters are used for recovery procedures. There are doctors of different profiles, express diagnostics, and SPA has anti-stress and rejuvenation programs.
Sanatorium Black Sea Zorka
Address
Phone
Coniferous forest and soft sand on the coast. Sanatorium "Chernomorskaya Zorka" will please both families with children, for them works a summer camp, and those who need treatment, and young people – near prospect with bars and restaurants. Patients with diseases of the nervous system, gastrointestinal tract, ENT-organs, gynecological and gastroenterological problems are accepted.
Sanatorium "Rus'"
Address
Phone
Rus Sanatorium is a leader on the Black Sea coast in the treatment of allergic diseases. The latest medical equipment is used for diseases of respiratory organs, musculoskeletal, endocrine, nervous system, metabolic disorders, blood circulation, digestion, gynecology. The sanatorium is located in a park, 40 meters from the sea. Comfortable rooms, 4 meals a day on a "personalized menu".
Sanatorium "Sosnovaya Gorka
Address
Phone
Not by chance the sanatorium "Sosnovaya Gorka" bears such a name. Here there is a pine forest and it is very easy to breathe. And the buildings themselves are on a hill, which opens up beautiful views. People come here to improve their health and just to relax. Therapeutic complexes include carbon dioxide baths, ozone therapy, laser therapy and many other procedures.
Sanatorium "Dal'naya dacha"
Address
Phone
Coniferous forest, an oak grove and a pond with a sandy beach. Nearby are ski slopes. There is the sanatorium "Dalnyaya Dacha" in such a beautiful and interesting place in Chelyabinsk region. It offers 22 therapeutic profile programs and cosmetic services. The sanatorium accepts holidaymakers all year round.