Divnomorskoye – reviews of tourists
Reviews about Divnomorsk, based on personal experience. Pros and cons, personal impressions, what you liked and what you didn't like about the trip. Who should pay attention to this city, whether (Russia) as a place for family or youth recreation. The main attractions and entertainment, what is famous for the city of Divnomorskom. Tips and tips for those who plan to visit the city for the first time.
Divnomorskoye, in my opinion, does not differ much from most small resort towns in the Krasnodar region, which have access to the Black Sea. I have been to Divnomorskoye when I made a tourist pilgrimage and visited almost all the resort towns near Sochi and Gelendzhik, which came my way. Somewhere stayed for a long time, somewhere just for a day. But Divnomorskiy spent a few days and I have a pretty clear opinion about this village.
How to get to Divnomorskoye from Gelendzhik
Before I got to Gelendzhik my usual way – by train, the good thing that from my hometown runs a direct train and no problems with tickets was not at all. Of course, we had to drive for more than two days. But on the other hand, when you go on vacation, the road seems easy and fun. And here I usually fly back by plane, so as not to spoil the impression of rest a long jolting in the car.
And from Gelendzhik you can choose as much as three ways to go to Divnomorskoye – a minibus (go often), the bus – you need to check the schedule at the bus station, and a cab. I decided that a cab – that's the best, because with the suitcases and bags option of bus and minibus automatically fell out.
The distance from Gelendzhik to Divnomorskoye is not great – about 10-15 km, the time it took about 20 minutes, the price of 200 rubles, but the comfort of the trip and the polite driver who helped with things, was worth it.
Accommodation
I thought that there would be problems with finding accommodation. We did not book in advance, as we had no idea when we will arrive in Divnomorskoye. But it turned out that the fear was completely in vain. The private sector here is excellently developed. And in homes where there are free places, rooms, hung appropriate signs. The cab driver offered to help me find a place to stay. I explained him what I needed, he made a couple of calls, and a few minutes later brought me to a private house, where I was offered a room on the type of apartment-studio with a separate entrance, own bathroom, and kitchenette with microwave and kettle, to the sea – 15 minutes turtle step, I then found out. Excellent option, and did not have to spend a lot of effort. I did not pay more than I expected. Probably, the cab driver in a fraction with the owners of the house, but to me it makes no difference, the main thing – that the conditions completely satisfied me.
Sea in Divnomorskom amazing – warm, blue in good weather, I was subdued. Holidaymakers a lot, I even did not expect such quantity. but beaches quite capacious, neither crowds, nor crush was not felt.
I went to the local town beach, it's freely accessible, you can take a sunbed if necessary, but I usually lie on the pebbles (the beaches here are pebble). I really like their warmth, it feels like being in a spa. As usual, I had planned to spend all the days planned for Divnomorskoye, lying on the beach with breaks for snacks. But I was also able to look at the sights. But only those that came my way. I did not want to spend sunny days, which I can spend at one with the beach and the sun, not always useful and enjoyable excursions, trips and hikes.
Beaches
I had a rest on a city beach, quite usual, without any special claims. The beach is clean, there is an opportunity to change clothes, take a deck chair, an umbrella or lie under a tent. The special entertainments here were not, but at desire, which I did not test, it was possible to roll on a banana, a whirlpool and other water attractions. Beaches here are pebble. Stones are quite pleasant, of medium size, not sharp, already perfectly polished by water. On the whole, the beaches left a pleasant impression.
Stores
There are not a lot of stores here, but they are available nonetheless. I was intimidated by the very high prices in the local markets, but I was quite satisfied. The range of goods, of course, leaves much to be desired, but that's what it is. Basically, I needed the stores to buy something for breakfast and dinner. My diet consisted mainly of vegetables and fruits, so that I did not feel too much trouble.
Souvenirs and beach accessories can be bought at a small market near the beach. There is a street nearby that reminds more of a market – they sell everything you want and everything that can at least slightly interest the tourists.
Catering
Cafes and small restaurants here, as well as in any resort area, is enough. But I only had lunch in such places. In general, did not spend much. I needed soup and salad, as well as a cup of coffee, very rarely I went beyond the limit of 200 rubles in any cafe.
Attractions
To say that there is an incredible number of them, I can not. There is a quay, quite nice, pleasant, in the evening, that is, when the sun was losing its intensity and there was no sense to sunbathe, I walked here and sat on a bench, admiring the sea.
There's a very nice park, I used to go there too, when I couldn't sunbathe I liked it a lot. All blossomed, there were incredible aromas, as though I visited an expensive greenhouse with exotic flowers.
All other interesting places were outside the village, it was necessary to go, and I had neither the time nor the desire to do it. I came here to rest and enjoy life, and many of the attractions that promote local tour operators, I have seen, resting in other settlements of the Krasnodar region in the past.
Nightlife
Personally, I was not able to get acquainted with the nightlife of Divnomorskoye, but I do know that there are regular discos, mostly in establishments near the beach, the entrance to the event is not cheap – about 500 rubles. But they say that you can have a lot of fun. I did not check, took my word for it.
In general, quite a decent resort village, is perfect for families, older couples, those looking for a quiet holiday without much entertainment. Infrastructure of the village, I would have put 3 +, but I think that everything will get better here in the near future.
Divnomorskoye – not wonderful at all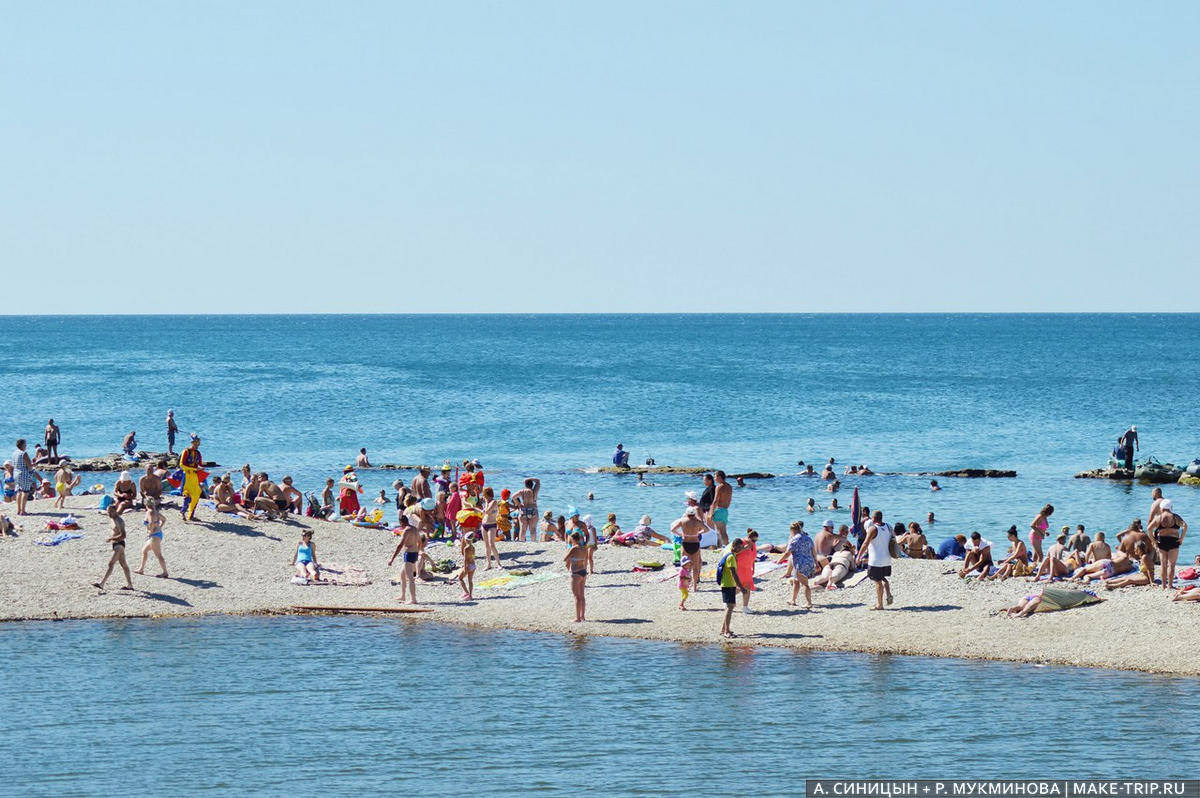 It seems that a resort with a romantic name Divnomorskoye should be quiet, beautiful and comfortable. However, the reality is different. Learn what is good and bad of the resort, is it worth to go there and what the prices for recreation in 2022.
– Private sector in Divnomorskoye. – Hotels with a cashback. – Tours in Divnomorskoye.
Contents:
Impressions of Divnomorskoye
We have been to Divnomorskoye twice with a break of five years, and both times we did not like it. The settlement is chaotic and uncomfortable, the coastal zone is almost all built up with guest houses, stores and cafes – about any beauty speech does not go. Streets are narrow, overcrowded by cars, and to park the car is the real quest. Even at the end of a season the central beach looks like a manhole. What happens here in the summer, it's scary to imagine! The main tourist street of Lenin leading to the sea, according to the southern tradition is turned into a souvenir market, and in the evening to pass there, without using your elbows, it is unreal. And what lines in "Magnet"!
About noise pollution also to mention is nothing – that on a beach, that in the center of it the music yells, tear salesmen and lifeguards. To relax on a beach just will not turn out. At the same time about the resort a lot of laudatory reviews. It seems that tourists were in Divnomorskom of the parallel universe – very quiet, not crowded, comfortable, with reasonable prices.
In general, I only liked the resort fragrant pine trees, clear sea, beautiful sunsets and landscaped area of our hotel "Talca Village". That's not Divnomorskoye at all!
Tatiana A.: "Excellent seafront with a beach, good dining rooms, everything is fast, tasty and reasonably priced. I like the location: the sea, the mountains and the mountain river – all in one place. The water in the sea is clean, the Black Sea dolphins are frequent guests in the waters near the shore. I recommend. For every budget and comfort you can easily pick up accommodation.
Repmvf: "The village makes a disgusting impression. The greediness of the Russians and the authorities' patsy is evident at every turn. It used to be a small village with normal houses and gardens around them. But with the connivance of the authorities and contrary to all sorts of sanitary and fire standards, every meter of land is built up with sheds and garages, which rent "lodging" to people who came for a vacation.
This is what the Central Beach in Divnomorskoye is like. The main tourist street. Quay. But the sunsets are beautiful!
Prices for housing in Divnomorskoye – 2022
According to reviews, holidays in Divnomorskoye is cheaper than in Gelendzhik and the more so in Sochi. Prices for lodging varies depending on the conditions, proximity to the sea and the insolence of the owner.
In summer the most inexpensive rooms in guest houses cost 700 – 1000 ₽. Accommodation with amenities in the room costs from 1500 ₽ and above, more often 2000 – 2500 ₽. Stay at a three-star hotel from ₽5,000 – the Grace and Park House hotels have good reviews. A 4* hotel costs from 7,000 ₽ (Park Hotel Glade). There is even a 5-star boutique hotel Sea Club, where a room in high season costs from 20,000 ₽.
If you appreciate the silence, I advise you to choose a hotel farther from Lenin Street, otherwise it will be not a vacation, but a torture. We stayed at the wonderful Hotel "Talca Village" 4*. It is located at the end of the village, on a small hill. You can not hear the noise of the resort, and you can fall asleep to the chirping of crickets. I was completely won over by the huge green area of the hotel, covered with fragrant pine pits, thuja and roses, and the view of the night lights from our balcony. The territory is so large (1.8 hectares), and so few rooms that we almost did not cross paths with other guests of the hotel. In "Talka" has a heated outdoor pool, children's and sports grounds, animation, summer cinema, gazebo for barbecue, buffet meals and free shuttle to the sea and back. In September, we paid about 2,700 ₽ per night for a standard room with breakfast. In summer, a standard with full board costs ₽9,000 per night. Recommended!
Our room at Talca Village Hotel 4*. Swimming pool on the territory. Well-maintained area of the hotel.
Where to book lodging
During our large-scale audit of resorts in southern Russia, we found that local hoteliers often cheat vacationers by buying positive reviews on travel sites, including Bucking. So read the reviews carefully before booking, especially the negative ones – they will tell you a lot of interesting things. Also see how their hosts respond to criticism: if they are rude, sarcastic, and hit on the tourist, then feel free to pass by. We always advise to book accommodation in advance, rather than look for it on the spot, otherwise you will get a mediocre option, and even overpay.
Look for hotels on services Yandex.Travel and Hotelluk – it will be more reliable and profitable, because they look for discounts on different sites. Learn how to book a hotel cheaper.
Search for accommodation in the private sector on the daily.ru – it's a convenient and reliable service with real photos and reviews of tourists. You may rent an apartment, a room, or a house there directly from the owners. Do not think you can easily rent an accommodation when you arrive at the station, as they usually offer overpriced apartments in uncomfortable areas with minimum amenities. Book your accommodation 2-3 months before your trip.
You can buy a trip to Divnomorskoye at Travelate, which is a reliable and convenient online store, where we buy our own tours for your vacation. Learn how to buy tours cheaper.
Best Hotels Divnomorskoye.
Prices for food and where to eat
Prices for food in Divnomorskoye are the same as in other resorts in the Krasnodar region. However, with public catering is not so easy – according to reviews, there are few good cafes and canteens. I can recommend the cafe "Kurortnoe" on Lenina Street, 31, next to "Magnet". The food is the usual diner, the price tag too – about 300 ₽ per person. Except that in the evening there is a full house! We stood in line for a long time and were afraid we wouldn't get a table.
According to tourist reviews, in Divnomorskoye you can also eat inexpensively in the canteens "Tasty Summer" and "Kurortnoe +". Of the cafes, tourists advise "Divnomorskaya raku", where the average check is 600-900 ₽. Excellent reviews at the coffee house "Lumen". That's the whole choice! The other establishments have worse reviews.
Products in the supermarket "Magnit", according to reviews of tourists, are much more expensive than in other Russian cities, but I do not remember it. I remember only the kilometer-long queues to the cash register and the tourists sweeping away everything on their way. By the way, in Divnomorskoye there are two more "Magnets", farther from the beach – they are not as busy.
According to reviews, vegetables and fruits are cheaper to buy at the Central Market, but we did not check the prices there.
Red Semi-sweet: "What is missing is chain stores. "There are only 2 "Magnets" for the whole village, and even in September there were absolutely empty shelves, and huge lines, the prices there are an order of magnitude higher than in Moscow.
In Divnomorskoye itself the prices for products are just sky-high! They are 2-3 times higher than ours. For example, tomatoes cost 130-150 rubles per kilogram! And this is in the south! Just bewilderment".
As usual, there is a lot of traditional southern fast food like chebureks, hot corn and shawarma near the beach.
Beaches and the Sea in Divnomorskoye
Central Beach Divnomorsk not so wide to accommodate all comers, and even in the Indian summer the coast is more like a manikin. The both times we came to the resort, to put it mildly, we were shocked by so many people. It was hard even to distinguish where the legs of one camper end and the head of another begins. In general, although the water is clean, blue and attractive, to have a rest on such a beach does not want. By the way, the sea is cleanest in the morning and evening. In the daytime, because of the large number of people the sand rises from the bottom, and the water is turbid.
The central beach of Divnomorskoye is a very noisy place, relaxing rest here is out of the question. Demanders for excursions, who shout in a horn, are the bane of almost any Russian resort. Those who want more silence rest at the beaches "Energetic", "Fakel", "Golubye Dal". If you walk along the coast in the direction of Gelendzhik or Dzhankhota, you will get to the wild beaches, where they love to sunbathe and swim nudists.
Beaches in Divnomorskoye are pebbly, with a small admixture of sand. Depth increases rapidly, and the entrance to the water on almost all beaches pebble, so be careful with small children. It seems, only on a beach of boarding house "Energetic" a sandy entrance to water. On beach "Fakel" at an input in the sea coarse pebbles and even fall boulders, therefore it is better to put on aqua shoes.
On beaches there is everything you need for a comfortable holiday: sun beds, umbrellas, changing rooms, toilets, showers and garbage disposals. Entertainments are usual for the Black Sea resorts – driving "bananas", "waders", jet skis and boat trips.
Venus: "As for the purity of the sea, I can say that in this village it is dozens of times better than in the Gelendzhik Bay. I also loved to swim on a mattress, as you can relax and sunbathe on it, rocking on the waves. Thus, if you swim away from the shore, the sea in general is almost perfect. Although even along the shoreline you can see pebbles."
Venus: "The first time, starving for the sea, I somehow got to the water through umbrellas, mats, bags, bedding, lying sunbathing people, and then my husband and I started looking for a less crowded place. This place for us was the rightmost part of the central beach near the cafe "Lighthouse", where they rent catamarans, ride a banana and tablets, as well as boats go. There, when you swim, you have to make sure you are not hit by a catamaran, but really less crowded.
The beach in Divnomorskoye in September. Impressive, isn't it? The main beach is comfortable for recreation, there are even massage booths. Water is clean, but in the afternoon because of the large number of swimmers it gets muddy. As you can see, the beaches are not wide.
How not to catch an infection at sea
Intestinal infections – this is really a big problem of the southern resorts. Rotavirus and norovirus are more often caught by children and become seriously ill, but adults also suffer from it. Be sure to pack a medical kit on vacation and do not forget the MHI policy. Young children must be vaccinated against rotavirus.
In order not to catch an intestinal infection in the Black Sea (in fact at any sea, even abroad), you must follow basic rules of hygiene:
Do not swallow seawater.
Thoroughly wash fruits, vegetables and hands before eating. Wash with running water or bottled water, not in the sea!
Drink bottled or boiled water.
Do not buy food from street vendors.
Do not take perishable goods to the beach.
If you cook yourself, watch for hygiene and well cook and fry products.
Make sure children do not put stones, sand, earth, and dirty hands in their mouths.
Excursions and Entertainment
Divnomorskoye is a small and boring village, there is frankly nothing to see. The quay is more or less ennobled, but short. From entertainments there is only a mini-aquapark, an amusement park, a shooting gallery and water rides, so keep the list of places to look in the neighborhood:
Safari Park and Oceanarium in Gelendzhik.
"Old Park" and the sunken dry cargo ship "Rio" in Kabardinka.
Amazing Reserve pitsunde pines "Blue Abyss" in Dzhankhot.
Rock "Sail" in Praskoveyevka (and as only it does not fall!).
Dolmens in the Zhane river valley.
Pshad and Teshek waterfalls.
Abrau-Durso and champagne winery.
Aquapark Arkhipo-Osipovka.
And other beauties on the Black Sea coast.
You can also take a boat trip, ride a bicycle or master diving.
The rock "Sail" in Praskoveevka, 20 km from Divnomorskoye. In Divnomorskoye there are also entertainments for active people: catamarans and sapas, sea walks, diving.
Rest with children in Divnomorskoye
For a holiday with a child in Divnomorsk there are standard entertainment: "Room of Fear", "Mirror Labyrinth", "House upside down", "Room with butterflies". You can go karting and visit the Poseidon water park. If you want more entertainment – go to a nearby Gelendzhik.
In my opinion, the beaches and the sea are not very suitable for recreation with small children – the depth starts pretty quickly, and even pebbles. Still better to choose a resort with a sandy beach, such as Vityazevo or Dzhemete. In addition, the choice of cafes and canteens is small. However, if you check into a good hotel with a heated pool, animation and food – for example, "Talca Village," in which we lived – you can have a good rest.
Entertainments for children in Divnomorskoye are absolutely typical: trampoline, "House upside down", shooting gallery and other pleasures. Water attractions are also common.
When it is better to go
Beach season in Divnomorsk starts in May, but the sea water heats up to a comfortable temperature of +22° C only in June. Most tourists come to rest in July and August. By the end of the summer the water temperature is +24 … +26 ° C. In my opinion, it is better to rest in the southern Russian resorts in September, when there is no heat, and the sea is still warm.
Both times we visited Divnomorskoye in mid-September, and even at this time, the beach was full of tourists. I think it's always like that in Divnomorsk, because the beaches are small and there are a lot of people wishing to relax.
Nastya: "I can write about the weather in June in a positive way. On average it was +25°C during the day, not less. There was no strong wind or rain. In the evening it was about +18°С. If I went for a walk, I had to put on a light blouse.
5 reasons to relax in Divnomorskoye
The sea is cleaner than in Gelendzhik. Dolphins come to the shore.
A calm, measured rest.
Many people think that this is a good place to relax with children, but I do not think so.
Many beautiful places in the area, to which it is easy to get on your car or an excursion.
Clean air and pizunde pine trees.
5 reasons not to rest in Divnomorskoye
VERY many people, so the beaches are crowded.
Overpriced.
Few entertainments – both for children and adults.
The settlement is uninteresting and ugly.
Interruptions with hot water.
Conclusions: whether to rest in Divnomorskoye.
If you are close to the installation "the best is the enemy of the good" and you are willing to close your eyes to some drawbacks, the vacation in Divnomorsk in the summer of 2022 will be to your liking. In the daytime there are beaches, water activities and excursions. In the evening – a beautiful sunset, walks along the promenade and a pleasant pastime in a cafe or a hookah bar. In general, such a measured rest.
Do not expect anything extraordinary from Divnomorskoye, it's a usual southern resort with a chaotic building, meager entertainment, inflated prices and the incredible number of tourists, for which it is not designed. I would have preferred to stay in a resort that was less crowded. But for once will do. Try to go, and who knows, maybe you will like Divnomorskoye!
See other resorts near Divnomorskoye:
Tips for tourists
According to reviews from tourists, a lot of people catch rotavirus infection in Divnomorsk. Read the above tips on how not to get infected. Drink bottled water only!
As in Gelendzhik, Divnomorskoye due to drought in the summer there are interruptions with hot water. Sometimes it is given only for 2 hours a day, so find out in advance if your chosen accommodation has a storage tank and boiler.
According to reviews, not only products in Divnomorskoye are much more expensive, but also medicines, so take with you a tourist first aid kit.