Novy Afon: vacation tips
A small town on the shore of the Black Sea is called an earthly paradise and a real pearl of Abkhazia. Find out if the famous resort is so good and what reviews leave tourists about Novy Afon.
Contents:
Impressions of New Athos
The area around Novy Afon is cleaner and more picturesque than other resorts in Abkhazia. Vacationers like the luxurious subtropical greenery, clean sea and the Seaside Park with swans. Many come here to see Orthodox relics, Anakopia Fortress and visit the large New Athos Cave.
Abkhazian resort leaves a double impression. Not far from the famous monastery of Simon and Cananite, there are ruined buildings, as if the war was here yesterday. Horses and cows graze peacefully along the roadside and on the roads that are used by vehicles.
Zozochka: "I really enjoyed my vacation. Quiet and peaceful, easy to get to, the sea is within walking distance. Especially nice that there are not so many people, the beaches are clean.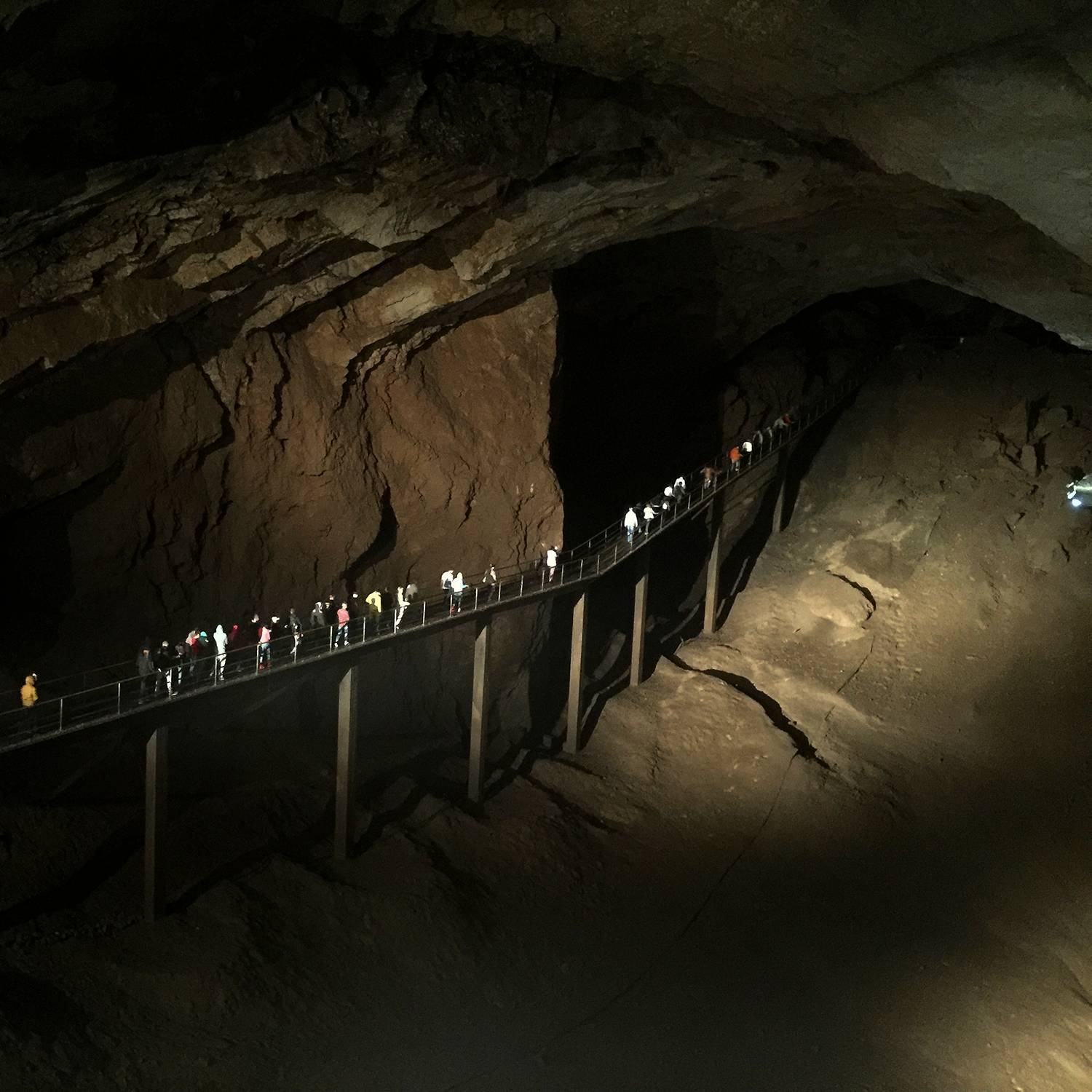 New Athos Cave – one of the largest in Abkhazia. The total volume of karst cavity is almost 1 million cubic meters (photo: Clay Gilliland / wikimedia.org)
Is it expensive to rest in New Athos?
Accommodation at the resort is not the cheapest in Abkhazia. In the summer of 2022 double room with private bathroom costs from 3000 rubles per day. A trip from the border to New Athos will cost 250 rubles, and tourists are charged from 1700 rubles for a cab.
Hotellook and Daily – here look for accommodation in New Athos. Don't trust ads on Avito and similar sites. Book accommodation in Abkhazia only on reliable services with real photos and reviews of tourists, so as not to get a pig in a poke.
According to reviews 2021, there are enough dining rooms, cafes and restaurants in New Athos. The average check for lunch at inexpensive establishments is 350 rubles. A half-liter of draft wine costs 100-200 rubles, Sukhumi beer – 100-150 rubles, and khachapuri -150-250 rubles.
Vacationers advise to buy wine and honey not during tours, but at wineries and apiaries. That way you will avoid the fakes!
Mobile communication in Abkhazia is expensive through roaming. To save money, buy a local SIM card and call from it.
Marusya1955: "I drove up to Anakopia Fortress by car. For parking I had to pay 100 rubles, for a visit to the attractions gave another 200 rubles.
Anakopia fortress in New Athos (Photo: Baranov Denis / wikimedia.org)
What sea and beaches in New Athos
The coast is covered with fine and medium pebbles. There are large stretches of sand on the Turkish beach. Public beaches can only offer changing cabins. On beaches of sanatoriums and resorts tourists are allowed free of charge. There are showers, you can rent deck chairs and sun umbrellas.
Even in the peak season there are few people on the beach, and the sea is very clear. The promenade stretches for 6 km. In reviews about beach recreation in New Athos, tourists advise not to swim far away. In deep places it is difficult to cope with the current, even experienced swimmers.
Irina: "I liked the beach of the resort. There are plenty of free places, no one lies on each other's heads. The entrance to the sea is gradual and comfortable, for children – just a paradise. The sea in August as fresh milk, incredibly warm and thus transparent".
The panorama of New Athos beach
Rest with children in New Athos
Abkhazia is not a children's resort, but tourists say that families with children love coming to New Athos. Parents love the fact that their child can live among rich subtropical vegetation, eat fresh fruit, swim in the warm sea, see the Caucasus Mountains and a cave.
Swimming is more convenient in the central part of the resort, where the descent to the water is gentle. The coastal current is strong, so children should not be left unattended. Bear in mind that the hot and humid climate is poorly tolerated by young children and adolescents, who are often ill with respiratory diseases.
Ulyana: "There is a decent choice of hotels in Novy Afon, where all conditions are provided for kids: playgrounds, inflatable pools. At the same time, the prices are very democratic.
Interesting or boring at the resort
If you like walking and excursions, Novy Afon will leave pleasant impressions! It's good to walk among citrus trees, magnolias, palm trees and eucalyptus trees, climb Iversky mountain and feed swans in the Seaside Park.
All holidaymakers visit the Simon-Canonite Monastery and New Athos Cave. Due to the fact that in summer excursion groups are constantly brought to New Athos, many people prefer to come to the resort in late autumn or early spring.
Maria Barmina: "In November, it's quite free, it's time to run through the sights. There's no entertainment such as jet skis, jet skis and the like at this time, there's nothing to do on the beach. I used to come here to breathe in the sea air, feed the birds and read.
The panorama of the New Athos Monastery
When it's better to go
New Athos is located in the zone of humid subtropics. The climate here is soft and warm. Bathing season in Abkhazia begins in late May, but to a comfortable +22 ° C sea water gets warm only by mid-June.
At the height of summer it is hot at the resort, the air temperature is +35. +38 ° C, and the water +24. 26°С. During the day, locals and tourists hide indoors or take a siesta in the shade of trees. According to reviews, the heat in New Athos is hard to bear because of the high humidity of the air. It is much better to have a vacation by the sea in the velvet season – in September.
Ketrin-9: "Personally, having traveled in July, I would recommend September and October for a trip. Self-excursions – caves, mountains, waterfalls, ruins, but not a beach holiday. However, if you are ready for the exhausting heat in conditions of high humidity, it is possible in summer.
Reviews of New Athos: making conclusions
New Athos is liked by lovers of natural and historical sights. The entire coastal strip of the resort is surrounded by pine groves, cypresses and eucalyptus trees, which create a special microclimate. According to tourist reviews for 2021, there is no particular difference between the service in Novy Afon and the resorts of Krasnodar region. The warm sea and picturesque terrain energize, so you can turn a blind eye to some shortcomings.
Psyrtskha station (Photo: Marco Fieber / flickr.com)
The truth about New Athos. Reviews about rest and prices – 2022
About the minuses much has been said, but what is good? Why do you like to holiday in Abkhazia? About minuses much is told, but what good? Why do you like to holiday in Abkhazia?
Abkhazia is the poorest, but very beautiful country. Yes, there are many minuses: we all know about broken roads, lack of infrastructure, power outages are also no secret. You cannot use your card to pay here, you will have to pay in cash. The locals are not very hardworking, they drink wine and wait till somebody comes and fixes everything. Well and steal, that here so that directly with robbery assaults is not seen, but
Careful, expensive photos! Right at the entrance to the waterfalls, be very careful! ⚠️Local people are pushing photos, my husband was taken for 2000 rubles, he almost snatched it out of my hands ⚠️ Then "the fortune teller" came up with a bird and wanted to shake more money, but we left after hearing back that we were doing wrong Sorry, please split this money for three if you work together. As for the waterfalls, the places are beautiful but we came in mid-September and the waterfalls are not as full-flowing. Near very beautiful places as an abandoned train station and caves, they have a paid entrance. Nearby hotel with the same name "Waterfall" we liked, clean rooms excellent and attentive staff, food simple but tasty.
We liked the hotel, it was a great place to go on excursions.
swim and sunbathe on the beach
Vnov bottles of APSNY LYHNY, cognac, too, very disgusting. In New Athos at the station if to stand with his back, you'll see a cafe, and to the right, nuglou store, a tent, alcohol, do not dare to take. We took half a suitcase full of presents for friends, it's very sad. For the whole Abkhazian people. Or do they take us for suckers? The attitude was spoiled. Ah, holiday was cool. We drove around Abkhazia by car, we visited waterfalls, trout, Lake Ritsa, Stalin's dacha, Sukhum, the market, fruits, everything was fine. A: BE CAREFUL WITH THE LOCAL ALCOHOL. Taste it first.
swim and sunbathe on the beach
I don't recommend anyone to stay in New Athos, especially if the sea is more than 100 meters from your home. We rented a house on resort street, orienting guest house Riviera, then the road goes uphill. from the sea to the house allegedly 300 meters – it's a lie! This is nonsense! In the local market 20 minutes away by car you can buy almost nothing and there is no fresh fish. We had a civilization there – all stores and pharmacies are within walking distance and everything is near.
We liked the hotel, it was a great place to go on excursions.
Guest house "Nika" Abovyan str d1 – Very far from beaches and attractions. For a long time I wanted to visit New Athos, with its wonderful nature and attractions. But at the time of the vacation, the choice of hotels was gone, I had to search through a number of ads. Found the guest house "Nika" on Abovyan str. The description says "10min to the beach. But (. ) through the railway without crosswalk, then a very steep descent to the sea and climb over the breakwater on high steps in half a meter. Physically unprepared vacationers or with children to pass problematically. On the beach itself there is a big pipe
We liked the hotel, it was a great place to go on excursions.
swim and sunbathe on the beach
California is ours. New Athos, Ardzinba Street, 18. For those who have fallen for the loud name and want to know what actually awaits you in the choice of housing. First floor, there are trees and bushes outside the window, there are no bars on the windows, which greatly simplifies the access to your belongings by unauthorized persons in your absence. Doubtful individuals repeatedly pass by and look in the windows. On all THREE of the promised channels, the TV showed only "goosebumps", so forget about watching TV on quiet cozy evenings. A strong smell of mold and rottenness, which even after a few days and did not think to get out. After asking the owners to eliminate these deficiencies, there was an inadequate response with shouting, screaming and accusations against us. Instead of resolving issues, the owners just kicked us out on the street without returning the deposit and even tried to squeeze the money for the remaining days of stay. Thus, if you want to feel like a disenfranchised bum – I recommend this option for accommodation.
I recommend Novoafrnsuya caves were there in August 2017 the whole family liked it very much. If we go to Abkhazia again, we will definitely visit the New Athos Cave again.
It is our family's favorite cave! Everyone should visit it! I brought my husband here when we just got married, and now I will bring my son here when he grows up. I've never seen such a large-scale construction of nature. I am pleased with everything: from the underground subway, which will take you to the beginning of the tour to the guides who will tell you the history of the cave and interesting facts. It is a pity that not all of the rooms are available to view. The minus also can be considered the fact that the ticket office is always full of people and you have to buy a ticket a few hours in advance. However, we were lucky and we "snatched.
A beautiful place in the hot Abkhazian sun we had a rest in New Athos the summer before last. This city was chosen primarily because of the large number of attractions, located within walking distance, and New Athos Monastery – is not only almost the most beautiful of them, it is one of the hallmarks of Abkhazia! We must admit that the ascent to the mountain, on top of which glittering gold heads of the monastery, the process is terribly tedious, especially in the 30-degree heat. But all along the way there are stalls of traders, where you can not only look for the best things to buy.
To this monastery, another 20-40 years to be restored, and then it will be like a "Belogorsk monastery" in the Perm region. In Belogorye was a year ago, and several times in the past 15 years. the contrast is obvious.
A magical place with mad energy. Last year we went to Abkhazia with a big company. Stopped in Sinop – it was our third stop. Before that we had stopped in Gudauta, then in Athos, but we did not particularly like it there, it was very boring. Sinop was a few minutes' drive from Sukhum, the main city of Abkhazia. We decided to start our acquaintance with the country from the sights. Tours can be held by locals, from whom you rent a house. Our landlord had a price list for excursions.
I had a holiday in Gagra in 1983, and we organized an excursion to New Athos, visited the monastery. I remember the cypresses that were very tall and slender, as if united with the sky. small church inside the territory, murals and icons were very old and I was very impressed by the fact that all that was written on the icons and generally on the walls, was very clear to me, because it was in Bulgarian (old Bulgarian) language. In normal churches and in Bulgaria, the words on the walls were not very clear. I am Bulgarian myself, I apologize for the spelling.