Recreation with a tent in Karelia: choice of route, camping sites, the beauty of Karelia, the best lakes, good fishing and hunting season

Recently, the most popular popular among tourists is the recreation of wilderness with tents. In Karelia – the country of a thousand lakes, a lot of places for recreation in pristine nature, where tourists can send their feet. The appeal of this type of holiday is that there is no need to look for suitable accommodation, it is inexpensive and romantic. Any place that looks good can become a stop on a trip to the chosen destination.
Route choice
Karelia is attractive to many tourists. It is a cherished dream of people who are captivated by the beauty of northern nature with its halftones and charm. Families and groups of friends come here to relax near picturesque Karelian rivers and lakes, where you can sit with a fishing rod at the lake, resting from the noise of the big cities.
There's a big choice of places to pitch a tent in Karelia. There are places with already equipped tent campsites, surrounded by hunting grounds and places for fishing. But sophisticated tourists, romantics prefer to pitch their own tent by the lake. The southern part of Karelia is considered the most beautiful. It is all covered with lakes, the distance between which is no more than a kilometer.
Tourist season in Karelia lasts all year round. Tourists do not limit their vacation to living in a tent. They also use the organized service. Many go to see such unique attractions, such as Kizhi, Valaam, Solovki and Ruskeala Marble Canyon. Inveterate fishermen and hunters come to Karelia for fishing and hunting. Going to Karelia with tents, it's easy to change the place of dislocation, moving from one place to another. There is a possibility of camping in the Paanajärvi Park, but you'll have to pay a fee for camping there.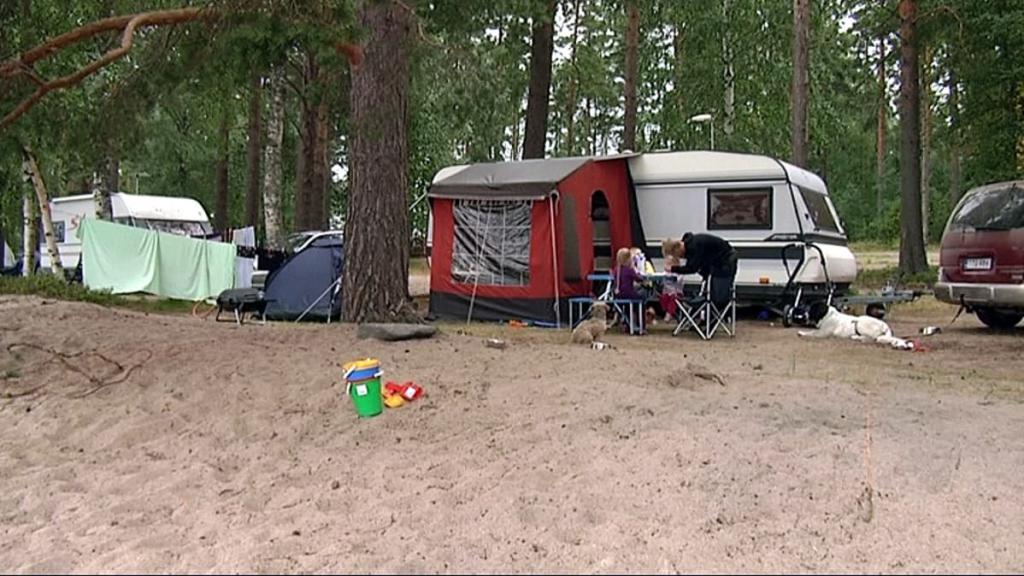 Climate
Summer in Karelia is not long and cool, so if you decide to spend your vacation here, you should hurry up. Even the average summer air temperature does not rise above +20 ° C mainly because of the west winds. Therefore, tourists in Karelia do not come to the beaches, and to live and relax among the picturesque nature. There is a huge number of lakes and places where you can sunbathe.
In any case, going to have a rest during a vacation in Karelia, knowing the inconstancy of the weather, you should take with you a high-quality double-layered tent, comfortable shoes and clothing, as well as warm sleeping bags. We must remember about the insects, which are plentiful near the ponds. That is needed ointments, deodorants, sprayers, first-aid kit.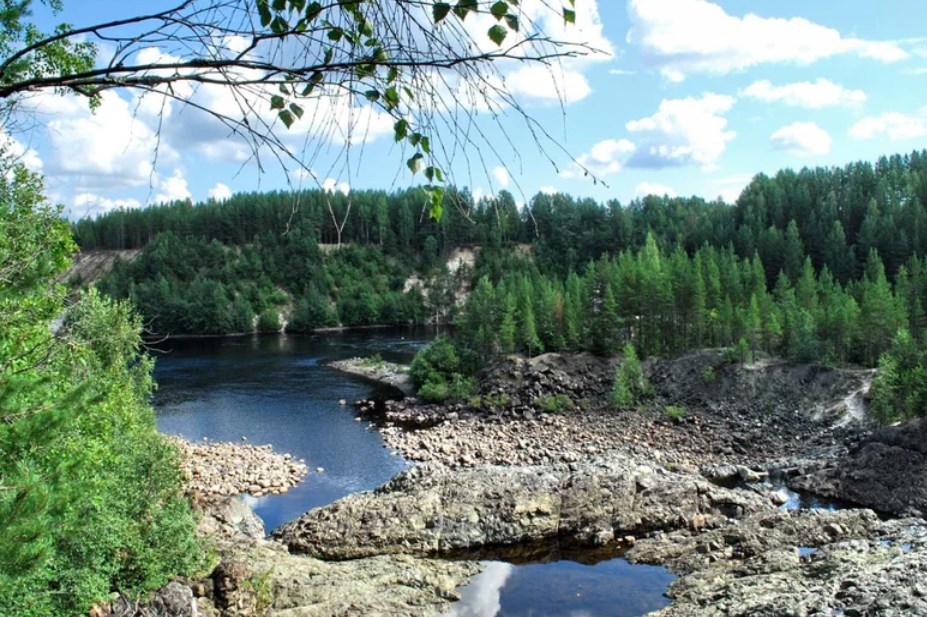 Rest at the lakes
For sophisticated hikers, there is no better vacation than putting up your tent on the shore of a beautiful lake. Lake Janisjärvi, for example, belongs to such lakes. This is one of the best places for camping in Karelia. The water in the lake is so clear that you can see quite a lot of depth. It has a large number of fish: bream, pike, grayling, grayling, perch. To relax near this lake tourists are attracted by the pristine, ancient forests and rare vegetation.
A great option is to relax near the quiet forest Lake Pobednoe (Kanneljarvi). Even in summer there is not a massive influx of tourists in this area. People tend to come to the lake for a few days and camp in the lap of nature. Not far from the lake there are local attractions – an abandoned villa of Alfred Nobel's son-in-law.
At the most picturesque place, the Karelian Isthmus, not bad to set up tents and spend a few days enjoying the beauty of nature of this place. If you're going to Karelia for a vacation with tents by car, it's worth taking along an inflatable boat. It will not take much space, but it will come in handy in the lake region. Unforgettable experience will leave a boat ride past the rocky islands and fishing in these parts on vacation. Sight of the Karelian Isthmus – Korela Fortress.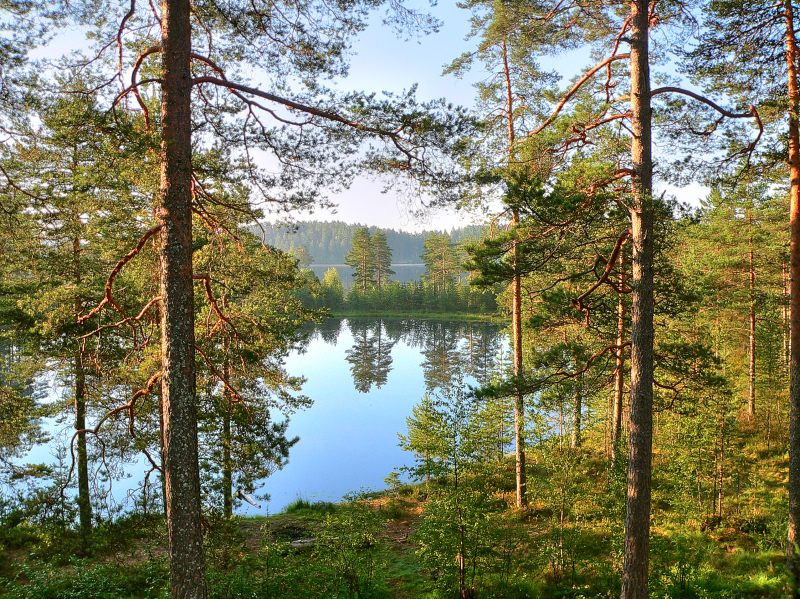 Onega and Ladoga Lakes
Incredibly popular places to rest with a tent in Karelia, where the two largest lakes in Europe – Lake Ladoga and Onega. These are such large bodies of water that it feels like a sea, with water going far beyond the horizon. The lakes are cold, because they were formed by melting glaciers, and freshwater.
For fishing enthusiasts, this is actually a fishy place. Walking along the shores of these lakes, you can find interesting finds – precious and semi-precious stones, such as amethyst, chalcedony, moon and sun stones. Someone can be lucky enough to see the Ladoga Seal.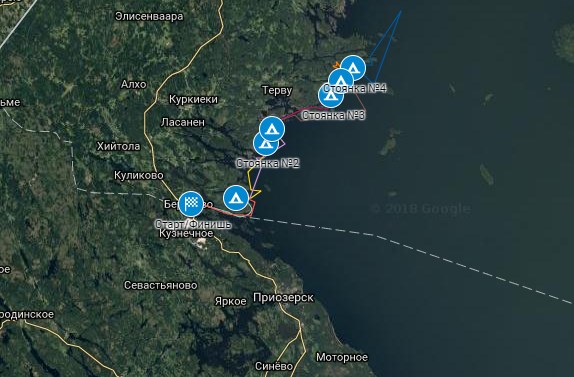 Leisure activities for groups
Tourists should not relax. The places are picturesque near the lakes, but the rocky landscape and great depths require increased attention. Groups of tourists who have come to Karelia to spend their active recreation, must register at the water rescue service and there to receive instructions. They will be given information, where on the coast to rest with tents in Karelia camping places are provided. The instructor will be attached to the group and will accompany it along the chosen route, stopping at the planned stops.
The purpose of the route is to have a rest, not to pass a certain distance in kilometers. Moving from one parking lot to another, there is no goal to overcome the route in a certain number of days. If the group liked the place, you can stay for a day or two. To have a rest, to examine places around a camp, then to go further.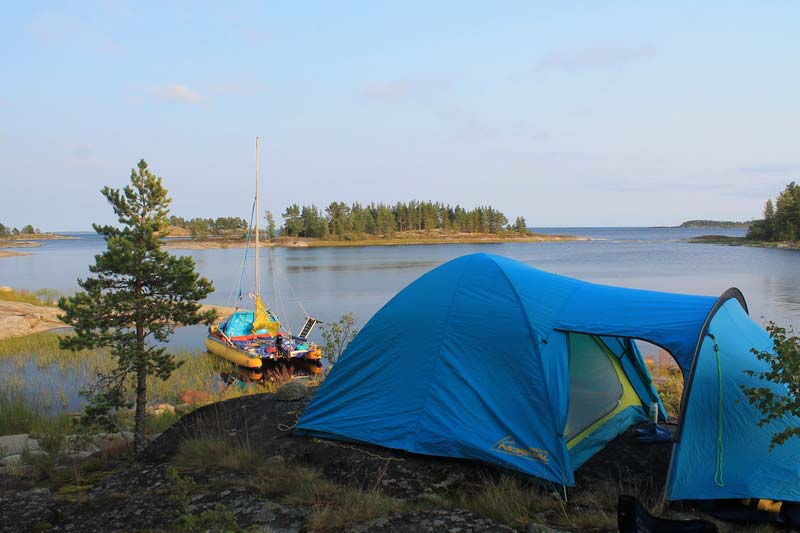 Sämozero .
If you decide to travel as a family with tents, the best place to come with children is Syamozero. There is a beach on the shore and the water is not as cold. The lake is located between two large lakes – Onega and Ladoga.
Fishermen also like this place. Pike, salmon, bream, perch, pikeperch and rudd are well caught on the lake. You should equip a place for a tent and fish at your pleasure. There are many islands and bays in Syamozer. Around it there are recreation centers, where you can also set up a tent and parking lot. You can come to this place of fascinating nature of Southern Karelia to have a rest with a tent by your own car along the highway A-133 Petrozavodsk – Suojärvi, or by train to the Essoila station.
Route to Lake Pizanets
The southern shore of Lake Pizanets is very beautiful. It is located in the taiga forests of the Muezersky region of Karelia. The lake is elongated in length. The maximum width of the lake is 200 meters. It has made its way between the rocks in the rift of the earth's crust. The rocks surrounding the lake attract amateur and professional rock climbers. And for fishermen, Lake Pisanec has become a favorite place. It's better to get to the lake by car from Petrozavodsk.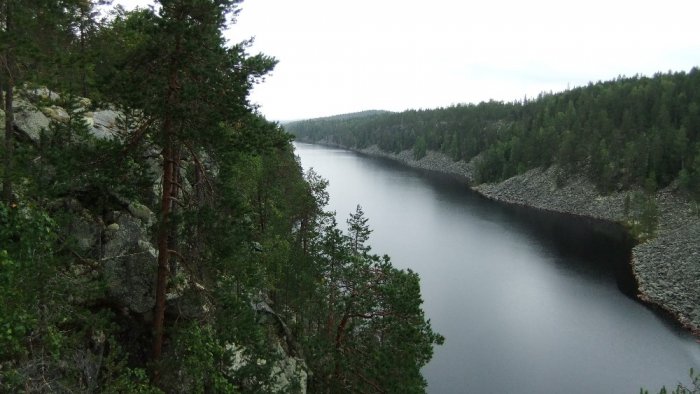 The nature of Karelia
The best time to spend a vacation in Karelia is summer. But every month spent in this country is interesting in its own way. "Savages" know such places for recreation with tents in Karelia, where you can gather mushrooms and berries, and where to fish or do hunting.
By the end of June, we can say it's getting really warm. Romantics can enjoy not only life in tents, but also the white nights. At this time the berry season begins. Sweet-scented strawberries turn red in the forest glades and the first mushrooms – aspen mushrooms appear. There are not many of them, but they are enough to make a dish with on the fire. Strawberries gladden the vacationers almost all month of July.
In August it gets noticeably colder at night, but there are no pesky mosquitoes. August and September is the time of fishing and forest hunting. The catch is impressive.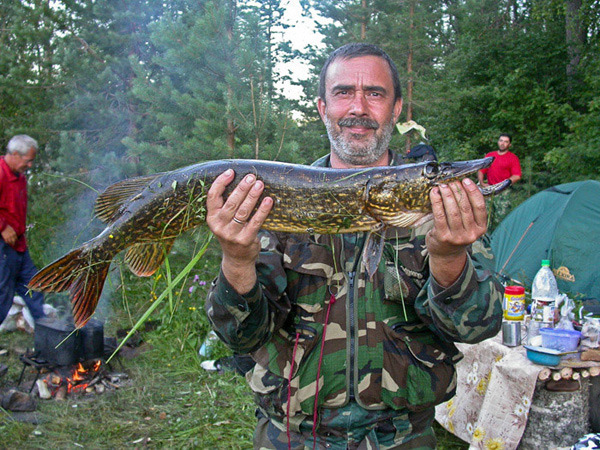 About safety precautions
Unpleasant during the holidays will be a meeting with ticks, which are found in southern Karelia. They live in the grass and on bushes. Naturally, there are more of them in damp places and closer to the forest. The best option to protect yourself from meeting with this insect is to get vaccinated against ticks before a trip to Karelia. Costs inexpensive vaccination. The period of validity is three years.
If it is not done, you will need repellent sprays. Holidays in a tent can spoil the mosquitoes and horseflies. This will help repellents, sprays, deodorants. There are bears and wolves in the woods. But wolves do not go out of the woods, and bears are sometimes attracted by the smell of food. Therefore, food should be kept out of reach while camping in Karelia.
In this region there are also eels and vipers. eels are harmless. Vipers are black in color with a reddish cast. They do not attack first. With their hiss, they warn you to move away from it. Bites are not fatal, but it is recommended to go to the clinic or have a vaccine in your medicine cabinet. But it is better to walk in the woods and brushwood in tight shoes.
Karelian weather is very changeable, you must be prepared for its surprises. The wind may suddenly blow and cold rain may fall. You must have warm clothes and safety shoes. Also, bring a special rain tent, which is stretched over the tent, so it does not get damp.
How to choose a vacation in tents to get maximum emotions from the vacation in Karelia? There are many options. In Karelia, you can implement any plan of recreation: from carefree enjoyment of the beauties of this region to a rich active on the proposed routes.
Where to go on vacation in Karelia
Where is the best place in Karelia to rest in tents? Where are the best camping sites in Karelia? Is it really as beautiful as they say? We tell you how we went to these picturesque places by car, where and how we lived in tents, and what were our impressions!
Look for the best camping in Karelia on Camping World
The most interesting excursions on Tripster
Do you want to go all out? Check out tours to Karelia on Travelate
My whole family and I recently traveled through Karelia and we have a definite impression. In this article I will share my thoughts on where to vacation in Karelia, what to see, where to stay. And in general, what to expect from a vacation in these northern lands.
Expectation and reality.
First of all, I would like to warn against excessive romanticism. Yes, Karelia is very beautiful and there are many such places. But you have to know where and when to go. Many people, going to Karelia for the first time, are disappointed: there may be garbage dumps, a lot of people and no beauty as promised. It happens too, but only for unprepared tourists.
This article will help you to understand where better to go to Karelia to rest in tents or on tourist centers. I'll tell you about my successful experience of recreation in the Ladoga skerries. In general, I think, that Skerries is the easiest and the best option for beginners, but first things first!
Rest in tents or at camping sites.
If you are going to these areas for the first time, then you will have a reasonable question: "Where to stay in Karelia?" In the republic there are a lot of beautiful picturesque places where you can put up a tent and spend a great time. However, in Karelia there are just as many tourist centers – from simple and inexpensive, to high-class complexes with excellent service. What to choose?
Recreation savages in tents. Some tourists come to Karelia to live exclusively wild in tents. It would seem that Karelia, as they say, – the land of lakes, and to find a place to stay will be easy. But not all lakes are easily accessible, and sometimes there is such a mess, that not even a Jeep can pass through. And many people need mushrooms and berries, and fish to catch. So those who found such nice and secluded places, and even with convenient access, usually are not in a hurry to share their findings.
To feel the beauty of Karelian nature, it is worth to stay in tents at least for a while on the lake shore or near the rocks (Photo © Oleg Brovko / flickr.com).
According to numerous accounts we can make a small survey of the most popular places for camping, here it is:
Ladoga skerries
Lake Palvozero
Khizhozero, Tivdia village. Excellent fishing.
Vidlitsa village on Ladoga Lake
Lake Alansjärvi, Lahdenpokhsky region.
Lake Pälkjärvi. Road: 62.034341, 30.67677.
Lake Onega, Shalsky settlement.
Chelmuzhskaya Spit
It is not so easy to find a comfortable and beautiful place, and even other circumstances may interfere. For example, the mosquitoes and midges, wild animals, rainy weather.
How we didn't pitch a tent.
On our two-week car tour around Karelia we didn't pitch a tent even once! First it was rainy weather, then there was no easy entrance, and then a bear showed up! Once we stopped near the lake, and it seemed to be our destiny. But we almost got eaten by a gnat!) At this point the idea of a tent disappeared completely. As a result, we lived on the camp sites and hotels.
Tent not on the territory of camping house. A simpler option is to pitch a tent at the base. Here you and water, and toilet, and protection from wild animals (most likely), maybe even electricity and internet.
Rest on camping sites. If you are not very satisfied with staying in tents in Karelia, there are a huge number of tourist resorts with different levels of service and price range. Usually such hotels are located in picturesque places on the lakeshore, around beautiful views, there are cafes and restaurants, a variety of entertainment.
Keep in mind that staying at tourist hostels is usually not cheap and during the high season even an expensive pleasure. In addition, free places may simply not be. Our friends, for example, book a house on the Pyaozera in August in winter!
The average cost of living in the camping house in Karelia in high season (from May to October) is about 5000-12000 rubles per day for one house for 4 people, and in low season (from November to April) about 3000-7000 rubles. The prices are taken from the site of Lumivaara tourist base, here are photos of the house and the pier. We were here, it's very nice! There are several other camping sites nearby.
You can book accommodation at Lumivaara camping site here.
All places to stay in Karelia with reviews of holidaymakers, see on Bookings.
See the most interesting things
If you're going to see the sights, then the best way would be to go to Karelia in your car.
So you can really see a lot of interesting things, and not all sights are in the middle of nowhere. Many waterfalls, mountain complexes, archaeological sites are located very close to the main roads.
You can also take advantage of organized tours, though in this case the program is usually quite narrow. Say rafting on the mountain river or a trip to the Ruskeala Nature Park with a visit to waterfalls.
With the most interesting excursions in Karelia and their prices please visit Tripster.ru. Here you can also read reviews about the guides and, if you wish, to order a tour.
To visit most of the tours can be, for example, from St. Petersburg, and from Petrozavodsk (which is on Lake Onega), or from Sortavala (next to Lake Ladoga). Of course, for this you first need to get to these places. You can do it, for example, by train.
By the way, just Petrozavodsk and Sortavala are the most popular cities for organized excursions in Karelia.
Here we have collected the most interesting sights in Karelia with reviews, there is a lot to choose from!
Karelia's best places for excursions
If sightseeing and sightseeing are not the main purpose of your trip, you are probably going to Karelia for a soulful vacation in picturesque places.
As you can see on the map, the Republic of Karelia has a fairly long territory, and many tourists have their own favorite places of rest.
In this case, only 200 kilometers from St. Petersburg (eg, in Ladoga Skerries, Lahdenpokhsky area) views will be very similar to those which can be seen in 1000 kilometers (eg, on Pyaozera, Louhsky area).
For example, here is a picture of one of the islands in Ladoga Lake in a place called Ladoga skerries – at the very beginning of the Republic of Karelia.
And here is a picture taken almost 1000 kilometers away from the Skerries in the north of the republic – Tumcha. The similarities are obvious.
There will be differences, of course. And first of all in the feelings – the farther you get, the more you feel seclusion and contact with wild, unrestrained northern nature.
Difference, of course, will be the climate – the more north, the cooler. Usually the difference is 1-4 degrees, but the weather can be almost identical. For example at the end of August 2021 it was +15 in Lahdenpohja and +10 on Pyaozera.
Also there are some differences in nature – the further north you go, the less vegetation, trees etc.
Places to rest on a map of Karelia
On the map I have collected the most popular places for recreation in Karelia, so you can roughly imagine where and what is, and how much to get there.
Ladoga skerries
Ladoga skerries is an area of the coastal strip of Lake Ladoga, which is an archipelago of rocky islands, separated by narrow straits. The largest and most remarkable of them are Kilpola, Sorolansari, Kuhka, Putzari, Sauvatsari, Riekkalansari. But we rested on some small one at all.
Ladoga skerries are sometimes compared to Norwegian fjords. By the way, the word "skhera" comes from the Norwegian skjær – i.e. "rock in the sea".
In general, in my opinion, this is the easiest way to relax in nature in Karelia! Our friends and family vacationed in the Ladoga Skerries near Lahdenpokhja. First of all, because it is very close, just 700 kilometers from our Tver, and 200 kilometers from St. Petersburg. You don't have to drive somewhere far for two whole days: you left in the morning and by 5 p.m. you are already there!
There are three ways to get to one of the islands in the Skhéra:
The first option is to rent a boat or a motorboat. It's not a cheap pleasure, but they will tell you everything, show you the boat and take you to one of the best islands, and then take you back. Prices range from a few thousand to tens of thousands for a few hours of travel – it all depends on the level of the boat.
The second option is to get to one of the tourist bases and rent a boat. We have seen several such offers and not to say that they are very expensive. As far as I remember, a plastic boat was offered for a thousand a day, and a motor for a couple of thousand. We also saw some people who took a rowboat, but it was impossible to get very far. But it was possible to get to some island without any problems.
The third one was our option. We arrived by car with our PVC boat and motor in the trunk, we left the car at the paid parking lot in the camping site (300 rubles per day) and swam in search of the island. This is how our parking place at one of the islands in Ladoga skerries looked.
If you don't want to search for the island, and to mess with the boats in general, you can put your tent in one of the camping sites. Not all tourist bases have such proposals, but they do occur. The prices range from 500 to 700 rubles per tent. Sometimes there is a WC, water and even electricity on the territory. You'd better ask the owners about the details of accommodation.
If you have decided that you want to rest exactly on the comfortable tourist bases, it is worth taking care of the reservation in advance. After all, most likely the best options in the high season will already be sold out. We rested near the camping site Lumivaara – just like everything there. To see the prices here.
Lake Onega
It is believed that the area of Lake Onega does not have such a developed tourist infrastructure as Ladoga, but these places also have their admirers.
So, consider the direction of Medvezhjegorsk-Pindushi, where there are many picturesque places, more or less adapted for recreation and tourism. Strelka Spit, which is located near the village of Chelmuzhi, is one of the favorite places for tourists.