Ajman – inexpensive resort with white sand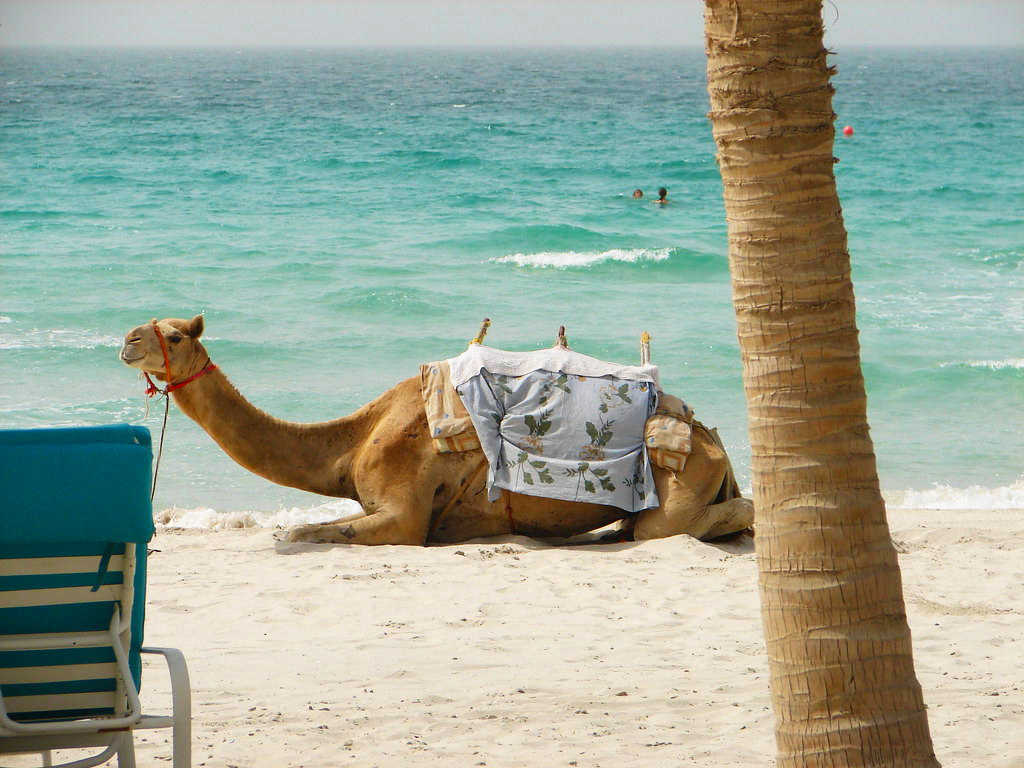 Read tourist reviews of Ajman for 2021. How did they rate the weather, hotels, beaches and sea? What they write about the attractions and entertainment at the Arabian resort. Learn about the pros and cons of vacationing in Ajman in 2022.
Content:
Reviews of the weather in Ajman
It is always sunny in the UAE. Overcast and rainy days occur only in early spring and very rarely in winter. During the cold season, Ajman is comfortable. The air temperature is about +24 ° C and the water in the Persian Gulf is about +18 ° C.
According to tourist reviews, the best holiday in Ajman is in the spring and autumn. In summer, the resort is too hot. The thermometer rises to +40 ° C and above, and the sea water heats up to +31. +33°С. Hot weather in Ajman is not suitable for holidays with small children. Come to the resort from November to April!
Anya Gladysheva: "It's hot and humid in June. There is a sauna effect. The lack of air is especially acute after leaving an air-conditioned room. It took me little more than a day to adapt.
Lydia Michuryakova: "November weather all week pleased with stable warm days and cool evenings. All days were fine. No rains, no fog, no wind.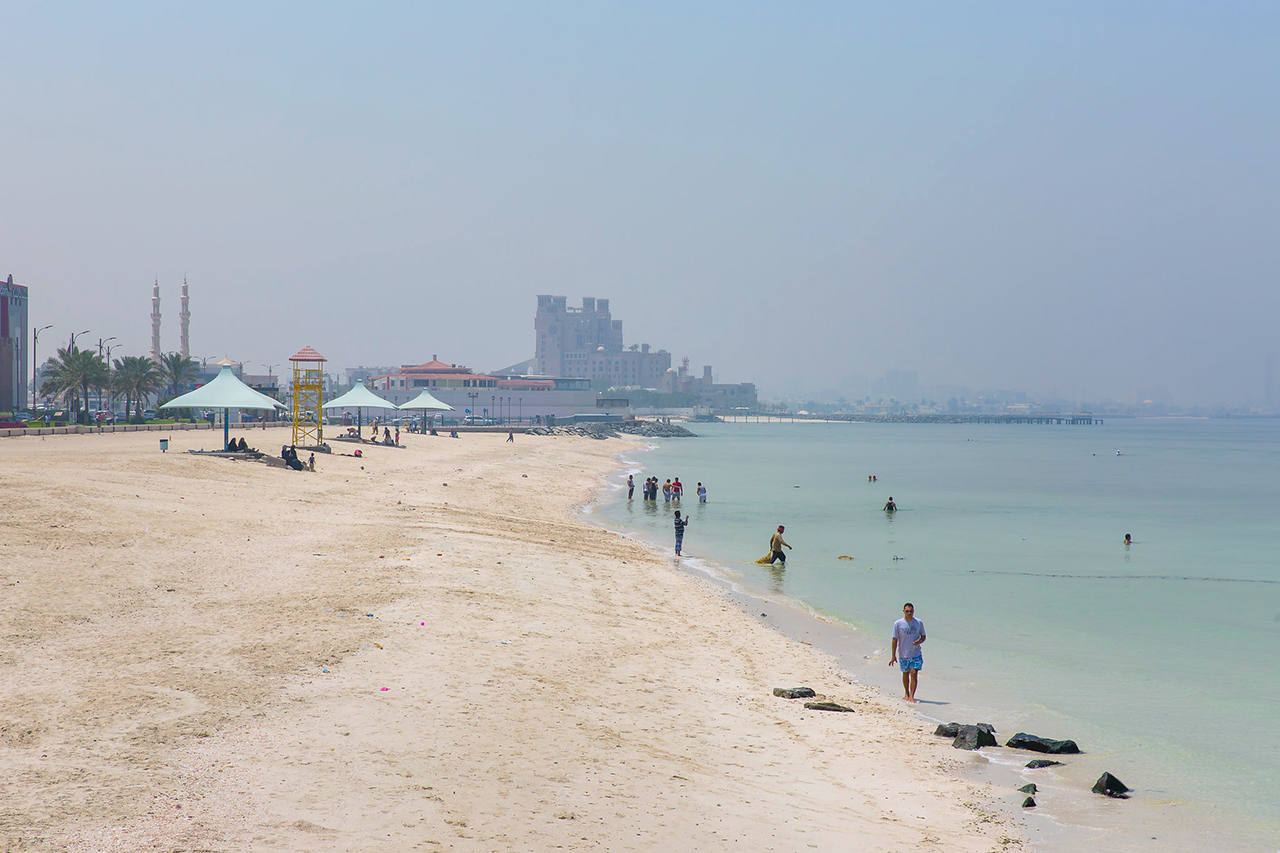 Beachfront in Ajman (Photo: tutanh_blog / flickr.com)
Ajman hotel reviews
Look for last minute tours on Level.Travel and Travelata – they will find the best deals among different tour operators. Want to save your money? Check out our 7 rules for buying tours online.
The small emirate is not rich, and hotel construction in Ajman is slower than in Dubai. Tourists can stay in modest 3* hotels in the city and luxurious hotel complexes on the coast. If the hotel is located at a distance from the sea, a shuttle bus to the beach is arranged for tourists.
Guests speak highly of Wyndham Garden Ajman Corniche 4*, Ajman Saray 5* and Ajman Beach Hotel 3*. For a successful holiday in Ajman in 2022, read the reviews of tourists about the hotels:
NIKITA : "The food at the restaurant at the Ramada Beach Hotel 4* is generally good. The meat and hummus is very good. The service is super, everyone is polite, friendly, attentive, cleaning the room every day." ,
Svetlana : "Bahi Ajman Palace 5* for a relaxing holiday. As a meat lover, I was happy: very tasty lamb, veal, beef, chicken, turkey, fish. The variety of vegetables was great.
Photo: Bahi Ajman Palace.
Tourist reviews of the beaches and the sea in Ajman
The modest provincial town is loved for its excellent sandy beaches, which stretch along the coast of the bay for 16 km. In reviews of Ajman, tourists write about the clean white sand, transparent azure sea, good beach infrastructure and well-groomed promenade.
The entrance to the water is gentle, so the beaches of Ajman are well suited for recreation with small children. Many places on the beach have barbecue areas where locals and tourists gather.
Psypepper: "The lifeguards worked well, the sunbeds and umbrellas were clean. The water is good, didn't see jellyfish for 10 days, none. White pleasant sand."
Panorama of the beach in Ajman
Reviews of tourist attractions in Ajman
In Ajman there is not as much entertainment as in Dubai, but this does not mean that during the holidays tourists are bored. For vacationers organize excursions to Dubai with dinner on a boat and an evening show. Popular are boat trips to Palma Jumeirah, bus trips to Sharjah, Abu Dhabi, desert safaris, water skiing, parasailing and diving.
Read tourist reviews of excursions in Ajman and choose your itinerary for sightseeing.
Nadezhda: "I really liked the tour to Sharjah, so we took two more. The guide took us to places where you rarely see tourists! I was especially impressed with the park.
Natalia: "I liked the tour to Abu Dhabi. The city is wonderful. Everything is beautiful, the streets are clean and the vegetation is lush. And it's in the desert.
In the old fort, which was built in the late 18th century, is the Ajman Historical Museum. Look at the ancient firearms, dhow boats and unique artifacts discovered during archaeological excavations. According to tourist reviews, during a vacation in Ajman, it is interesting to visit the camel race, which is held at the Al-Talla Stadium.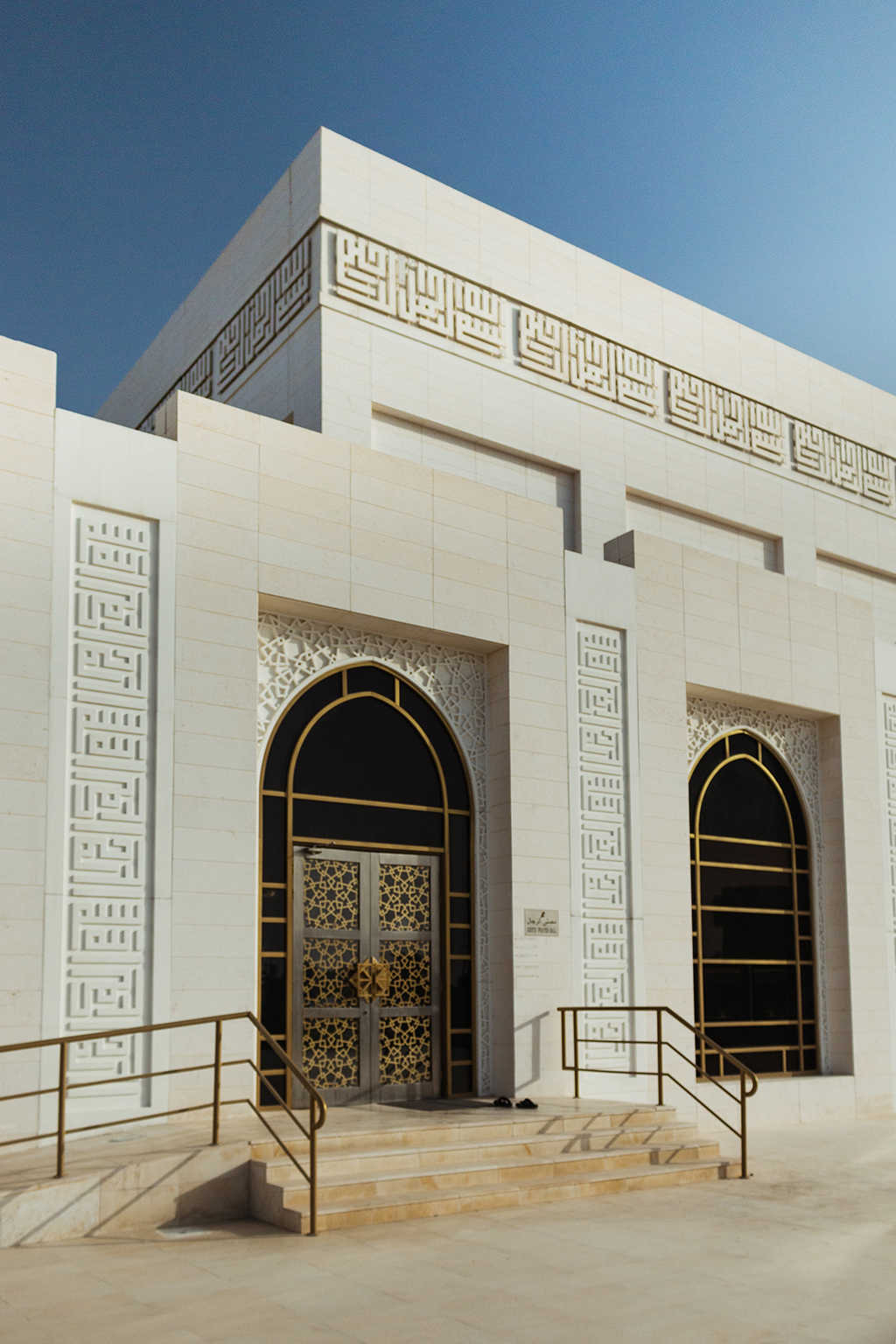 Amina bint Ahmad Al Ghurair Mosque in Ajman (Photo: unsplash.com / @maplepharaoh)
Pros and cons of vacationing in Ajman
A small emirate 10 km from Sharjah is liked by vacationers. Many of those who spent a vacation in Ajman, would like to return here again.
The pros of vacationing in Ajman in 2022, according to the reviews of tourists:
Convenient to get from Sharjah and Dubai international airports.
Warm sea.
Clean sandy beaches.
Relaxing vacation by the sea.
The high level of service.
Tours are cheaper than in Dubai.
Interesting excursions.
Yury98: "The overall impression of Ajman is not bad. The beaches are no worse than Sharjah, and the prices are a bit lower. If they ever finish the construction along the promenade, it will be quite good.
Cons :
Severe heat in the summer.
Restrictions for women.
For entertainment you have to go to Dubai.
Hellka: "For those who like to go for a swim – the buoys do not allow to swim far and deep, the depth in the area of buoys maximum ~ 2-2,5 м".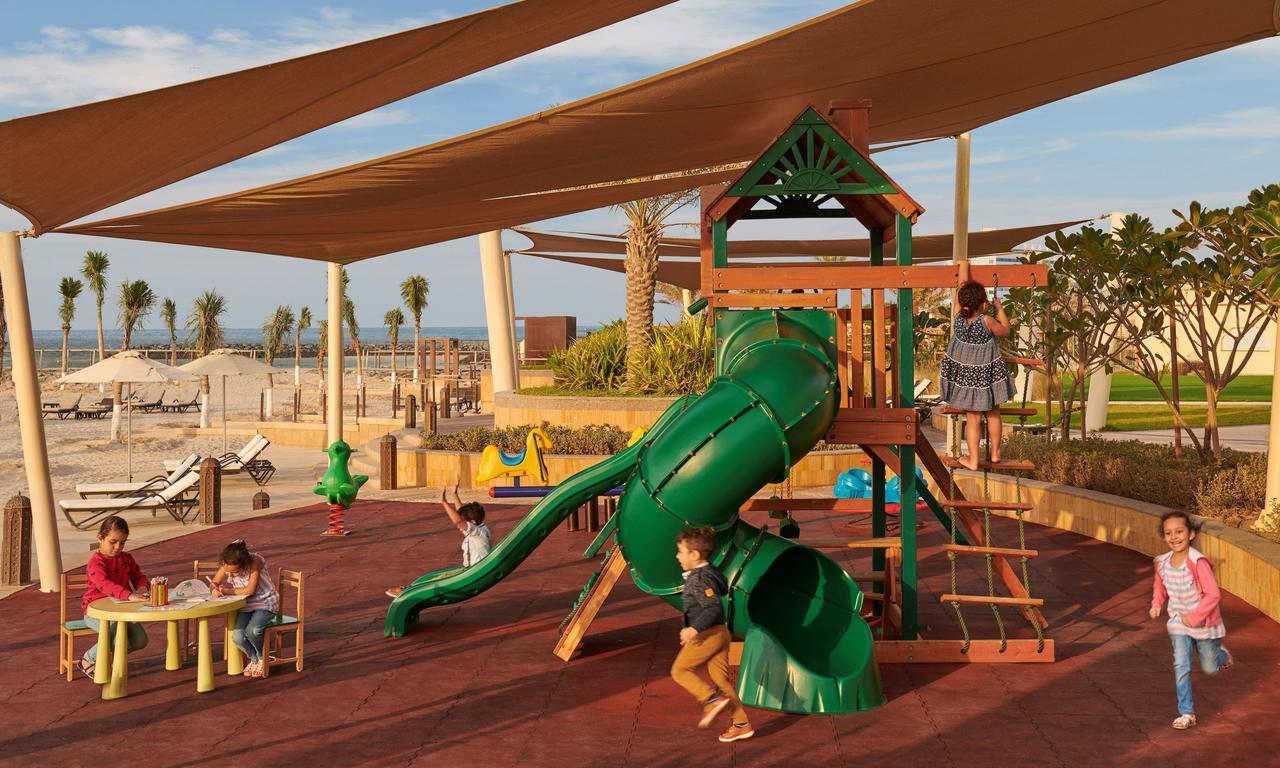 Playground on the beach at the Fairmont Ajman Hotel. Photo: Fairmont Ajman.
Holiday nuances in Ajman and tourist tips
Rest in Ajman has a number of advantages compared with more conservative emirates. According to reviews of tourists, in Ajman do not look down on women and girls if they walk around the resort unaccompanied or wear outfits with open arms and neck. But short skirts are not allowed!
There is no "dry law" in Ajman. Alcoholic beverages and cocktails are served in hotel bars. There is a special store where they sell alcohol.
Podgornaya Natalia: "You can buy alcohol on the beach. However, not many people want to, the prices are cosmic. And you can drink only in the room.
Since there are no artificial islands near the emirate, the ecological system of the Persian Gulf is not broken. The underwater world of Ajman is richer than in other resorts of the UAE. We advise to go snorkeling and diving!
City beaches are free. There are plenty of picnic places and playgrounds for kids. On certain days, the beach areas are open exclusively for women and children under the age of 10.
There are spa centers at some hotels of Ajman, which are loved by lovers of health tourism. Water from local mineral springs is used for treatment.
City of Ajman UAE – reviews
I was in the UAE for the first time and, frankly speaking, I wanted to go to Dubai – a city where you can perfectly combine a beach holiday and sightseeing at a low-temperature time of day For those who are unfamiliar with the structure of the country, I will say that the UAE is divided into seven emirates Abu Dhabi, Ajman, Dubai,…
Hello friends! Finally, new destinations in tourism are beginning to open. And after the long lull, each new country is like a breath of freedom! But unfortunately this sip is expensive.

I want to share my impressions from visiting the emirate of Ajman. I hope my review will be useful. Rest in the Emirates, I planned carefully, read reviews looked at hotels. My main requirement was a good beach near or within the hotel.
Dubai is a modern city with a developed infrastructure. Everything here is convenient for tourists. The transportation system is very developed and it is no problem to get around the city.
Oops, Anapa! Twice vowed not to go back, I will vow for the third time. My impressions of the holiday at the famous resort. Where to find a clean sea and what excursions are worth visiting? + photo beaches.
Yes, I immediately apologize to the locals and lovers of this resort for my opinion, but what is – is what is: I do not like Anapa. In total, I spent a little over a month in this city: two weeks in 2009, a drive-through in 2011 and another two weeks in 2017.
We got to Torzhok by car, the road is easy. Went most of the toll road from Moscow, the cost was 960r, but got to town for a couple of hours. I noticed at the entrance that practically the whole town consists of low buildings.
In Vologda, Vologda, Vologda . where! What to see in this city? Is it worth going as a tourist? I will tell you!
Good day to all! The time has come to tell you about the city of Vologda! This is my hometown from which I left, and at the moment came back! So I will be able to tell you as a native resident, and from the perspective of a newcomer and compare to the larger cities! And so, let's begin!
The ancient capital of Poland – what to see in Krakow? Delicious dishes of Polish cuisine. What to bring from Krakow. Tips for tourists.
Greetings to all who love or dream to travel. I want to tell you about Krakow – a city with a thousand-year history, which is included in the list of UNESCO World Heritage Sites.
After swimming in the sea with adders and having felt all the charms of shallow waters, the next year we went to Taganrog.
An old read book – that is the first impression of Taganrog. In the best sense. Interesting, provincial, cozy town by the sea. Among the modern housing there are unique houses with doors and shutters from the last century.
Carved windows, new high-rises, unfinished mosque and the embankment, where you can ride a scooter. So different, but vibrant Ufa.
We were in Ufa for a short time, about two days. We stayed at the Holiday Inn hotel, I recommend it, great location and comfortable rooms. We were taken around Ufa by our friends, so on our first evening, and we arrived late on a Friday, we went to the seafront.
Good afternoon! Today I want to tell you about a tiny Bavarian town located on the famous "Romantic Road" in Germany.Dinkelsbühl: one of the most beautiful old towns in Germany.The sympathy between me and this contemplative medieval town broke out from the first moment we…
After reading many interesting stories about palaces and castles in Germany. I decided to visit one of them by all means. And since business threw in the German capital, I wanted to find a castle in the vicinity.
Review for those who want to move to Moscow permanently, but afraid of the difficulties and high prices. I will tell you how we did it. During the year in Moscow, we settled in and bought a 4-bedroom apartment! Lots of tips + favorite places.
I originally planned to write this review like everyone else, talk about significant places in the city, etc. But then I thought my review would be much more useful if I told about my experience of moving to the Russian capital for permanent residence.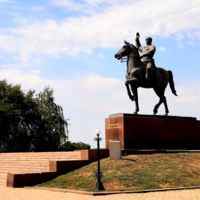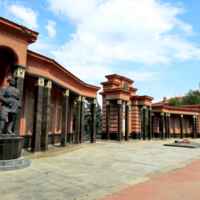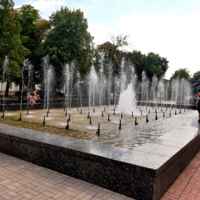 A small modest city that the whole world learned about in 2014. From humble regional center to the capital of the Republic. Is there life in Lugansk, what to visit in the city, what to bring from the city with you.
Hello! Let me start by saying that I was born in Lugansk region. As a child I've been a few times in Lugansk, and at age of 15 I entered college and moved to the city for good. Since then I consider Lugansk my native city. How not to count? I lived in Lugansk for 11 years!
Sanctions/Banctions/Ban/special operations, and you still want to go to the sea Dubai will open its doors for you!
A place you definitely need to visit! It's Modernity, Style and Luxury! Then when you come back to Russia after the trip it is very sad when you see these ruined hospitals, old, decrepit two-storey residential buildings and you think what a fox Why can't we do as well as in Dubai…

Holidays in Sochi in 2022. Tips on where to stay, where to eat, what to see and what to skip. Lifehacks on how to save money on vacation. And a little review of prices after the price hike!
Hello travelers! Most likely you came here because you are planning a trip to sunny Sochi. What I can say at once is that you have to go! The city is very beautiful, with a caressing noisy sea, cozy alleys with exotic vegetation and a magical atmosphere of rest.