How to buy a train ticket in Holland?
Electric trains in Holland are as familiar a form of transport as a streetcar or a bicycle. The route network covers almost all cities and villages, and the nearest train in any direction leaves in 5 minutes. As you understand, such railroads are a real gift for a tourist.
However, the Dutch railroad has its own subtleties and nuances. Related primarily to the purchase of tickets and transportation of bicycles. About this we will talk today.
How to buy a train ticket in Holland?
There are several ways to ease your wallet and protect yourself from the controller. Each of them has advantages and disadvantages, and we will analyze them in detail.
OV-chipkaart
Contactless reusable card. Valid for all types of public transport – trains, streetcars, buses, etc. The most advantageous for locals and the most complex for tourists mechanism of fare payment.
OV-chipkaart works in the following way. On the card you enter money, and then, when boarding and disembarking from the transport, the passenger attaches it to the validator. In this way the fare is deducted from the card, without any additional commissions or fees.
There are some disadvantages. First, the card itself costs 7.5 euros. Second, to use it in trains requires a deposit of 20 euros. A kind of "non-combustible" amount, which must always be on the card. Thirdly, the check-in/check-out procedure itself may seem at first glance complicated and responsible: "forgetfulness" on boarding faces a penalty for fare evasion, absent-mindedness on the way out "eats" all that was in the card. Fourthly, it is not possible to use one card for two or three people.
Conclusion: The OV-chipkaart will be good for locals or tourists who come to the Netherlands for at least 10-15 days and plan to travel around the country actively.
Single paper ticket
Compared to the card it seems something close, familiar and understandable. You buy it and go. But, as in the case of the OV-chipkaart, there are some features: one can buy a ticket only at the ticket office or in the self-service terminal. To find a cashier at many train stations is not easy, and the terminal accepts only bank cards or coins. The paper money to pay the ticket in the terminal can't be used, – there is an additional fee for the card – 1 euro, so if on the website, or when paying OV-chipkaart costs 5 euro (or 50 – does not matter), then for a paper ticket from the machine you have to pay 5 +1 = 6 euro (or 51). – If you pay by MasterCard or Visa card, there is an additional fee of 0.50 euros per order. In one order can be a maximum of 4 tickets. That means that overpayment, for example for 7 tickets, will make 7 * 1 euro (ticket card fee) + 2 * 0,50 euro (commission) = 8 euro, compared to the price on the website or when paying by OV-chipkaart.
Conclusion: a paper ticket is a relatively easy and fast way to pay. Not the cheapest, but understandable. Suitable for tourists who plan 1-2 trips around the country.
Electronic ticket
The Dutch Railways website allows you to build a trip itinerary, find out the train schedule, the platform from which the train leaves and where it arrives, the transfer stations and, of course, the fare. The site allows everything but one thing: you can't buy a ticket on it.
Or rather, not so. You can buy a ticket, but only if you have a bank card linked to an account in a Dutch bank. Why this is done, I can't explain. I would rather tell you where you can buy a ticket.
You can buy tickets for the Dutch railroad without a commission… on the Belgian Railways website! Choose a date, create your route, pay by card, and go. All you need to do is print the ticket and show it to the ticket inspector on the train. No overpayment, no check-in/check-out. Everything is logical and simple.
Conclusion: an electronic ticket is the best choice for travelers who have a clear idea of the route of their journey.
Rules for transporting bicycles on trains
The combination "bike + train" is probably the best way to see Holland. Carriages have special areas for carrying bicycles, and train stations are organized so that you can travel comfortably with or without a bicycle.
The rules for taking bicycles on the train are quite simple: a) you must buy a separate ticket for your bicycle. It costs 6€ regardless of distance and direction. b) bicycles are not allowed on the train during peak hours: 6:30am – 9:00am and 4:30pm – 6:00pm. c) bicycles are only allowed on specially equipped bicycle racks in carriages that are marked with a "bicycle" sign.
Of course, these rules can only be useful to travelers who have arrived in Holland with their own bicycle, or have rented one for the duration of their stay in the country. Everyone else will be interested in the following thing.
Bicycle rentals at stations in the Netherlands.
At every major, or relatively major train station in the Netherlands, you can rent a bicycle. Prices are very affordable (the same as in the city, or lower), there are usually no additional burdens such as mandatory insurance. The mode of operation usually coincides with the station: offices open around 6:00 am, close after midnight. If you want to know if there is a bike rental service at the station you are interested in, you can check on the Dutch railroads official website. In my opinion it's worth looking into this system if you plan to go to a region of Holland for a day or two.
That's all for today. I hope I've answered your questions and now you know how to buy a train ticket in Holland, if you can travel with a bicycle, and why the station descriptions are worth watching carefully. If you still have questions – ask them in our community vkontakte, well, do not forget to share the article on social networks. We will be very pleased.
Trains in Holland: How not to get eaten by the railroads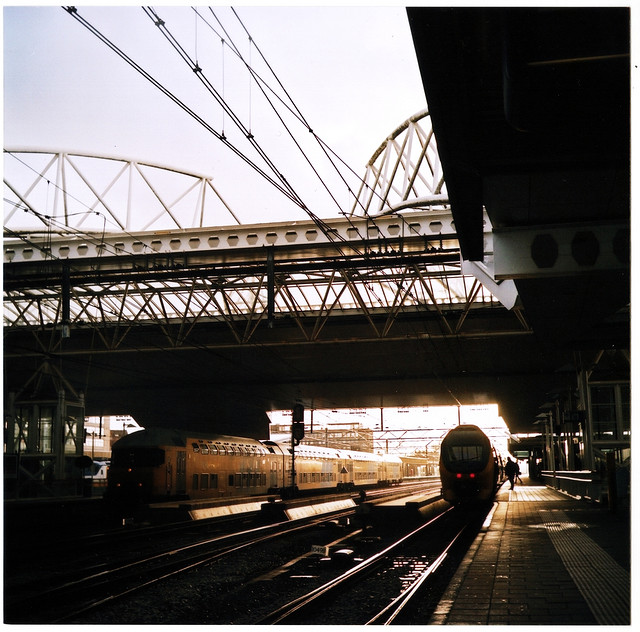 Lots of valuable information about trains in Holland and a heart-breaking story about how a perfectly working mechanism can break down at the most inappropriate moment, riddling the nerves of well-meaning gentlemen.
Whenever our team got out of its den to explore the surroundings, we chose only trains as the means of transportation, even despite the misunderstanding once between us and the Dutch railroads. We have only twice betrayed the brave Dutch trains: once with a bus for the sake of interest and new experience, and the second time with a streetcar, but out of pure necessity. But we carried our love for Dutch trains through the whole trip and continue to treasure them in our hearts to this day. Despite all the pain they caused us. Well, if it beats, it loves.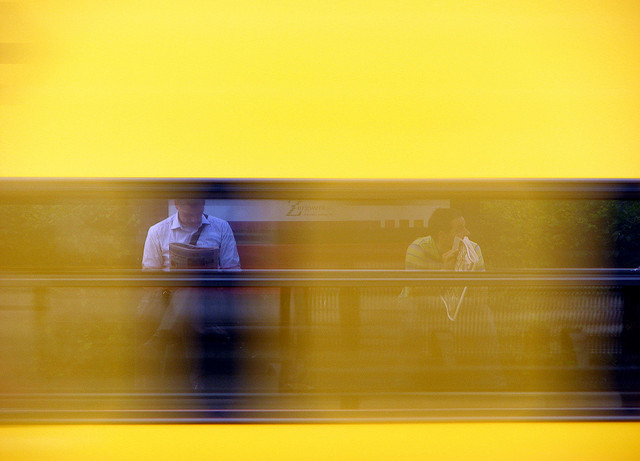 (Photo: bogers / flickr.com)
Trains in Holland are everything! They connect cities and connect different parts of the city, allowing people to meet and business to be done. Life is boiling, business is booming – not least because of the country's well-functioning rail system.
In general, trains are not only the most convenient means of transport, but also the cheapest. For example, to travel by bus from Zaandam to the center of Amsterdam costs 5 € (just robbery!) And the price of the train ticket on this route is only 2.5 €. Plus the train is three times faster.
The trains in the Netherlands run very often – I don't remember an occasion when we were waiting for the right train more than 10 minutes. Although the movement of trains to distant and not the most popular destinations probably will not be as frequent.
You can go first or second class, fare in which, of course, is cheaper. The advantage of first class is that it gives you a fixed seat, which can be important for rush hour travel over long distances.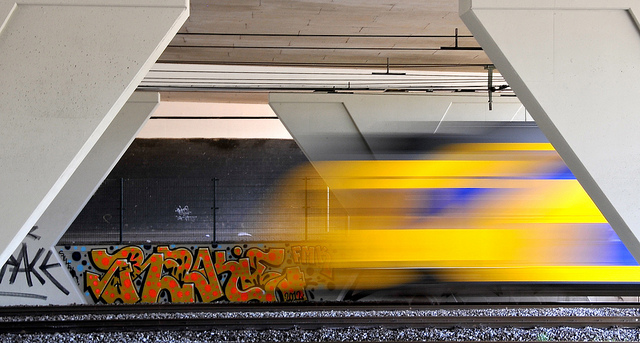 (Photo: FaceMePLS / flickr.com)
Failure in the Holland Rail Universe
We were faced with the task of driving from Amsterdam to The Hague to move into an apartment we had rented through airbnb.ru. Nothing seemed to suggest a storm. We knew it was easy, so we arrived just an hour before our meeting with the landlord. Who could have known that on this particular day and at this particular hour the impossible would happen – the smooth running of the Dutch train service would fly into Tartarus, which would result in us wandering for hours through the Dutch cities and lands.
So, we bought a train ticket to The Hague, got on the train, and it was on.
Our route was through Haarlem. We stared out the window and listened to music, occasionally glancing lazily at the information board telling us where the train was now and what the next station would be. Everything went on as usual. A cold shiver ran down my body only at the moment when we realized the fact that the train had been standing at Harlem station for quite a long time, and that there was only our trio left in the carriage. An anxious silence hung in the air of the carriage, and we decided to get out of its box to gather some information about what had happened.
It is impossible to say with certainty whether we succeeded or not. The information was sketchy and people were not talkative – they would disappear, saying only one word: "impossible. We gathered information bit by bit, but we couldn't get the big picture, and the puzzle remained unsolved. "What is going on here?" – we questioned to heaven, falling on the cold concrete of the train station floor. Harlem gave us no answer.
On top of all this, we were constantly bombarded with calls from the Asian diaspora in The Hague, generously threatening to give us a good thrashing for disrupting our appointments and letting the Serious People down. We were not happy and we were left to our own devices. Once again we were left alone with our problems.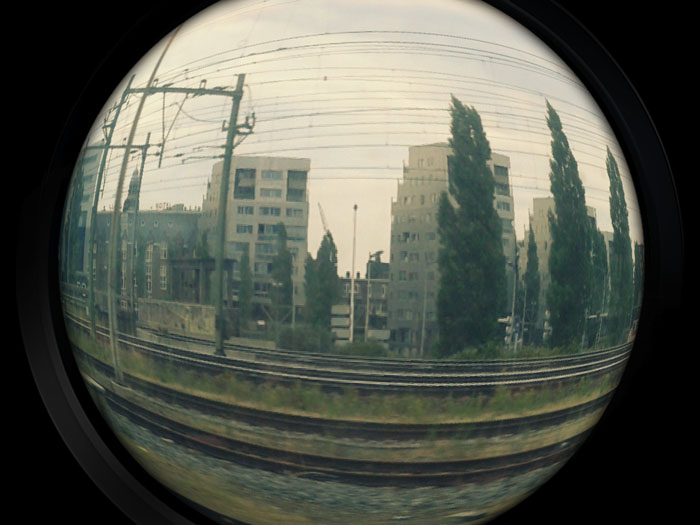 A sense of hopelessness. The lack of understanding. The mechanism broke down and all the plans fell apart. The big Yellow-Blue Shark, gripping our bodies tightly in its three-row jaws, was shaking us from side to side until we were completely exhausted. Zaandam-Amsterdam-Harlem-Slotterdijk-Harlem-Amsterdam. It took forever until, by some miracle, we were in Utrecht – it was only there that we found our noses in the breadcrumbs that showed us the way to The Hague. We passed through Gouda, the cheese city, approaching the city from the east. A little more, and The Hague opened its doors to us. We got out. We made it.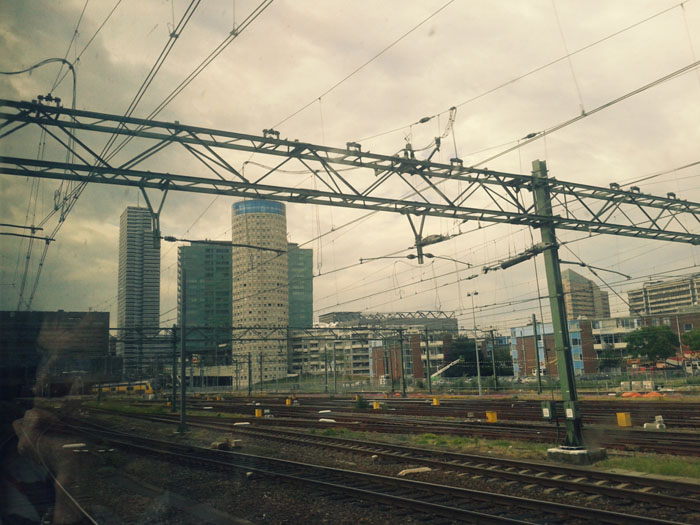 It is forever a mystery to us what happened on that dark day on the Dutch railroads . The trains went crazy and the people remained unconcerned. We agreed that there had been an incident somewhere on the tracks and that the direct service between North and South Holland had been disrupted. The important thing is that we overcame the crisis with dignity and did not break down.
Moral: even such a precise and seemingly flawless mechanism of train traffic in the Netherlands sometimes malfunctions and can be very nerve-racking for even the most law-abiding passenger.
(Photo: bogers / flickr.com)
Buying train tickets in Holland
You can do this in two ways, or rather, even three. Tickets for rail transport in the Netherlands can be purchased at ticket offices, but they can not always be found, so it is easier to use ticket vending machines. There are two types of machines: those where you can pay only with a bank card, and those that also accept coins. The latter can be identified by a special slot for throwing coins, located above the screen. If you buy a train ticket at a ticket office or in a machine with coins, then you will need to pay exactly as much as the ticket itself costs. But if you pay by Visa and MasterCard, you will be charged a fee of 50 cents.
Tickets themselves come in two varieties: simple paper and magnetic. The latter must be leaned against the special ticketing post at the station of departure and again at the station of arrival – I do not guarantee the correctness of the instructions, these are our conjectures based on observations of behavior of locals. And with the first need not do anything – if the train takes you to the controller, just proudly show him this piece of paper, he instantly relaxes and cheerfully bang on his stamp. In general I must point out that controllers are a rare bird: in 10 days we met them only twice, and then it is possible that it was only a vision – maybe they don't exist at all.
(Photo: Nik Morris (van Leiden) / flickr.com)
A bit of numbers: train fares in the Netherlands
Fare from Schiphol Airport to Amsterdam Centraal is 4 €.
The ticket for the route Zaandam-Amsterdam Centraal costs 2,5 €. A good thing about Zaandam is that hotels there are much cheaper than in the city center. Hotels can be found here – roomguru.ru. We stayed at Ibis Budget for only 3,000 rubles/day for a triple room.
To get from Amsterdam to The Hague , you have to pay 11 €. The central station in The Hague is called Den Haag Centraal, but there are a number of other stations in different parts of the city.
A train ticket from The Hague to Rotterdam Centraal costs 4,6 €.
Find out the price and buy a ticket for the desired destination you can on the website of trains in the Netherlands – www.ns.nl/en.
Passes and discounts
On the website of the railroads you can see information about discounts of up to 40% on tickets during off-peak hours and on weekends. Alas, only NS Flex card holders can use the discount for themselves and three companions (there are several fares to choose and pay monthly). But only local residents can become a cardholder: you need an address in the Netherlands and a local bank card.
Trein dagkaart is a day trip across the country for 13-20 euros, which are sometimes sold in supermarkets in the Netherlands as part of the action. But such actions are rare and tourists should not count on them.
Day train ticket for 19.50 euros – a pass for the day. Sold only in conjunction with a tourist card Holland Pass (there are three types: 45, 60 and 75 euros), which gives discounts on museums and other tourist attractions. If you do not need this museum card, then it is not profitable to buy it for the sake of the pass. Read on their website about the pass and the Holland Pass itself.
In short, the average tourist can not count on passes and discounts on trains in the Netherlands!