Transport in Paphos. Buses: routes and tickets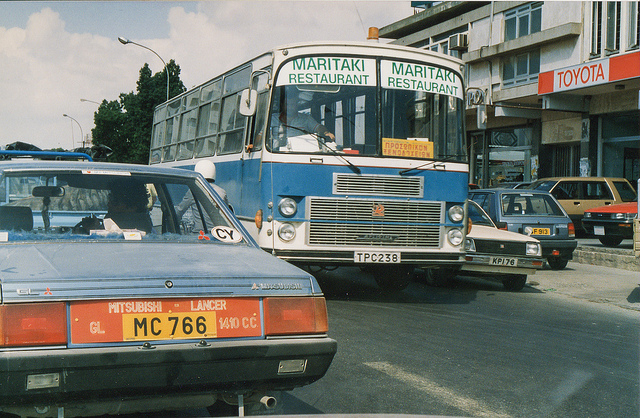 Bus transport in Paphos has a strong network of suburban and urban routes, making it easy and convenient to get around. Prices, routes and types of tickets – all the main information about buses in Paphos.
Buses in Paphos depart from two bus stations – Karavella Bus Station in the city center on Andrea Geroudi Street, which offers suburban and intercity buses (Limassol, Nicosia) and the Harbor Bus Station in Kato Paphos, which offers buses for tourist destinations. The bus station connects the route no. 618 Kato Paphos – City Center (Karavella).
Travelling by bus in Paphos costs 1,5 euros, but there are also other fares (you can see them in the cabin of the bus, next to the driver): daily ticket, that is a pass for the whole day, passes for a week, a month and a year. Tickets are purchased upon boarding directly from the bus driver.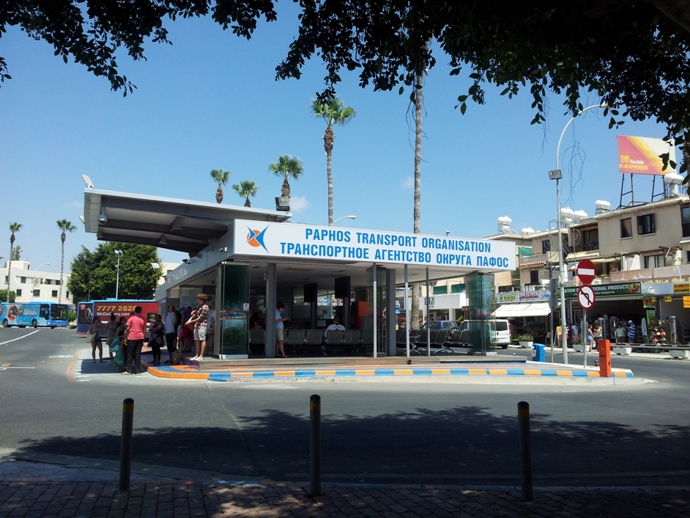 Daily ticket is often bought by tourists to see the main city or close to the city attractions. A ticket for one day costs 5 euros and is valid from the time of purchase until 23:00 of the same day. After 11 p.m. the passenger will have to buy a night ticket, which costs 2.5 euros, even if he has a pass for the week. Night routes are from 23:00 to 6:00.
The pass for the week costs 15 euros and applies only to day routes (from 6:00 to 23:00). A monthly pass for buses in Paphos costs €40 and an annual pass costs €400 (covers both day and night routes).
Look for discounted hotels on Skyscanner Hotels. Here are the main rules for searching for hotels.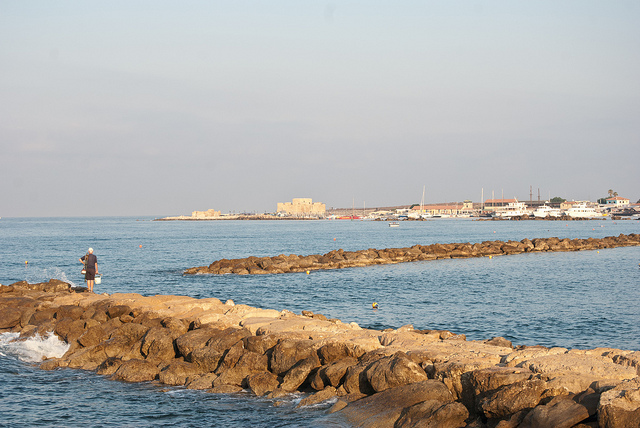 (photo © Clara S. / flickr.com)
The most popular transport routes in Paphos
#615 Kato Paphos – Coral Bay
No. 610 Kato Paphos – Center (Market)
#631 Kato Paphos – Aphrodite's Stone
No. 611 Kato Paphos – Geroskipou Promenade
Paphos Bus 615: Kato Paphos Harbour – Coral Bay
Coral Bay is one of the most popular beaches in Paphos and therefore the bus runs frequently – every 10 to 15 minutes. The bus runs between the harbour and the beach from 6.30am to midnight. Experienced people are advised to get not to the stop Coral Bay, and to the terminal – there and fewer people, and showers and toilets are free. The bus departs from Harbor station and the fare is 1.5 Euros. It also takes you to the Tombs of the Kings, which are just a stop away from Kings Avenue Mall.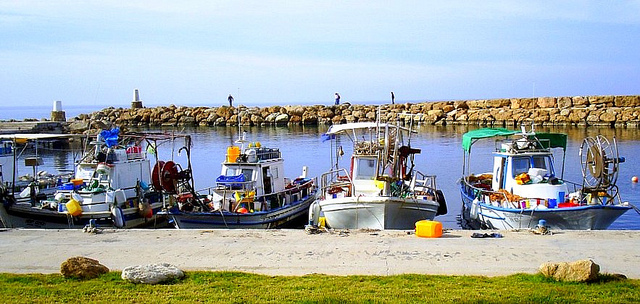 (photo © ronsaunders47 / flickr.com)
Paphos Bus 610: Kato Paphos (Harbour) – Municipal Market
The route connects the harbor with the city center, where the covered market is located. Tourists come here in search of souvenirs, jewelry and other gifts from Paphos. There is also a small fruit and vegetable market and several cafes and restaurants outside the market. Transportation is available every 10 minutes.
Paphos Bus 631 Kato Paphos – Aphrodite's Stone (Petra tou Romiou) / Paphos Bus 631: Kato Paphos – Petra tou Romiou
The stone of Aphrodite is a must for many tourists, because according to legend, this is where Aphrodite emerged from the foam of the sea. The bus goes to this extraordinary place strictly according to the schedule. You can also get to Aphrodite Hills by this route. In the cabin hangs a sign with an appeal not to enter in wet swimsuits and without outerwear, to which, however, few people pay attention. At the terminus, you have to walk through the underpass, which will take you to the Aphrodite Stone. At the stop there is a cafe, free toilets and showers (though, paid – 1 or 2 euros).
Route 631 schedule:
Route 631, Kato Paphos – Petra tou Romiou Route: Harbour (Main Station), Ledas, Alkminis, Poseidonos Av., Danaes Av., Aphrodite's Av., Spyrou Kyprianou Av., Gianni Kontou, Ippokratous, Makariou Av., Paphos-Limassol old Road,Petra tou Romiou.
From Kato Paphos station to Petra tou Romiou From December to March Mon-Sat: 07:25, 09:10, 10:40, 14:10, 16:00, 18:40, 22:30 Fri: 06:30, 9:10, 10:40, 14:10, 16:00, 18:40, 22:30 Fri-Nov. Fri: 07:25, 09:10, 10:40, 14:10, 14:30, 15:40, 16:00, 17:30, 18:40, 22:30 Fri: 06:30, 9:10, 10:40, 14:10, 14:30, 15:40, 16:00, 17:30, 18:40, 22:30
From Petra tou Romiou to Kato Paphos station From December till March Mon-Fri: 08:15, 10:05, 11:35, 15:05, 16:55, 19:30, 0:00 From April till November Mon-Fri: 08:15, 10:05, 11:35, 15:05, 15:25, 16:35, 16:55, 18:20, 19:30, 0:00 Transit time: about 45 minutes
Paphos Bus 611 Kato Paphos – Geroskipou Beach (Waterpark)
The bus travels along the coast and connects the harbor with the hotels along the beach. The interval between services is 10 minutes.
For bus timetables in Paphos and Polis and detailed routes click here:
There are also red double-decker tourist buses – Paphos Red Bus Sightseeing – running around Paphos. The buses let you see the main sights of Paphos and listen to the history of the place (in English). The ticket for such a bus around Paphos is valid for 24 hours (it costs 12,5 euros for adults and 5 euros for children). More information is available here.
Car and bike hire in Paphos
Tourists often rent a car for travelling around Paphos and you'll see car hire shops everywhere, usually under the signs Rent a car or Car hire. It's convenient because you won't be able to visit Akamas or Troodos by bus. The only disadvantage is left-hand traffic. If you easily adapt, then feel free to take a rental car – so you can fully enjoy the beauty of Cyprus. The cost of renting a car depends on the brand and mileage of the car. In addition to cars in Paphos you can rent quads, buggies, scooters, bikes and so on.
Transport in Cyprus: buses, cabs, car rentals
In the country there is an extensive network of buses. To travel around Paphos you can use the website pafosbuses.com, where you can quickly see the number of buses of your route and the cost of a ticket (the site is in Greek and English). There you can also check the bus timetable, which depends on the season and the day of the week.
A single trip to Paphos costs 94 RUB = 1.5 EUR
Night trip from 9 p.m. costs 156 RUB = 2.5 EUR
If you intend to use the bus more than three times, the day-ticket costs 312 RUB = 5. EUR
Children up to 5 years of age ride free of charge
Students and children under 12 years old get a 50% discount.
A weekly pass costs 1,249 RUB = 20. EUR
The photo shows the numbers of buses with visits to major attractions of the city and its surroundings.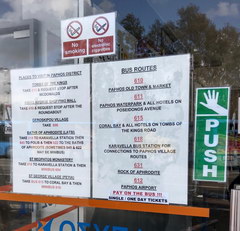 Tickets are purchased from the driver, passes at the stations. At the main bus stops there are toilets. Here you can buy a pass for the whole day or a week.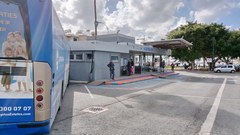 Paphos bus maps
How to get to Paphos Airport
There are buses 612 and 613 to Pafos Airport, and only in the summer the 649 bus from Polis.
Cab fares in Paphos
From Paphos airport to Paphos town 1,561 – 1,749 RUB = 25 – 28 EUR for 4 people
From Larnaca airport to Paphos 6 245 RUB = 100 EUR per car for 4 people
Intercity buses in Cyprus
Intercity buses between major cities of Cyprus:
From Nicosia to Limassol the bus goes several times a day, the duration is 1h 45 min, the fare is 312 RUB = 5. EUR ticket for the day 562 RUB = 9 EUR
From Nicosia to Paphos the bus runs for 2 hours and costs 437 RUR = 7. EUR Day ticket 812 RUB = 13 EUR
From Nicosia to Larnaca bus takes 1h 15 min and costs 250 RUR = 4. EUR per day 437 RUR = 7.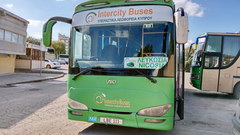 You can also travel by bus to the further parts of the island but if so you might not have to change in several hours and given the low frequency of services it might take you 6 hours for example from Pafos to Pomos by bus compared to one and a half hours by car.
In the case of visiting the mountainous and remote corners of the island, it is recommended to rent a car.
Rent a car in Cyprus
In the airports of the island there are the main European offices of car rental. The price level depends on the season (there are three of them: low from November to March, high from mid July to mid October and medium). The price dynamics also depends on the lease term and class of the car.
Tips on renting a car
Of course before you arrive you should study the prices on the website of the companies as they may differ by 2 times. The main car fleet consists of the city compact cars. A peculiarity of renting a car is that the client is tricked into taking out full insurance and reducing the deposit amount (which is 56,205 rubles = 900 EUR) and tricked into covering any previous damage (before your renting) which you did not notice during the car examination. Always look not only at the body of the car, the condition of the windows and tires, but it is also recommended to look under the car, especially in the areas of wheel arches and the bottom near them.
Greece and Cyprus are on the list of countries where rental companies frame the customer with dents made before you. It is recommended to take a detailed video of the car at the pickup. Such a detailed inspection is very unnerving for the staff, but strain and ignore it.
There is also a possibility to rent a car in the city from local agencies, the cost for the economy variant 1 062 – 1 749 RUB = 17 – 28 EUR in high season, the insurance and GPS are paid additionally.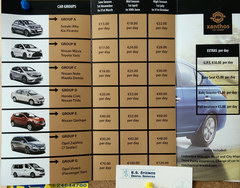 Compare prices in different rental companies and book a car conveniently with the popular international rental car service Rentalcars