Tips for vacations in Malta.
Read tourist reviews about Malta and learn about the nuances of vacation in 2022. Pros and cons of a trip to the picturesque island state on the Mediterranean Sea. Tips for tourists.
Malta welcomes tourists from the Russian Federation. For convenience, we give pre-dedicated prices for stays and flights. Information about visas and flights can be out of date, check with official resources. Take a look at the list of open countries.
Content:
Malta weather reviews
The seasons in Malta are defined by the warm Mediterranean climate. Winter on the island is mild +10. +15°С. It rains sometimes, but even in January, the temperature of the water in the sea does not fall below +14 ° C. The bathing and sunbathing do not suffer. Swimming and sunbathing is not possible, but diving in a wetsuit – please!
Spring is the time of lush blossoms. At the end of March the navigation opens and in April the gardens are in full bloom. Before the summer heat, fans of excursion tourism have a rest on the island.
Maria Yurieva: "In March the daytime temperature's up to +23°С, at night it's cooler +17°С. Walking along the coast only in a warm jacket, the winds are piercing. Because of the temperature extremes it's easy to get sick.
In May, when the sea warms up to +19. +20 ° C, to the Maltese resorts comes more and more fans of beach holidays.
Natalia Samoletova: "Weather in May was fine, there was a light breeze – perfect for walking and sunbathing. Evenings on the island were cool, we had to wear light jackets.
Summer Malta likes everyone who isn't afraid of strong heat. During the day the thermometer rises to +32. +36°С. The sea is very warm +26. +27 ° C, and the rains are rare. In the central areas it is too hot, so locals and tourists spend their time on the coast.
The velvet season attracts to the resorts parents with young children and tourists who can not stand the summer heat. According to feedback from tourists, in October in Malta is still warm. The air temperature is +22. +24 ° C, and sea water +22 ° C. Bathing on the island ends in early November.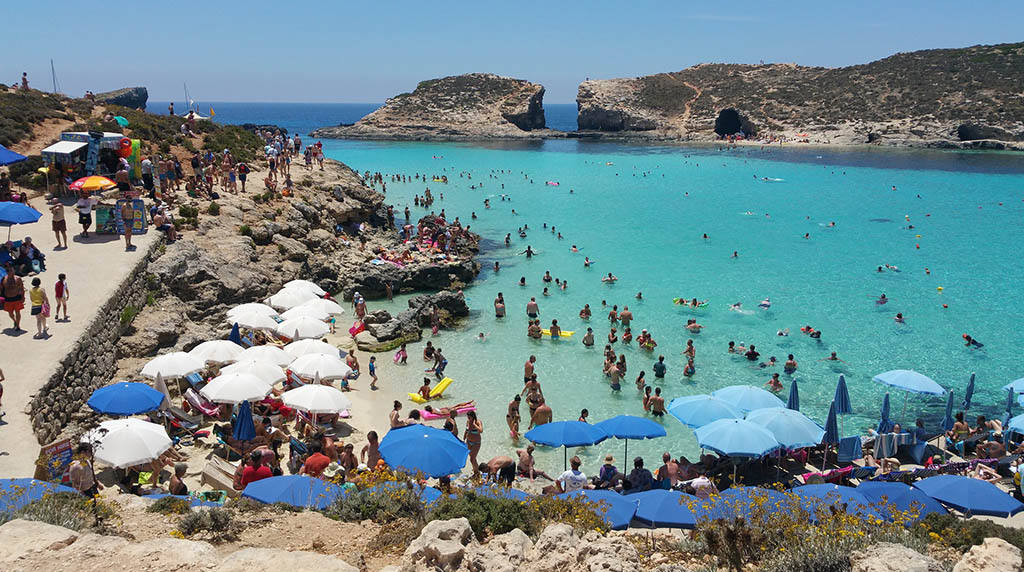 Blue Lagoon Beach on Kamino Island, Malta (Photo: waldomiguez / pixabay.com)
Tourist reviews of hotels in Malta
Look for discounted hotels on Rumguru. Here are the top rules for finding hotels.
There are plenty of places to stay in Malta, from budget apartments to luxury 5* hotels. All-inclusive meals are not common. Typically, hotels offer continental breakfasts or half board. Some hotels and language schools have their own beach – BeachClub.
According to feedback from tourists, the choice of accommodation in Malta decreases during the cold season. In the low season, many hotels are closed to make cosmetic repairs. However, there is a bonus – from November to March rooms are much cheaper than in summer.
To make your vacation in Malta in 2022 a success, read the reviews of tourists about the hotels.
Alexander : "Grand Hotel Excelsior Valletta 5* – good location on the bay and close to the walls of Valletta. Good pool.
Elena : "In Osborne Hotel 3* very nice staff. Cleanliness. Magical bed and pillows. Swimming pool on the roof. You can sunbathe and watch the sunset."
There are also negative reviews about hotels in Malta.
Elena: "In Hotel Phoenicia Malta 5* the cleaning ladies come in without knocking at inappropriate moments, the bar staff in the lobby do not pay any attention. The gate to the garden is closed and you have to wait a long time for the person with the key."
Grand Hotel Excelsior (Photo: booking.com / Grand Hotel Excelsior)
Reviews about the beaches and the sea in Malta
The coastline of the island has many bays and coves. The Mediterranean Sea has almost no tides. Off the coast of Malta there are no dangerous fish and jellyfish, no strong underwater currents. The water is clear and clean with a beautiful shade of azure.
According to feedback from tourists, the most famous place for a beach holiday in Malta is Sliema. The coastline at the fashionable resort is rocky. Popular beaches are Qui-Si-Sana, Fond Għadir, The Exiles, and Għar id-Dud.
If you like sunbathing on the sand, head to the west and northwestern part of the island. There are over a dozen sandy beaches in Malta. Tourists like Golden Bay, Ghajn Tuffieha, Gnejna Bay, Mellieha Bay and Paradise Bay. Large beaches have all the necessary infrastructure. Fans of secluded recreation prefer small rocky bays.
Gala S: "Golden Sands Beach is a small cove with yellow sand. A very beautiful place. You can go to the next cove over the pass, the water is just as clear and there are far fewer people."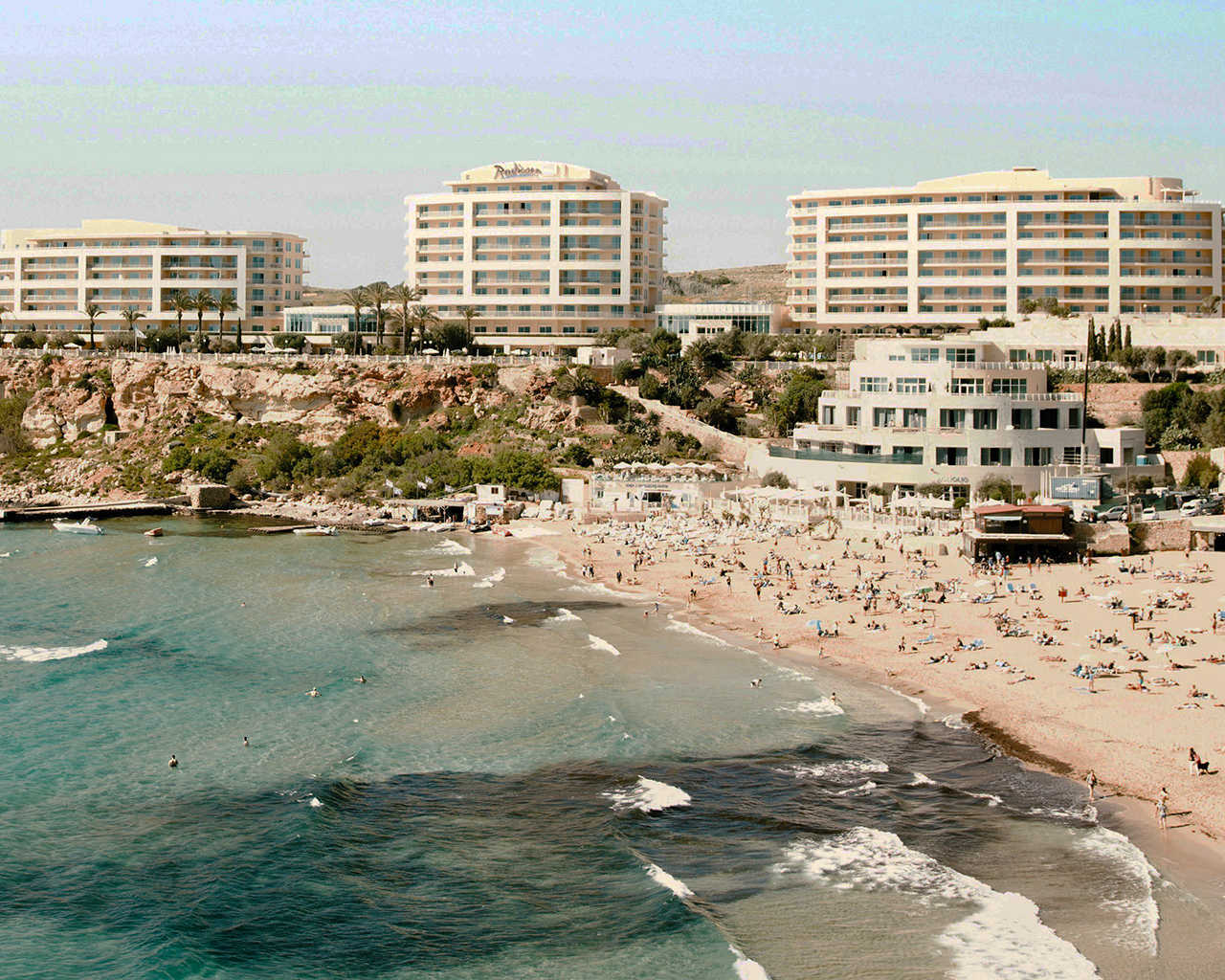 Golden Bay Beach, Mellieha (Photo: unsplash.com / @keithcamilleri)
Tourist reviews of attractions in Malta
Look for author interesting tours on Tripster. Individual and group, without crowds of tourists and in Russian.
The island state is located at the crossroads from East to West, so there are many historical and architectural monuments in Malta. During the excursions show holidaymakers ancient megaliths, medieval temples and fortresses.
According to tourists' reviews, one of the most popular attractions is the island's capital, the port city of Valletta, historical buildings which are under UNESCO protection. Visit the Palace of the Grand Master, check out the Cathedral of St. John and admire the Church of St. Catherine of Alexandria.
Popular destinations include medieval fortifications and the Museum of Torture in Mdina, the palaces of Maltese aristocracy in St Julian's, ornate villas in Sliema and the Ghar Dalam Stone Cave. See the Upper and Lower Baracca Gardens, the old Fort Sant'Angelo and the picturesque Spinola Bay.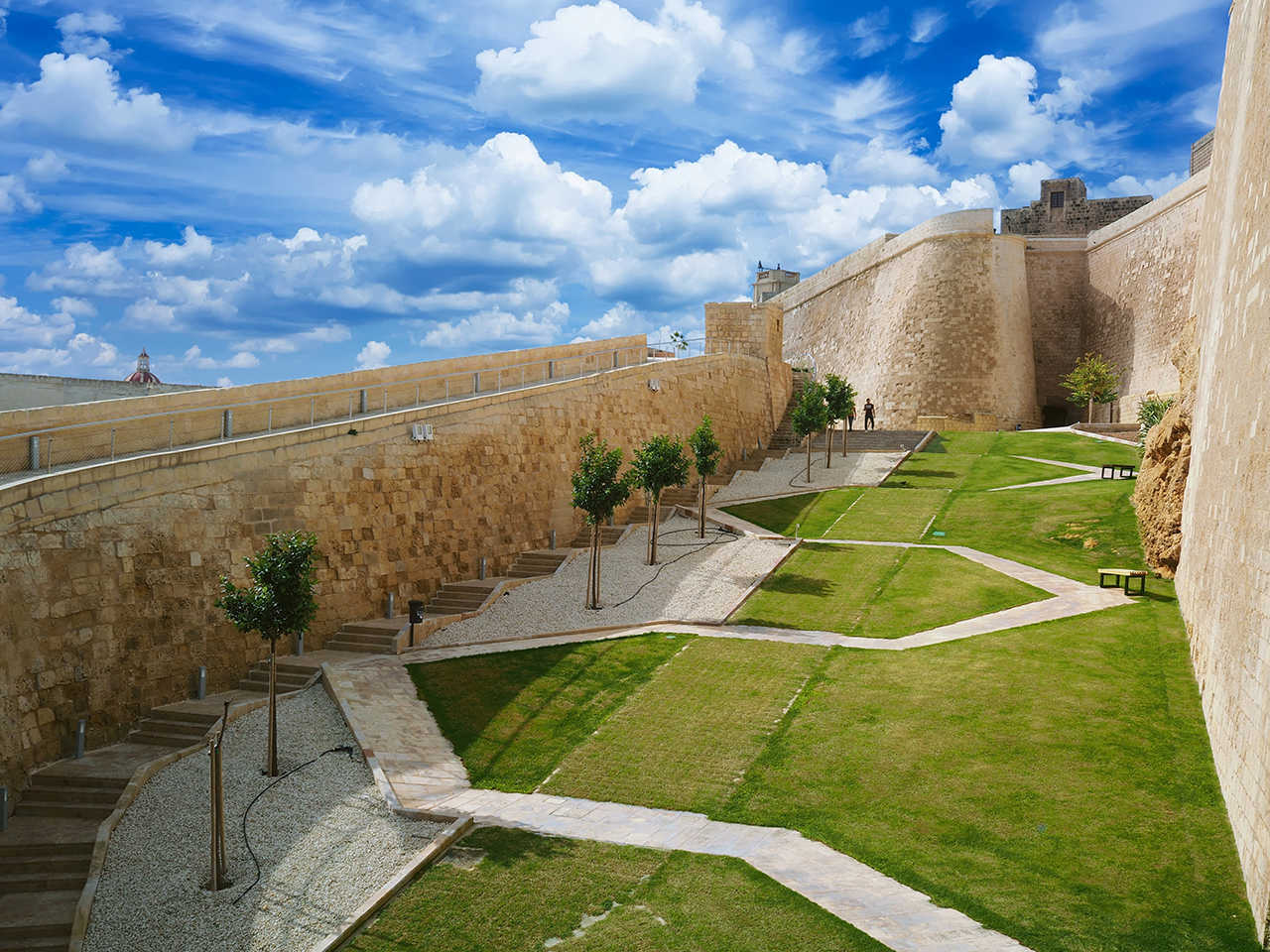 Victoria, Gozo Island (Photo: unsplash.com / @refar)
Pros and cons of vacationing in Malta
Everyone who has been to Malta left positive reviews about the rest. Tourists liked the excellent beach vacation, beautiful nature, rich cultural heritage and friendly Maltese.
The pluses of rest in Malta in 2022, according to the reviews of tourists:
Short flight from Russia.
The warm climate.
Long beach season.
Clean sea.
Picturesque landscapes.
Historical and natural attractions.
Medical tourism in thalassotherapy centers.
Excellent diving and snorkeling.
Modern language schools.
Comfortable hotels.
Lots of entertainment for children.
Sputnik-beatnik: "The island is small, the cities are so close that you can walk through two or three cities. Or take a bus through half the state."
Cons :
The nuances of vacationing in Malta and tips for tourists
Malta – a quiet and safe country with a low crime rate. However, offenses do occur here. Park your car in a crowded place. Do not carry large sums of money and valuables.
There are three kinds of poisonous scorpions on the island. They are not dangerous in cities, but if you are going to the countryside, look carefully at rocks and rock crevices. After a scorpion bite, there can be a strong allergic reaction, so it is important to seek medical attention immediately.
It is most convenient to travel around Malta by bus. Modern transport is equipped with air conditioning, soft seats and electronic displays. Buses that travel through the capital of the country have numbers from 1 to 99. Tickets are sold by drivers. Fares start at 1.5€. In the cities are buses, minibuses and cabs.
Maltese cuisine is very delicious. Try the mouthwatering pastizzi or Maltese patties, dishes of fish lampuki , appetizer of beans, peppers and vegetables – baguilla and tender yogurt ice cream.
Irina Ok: "I was especially delighted with rabbit stew. It would seem that what is special, we also cook it, but the Maltese do it so exquisitely. I do not know what the secret is, maybe the spices."
Malta – reviews by tourists
Do not visit the Mdina Catacombs at the entrance of Mdina Malta.
You will not see anything interesting there – old dusty poorly made wax dolls.
The view is low quality and not interesting. But you will definitely get your wallet stolen there.
There is a gang of fraudulent pickpockets with young girls in the group. The administration
Catacombs covers up the crooks. Thefts happen there regularly. It's all happening
20 meters away from the police station. But the police won't help you
They're too small and boring. Beaches with a bad entrance to the sea
Few greenery.
Uncomfortable entrance to the sea – some gangways at the cliff (we had a rest in the hotel Radisson).
Not very tasty cuisine (compared with other countries in the region).
Visited once and will not go again.
"The whole truth about Malta. No one will tell you that! An inside look. "
The place to stay in Malta is Victoria.
Hello everyone. I want to share my impressions about Malta. I actually stayed not in a hotel, but at my sister's place. I just bought the tickets and made the passport (it was expired) in the agency of Magical Travel. She foolishly got married. But now I can share my impressions "from the inside". For "do not confuse tourism with emigration. Almost everything that is praised on travel sites is crap. I read on this site that Maltese restaurants use bottled water for cooking. That's a lie. They take it from the tap. Dishes are washed in standing water, and after soaping them, they immediately put them in the rinse water. So after 5 minutes, the clean rinse water is no different from the water where the dishes are supposed to be washed. There is soap and leftover food floating in both vats. There is no screening of the catering staff for disease. In general, the criterion of cleanliness for a Maltese is "well, you can't see anything". I mean, no pathogenic bacteria are visible. If you can save water, you save it. I've experienced this to the full… And they boil pasta in the same water until it turns into sourdough.
Never eat the traditional Maltese sheep cheese. This cheese is made by private individuals. Using one sheep as an example: You take a sheep (these sheep are kept on their own shit, not cleaned for half a year to a year), you take a milk bucket, which you wash once a month. The sheep is milked. Rolls of manure are fished out of the milk by the boy. Then the milk is strained into another bucket, which is washed with the same frequency as the first. Lactic acid bacteria are added to the milk and after half an hour the milk is fermented. The degree of readiness of the mass is checked with a finger, which is also not washed. Then this mass is spread out in molds and put on a tray, where the whey will drain. These molds are left there for 24 hours. In winter it is bearable, but in summer whey sourdough instantly, flies stew in it, which here simply a tremendous quantity (I have come back all bititten, though I took all sorts of fumigators like Raptor). Then the cheese is put out to dry on the grill outdoors, where it also serves as a snack for the flies. The flies are transported from sheep dung to cheese and back again. After drying until the cheese is sold, it is placed in a box outside. Before selling, the dusty cheese is washed with a brush in a bowl of water. The brush is the same as for cleaning floors and carpets. Why buy a special one? It's dried again and sold. Cheese is used to make something between a pizza and a cheesecake. It's also sprinkled with pizza and sold as cheesecakes. Fresh, unripened cheese can be offered along with artichokes. In general, always ask if there is cheese in the dish. Eating with cheese is for the extreme.
Well, the fact that the cab drivers charge tourists a couple or three times more expensive than the locals, I think, do not need to explain. This is everywhere. Similarly, may try to do in the stores and eateries. So it's better to always take the goods with price tags, and in the snackbar to remember the prices on the menu. If due to any circumstances you need to stay in Malta for more than two weeks and there is a prospect that you will be sent something from abroad, keep in mind that the post office will open packages under the pretext that they need to know what you received. That's democracy.
Local short-legged, crooked, unshaven and smelly (literally, they wash maximum once a week, and the elderly do not wash at all, shave once a week, teeth brushed when shaving) men think themselves irresistible Apollo and constantly pester the beaches. At least they are easily dismissed.
Animal lovers and advocates better not come here at all. The dogs live on the roofs. Hot from the sun in summer and icy from the rain in winter. They love to catch migratory songbirds here. Then they keep them in 20×10 cm cages. These bird cages are used to lure flying birds. Some birds are tied on special long sticks and periodically they are shaken so that the tied birds fluttered and beckoned to their congeners. None of the captured birds live longer than three years.
I am not going to tell you about keeping cattle. Not many people are interested in it. It is just completely unsanitary.
I will only note that those horses, which are full in Valletta and Mdina in winter starve and turn into skeletons. No reason to feed the cattle if there are no tourists. This applies to all the horses used for riding tourists.
Sometimes our countrywomen are "lucky" (like my sister) and, if a Maltese man does not prefer a short-term relationship, it is possible to build a family with him. Most current Russian-Maltese marriages begin as resort romances. A foreign wife or mistress is a man's prestige in the eyes of his friends.
About appearance tourists do not have complexes so that against the background of the local population you will be considered a supermodel, even if the proverbial 90-60-90 you as to the cosmos.
No, of course, to have a rest in a hotel and to visit are different things, but nevertheless I found it necessary to share my experience, since I came to this site.
PS/ Yes, by the way, I recommend visiting the museum of torture. People with insufficiently strong nerves, as well as young children are not recommended to visit this museum. The howls and sighs (recording) can finish you off.
Malta is a small island state, where several thousand migrants from hot spots have moved in over the past 2-3 years. They are no different from those who terrorize continental Europe. So there are dangers: robberies in the dark, theft, molestation of women. There are no other dangers in Malta, except sunstroke and stones thrown under your feet.)
I don't see anything attractive in Malta: rocks, dangerous beaches, exorbitant prices, museums which resemble each other… and constant baiting of tourists for money. A classic example, how to make money by selling tickets to the banal Piatigorsk failure. Probably from Ostap Ibrahimovich they learned.