Baku – tourist reviews
Reviews about Baku, based on personal experience. Pros and cons, personal impressions, what you liked and what you did not like in the trip. Who should pay attention to this city, whether (Azerbaijan) is suitable as a place for family or youth vacation. The main attractions and entertainment, what the city of Baku is famous for. Tips and tips and tips for those who plan to visit the city for the first time.
Free places to visit in Baku
I decided to tell you about the places that you can visit for free, not counting the transport fee to your destination:
Seaside Park – Another name for it is Boulevard. This is the longest park in Baku, the length reaches 25 km. You can enjoy the beauty of the Boulevard and the Caspian Sea. Exotic perennial trees add their charm to the walk. In the new part of the park beyond Flag Square is an artificial lake and a 20th century train car. In the middle of the park is "Little Venice." There is a fee to ride the gondola. After a long walk, relax on the numerous benches both in the park and on the piers going deep into the sea.
Old Town (Içarisheher) – Located in the city center behind the metro station of the same name. This Baku fortress is the foundation of ancient Baku. Entrance and walk around the Old City is free. From the inside consider the ancient structures and guns on the fortress walls. In the streets of Icherisheher such films as "The Diamond Arm" and "Amphibian Man" were filmed. Each alleyway is a part of Baku's history and one can easily get lost in it.
Miniature Book Museum – This museum is located inside the old city. It was included in the Guinness Book of World Records. The museum was founded in 1982. Open every day except Monday and Thursday from 11:00 to 17:00.
Nagorny Park – One of the highest points in Baku. There are stairs and funicular to the top. Funicular ride is paid. From the top there is a panoramic view of the coastal part of Baku and the Flame Towers building. If you want spectacular photos against the background of Baku, then this is the place to go.
Shahid Alley – Located in the Nagorny Park. Entrance here is free. This is the burial place of the victims of January 20, 1918 and the Karabakh war. The alley has many tall trees, and at the very top there is a memorial complex where the eternal flame burns. The entrance is open 24 hours a day.
Fountain Square – This is the very first square built in Baku. Not once was reconstructed. There are a lot of different fountains. They work mainly in the summer and almost all day. There is another square adjacent to it. It is called "Market Square". There were traders who sold goods related to Azerbaijani culture- hats, skullcaps etc. Now it is just a place for walking with a lot of stores and restaurants.
Cheap Travel in Baku
Baku is a city where you can find entertainment for all tastes and pockets.
I will tell you how you can save money while traveling in Baku. Cheap is not bad)))
First of all, before the trip you need to choose a place to stay overnight. The cheapest option would be to stay in a hostel. Prices start at $ 3 per night for one person. This price for their services offer 5-6 hostels.
After finding a place to stay, it is a good idea to get something to eat. You have a choice: either eat in a cheap café or restaurant, or go to the local market for groceries.
Let's start with cafes and restaurants. If you want to eat cheap but tasty, then go further away from the center. In semi-basement cafes with separate offices you can order kebab, lula kebab for 1.5-2 manat ($1-1.2) per skewer. Breakfasts cost from 1.2$, a hamburger in Mcdonalds costs 1.6 Manat (1$), a cheeseburger in KFC costs 2.9 Manat (1.7$). In general, a dinner for one person in an average restaurant will cost you 10-15 manat ($6-$9).
When you go to the local market you get variety in terms of cooking different dishes. The cheapest way to buy at fairs, where they sell their products collective farmers, and not resellers. But it happens very rarely and as a rule they are opened far from the city center. The closest market to the center is "Təzə Bazar" in Samed Vurgun Street, "Yaşıl Bazarı" and "Şərq Bazarı" in Hatay Prospect. Here you can buy fruits, vegetables, fish, meat and other products at below-store prices.
The cheapest way to walk around the city is on your feet, of course. But if you want to see everything faster, there are of course other options. You can use a bicycle. This will help you explore the city and have a positive effect on your health. There are many companies that offer their services for an hour or per diem rides. The lowest price for a daily bike rental is 10 manat ($6) from the company Velo Salon. If you just want to ride around the city or a seaside park for a couple of hours, an hour will cost you 2 manat ($1.2).
Hot, windy. Modern, preserving history. Baku on any visit leaves me with vivid impressions. On my first visit my stereotypes about the "post-Soviet space" crumbled, and then more.
My first impression is that the city is "warm". Baku does have a southern climate, but why do I use quotation marks? Most of the major architectural structures here are made of the same stone – "warm" in color limestone and kept in the same style, so that really creates a feeling of warmth. It is very pleasant to look at.
Architecture is a separate item of expenditure, which is given much attention here. In this respect Baku is ambitious. Many are not embarrassed to compare it with rich Arabian countries by its "scale" and speed of development. Here are a couple of illustrative examples of modern architecture in Baku:
Flame Towers. Three towers in the form of tongues of flame, covered with LED-screens and reproducing on their surface different illumination. This is a new symbol of Baku and they look great day and night.
The Heydar Aliyev Cultural Center is a chic project of the famous architect Zaha Hadid. I would say that the shape of the building can be easily described as "cosmic". Both outside and inside there are only flowing soft lines – this project is very unusual indeed. The center hosts exhibitions and has several permanent exhibitions, including one about the history of Azerbaijan.
To make my review more practical, I will tell you about what absolutely must not be missed when arriving in Baku, given my own experience:
The Old City is a must-see.
The old part of the city, walled, is the "heart" of Baku. Here are all the most important historical monuments – the Palace of the Shirvanshahs and the Maiden Tower, with which various legends are associated. The film "Arm of Diamonds" was filmed here. Do you remember "damn it"? Here is a chance to reenact the famous scene from the Soviet comedy. That's what many tourists do, sticking their heels to the asphalt. Old Town is a very touristy place, full of restaurants and souvenir shops. But do not forget that in such places are always overpriced.
Baku Boulevard. In other words, the seaside promenade. Baku residents are proud of the boulevard and for good reason. The boulevard is new and ennobled. Boulevard is new and landscaped. There are green parks and sea station, a Ferris wheel and much more interesting things. It's a great place for walks, especially in sunny weather. Baku residents love this place, it's always crowded. And the toughest ones make it to another Baku "record-breaker. A giant flag is set almost at the end of the embankment; however, it can be seen from almost anywhere in the city. Why be surprised – the height of the flagpole is 162 meters, and the canvas itself is 70 meters long.
Carpet Museum is right there on the boulevard.
It is difficult not to notice it. The museum building is another amazing example of architectural fantasy.
Inside a collection of rare valuables and works of weaving art.
Gobustan.
On the recommendation of acquaintances, one day it was decided to go out of town, where Gobustan archaeological reserve is located. If you have an extra day, you should definitely go to Gobustan. As it turned out, it is a real "natural" object, listed by UNESCO as a unique historical monument. On this flat area there are traces of ancient sites and rock carvings from prehistoric times.
As a lover of antiquities, it was incredibly interesting for me to be there. The atmosphere is absolutely fascinating – it seems that the time is frozen here millennia ago.
Mud volcanoes.
On the way to Gobustan come to see the mud volcanoes. Naturally, here and there mud eruptions erupt from the ground and grow into mini volcanoes. Mud, they say, is not simple, and. however, I did not try it on myself. Although, there is a risk of being splashed by getting close. Be careful!
Another "magic" of natural origin. Eternally burning hill is a simple way to describe the place. All thanks to the natural gas deposits in the bowels of the Absheron Peninsula. It's not for nothing that Azerbaijan is called the Land of Fires.
For all its splendor, Baku has its own personality, as any city with a rich historical past. As soon as you take away the golden screen, the observer can see the other side of reality. This difference has eventually become for me the unique feature that divides Baku into two halves.
Everywhere, as soon as you go outside the central part of the city, you can see the oil rocking machines. In some places, on the outskirts people live right in the middle of huge puddles of oil, extracted here day and night for hundreds of years.
This is what the "backside" looks like.
After all the excursions, when the heat subsides, do not forget to go to the teahouse and taste the dishes of Azerbaijani cuisine. And after dinner, it is recommended to drink tea. According to tradition – with several kinds of jam (of what do not make jam in Azerbaijan).
So that my review does not resemble a laudatory ode, I will add a couple of points to the description, which I can attribute to the minuses:
– There is no choice of budget accommodation. For example, in Baku, there are very few hostels, but a large number of world-famous "chain" hotels. It is easy to guess why, after all Baku is the oil capital. But it is worth considering when planning a trip.
– Be prepared to haggle in tourist spots. The same applies to cabs – very often the prices vary.
Finally, my recommendations for the choice of souvenirs. Definitely bring from Baku pomegranate Narsharab sauce, local sweets and spices as a souvenir for friends and family. If you want to please yourself with something more "basic", then the most beautiful handmade carpets and tableware (especially lovely sets of tea cups.
I really recommend everyone who hasn't been to Baku. This itinerary is a sure-fire A for a great weekend getaway with family or a distracted trip with friends for the holidays.
Tips for vacationing in Baku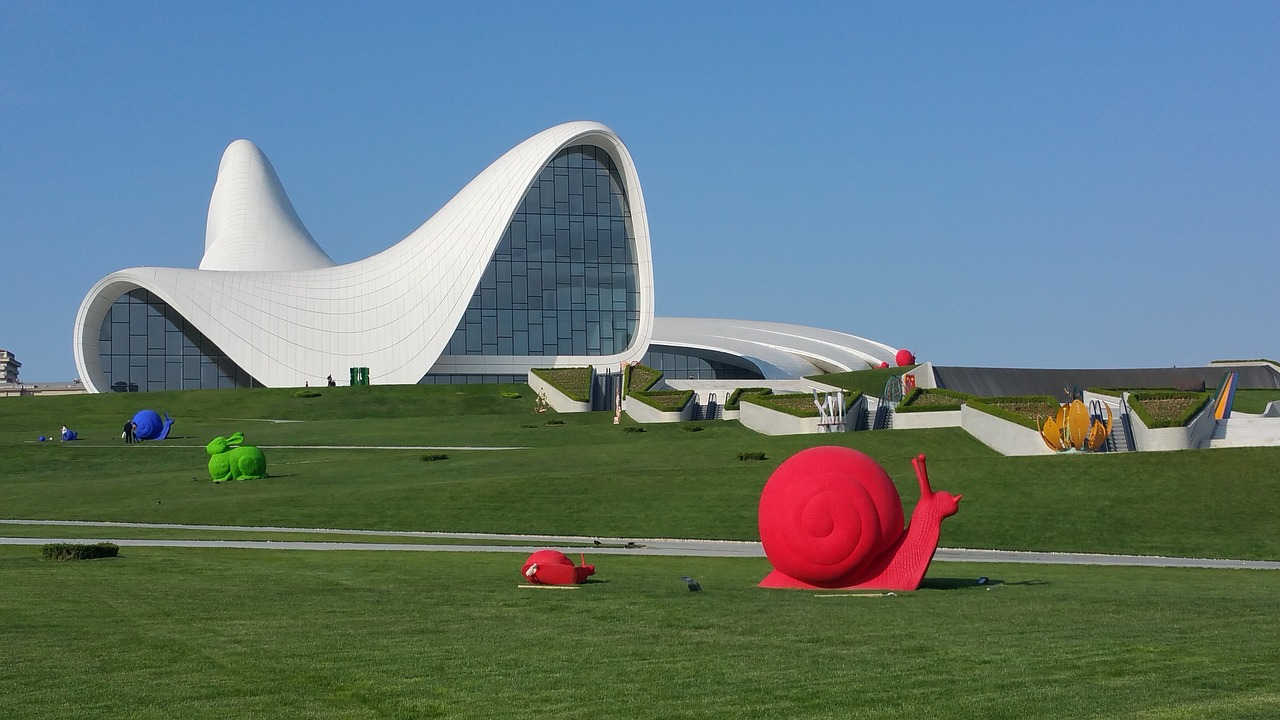 Read reviews of vacations in Baku, the hospitable capital of Azerbaijan. Learn firsthand about the weather, hotels, beaches on the Caspian Sea, excursions and sights. Pros and cons of vacationing in Baku in 2022.
Content:
Reviews of the weather in Baku
The city is located on the Apsheron Peninsula, where a mild continental and semi-desert climate prevails. Tourists come to Baku all year round, and for a beach holiday on the Caspian Sea – from late May to September.
According to tourist reviews, summers in Baku are hot and sunny. The precipitation is rare. In June the temperature is +25 … +30 ° C, and in July it is +28 . +33°С. Water in the sea is comfortably +24 … +26 °С. The hottest month of the year is August. The thermometer does not fall below +33 … +35 ° C.
Dry and warm weather lasts till mid-October. The daytime temperature in mid-autumn is +19 … +20 °С. It's already cool to swim – the sea temperature is +19 ° C. But it's a real pleasure to walk around the city!
Olya Lapaeva: "In early spring daytime temperature +9…+11°C, and nighttime temperature +3…+5°C. In the Caspian Sea in the spring months only a few people swim, the water temperature does not exceed +10 °С. It did not rain, sun shone, but in the evenings it was windy. I was impressed by blossoming of cherry and cherry plum trees".
Andrey Maiboroda: "In April Baku was greeted by a strong and changeable wind. Otherwise, the weather was favorable: daytime temperature +15 °С. There was no rainfall at all. The sun was shining brightly.
Svetlana: "In August the weather was very hot – +37 … +40 °С. Despite the fact that Baku is a "city of winds" we never had precipitation or wind for those days".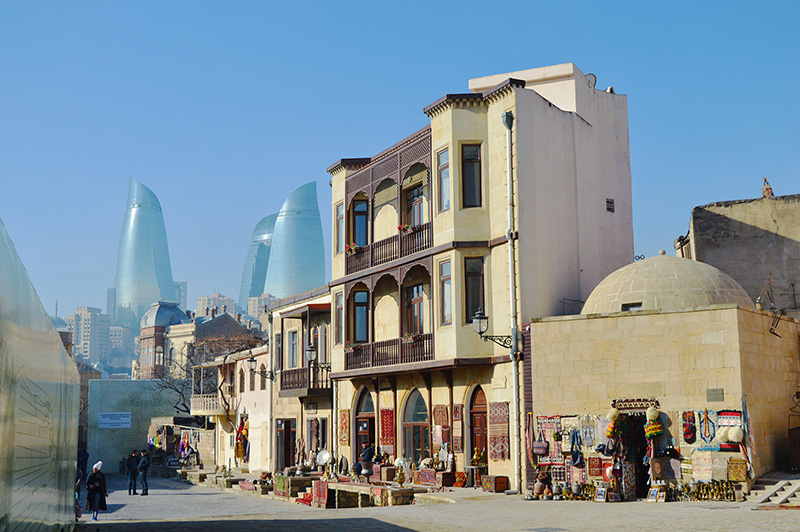 View of the Old City and the Flame Towers
Hotel reviews for Baku hotels
Look for hotels with discounts on Ostrovok.ru. Here are the main rules for searching hotels.
In the Azerbaijani capital you can stay in hotels, apartments, apartments or country houses. There are 4-5* hotels of famous international brands and small family hotels. Most of them are located in the center of Baku. Prices for a double room in a 3* hotel are $40-70. Rent a studio apartment costs from $ 40.
To make your vacation in Baku in 2022 a success, study the reviews of tourists about the hotels. They will help you make the right choice.
Elizaveta : "Four Seasons Hotel Baku 5* is a wonderful hotel. The location is perfect. Rare ability to use the fitness center 24 hours a day. Pool was excellent. Responsive staff."
Listopad : "Everything is wonderful! I would give the Winter Park Hotel Baku 4* five stars without thinking. I will visit Baku only here if ever again.
Alexey : "Qafqaz Baku City Hotel and Residences 4* is a high class hotel. The pluses are comfortable rooms, fast internet, great breakfast.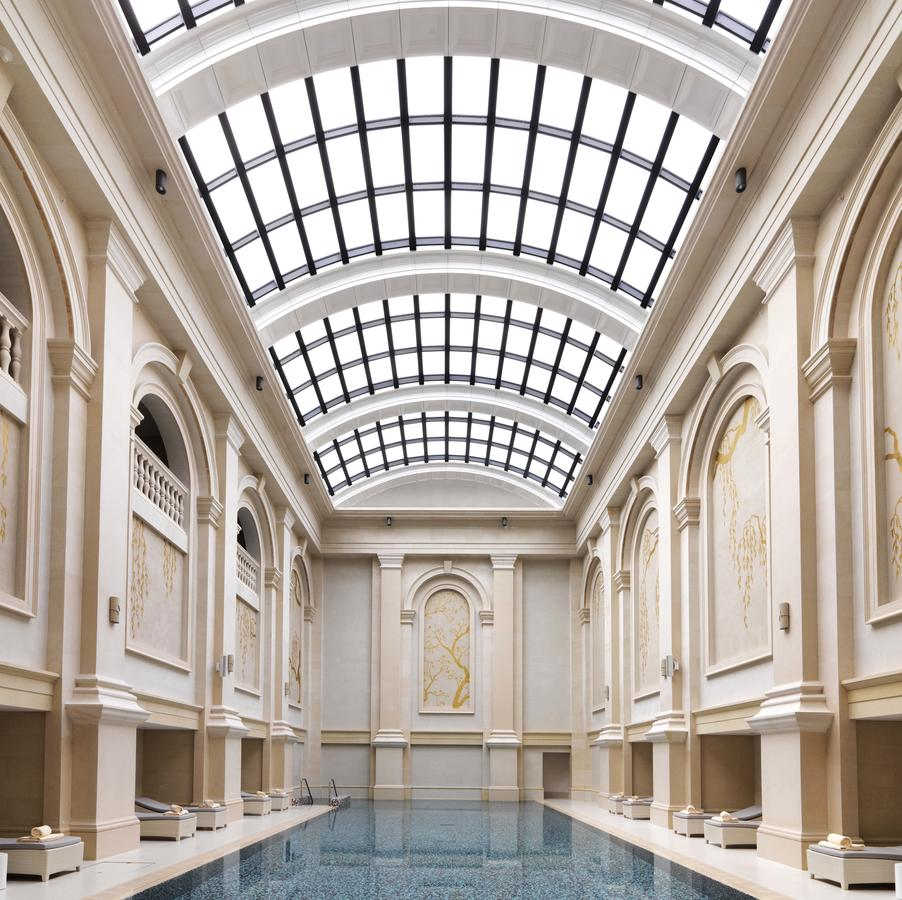 Bessein at the Four Seasons Hotel Baku (Photo: booking.com / Four Seasons Hotel Baku)
Tourist reviews of the beaches and sea in Baku
There is a large port in the city, so the sea is not very clean. For beach recreation, tourists and locals go to the nearest suburbs of Baku: Sumgait, Novkhana, Shikhovo, Mardakian, Zagulba, or Bilgiu, where there are good sandy beaches. According to tourist reviews for 2021, the water in the sea near Baku is clean and clear.
On the Apsheron Peninsula all the equipped coastal areas are paid. They do not take money only from those who rest in a sanatorium. On such beaches there are cabins for changing, toilets, shadow awnings, cafe and parking. For a fee of $3 or more you will be allowed to swim and given a lounge chair. If you pay $6, you get a table and chairs. Tea and sweets are $4-$6 and ice cream is $1-$4.
katkiss: "We really liked the sea – warm, beautiful, sandy. There are not many people on Pirshagi beach. You can put a barbecue and sit.
Elena K: "The beach in Shikhovo is paid. But don't expect for money the service and cleanliness – it's very dirty and not well-groomed. Wild beaches are cleaner".
AleksejsGrjaznihs: "Amburan Beach Club is probably the best beach in Baku. Half an hour drive from the city."
Beach in Baku at sunset. Photo: alexma / Depositphotos.com.
Tourist reviews of excursions in Baku
According to the reviews of tourists, on vacation in Baku in 2022 you can find many excursions in Russian. Holidaymakers like sightseeing tours, walking and bus tours of the Old City of Icheri-Sheher, trips to the pink lake Masazir and to the Gobustan Reserve, which is under UNESCO protection.
We advise you to book tours on the service Tripster. There a huge selection of interesting programs, including copyright, and choose a good tour to help real reviews of tourists. Make no mistake! We often use this site when we travel.
Carefully choose excursions only with good ratings and reviews.
Denis about "All Baku in 5 hours": "This tour is just a miracle! Sabina showed us Baku as only a local can see it: she walked us through the most beautiful streets lost in the depths of the old city, told us stories about Baku and the Baku people, introduced us to the real Azerbaijani craftsmen.
Alexander about the "6 unique wonders of Azerbaijan": "We are completely delighted. Leah is a professional, she is the one to go to for the best impressions and positive emotions. Of course we can't see all of Azerbaijan in one day, but we saw a lot. Leah showed the real wonders of Azerbaijan, competently composed and worked out to the smallest detail of the tour. ".
Oksana about "Tastes and flavors of Azerbaijani cuisine": "Excursion energizes the desire to continue a pleasant acquaintance with the gastronomic culture and sights of the country.
Tourist reviews of Baku sights
If you want to see the wonders of architecture and models of historical sights, visit the Heydar Aliyev Center. There are unique exhibits that tell about the cultural heritage of Azerbaijan. Ticket price 15 AZN.
Baku has many beautiful parks. Take a walk along the Seaside Boulevard, Izmir Park, Khagani Garden, Fountain Square and the Central Botanical Gardens.
According to tourist reviews, one of the iconic landmarks of Baku are the three tallest buildings in Azerbaijan. The towers have from 34 to 39 floors and look like tongues of flame.
Baku has a lot of interesting things to do for children. See the streets and buildings from the Ferris wheel, go to the water park and the Baku Zoo.
Max-metrologist: "You can take the funicular up to Nagorny Park for 1 AZN, or you can walk. The view is amazing, it's very beautiful.
argo60: "The original Flame Towers rise above the city center and decorate it day and night. The neighborhood surrounding them is interesting. It's hard to climb on foot. If the funicular doesn't work, it's better to take a cab."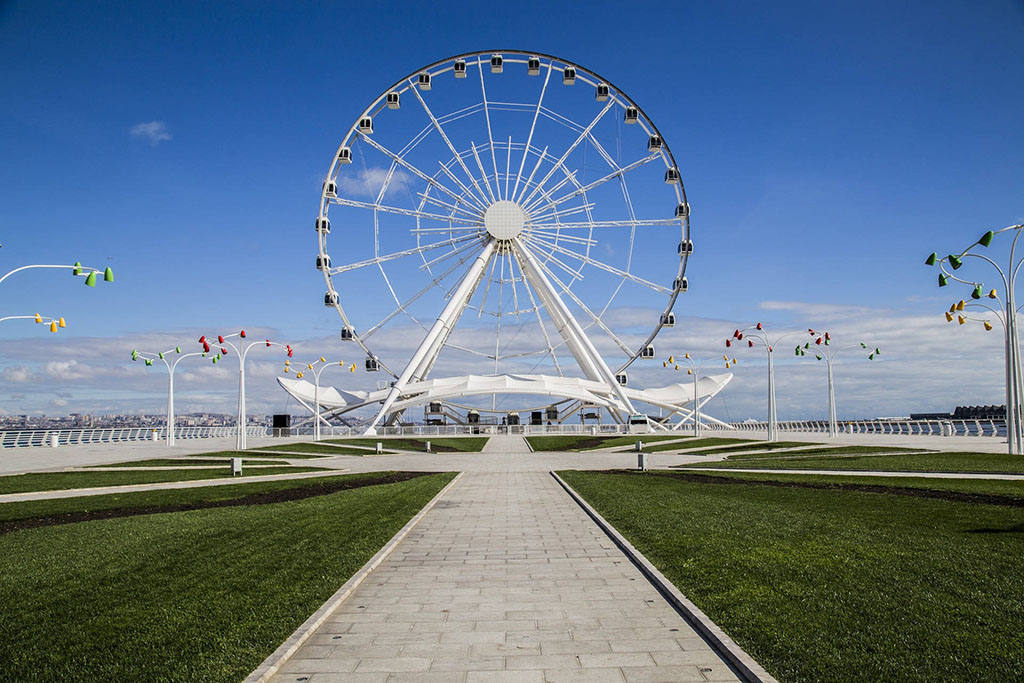 Baku Ferris wheel (Photo: Alaakam / pixabay.com)
Pluses and minuses of a vacation in Baku
A trip to Baku was enjoyed by many tourists. According to reviews, the capital of Azerbaijan is a beautiful, colorful city, where one wants to return.
For what to go on vacation in Baku in 2022, according to tourist reviews:
There is a facilitated visa regime between Russia and Azerbaijan.
Interesting cultural traditions.
Many attractions in and near Baku.
On Apsheron Peninsula there are good sandy beaches.
Tasty Azerbaijani cuisine. Read about the prices of food in Baku.
The streets are nice and tidy.
DenisVasilev: "The city is clean, all the garbage is only in garbage cans.
Minuses :
Vacation is not too cheap.
The climate is hot.
Because of the traffic, the air in Baku is smoky and the streets are often jammed.
There are very few crosswalks.
Problems of understanding with the locals.
ochkariks: "The number of Russian speakers has decreased, and only a small part of the local population speaks English. The language barrier will not be felt in the capital, but there will be difficulties outside the capital.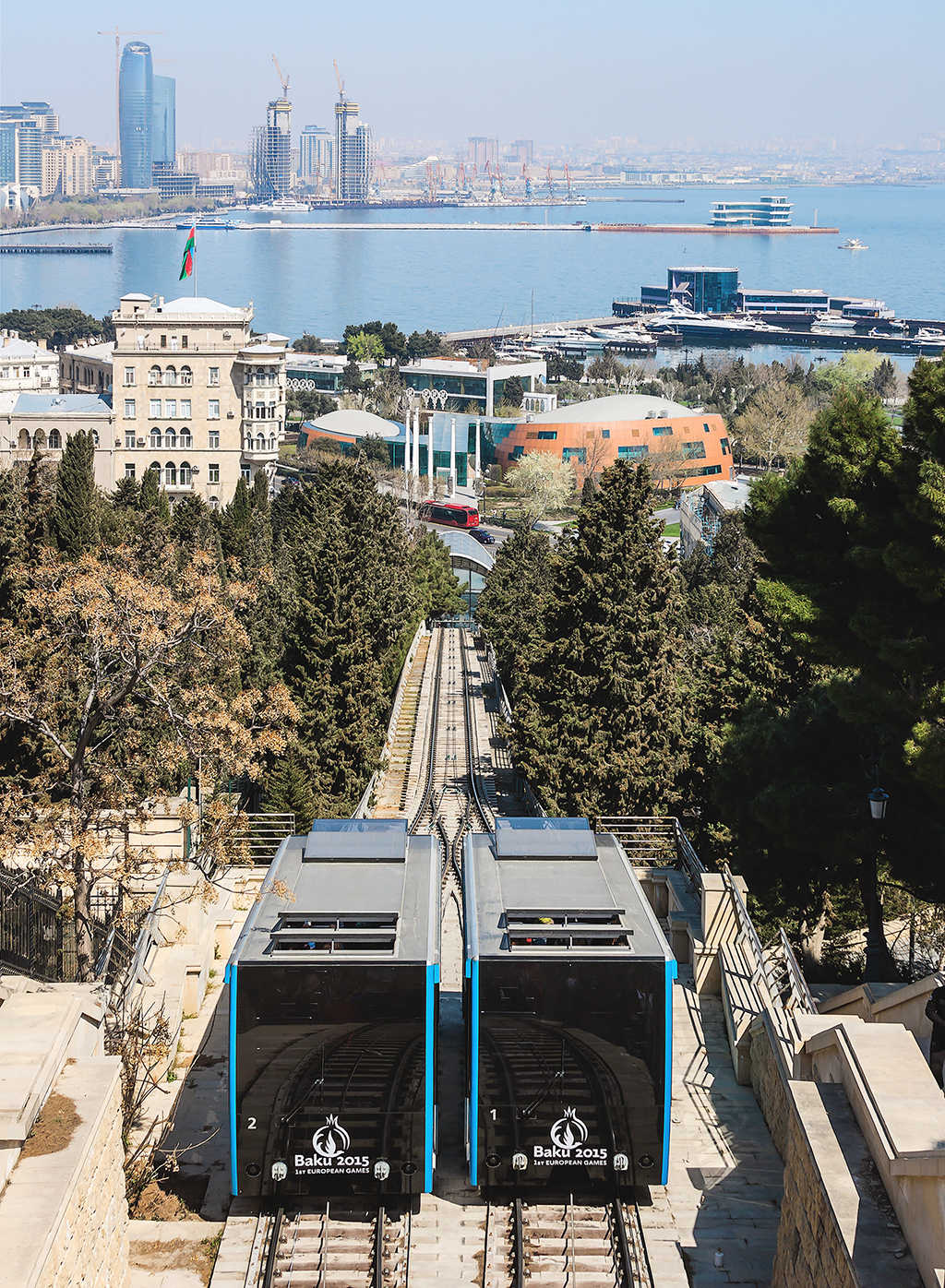 Funicular cars at the crossing (Photo: wikimedia.org / AlixSaz)
The nuances of holidays in Baku and travel tips
Azerbaijan is a Muslim country. Respect its customs and traditions! The sun is especially intense in summer, when the sun is shining in the city.
The sun is especially active in Baku in summer. Be sure to take a light hat, sunglasses and sunscreen.
Prices for hotels in central Baku are higher than on the outskirts. But you should not save! It is more convenient to live in the city center. Because of traffic jams the road to the hotel in the suburbs can take a long time.
In Baku restaurants, cafes, shopping centers and markets people pay in local currency – manats. In some stores accept dollars, but not old and dilapidated bills.
If you are going to the market, take small denomination money. Be sure to haggle! Good bargaining can help significantly reduce the price.
The currency in Baku can be exchanged in banks and special exchange offices. We advise not to use the services of private money-changers.
Lana Blond: "You can exchange your money at Heydar Aliyev International Airport, where almost all the planes arrive. The exchange rate does not differ much from others in the city.