To Kaliningrad by train: documents for trip in 2022
The question "What do I need to have to get to Kaliningrad by train?" is still relevant. Not everyone wants to fly to a vacation spot by plane. Many give preference to ground transport. But since the train Moscow – Kaliningrad crosses the borders of another country (note Lithuania), the pandemic may have made adjustments.
Contents:
Which ones, we dealt below. Below, in the question and answer form*, you can find out what documents are necessary to get to Kaliningrad region by train in 2021-2022. Do they need visas, PCR tests etc.?
Trains to Kaliningrad from Moscow and St. Petersburg are running normally. Despite the events in Ukraine in February 2022.
Answer-question
What documents are necessary to go to Kaliningrad by train?
In connection with crossing the territories of two foreign countries (note: Lithuania and Belarus*), travel by train to Kaliningrad does require additional documents. Regardless of where you are coming from – Moscow, St. Petersburg, Adler, etc. We are talking about a passport, UPD-RZD (Simplified Railway Travel Document) or a valid Schengen visa.
In more detail, to board the train "Moscow – Kaliningrad" ("St. Petersburg – Kaliningrad", etc.) you will need one of the following documents:
Lithuanian residence permit;
a valid Schengen visa;
valid Lithuanian visa;
UDD-RZD** (a simplified railroad travel document). Obtained by purchasing a ticket. Online or at the railway office;
Lithuanian "A" or "B" category accreditation card.
In addition to the UPR-RA (visa availability), passengers must fill out the form on the official website std.urm.lt. There you must write in capital letters the NAME, NAME and other passport data. Then print it out and sign it. Then give the form to the conductor when boarding the train to Kaliningrad. And then follow his instructions (at the border forms are handed back to passengers, they show them to Lithuanian border guards, return them to the conductor, etc.).
* All of the above applies to the requirements of the Republic of Lithuania. Russian citizens can (read – could) travel through the territory of Belarus with a civilian passport. But Lithuania is in the Schengen area.
** It is important not to make the mistake of choosing single or double (if you go by train and back, too).
Symbols of the city: the House of Soviets and the Fish Village Photo: Laurie photobank
Do I need a visa to travel to Kaliningrad by train?
It is not necessary to have a Schengen/Lithuanian visa. But if you have one, you won't need to have an UPR-RAV when you buy a ticket.
Is passport required on trains to Kaliningrad?
Yes, a foreign passport is necessary for the citizens of Russia for crossing the territory of Lithuania by transit. Its information is filled in when buying ticket to Kaliningrad. You can present your diplomatic or service passport, seaman's identity card (with the travel document), and one-way certificate for return to Russia instead of the international passport.
Tickets for trains from Moscow / Saint-Petersburg / Adler to Kaliningrad are processed on the basis of your international passport.
How far is it by train from Moscow / St. Petersburg to Kaliningrad?
The famous corporate train Yantar No. 29/30 runs from Moscow to Kaliningrad. It appeared in 1961 and since then has retained both its status and theme (the Baltic Sea). It is a little less than 20 hours in a trip, on the way back – 18 hours 50 minutes.
| | | |
| --- | --- | --- |
| No. 29 Moscow – Kaliningrad. | 19:53* | 14:46** |
| No. 30 Kaliningrad – Moscow | 13:03 | 08:54 |
Also in the middle of 2020, after the lockdown, the trains #79/80 St. Petersburg – Kaliningrad and #359/360 Adler – Kaliningrad were renewed. Trains ¹ 147/148 from Moscow and ¹ 425/426 from Chelyabinsk are not in the schedule.
| | | |
| --- | --- | --- |
| No. 79 St. Petersburg – Kaliningrad | 10:13 | 13:17 (next day) |
| No. 80 Kaliningrad – St. Petersburg | 16:03 | 20:25 (next day) |
| | | |
| --- | --- | --- |
| No. 359 Adler – Kaliningrad | 20:39 | 08:08 (2.5 days later) |
| No. 360 Kaliningrad – Adler | 18:07 | 06:22 (2,5 days later) |
** Departure time is Moscow time.
** Arrival time in Kaliningrad – one hour less than in Moscow.
What are ticket prices for 2021-2022?
An ordinary parlor ticket for a train from Moscow to Kaliningrad costs from 3 622 RUR, compartment ticket – 4 769 RUR. Compartment for disabled people costs 2 488 rubles.
Passenger compartment on Saint-Petersburg – Kaliningrad train costs 2 756 rubles, compartment – 4 772 rubles. Journey from Adler to Kaliningrad costs from 4 316 rubles in parlor carriage and from 7 637 rubles in coupe carriage. Compartment ticket for disabled people costs 3 902 rubles.
Is it possible to buy tickets online?
Yes, in 2022 you can do it not only at ticket office, but also at RZD site. However there are nuances connected with ticket sale terms:
from 90 days and not later than 28 hours before train departure;
From 3 days and no later than 28 hours before train departure at the intermediate station.
28 hours are given for sending a request for UPD-RA (simplified travel document on the railroad). As well as waiting / receiving an answer. In the case of refusal to receive permission to cross the territory of Lithuania, you can return the ticket and get a full refund (source rzd.ru).
Moscow – Kaliningrad train route on the map
If you get to Kaliningrad by train you can cross the territory of two countries in less than a day. And be back in Russia.
Train route from Moscow to Kaliningrad.
What restrictions are in force in trains?
The masked regime. At train stations, when boarding and passing the border.
Is it worth to go to Kaliningrad by train?
Yes, it's quite interesting. And considering the short distance between Moscow and Kaliningrad, it is not that time-consuming. Only keep in mind that if you have big debts, you may be refused the UPR-RAV.
How to go to Kaliningrad and how much it costs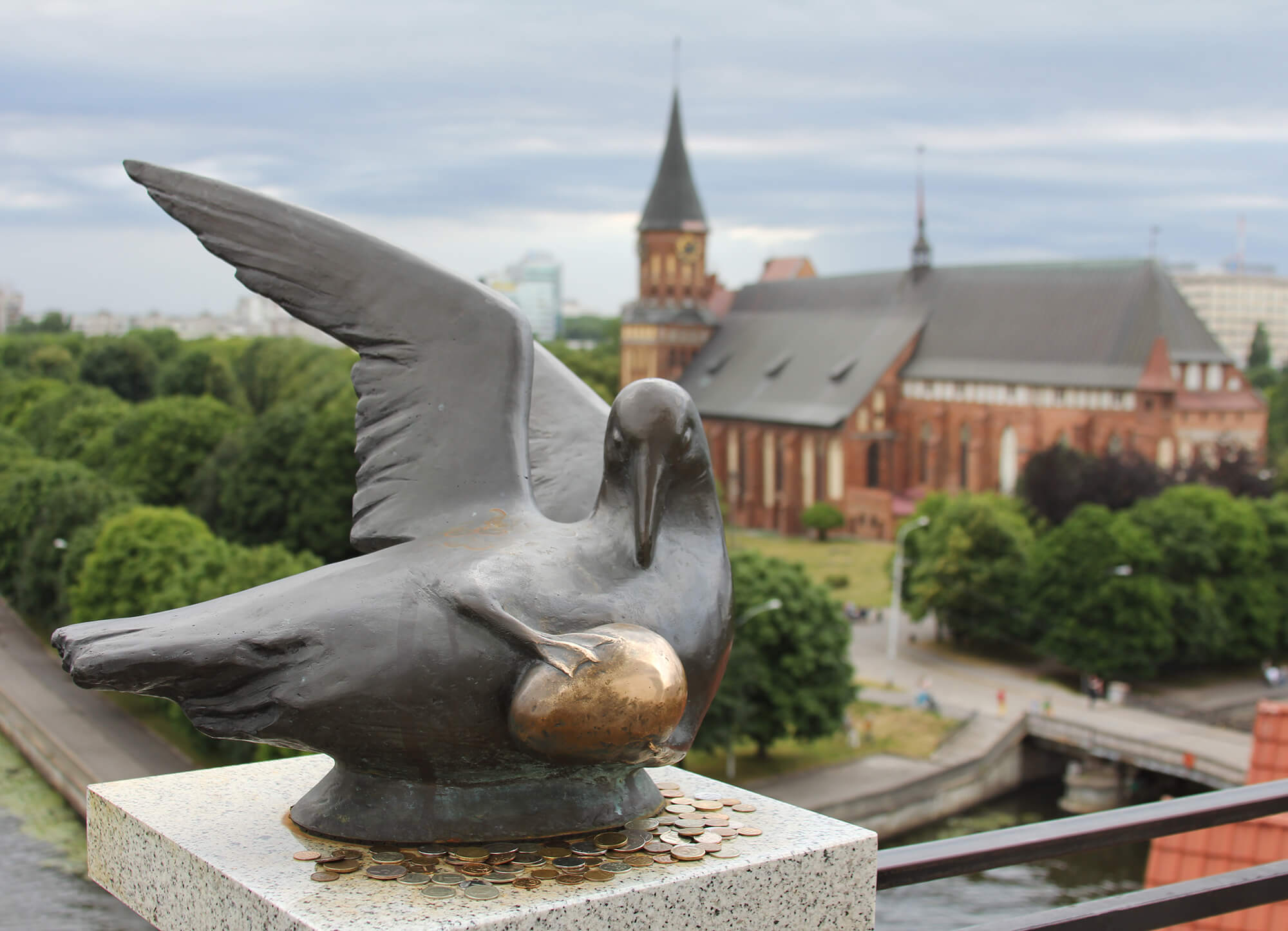 The most actual information about trip to Kaliningrad. Do you need a passport and certificates in connection with the coronavirus, are restrictions removed? Find out how much tickets, tours, hotels, food and museums cost. At the end, calculate the cost of a vacation for two for 5 days.
How to get there:
Documents for travel to Kaliningrad
Airplane . The most convenient, fastest and inexpensive trip to Kaliningrad in summer 2022 is by plane. You'll fly from Russia's territory to the Russian city without crossing land borders, so all you need is a regular passport. You don't need a passport and you don't need a visa either!
Train . All trains go through the territory of Lithuania, so the Russians need a Schengen visa to travel to Kaliningrad by train. If you plan a single trip, instead of a visa you can apply for a transit document in the simplified form – Railroad IDP. The permit is free of charge, it is valid for return trips and is valid for no more than 3 months.
How to get it: at the railway station when buying tickets show your passport and national passport and ask to make a request to the Lithuanian embassy. After 28 hours, you can go to any train ticket office and get an answer. If the matter is resolved, pack your bags! If the answer is no, you must return your tickets and get your money back.
Children under 14 years of age need a birth certificate and a parent's passport. It is important that it has a photo of the child.
These rules were in effect before COVID-19 . What has changed because of the pandemic? Since July 1 trains from Moscow to Kaliningrad started running every other day on even-numbered days, from St.-Petersburg – only on Wednesdays and Saturdays. From October 5, when high season will be over, the trains will go even less often. All the way to Kaliningrad, trains do not stop in Belarus and Lithuania. It is obligatory to have an UPR Railroad, temporarily on a Schengen visa or UTD travel is prohibited. Follow the latest information on the Russian Railways website, the situation is changing.
Trip by car. Earlier tourists used to go to Kaliningrad by car via Velikiye Luki – Daugavpils or Minsk – Vilnius. In connection with the pandemic, the border of Lithuania was closed since March 2020, so the trip to Kaliningrad by car is still impossible.
When the situation changes, and the border opens, to travel through the territory of Lithuania by car you will need to issue an ordinary or transit Schengen visa, "Green Card" insurance, do not forget to take a passport and medical policy. In addition, for children – a birth certificate.
Ferry . You don't need a visa or a permit to travel by sea. Just buy a ticket and go! Ferries leave from the port of Ust-Luga, 150 km from St. Petersburg. The way by water from St. Petersburg to Kaliningrad takes two days. Note that the ferry "Baltiysk" is created for transportation of cars with drivers, and it sails once in 5 days. Passengers are accepted only if there are seats available. Check the timetable on the website.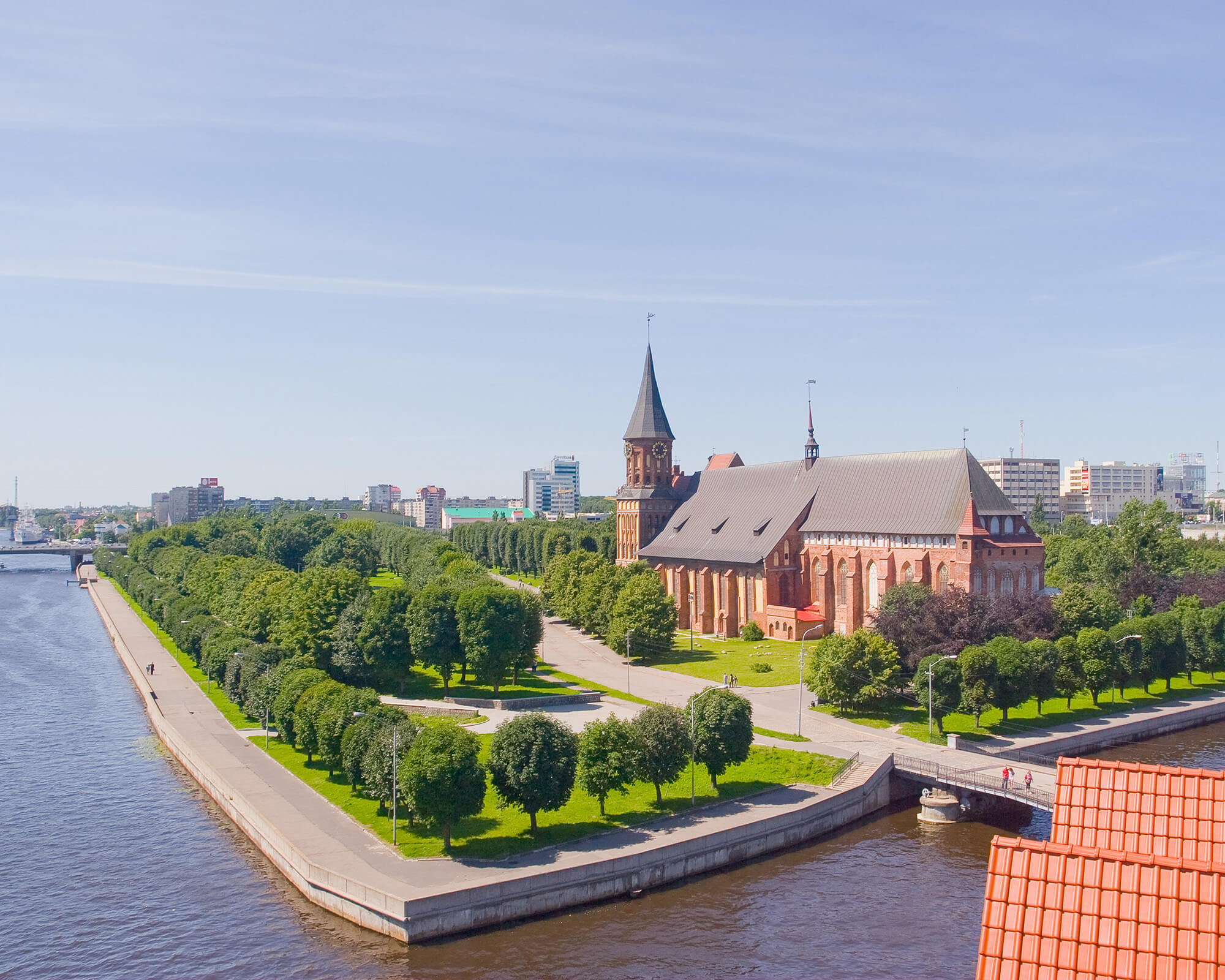 The cathedral. Photo: Gumerov Ildar / wikimedia.org.
Prices for tickets and tours
Plane. In summer 2022, a single person ticket from Moscow to Kaliningrad and back costs from 5,500 ₽, and from St. Petersburg from 6,000 ₽. In the fall, winter and spring, tickets are about one and a half times cheaper. Even cheaper airfare comes with promotions. Look for tickets on Aviasales. Find out how to get from the airport to Kaliningrad.
Train . For 1 person round trip in coach from Moscow – from 4,570 ₽. From St. Petersburg – from 3450 ₽ in a reserved carriage and from 6500 ₽ in a coupe. Look for rail tickets on Yandex.Travel and Tutu.ru.
Tour . A one-week trip for two from Moscow and St. Petersburg costs from 21,000 ₽. For this money you will live in an apartment or hotel 3* without meals. Look for great tours to Kaliningrad on Travelate.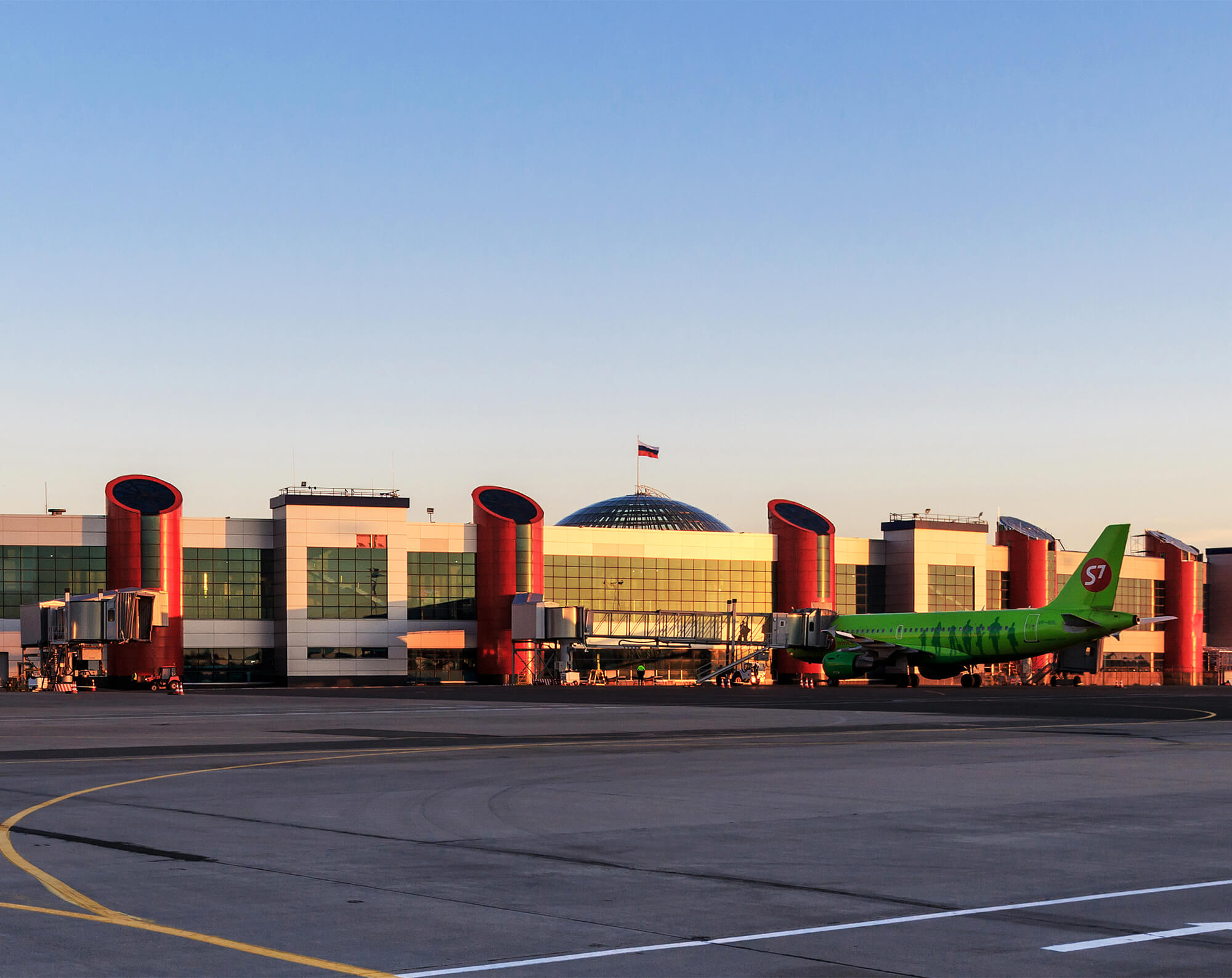 Khrabrovo airport. Photo: A.Savin / wikimedia.org.
Hotel prices
During the high season, a bed in a hostel costs from 700 rubles, a double room in a guesthouse near the city center – from 1200 rubles. A room for two in a 3* hotel costs from 1900-3000 rubles and a room in a 5* hotel from 10200 rubles. You can rent a studio apartment in Kaliningrad for 1,200-1,400 rubles per night, and 2 or 3 rooms – 2,500 rubles. Look for the hotels in Kaliningrad on Hotelluk, apartments – on Souvenir.ru.
If you are planning an independent trip to Kaliningrad in the summer of 2022, or for the New Year holidays, it is important to book accommodation in advance. Good and inexpensive options sell out quickly. Find out where to stay in Kaliningrad inexpensively.
Food prices
There are no hotels in Kaliningrad that offer all-inclusive meals. There are few options with three meals a day. Most tourists take only breakfasts and eat in town.
When traveling to Kaliningrad in 2022, you can easily find somewhere to eat. The average bill for a dinner for two in cheap cafes is 400-600 rubles, in a decent cafe – 1000 rubles, and in a respectable restaurant – from 2000 rubles. Find out where to eat cheaply in Kaliningrad.
You are advised to try unusual local dishes. Stroganina with muksun costs 680 rubles, Baltic toasts – 250 rubles, smoked smelt – 350 rubles, Triple Baltic soup – 350 rubles, Koenigsberg flack – 280 rubles, Koenigsberg-style klopsy – 460 rubles, Baltic herring forshmak – 285 rubles and pine cone jam – 100 rubles. In addition to the usual fast food, the city streets sell delicious grilled mackerel, Kaliningrad-style French fries and hearty burgers with venison.
To save money, rent an apartment with a kitchen and cook for yourself! Prices in Kaliningrad supermarkets are about 20% lower than in Moscow. According to the reviews of tourists, it is advantageous to buy products at the Central Market.
Forshmak of herring. Photo: business-pr-lady / wikimedia.org / CC BY 2.0.
What to see and do
Kaliningrad is notable for the abundance of very interesting excursions (you will learn about the top 10 at the link). The choice is rich and the variety of tours is great, so almost all tourists are very active and rich time on vacation. And the prices do not bite. The group excursions in the city for 1,5-2 hours cost 400-900 rubles per person, the bus trips out of town – from 1000 rubles. During the warm season a walk by the sea for 45 minutes will cost 500 rubles, and the river walk – 400 rubles.
A ticket to the organ mini-concert at the Cathedral costs 450 rubles, and a visit to the Botanical Garden costs 100 rubles. The most expensive tickets in the Amber Museum – 460 rubles. Other museums of Kaliningrad are cheaper. The entrance to Kant museum and the Kaliningrad Museum of Fine Arts costs 250 rubles each. In the popular World Ocean Museum offer package tickets for 600 rubles, which can be used to view the ship "Vityaz", the aquarium and the exhibition center "Warehouse".
Excursion prices
How much does it cost to go on vacation
How much will a trip to Kaliningrad in 2022 cost? Let's calculate the cost of a trip for two in high season for 5 days when departing from Moscow.
Airfare – 11,000 ₽.
Double room in a 3* hotel with breakfasts – 15,000 ₽.
Meals in restaurants and cafes (lunch, dinner, and snacks) – 15,000 ₽.
Transportation – 500 ₽ per day – 2,500 ₽ total.
Tickets to the Amber Museum and the Kant Museum are 1,420 ₽.
Two excursions – to the Curonian Spit and to the village of Yantarny – 3000 ₽.
TOTAL: 48,000 ₽ – about that much for a trip to Kaliningrad together for 5 days.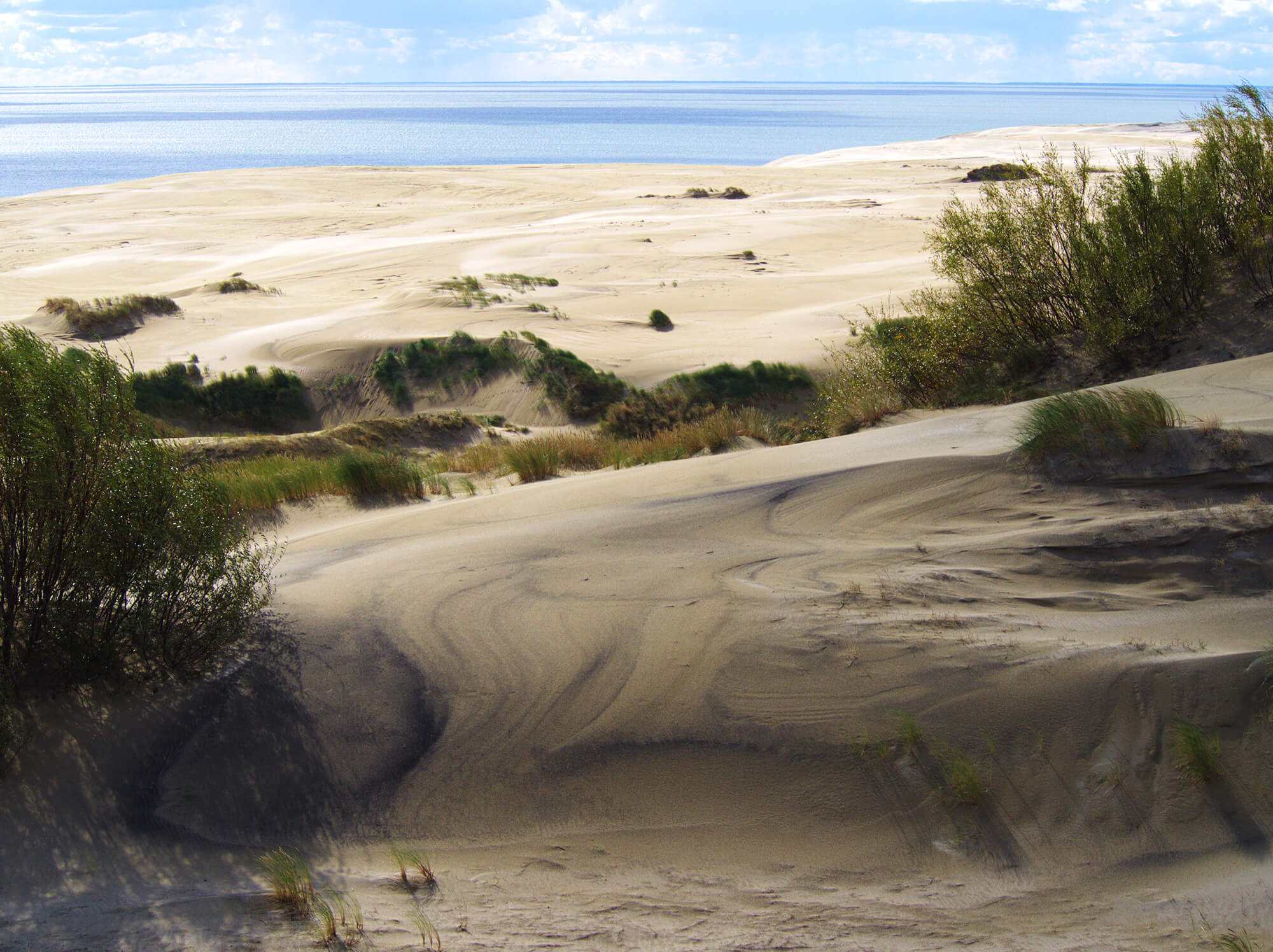 Dunes on the Curonian Spit. Photo: Man77 / wikimedia.org / CC BY-SA 4.0.