Trip to Tajikistan: report and tips
How we went to Tajikistan and how much the trip cost. Useful tips and lots of pictures for you.
Exchange rate: 1 somoni ≈ 6,5 RUB.
Content:
Our strange vacation in Dushanbe.
It's been a long time since we had such a spontaneous trip as we did to Tajikistan. Perhaps, never. On this trip we went on our own in the first days of March 2022 for obvious reasons. We bought our tickets a few hours before our departure, so we had not prepared for our trip at all, and with all questions we decided to sort them out on the spot. We had long wanted to get acquainted with Central Asia, and now in such a strange way the opportunity presented itself. Let's go!
The most interesting thing in this small country is mountains. Majestic, grandiose! In addition, it is our great passion. Alas, it turned out that going to admire the mountain peaks and mountain passes at this time is impossible because of weather conditions (snow, cold, avalanches). As a result, we had to be content with just getting to know the Tajik capital, which was also very interesting and informative.
We had a surprisingly uncomplicated vacation. It rained incessantly most of the time and we stayed at home to follow the news, plan our route around Uzbekistan (which was much more eventful) and, of course, think about what we should do next. But we actively focused on the gastronomic aspect, and we tried a lot of things! So, our impressions of Tajikistan were mostly gustatory, but they were rich. I will tell you about the local cuisine below. We did not go out of town because of the weather, but we walked around the capital on rare clear days. Such a non-standard, a little sad, but not without interest.
It was cold and rainy. But nature was flourishing. The Tajik girls helped it bloom even more. Rudaki Park is the heart of the city.
Entry conditions
It is easy for Russian citizens to travel to Tajikistan – you just need a passport. As of March 2022, a PCR test is required only for unvaccinated tourists. "Sputnik V" is accepted.
What documents are needed to travel to Tajikistan: passport and vaccination certificate (or PCR test).
Registration
Foreigners must register at the Ministry of Internal Affairs of the country, if the period of stay exceeds 10 working days (Saturdays and Sundays are considered days off). Tourists should be assisted in this procedure by landlords or hotel staff.
We came to Tajikistan for almost two weeks, which, taking into account the weekends and holidays, was exactly the same as the period not requiring registration. There were no questions at the border when we left, but one unpleasant incident happened while we were still in Dushanbe. One evening a brazen policeman showed up at our rented apartment and tried to intimidate us into breaking the terms of our stay and taking a bribe. There would be a separate story about that.
Language and people
The Tajiks made a great impression on us. A tourist is a rare bird here, so in the eyes of the locals he is not a source of income, but still a Guest. Everywhere we met only friendliness, respect and attention.
All residents of Dushanbe and, I assume, almost all of Tajikistan speak Russian fluently.
A couple of curious facts about the locals:
Half of the men look like Beatles.
Most Tajik women of all ages (including the youngest fashionistas) prefer to dress in the national style. And almost all the men who work or study in the center of the capital are dandies: in jackets, pants, and almost always with a tie. You feel more like you're on Wall Street somewhere and not in Tajikistan.
Film about Tajikistan.
I recommend to see the wonderful film by Ilya Varlamov and Nigina Beroeva about the history of Soviet and post-Soviet Tajikistan. The film is extremely informative and very touching.
How to get there
During the pandemic you can only get to Tajikistan by plane. Trains in this country in the covid times have ceased to go to long distances. There are international airports in Dushanbe, Kulyab and Khujand. There are direct flights from many Russian cities servicing migrant workers. Tickets are relatively inexpensive. We flew from Kazan to Dushanbe for 7,500 ₽ ($70) per person one way with luggage. However, return tickets are often many times more expensive. It's more profitable to buy well in advance and both ways at once. Look for tickets on Aviasales. Learn how to buy tickets cheaper.
Cab from the airport
The normal price for a cab from the airport to the city center is 15-20 somoni. Of course, the drivers hope to get a lot more from the tourist. Coming into the arrival hall we were surrounded by innumerable hordes of cab drivers, all of whose attention was fixed on us. Proposals began to pile up, the most insolent ones even going as high as 80 somoni! As soon as I said I was ready to pay as much as 20 somoni, the bastards started pestering me like the wind blew them away. This happened several times until we, tired, agreed to go for 300 ₽ (about 30 somoni, or $3 at that time). Yes, we overpaid, but there was no more energy left to bargain. Both of the ATMs at the airport were empty, so we paid in rubles.
In a cab.
Accommodation
The choice of accommodation even in the capital and major cities of Tajikistan is very poor, and good, with good reviews – just a few. The price to quality ratio leaves a lot to be desired. Hostels are quite popular, but we prefer our own accommodation.
For our accommodation in Dushanbe, we booked two apartments on Airbnb in the very center, near the Opera House. The first was brand new, cozy and well thought-out in every detail – at a price of $35 per day. Alas, I could not extend my stay there because of someone else's reservation. I had to look for another option, which turned out to be terribly difficult. The second apartment was much more modest in terms of repairs and comfort, but with a responsive host and an even more central location: with windows on the main avenue and surrounded by government buildings and cultural institutions. It cost us $31 a night. The renovation of the apartment comes from the Soviet past – it is colorful and brings us back to our childhood: familiar interiors, furniture, carpets, dishes.
I can conclude that in Tajikistan it makes no sense to choose an apartment instead of a hotel because of the kitchen, because the food here is 1.5-2 times more expensive than in Russia, the choice is poor, and to eat in cafes and restaurants can be quite inexpensive. So it would be more reasonable to find a hotel on Hotellok, but it's not easy to find something decent and reasonably priced.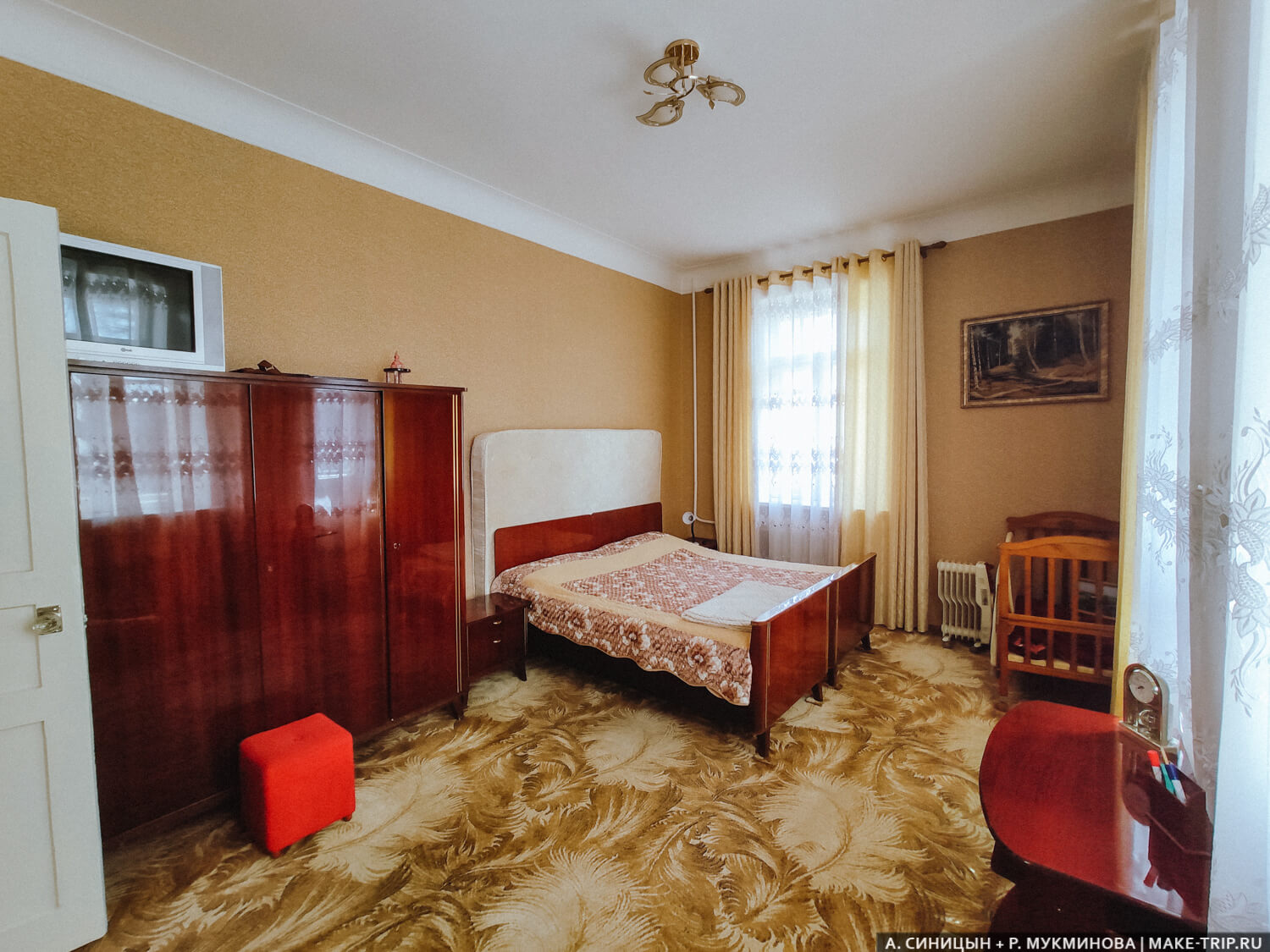 Our second (Soviet) apartment.
Dushanbe pleased us with an abundance of inexpensive and interesting food. Not just delighted, but impressed!
Pilaf, shurpa, manty, samsa, shish kebab and other delights are Central Asian classics, everything is clear here. You can find these dishes everywhere, and almost everywhere will be tasty and inexpensive. To our great pleasure, we found in Dushanbe some restaurants with more exotic cuisine: Indian and Uyghur. These people's food is cooked according to all the canons and state standards, and therefore it is very tasty. There are Arabic and Turkish restaurants in the city, and we even found kumpir, or "super potatoes", potatoes stuffed with all sorts of stuffing, which we knew so well from our Istanbul trips. We tried local steaks, but it seems to me that local chefs are not too good in this niche, so it is better to choose kebab.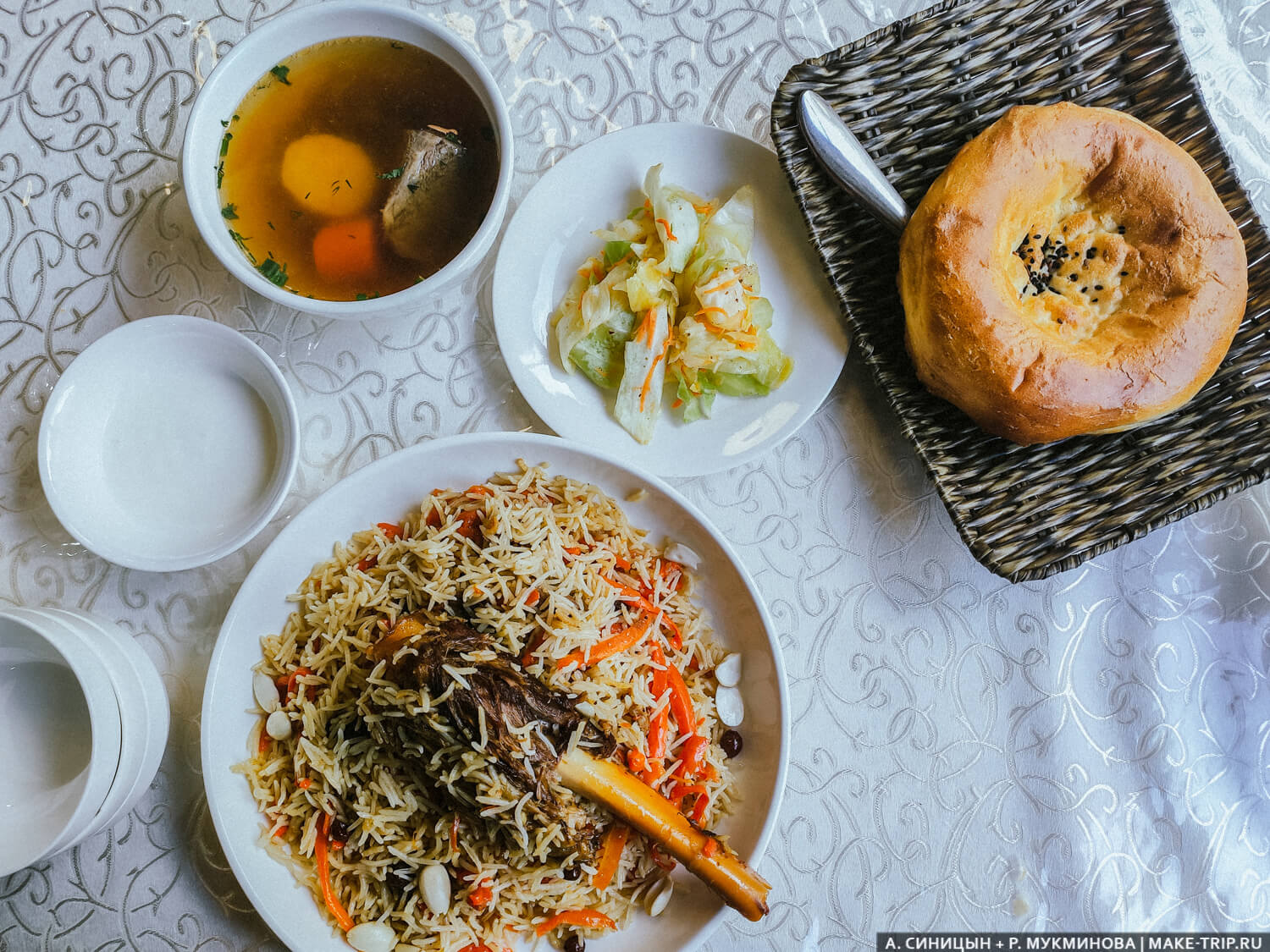 Shurpa, lepeshka, pilaf, salad and tea with lemon – all together for 53 somoni.
Food prices for 2022:
pilaf – 25 somoni (a portion is quite enough for two)
Manti – 3 to 5 somoni apiece
shurpa – 15 somoni
shashlik 30 somoni
Uighur lagman 30-35 somoni
Tea with lemon – 8-15 somoni
Lemons are Tajikistan's calling card; they are a must-try! We haven't tasted anything this good anywhere in the world. They are sold at the markets for 4 somoni apiece. Tea with lemon is also very good, as a drink at the cafe we always ordered it exclusively.
We usually spent 50-90 somoni for two at one meal. A lunch of two curries, one flatbread, and two lassi at an Indian restaurant cost 150 somoni. A 30 cm pizza at Dodo's costs 70-80 somoni.
This is where you can eat tasty and inexpensive food in Dushanbe:
Chaykhana Nur near the Opera Theater (38.56551, 68.797932).
Chakan Chaikhana Restaurant (38.562523, 68.798548).
Fiza Indian restaurant (38.560775, 68.785161).
Alichon Uyghur restaurant (38.564504, 68.796413).
Lola 10 (38.563957, 68.796085) is a spartan-looking café for locals.
What to see in Tajikistan.
Tajikistan is a mountainous country. They occupy 90% of the country and are the main point of attraction for travelers. First of all it's Pamir with its grandiose seven thousand meters high mountains. Here is the highest point of the former Soviet Union – peak Ismoil Somoni (formerly: Stalin Peak and Communism Peak) with the height of 7,495 meters.
The mountains are visible from almost anywhere in the capital city, but when I looked at these snow-covered peaks, my heart sank with blood, because all this beauty was inaccessible to us! First of all, it is not yet the season for travel in the mountains. Secondly, it is almost impossible to go there on one's own: car rental costs from $100 per day, which in these difficult times has become an unaffordable luxury. There are still organized tours that last several days, but they start in May only, and of course they are not cheap.
We had an idea to go to Khujand, the path to which goes through the Pamir-Alay Mountain Range, and admire the beauties to our hearts' content, but we found out at the train station that the trains stopped running for a couple of years, and that the truck road was blocked by avalanches almost every day in March. And I'm not talking about the dangers of that road, especially with the local driving habits.
So during our March stay in Dushanbe, all we had to do was admire the mountains from a respectful distance. But one day, when all this madness is over, we will definitely visit Tajikistan again and go to its main treasure, the Pamirs.
Our subscribers suggested a few other places around the capital where you can see the mountains. But because of the rains we did not go anywhere. Perhaps it will come in handy for you:
Roman Riquelme: "The closest option is the Varzob Gorge. Behind it – the ski resort "Tabob" on the Safedorak plateau and the sanatorium "Hodzha Obigarm". You should get there from Vodonasos (this is a stop for many buses and trolleybuses, which pass through the center of the town). Ask – you will be told everything). From here you can go to Varzob on budget: minibuses, collective cabs and buses. Nurek is also beautiful: you should go to Chormagzak Pass on the way there and get unforgettable impressions. It is cheaper to get there by bus. You can get information about buses to Kulyab and Dangara at the bus station".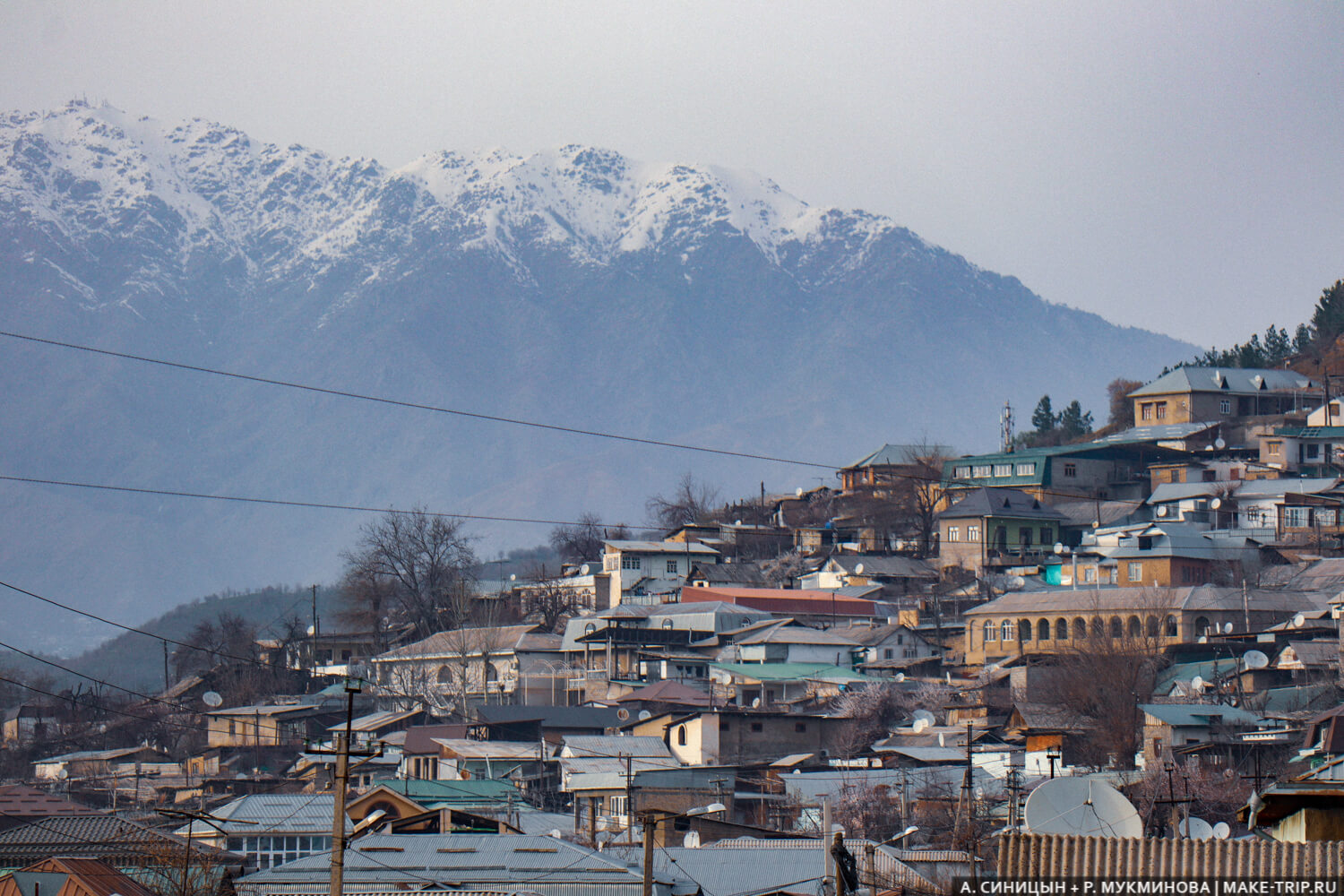 One of the districts of 'old Dushanbe' with the mountains as a backdrop.
What to see in Dushanbe
Despite its youth, the capital of Tajikistan is quite an interesting city, worth devoting a day or two to. Although it is very sad that the authorities have decided to demolish old buildings and build up the whole city with terrible high-rise buildings. Before Dushanbe was famous for being able to see the mountains from every corner of the city, but now instead of them you have to see tasteless, cheap Chinese-Arabic architecture.
We'll do a separate review of the capital's sights soon.
The mosque and the mountains. By the way, this new building is the biggest mosque in all of Central Asia. The ruler of Tajikistan likes the best of everything, but the situation with the mosque is funny: the course towards secularism and diligent containment of the influence of religion is here in the end to build a mosque-record holder. The Palace of Nations in Dushanbe and the mountains. The streets of the city's central districts look something like this. The central cathedral mosque named after Khoja Yakub. A luxurious hall in the "Kohi Navruz", every inch of which is decorated with expensive wood with carvings made by local craftsmen. Another equally luxurious hall at Kohi Navruz. Rebuilding Dushanbe. Low-rise Dushanbe, from any street of which mountains were visible, is being purposefully destroyed. Instead of mountains, one is now supposed to admire construction sites or ugly finished high-rise buildings.
How to withdraw money
There are many ATMs in the center of Dushanbe, but not all of them are able to take out money. First, they are often empty. Secondly, not all of them can work with a card of your payment system. "Visa is accepted almost everywhere, but MasterCard and Mir are less common. All ATMs I have used have Russian, so everything is simple and straightforward.
Our expenses in Dushanbe
Here are our expenses for two people for 12 full days:
| | |
| --- | --- |
| Renting two apartments in the city center for 13 nights | 440$ |
| Restaurants | 104$ / 1400 somoni |
| Groceries | 22$/ 300 somoni |
| Kohi Navruz tour | 4$ / 50 somoni |
| Cab | 3$ / 40 |
| Buses | 1$ / 12 somoni |
| Total | 574$ |
As the table shows, housing took almost 4/5 of the budget, which of course is not normal and speaks to its excessive cost, disproportionate to the price level in the country as a whole.
Separately, I will mention the 260 somoni for psr-tests for entry into Uzbekistan, the need for which was canceled by their authorities on the exact day we made them. Luck is God level.
Tickets to Dushanbe from Kazan cost 15,000 ₽ for two. The return ones are about 2-3 times more expensive, but we flew to Tashkent for 24,000 ₽ for two.
Somoni is the local currency. The bills depict Persian and Tajik poets, philosophers, politicians, and local architectural monuments. By the way, until 2000 the local money was called the Tajik ruble.
Tajikistan, Pendzhikent – review
Penjikent is a provincial town in Tajikistan I will tell you how people live here About the nature around, local food and how to get here
Hi
I like to travel to small, authentic cities that are not popular with the mass tourist, about which sometimes you can't find guides on the Internet. It's more interesting that way. Penjikent is just such a city. It is about 5500 years old. So the status of "ancient" is in its piggy bank. The nature around the Tajik city is extremely beautiful. BUT . But first things first.
It is the administrative center of Penjikent district of Sughd Region of the Republic of Tajikistan. Penjikent is the only settlement with the status of a city in the district and the city of regional subordination. It is located in the Zeravshan valley, on the left bank of the Zeravshan River, at an altitude of 900 meters above sea level, 48 km east of Samarkand, 240 km north-west of Dushanbe and 270 km south-west of Khujand. The city is rich with sights, architectural monuments, beautiful recreation area on the banks of the Zeravshan River.
How to get to Penjikent
There are two options . First you have to go to Samarkand or Dushanbe, and from there you have to rush to Pendzhikent. There is about 50 kilometers between Penjikent and the first city, and five times as much with the second one. Samarkand and Dushanbe have international airports and planes from Russia and other countries fly there. Now, of course, it is difficult to plan any flights, but I think things will get better))))
The first option is from Samarkand to Pendzhikent. Almost any Samarkand cab driver will take you to the place where the cars (the same cabs) leave for the border with Tajikistan. You can rent a whole car from Samarkand to the border with Tajikistan for an average of 80 sums (this is about 570 rubles). The average ride is forty minutes, maximum one hour. Cab drivers take you straight to the border.
One has to go through border control. Curious border guards, as a rule, are on the Uzbek side. They even started asking me why I have tattoos and what they mean. Of course they also asked why I was going to Penjikent (but they were more interested in my tattoos). The Tajik border guards didn't ask anything.
I wouldn't advise crossing the border by car – they will take it apart piece by piece). There are other cab drivers on the Tajik side who will take me to the city. They will also take you to the money changers to exchange dollars, rubles or Uzbek sums for the local currency – somoni. It takes 15 minutes to get to the town. Per person they take about 10-15 somoni for the ride (65-100 rubles). This is mega budget, given that gasoline in Tajikistan is quite expensive.
For example, a liter of AI-95 gasoline now costs only 9 somoni; for AI-92, you will have to pay about 8.7 somoni, and diesel fuel costs 8.3 somoni. Prices for liquid natural gas rose more than 8% over the past month to 5.05 TJS.
The cost of 1 TJS in rubles today is 6.53 ₽.
Option two – from Dushanbe to Penjikent. You have to drive about 250 kilometers along the highway between the two populated areas. The cost of a whole cab car averages $100-120 (7,500-9,000 rubles). The road from the capital of Tajikistan to Pendzhikent is extremely scenic (gorges, mountains). You will also have to drive through a five-kilometer tunnel on the way.
"There are two main means of transportation in Tajikistan, the Donkey and the Opel.
Food in Penjikent
It's worth coming here for) Under "Interesting but true": Many people from Samarkand go to Pendjikent for lunch or dinner on purpose.
Yes, Uzbek and Tajik cuisines have similar principles. Many dishes have similar names, components, and characteristic serving. In Tajik cuisine, too, the vast majority of dishes are made from fatty lamb, and all soups are quite thick and mega-stuffy.
My favorite Central Asian dish is shurpa. And I haven't eaten such delicious shurpa like in Penjikent just anywhere else.
I can't remember it without crying) I only regretted that my stomach couldn't hold as much of this congealed shourpa as possible.
I also got to try Turkish and even Uyghur food.
And all this in an ordinary teahouse in the area of the local market.
As always, the cab driver suggested the place where you could get a good meal. These guys know everything and more if you need it) There aren't any fancy restaurants or places with European cuisine in Penjikent. And thank God) And there's no need for it here in general. I have very rarely had the chance to try a decent European dish in Central Asian countries.
You can also try kurutob in Penjikent. It's quite an interesting everyday local dish, which is more typical, by the way, for the southern regions of the country.
It's a dish of Tajik cuisine. It is one of the most famous and ancient dishes of this cuisine. Cooking technology is varied and varies from region to region. This dish is also prepared in some areas of Uzbekistan, Afghanistan, Pakistan and Iran. It is traditionally eaten by hand.
The dish is quite hearty, but quite light dish. It is made from raw vegetables, bread and sour milk. You can even say that it is such a peculiar Mid-Asian pizza. The great thing about this dish is that it quenches one's thirst so one ate it and one does not feel thirsty for half a day.
Also in Penjikent I had the chance to try chalob for the first time – it's just incredibly tasty okroshka on ayran.
How people live in Penjikent
The city is simply imbued with the word "humble."
Penjikent gives the impression that everyone who could – left, and those who stayed – humbled themselves. The word "duckish" does not suit Penjikent in any way. Colorful, yes. You may see here not only popular Central Asian Damas, but even RAFs.
The most horrifying sight is the high-rise buildings, which "meet" you almost at the entrance of the city. The upper floors are windowless, and the lower floors have the feeling that someone lives there. It's a post-apocalyptic spectacle. But you can, of course, find more or less comfortable corners here.
The city can not be called just buried in the green, but it is present.
Also here you can come across Central Asian Gypsies – Lyuli.
As elsewhere, they are either gathering or begging. In general, you can see that there is no investment in the infrastructure of the city. There are no streets with beautiful tiles and quiet squares with wrought-iron benches and arbors. The city was frozen in the 1970s and 1980s.
And like in many Central Asian cities in Penjikent, collective cabs are also popular. At least they do not put people in the trunk, like in Afghanistan))).
Near the city runs the Zarafshan River, or Zeravshan as it is also called.
The flow is quick and the water is a bit muddy. But I have seen local kids go swimming there. Personally, I would be scared to dive into the river).
It's very difficult to find decent accommodation for tourists in Penjikent. Or rather – an impossible task. All of the few hotels that are here from the category of "so-so". The price of 15 to 25 dollars for a night and you'll find something with a vestige of the nineties with a touch of local color.
But the surroundings of this city are incredibly beautiful. At the mouth of Zarafshan valley between picturesque Turkestan and Zarafshan ridges there are just endless fields burnt by the scorching sun, which at sunset look quite epic. Nearby mountains, where you can stay in tent camps (yes, they are here). You can also go to the village of Sujina, where there is some ancient fortress. It stood on a small hill, so I just admired it from the road.
Local Penjikent kids for some reason always took us for Americans) And tried to amaze everyone with their vocabulary of a single word – "Hello") People here, as elsewhere good-natured in general, not angry, curious, but you can see that many live very modestly.
It also struck me that many people leave without locking their cars. Is there no crime here at all?)
The bazaar in Penjikent
I only found one. I think it was "Central" so to speak. It was entered through an incredibly beautiful massive gate, which apparently reminded the locals of the Zoroastrian past))) Bazaar as a bazaar. Colorful as all Asian. But the prices here were a little lower than in the Uzbek bazaar, which was nice. Vegetables, fruits, and the local mountain honey were fifteen percent cheaper. I bought strawberries, at least they looked like strawberries (maybe it was some kind of strawberry), but in half an hour they started to ooze and turned into mush.)
Penjikent's main attraction
Near the town is the ancient settlement of Kainar. The place is picturesque in every sense of the word.
The settlement Kaynar occupies high hills to the south of Penjikent.
You can come here just in fifteen minutes by cab or minibus. And for forty minutes you can walk to the settlement.
In the back of the fortress there is a museum, which at the time of my visit was unfortunately closed. If you go up to the bastion, you can enjoy a breathtaking view of the city and the Turkestan Ridge.