Rest in Turkey in April
To get from a dank April in temperate latitudes to sunny Turkey – a great pleasure! Read what they write in reviews about rest in Turkey in April: about the weather, rainfall and the sea. What to take clothes for mid-spring, where to rest inexpensively and what to see with children.
Content:
Air temperature
Locals believe that the second month of spring is still cool, but for Russians April weather in Turkey is already warm. The sun burns to the full, pleasant winds blow, many flowers bloom – all indicating that the high tourist season is not far off.
According to reviews of tourists, the most comfortable weather in Turkey in April is in Kemer, Belek, Side, Antalya and Alanya. In Istanbul and Ankara it is 4-5 ° C colder. The temperature is even lower in Sinop and Trabzon: +13 . +15 °С during the day and +8. +9 °С at night.
Air temperature by day and night in April:
| | | |
| --- | --- | --- |
| Resort | t daytime | t at night |
| Alanya | +22°С | +16°С |
| Antalya | +21°С | +14°С |
| Belek | +21°С | +15°С |
| Kemer | +20°С | +12°С |
| Side | +21°С | +14°С |
| Istanbul | +17°С | +11°С |
Vitaliy: "We stayed in Side since April 24. Weather quite satisfactory, from +15 ° C in the morning to +20 ° C in the afternoon, but the thermometer was hanging in the shade, so it was comfortable and warm to sunbathe. ,
Olga: "Rest lasted 12 days, 10 of them the sun shone. It was possible to sunbathe on the beach and enjoy the heat.
Water temperature
The sea warmed up to +17. +18°С. The highest water temperature in April on the Anatolian coast of Turkey. Bathing is still cold, but that does not stop those who want to freshen up! Many tourists walk barefoot along the coast and soak their feet in the sea water with pleasure.
It's too early to swim in April, but you're welcome to sunbathe! During the day on the beaches gather holidaymakers who want to get a nice tan. If you have sensitive skin, we advise you to use sunscreen!
Nicholas: "The sea is not yet warm +15. +17 ° C, but for fans of swimming is already suitable, and for sunbathing all the more.
Oleg Golubev: "The sea water is heated to +18 ° C, bathing rather takes the form of a refreshing procedure.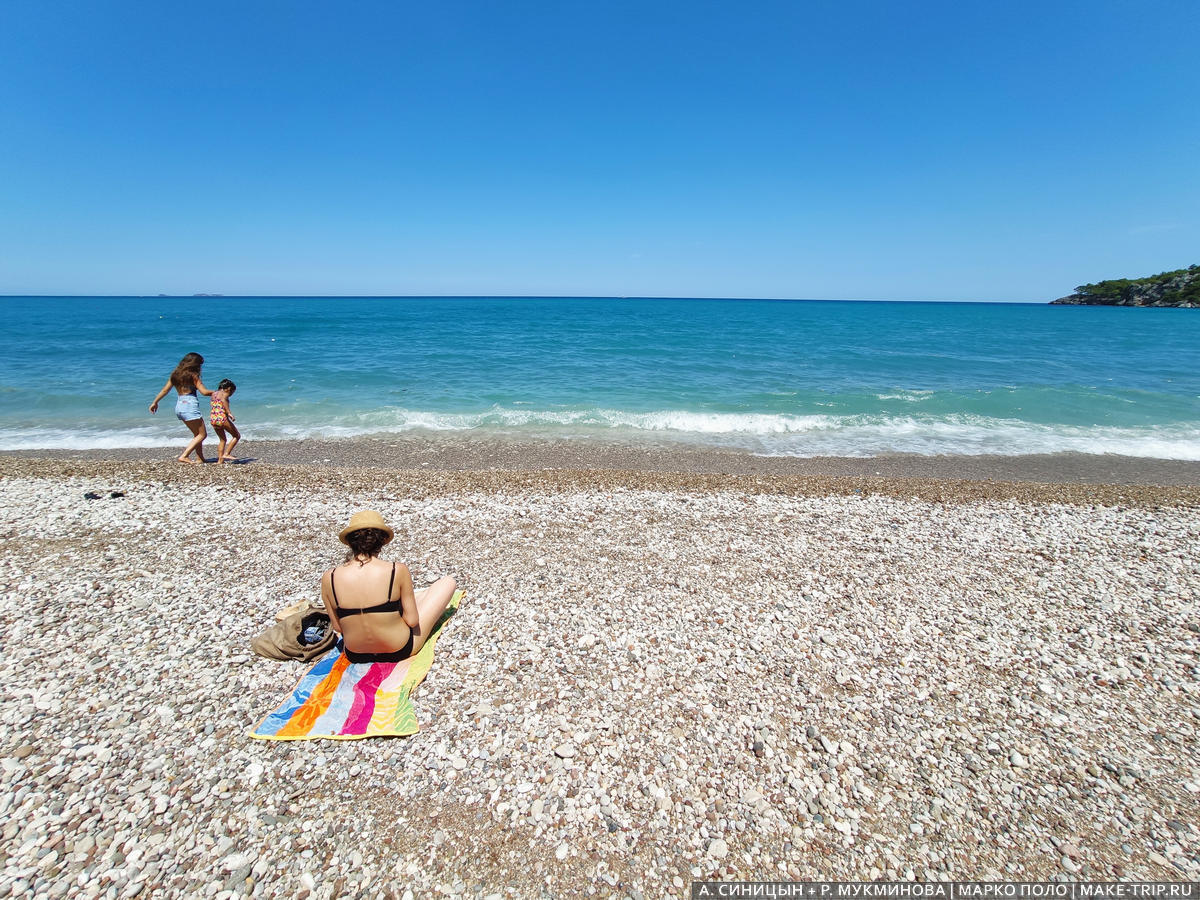 Cirali beach near Kemer.
How to dress for the weather
In April in Turkey, the daytime is warm but not hot. In the sun is nice to walk in shirts and shorts. After sunset it cools down to +10. +13°С. You don't need a warm jacket and a hat, but a windbreaker and a fleece are useful. For excursions and hiking take comfortable shoes. Do not forget to put in the luggage hat from the sun and an umbrella!
Anna Mudrova: "Jeans, T-shirt, sneakers – the best uniform for excursions. In the evening, a sweatshirt or sweater is added to this set."
Precipitation and Hurricanes
April weather in Turkey is much more stable than in March. According to reviews of tourists, the rains differ only in the first half of the month. If your vacation falls in early April, be prepared for cloudy weather.
In the second half of April in Turkish resorts almost all the time it's sunny. Some tourists note that the rains are at night, and by 10 am the sun peeks out from behind the clouds.
The largest amount of precipitation falls on the Black Sea and in the mountains in the east. According to observations over the years, these regions of Turkey have 12 days of rainfall in a month. On the sunny coast of the Mediterranean Sea in April, the rains are a rarity.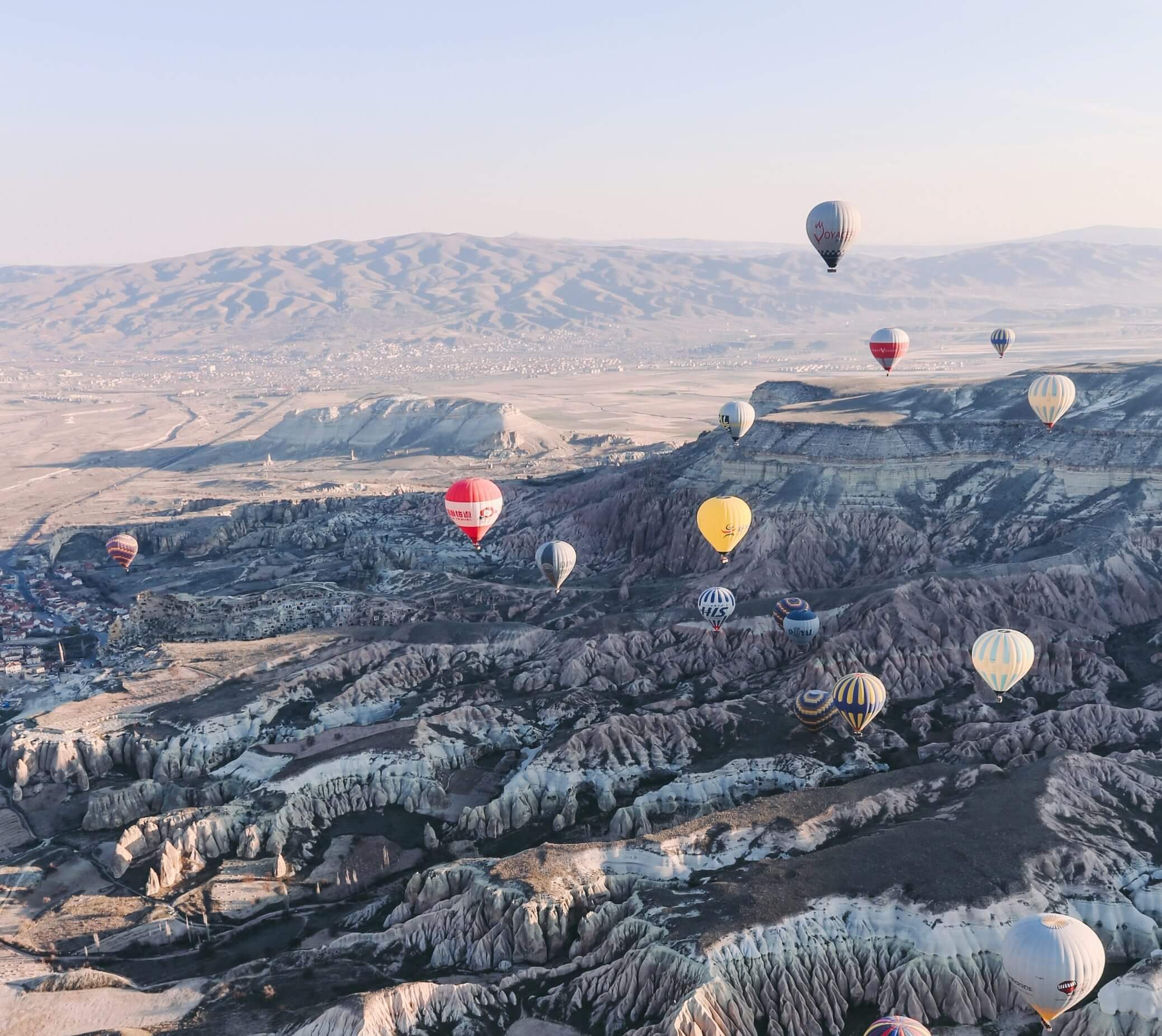 Cappadocia (Photo: unsplash.com / @masinutoscana)
Prices for tours to Turkey in April – 2022
Prices for tours to Turkey in April are quite democratic, but by the end of the month, before the May holidays, the cost of travel increases by 15-20%. In order not to overpay, we advise you to book your favorite tours in advance.
The most expensive deals are in Belek, Bodrum and Fethiye. If you're looking for a cheap resort for a holiday in Turkey in April, pay attention to Alanya, Kemer, Side, Marmaris and Beldibi.
See how much tours to different resorts in Turkey cost in April 2022. The prices are for a tour from Moscow for two people for 7-11 nights:
| | | |
| --- | --- | --- |
| Resort | Price for two persons | Example |
| Antalya | from 39 000 ₽ | Найти тур >> |
| Alanya | from ₽32,000 | Найти тур >> |
| Belek | from 41,000 ₽ | Найти тур >> |
| Kemer | from 36,000 ₽ | Найти тур >> |
| Bodrum | From 43,000 ₽ | Найти тур >> |
| Side | from 39 000 ₽ | Найти тур >> |
| Marmaris | from ₽ 38,000 | Найти тур >> |
Holidays with children in April
The warm off-season is great for holidays with children in Turkey. It is not hot in April, so children do not get tired and enjoy the sea. Walks in the fresh air, sunbathing and swimming in the pool with warm water is very healthy.
While there is no influx of tourists, go with the whole family on interesting excursions! See the natural wonders of Pamukkale and Cappadocia, the temples and palaces of Istanbul, the ancient cities of Troy, Demre, Olympos and Phaselis.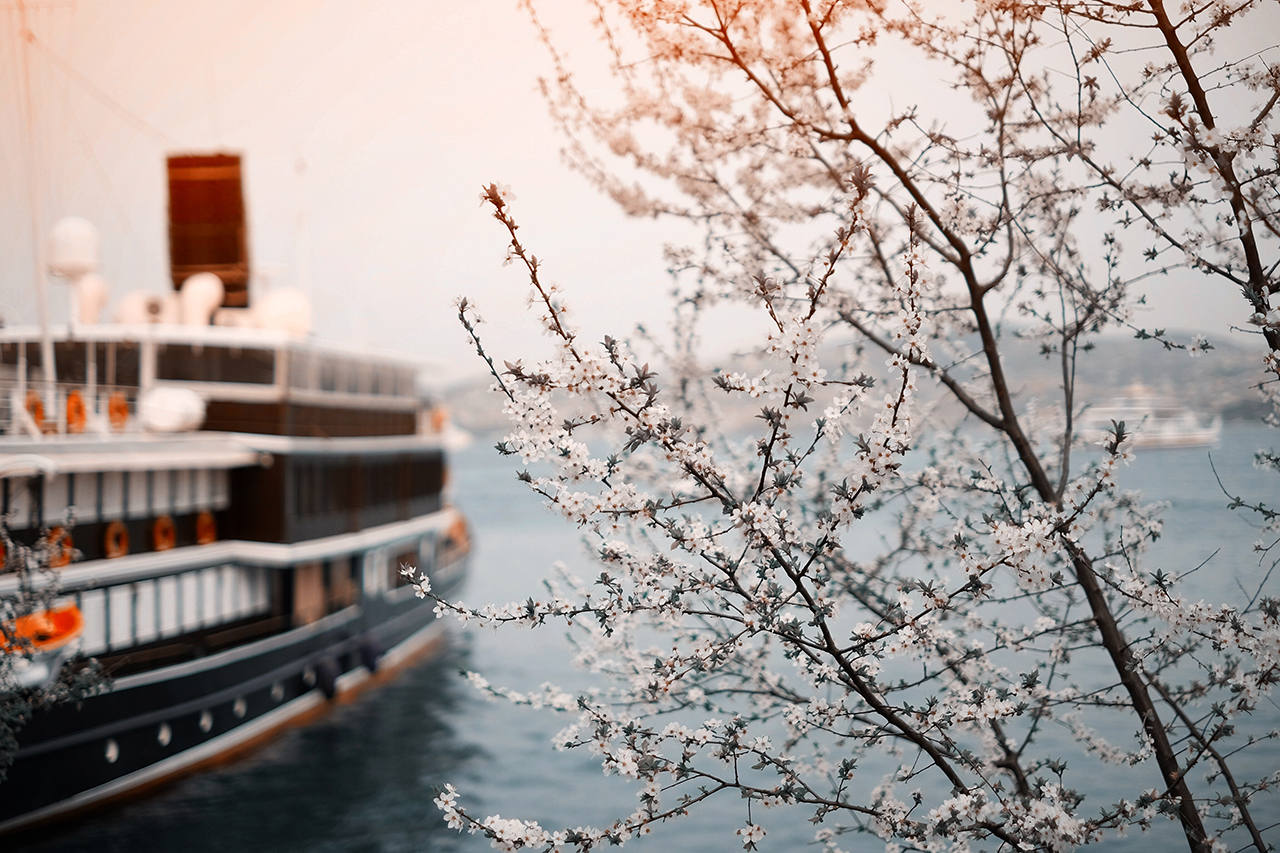 A spring boat ride on the Bosphorus (Photo: unsplash.com / @reo)
Is it worth a holiday in April in Turkey
According to reviews, the weather in Turkey in April is ideal for anyone who cannot stand the heat and hard to acclimatize in a new place. The mild warm climate is well tolerated by the weather-independent people.
Do not count on a full beach vacation. You will manage to sunbathe, but to swim only in pools with heated water.
In mid-spring in Turkish resorts are excellent conditions for lovers of active recreation, hiking and sightseeing tours. Many people come especially to Turkey in April to visit the wonderful Tulip Festival in Istanbul. Take advantage of the opportunity to immerse yourself in the colorful atmosphere of Turkey, taste the delicious national cuisine and experience the sights of the eastern country!
Turkey in April 2022: The weather, the sea, and travel reports
Hi, my name is Julia. Last time I went to Side in mid-spring. In this article I will answer the questions: where is the best to go, where is it warmer, and how much is Turkey in April 2022 (all inclusive prices). Also collected reviews of tourists about the weather at this time.
Briefly, what attracts Turkey in April?
✓ All-inclusive prices are lower than in summer – you can get inexpensive 5 stars for two.
✓ Warmth, almost no precipitation. If you can't stand the heat, likes active holidays and excursions – it's a good time to visit.
✓ In spring there are still few tourists and a large choice of rooms.
Useful: at Ziraat ATM you can withdraw liras from your MIR card. Cash rubles can also be exchanged, but the rate is less favorable.
Weather in Turkey in April
Here are the boats that take tourists to the Bosphorus
Turkey is washed by 4 seas:
The coldest – warms up to +12°C in spring and up to +25°C in summer, a favorite of Turks and Europeans. Popular coastal resorts include the year-round Samsun, the tea mecca Rize, and the historic Sinop.
The climate is subtropical, with a sea temperature of +11°C in April and warmer +26°C in summer. Istanbul lies on its shores.
The most beautiful place of the Turkish coast, with clean, salty water, which warms up to +17°C in spring, and up to +26°C in season. Famous locations for recreation – Bodrum, Marmaris, Kusadasi.
The warmest places in April (+16°C … +18°C, up to +30°C in summer) with clean beaches and well-developed infrastructure are Kemer, Side, Alanya, Belek, etc.
Let me emphasize the obvious: the climate of a particular resort and the average temperature of water and air in it depend on the proximity of the location to a particular sea.
In early April
Turkey in early April can be different. Vacations can be spoiled by rain and chill (+13 ° C) on the coast, or the sun (+21 ° C). In any case, the spring is still in charge – grab a light jacket for evening promenades.
Weather and sea temperature in Turkey in April (beginning of the month)
Resort
1-15 April, air, °C
April 1-15, sea, °C
Day
Evening
Antalya
19
14
16
Kemer
18
15
15
Belek
20
16
16
Alanya
21
17
18
Side
20
16
16
Marmaris
20
15
17
Fethiye
18
13
17
Bodrum
21
17
18
Can I go swimming in April? No. Sea temperature at +15 ° and even +18 ° C is far from the optimal +24 ° C. But if you're a fan of the sea water, why not. The main thing is not to get carried away.
At the end of April
Beach holidays in April is not like summer holidays. The water is not yet warm, but this is compensated by the cool air (+20°C … +25°C). Especially comfortable for children and the elderly.
The water in April, even in the 20s, is not warm enough – around +20°C. But in some areas of Turkey it may warm up to +22 ° C and a little higher. It depends on the changeable weather.
| | |
| --- | --- |
| | I liked Turkey at the end of April: the air was about +27 ° C, even managed to burn. But I preferred the sea to the heated pool. |
Weather in Turkey in late April
Resort
15-30 April, air, °C
15-30 April, sea, °C
Day
Evening
Antalya
23
17
19
Kemer
22
16
19
Belek
24
18
19
Alanya
25
20
20
Side
24
19
20
Marmaris
22
17
19
Fethiye
20
15
19
Bodrum
23
19
18
Choosing resorts in Turkey, many are wondering: in what months it is better to go and what sea to choose. The answer is in our separate article.
Prices for tours in April – 2022
One of the reasons why tourists choose to travel in the spring is the prices of all-inclusive hotels are lower than in the summer. The money saved can be spent on excursions and pleasures like hammam. See for yourself.
And in April you can sunbathe!
The cost of tours I take from favorite services:
Favorites, because only through them and buy trips. Online format saves a lot of time, and a wide range of proposals can be reduced by filters to the most favorable. And stay at a hotel with a high rating.
Prices for holidays in Turkey in April on an all-inclusive basis:
✓ For two from Moscow for 7 nights – from 30,000 rubles, for 11 nights – from 39,000 rubles.
For a family (parents + child) to the hotel 4 * – from 42 000 rubles. The same trip for three people in July will cost from 50,000 rubles.
✓ By the way, from the regions popular destinations can be cheaper than from the capital. I, for example, bought a tour from Krasnodar in 2019 for 64,000 rubles. The difference is 10,000 rubles.
Using early booking, fortune or hot tours, the prices of tours to Turkey in April can be brought down by another 10-30%.
Where to go to Turkey in April?
Blooming Istanbul in April / On the waterfront in Antalya
Where to vacation in Turkey? First, let's decide on the coast (if we're talking about a near-beach vacation):
Sunset at Cleopatra Beach (in Alanya)
Turkey in April here is warmer, with more all-inclusive hotels, which are an order of magnitude cheaper than the west coast. Plus more vegetation, beaches are mostly sandy, developed infrastructure, a lot of Russians.
For whom: hunters of all-inclusive and tourists with limitations in the budget
Trick of this resort – the pine forests with clear, "ringing" air, full of scent of trees and spring. Kemer in April is especially good – nature is blooming and there is no heat. The air temperature is about +20°C, water +17°C.
It can be cool for swimming (+17°C … +18°C). But the place is good for walks in eucalyptus forests and juniper parks (+22°C).
The warmest and most southern resort. If nature is in good spirits, you can even swim in the sea (+19°C) and sunbathe (+24°C).
The location is for lovers not only of beach holidays, but also shopping, sightseeing and unique nature. The air in April is +22 ° C, the water is +17 ° C.
There are many hotels with heated pools. Sunny Side in April is the best time for excursions, independent walks in the area and getting to know the local cuisine. The air temperature averages around +22°C, water +17.5°C.
Lycian Tombs of Dalyan from Marmaris
Pebble beaches, nice hotels with boutiques, lots of European tourists – this is about the Aegean coast. The water and air temperature is 3-4°C lower than its neighbor.
For whom: mobile tourists without a connection to a hotel with an independent program of excursions/entertainment
One of the best resorts in Turkey and the center of sailing in the Mediterranean. It can accommodate families with children, and young people who choose the nightlife. The comfortable temperature in April is +21°C, and the water in the sea is still cool +18°C.
The resort city on the Aegean Sea with a mild climate (+19°C) and minimum rainfall in April. Many upscale hotels for lovers of a quiet and respectable holiday. The water at this time of year warms up to +17°C.
For those who are tired of the standard beach holiday, I recommend Istanbul. The city at the junction of Europe and Asia. It is a popular trading center, a concentration of historical monuments and nice restaurants with delicious food. In April it's cool here, with an average of +14°C.
Spring Activities
A Market in Antalya
Entertainment in April in Turkey is different. For example, water (albeit with restrictions):
rafting – on the Dalaman rivers (brought here from Bodrum, Fethiye and Marmaris) and Keprücay (tourists from Kemer, Alanya, Side, Antalya and Belek)
Diving – not as exciting as in the Red Sea, but for the first experience very much. You can dive in Kemer, Antalya, Marmaris, Bodrum. The water is still cool, but officially the diving season opens in April.
Cruising on a yacht is suitable for everyone without exception, even with small children.
Good Turkish shopping . In the stores and markets there is a large selection of knitwear, textiles, shoes, fur and leather, as well as sweets, coffee and spices.
| | |
| --- | --- |
| | I always try to bring local goods from trips: vases, handmade plates. Last time it was a set of candy holder and a small teapot, bought in the market for 82 lira ≈ 655 rubles. |
Sunbathing somewhere in the Mediterranean, you can go to Istanbul on your own . Once I bought an e-ticket, left early in the morning for the city, and returned to the hotel late at night. The trip for two, including the flight, sightseeing + food cost us 10,000 rubles. Looking at the tickets on Aviasales.
Rest your body and soul can be in the local hamam – from $15. And party people are waiting for nightclubs. The most popular parties are in Bodrum (Halikarnas, Marina Club) and discos in Marmaris, Antalya and Alanya. Just remember, some clubs start working after the 20th of the month.
Best excursions
Editor shared a photo of his day trip around Ephesus
Turkey in April 2022 is the perfect place and time for excursions, don't get too hot. What sights to visit and what are the prices? Some historical sites you can see on your own. Others only by buying tours. For example, online services:
In the table I have listed only some excursions and monuments of Turkey, popular with tourists from all over the world.
| | |
| --- | --- |
| Excursion/Monument | Cost |
| Pamukkale, with healing geothermal springs, Cleopatra Pool and historic Chersonesos. | from $40 |
| The ancient city of Demre Mira, with Lycian tombs carved into the rock – a former place of pilgrimage for believers. | from $20 |
| Cappadocia is an amazing place with underground cities, cave monasteries, castles, and museums. | from $25 |
| City of Aspendos (more info). | from $25 |
| Antique Ephesus with Celsus Library, Hercules Gate, Great Theater, etc. | from $30 |
| The Fortress in Alanya is a symbol of the city, which is visible from anywhere in the city (250m). | Roundtrip funicular – 28 liras |
| Manavgat waterfall in Side – an attractive place for tourists to see. | Admission: 7 liras |
| Damlatas Cave, with amazing colored stalactites over 15 millennia old. The cave is located in the center of Alanya. | Ticket ≈ 6 liras |
Organized travel only in Pamukkale
Holidays with children in April
Houses for the Turks favorite SEALs
Is it worth to go on holiday in April and May with children? Of course. The weather is mild in spring and there is no exhausting heat. A child can not swim in the sea, but no one cancels the tours in hotels with indoor heated pool .
Families with children in April, can easily roam in the fresh air and on excursions, without fear of catching heat or sunstroke. And for the active – entertainment in the form of zoos and dolphinariums.
+ The most pleasant bonus of rest at this time: saving the family budget. Buying a tour for three (or more) is cheaper than in summer or in September.
Picked a few really GOOD hotels with heated or indoor pools (prices are for 7 days for two + child):
✓ 5* Bellis Deluxe – from 75 000 rubles
| | |
| --- | --- |
| | On a side note. On April 23, all over Turkey hold a festival of children: on this day the streets of the city are generously decorated with balloons. |
Reviews of tourists about the weather in Turkey in April
If we rely on the reviews of tourists – many prefer a summer holiday. And for good reason. Turkey in April as a separate art form: blooms and fragrances. And even cheaper.
Turkish vacation in the spring is usually organized by hunters to excursions and local attractions. And also families with children . Do not plan to leave the hotel walls? Choose a comfortable package tour to the SPA-hotel with a sauna, Turkish bath, fitness rooms and tennis courts (for example, in Belek, Side).
But. If you are a part of the beach relaxation and swimming in the sea water – move your vacation to the summer.
Why go to Turkey in April?
With all inclusive you forget about the figure:)
Where did I start the article, but more detail – what is good Turkey in April on an all-inclusive?
+ Most of the trees and plants are in bloom – it's beautiful.
+ Few tourists, the choice among the best hotels is a little more
+ Low price for the tours, compared with summer
+ mild weather – go for an even tan
+ Relatively cheap shopping: prices haven't soared to the high season level + it's easier to bargain
+ ideal time and weather for excursions
+ Restaurants and cafes are already open for tourists, but there's no crowding.
For extra reading, if you think about spring holidays – Turkey in May. And a short video.