How to get from Vienna International Airport
Guide article, in which we tell how to get from the airport to the center of Vienna by different means of transport: train, bus, cab. In the article we give all the fares, attach the necessary subway and bus maps and provide all the information you will need when traveling to this destination.
Vienna-Schwechat International Airport (Flughafen Wien-Schwechat) or Vienna International Airport is located 20 kilometers southeast of Vienna and is the largest airport in Austria. The airport is the base for Austrian Airlines, so a large number of travelers around the world connect with it.
Airport code : IATA : VIE, ICAO : LOWW
Airport address : Terminal 3, Schwechat, Austria
Passenger traffic at the airport: 31.6 mln. people per year (data of 2021).
Fares from Moscow and St. Petersburg: roundtrip ticket Moscow – Vienna from €130; roundtrip ticket St. Petersburg – Vienna from €149.
Direct flight Moscow – Vienna: 2 hours 45 minutes; St. Petersburg – Vienna: 2 hours 50 minutes
Popular airlines at the airport: Austrian Airlines, Aeroflot, Eurowings, Wizz Air, Vueling, easyJet, Turkish Airlines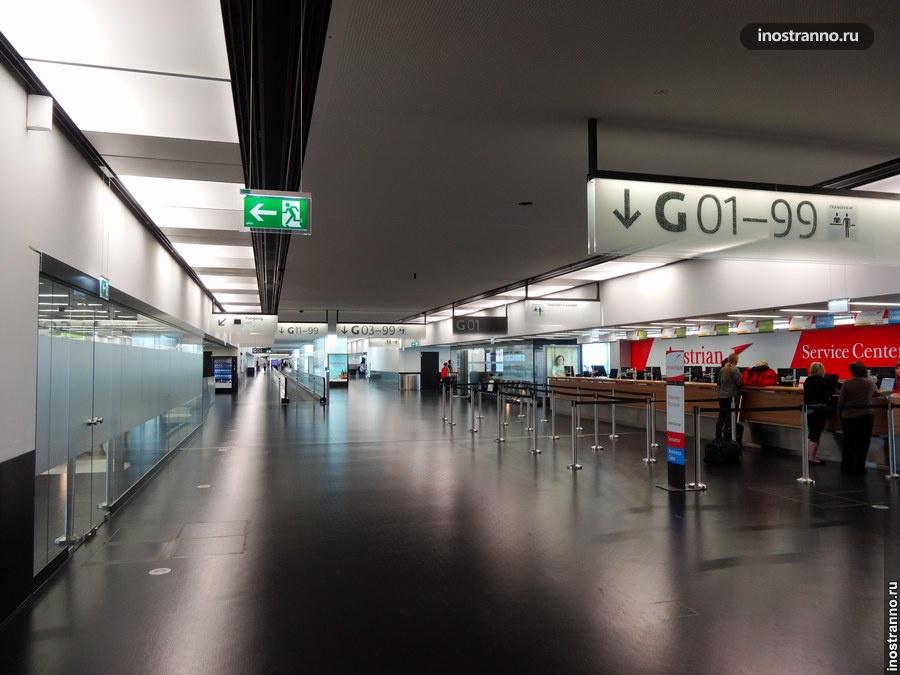 In fact, the airport has one terminal, which is divided into three parts, and each part has its purpose, i.e. there is an arrivals hall (1st floor), departures hall (2nd floor) and the hall serving the Schengen area. Below I am laying out a map-scheme of the airport, where you can visually see where everything is at the airport.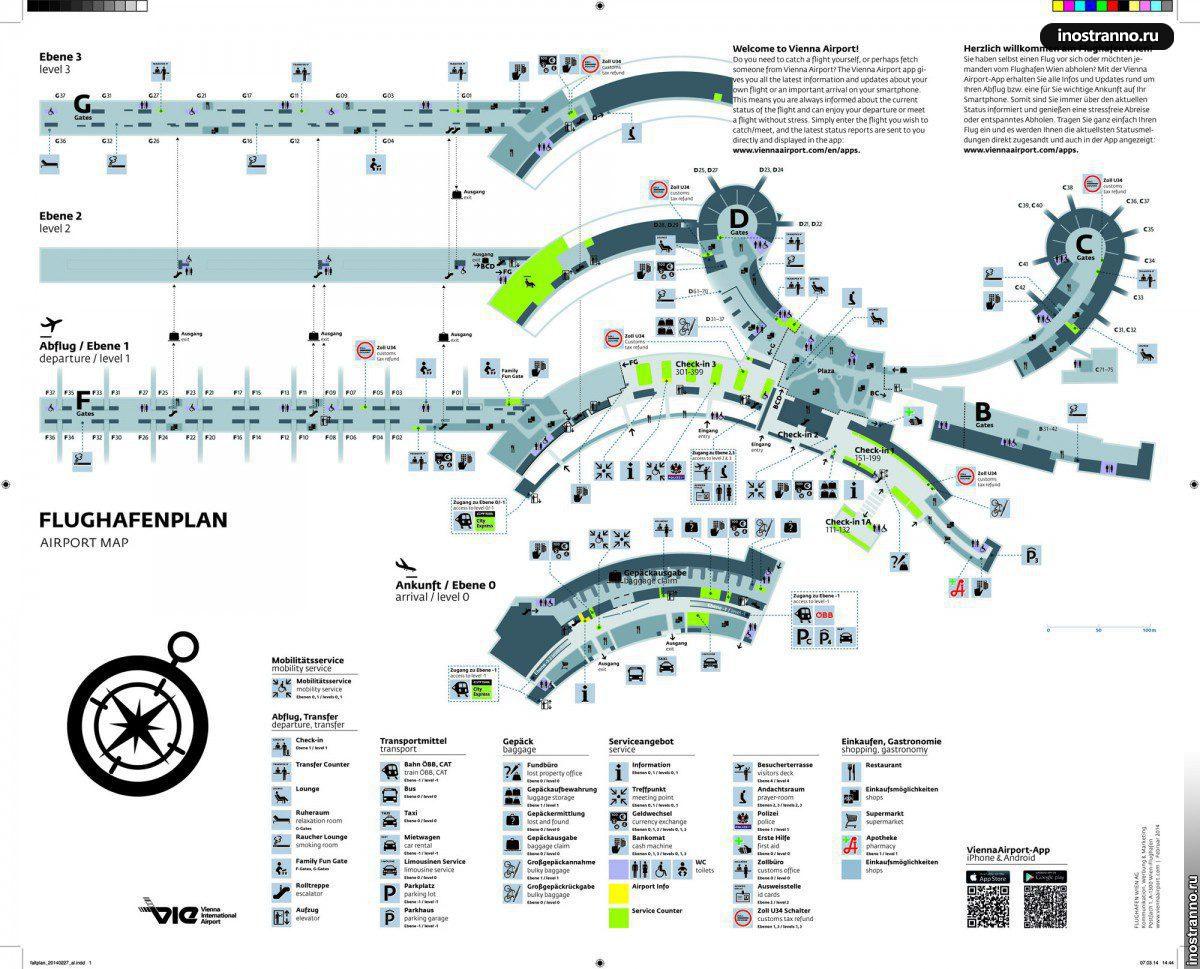 Vienna airport is quite convenient, here you will find free Internet, supermarket, where you can buy cheap food and water, cafes, duty-free, restaurants, recreational areas, pharmacy and even stores. Naturally, Vienna Airport has luggage lockers, marked on the map with the luggage storage symbol. There are lockers in Terminal 3 in the arrivals area and in Terminal 1 at gates D, C, D. There are two types of luggage lockers at the airport in the form of lockers and with a person. The first one costs €4.00 per day and the second one costs €7.00 per day.
I think most people have Euros with them when visiting Austria, so you can easily buy a train or bus ticket or pay for a cab. Now I will tell you about each mode of transportation to Vienna.
Trains from Vienna Airport
The comfortable double-decker City Airport Train runs non-stop from the airport to downtown Vienna every 30 minutes, with a travel time of 16 minutes. From the airport train comes to the center of Vienna at the train station Bahnhof Wien-Mitte, which is located next to the City Park and a 10-minute walk from the Stephansdom and the major attractions.
The fare for 2020 is € 11.00 one-way. Round trip is € 19,00. As you can see, the fare is high and it is the most expensive way to get from the airport to Vienna.
On Cityairporttrain.com you can see all kinds of tickets you can buy for the train, you will be especially interested in train tickets that are combined with a 1, 2, 3 day Vienna pass.
To find the CAT train, simply follow the green signs from the arrival hall. If you do not have a train ticket, you can buy one from special machines in the arrivals hall and on the platform.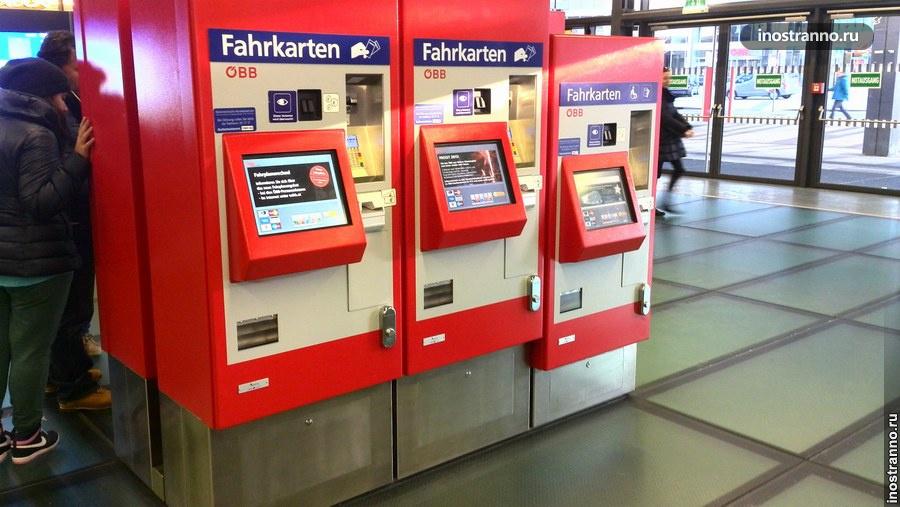 Since 2017, Vienna Airport has been connected by direct trains to major cities in Austria, which is easy to get to, but the prices of trains in Austria are not low:
St. Pölten , travel time 55 minutes, fare 14.30 euros, train interval 30 minutes.
Linz main railway station, travel time 1 hour 43 minutes, fare 14-43 Euro, train interval 30 minutes.
Salzburg main railway station, travel time 2 hours 49 minutes, the fare Euro 19-44, train interval 30 minutes.
Innsbruck main railway station, travel time 4 hours 40 minutes, fare 29-73 Euro, train interval 60 minutes.
Graz Main Station, travel time 3 hours, fare 14-19 Euros, train interval 60 min.
Train S7
The train, marked S7, takes you from the airport to Wien Mitte station – Kaiserebersdorf, Zentralfriedhof S-Bahn, Geiselbergstraße, St. Marx, Rennweg, Praterstern, Traisengasse, Handelskai, Floridsdorf. Travel time – 25 minutes, trains run every 30 minutes from 4.30 to 23.45.
Ticket for one trip – €4.4. As you can see, this is a cheaper and more comfortable way to get to Vienna, because the trains in Austria are very comfortable.
If you have a Vienna pass, you will have to pay €1.8 extra for the ride. The plan is as follows: use the Austrian Railways ÖBB ticket machine at Wien Mitte station or at the airport to select the "One way ticket". Check the box "Excluding city fare". Pay the fare and drive to and from the airport.
If you need to get from the airport to Vienna Central Station, then to station Wien Mitte, take the orange subway line U3 to get to the station Stephansplatz, where you need to change to the red line U1, Südtiroler Platz-Hauptbahnhof, get to the main central station of Vienna. You can see your way clearly on the Vienna subway scheme. Below you can see the latest Vienna subway schematic from 2017 with the completed U1 (red line) subway line.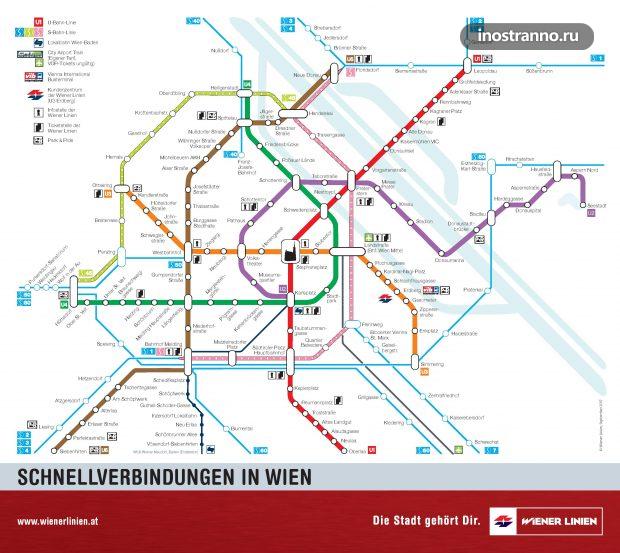 Pay attention to the quarter between Karlsplatz, Rathaus and Schwedenplatz stations – it is the very center and is where tourists who prefer hotels in the center like to stay. There are many good hotels in Vienna, especially if they are located near the subway station. On the website Hotellook you can book any of the 1,500 hotels at a lower price than the popular on-line booking service.
Vienna Airport Bus
You can also get to Vienna city center from the airport by bus from the Austrian ÖBB Railways, which is called the Vienna Airport Lines. These are comfortable, low-floor buses that are not subject to public transport fares. The bus fare for an adult passenger is €8 one-way and €13 round trip. Children up to 6 years of age ride free of charge, children from 6 to 14 years old charge 4 Euros for a one way ticket and 8 Euros for a round trip ticket.
Tickets can be purchased from the bus driver, from vending machines or online.
Travel time by bus from the airport on route Val 1 to the railway station Wien Westbahnhof: 40 minutes; to the Town Hall: 55 minutes. Buses on this route run about once every 30 minutes from 5:00 to 24:00.
Travel time to Morzinplatz/Schwedenplatz from Vienna Airport via Val 2, where you can transfer to the subway: 22 minutes. Buses of this route run 24 hours a day, during peak hours once every 30 minutes, at night once every 1-2 hours.
Travel time by bus from the airport on route Val 3 to Donauzentrum: 40 minutes, to the metro station Stadion: 20 minutes. It is at the Stadion that you can transfer by subway to the U2 line or by international buses.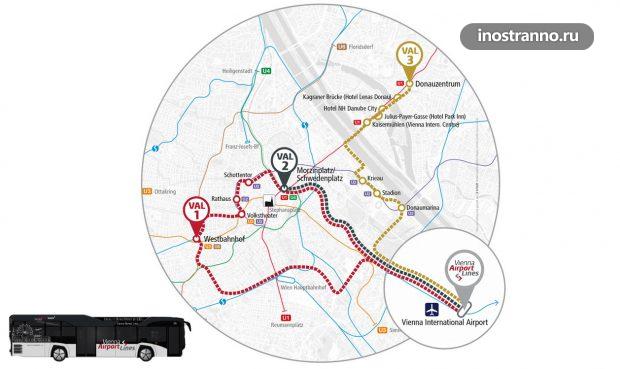 Buses from Vienna Airport to other cities
Direct buses to the following cities can be taken from Vienna Airport: Graz, Linz, Salzburg, Baden, Prague, Brno, Budapest, Bratislava, Györ. So if you need to get from Vienna Airport to the center of Prague, then you do not need to go to the center of Vienna and spend time and money on it, you can take a bus right at the airport.
You can buy tickets for buses throughout Europe on the website Omio. The site compares ticket prices for all companies for the same destinations, and you do not need to waste time looking for the right bus company. The site is in Russian, you can pay by card in any currency: Euros, Czech crowns, rubles and hryvnias. Ticket prices on the aggregator are the same as on the official sites of bus companies, you will not overpay a penny. However, if you think that the tickets for popular destinations go quickly, especially in the summer, so do not delay.
Cab from the airport
If you want to comfortably get to the hotel, you have a lot of luggage and bad weather outside, such as heavy rain or heat, it is better to take a cab. You can take a cab outside the arrival hall. The trip to the center of Vienna will cost about 50 euros, only you can be upset by the fact that the cab drivers can only speak German.
If you are afraid not to understand the local cab drivers, or do not want to get lost at the airport, it is better to order a taxi-transfer from the Vienna airport via the Internet from a Russian company in advance. You will be met at the arrival hall by a driver with a sign and will take you to your destination, for example to the hotel. If you order a cab in advance online you will get a discount. You can book a Russian cab from any hotel in Vienna to the airport and not only, for example, the following destinations are available: Baden, Bratislava, Bück, Pandorf, the ski resort Zell-am-See, Kaprun, Hinterglemm, Bad Gastein, Flachau and more than 100 other destinations. Our cab transfer service will not cost you more than an official cab or other businesses that offer airport transfer in Vienna.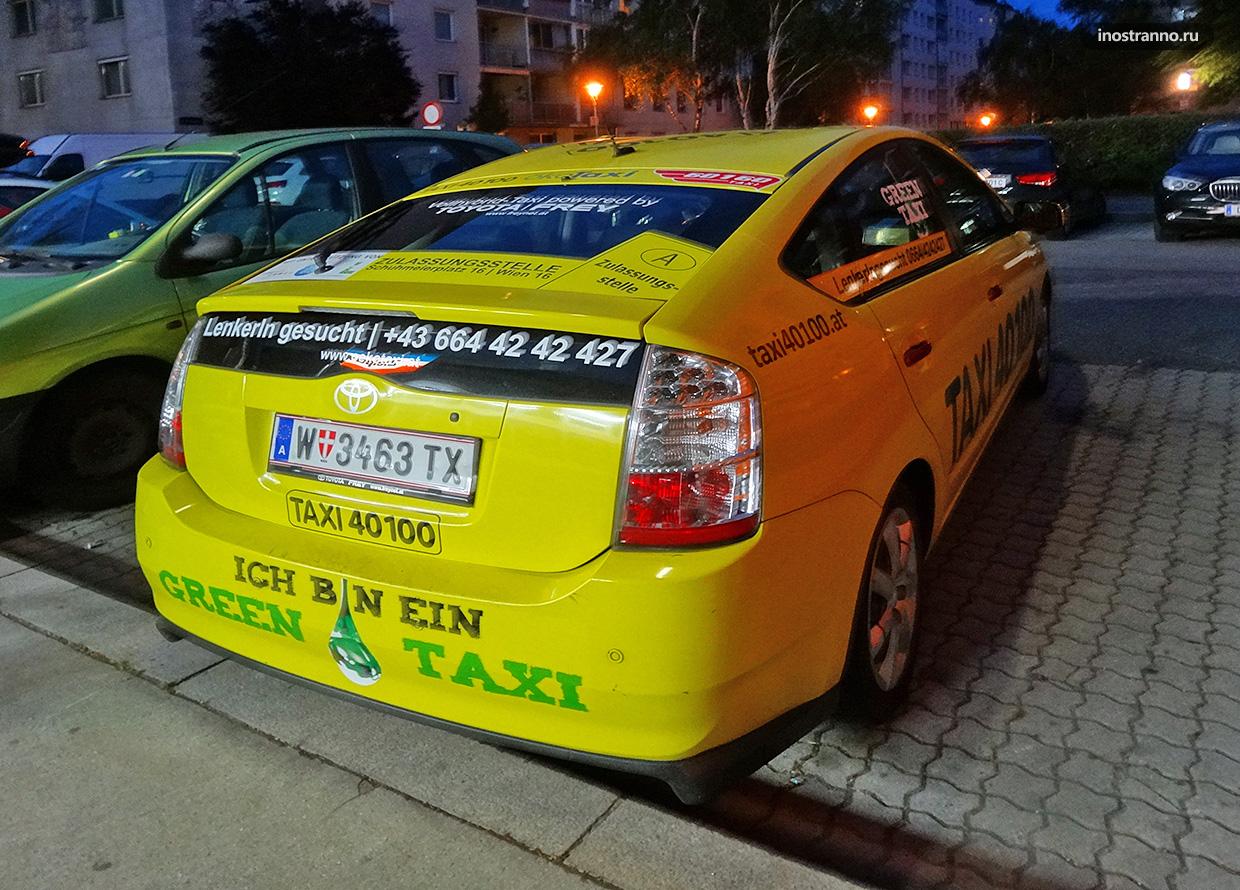 Rent a car
Independent travelers prefer to travel in a rental car when traveling so they can see as many places as possible during their vacation. If your budget and skill allow you to rent a car, then don't hesitate to take it. The car can be picked up both at Vienna's airport and in the city center. With a rental car it is easy to travel: it is like travelling in your own car.
We rent cars for travel at the best prices and conditions on the Russian site Rentalcars. The site compares prices of all rental agencies from local to well-known: Hertz, Europcar, Avis, Budget and others.
How to get to Vienna Airport
When driving from the center of Vienna to the airport, you should act as described above in the opposite direction and when leaving the subway, always pay attention to the signs that indicate where to go to find a bus or train to the airport. And on the last day of your stay in the Austrian capital buy tickets to the airport in advance, so that not to run with suitcases on the station in search of a ticket or ticket vending machine.
You may also be interested in
Websites for saving money when traveling!
Hotellook – Comparison of prices and discounts for hotels and apartments in 50 different booking systems (Booking, Agoda, Ostrovok.ru, etc.). Plan your trip in advance and save up to 40%!
✈ Find the cheapest tickets without extra charges from Aeroflot, S7, Ural Airlines and other famous airlines all over the world.
79 comments
Thank you very much to the authors of this article for the excellent detailed instructions. When I arrived to Vienna I noticed that all tourists took the CAT train from the airport (thanks to advertisements all over the airport), whereas I decided to take the S7 train. And instead of 11 euros I spent only 4.2, and the travel time was the same – 20 minutes. I managed to save almost 8 Euro! Fortunately, my hotel was in the center, and I walked to it in 20 minutes from the station Wien Mitte, admiring the views of the city.
How do you get to the station, how do I get there?
Ivan, hi. Could you tell me if this train is easy to find at the airport?
Hello! Thank you for the text. Can you tell me if it is possible to go straight from the airport by anything other than a cab to Salzburg?
Ivan, good day. There is a train station at Vienna airport called Flughafen Wien Bahnhof. And from there to the main train station in Salzburg (Salzburg Hbf) there are direct trains. Travel time is 2 hours 49 minutes on the RJ train (at a cost of 39-44 euros per person one way) and 3 hours 15 minutes on the IC train (at a cost of 19-24 euros per person one way). Each of these train types runs from Vienna Airport to Salzburg once an hour until about 8 pm. The timetable and ticket prices can be found on the Austrian Railways website.
Vienna Airport: How to get to the city center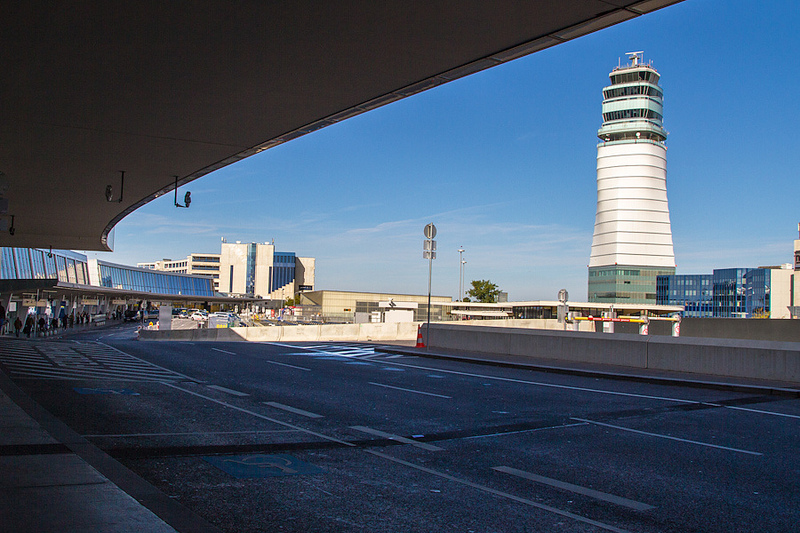 Here's how to get from Vienna Airport to the city center and the best way to get there. We also give prices, timetables, stops, and useful links.
Vienna-Schwechat Airport (Flughafen Wien-Schwechat, code VIE) is located outside the city center, about 18 km away. Thanks to a well-established transportation network, it is very easy to get to and from Vienna Airport. There are various ways, and we will tell you about each of them: by train, bus, cab and rental car. In addition, from Vienna Airport you can go to Bratislava and other European cities – about that at the end of the article.
Fly often? Install the handy Aviasails app on your smartphone to quickly find cheap airline tickets on Android or iPhone. Read also the instruction on how to search for cheap airline tickets correctly.
Look for interesting excursions on Sputnik and Tripster. Individual and group, without crowds of tourists and in Russian.
Content:
How to get to/from Vienna Airport by train?
City Airport Train/ CAT
The CAT train is the fastest way to get from Vienna Airport to the city center; it takes only 16 minutes without stopping! This way you avoid traffic jams and stress. To find the train at the airport, follow the green CAT signs.
Where do I catch the train in Vienna? The terminal is a 10-minute walk from St. Stephan's Cathedral at the Wien Mitte station. Trains run daily, with the first leaving the airport at 6:09 and the last at 23:39. The first train leaves from Wien Mitte station at 5:36, the last one – at 23:06. You can check in and check your luggage at the City Air Terminal (at least 75 minutes before departure).
One-way ticket costs 11-12 euros, round trip costs 19-21 euros. Children under 14 years of age can travel free of charge. You can buy them in the arrival hall in special CAT machines, on the platform or on the website.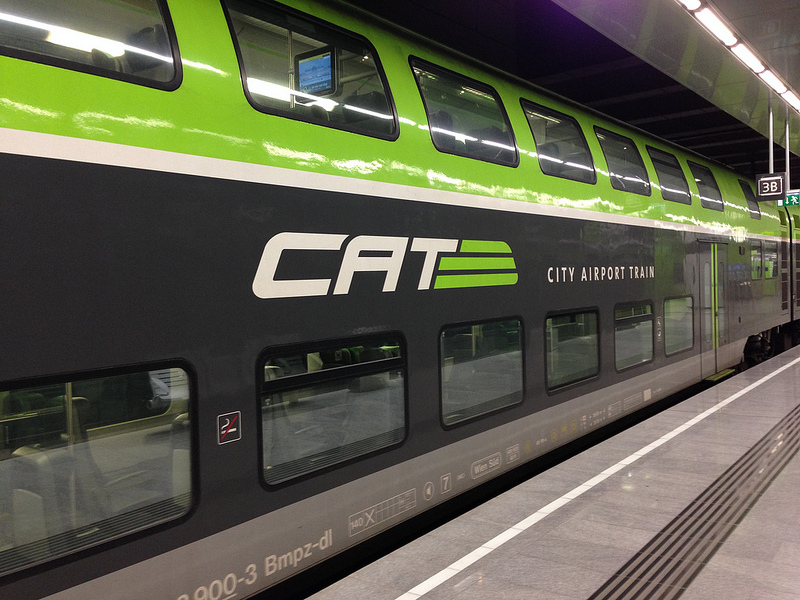 (Photo: andynash / flickr.com / CC BY-SA 2.0 license)
S-Bahn trains
You can get from Vienna airport to Wien Mitte station on the S7 electric trains. Journey time is 25-30 minutes and the interval is 30 minutes. Trains Railjet take 15-18 minutes to get from the airport to Vienna Central Station (Wien Hauptbahnhof) at an interval of 30 minutes.
If you go by train S7, you can change to the subway. The ticket price is 3,90 euros (according to the site public transport is included in the price – in general you must buy two different tickets because the airport is located outside the city. We advise to clarify this on the spot). You can see the schedule and prices on the official website, where you can also buy tickets. They are also sold in vending machines and at train stations.
Vienna Airport bus (and return)
You can take a bus from Vienna Airport to the city center, if you are not afraid of traffic jams. The buses are comfortable and fast.
Vienna Airport Lines
There are three routes of this carrier that will take you from Vienna Airport to the city center:
Wien Morzinplatz/Schwedenplatz . This route allows you to leave for Vienna at night. Buses from the airport leave at 1:20, 2:50, 4:50 and 5:20, during the day and in the evening every 30 minutes until 00:20. The trip takes 20 minutes. From Morzinplatz also runs every 30 minutes from 00:30 to 23:30.
Wien Donauzentrum (via VIC) . From Vienna-Schwechat every hour from 7:10 to 20:10, back from 5:58 to 18:58. Travel time is 40 minutes.
Wien Westbahnhof . Into the city every 30 minutes from 6:05 to 00:05, back from 5:15 to 00:40. The trip will take about 40 minutes.
Tickets cost 8 euros one-way and 13 euros round trip; children from 6 to 14 years old are 4 and 8 euros respectively, and under 6 years old are free.
Tickets can be purchased on the official website, from vending machines at the airport, at Austrian Railways ÖBB ticket offices or from their vending machines, and from the driver. The stop is directly in front of the airport.
Air Liner
Buses and coaches to and from Vienna International Airport on the Air Liner run directly to the airport. The fare is lower than on the Vienna Airport Lines: EUR 5 for adults one way and EUR 9 for children aged 6 to 11 years old, EUR 2.5 and EUR 4.5 respectively and free of charge for children under 6 years old.
The buses depart from Wien Erdberg – VIB Vienna International Busterminal, which is located at Erdbergstraße 200 A 1030 Wien. The stop is in front of the terminal and Erdberg station (line U3). The stop at the airport number 9 on the ground floor (Busterminal 3).
You can buy tickets online, from the driver and at Vienna International Busterminal (open daily from 6:30 to 23:45). From the city to the airport buses run from 5:05 to 22:05, from the airport to the city – from 5:30 to 22:30.
How to book a hotel in Vienna? Find a convenient option of accommodation can be found on the well-known service Roomguru.ru – the site compares the prices of various booking systems and finds the best.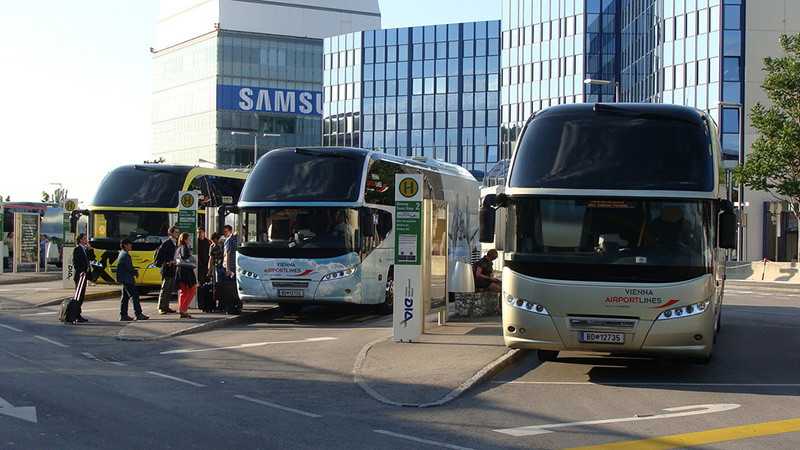 (Photo: kijasek / flickr.com / CC BY-NC-ND 2.0 license)
Cab from Vienna Airport
This is the most comfortable way to get from Vienna Airport to the city center, as a cab will take you directly to your hotel. Keep in mind that there may be traffic jams. In addition, this option is the most expensive: a cab from the Vienna airport to the center costs from 37 euros and above. However, if there are a few of you, it will be quite economical.
There are several companies at the airport (the cars are in the same place as the buses – in front of the arrivals hall), but it is better to use a proven service Kiwi Taxi and order a transfer from the Vienna airport in advance. This way you will avoid having to explain the route and will not run into a dishonest driver, because the payment is made online. The driver will meet you with a sign and help you stow your luggage. On the site you can choose a car of high comfort and even a minibus with a capacity from 6 to 19 people. In addition, you can book a shuttle service from Vienna to neighboring European cities like Bratislava or Prague.
(Photo: Roberto Verzo / flickr.com / CC BY-NC-ND 2.0 license)
Rent a car
Independent travelers accustomed to freedom of movement and comfort, as well as those traveling with children, are better off renting a car, especially if Vienna is not the only destination on your trip. You can do this as upon arrival at the terminal or in advance at Rentalcars.com. It is convenient that the car can be returned at the airport before departure.
Intercity buses
Если вы не хотите заезжать в центр города и ваша цель — Словакия, Румыния или Чехия, то прямо из аэропорта Вены можно уехать на автобусе в следующие города: Братислава, Прешов, Кошице, Будапешт, Дьёр, Брно, Прага, Зноймо, Богумин. Узнайте подробнее об автобусах из аэропорта Вены в Братиславу >>.
You can also take a cab there – more convenient but more expensive. For example, a cab from Vienna Airport to Bratislava costs from 66 euros.