Visa to Cambodia for Russians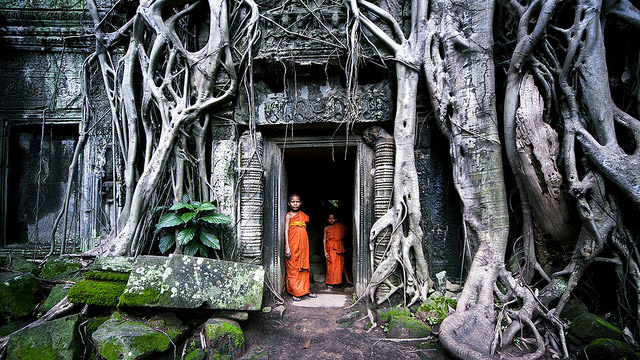 Informative and brief about obtaining a visa to Cambodia for Russians: whether, how and where to obtain, how much it costs, necessary documents in 2022, types and validity of visas.
Ancient temple complexes, floating village, crocodile farm and lotus plantations – Cambodia is unique in its kind, but still developing as a tourist country. Therefore, the main stream of our compatriots often comes to its vast expanses from neighboring Asian countries – Thailand or Vietnam. Do I need a visa to Cambodia for the Russians in 2022? Yes, the kingdom has a visa regime, but the procedure for obtaining a visa is greatly simplified – read below about how and where to get a visa, how much it costs and what documents are required.
Types of visas to Cambodia
An ordinary tourist visa to Cambodia for Russians allows you to stay in the kingdom for 30 days and costs $36. It can be obtained on arrival, at the consulate or online.
Study visa . To obtain this visa you need to pay tuition fees and submit supporting documents from the educational institution.
Transit visa. Please note that it is not possible to transit through the country without a permit – a transit visa is issued the same way as a tourist visa.
Visa to Cambodia on arrival
Ordinary tourist visa to Cambodia for 30 days the Russians can get in Siem Reap and Phnom Penh airports on arrival. You must present a valid passport for another 6 months from the date of entry, and a photo 45 to 35 mm, fill out the questionnaire and pay a fee of $ 30. If you do not have a photo, you may be required to pay a fine of $3-$5.
Processing time depends on the number of passengers, usually not more than 30 minutes. Visa is pasted and takes an entire page in the passport, so at least two free pages should remain. You can extend it once a month at the immigration office, you have to pay $ 50.
Be sure to obtain medical insurance, especially if you go on a trip with a child. The policy costs a penny, but in case of illness it will save your nerves and money. You can choose and buy good insurance at Cherehapa. Take a policy with coverage for Dengue fever treatment.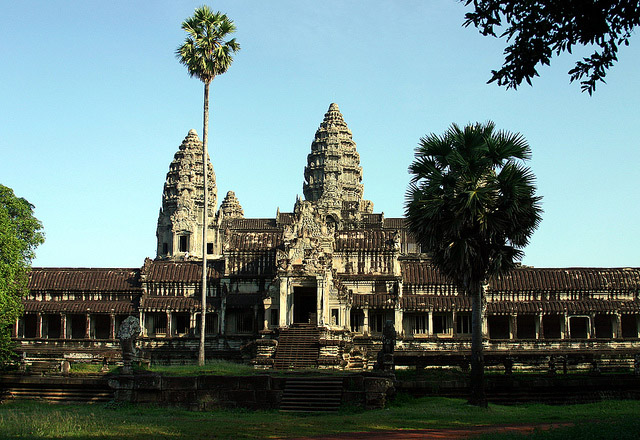 (Photo: Christian Junker – AHKGAP / flickr.com / CC BY-NC-ND 2.0 license)
Electronic Visa for Cambodia
Russians can apply for an electronic visa to Cambodia online at the official website. There you need to fill out the questionnaire in English and add a color scanned image of your passport-sized photo. The cost of registration – $ 36. You can pay by bank card Visa or MasterCard, for a transaction may be charged a fee of $ 3.
You can also apply for an electronic visa to Cambodia on the Russian site eVisanet. It is much more convenient, because the application form is in Russian and there is a support service. The cost – 3990 rubles.
The application is considered 2-3 days and send the visa to e-mail. It should be printed out and take prints with you (better a few copies, because they may require at the exit from the country).
With e-visa you can enter only through the main international airports of Siem Reap or Phnom Penh, or through some border crossing points from Thailand (Poipet and Cham Yeam) and Vietnam (Bavet). Departure without restriction, it is revoked upon departure.
Duration – 3 months, of which 30 days you can stay in Cambodia.
Tourist visa processing in Russia in 2022
You can apply for the visa in advance at the Consular Department of the Cambodian Embassy in Moscow at 16, Starokonyushenniy Pereulok. Applications are accepted daily, except weekends, from 9 to 13 hours. The issue of finished documents is from 14 to 17 hours.
For Russian citizens in 2022:
Completed application form.
Three fresh photos of standard passport size.
Passport valid for at least six months – original and copy.
If you are traveling with a child, additional documents are required:
For children under 14 years of age – the child's birth certificate (original and copy) with a note of citizenship, the passport of one parent; over 14 years – the child's passport.
Two photos.
Help from the child's educational institution and one parent's place of employment.
Power of attorney from the second parent to accompany the child, if only one parent is going or power of attorney from both parents, if the child is being accompanied by a third party.
Passport (internal and foreign) of the accompanying persons.
The cost of a visa to Cambodia is $30, payable locally in rubles. The visa will be ready within 2-3 days, the allowed period of stay is 30 days. In the case of refusal, the money is not refunded.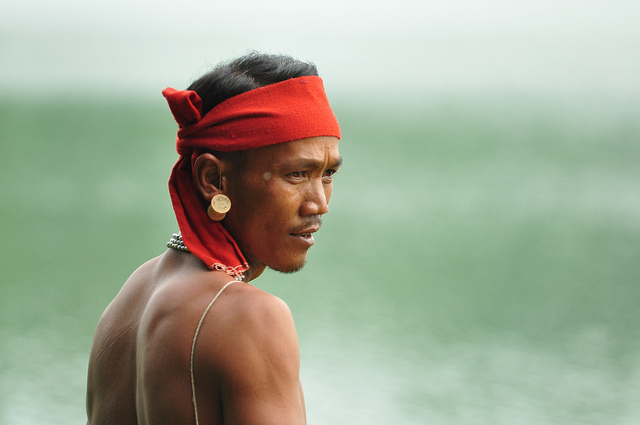 (Photo: ILO in Asia and the Pacific / flickr.com / License CC BY-NC-ND 2.0)
Visa in Asia
In advance
Russians, as well as citizens of many other countries, can obtain a visa to Cambodia while outside of their country. Quite simple procedure of registration in Bangkok in Thailand. It takes one day, you need a standard package of documents (passport, application form, photo, a copy of the main page of the passport) plus a copy of the passport with a visa of Thailand and/or a stamp of entry. This "speed" costs $35 instead of the designated $30. Documents are accepted on weekdays from 9 a.m. to 12 p.m. and entry permits are issued from 2 to 5 p.m. The address of the embassy in Bangkok is 518 / 4 Pracha Uthit Rd. (Soi Ramkamhaeng 39).
At the border
It is convenient to visit Cambodia from neighboring Thailand or Vietnam – there are special buses. To get the official permit a tourist must go through border control, fill out a migration card and give a picture with your passport, paying $ 30. If no photo – penalty 100-150 baht. These rules apply at all border crossings, except Laos.
The tourists complain in their reviews that at some border crossings border guards cheekily set their own prices – from $40 to $50, and even higher. Sometimes they demand to pay only in baht. If you do not want to overpay and be nervous, we recommend to get electronic visa to Cambodia.
Visa Extension to Cambodia
For each day overdue there is a penalty of $5, but you can renew for another 30 days at the country's immigration office, paying $45. Registration is simple, if you have no desire or time to do it yourself, as the waiting period can take up to 3 weeks, you can use the services of a special agency for $ 50-100. With individuals, offering their help, it is better not to contact.
As you can see, the ways to obtain a visa to Cambodia for the Russians in 2022 are simple and clear, the requirements are minimal, so that the permit will not be a problem for the tourist.
Share your personal experience of getting a Cambodian visa in the comments!
Cambodia: visa for Russians in 2022
Unlike its neighbors in the region – Vietnam and Thailand, which are quite popular among Russian citizens, Cambodia is not accessible without a visa. Although the process of obtaining a document does not present serious difficulties, there are still subtle points in the design of the Cambodian entry visa.
There are three pre-release visa for Russians in the year 2022. The drivers will receive the visa in Moscow through the Royal Cambodian Embassy (Consulate), online, and at the border crossings by land, air, or sea.
The Cambodian visa can be processed within few minutes at the border.
Who needs a visa
A Cambodian visa is a must for all Russians regardless of the purpose of their visit to the country. Cambodia is gaining popularity among our travelers, so visa issues are becoming increasingly important when planning a trip.
Cambodia can be visited not only for tourism purposes: you can go there as a student, you can get a job or do business in Cambodia. Or you can even stay there to live. Of course, in all such cases, you will need a visa.
Stamp on the border crossing of Cambodia
Types of Cambodian visas
According to the purpose of travel, visas to Cambodia for Russians are divided into several types:
Tourist – the most popular type for Russians, the document is suitable for trips around the country, holidays at seaside resorts of the state;
Transit – unfortunately, you can not pass through Cambodia without this visa, it is necessary to make out the same as the others;
Visitor visa – this is an entry at the invitation of the Cambodian side;
Study visa – for the purpose of studying/training courses;
Business visa – for work.
It should be said that this division is rather relative. Almost all types of Cambodian visas are processed similarly to the tourist visa, with almost the same package of documents. The only significant difference is the validity period, which is individual in every case.
Visa registration
Russian traveler can choose one of the three available ways to obtain a visa to Cambodia. The choice will depend on where the traveler is physically located and how it will be more convenient for him.
Through the Cambodian Embassy (Consulate)
The most obvious option is to contact the Embassy in Moscow. A minimum package of papers will be required to obtain an entry document:
A passport that is still valid for at least six months;
Two photos of size 3 × 4, the other requirements for photos are the same as in the Schengen;
The visa application form, properly completed in English;
A photocopy of the passport.
Also visa application is available through the Embassy or the Consulate of the Kingdom of Cambodia, which are located in other countries such as Thailand, Vietnam and so on.
Via Internet
This method is the most convenient and popular, as it allows a Russian citizen to apply for a visa to Cambodia from anywhere, not necessarily being in Russia. E-Visa (or electronic visa) has limitations:
Under the E-Visa it is possible to cross the border by air – arriving at international airports in Siem Reap, Phnom Penh;
Crossing by land is only allowed at Poi Pet / Banteay Meanchey and Cham Yeam / Koh Kong at the border with Thailand, and Bavet / Svay Rieng at the border with Vietnam;
You cannot enter Cambodia through Laos on the E-Visa.
Photo of E-Visa to Cambodia
E-Visa processing procedure
E-Visa to Cambodia for Russians is made on the website of the Ministry of Foreign Affairs of Cambodia. Registration steps:
Go to the Internet site of the Ministry of Foreign Affairs of Cambodia;
Fill out the electronic application form, use English;
Upload a scanned photo to the appropriate section. Photo must be new, not older than six months, the size – as in the passport;
Pay the consular fee with your bank card.
You should pay attention to the fact that the site often crashes. If the failure occurs after the payment of the consular fee, the amount for the E-Visa the applicant will have to send again.
The E-Visa must be printed in duplicate, as it may be asked to be shown at check-out.
At the border
Russians can apply for a visa to Cambodia directly at the border. This is done at the airports and checkpoints bordering Thailand and Vietnam. Remember that according to the rules it is not possible to get visa on the spot when crossing the border through Laos.
Each traveler is given a visa application form to fill in. If you do not have a photo, it costs 2-3 dollars to scan a passport photo with a border guard.
Deciphering the fields of the migration card for a visa to Cambodia
The set of documents for a visa to Cambodia at the border is not different from that of the visa application through the Embassy in Moscow, only one photo is required.
Among the list of papers does not include hotel reservation and return tickets, as booking a hotel and having return tickets for an entry visa is not necessary.
Features of non-tourist visas
Any visa to Cambodia that is not a tourist visa is made with exactly the same set of documents. Both work and study visas can be obtained at the border: border control officers may require to show documents that are the basis for obtaining a certain type of visa, proof of sufficient funds, return tickets. But even if none of this is available, issues are always taken care of for an additional fee.
Cambodian non-tourist visas differ in the amount to be paid for their renewal, as well as the validity period.
Peculiarities of entry
All travelers should keep in mind that in matters related to the Cambodian visa, you will have to face extortion by visa officers and fraud. This can be avoided by obtaining a visa from the Embassy while still in Moscow, and upon arrival at Phnom Penh and Siem Reap international airports. When crossing the land border by land transport or on foot, fraudsters have the most opportunities.
To avoid overpaying, "thanking" visa officers for money, and not dealing with sneaky scammers, you need to remember these points:
Do not use the services of friendly people, who offer to get a visa for the price three times higher, their services cost from $60. They usually guard tourists near the checkpoints, you should ignore them and go straight to the visa officers;
If a border officer demands a medical card and tries to charge a fine for not having one, you should know that his demand is illegal – no medical card is needed;
The official price for all border crossing points is the same, if they demand more money, it is also illegal;
You should not give your passport to a person who comes up and politely offers to do everything without a queue;
You should avoid the offers of drivers – despite the fact that they offer a ride to the immigration office, in the end, the tourist gets to the intermediary firm, which takes a triple price for the processing of visas.
Unfortunately, it is almost impossible to avoid petty extortions at the border. If the requirements of "fines" or "gratitude" to the border guard are within normal limits and are limited to a couple of dollars, it is better to pay them and save your nerves.
Visa extension
Any of the visas to Cambodia can be extended without having to leave the state. This is done through the immigration office on the spot for an additional fee or through a travel agency, but then you will have to pay two or even three times the price.
Visa to Cambodia for a child
For those families who plan to travel to Cambodia with minor children and will apply for children's visas, you will need to take these additional documents:
A birth certificate with a note of citizenship;
Children's passport if they are over 14 years old;
Reference from school;
Copies of passports/foreign passports of parents/guardians;
Reference from parent's employment;
Consent/authorization for departure of a minor notarized by one/two parents/guardians, depending on the family composition.
Cost and duration
The official consular fee for a visa to Cambodia for Russians is the same for all methods of crossing the border, as well as for all methods of obtaining both the E-Visa and the paper equivalent. Terms of validity, number of days of stay are different.
| Type | Cost | How long is valid? | Number of days of stay |
| --- | --- | --- | --- |
| Tourist | 30 dollars | One month | 30 days |
| Business, single entry | $35 | One to three months | 30 days |
| Business, multiple entry | 40-300 dollars | Six months to a year | No restrictions |
| Renewal | From $45 | 1,3,6,12 months | Depending on type |
It is possible to pay in rubles only at the Embassy, in all other situations rubles are not accepted.
Normal tourist visa stamp is a single entry, when leaving the country it must be annulled. If you want to re-enter, you must obtain a new document and pay the consular fee again.
Time of registration
The visa registration process at the border takes very little time – an interval of about 20 minutes. If there are no queues there, it can be completed within five minutes. The Embassy does the visa for three days, but for an additional five dollars can issue a passport with a ready stamp on the same day.
Refusal of entry
It is not possible to get a visa refusal when processing through Embassies and Consulates. However, at the border with the traveler may require additional documents in order to take it from him $ 10-20 dollars in his pocket. In most cases, these requirements are not legitimate: each tourist decides for himself – to seek his own, or it is better to pay and enter the country. If a traveler does not want to pay at all, he may try to appeal to the leaders of the dishonest customs officer.
Video: getting a visa to Cambodia
Embassy of Cambodia in Moscow
Address: Moscow, Starokonyushenny Lane, 16;
Phone: +7 (495) 637-47-36;
Hours: 9:00-13:00, weekdays.
Attention! Due to recent changes in Russian legislation the information in this article may be out of date.

Ask your question in the form below and get a free legal consultation right now!