All ways to reach the airport of Knevichi – by bus, by train, by cab
Airports
Knevichi International Airport is located 2.5 km from the city of Artem. Its distance from Vladivostok is 38 km in the northeastern direction. The airport serves domestic and international flights. You can get to the airport by private car, by cab or by public transport.
In this article, we consider the most popular ways to get to Vladivostok to Knevichi Airport by different types of transport, schedules and prices, advantages and disadvantages.
How to get to Knevichi Airport by car
It is possible to reach the airport named after V.K. Arsenyev by own car from Artem and Vladivostok.
Driving from Vladivostok: follow Ulitsa Oktyabrskaya to the first exit, where you turn right and drive along Prospekt Krasnogo Znamya. Reaching Nekrasovskaya Street, turn onto Prospekt 100letiya Vladivostok, and from there go straight on to Mayakovsky St. Then go straight on Tayozhnaya street through Trudovoy settlement, the next street on the route is Gagarina street, which leads to V. Saybelya street, where Knevichi international airport is located.
There are several parking areas at the airport: paid, free, long-term and short-term. There is a paid hourly parking lot in Zone A. The cost of a parking space is 300 rubles/hour.
You can leave your car for a long time at paid parking in zones C and E. The cost of the parking space – 300 rubles per day.
The distance between the city and the airport on highways is 53 kilometers. Travel time by car from Vladivostok – about 60 minutes (depends on traffic congestion).
Cab and transfer to the airport named after Arsenyev
You can comfortably reach Knevichi Airport from any region of Vladivostok by cab or transfer. There are several reliable carriers working in the city: Yandex, Uber, and others. The average cost of a cab ride from Vladivostok – 900 rubles, from Artem – 150 rubles.
Vladivostok's passenger transportation is also provided by transfer companies. You need to book an airport shuttle in advance. A client chooses the class of a car for the trip by himself. The driver will help to bring the luggage to the registration desk at the airport. The cost of the trip from Vladivostok to the airport terminal Knevichi – from 1500 rubles.
Rent a car at the Vladivostok airport terminal
Tourists, planning to comfortably travel around Vladivostok on vacation or on business, may rent a car for any period of time from 1 day. Car renting companies, whose representative offices are located on the territory of the airport terminal, provide this service. The conditions of car rental are standard. The cost depends on the number of days of rental, class and equipment of the selected car. Economy class cars are rented out at the average price of 800-1000 rubles per day.
How to get to Knevichi by public transport
One budget way of moving from Vladivostok to Knevichi Airport is to use public transportation. There are shuttles, buses, electric train and Aeroexpress in this direction.
By bus and shuttle
From Vladivostok railway station stop to Knevichi Airport run buses #107 and minibuses #101. The first trip leaves at 6.10 a.m., the last – at 19.35. Movement interval – 20-30 minutes. The fare is 200 rubles. Travel time – just over 1 hour.
You can also get to Knevichi Airport from the bus station in Artem, where the international buses go: #601, #569, #520, #555, #609.
By train
In order to bypass traffic jams on roads, you may reach Knevichi Airport by electric train from Vladivostok Railway Station. The first electric train departs at 8:00 am, the last – at 20:00 pm. The interval of movement – every hour. Travel time – 50 minutes. Terminal stop – airport Knevichi. From the station you can quickly get to the airport by minibus № 7.
By aeroexpress
Aeroexpress-Primorie also departs from the Vladivostok railway station to the airport. Departure time: 07:10, 09:02, 11:51, 16:00. 00 min., 18 h.00 min. Travel time – 55 minutes. The fare is 270 rubles. Aeroexpress arrives at airport Knevichi terminal.
At night, you can reach the airport from Vladivostok and Artem only by own car, cab or by transfer.
How to get to the Vladivostok Airport. All transport options, prices and schedules
Airport named after Arsenyev Vladimir Klavdievich (a famous geographer and explorer of the Far East) has the status of an international airport. The air gateway is located almost 4 kilometers from the center of Artyom and 38 kilometers northeast of Vladivostok. We tell in our article how to reach the airport by different ways and not to miss the plane.
Address: Primorsky Krai, Artem, Vladimir Saybelya street, 41.
Time zone: UTC +10, MSC +7.
IATA code: VVO , ICAO: UHWW .
Official website: vvo.aero
Phones:
Airport Knevichi Vladivostok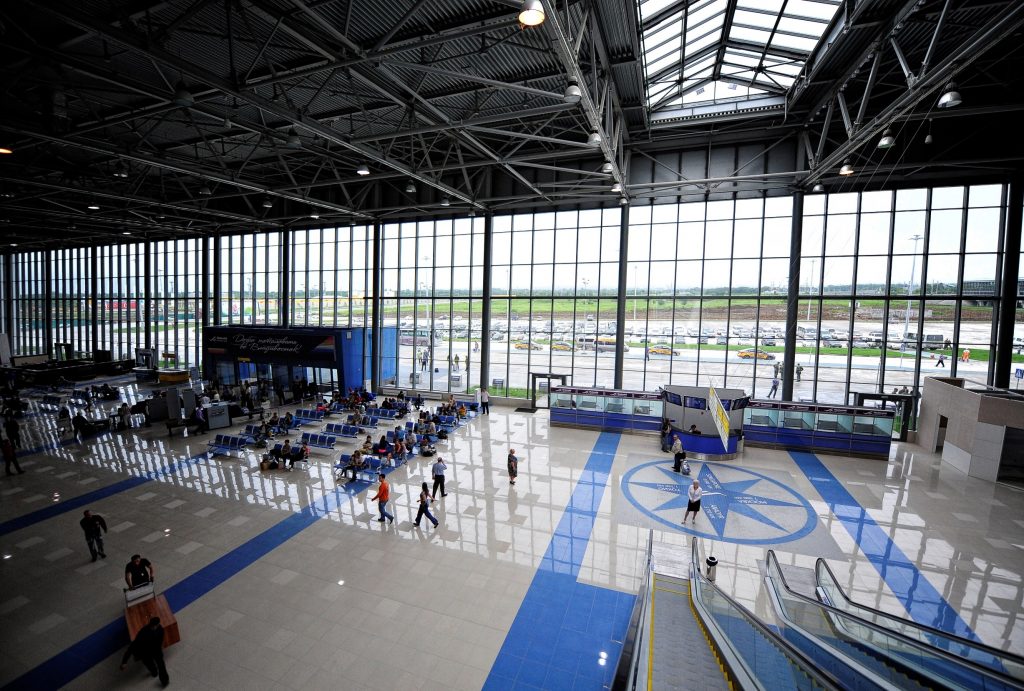 It is a modern and advanced air terminal of the Far East. Airport Knevichi consists of one Terminal A, which serves domestic and international flights. Check-in counters are located on the first floor, where the baggage reclaim area is located. Here you can find coffee shops, toilets, and car rental desks. On the second floor are the airline offices and on the third floor are the departure lounges, passport control and security screening area.
You can get to the airport by public transportation, city buses, train, as well as by cab, shuttle, and private car.
Free buses, special shuttles to the airport in the city are not provided and carsharing is not yet available.
How to get to the airport by public transport
There are several bus routes. You can go to Knevichi West from Artem and Vladivostok by city bus or shuttle bus. Intercity buses also operate on the route.
Going from Artem to Knevichi
To go from Artem's city center, take bus #7 at the bus station and get off at the terminal. Transport runs at 30 minute intervals from 07:30 to 20:30. Fare: 30 rubles.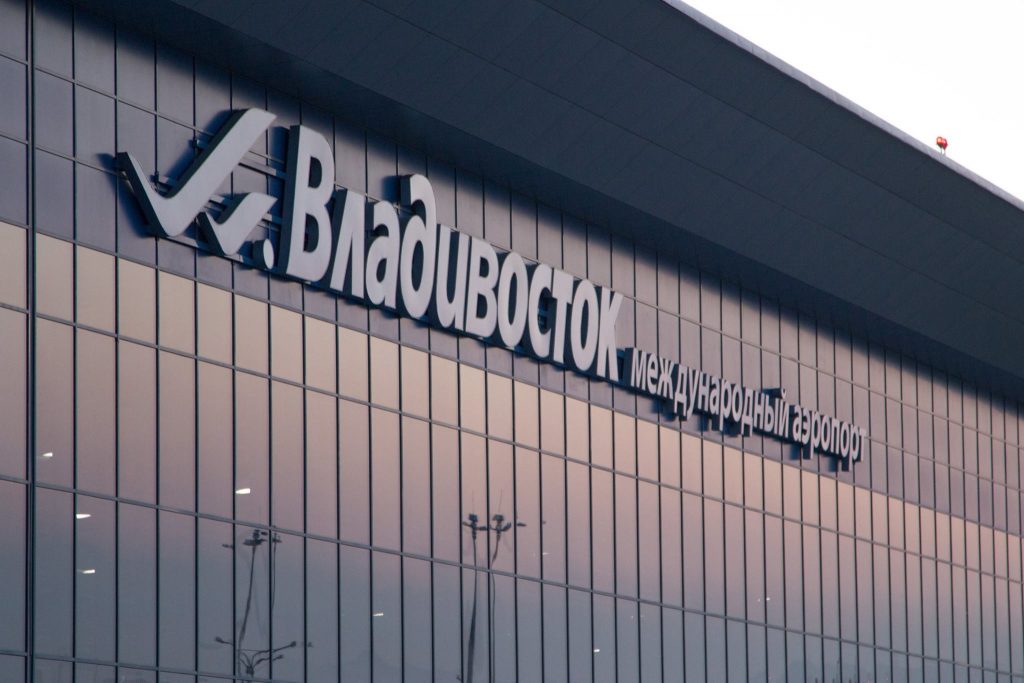 Driving from Vladivostok to the airport
You may get to Knevichi from Vladivostok railway station by bus No. 107. It stops at the airport's square. The fare is 200 rubles. Travel time – about one hour.
Timetable from the city:
Bus with 45 seats: 6:40, 10:20, 14:00, 17:45.
A minibus with 12 seats: 6:10, 7:30, 7:40, 9:00, 9:20, 10:30, 11:00, 12:10, 12:20, 13:20, 14:30, 15:00, 15:40, 16:20, 18:10, 18:30, 19:35.
Airport schedule:
45-seat bus: 8:10 a.m., 11:50 a.m., 3:50 p.m., 7:30 p.m.
Minibus 12 seats: 7:40, 8:50, 9:30, 10:30, 10:50, 12:10, 12:30,13:30, 14:10, 14:50, 16:20, 16:40, 17:45, 18:10, 20: 00, 20:30, 21:10
Intercity buses
You can also get to the airport by intercity buses. They depart from the bus station in Artem. Route goes to the bus station in Vladivostok, and then you simply change to the 107th bus.
From Nakhodka: bus number 601, departs from the station square.
From Ussuriysk city: buses number 564, 609, 601, 555, 552, 520 leave from the railway station square.
From the city of Arseniev: Take bus number 520 at the bus stop from the railway station square. On Monday, Wednesday and Friday, this route bus number 609.
From the town of Bolshoi Kamen – bus number 555.
From the town of Spassk-Far – bus number 609.
To the airport by train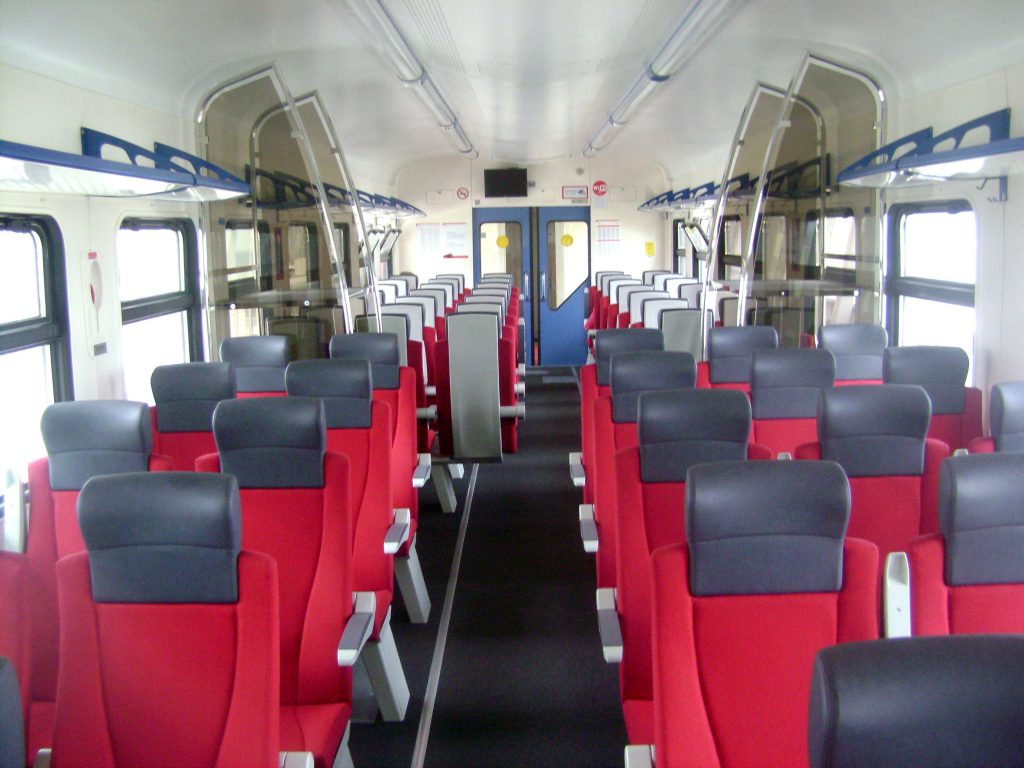 Use the train to arrive at the airport on time and avoid traffic jams. Take a train Express Primorye at the railway station and go to the stop "Knevichi Airport". Journey time – about an hour. The cost of travel – 250 rubles.
There may be changes in the train schedule, so you can check the schedule on the website of Russian Railways or Tutu.ru. Aeroexpress train arrives directly to the airport building.
How to get to the airport at night
Public transport stops running at around 10:00 p.m., so you can only get to the airport at night by shuttle, cab or private car. Here's how to order transportation to the Vladivostok International Airport.
Going to the airport by cab
Yandex.Taxi and Uber operate in the city. Choose the service you like, call a car and comfortably travel to the airport. So, you can go from Artem to the airport by Yandex.Taxi with a tariff "Econom" for 130 rubles, and with "Comfort" – 150 rubles.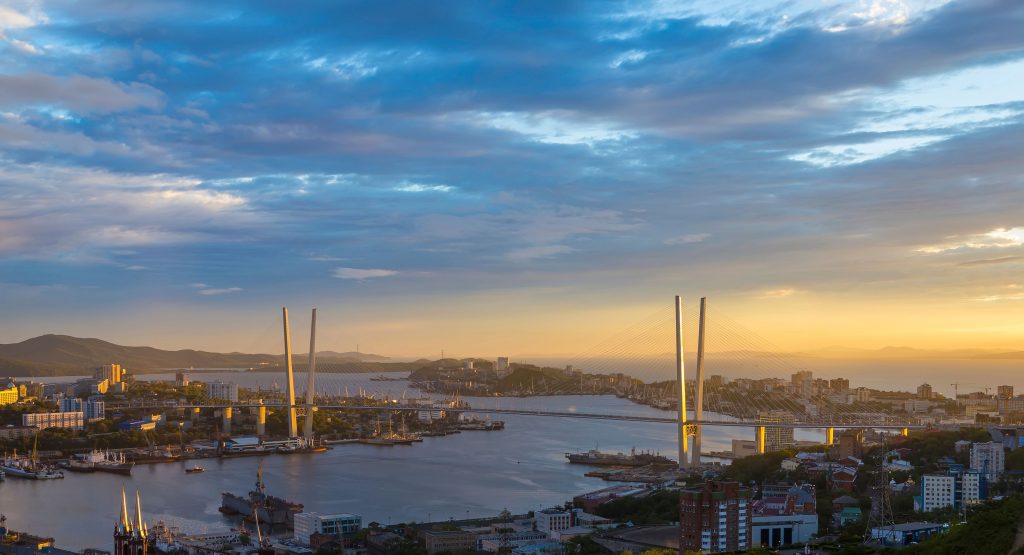 The trip from the center of Vladivostok will be more expensive and will cost 1,100 rubles for the "Economy" fare. "Comfort" – 1400 rubles. If you go from the Soviet district, the price will drop slightly to 870 rubles on Economy and 900 rubles on Comfort. From the Pervorechensky and Leninsky districts the cost rises by 40-50 rubles.
Transfer to the airport
Transfer is a personal service for travelers. You book a car in advance, the driver meets you, loads your luggage in the car, drives to the airport, helps to bring luggage to the registration desk and shows you to the flight. If you arrive at the airport, the driver also meets you in the arrival area, loads your luggage and drives you home from the airport.
This service is often ordered for corporate travel, but is also popular with families traveling with children and with lots of luggage. Book a transfer if you are going to go to the airport at night. In such a situation, it is worth choosing a reliable carrier. For example, KiwiTaxi.
If you order a transfer from Artem to Knevichi, then the trip by car of economy class will cost 1600 rubles, by comfort – 2340 rubles. And if you go from Vladivostok, "Economy Class" will cost 1,900 rubles, and "Comfort" – 2,646 rubles.
How to get to the airport Knevichi by car
This is a suitable option for travelers who like to plan their own route. Be prepared to entrust your car to someone close or pay for daily parking.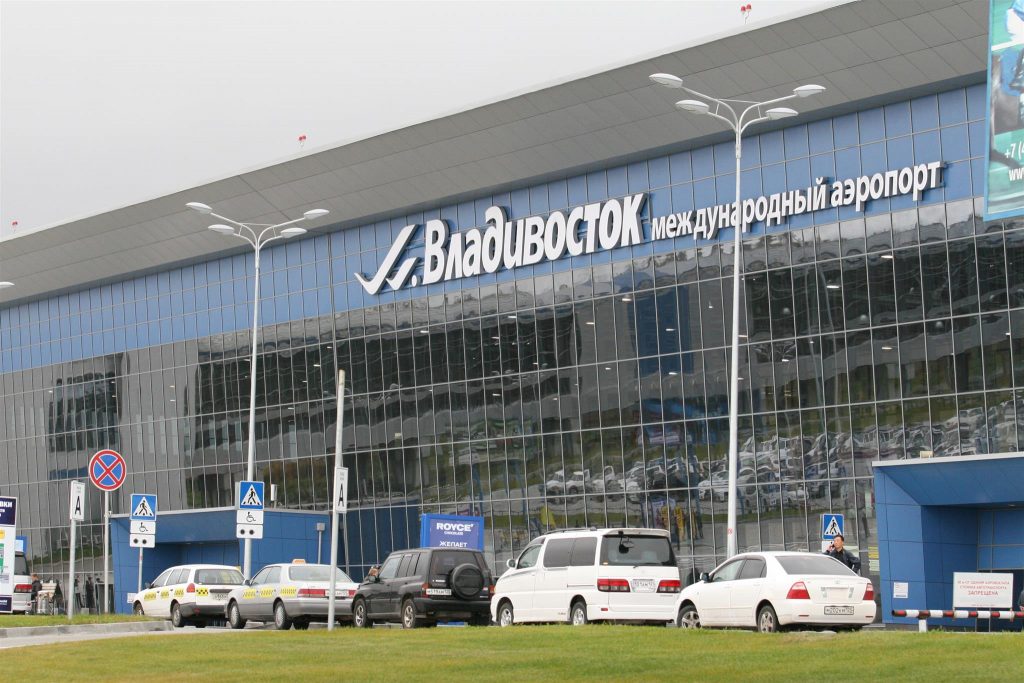 Driving scheme from Artem: you exit to Kirov Street, then go straight to the first turn to Herzen Street, then go straight and turn left into Vokzalnaya Street. Then turn to the Western street and go straight ahead to the first junction at the Ulitsa Volodymyr Saybel. And there you go straight to the airport. The traveling time is about 12-15 minutes.
Driving from Vladivostok: you go along Oktyabrskaya Street, past Pokrovskiy Park, then turn right at the first exit to Red Banner Avenue. Then go straight on until you reach Nekrasovskaya Street and then keep the left on 100-letiya Vladivostok Avenue. Continue straight ahead without making a U-turn and you will end up on Ulitsa Mayakovskogo. Go straight ahead and along Tayozhnaya Street you go through Trudovoy settlement. The road is straight to the airport without any sharp turns. There is only one turn to the right, which you will pass further when you get to Gagarina street. It will take you to Ulitsa Vladimir Saybel, where the airport is located.
The cheapest way to the airport
The most suitable option in this situation is a bus and a train. If you have a lot of time to spare and you are traveling without luggage, then feel free to choose a trip by public transport.
What is the best way to get to the airport
If you are used to traveling in comfort, then there is no need to change your habits. Book a transfer or cab to the airport if you go with a large group and with luggage and pay for the trip together. For parents, this option is particularly suitable, because so the road will be much easier for the child. In public transport with a baby will be difficult and uncomfortable, and when ordering a car you can include a child seat in the reservation.
If you have noticed an inaccuracy in the description or the schedule has changed and we have not made the changes, please contact us: vk.me/aviavvo we will promptly correct it!