We are celebrating New Year's Eve 2023 in Germany: Berlin and Munich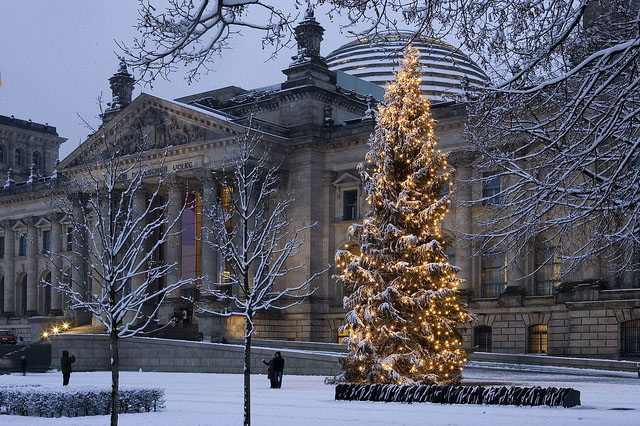 We suggest the best places to celebrate New Year in Germany in Munich and Berlin in 2023: pubs and restaurants, food and accommodation prices, tips and travel advice.
Germany does not yet accept tourists from Russia, but some are successfully making their way through other European countries. Take a look at the list of open countries. For convenience, we give pre-dedicated prices for travel and flights. Information about visas and flights may not be up to date now, check with official resources.
New Year in Germany is associated with noisy Christmas markets, hot mulled wine and the aroma of the famous Bavarian sausages. Munich hospitably opens its doors to all visitors rushing here for new experiences, so does Berlin. Shoppers will enjoy long-awaited discounts, and young people can throw a fiery party.
Look for author tours on Tripster. Individual and group, without the crowds and in Russian.
Where do you want to celebrate New Year?
New Year in Munich – 2023
New Year weather in Munich
The weather in Bavaria during this period can be unpredictable, but still winter is not the harshest: usually during the daytime it is around zero zero, maybe light frosts to -4 ° C. Overcast days are more frequent than sunny. There is little or no snow cover.
Where to celebrate
The capital of Bavaria is famous for loud youth parties and show programs. Very popular is the Hard Rock Cafe near Isartor, there is a New Year's Eve party to the sounds of live music. There are about 25 night spots at the Kultfabrik nightclub near Ostbahnhof, where a lot of merry New Year's Eve parties are held.
You can celebrate New Year in Munich in restaurants and pubs. During the holidays the famous Augustiner, Hofbräuhaus and Levenbroek overflowed with visitors – here the most delicious Bavarian beer and national cuisine: Munich sausages, pork knuckle, brätzel, veal with cranberries and venison.
In the Augustiner beer hall in the city center the festivities start at 7 p.m.: live music and contests are on the program. The menu includes marinated veal, ham, crab salad, beef with vegetables, and desserts. Levenbroe has a dance floor and Hofbräuhaus has live music.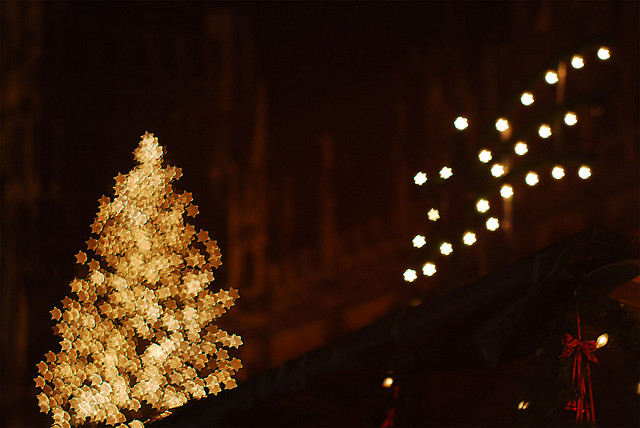 (Photo: acren23 / flickr.com / CC BY-NC 2.0 license)
Where to go in Munich during the holidays
The heart of Munich is Marienplatz, where residents and visitors come out at night to welcome the holiday with fireworks.
The Tollwood Christmas Festival takes place on the hills of Theresiewiese (the site of the famous Oktoberfest). The program includes theater and circus performances, variety shows and musical performances until December 31.
After sightseeing in Munich, you can visit Sausalitos near Marienplatz or have a hearty, reasonably priced dinner at Maredo. Lovers of classical music can visit the Munich Philharmonic and the Bavarian State Opera, but tickets should be reserved in advance.
Prices in Munich for New Year – 2023
Germany is quite an expensive country, but accommodation can be found for reasonable money, but you need to book in advance. The closer to the winter holidays, the less chance to find accommodation at affordable prices. Search hotels is recommended on the service Roomguru.ru – it finds the best price among several booking systems.
Hotels. The price for a double room in a 3* hotel in Munich for the new year 2023 in the range 70-120 euros (city center). For example, the hotel Stachus 3* has good reviews. For 4-star hotels is much more expensive – from 200 euros per night, "five-star" – from 400 euros per night. Farther from the center of Munich hotel prices are slightly lower.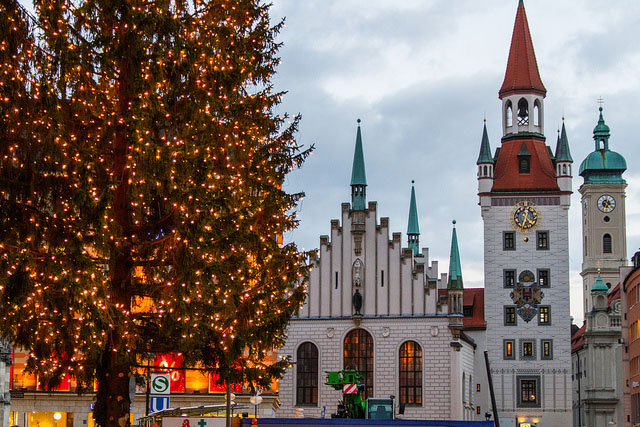 (Photo: GGVogman / flickr.com / CC BY-NC 2.0 license)
Tickets. As for airfare, on New Year's Eve, the flight Moscow – Munich and back costs from 15 thousand rubles, from St. Petersburg – the same amount.
Cafes and restaurants. According to tourist reviews, the meeting of the New Year 2023 in Munich in a medium-class restaurant will cost from 100 to 200 euros with the program, in the elite establishment 350-450 euros, a party at the Hard Rock Cafe – 200 euros per person. In the daytime you can eat in a Munich cafe for 20-30 euros per person, a dinner at a good place will cost 45-50 euros. Beer costs 3,5-4,5 euros per mug.
Tourist feedback and useful tips
So if you want to celebrate the New Year – 2023 in Munich, a few tips from tourists who have previously been there, will help to make the trip unforgettable.
Do not settle in the Hauptnahnhof district – near the central station. It is not a very prosperous quarter inhabited by Arabs and Turks. Pickpockets, dubious institutions, gambling houses – this is clearly not what you need for the average tourist, who came to spend the winter holidays in Bavaria. Quiet areas for tourists: Haidhausen, Maxvorstadt (not near the station), Schwabing, Bogenhausen, Lehel.
Where to celebrate New Year depends largely on age and temperament. The young people will be interested in the main square Marienplatz: a cheerful bustle, noise, fireworks, a lot of impressions. Another option is a nightclub with a non-stop disco. Elderly people will be interested to sit in some authentic place, of which there are a lot in Munich.
Even if you're not lucky with the weather, Munich is such an interesting city that the New Year vacation will fly by in the blink of an eye. Winter landscapes are very impressive, so we recommend visiting the nearby historic cities of Bavaria: Salzburg, Regensburg, Nuremberg, Innsbruck, Bamberg, visit the magnificent castles of Neuschwanstein and Hohenschwangau.
Compare how to celebrate New Year and Christmas in other European countries.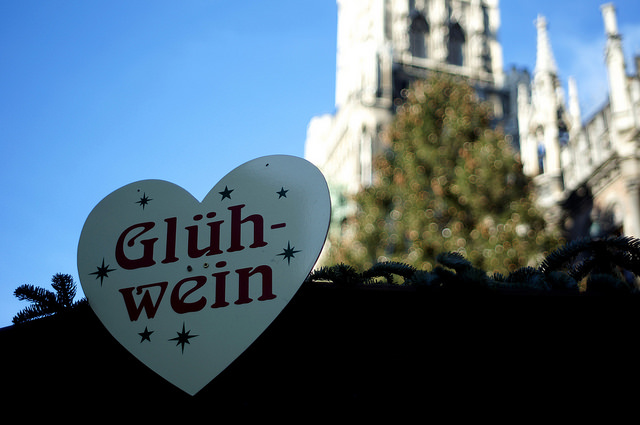 (Photo: Dominik Morbitzer / flickr.com / License CC BY-NC-ND 2.0)
New Year in Berlin – 2023
Berlin New Year weather
In January, the weather in Germany's capital is not conducive to long walks. It gets dark early – about 5 pm, it is cold and windy outside and sometimes it may rain with snow. Daytime temperatures are usually a little above zero (about +3°C), at night – slightly cold. Frozen ice thaws during the day, so you need non-slippery and comfortable shoes, and a waterproof down jacket will protect you from wind and cold. An umbrella won't hurt.
Where to celebrate
On the square behind the Brandenburg Gate at 21:00 people begin to gather to celebrate the New Year. Here there is a spectacular show, fireworks and performances of musicians. Bringing hot drinks is undesirable, it's not welcomed by the local police. Warm yourself with hot mulled wine, which is on sale. On Gendarmenmarkt at 20:00 starts celebrations, admission 10 euros. Live music, dancing, roasted chestnuts, mulled wine.
In Berlin, it's harder to find German cuisine than Italian or French. Hackescher Hof, a German restaurant in the Hackescher Hof district, is open until 3 a.m. The Bavarian restaurant Maximilians on Friedrichstrasse treats you to knuckle meat and strudel. Local cuisine can be found at Nante Eck on Unter den Linden Boulevard. Unfortunately, attempts to book online are often unsuccessful and it is difficult to find a free seat on December 31. Learn about the best restaurants in Berlin.
In the medieval fortress Spandau in Berlin, romantics can celebrate the New Year. The organizers offer a real knight's tournament and a medieval meal, music and dancing.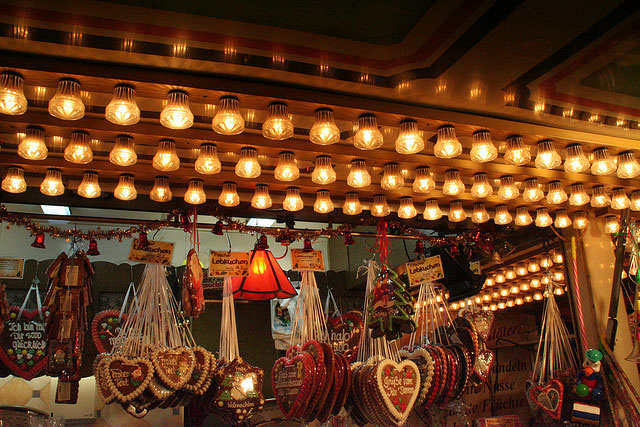 (Photo: Eirik Newth / flickr.com / CC BY 2.0 license)
Where to go during the holidays
As has already been mentioned, there's not much to do on foot in January, so it's convenient to see the city on a tour-bus (costs 10 euros). Be sure to take a tour and visit the main attractions of the German capital: Reichstag, Brandenburg Gate, Alexanderplatz, Berlin Cathedral and Museum Island. Berlin is also full of free and partially free museums, so you can save a little money. If time permits, you can go to Potsdam. Until December 31, there are Christmas fairs at Potsdamer Platz and Gendarmenmarkt.
If it's cold outside, after small excursions to sights can warm up in a Berlin beer garden. The best thing to do in Berlin is to eat local specialties – white sausages Weisswurst, Koenigsberg and pork knuckle, and of course to drink real German beer. The stylish Ständige Vertretung restaurant near Friedrichstrasse Station has democratic prices – it is said that Gerhard Schroeder himself would be a regular there. The Lemke on Luisenplatz offers the tastiest beer and affordable prices, according to tourists' reviews.
It is certainly worth a shopping trip to Friedrichstrasse and KaDeWe, where you can enjoy discounts and make necessary and pleasant purchases.
During the New Year holidays you can visit Munich, Prague and other German cities.
(Photo: visitBerlin / flickr.com / License CC BY-NC-ND 2.0)
Prices in Berlin for the New Year – 2023
Hotels. Prices in Berlin for New Year's Eve tend to skyrocket. The cost of a double room in the city center in a 3 * hotel is 130-200 euros per night (eg Dietrich Bonhoeffer 3 *), 4 * – from 200 euros. Lodging is not in the center of the city for 55-65 euros, you can find inexpensive hostels. Search on the service Roomguru.ru – it compares prices for hotels in different booking systems and finds the best deals. Take a look at our selection of cheap accommodation in Berlin – there is a lot to choose from.
Tickets. The flight to Berlin from Moscow and St. Petersburg to New Year's Eve (end of December – beginning of January) is more expensive than on normal days – from 15 thousand rubles.
Cafes and restaurants. Meeting of the New Year in a restaurant will cost 100 euros or more. A medieval romantic dinner – 160 euros, a party in a club with a reservation table – from 70 to 100 euros.
Reviews and tourist tips
It is better to settle close to the city center, where it is convenient to visit the main attractions of the capital. If the idea of meeting the New Year in a crowd does not please, then the restaurant should be worried about in advance or meet the holiday at your hotel. On December 31, most stores close at 15 o'clock, and on January 1 do not work all day, it is worth considering when planning a New Year's holiday in the capital of Germany.
Article on the topic: how to get to the city center from the airport in Berlin.
New Year in Germany: Where to go?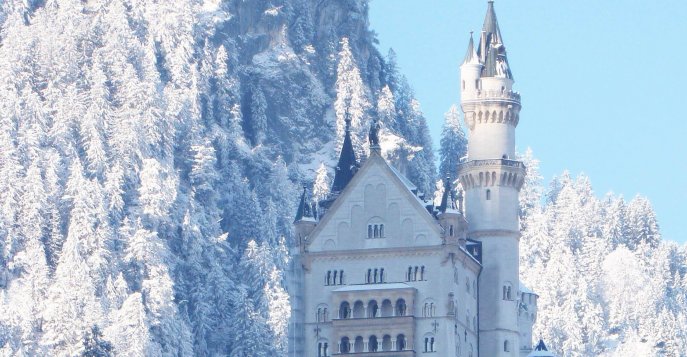 book
Unlike Christmas, which is usually celebrated in a quiet family circle, the New Year in Germany is celebrated with fun and in a big way. If you go on a vacation in Germany for New Year, expect theatrical performances, huge parties, fireworks – in the German streets this night reigns a festive extravaganza!
New Year in Germany
On New Year's Eve Germans meet at discos, clubs and restaurants, New Year's Eve balls and city squares. On the last day of the year everywhere there are a variety of folk festivals, theatrical and musical performances. When the hands of the clock strike twelve all over the country burst into flames, firecrackers and crackling fireworks, the most spectacular of which can be seen at the Brandenburg Gate in Berlin. With the coming of the New Year in Germany it is customary to drink champagne, wish happiness and give small symbolic gifts for good luck. If the holiday is celebrated at home, it is often possible to witness this tradition: with the first beat of the chimes Germans climb on chairs and tables, and with the last – happily, congratulating each other, jump into the new year. The festive table on this night is not without the traditional fondue, raclette, Berlin donuts with various fillings, champagne and punch. In many homes it is customary to serve a silver carp, the scales of which promise wealth to anyone who eats this fish. In general, in different regions of Germany you can offer a variety of dishes. Baked salmon, goose with apples, traditional pies – stollen and baumkuchen, gingerbread houses – just name it. Suffice it to say that the New Year in Germany allows you to get acquainted with the wonderful German cuisine.
Holidays in Germany for New Year and Christmas will be remembered not only a wonderful holiday atmosphere, but also fascinating excursions. Each region of the country is noticeably different from the other and the traditions, culture and cuisine, so we recommend you to visit at least a few of them. Ravelous Berlin, historically rich Munich, world famous Bremen, "German Florence" Dresden, the wealthiest Hamburg and many others – everywhere you can find interesting architecture, excellent museums, bars, stores and restaurants. If you are a fan of active sports, the excellent ski resorts in Germany, such as Garmisch-Partenkirchen, with perfectly equipped ski slopes and modern infrastructure. Also on New Year in Germany you can go to one of the famous thermal spas, where you can not only have a good time admiring the stunning scenery, but also to get tangible health benefits. Children are sure to appreciate the beautiful amusement parks (for example, "Adventureland Fort Ahn" and "Hanse Park"), fashionistas – excellent shopping opportunities, and thrill-seekers – races in luxury cars.
There are so many ways to spend New Year and Christmas holidays in Germany that you can't help but divert your eyes! The company "Our people" will help you decide on the choice of New Year's tour to Germany and take care of booking suitable hotels in German resorts.
New Year's tours in Germany
Route: Munich-Salzburg-Vienna-Budapest
Make your New Year vacations extraordinary with our trip to three European countries! In 10 days you will visit Germany, Austria, and Hungary, and will visit a bright city full of surprises and fun Munich, where you will meet the New Year in 2023. You will admire the architecture in wonderful Salzburg that is called Northern Florence, be in wonderful and cozy Vienna and beautiful Budapest where you can not only have a rest but also improve your health in the thermal springs. You will have enough time to get acquainted with these cities during city tours and explore them on your own by sightseeing or just strolling along the picturesque streets. We have prepared optional tours which allow you to see all the most interesting and not to miss anything important.
The history of the world-famous spa town of Garmisch goes back to around 200AD. And to this day, these places have preserved their pristine beauty. Today it is a favorite vacation spot for millions of people. The ski slopes are designed for beginners as well as for amateurs and professionals. In addition to winter sports in the city many attractions, theater, casinos and other forms of entertainment.