Seasons in Malta
I am often asked, "When is the best time to go to Malta? When is the season in Malta?" What is usually meant by this is the question, "When is the best time to go to Malta for swimming?" That's a little strange to me. In my opinion to go to Malta for a purely beach holiday is not worth it. That is, of course there is a place to swim in Malta, there are enough beaches. But if you are only interested in the sea, you can find more comfortable and probably cheaper options than Malta.
Firstly, in Malta there are no hotels such as Turkish or Egyptian with a full package: its own beach, animation, meals all inclusive and other plushkas, which beckon to spend the entire vacation without leaving the hotel. And secondly, and in the main, it would not be rational to come to the island with thousands of years of history – megalithic temples in Malta older than the Egyptian pyramids – and confine yourself to lying on the beach. And for excursions, the beach season is not the best time. So I'll tell you about all the seasons, and then you decide which one suits you best.
Summer, aka high season.
Above all it is high season in terms of prices. Optimistically, the boundaries of the bathing season in Malta can be held between May and October. That's what the guidebooks say. I would say that more realistically – from June to September, early October. I will tell you why.
In my opinion, in May the water is still a little bit cold, at best +19 ° C, so bathing is more like tempering, but the sun is baking all the time, though not as severely as in the middle of summer. It rains rarely, if ever.
The Maltese start swimming en masse on June 29, the day of Imnarja, also known as St. Peter and Paul's Day. As my Maltese friends explained to me, on this day even those who don't go in the sea at all at other times, swim. In July and August, the most comfortable water in the sea – +25-27 ° C, a minimum of windy days. During these months, the island has the most tourists. And the "movement" is more in summer: all sorts of music festivals, ISLE of MTV, Malta Jazz and Rock Festival, festival of local beer Farsons, numerous boat parties – parties on a yacht are arranged.
Personally I am not a fan of noisy events, and for me this is rather a minus, but if you like them, then perhaps you'd better come to Malta in the summer.
Pluses and minuses of high season.
Among the disadvantages in May and at least in the first half of June, I would single out the following: at this time it is still often windy. The same can be said about the end of the season, October. But for the same reason May, early June and October are, compared to the rest of the months, good for surfers although generally surfing in Malta is not very common. By mid-June the water is already warm, by this time on all rocky beaches are installed stairs to enter the water – for the winter they are removed, otherwise they will be broken by winter storms.
Other disadvantages of high season – high prices for hotels and tickets and, of course, the heat. After all, Malta is very close to Africa, it is less than 300 km away. In addition, humidity is very high, so the heat is hard to bear.
Accordingly, for excursions and self-guided tours of the island summer time is not the best. Landscapes are also not happy, because the greenery is burnt out in May.
Things to do in high season
Do you want to see the island? During the hot season it makes sense to buy a guided tour, where you will be picked up and dropped off in an air-conditioned bus, and you won't have to wait for the shuttle bus in the heat. I try to time my trips to museums and exhibitions to coincide with the heat: it's air conditioned and cool. Of course, you don't visit museums just for the sake of coolness, the entrance to the Palace of the Grand Master costs 8 EUR, to the Archaeological Museum and Museum of Fine Arts – 5 EUR each, but if I want to go there I'll go on a weekday by two o'clock.
Once, on my very first visit to Malta, I unknowingly spent half a day on the beach without an umbrella – I wanted to get a quick tan. As a result, got so sunburned that the next day was afraid to go out in the sun. But not to sit all day in a hotel room. I was advised to go to Mdina – in this ancient city with narrow streets, lots of shade, and besides Mdina is on a hill, so it's almost always airy. I did, and it's been my signature way of spending hot days ever since. Thankfully, Mdina is so good that you can go there many times and it doesn't get boring.
And of course if you do come to Malta in summer, it's a shame not to lounge on the beach for a while. If you stay in a hotel very close to the sea, then everything is clear. If not or if you want to go to some distant beach, I advise to allocate at least half a day, if not a whole. In such cases we usually take an umbrella, mats, water, something to eat and spend most of the day by the water, since we spent time on the road. If you rent an umbrella, it makes even more sense to use it to the fullest. Whether you will lie under it for two hours or six hours you will have to pay the same 5 or 10 EUR.
Autumn in Malta
September and October are very warm in Malta and the sea is still warm. I once swam in early October and the air temperature was +26 ° C and the water +27 ° C. But this is a rare case, rather, you should expect the water at around +24-25 °C. As for the air temperature, it depends very much on the wind direction. This year in the second half of September, the north wind blew and the air was heated to +23 ° C, but it was cold. Coming out of the water, I had to run to the towel, quickly dress, knocking my teeth, and then wrap myself in a windbreaker.
One evening I was walking from the sea in shorts, carelessly waving wet coral slippers, and I met a crowd of Italian tourists, who were wrapped in down jackets with hoods. But in October it was hot again, under +30 °C. However, usually in September the wind blows mostly south or southeast, from the Sahara, and it is so stuffy, which is not even in summer, this is my least favorite month in Malta, October is nicer.
From about the middle of September it starts to rain in Malta. But I wouldn't call it the rainy season, September can have 1-2 showers and a few drizzles in a month, although compared to the hot summer without a drop of moisture from the sky and that's plenty. Even if the downpour is very heavy, it usually doesn't last long and doesn't cloud life much. Of course you won't get into the sea right away after a downpour, the water will be muddy, but the next morning you can usually swim as if nothing had happened.
What I strongly advise you not to do during and immediately after a heavy rain is to drive somewhere. Some parts of Malta are regularly flooded every time it rains heavily, which can lead to especially heavy traffic jams and other troubles.
The island is upgrading its storm water drainage system, but the problem is not yet completely solved. So it is better to sit in the nearest cafe with a cup of cappuccino and watch the rain from the window.
The conclusion is that if you're going to Malta in September-October, it's worth bringing a raincoat. Umbrella, as I found out from my own experience, is useless: downpours in Malta are usually accompanied by a strong wind, so opening an umbrella is literally throwing money in the wind, which will immediately break it. In general, the wind is another sign that summer is over and it's heading for winter.
At the end of September, the ladders for entering the water on rocky beaches begin to be removed for the winter. November is not the coziest month in Malta. It is already cold for swimming, it rains more often and there are fogs. Although compared with November in the central part of Russia, Maltese November is certainly much nicer. Temperature remains around +20 ° C or slightly above, the sea cools down to +20-21 ° C by this time. By the way, in November in Malta, I met English pensioners everywhere in large numbers – as they explain themselves, hotel prices are lower than in summer, and the weather is incomparably better than in England at this time.
At this time it is comfortable to travel around the island and walk without fear of overheating or burning, and the cold, really winter winds are not yet. In autumn, I particularly like to walk south around the Dingli cliffs.
Winter in Malta
I am not a walrus, so I do not swim in winter and I would advise you not to. That still leaves a cultural program – sightseeing, architecture, independent excursions in nature.
Christmas in Malta
I love walking around Valletta at this time. Since early December, the city is decorated for Christmas, everywhere you can feel the holiday atmosphere.
And it's not just Valletta that's being decorated. On village squares, in store windows, even at traffic circles they put compositions depicting the Holy Family. This is the picture I saw in Zurrieq.
And this is the cheese shop window in the supermarket.
Residents in the windows of their homes display a doll in a basket, it symbolizes the baby Jesus, or even entire compositions of several figures Christmas manger, Presepju.
For the lazy, ready-made compositions are sold in different sizes with different numbers of figures. My nativity scene looked like this.
In Valletta every year there are exhibitions of nativity scenes made by amateurs, not only Maltese, but also from other countries.
I don't think you should come to Malta in December specially for these decorations, but if you happen to be on the island at this time, you should definitely see them.
In the streets of Valletta and Sliema I often saw groups of children singing Christmas carols. In Sliema on the square next to The Point shopping center and in Valletta on La Valletta square Christmas fairs are organized, the Maltese like them, but I'm honestly not impressed: compared to continental Europe or Moscow they are well oh-so modest, just two or three stalls with sweets and the same with the Maltese souvenirs.
Once in Malta in December, it is worth seeing the Christmas village on Gozo, in Ghainsielem. In addition to the Holy Family in a real manger with animals there are built workshops of traditional crafts, where you can touch everything with your hands and even try to make something yourself. Theoretically it's for kids, but I liked it too. It's probably because New Year and Christmas bring us back to our childhood.
Christmas itself is a household holiday. On the night of December 24 to 25, Maltese go to church for celebratory mass, and December 25 is a day of family lunches or dinners.
You can buy an inexpensive tour of the holiday mass at one of the larger churches, such as the Church of the Assumption of Our Lady of Mosta. You will be picked up from your hotel, brought to the church and taken back at an agreed time. Such tours cost 5-10 EUR and it is more like a transfer than a tour, the accompaniment is minimal and only in English. I think it is worth the trip. Christmas Mass in Malta is not only the service itself, but also the concert before it. Depending on the church, it may be a children's amateur performance or it may be a lavish affair with a choir, several orchestras, and a procession of children dressed as evangelical characters. I've been to such a "concert" before Mass at the church in Mosta, impressive.
New Year in Malta
New Year in Malta is not celebrated as actively as in Russia. Ornaments that we used to consider as New Year's decorations, in Malta are Christmas decorations, and on December 26 they start to be disassembled. However, for the last 3 years on New Year's Eve they started to hold an open-air concert in Valletta on the square in front of the Grand Master's Palace. The concert, in my opinion, is not very good, humorists in the Maltese language, musicians … shall we say, not world-class stars, and a dense crowd of spectators. I watched it only on TV and never had a desire to join in. But if you consider that 3 years ago there were no celebrations at all on New Year's Eve, then it is progress, perhaps the program will become more interesting further.
What to do in Malta in winter
January and February in Malta, in my opinion, are the most boring months of the year. All the guidebooks say that Malta has 300 days of sunshine a year. I suspect that most of the remaining 65 – non-sunny – are in January and especially February. In January it is noticeably colder than in December, with a strong wind and high humidity +10-15 ° C feels like frost. Houses are also cold, there is no heating. But in winter in Malta is green, in February almonds bloom, daffodils bloom and the first spring flowers. Photographing almond blossoms is one of my favorite things to do at this time.
There is also a highlight in the winter months: In the end of winter, in late February and early March, there is the traditional carnival in Valletta and Nadur in Gozo. The dates of the carnival vary each year because they are tied to Catholic Easter, the time of the carnival is from about Friday to Tuesday before Ash Wednesday, with which Lent begins in the Catholic Church. In 2017, the carnival will take place from February 24 to 28.
The Maltese version of the carnival is a parade of brightly colored platforms with giant puppets, children and adults in carnival costumes, and performances by amateur artists. I admit that I'm not a fan of carnival, the streets in Valletta these days are crowded, the streets are narrow, the platforms are wide, but the action is popular with local enthusiasts and tourists carnival, maybe you will like it. It is definitely not worth going to Malta just for the carnival, it's not Rio, but if you find yourself on the island at this time, you can see it.
Spring in Malta
In my opinion this is the most beautiful time in Malta. The island is covered with flowers, the air smells of honey, the sun is gentle but not yet fierce, winds are less frequent and weaker than in winter. It is getting warmer, on nice days it can be 20 degrees.
And it's my favorite time for nature walks. After the reform of the transport system, you can get to almost anywhere in Malta by bus. In spring I like to walk more in the north of Malta, in my opinion there are more flowers. This is how the north of Malta looked in the first days of April.
After walking around the north, I like to stop by the beach in Mellieha and dip my weary feet in the sea. The water in Mellieha is very shallow and warms up better than in other places, although in general the sea around Malta in April and May is cold, +15 degrees Celsius.
Of the spring "cultural program" I want to mention Easter. During these days, almost every town in Malta and Gozo hosts Easter processions. The streets are filled with people dressed as Pontius Pilate, guards and other characters, carry sculptures depicting scenes of Christ's Passion, Crucifixion, removal from the cross, the statues of Christ and the Virgin Mary.
As you can see, in Malta you can find something to do at any time of year. Although for a swim, most suitable summer is still.
Weather in Malta by month. When best to go?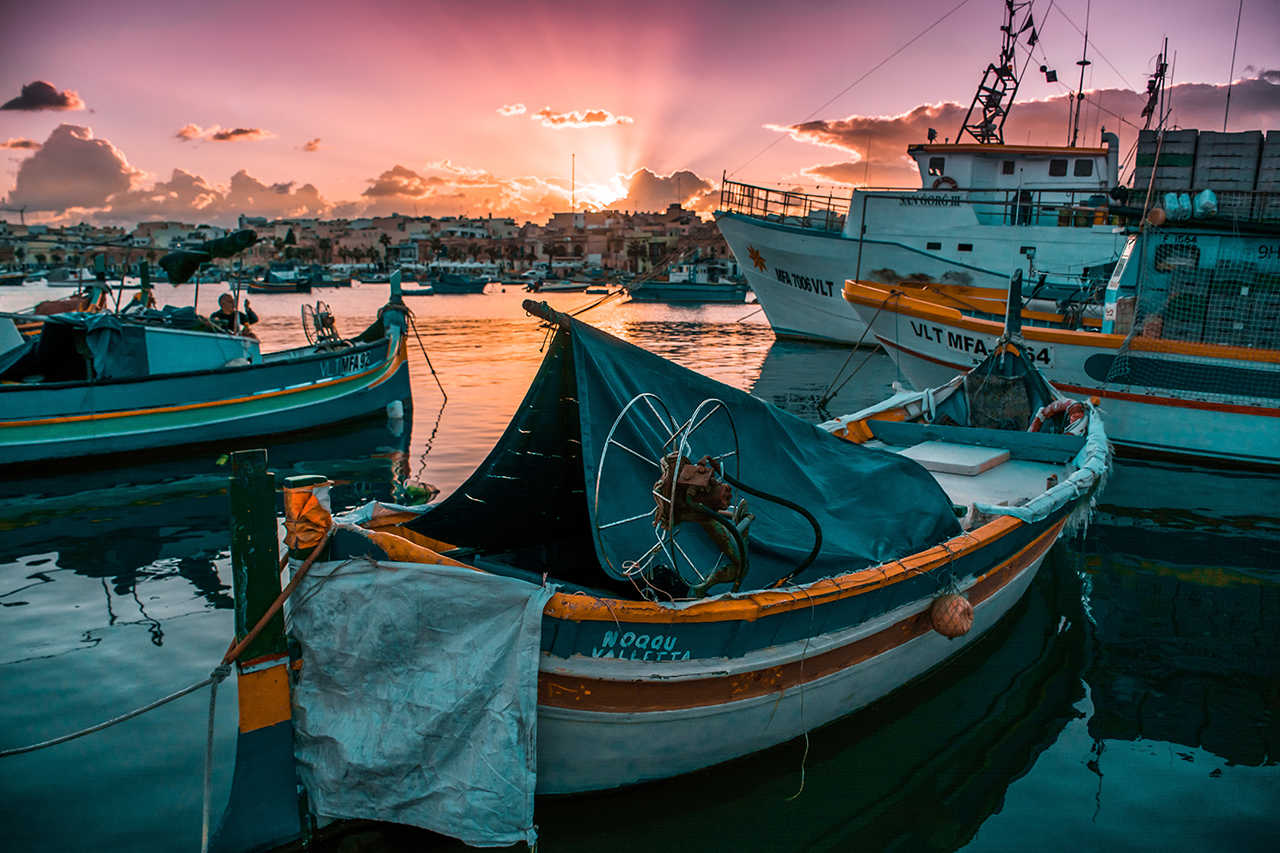 Find out when it's best to travel to Malta. Weather by month: air and water temperature, precipitation and features of the climate in different seasons. Reviews of tourists about rest on the Mediterranean island.
Search for last minute tours on Level.Travel and Travelata services – they will find the best deals among different tour operators. Do you want to save money? Have a look at:
When it's best to vacation in Malta
When's the beach holiday season in Malta? In the Mediterranean Sea begins bathing in May. Most tourists vacation on the island during the summer months. A nice velvet season lasts from September to mid to late October, and then comes a long off-season. From November to March in Malta come for excursions and recreational tourism.
Weather in Malta by month
January
Water and air temperature. January is the coldest month of the year. The air temperature in the capital city of Malta – Valletta +14 ° C. The sea water temperature does not exceed +15. +16°С. Too cold to swim!
Weather conditions. Winter on the island is cool. It rains almost half of January, and because of this the humidity rises to 96%.
Tourist feedback. Despite the overcast weather, tourists like the low season in Malta. Prices for tours to this country in winter are reduced. Hotels have air conditioning and heaters, so the winter rains and dampness do not spoil the holiday. If you like swimming, book a hotel room with an indoor pool.
February .
Water and air temperature. It gets a little warmer in February. The air temperature is +14. +16°С. Water in the sea is still cold +16°C.
Weather conditions. Half of the month is sunny and the daylight hours are increasing. The island is windy and it rains.
Feedback from tourists. The low season in Malta continues, so there are few tourists. Locals do not complain about the dank February, but visitors come to admire the blooming daffodils and crocuses. Vacationers enjoy spending time without the hustle and bustle, strolling the waterfront, going to museums and taking excursions.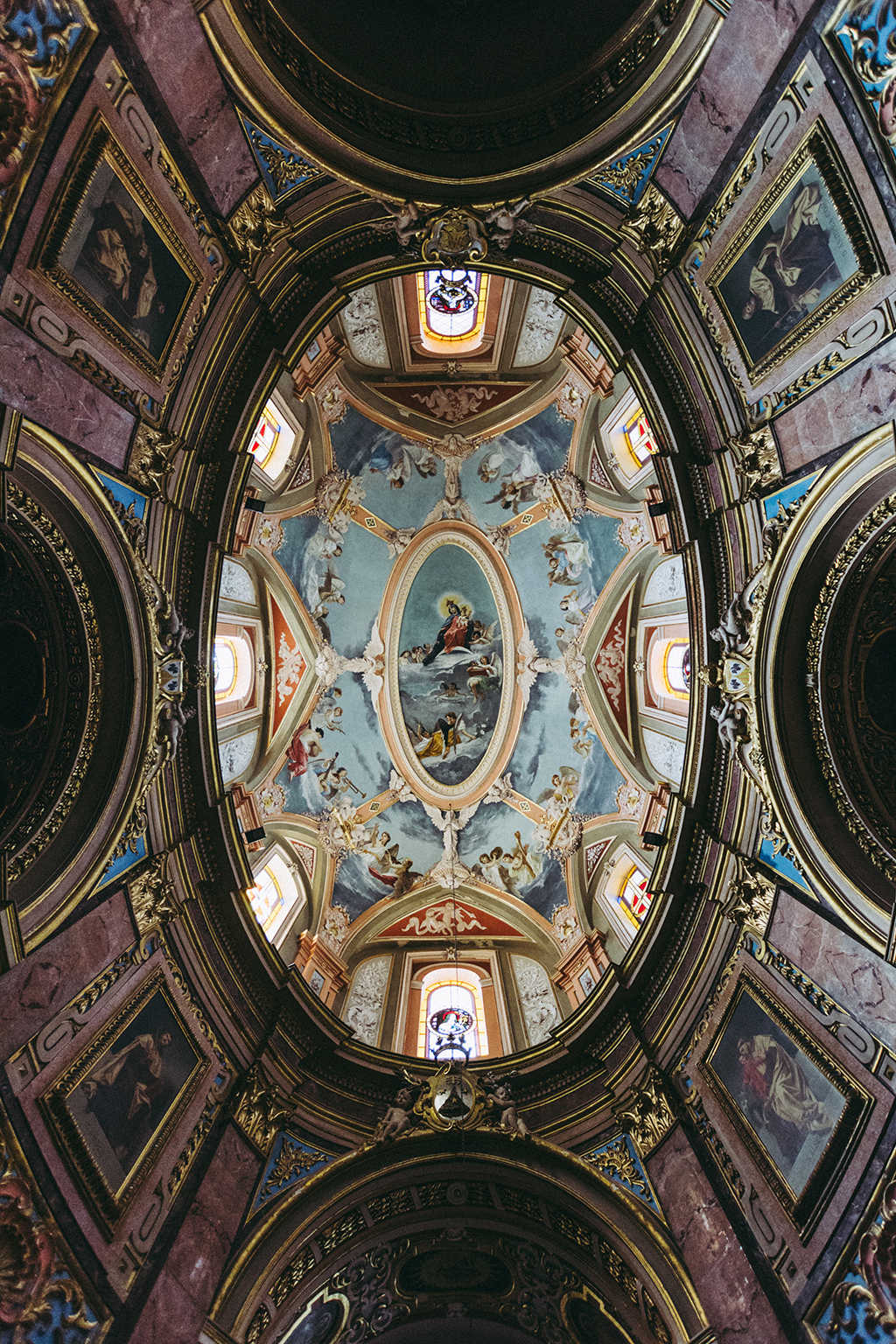 St. Paul's Cathedral, Mdina (Photo: unsplash.com / @janasabeth)
Water and air temperatures. In early spring, the air warms to +17°C, sometimes the thermometer rises to +20°C. The sea is still cold +16°C.
Weather conditions. In March, the number of sunny days rises to 21. You can get a little sun! There is less rain. By the end of the month, the usual off-season storms subside.
Tourist feedback. Although the beach season in Malta has not started, tourists enjoy coming to the island to listen to the birds singing and admire the green meadows and blossoming trees. In March, there are still some chilly northerly winds blowing. Bring warm clothes, waterproof shoes and a jacket!
April
Water and Air Temperature. In mid-spring, the weather in Malta is warm. The air temperature is +19. +22 ° C during the day and +16 ° C at night. The sea water is warm to +16. +17°С.
Weather conditions. Spring off-season is very warm and bright colors. The weather is sunny most of the month, the sky is clear and the rains are rare. The daylight hours increase to 13.5 hours.
Tourist feedback. Until the high season in Malta, tourists devote their holidays to surfing and enjoy sunbathing on the beaches. April is the best time to visit Malta for walks, tours and trips around the island. Wander the quiet streets of Valletta and see the Grandmaster's Palace, St. John's Cathedral and megalithic buildings.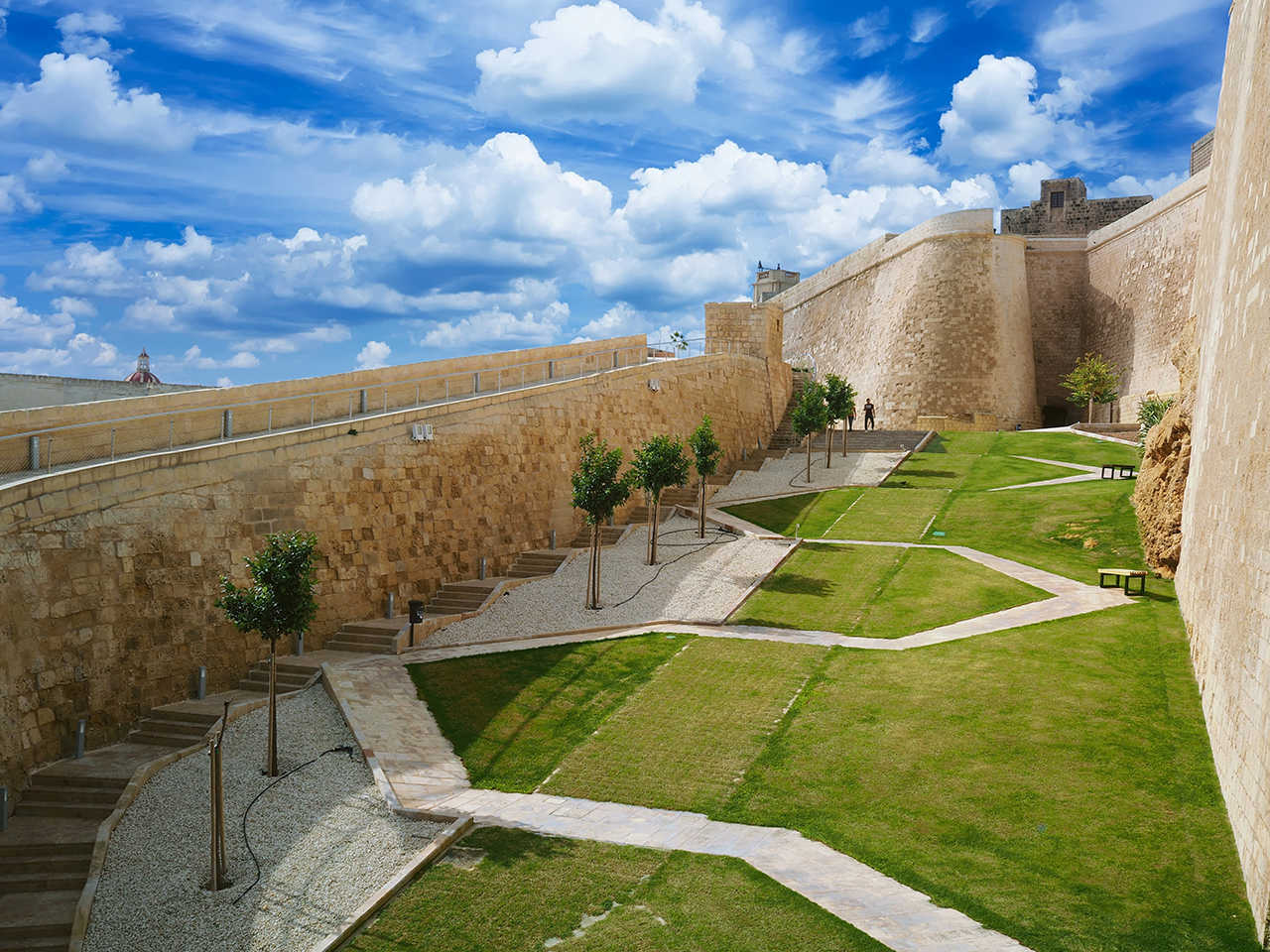 Victoria, Gozo Island (Photo: unsplash.com / @refar)
Water and air temperatures. Malta's beach season begins in May. The air temperature rises to +22. +24°C, and on some days up to +25. +27°С. Sea water at the beginning of the month is warm up to +18. +19 ° C, and in the end to +19. +20°С. Bathers become more!
Weather conditions. May weather is sunny and warm. The chance of rain is low. During the month there is only 11-12 mm of rainfall.
Tourist feedback. In late spring, Malta turns into a luxurious Mediterranean resort. Although all the hotels are already open, there are not many tourists yet. Most resorts will come to the island in the summer, when the water in the sea is really warm.
Water and air temperature. In early summer, the island is very comfortable. The air temperature is +26. 28 ° C and sea water +22 ° C.
Weather conditions. The number of sunny days increases to 28, and there is no rain at all. Jackets and warm clothes can safely be left at home!
What tourists say. June – the time when it's best to go to Malta with children. Vacationers like the fact that there is no extreme heat, and the sea is pleasant for swimming. Minus one – the tourists are becoming a lot, so the secluded coves are harder to find.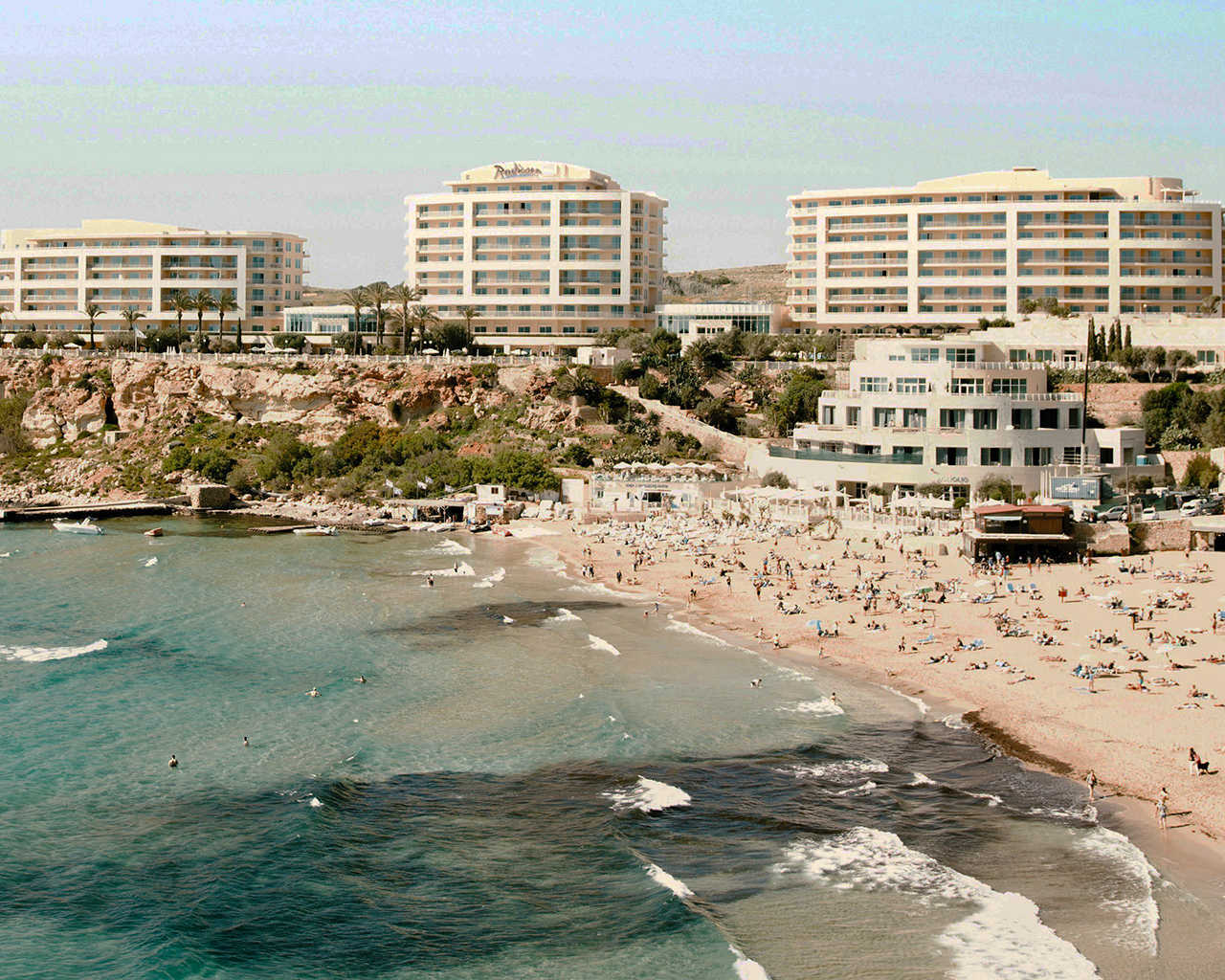 Golden Bay Beach, Mellieha (Photo: unsplash.com / @keithcamilleri)
Water and air temperatures. At the height of summer, the island is hot at +29. +33°С. The sea is very warm +25. +26°С.
Weather conditions. In July, the sun is active, there is no rain and no wind. The sensation of heat increases the high humidity of the air. Vacationers escape from the scorching rays in hotels, restaurants and shopping malls.
Tourist feedback. The high season in Malta is ideal for beach holidays, diving, surfing and boat trips. According to tourist reviews, excursions are not too popular because it is hot to travel around the island.
August
Water and air temperature. In August, it gets even hotter. The air temperature rises to +30. +33°С. At night the thermometer does not fall below +27 ° C. The water in the Mediterranean Sea is heated to +26. +27°С.
Weather conditions. The scorching sun burns the vegetation, and Malta welcomes tourists with yellowed grass and cracked soil without rain. Flowering trees and flowerbeds can be seen only in private gardens, which are carefully tended by locals.
Tourist reviews. In the midst of the beach season holidaymakers in Malta increases. August in Europe is a month of vacation and everyone wants to warm up by the warm sea. To avoid getting burnt, get out in the sun's rays in the morning and evening. Sightseeing of historical and natural attractions is also better left for the evening hours, when there is no intense heat.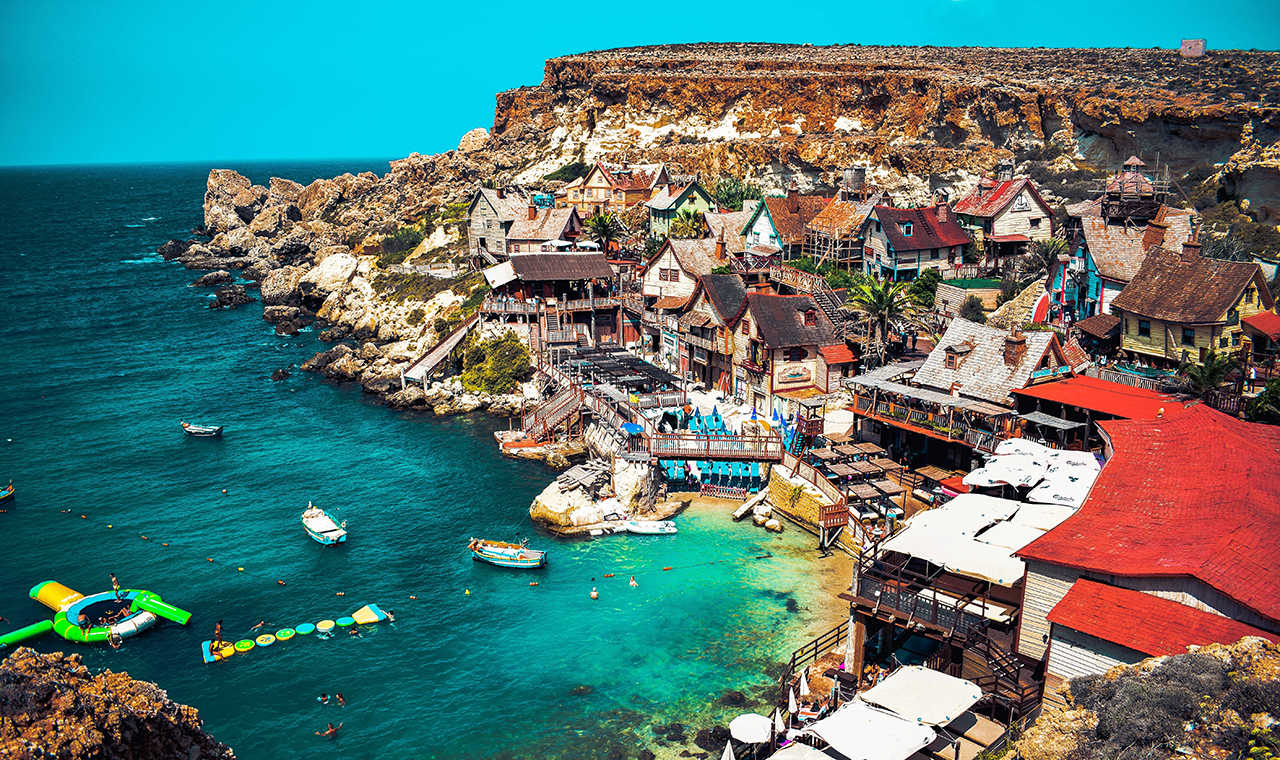 Popai village (Photo: unsplash.com / @greentealover)
September
Water and air temperatures. As fall arrives, the temperature drops to +28°C during the day and to +25°C at night. The Mediterranean Sea cools down slowly. In early September, the water temperature is +26 ° C, and at the end of +24. +25°С.
Weather conditions. In early autumn, Malta is warm and comfortable in summer. During the month there are 26 sunny days. It begins to rain a little, but the rainfall is not much – 24-25 mm.
Tourist feedback. September is the time when it's better to go to Malta for those who, due to health reasons, contraindicated to the summer heat. The velvet season on the island is popular with parents with children and older tourists. From the twenties the winds begin to blow and waves rise on the sea. During this time, lovers of windsurfing and kitesurfing come to Malta.
October
Water and air temperature. In October, the air temperature is +23 . +25 ° C and sea water +23 . +24 ° C.
Weather conditions. The last month of the Velvet season in Malta delights with warmth, clear weather and freshness. In October, there are 22 sunny and 5 rainy days. The amount of rainfall increases to 82 mm.
Tourist Reviews. If you like secluded holidays and want to save money, come to Malta in autumn. The main bonus of October is a noticeable reduction in the price of tours and hotels. According to feedback from tourists, in some years it is comfortable to swim until the middle of the month, but sometimes the beach season drags on until November.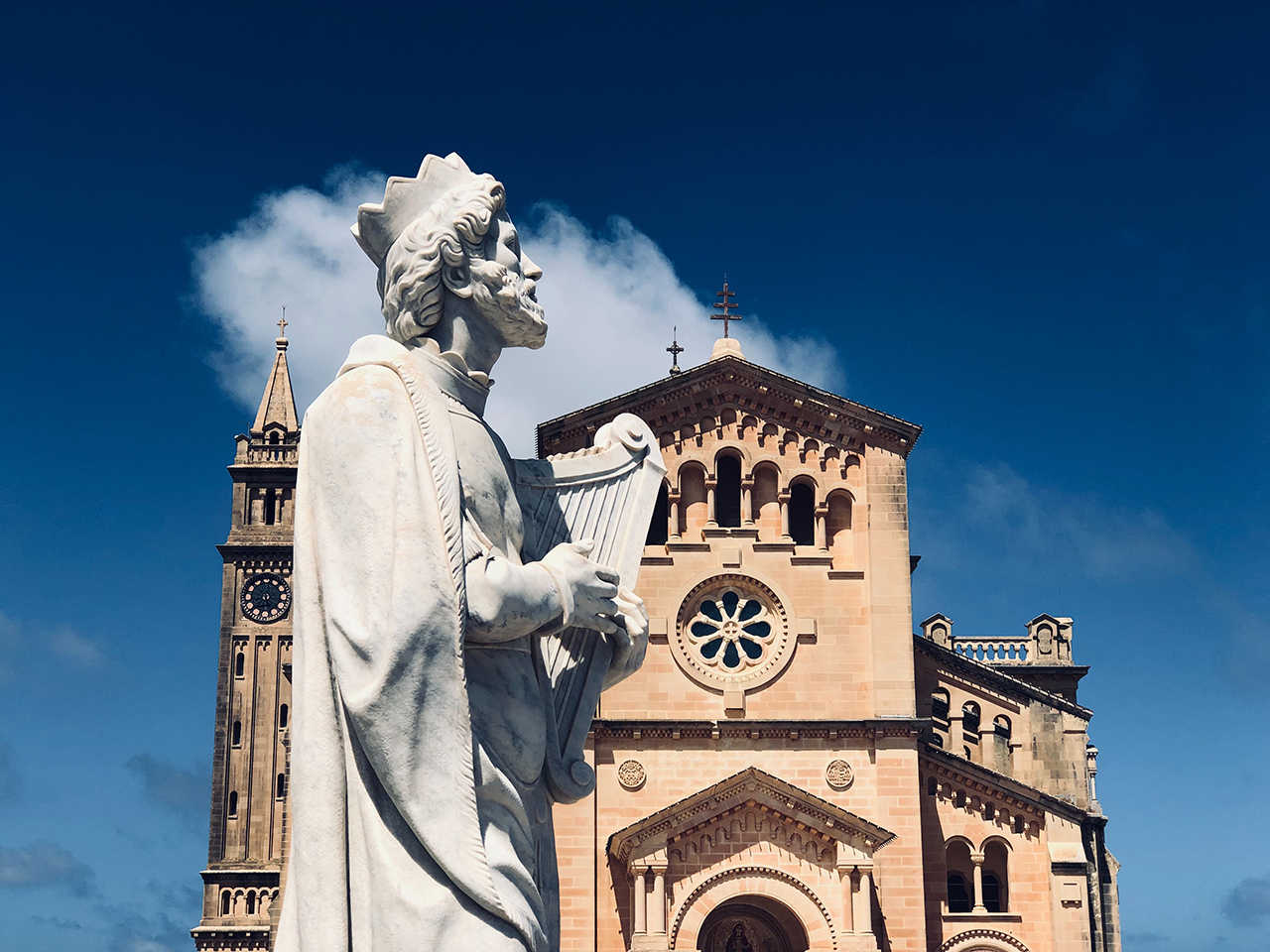 Basilica of Our Lady of Ta'Pinu, Asri (Photo: unsplash.com / @ilyaponomarev)
November
Water and air temperatures. In the last month of fall, air and water temperatures level off at +20. +22°С. It is possible to swim, but it is already cool to get out of the water. For pleasure swimming you are advised to choose small, closed from the winds bays.
Weather conditions. In the off-season, the weather in Malta is unstable. The number of sunny days is reduced to 16. It rains more, so the humidity increases.
Tourist feedback. Compared to the dull and overcast November in continental Europe, the end of autumn in Malta is like a prolonged summer. Tourists love the fact that they can change jackets for summer clothes and enjoy walks by the sea. In November, most of the holidaymakers on the island are older Europeans who have come to admire the sea scenery and the sights of Malta.
December
Water and air temperature. In December, the air temperature is +15. +17 ° C, and sea water +18. +19°С. Bathing season is over!
Weather conditions. During the mild Mediterranean winter, clear days alternate with cloudy days. On the coast the winds are cold and the sea is often stormy. Daylight hours are short, so it gets dark quickly.
Tourist feedback. In December, lovers of excursions and leisurely promenades by the sea come to Malta. Many plan a vacation on the island to celebrate Christmas and New Year with friends. So in the second half of the month there are more tourists.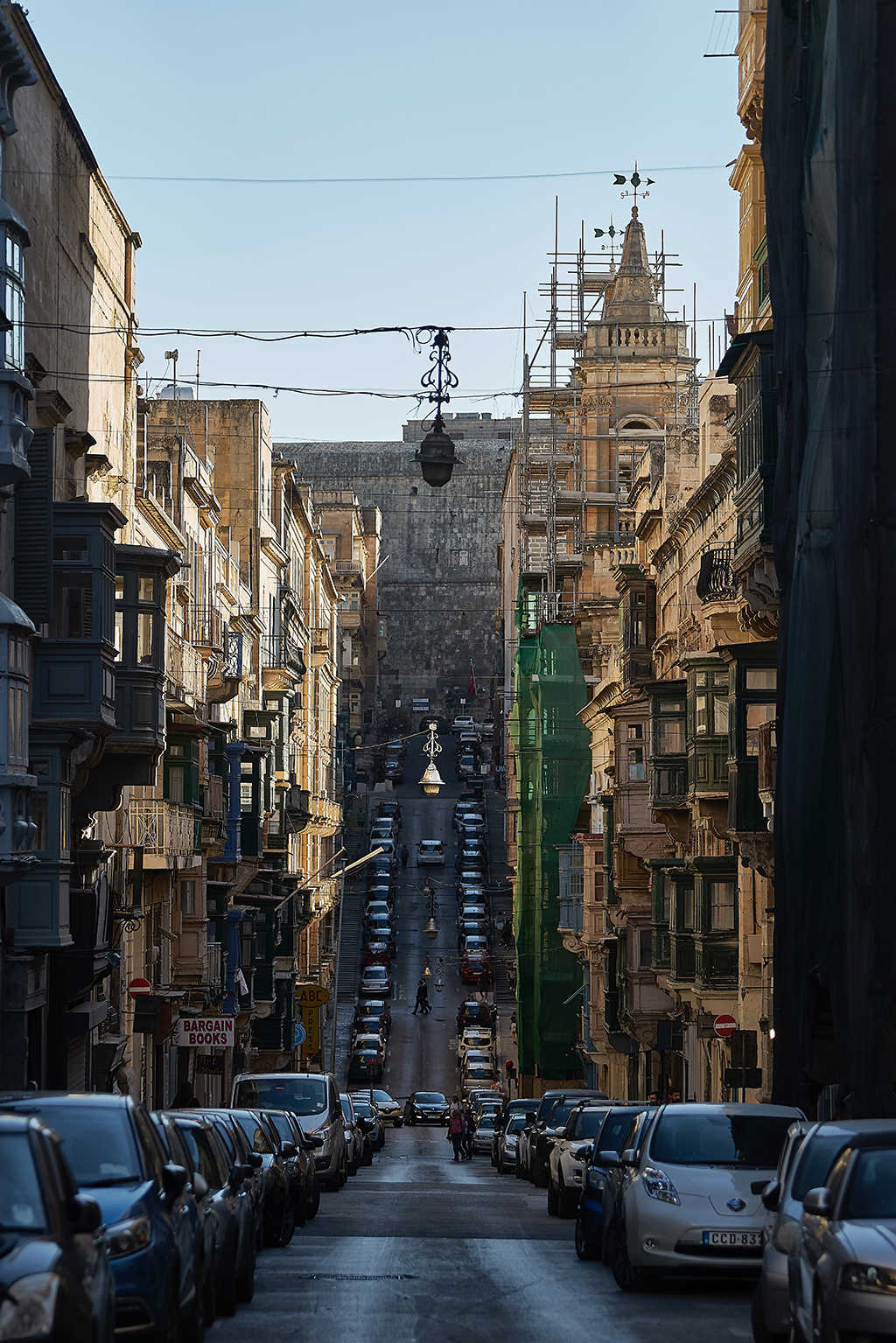 Valletta street (Photo: unsplash.com / @jarispics)