The pandemic has changed flights: Coronavirus test before boarding and masks on board
We tell you how planes are disinfected and what safety precautions passengers should follow
Why fly, you may wonder. Everybody stays at home, isolated. It's not just impossible to get to foreign resorts – in Sochi all the hotels are closed too. You are right, right now there is no need to fly anywhere without an absolute necessity.
But there are business trips. There are family circumstances when it is urgent to get to my family in another city. And there are planes that fly in Russia. On April 23, for example, there were 236 flights – out of the 2,600 planned in the "pre-coronavirus" schedule.
And we still believe that it will soon be possible to travel across the country again. Russian resorts and tour operators are optimistically preparing for the summer season and are planning to receive tourists. And summer, by the way, is only a month away.
Flights abroad will apparently resume later than domestic flights. The rosiest forecast – in August 2020, on a more cautious we are talking about the fall.
What has changed in flights now? What measures should passengers themselves observe? And how will the pandemic change air travel in the future?
What airlines are doing: disinfection and masks
All airliners are thoroughly cleaned using disinfectants. Photo: Alexey BULATOV, KP Yekaterinburg
Airplanes are thoroughly cleaned with special disinfectants according to the recommendations of Rospotrebnadzor. Between flights all surfaces in the passenger compartment (headrests, folding tables, seats, seat belts, i.e. the places most often touched by passengers) are cleaned – these measures are being taken by all airlines. Employees involved in the cleaning are wearing disposable protective suits, masks and gloves. After cleaning the airliner is ventilated. On the ground it takes literally 5 minutes to completely replace the air in the cabin, experts specify.
Air filtration . The air in the aircraft passes through a HEPA filtration system, which removes up to 99% of dust and germs. The probability of infection on board an aircraft is much lower than on other public transport, S7 Airlines assures.
Masks and gloves are now available in the first aid kits on board. But the airlines don't specify whether they are ready to give them at your request or only if necessary – for example, if a passenger has a cough.
Antibacterial wipes instead of the common wet ones, antibacterial soap in the toilets – these innovations were reported in Utair.
Disinfecting rooms where pillows and plaids are kept. And washing these products with a special disinfectant is another measure undertaken by Utair.
Passenger seating at a distance. Many airlines do this now, including Rossiya, Azimut and Emirates. Abroad, carriers are even required to maintain the same social distance in the cabin as in other public places: 1.5-2 meters. The Spanish aviation authorities are now considering claims against two airlines: in the liners that arrived in Mallorca, there were too many passengers.
Many airlines are trying to seat passengers at a distance. Photo: globallookpress.com
Masks and gloves are issued to pilots and stewardesses. On Emirates flights (it does not yet fly to Russia, but has resumed flights to many other countries), flight attendants also work in protective goggles and disposable robes. And so do all the staff at the airport.
The reusable headrests on the seats have been replaced with disposable ones – this is a new measure of Rossiya Airlines. The carrier has also stopped handing out press on flights. Foreign airlines, such as Emirates and Lufthansa, have also temporarily given up their in-flight magazines.
Pilot's opinion: 99% of viral particles are filtered out
Mikhail is a pilot who has been flying Airbus 319, 320 and 321 for many years. Aircraft of this type are used to fly within Russia, they are also used on routes between Russia and Europe (and probably will be again when flights are resumed). He's confident that the plane is virus-proof, even though it's kind of a confined space with a lot of people on it at the same time. Here are the arguments:
The plane's cabin is "sliced" by the air conditioning system into many layers of separate air currents. Visually it's one space, but the streams start from the ceiling, go through the row of seats to the aisle and return under the seats to the floor near the casing (which is why, by the way, the legs get cold during the flight). Thanks to this system it is unlikely that a passenger could get infected, except from the nearest neighbor.
The cabin air is completely refreshed once every three minutes during the flight. And before it goes back through the cabin HEPA filters.
The air from outside gets through the engine into the air conditioning system very hot – so hot that nothing will survive there. Cooled to -200 degrees, it mixes with the interior air from the cabin. There are filters in the mixing unit. They can filter out 99.9% of viral particles
Passengers: Online as much as possible and social distance
Passengers must keep their distance when checking in, boarding and collecting luggage. Photo: pixabay.com
Tips for passengers who can't postpone their trip and are flying somewhere right now.
Check in for your flight online – on the website or mobile app. If you're flying without luggage, you may choose not to go to the check-in counter at all. If you have luggage – reduce the number of contacts anyway. Many airports have check-in desks for self-service baggage drop-off.
At check-in counters, when boarding the flight, in the line for inspection, when checking-in your luggage try to keep a 1.5-2 meters distance from other people. In Sheremetyevo and Domodedovo, markings have been made on the floor.
Wash your hands as often as possible during the flight, or use a hand sanitizer.
Use the sanitizer or just a wet tissue to wipe your armrests, seat recliner, seat belt, and window curtain.
Your risk zone: Flight attendants and neighbors.
The greatest risk of catching the infection, according to experts of the World Health Organization, is if you find yourself in the next two rows (in either direction) from a person with coronavirus. That's why airlines are now trying to seat passengers as far away from each other as possible.
However, if the carrier of Covid-19 will be a flight attendant, travelers are more at risk: after all, in flight stewardesses more than once pass through the cabin and communicate with passengers. That's why it's important that the crew is now wearing masks and gloves.
The future: a test for coronavirus before a flight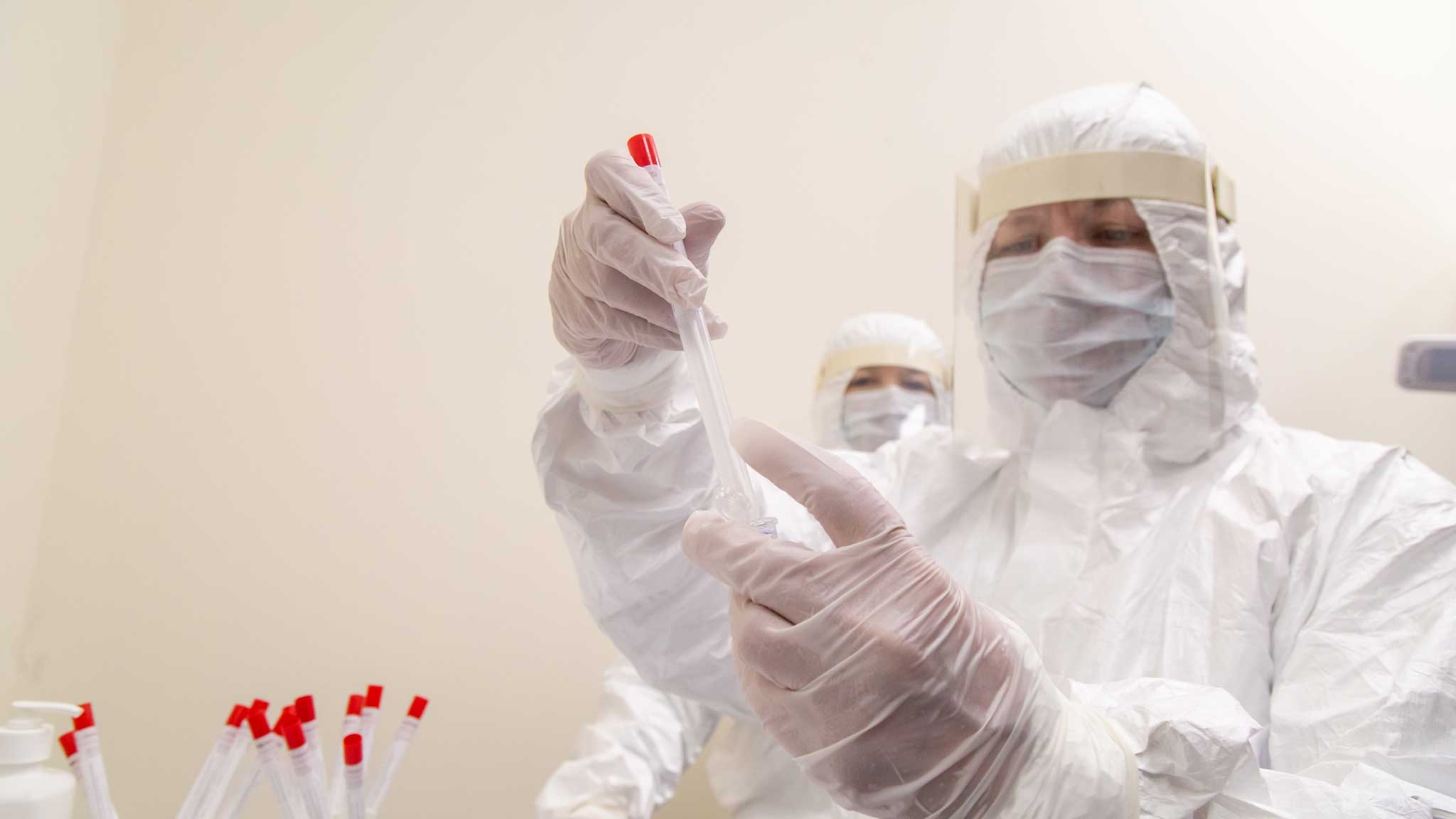 In some airports of the world it is already possible to get tested for coronavirus before flight. Photo: Valery ZVONAREV, "KP"-Chelyabinsk
The future has already arrived. Not everywhere and not for everyone, yet only at Dubai airport for the passengers of the Emirates airliner flying to Tunisia. They were offered an express test for Covid-19 along with check-in. The real express – the results are known in 10 minutes. The experiment was deemed a success and is going to be introduced on other flights.
Testing for coronavirus is useful not only for the airline (it will protect the staff and other passengers from the risk of infection on board), but also for travelers themselves. Together with a negative test result they will receive a certificate: no Covid-19, healthy! It's already impossible to get into some countries without such certificates. To Thailand, for example. And soon there will be more countries requiring such a document. Whoever gets rid of the disease first is unlikely to want it brought back.
The other day, PCR analysis for coronavirus began to be done in Moscow's Domodedovo airport, in the medical center. True, here you will not be immediately told the result, it will come by e-mail within 3 days. So this has no effect on the safety of the flight and fellow passengers, but rather an opportunity to do two things at once, since you're going to travel during a pandemic. You don't need to make an appointment in advance, you can just go to the medical center from 9 a.m. to 6 p.m. Only travelers without symptoms of acute respiratory viral infections are admitted. The service is paid, 2500 rubles.
What airlines are doing to be safe in a pandemic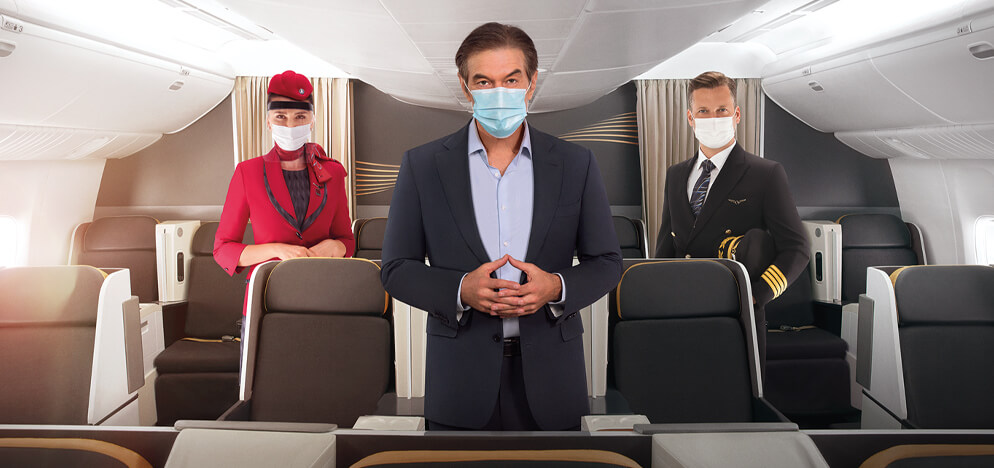 Safety first is the motto of all airlines. Turkish Airlines told what they do to ensure that their passengers are as safe as possible and do not get sick with Covid-19 at the airport and during the flight. Let's find out!
Contactless check-in and baggage drop-off
To avoid interacting with people, check in for your flight online. You can do this in the mobile app or on the Turkish Airlines website.
However, don't be afraid to walk up to a regular check-in counter, because now contact has been reduced to a minimum. You are separated from the employee by a security glass, and there is no need to exchange documents. Everything is feng shui: staff wear masks and gloves, and there is a distance of 1.5 meters between people in line. These rules have already become standard.
If you have a domestic flight, just print your boarding pass on the touchless machine counters.
By the way, you can now drop off your baggage yourself – at the automatic baggage drop-off counter. Very convenient! Just get your boarding pass first.
Read more about self-check-in on the Turkish Airlines website.
Disinfecting the cabin
Feel free to touch any surface in the cabin, because after each flight the cabin is thoroughly disinfected. They clean literally everything from the armrests to the air vents and reading lights.
Also Turkish Airlines aircraft are repeatedly disinfected by a special two-step procedure called fogging, i.e. using agents to create fog.
The plaids have not been forgotten either – of course they are also treated, but issued only on flights longer than 4 hours. Alas, pillows are not yet issued.
Air filters on the plane
During the flight it is important that the air be purified continuously. On Turkish Airlines aircraft for this purpose they use HEPA filters which renew the air every 3 minutes! It does not circulate inside the cabin, but is taken in from the outside, passed through the cabin and discharged through the filters.
Travel kits
Turkish Airlines gives passengers a travel kit during the flight. It depends on the brand, class and type of aircraft. Usually the kit contains small pleasant things needed during the flight, but during the pandemic a sanitizer was added to it.
In business class on wide-body planes you will get beauty kits from Molton Brown, a London brand that includes a diffuser, lotion and liquid hand soap. You will also receive a perfume from Atelier Rebul and a sanitizer.
In business class on narrow-body planes, they usually give lotion and liquid hand soap from Molton Brown, but the brand has been temporarily changed to Atelier Rebul.
In economy class, cosmetic kits are a bit more modest. On wide-bodied planes, Atelier Rebul lotion and perfume and disinfectant are issued. On narrow-bodied aircraft only the sanitizer.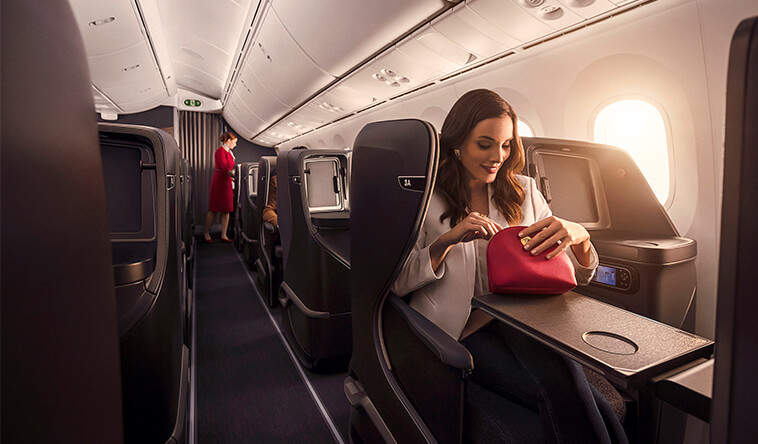 Hygiene kits
On the flight you will also receive a hygiene kit. It consists of a mask, antiseptic wipes, and hand sanitizer. If your flight lasts up to four hours you will get a mask and an antiseptic wipe. Sanitizers do not need to be brought, as they are given or available in the toilets.
A mask should be worn over your mouth and nose, not on your chin. Disposable mask must be changed every 4 hours and disposed of in a bag.
There is a hygiene specialist on every flight. This is a flight attendant who is responsible for disinfecting toilets, monitoring hygiene on board and social distancing, and handing out hygiene kits.
Companion app
There is an entertainment platform Planet on board Turkish Airlines – lots of music, movies, games, including for children. Install the Companion App, and if the plane has Wi-Fi, you can remotely control the screen on the back of the seat and personalize the entertainment system.
Disposable headphones are still issued on international flights.
Press Reader – an app for reading newspapers and magazines
As you understand, newspapers and magazines cannot be sanitized, so the airline has abandoned them. However, the press can now be read digitally! All newspapers and magazines are available 24 hours before and after your flight in the Press Reader app or at pressreader.turkishairlines.com.
In this video, hygiene expert Dr. Oz talks about what the airline is doing to make passengers feel safe in a pandemic: