What to bring from Kazan: the best gift and souvenir ideas
Kazan is rightly called the third capital of Russia. Since its millennium, the city has attracted millions of visitors from Russia and other countries. The souvenir market has also changed – instead of boring magnets, the city offers dozens of original gifts and souvenirs for adults and children.
Souvenir dolls in Tatar costumes
What to bring back for women from Kazan
Representatives of the fair sex will not refuse traditional Tatar jewelry or items of clothing. And the local cosmetics are known throughout the country.
Jewelry
In souvenir shops there are hundreds of silverware with semi-precious stones. There are earrings, bracelets, chains, rings and hair pendants. All of them are decorated with Tatar ornaments – plants and the crescent moon.
Traditional jewelry from Kazan
Cosmetics
The pride of Kazan is Talir Mustela cosmetics, made from natural mink oil. The brand offers products for body, face, hair and lip care. The brand's cosmetics are absolutely natural.
Cosmetics brand "Talir Mustela" from Kazan
Porcelain and ceramics
Tatar souvenirs and tableware made of porcelain and ceramics are famous throughout the country. Mugs, sets, casserole pots – everyone will be happy to receive such a gift.
Bowls with national Tatar painting
What to bring a man from Kazan
The variety of gifts for men is also interesting – from clothing to sports memorabilia.
Also of interest: The districts of Kazan
Skullcap
Can you imagine a Muslim without a tyubeteika? In Kazan it's not just a souvenir, but an attribute of national pride. The choice of tyubeteikas and their price range is huge. The market offers souvenir hats for children and adults for 150 rubles, or handmade masterpieces for 5-6 thousand rubles.
Tatar robe
This gift will suit both women and men. Women's model is always fitted, men's is wide. The outfit is worn over everyday clothes on holidays.
Skullcap and national Tatar robe
Ichigi
Soft, beaded or embroidered boots, without which it is impossible to leave Kazan. The boots are made of natural materials – leather and suede. Souvenir version is often made of morocco leather. Such boots are sold in souvenir stores.
Traditional Tatar shoes
Sports fans.
The city is famous for Rubin players and Ak Bars hockey players. T-shirts, badges, scarves, caps and magnets with their insignia are a great gift for sports fans.
Hockey symbols of Kazan
What to bring back from Kazan to a child
A favorite gift for children of all ages is a Kazan cat. Cats in tsarist times saved the palaces of St. Petersburg from the invasion of mice, and today they are a symbol of the region. Cats are depicted on magnets, plates and paintings. Statue of a Kazan cat can be purchased in any size and from any material. For souvenirs suit porcelain, for children – soft toys. IT'S INTERESTING. In 2009 on Bauman Street was erected a monument to the local cat. Since then every tourist considers it his duty to rub the moustachioed and make a wish.
Porcelain souvenirs in the form of cats.
Clothes
Like adults, children will love the traditional skullcaps, boots, and T-shirts. The original gifts will be thermal cups, phone cases, books and sketchbooks with inscriptions in Tatar.
What food to bring from Kazan
Kazan is rich in national cuisine. And recipes for sweets are a national treasure for the Kazan people.
Chak-chak
The honey treat symbolizes cordiality and hospitality. Guests are welcomed at home with it, like bread and salt, and the table is decorated with it. Chak-chak is sold in souvenir shops and supermarkets. Their shape varies from small triangles and balls "for one bite" to the size of a cake. Often the packaging is already decorated for the gift. THIS IS INTERESTING. When buying chak-chak, it is worth checking the date of production. Optimal for purchase are those made no more than two days before purchase. Such a treat will be fresh, will not crumble, and the honey taste and consistency will resemble oriental delicacies.
Tatar sweet Chak Chak
Kosh Tele.
A Tatar delicacy known in Russia as "ponytails," it surprises with its delicate texture. It is served at family feasts and is considered a sign of hospitality. You can buy it in souvenir shops and grocery stores. The shelf life of khvorost in vacuum packaging is longer. Khvorost in plastic containers is stored less, so it is fresher.
Kazan Khvorost
Talkysh Kaleve.
A Turkish treat brought to Tatarstan by local resident Borhan. He was held captive in the Turkish, and working in a confectionery, he learned the technology of making the delicacy. Great-grandson of Borhan kept the recipe to this day and gave it a family name. Today Sayfullin's sweet is included in the main Tatar cookbook. The pyramids are made of flour, melted butter, honey, sugar and water. The treats are sold in chain stores and souvenir shops. THIS IS INTERESTING. The shelf life of the dessert is no more than 10-12 days. And the storage temperature is from -15 to +5. This is important to consider when buying and transporting.
Tatar dessert "Talkysh Kaleve"
Kazylyk
Horse sausage can be boiled and raw. The second is much more expensive, and its shelf life is longer. It is better to buy it in supermarkets and grocery stores. There it is fresher than in souvenir stores.
Tatar horse sausage
Maple honey.
The difference from other varieties is a rich dark color and caramel and almond flavor. It is made in Tatarstan itself. Because of the high popularity of the product, it does not linger on store shelves and is always fresh!
Tatar honey has a caramel and almond flavor
In the traditional drink of Kazan people add oregano, which gives it a refined taste and aroma. It's better to buy coarse leaf teas with the inscription "brewed in the name of Allah," as it is the most authentic.
The secret of Tatar tea is oregano
Local cheeses appeared in the sight of gourmets only in 2014. Kazan's pride is "Tatar deluxe". It is a hard variety, reminiscent of Parmesan.
Cheese "Tatar deluxe". Photo of the producer
Alcoholic products
Tatspirtprom products are often bought as gifts:
Vodka: "Khanskaya", "Staraya Kazan", "Tatarstan".
Balsams "Tatarstan" and "Bugulma". They contain over 20 herbs and berries.
Tincture "Timerhan.
Beer: "White Kremlin", "Chistopolskoe", "Old Kazan" and others.
THIS IS INTERESTING. Vodka "Old Kazan" is particularly popular in a souvenir version – in a bottle in the form of a gun. Such a design was invented for the millennium of the city in 2005.
"Bugulma" is made of 24 kinds of berries and herbs
What can't be taken out of Kazan
Tatarstan is a subject of the Russian Federation and is subject to Russian laws. Restrictions apply to:
Antiques over 50 years old.
Items of real cultural, historical and other value to the state.
Restriction on the transportation of alcohol – 5 liters.
In addition, when traveling by air, it makes sense to refuse to carry food and medicines.
IT IS INTERESTING. Buy gifts and souvenirs is better in the city center on Bauman Street. It is a pedestrian street with great traffic. Goods there are not stale, and prices are a third lower than in the shops at tourist sites. Edible gifts are better at "Behetle" supermarket.
Bauman pedestrian street in Kazan
What souvenirs to bring from Kazan as a gift
The Republic of Tatarstan and its capital Kazan is one of the most colorful places in Russia. Shopping here is not limited to buying banal magnets and plates. After getting acquainted with the Tatar traditions, you want to take something of value, in addition to emotions, in memory of the oriental coloring.
The Tatar call it "kuchteneche". The Tatars believe that the gifts brought from far away should not only be useful, but also give a piece of the soul. So, what can be brought from Kazan for you and your loved ones? Here is a detailed list of souvenirs and useful things with a Tatar flavor.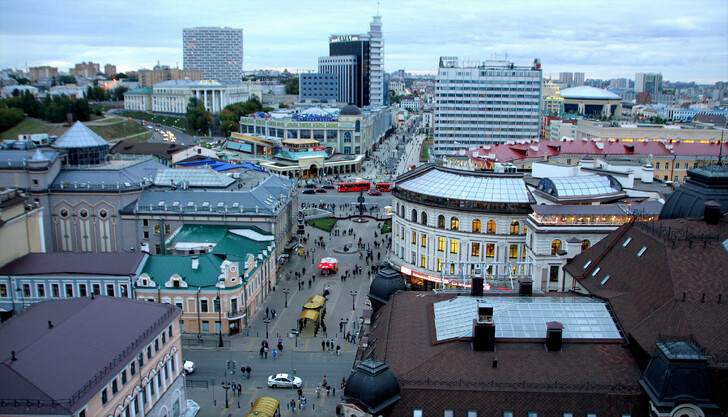 What to take as a gift from Kazan
Bringing from Kazan souvenirs of the usual form (trinkets, magnets, postcards, plates) is the last option for a gift. Among the fun trinkets you should pay attention to the statuettes depicting the Tatar snake Zilant. This is the local counterpart of the Serpent Gorynych, only with one head. Another option is small statuettes of fairy-tale characters from the works of Gabdulla Tukay.
Another mini-option, what souvenirs to bring from Kazan are badges depicting the sights and symbols of Kazan: Suyumbike Tower, Zilant Snake, Spasskaya Tower of the Kazan Kremlin. The Kazan brand Pinspace offers stylish locally made badges.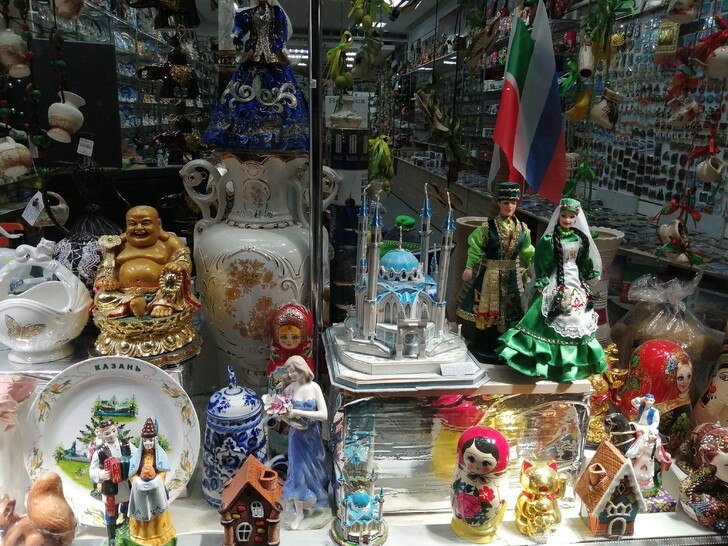 Tatar tableware will be a practical gift: bowls (traditional cups for tea, bigger cups can be used as soup bowls) made of ceramics or porcelain with folk ornaments; roast pots – both minimalistic and painted; spoons and dishes made of wood. Choose spoons with a picture of a tulip, the symbol of Tatarstan.
Some tourists compare Tatar tea to English tea in quality. It is not surprising, because the tea traditions of the Tatar people are rooted in nomadic antiquity. The unique flavor of Tatar tea adds oregano. And the inscriptions on the tea packages add flavor to the drink: "To brew in the name of Allah. Also, there are herbal teas on sale, but you should choose them carefully: many of the herbal teas are not produced in Tatarstan. The smallest packs of tea will cost you from 50-100 roubles.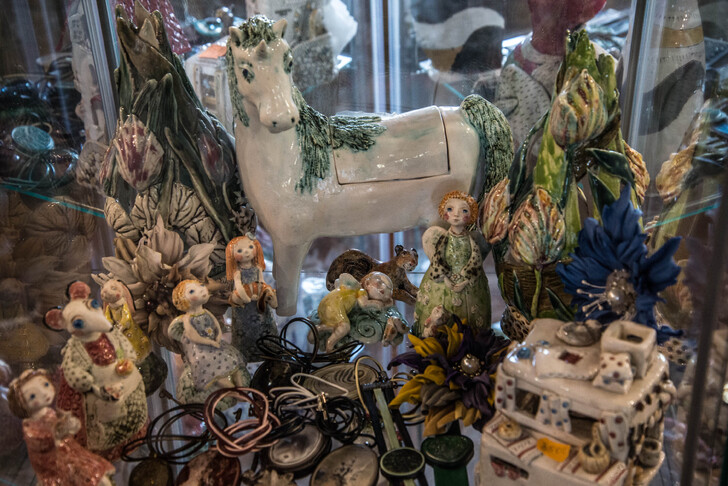 What to bring from Kazan of food
Tatar cuisine has many unique notes and features. But not all dishes can be transported home. What to bring from Kazan tasty? Above all, choose foods and sweets that are easy to bring home in one piece. The ranking of the most popular Tatar edible gifts include:
Chak-chak . The traditional Tatar sweet is found in almost every souvenir and grocery store. Chak-chak is a product of thinly rolled, nest-shaped dough soaked in honey syrup. For a gift, chak-chak is ideal – in souvenir shops it is packed in beautiful boxes, the dessert can stay on the road for a long time and does not spoil. The sweet is suitable for children – it is completely natural. A souvenir weighing about 600 g in a gift box will cost 300-350 rubles.
Talkysh Keleve . The second most popular sweet in Tatarstan. The dessert with a difficult to pronounce name is a pressed cotton candy (made of honey, without added sugar) in the form of pyramids. Airy pyramids are not like other sweets, besides they have a very low calorie (31 kcal per pyramid). A 250g box will cost 250 rubles.
Bausak . This pastry can be served both as a dessert (with syrup) and as an addition to a main course. Baursoak are thick dough sticks fried in butter. They resemble unleavened doughnuts in taste. Most baursak is sold by weight, but vendors can also gift wrap it in a nice box upon request.
Honey . A seemingly standard souvenir that can be purchased in any city, in Kazan has a truly unique taste. Rare variety of black honey (look for it) has a caramel flavor and almond aftertaste. This honey is suitable for diabetics and people watching their weight. It is also believed that regular consumption of Chernoklenov honey helps to get rid of nausea attacks in transport. It is better to buy honey at local markets – there the cost per kg starts at 500 rubles.
Kazylyk . Sausage made of raw horsemeat is considered an exquisite delicacy in Tatarstan. The taste is really not like the usual sausages made of pork and beef. No harmful chemicals are added to kazylyk. True, the price corresponds to the prestige of the snack – from 400 rubles per kg.
Tutyrma . This is another meat delicacy, which is considered a family dish. Tutyrma is the sausage stuffed not only with minced meat but also with different grits. Traditionally, tutirma is fried in a cauldron, but can also be baked in the oven.
Argamak . Tatar version of jamon, which is prepared from horse meat. First, a piece of foal (it is important that it is a young horse) is boiled in salt water. The meat is tied with ropes so that it does not lose its density. Then the foal is smoked for 5 days over the smoke of young branches of cherries and currants.
Tatar Deluxe Cheese . Production was launched after the introduction of sanctions. According to tourists, the taste of this semi-hard cheese resembles similar cheeses from Italy. A kilogram of cheese will cost 800 rubles.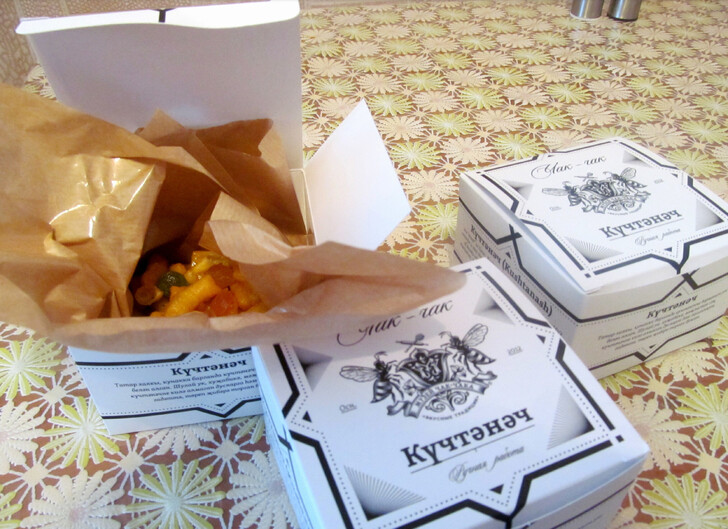 What else to bring as a gift from Kazan food? Kosh tele – a Tatar version of cakes; candies in a gift box (the best – from confectionery factory "Sweet Farmstead"); smoked and dried duck; echpochmak – pie with minced meat (subject to the short drive home). A great gift related to Tatar cuisine is cookbooks. According to reviews, there are rare recipes and useful tips for housewives.
Tatar edible souvenirs and gifts are recommended to buy in the national chain store "Bakhhetle". Tourists recommend buying chak-chak in the factory store of Kazan Bakery Plant #3. There you can also buy fresh gingerbread, marshmallows and marmalade.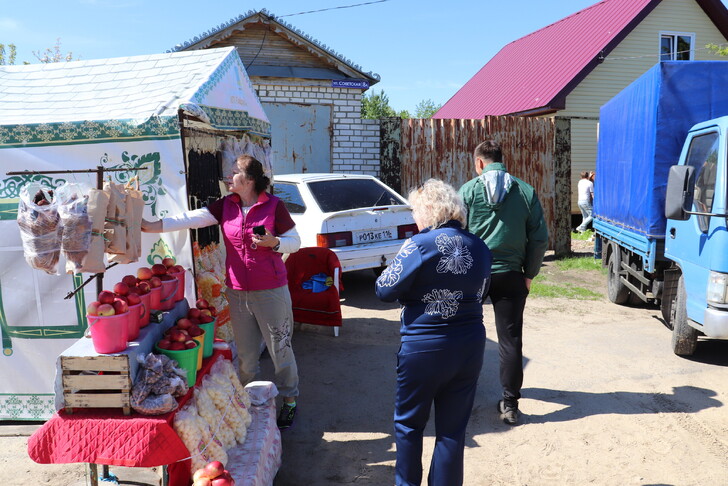 What to bring a child from Kazan
A cute souvenir for the child will be a Kazan cat. The symbol of the capital of the Republic of Tatarstan is available in different forms: a wooden or soft toy, a T-shirt or a backpack with a picture of a cat. By the way, the Hermitage cats are descendants of the Kazan cats, delivered to St. Petersburg back under Elizabeth.
A useful gift would be a book. Children can be brought colorful books of Tatar fairy tales. For example, a collection of "Sviyazh tales" with illustrations by local artists or more ancient stories by Tukai.
The boys can bring merchandise (T-shirts, scarves) with the attributes of Rubin soccer club and Ak Bars hockey club. Such souvenirs are recommended to buy in the brand stores of sports clubs: at "Tatneft Arena" and the Central Stadium of FC "Rubin".
Older kids can buy stylish thermocaps and water bottles with Tatar inscriptions (from 600 rubles for a high quality mug), sketchbooks and notebooks with funny covers. Boutiques of Tatar designers offer original T-shirts with prints reflecting the modern Tatar flavor; badges with Tatar landmarks; and phone covers. Similar souvenirs can be found in the brand store of Visit Tatarstan.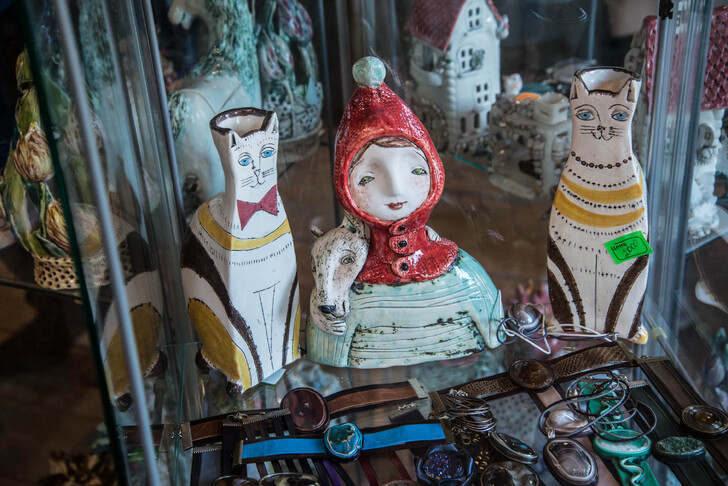 What to bring from Kazan unusual
An exclusive gift from Kazan will be leather socks – huffs. Originally, these socks were invented for the cold season to facilitate ritual ablutions – only the socks are moistened, not the feet. Now huff socks are bought for home instead of slippers. The cheapest versions are made of cow and rabbit skin (from 550 rubles), the most expensive – of sheepskin (from 2000 rubles). The advantage of such socks – long life, up to 2 years or more.
An original gift will be a real Tatar cauldron for cooking pilaf and other dishes. Kazan is a symbol of Tatarstan – even their main registry office is made in the form of this ancient dishes of nomadic peoples. Cauldron will be a good gift not only for housewives, but also for hikers. There are cauldrons of 1 to 25 liters on sale. There are cauldrons made of cast iron and aluminum.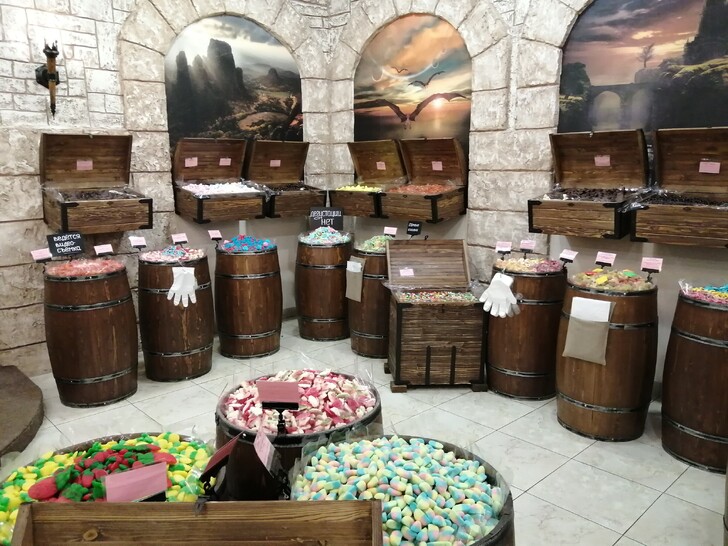 What alcohol to bring from Kazan
Strong drinks that tourists take from Kazan are mostly herbal balsams. They are named after the places of production: "Bugulma", "Chistai", "Elabuga". Each of the balms contains more than 20 kinds of berries and herbs. Balsams can be taken both in pure form and added to tea and coffee. A half-liter souvenir bottle costs from 300 rubles. Balsams and other strong alcohols are more profitable to buy not in souvenir shops but in specialized alcoholic stores.
The most popular tincture from Kazan is "Timerhan". The tincture is made on bitter herbs. The strength of "Timerhan" is 40 degrees. As part of the tincture: bitter wormwood, honey, anise, linden blossom.
An original gift for men will be vodka in a bottle in the form of a gun. The vodka is called "Old Kazan". She is distinguished not only by the unusual shape of the bottle, but also by a mild taste, not causing a desire to grind after a sip. Professionals compare its quality to premium vodkas from Finland.
For those who do not like strong drinks, a pleasant gift would be mead. Tatar mead resembles kvass in taste. The basis of mead is honey, spring water and yeast. Alcohol does not contain the drink, but the strength is slightly higher than that of beer and wine. Due to the natural components mead is considered beneficial for health. In addition to the classic mead you can buy its varieties with the addition of berries and herbs.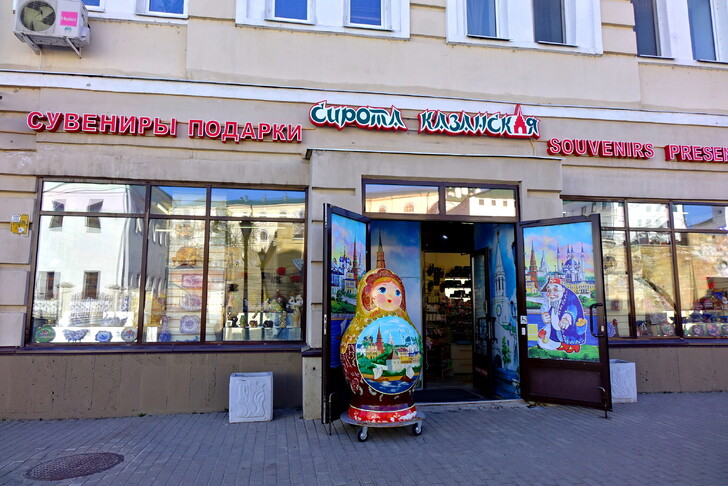 Clothes
Dresses in the ethnic style with Tatar ornaments are available in small showrooms of local designers. Dresses of author's design will cost from 2000-2500 rubles. A more traditional variant of the Tatar dress is a velvet robe with embroidery. It can be worn as home clothes. If you are not ready to wear clothes with Tatar ornaments, you can dilute your image with a handmade bag. It looks not so bright, but at the same time it highlights the everyday image.
Another accessory suitable for everyday wear would be shawls and shawls. Tatar shawls are not inferior to Orenburg shawls in quality. At the same time they have a great variety of patterns – from traditional Tatar to more international.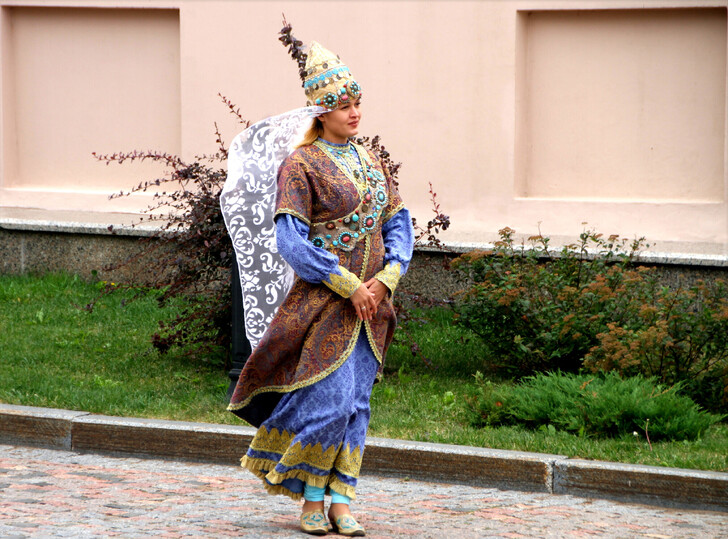 Less practical, but unusual are the traditional headdresses. For men it is the Tatar skullcaps. For women they are velvet kalfaks, which are cap-shaped hats with tassels on top. Pay attention that in souvenir stores Chinese goods are sold at a minimum price, when choosing, ask for local handmade goods. Genuine Tatar skullcap will cost from 400-600 rubles, and velvet kalfak from 1000 rubles.
Good quality T-shirts with images of important people in the Republic, from Tukay to Rudolf Nuriev, would be a good gift.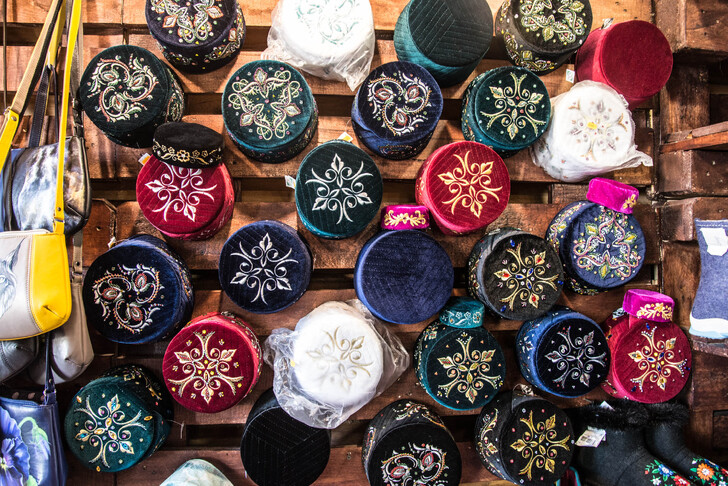 Footwear
The Tatar national footwear is no less distinctive than other closet items. And many of the options are perfectly applicable in everyday life. The most popular version of shoes that can be brought from Kazan as a gift are slippers-slippers. Soft shoes without heels are suitable as a replacement for the usual slippers, especially in combination with a velvet robe. Handmade (with embroidery) and genuine leather stockings may cost from 10 thousand rubles and higher. The most expensive ones are embroidered with gold and silver threads and decorated with pearls. More budget versions are factory copies, inferior only in exclusivity but not in quality.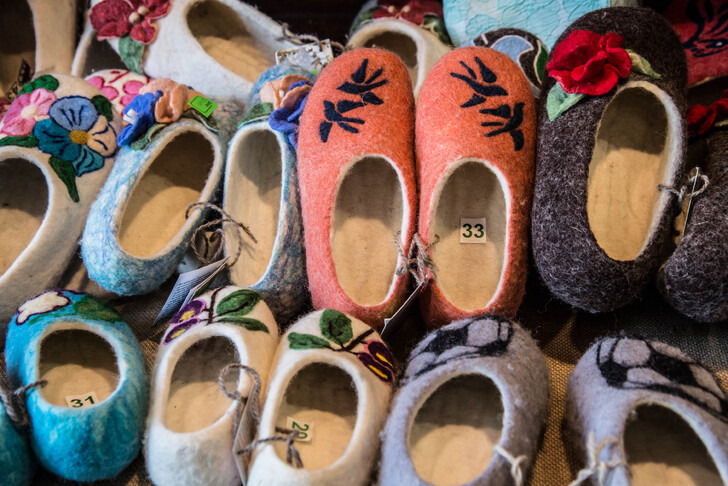 Less practical, but very beautiful gifts will be ichigi boots. High boots made of soft leather are richly decorated and painted with traditional patterns. These boots with elements of colored leather hard to fit into the everyday image, but they are perfect for horseback riding. Also these boots are often purchased by fans of historical reconstruction. A good pair of ichigas costs from 6000-8000 rubles.
But valenki made of sheep's wool, brought from Kazan, can be safely worn in the winter. The products of the "Kukmor felting plant" are in demand. The production of felted boots in Kukmor (150 km from Kazan) was established in the XIX century. During the Great Patriotic War the factory embroidered soldiers. Now we offer both monochrome variants, and more elegant, with patterns. There are felt boots for children and adults.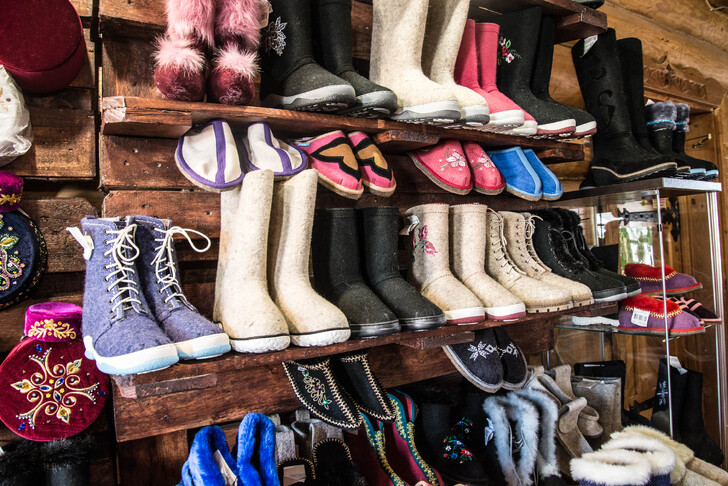 Jewelry
Jewelry is the most obvious option, which gift to bring from Kazan for the fair sex. The most popular option is silver jewelry with semi-precious stones and traditional ornaments. Authentic look jewelry in the form of a half-moon with turquoise stones. Quality jewelry should be chosen from boutiques by local designers rather than souvenir shops.
The traditional method of manufacture is called lumpy scanning. In the middle of the XIX century such jewelry was considered one of the most elegant and difficult to produce in the world. Now the technique has been restored and the finished pieces look really original.
A more colorful gift would be pendants on the hair. There are options with coins or stones, beads and rhinestones. Those who are fond of oriental dances can be presented kerchiefs embroidered with coins.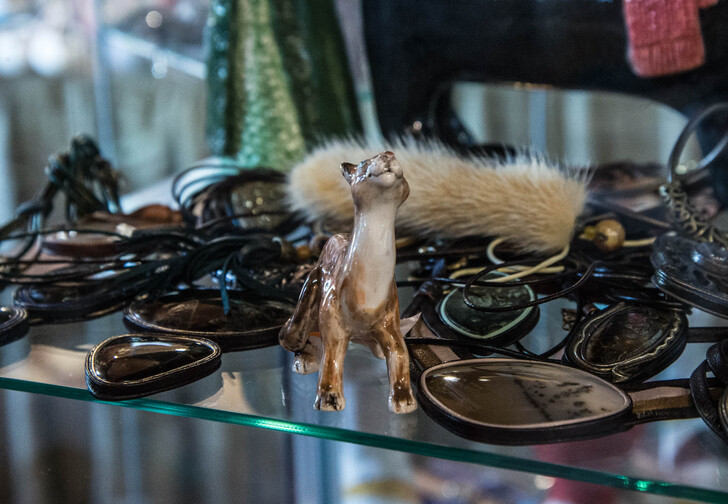 Religious presents
The number of Muslims in Russia is about 30 million. Most likely, among your acquaintances there are believers who belong to the religion of Islam. For them, you can bring gifts related to religion. The most popular religious products (after the Koran) are:
Shamail . These are signs with religious texts in Arabic. They are usually hung above the door of the house in a frame. They are reminiscent of our icons – only instead of images on them the text. In Kazan one can buy handmade shamails made in calligraphic technique, embroidered on canvas, painted in different colors or printed.
Wall plates with Quranic inscriptions . Most souvenir stores sell plates with images of the sights of the city. For more original plates with religious themes go to the souvenir shops at major mosques.
For young Muslims the original gift will be sets of stickers with lines from the Koran, Muslim chewing gum with inserts (like Love is) about the history of family happiness of Fuad and Samira. Inexpensive, but very unusual gift is a pen Koran – it is built in a speaker, which are played lines from the Holy Book. The pen comes with a mini-Quran with QR codes, which are read and reproduced by the devices. Such item will cost from 2000 rubles. One more miracle of Muslim technique is a clicker watch, which is used as a prayer counter.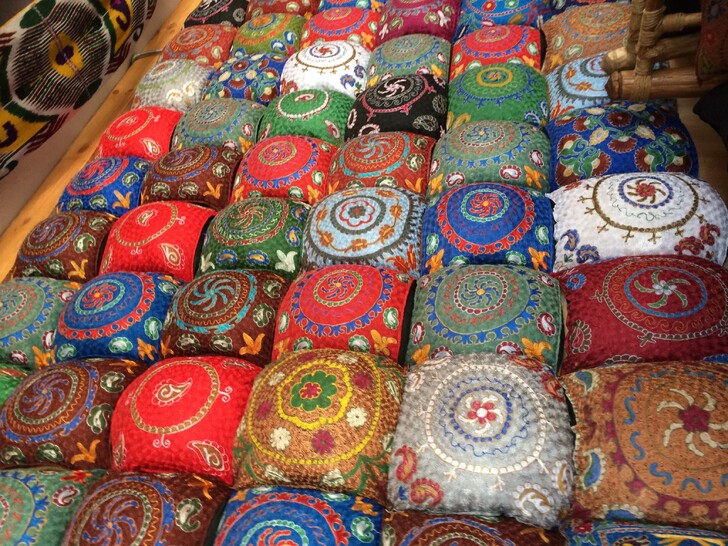 Cosmetics
To bring cosmetics from Kazan is not the most obvious option for a gift. But here you can buy both high-quality cosmetics factory production and natural oils. What to bring from Kazan is a must?
Ostrich oil . An exclusive product from Saudi Arabia is sold in the shop "U Ilshat. The oil helps in the fight against acne and other skin problems. The oil is also great for getting an even tan and massage treatments. A bottle costs 300 rubles.
Cosmetics from the factory "Mustela" . Cosmetics are made on the basis of mink oil. According to tourists' reviews, the cosmetics helps to get rid of allergic reactions and itching, rejuvenates and refreshes the skin.
Cream with black caviar extract . Natural cream perfectly moisturizes and rejuvenates the skin. The important point is that the cream has no fishy smell. A jar of the cream costs from 350-400 rubles.
Shampoo "Zuhra" . This shampoo with black cumin oil has a restorative effect and prevents hair loss. The cost of one tube is 300 rubles.
To buy natural cosmetics, oils and incense is worth visiting the mall "East.
Reviews
To the question "What to bring from Kazan?" in the reviews, tourists, in the first place, name edible gifts – from sweets with honey to smoked and dried horse meat. In second place – souvenirs that reflect the national colors: clothing, shoes, jewelry. While shopping for tasty souvenirs from Kazan, you need to keep in mind the shelf life – not all souvenirs can be brought home fresh.
For the original, but inexpensive souvenirs tourists are advised to go not to local boutiques and markets. There you can find both exclusive pieces of clothes and shoes (in the Tatar villages they still wear traditional handmade clothes) and antique crockery and household utensils: silver coffee pots, rare porcelain and wooden spoons. Now one of the favorite places to buy used items is the Goodovantsev flea market.
If you're short on time, you don't need to go all over town for souvenirs – the most popular options are found in the stores on Bauman Street, which is where all the tourist trails run.