What to see in Pattaya. On your own visit all the attractions
November 2016 (updated: 17.03.2022) 12
Pattaya offers a wide range of interesting places for tourists. This article will give you a brief description and links to the main attractions in Pattaya. Now you will have options on what to see in Pattaya on your own on vacation.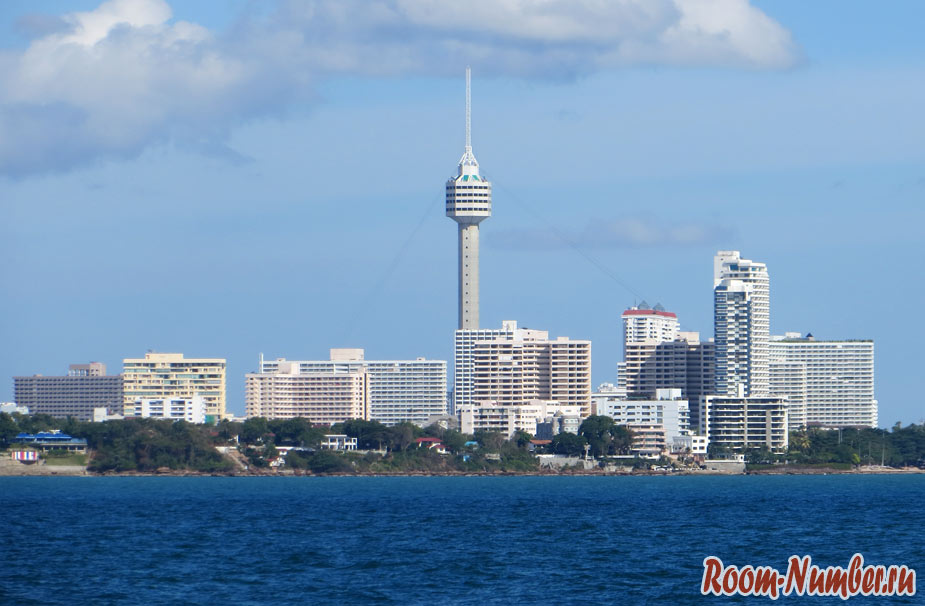 Attractions in Pattaya
I would like to point out that many places, including the best beaches, water parks, gardens and zoos are in the outskirts of Pattaya, outside the city. There are not many places to visit in Pattaya itself, mostly entertainment attractions like a drag show, as well as an observation deck, temples, a couple of museums and a miniature park.
Temples
To embrace Thai culture you should definitely see at least a few temples in Pattaya. In fact, the more the better. They are all equally beautiful and colorful. At a minimum, visit the wooden temple of Truth and any Buddhist temple of the standard look.
For many attractions you can buy discounted tickets online at Klook
The largest wooden temple not only in Thailand, but in the whole world. It cost a lot of effort to create and bring it to life. Be sure to visit it. You can either on their own or to book a tour. Admission is 500 baht.
Another worthy masterpiece on the outskirts of Pattaya. There are several temples and a lake. This temple is part of the tour of the village Karen. You can also get to it by rental car or cab.
This temple is located at an altitude of 140 meters above sea level. The gilded Buddha is surrounded by various sculptures. It is always crowded, but not noisy, everyone respects the place, although it is not only a religious but also a tourist attraction.
A small temple in central Pattaya of the standard look. Located near Volking Street and Tukkom. If this is your first time in Thailand or will be passing through here by chance, stop by. Admission is still free.
All Saints Church in Pattaya was built with donations. The Russian church is located in the Naklua district on 14th Street, near Wongamat Beach.
Lookout Points
The most important observation deck in Pattaya. Here you can sit and take lots of pictures. After all, the view is the best there can be.
A lesser known observation deck. From this observation deck, where the word Pattaya is lit in red letters, you can see the whole central part of town and the coast, but there are almost no tourists.
From the 55th floor of the tower you can easily cover all of Pattaya. Especially welcome to go up in clear weather. Then the Gulf of Thailand will appear in all their glory. Go down a cable car or bungee jumping.
The main attraction here is a large golden Buddha. But there is also an observation deck. The view is not the chicest, but you can see the whole area Jomtien, Pratamnak and a piece of the sea
Animals and Zoo
The zoo is a half hour drive from Pattaya. One of the best zoos in all of Thailand. It is worth a visit. The animals walk in cages, and many live completely without cages. The most pleasant experience. If you go by car, buy a discounted ticket through Klook.
It is located in Sriracha, not far from Pattaya. The zoo has contradictory reviews. Mostly come here to pet and feed the little tigers from the pacifier. The zoo is small and inferior to Khao Kheow. Admission is 450 baht.
Underwater World features many of the inhabitants of the underwater world. Both children and adults will be amused to feel inside the aquarium and look at the fish so close up. Admission is 500 baht.
In continuation of the marine theme you can go to the dolphinarium. Dolphin show, friendly atmosphere, and even the opportunity to ride a dolphin for an extra fee.
Want to spend time in the company of pedigreed and well-groomed cats and cats, then come to the cat cafe. For a small fee you will cheer yourself up and make your children happy. You can only get there on your own or by cab, as the cafe is located in Chonburi.
Gardens and Parks
What to see in Pattaya of the natural attractions, where to go for a walk on a hot afternoon. There are no parks within the city limits. But there are several interesting parks in the vicinity within a radius of 30-50 km from Pattaya. You can visit them on your own transport, by cab or with a tour.
The most famous garden in Thailand. The variety of flowers, palm trees and well-groomed immense area will impress everyone. Also in Nong Nuch is held elephant show. Admission is 500 baht. Ticket with discount
Here you will see firsthand the most famous landmarks of the world in miniature. It is very beautiful, both during the day and in the evening, when they turn on the lights and spectacular illumination of all buildings. Admission is 350 baht.
Less popular, but also often visited by tourists. Beautiful nature, unusual surroundings and just the right place to contemplate the beauty around.
These cute creatures in great variety you can see here. And also enjoy the plants and flowers. Located 45 kilometers from Pattaya, can be reached by car or cab.
Despite its name, there is a nice park. All blooms and smells. Clean, pleasant, civilized. A lot of gazebos and benches. Little Europe in Ptt. And the main thing is that you can relax here for free, which is a rarity for Pattaya.
A huge rock painting of Buddha. This attraction in Pattaya is something between the park and the temple. Located next door to Silverlake.
Shows in Pattaya
One of the best shows with transvestites that exists in Thailand. Beautiful outfits, a dressed up hall, and a rousing performance guaranteed. Tickets with transfer buy in any travel agency. Do not come on your own, as it will be more expensive on the spot. If you go without a tour, here you can get tickets at a discount.
This show is not just with dressed up dancing transvestites, but a real cabaret. No less cheerful and full of its own show program. Tickets for such events is more profitable to buy in travel agencies, because for the same money will be transfer.
According to the reviews of tourists, the most boring show. But you should judge only when you have been there yourself. The program should be similar to the show at the Colosseum, but a little lower level.
You like to watch tricks, but all the time sorry for the money to do it? In Pattaya, the show is very budget friendly. Allow yourself to plunge into the world of childhood.
The show is for adults. Cameras and children leave at home and come immerse yourself in the promiscuous erotic world of Pattaya. Stunts with genitals, like smoking, shooting darts and ping pong balls, lots of surprises and debauchery.
Museums
An extraordinary museum with the most unexpected exhibits. There is also a wide variety of attractions. This museum will change your mind about museums in general. Admission costs 500 baht.
Here you will become the hero of your own fairy tale. Themed pictures will transport you far into the past or into the future. In the pictures you can be sealed in different life circumstances and even countries.
Relatively recently was presented in Pattaya. If you come here with children, you will find your favorite bears, be able to touch toys and walk through several interactive themed areas. It will be fun for the whole family.
Farms
Sheep farms of all kinds are a popular attraction for Thais with children. There are such places in all cities of Thailand. There are several sheep farms in Pattaya, below is a link to one of them.
PATTAYA SHEEP FARM is located near Pattaya. For less than 100 baht, you can spend many pleasant hours at the farm and interact with the sheep. A good and inexpensive place to spend the first half of the day in the company of these cute creatures.
Not far from Pattaya is a farm with beautiful flowers. Here you will not only be told all about these flowers, but also sell certified plants to take home.
Water Parks
One of the best and most modern water parks in Thailand. A day spent on all sorts of water rides, will be remembered for many years. A 40 minute drive from Pattaya. Admission is 1190 baht. Discount tickets here.
The second popular water park in Pattaya. Would also be great fun. Clean and modern. Everything is there for a full day at a place like this. As an alternative to Ramayana has a place.
Other interesting places in Pattaya
If you like speed, then be sure to come here to have fun. Feel like a real racer. Karting is located near the Bali Hai Pier at the far end of Volking Street.
Now not only in Phuket, but also in Pattaya there is a wonder house. To walk upside down and take extraordinary photos as a memento, why not.
Thai Venice with stores, shows in the evenings and lots of entertainment for the whole family. Located in the district of Na Jomtien opposite the Ambassador Hotel.
A large complex where you can ride a horse. Here you can try out horseback riding and get to know these beautiful animals better.
Beaches
There are not as many beaches in Pattaya as one might think. In addition to the well-known beaches, such as Jomtien and Wongmat, you can swim at other, even cleaner beaches. Read our review of all the beaches with full descriptions of photos and videos.
Pattaya Islands
Near Pattaya there are several islands. You can get to them, both on their own, and order a full excursion. The nearest and most accessible island is Ko Lan.
Ko Lan is the most visited and the closest island to Pattaya. After the beaches in Pattaya, the beaches of Ko Lan will seem truly heavenly. You can reach it on your own by ferry for 30 baht.
There are more distant islands, which can be traveled on their own or with a guided tour. Since the other neighboring islands, which would take a maximum of an hour away from Patta, as Ko Lan, there is practically no other islands, the neighboring provinces Rayong and Trat are also included in the list of excursions.
The drive to Samet is closer than to Ko Chang, but farther than to Ko Lan. The island will have white sand and turquoise sea water. The island is suitable for a romantic vacation for a couple of days or even the whole vacation.
Ko Chang is much farther away than Ko Lan and Ko Samet. It owes its popularity to its wide beaches and developed infrastructure.
Ko Wai is located near Ko Chang. This small wild island is becoming more and more loved by tourists every year. All because of its pristine nature and a minimum of tourists. For swimming is not ideal, the bottom is stony.
Total relaxation, palm trees, crystal clear water, no waves and peaceful atmosphere. All of this applies to the island of Ko Mak. We went for four days.
Koh Kood is the farthest island and is on the border with Cambodia. Wilderness, coconut plantations on the shore, but still good hotels, restaurants and roads. It's worth coming here at least once.
Here are 42 places, from what to see in Pattaya. Check out the attractions in Pattaya and choose where you want to go the most. As you can see, half of the attractions we have listed are outside of Pattaya itself. If you are on a bike, it is not a problem to get to them. You can use the tour bureaus. Or get to remote places with cabs or shuttles.
Where to stay in Pattaya
We recommend the Jomtien area if you are coming for a vacation or a winter stay. Pratamnak and Wongamat districts are also good places to stay. The city center is good for shopping, partying, and bar lounging. For all the major areas of Pattaya we have made a selection of hotels with good reviews and high ratings:
Fly to Pattaya and enjoy your vacation in sunny Thailand! We hope our humble articles help you decide on a list of sights to see, beach and hotel choices. Be sure to write in the comments what interesting things you saw in Pattaya, what you liked, what not so much. We may have missed something and not added to this list.
Pattaya – what to see and where to go on your own
Attractions in Pattaya, which you can see on your own, is a huge number of places that are invariably popular with tourists. It has everything for a rich and interesting leisure: religious buildings, beaches, excellent food, a variety of entertainment, etc. Here is a small sightseeing tour!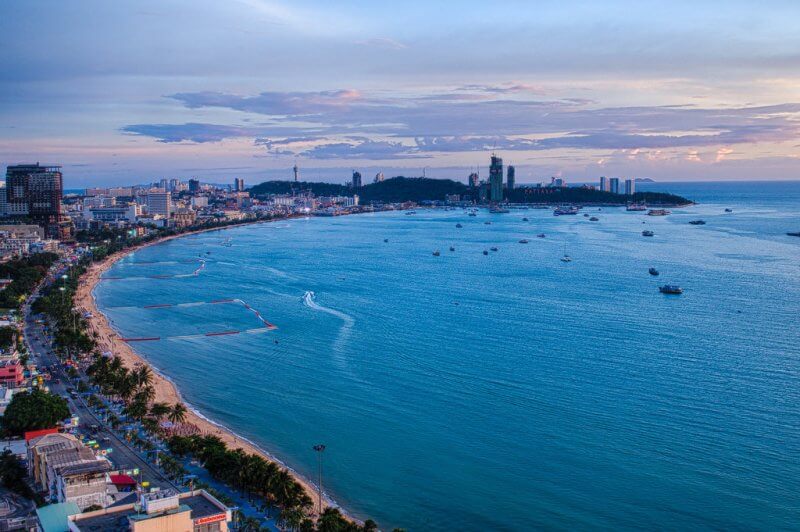 Temple of Truth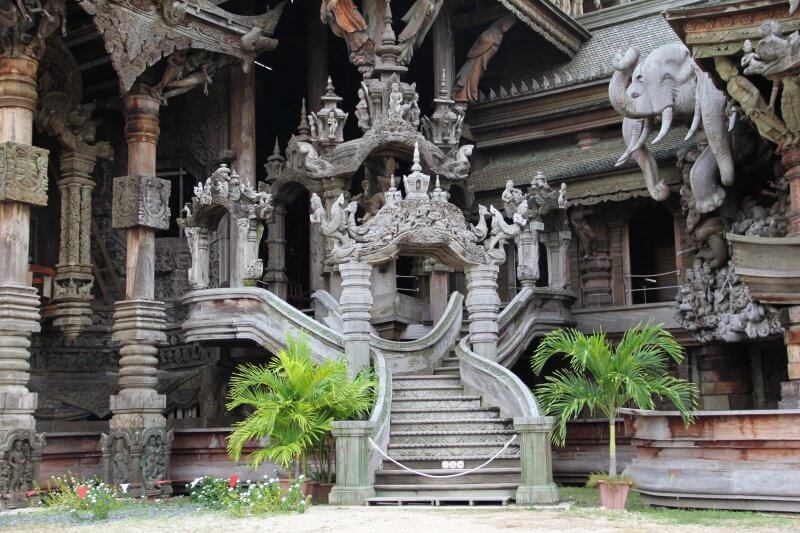 If you do not know what to see in Pattaya on your own, start your walk with this place. The Temple of Truth is a quaint wooden structure located on the shore of the Bay of Bengal and surrounded by a huge park area.
Despite the fact that its construction, which began back in the early 80s of the 20th century, is still going on to this day, tourists enjoy coming to admire the ancient Thai carvings and numerous sculptures depicting ancient mythical creatures. Want to know more? Follow the link.
Nong Nooch Tropical Garden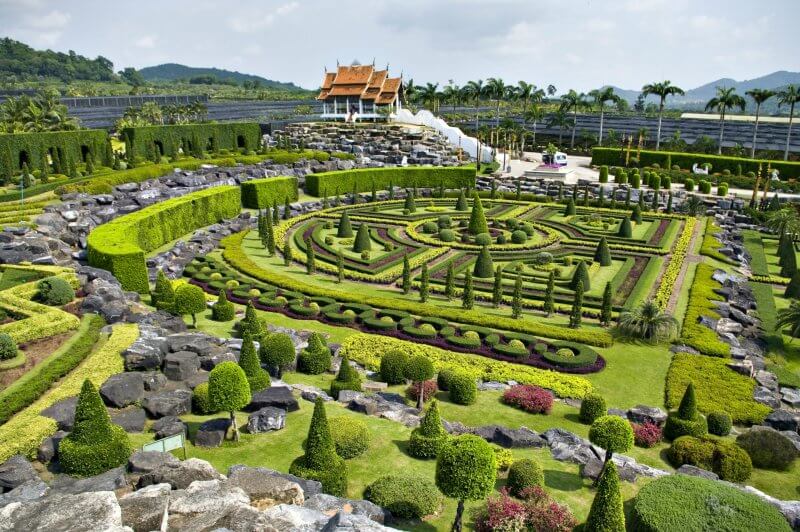 If you look carefully at the map of Pattaya with attractions in Russian, located at the bottom of this page, you will probably notice the tropical park Madame Nong Nooch, which covers an area of more than 2 square kilometers. The history of this place began with an ordinary fruit plantation, from which the result was a large complex.
Nowadays there are more than 10 gardens, a unique zoo, car park, elephant farm, as well as several shows. Besides the park has a developed tourist infrastructure, so if you want you can spend here if not the whole vacation, at least a weekend. Learn more about Nong Nooch on this page.
Big Buddha Temple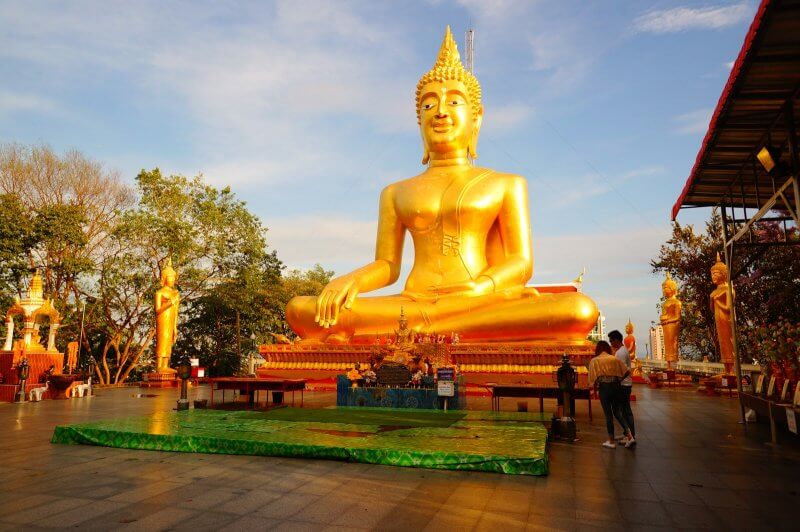 Tourists coming to Thailand often ask where to go and what to see in Pattaya on their own. The Buddha Temple, located in the center of the city, is one of the must-see places. This temple can be without exaggeration called the most visited local landmark.
There are 16 divine sculptures on its territory, the main of which is a gilded statue of the Big Buddha. The height of this monument, the construction of which lasted 18 years, is about 15 meters, so it can be seen from all corners of Pattaya. Near the temple sold small birds, which are bought in order to let out and make a wish. For more information on the Big Buddha, see here.
Art in Paradise 3D Gallery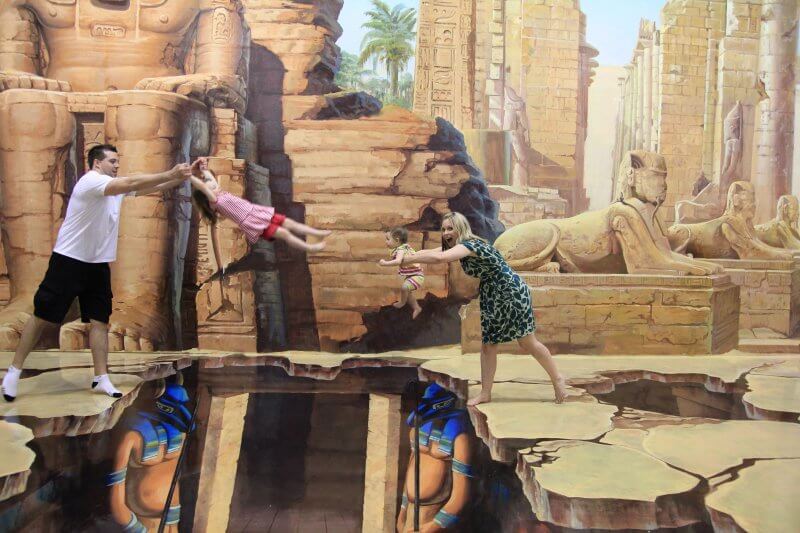 Attractions in Pattaya, photos with descriptions of which decorate many tourist avenues, includes another interesting place. We are talking about the 3D Art in Paradise Gallery.
The construction of the museum, which was opened to the public in spring 2012, cost Thai businessman Shin Je Yool 50 million baht. The result of such a significant investment is a huge building with an area of 5800 square meters on three floors and a variety of exhibits. Each of these paintings are in a different thematic area – dinosaurs, art, underwater world, safari, ancient constructions, landscapes, animals, etc.
At first glance it may seem that there is nothing unusual about these paintings, but that is not the case at all. After taking a couple or three pictures, you'll see what the big deal is! First, most of the paintings are painted not only on the walls, but also on the floor, and second, various blackouts and spatial images were used in painting them. All of this is what creates the beautiful 3D effect, which will be best seen in the photo. The man seems to be an important part of this or that work. Here he is running away from a herd of buffalo, catching a fairy bird by the tail, climbing a magic ladder, holding an elephant by the trunk
Located at 78/34 Moo 9 Pattaya Second Road | Nongprue, Banglamung, Pattaya 20150, Thailand.
Art in Paradise Art Gallery is open to the public from 9am to 9pm. You can come here as a couple or a large company, because most of the volumetric paintings are intended for collective shots.
Tickets cost 400 THB for adults and 200 THB for children.
Pattaya Floating Market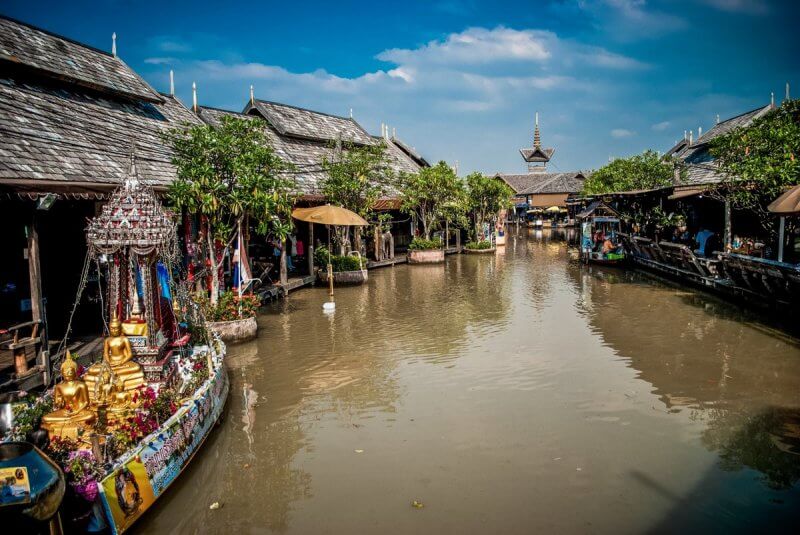 Are you interested in what to see and where to go in Pattaya on your own? Be sure to check out the Floating Market, one of the modern attractions in Thailand (it was built in late 2008). Market, which occupies a very small area, is divided into 4 zones, each of which corresponds to a particular region of the country.
On its territory there are about 100 stores, restaurants and cafes, between which there are bridges and boat trails. Also you can watch boxing matches and national dances, buy works of local artists and have a massage. For more information on the Pattaya Floating Market see this article.
Walking Street Pattaya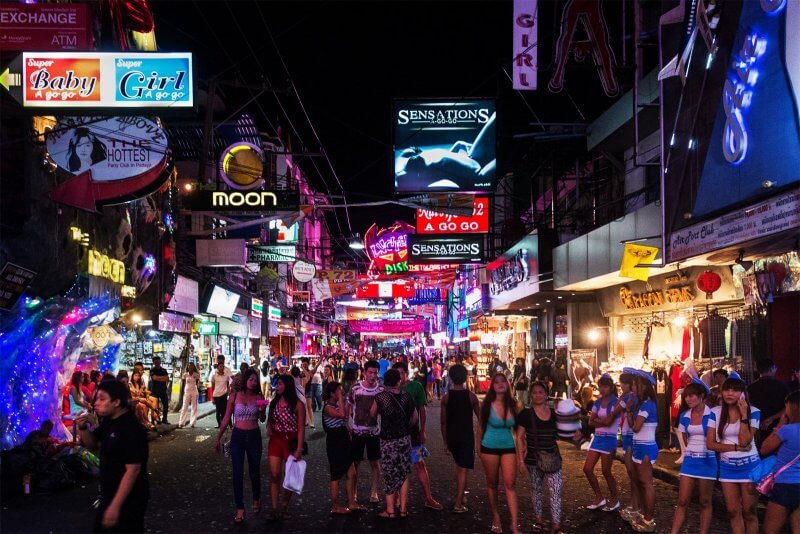 If you decide to do sightseeing in Pattaya on your own, take a walk down Walking Street, the most famous street in Pattaya. It's better to be here by 5pm as it's open to traffic during the day and therefore not very touristy.
But at night Walking Street becomes solely a pedestrian area, inside which the passions are running rampant. The fact is that in addition to traditional cafes, restaurants, nightclubs, discos, cinemas, you can find here a lot of adult entertainment – "massages with continuation", Go Go bars with striptease, etc. The festivities continue until 2 a.m., when the last drinking establishments close and the tourists have spent all the remaining money. For a detailed description of this attraction see this article.
Beach road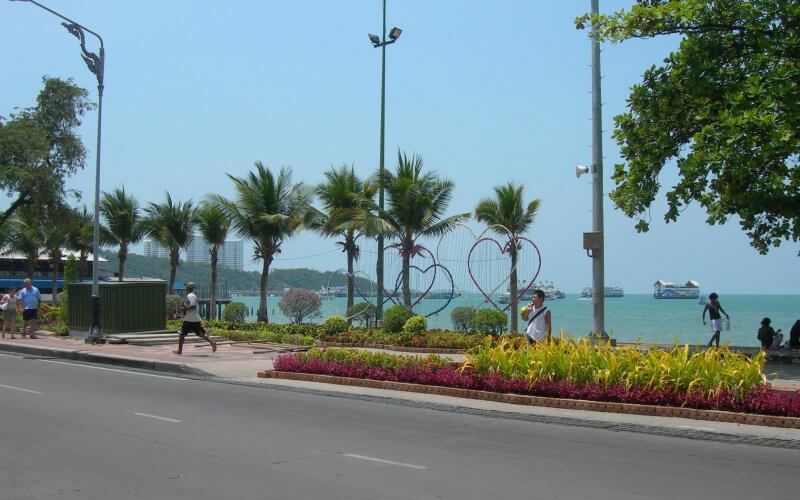 What can be seen in Pattaya on their own, so that the impression of what they saw will remain in the memory for a long time? The Beach Road, starting from the fountain with dolphins and stretching all the way to the Walking Street, is also worth seeing. As well as in any other resort town "the road along the beach" as it is often called, this promenade is one of the most visited tourist places. And this is because it is located on the most famous establishments of the city. It is crowded at any time of day, so it seems that the Beach road never sleeps.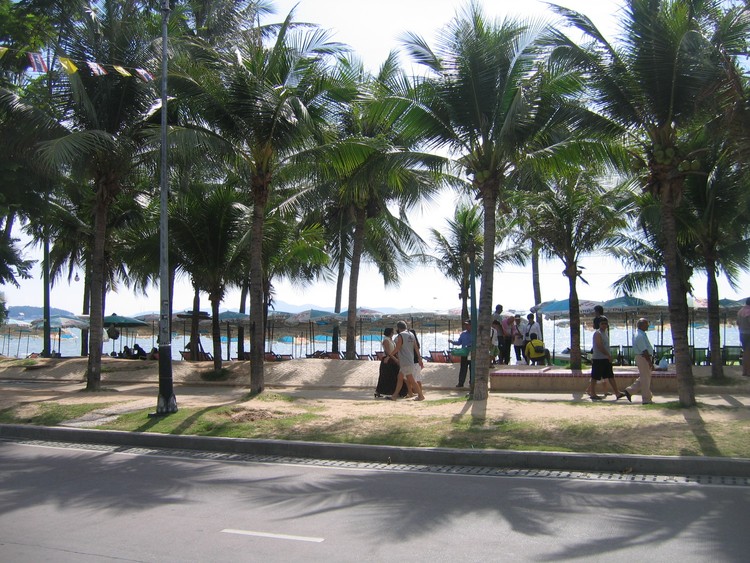 During the day you can swim and sunbathe on the beach (though it is not very clean), ride bananas, water skis and scooters, enjoy fresh seafood, enjoy the famous Thai massage, make a "fish" peeling and buy souvenirs for relatives and friends.
With the onset of dusk, life on the waterfront becomes even more interesting. Nightclubs play host to scraps of music, boutiques and malls shine invitingly in storefronts, many discotheques play with colorful lights, the enticing aromas of cafes and restaurants waft in the air, and the street stalls bustle with activity. Everywhere, there's a party going on! There are also regular drag queen shows, so it's highly discouraged if you come to the Beach road at night with kids.
Mini Siam Park of Miniatures.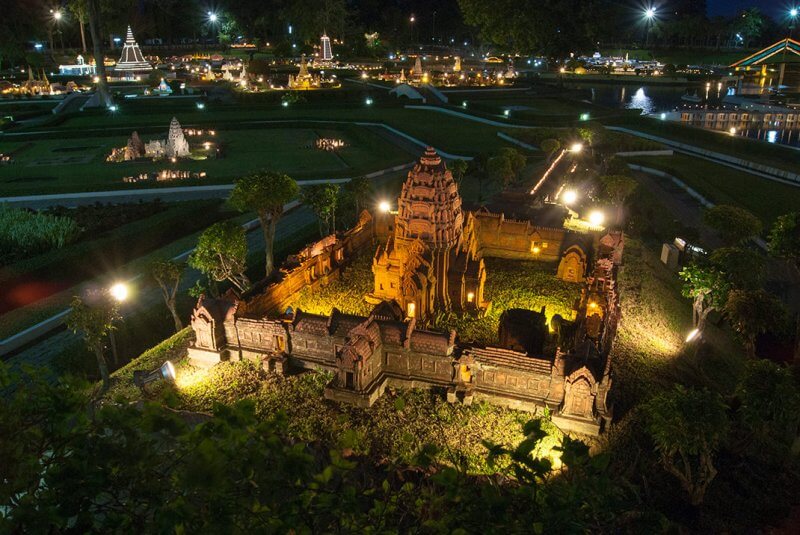 Among the most popular attractions in Pattaya, Thailand, available for self-examination, is the Mini-Seam Park. It was opened back in 1986 and almost immediately divided into two parts – Thai and European.
The main highlight of this place are miniature copies of the most famous cultural and historical sites in the world – the Kremlin, the Tower of Pisa and the Eiffel Tower, St. Basil's Cathedral, the Palace of Versailles, etc. It is very beautiful here during the day, but in the evening, when the LED lighting is turned on, the park changes beyond recognition. For more information, follow this link.
Ko Lan Island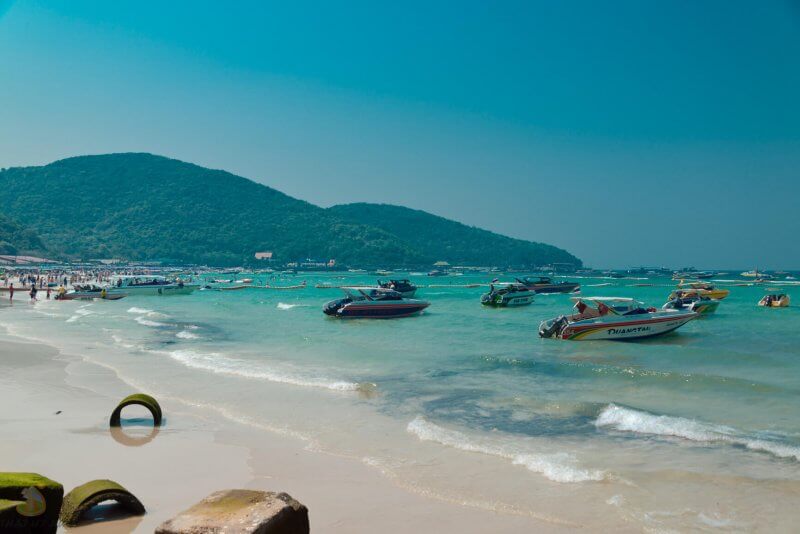 On the map of Pattaya with the sights worth seeing on their own, there is another route that is very popular with beach lovers. Ko Lan Island, and we are talking about him, is located a few kilometers from the city on the Gulf of Thailand. Its main feature is the 6 comfortable beaches and excellent infrastructure, allowing for some beautiful days away from the noisy metropolis. And on this island, the cleanest in the entire gulf of the water and sand.
You can get to Ko Lan by boat or ferry. In addition to swimming and sunbathing tourists are offered and active sports – skydiving, diving, water skiing, paragliding and snorkeling. More information is available in this article.
Pattaya City Sign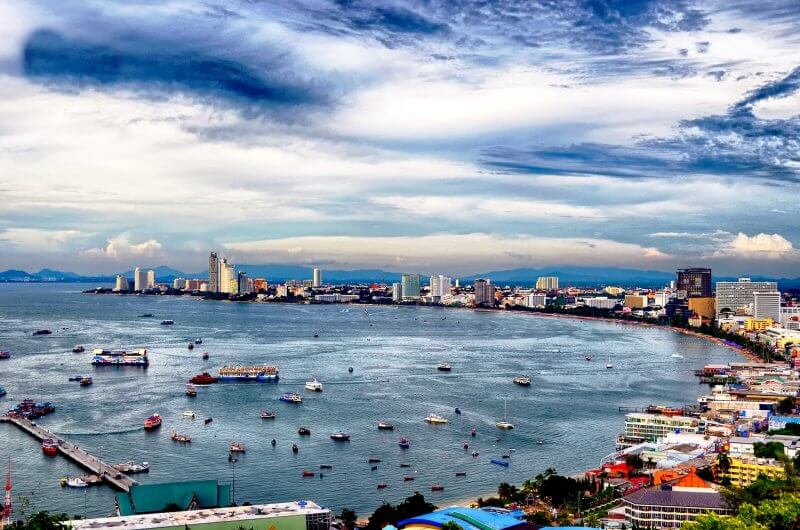 Are you on vacation in Pattaya and do not know where to go and what to see on your own? Walk to the symbol of this city – the observation deck with the inscription Pattaya City, which is clearly visible during the day and at night. Huge letters installed on the Pratamnak Hill, is a favorite place for photo shoots not only for visitors, but also for locals. But this is not the only reason why Pattaya City Sign is considered the best esplanade of the resort.
The beautiful views of Walking Street, Bali Hai Pier, Jomtien and Pattaya Beach, and Pattaya Bay whose shape resembles a crescent also contribute to its popularity. In addition to the letters at the top of the hill there are a couple of other objects – the sacred temple Wat Kho Phra Bat and a sculpture of His Royal Highness Prince Jumborn. That said, the observation deck is quite impressive in size, allowing you to avoid large crowds.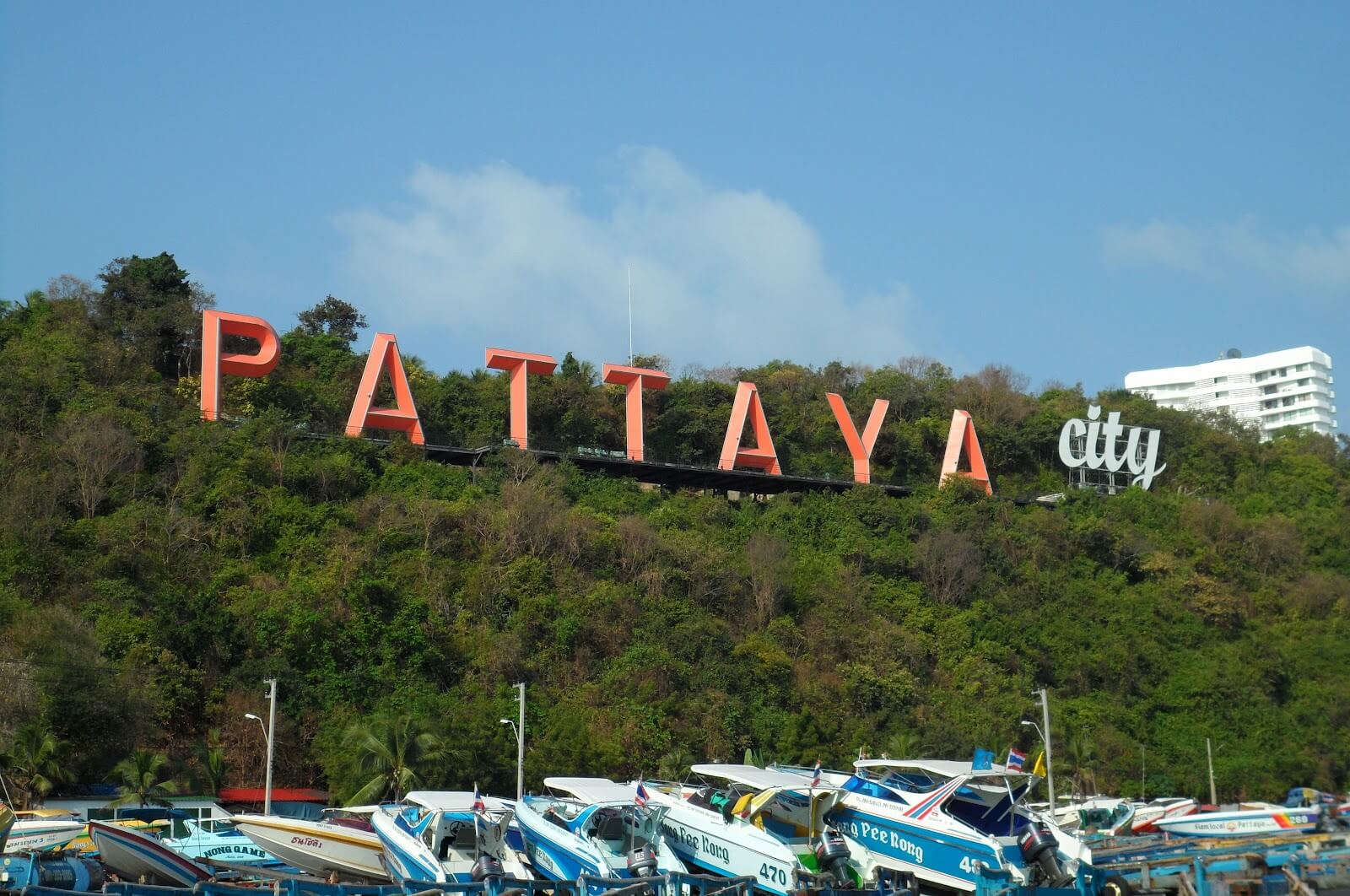 Pattaya City Sign is open 24 hours a day. The only exception is the area where the monument to the Prince is located – it is open from 07.30 to 21.00. The visit is free. Public transportation does not go here, so you have to either walk or take a cab or a car (own or rented). The best way to get up the hill is from the central part of Pattaya or Pratamnak area. The car is better to be left on the lower parking lot near the tourist buses – there is very little parking space at the top of the hill.
Ramayana Water Park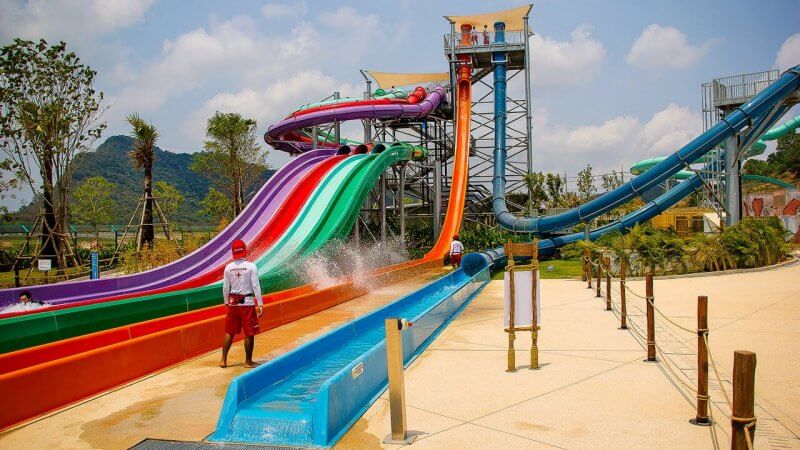 Another important attraction in Pattaya, Thailand is the Ramayana Water Park, which opened in 2016 and won the title of the largest water park of the resort. On its territory there are more than 50 attractions, among which there are extreme roller coasters, as well as calm and absolutely safe areas for the youngest visitors.
In addition, through Ramayana flowing "lazy" river, on which you can go down in an inflatable raft, and the wave pool with sun loungers and umbrellas, able to replace the sea. And, of course, it is impossible not to mention the landscape of the park with its unique artifacts. For a detailed description, see here.
Cartoon Network Amazone Waterpark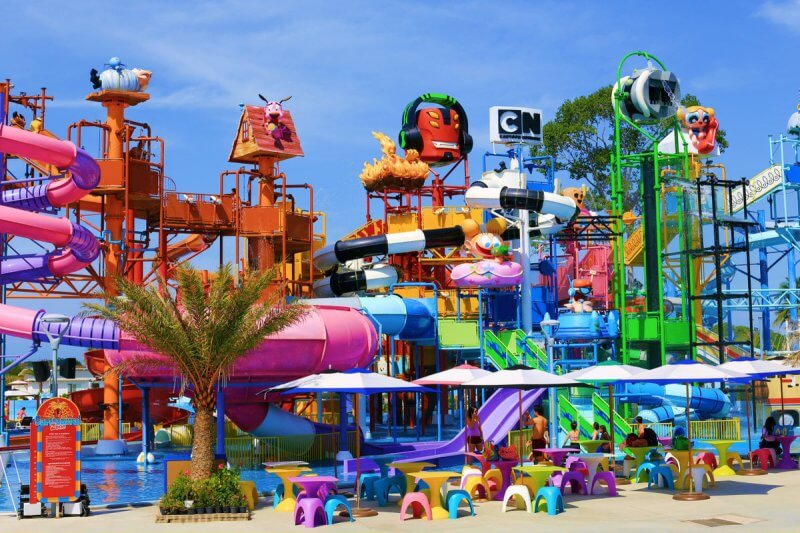 What else can I see in Pattaya on my own? Visit one last water park – Cartoon Network Amazone, built in 2014 by the cartoon channel of the same name. It occupies a huge area divided into several sections. In each of them there are rides of varying degrees of difficulty – from small to extreme. Parents can be absolutely calm – children below 140 cm are not allowed to the adult slides. Also there is a special zone for surfing and other water sports. To learn more about them, go here.
Attractions in Pattaya enjoy their versatility and variety. They will be of interest not only to young people but also to older people and couples who come on holiday with children. Everyone will find their favorite place here.
All the attractions described in the article are marked on the map in Russian.
Video: tour of the Temple of Truth.
Author: Olga Sheiko
Updated: 4 Jan, 2020 We had already got acquainted with the northern city "on the seven…
Updated: 27 Sep, 2020 Batumi is a wonderful city that welcomes everyone who comes …
Updated: 11 Apr, 2019 Many tourists claim that it is difficult to imagine a more sati…
Updated: 24 Apr, 2022 Rethymno is a settlement in the western part of the island…