Where to eat cheap and delicious in Stockholm – 10 places
Stockholm is a city that not only admires the sights, but also quickly empties the wallets of tourists. That's why the question – where to eat in Stockholm inexpensively – is relevant to all who are going to the capital of Sweden. It turns out that there are many inexpensive places in the city where you can get a good meal at a reasonable price. We have made a selection of the most popular cafes and restaurants.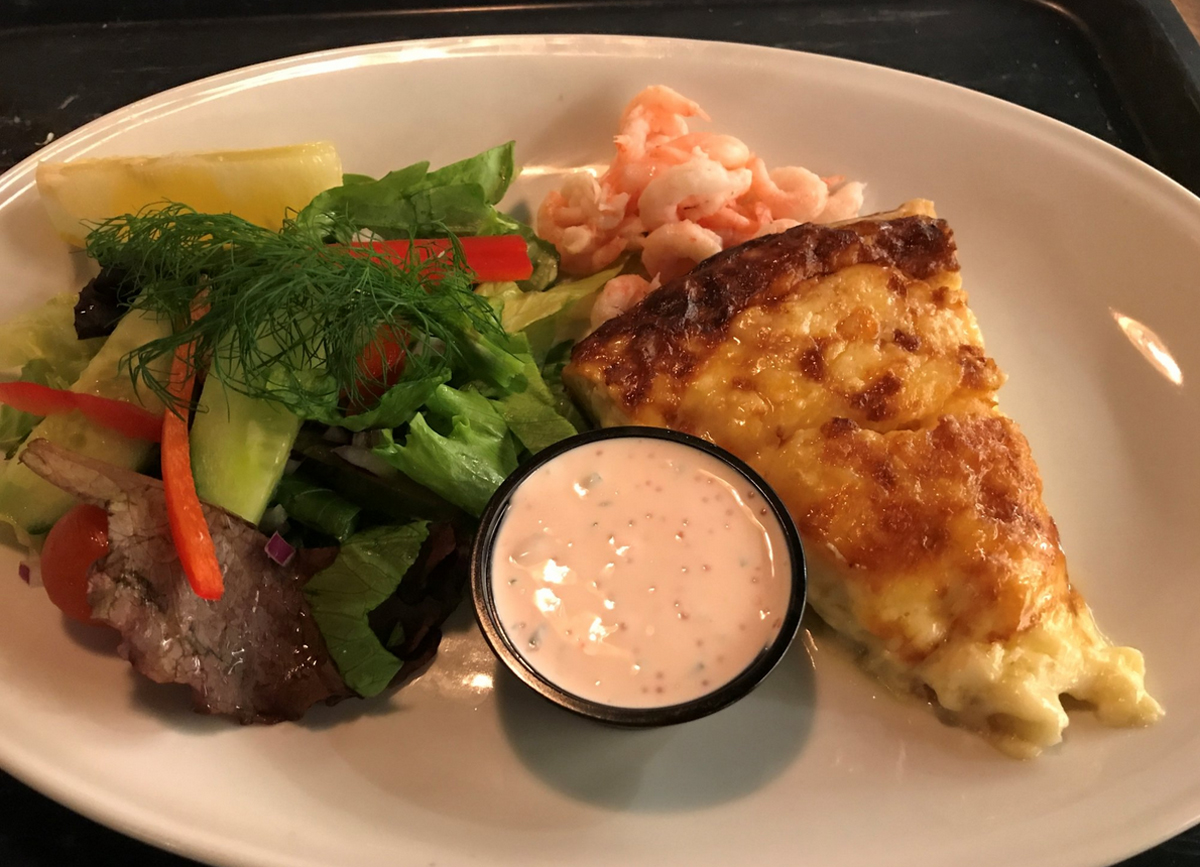 How much does it cost to eat in Stockholm?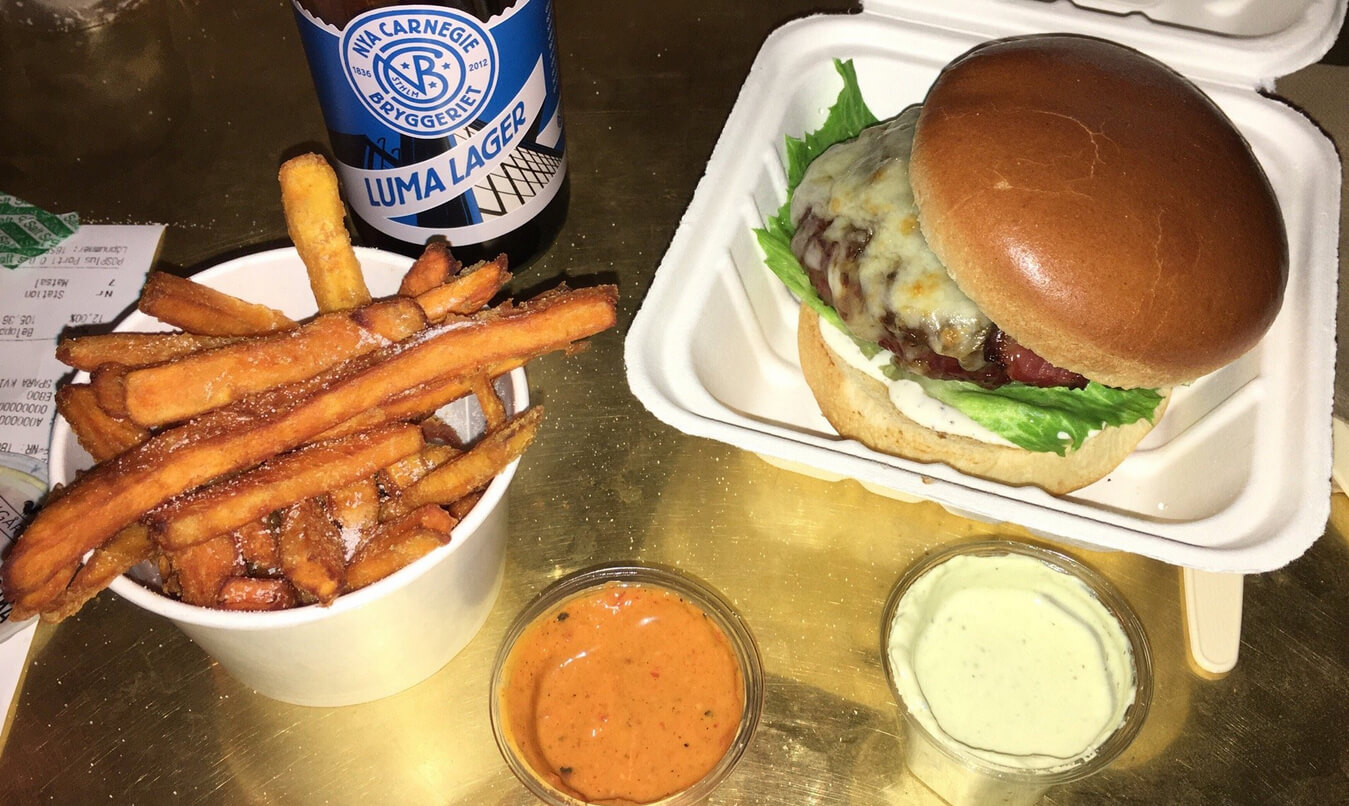 Of course, in Sweden's capital there are many fast food places where you can eat fast, but if you enjoy your holiday in Stockholm, do it with comfort in everything. If you're fed up with hamburgers and want to try something more refined, opt for inexpensive restaurants with a varied menu.
Sweden is not only known for its taxes, which are considered some of the highest in the world, but also for its high prices. The average check at a restaurant in Stockholm is between 600 and 800 Swedish kronor. The check in an inexpensive cafe ranges from 100 to 150 kroner per person. If you want to eat on the run, quickly, without being distracted by the menu and design of the establishment, choose fast-food outlets, where the check will be from 70 to 80 kronor per person.
Top 10 Inexpensive Restaurants in Stockholm
At first glance, it seems that the word inexpensive to eat in Sweden sounds unrealistic. We'll debunk that myth and suggest ten restaurants in the capital where the food is good and the prices are moderate. The rating is based on customer reviews.
Mom's Kitchen
One of the most popular and inexpensive restaurants in Stockholm. Portions are hearty, and bread and water are free. Guests note the varied menu. A hearty and tasty meal for two can be had for only 220 SEK. For 90 SEK you can choose a green salad and a hot meal with side dishes. For 108 SEK they serve cutlets with vegetables, mushrooms and lingonberry sauce. A cappuccino costs just under 26 SEK.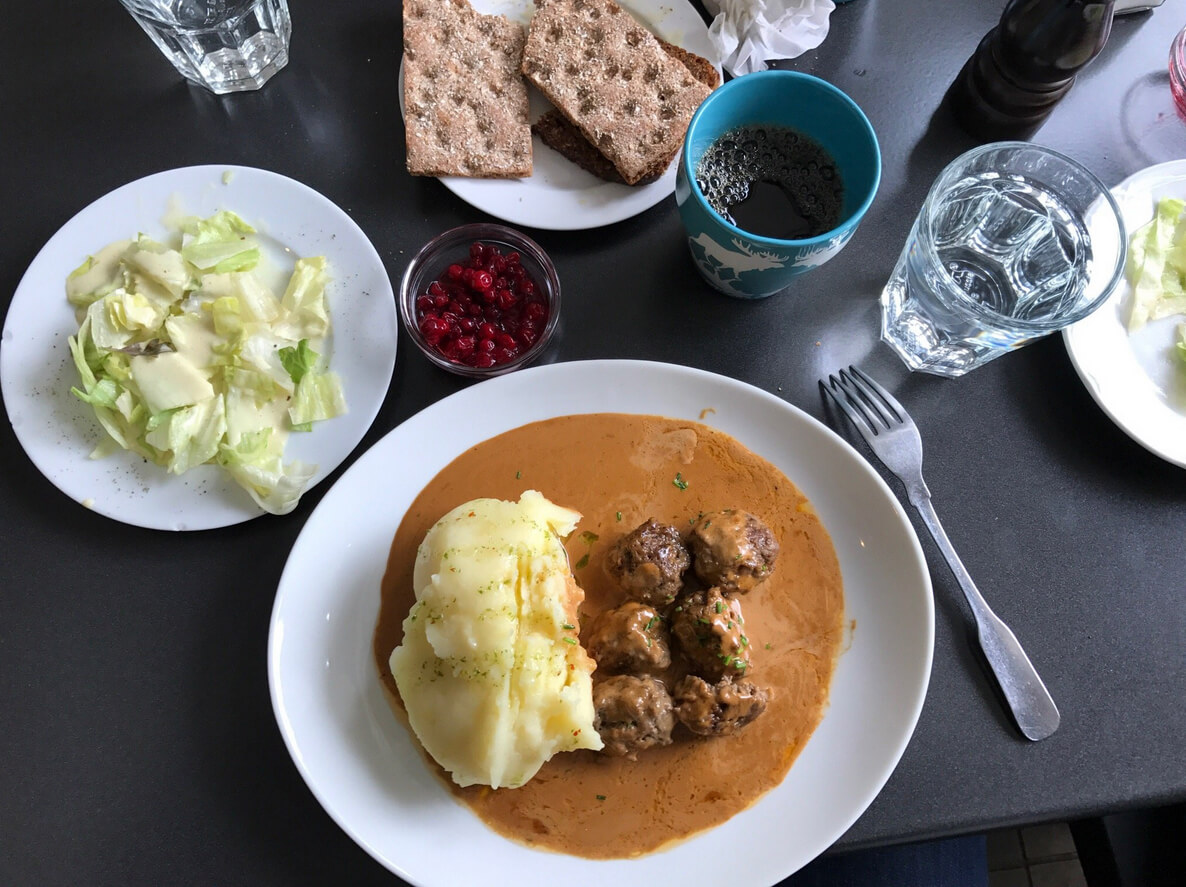 The room isn't big, so guests don't stay here very long. The staff is friendly and will definitely recommend food to your taste. You can pick up food on your own and they warm it up in the microwave oven and bring it to the table. There might not be a free place at the table right away, but visitors don't sit too long in the restaurant, so you don't have to wait long.
Fun fact! Mom's Kitchen has lunch hours during the daytime – for 8 euros they offer a big plate with different dishes, bread and butter, water and coffee.
Address: Nybrogatan 40;
district: Östermalm;
web site: www.momskitchen.se.
Kajsas Fisk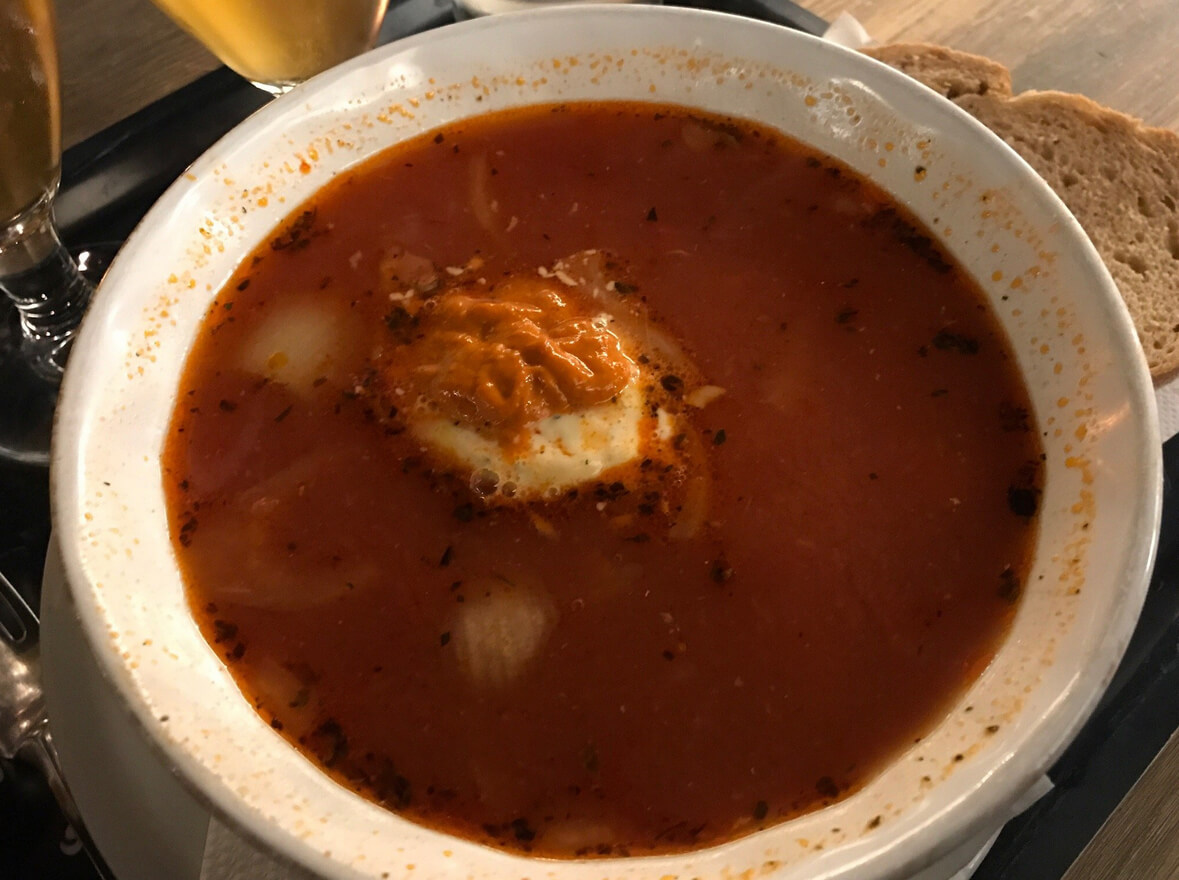 Where to eat good fish and seafood in Stockholm? Many locals and seasoned tourists don't hesitate to recommend Kajsas Fisk. Here work chefs with experience in the culinary sphere more than three decades. During this time, the masters managed to create a huge number of authentic recipes. Thick, rich seafood soup is already known far beyond Sweden. Many guests note that even at home such a soup is not always possible to boil. It is because of this inexpensive soup that guests who visit the restaurant for the first time become its regular customers. The recipe includes mussels, shrimp, fish broth. Mayonnaise is placed on top.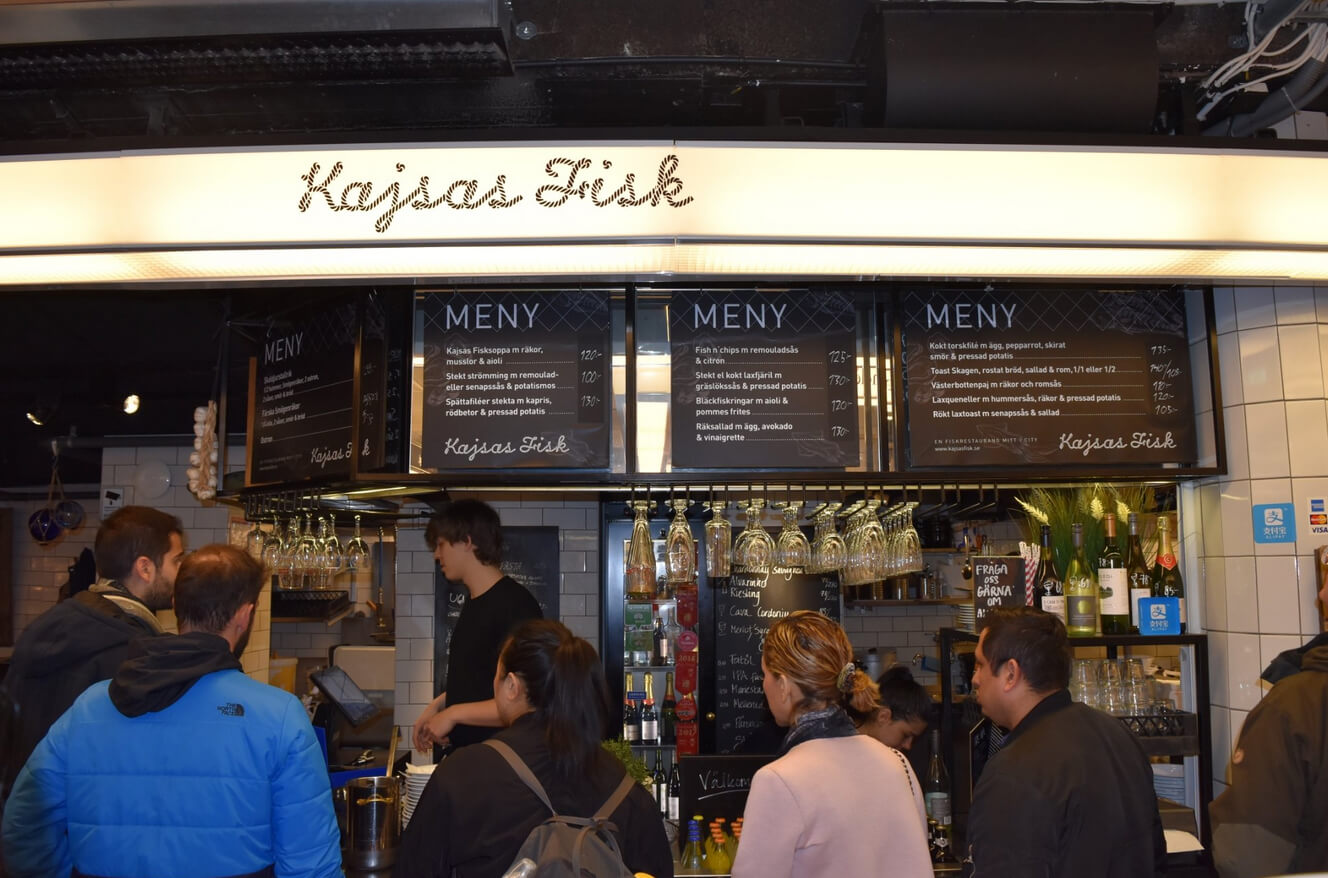 Useful to know! The soup portion costs 120 SEK, bread and butter is free, the average price of a salad of fresh vegetables is 110 SEK and you can buy a bottle of cider for 50 SEK.
The place is popular, locals and tourists often come here, the best time is from 2 pm to 3 pm;
Address: Hotorgshallen 3;
area: Norrmalm;
Opening hours: Monday to Thursday 11 a.m. to 6 p.m., Friday 11 a.m. to 7 p.m., Saturday 11 a.m. to 4 p.m., Sunday closed;
Website: kajsasfisk.se.
Amida
The restaurant is located near the subway station Medborgarplasten. The trip takes only five minutes from the train station. Then you have to walk along Folkungagatan street for about ten minutes.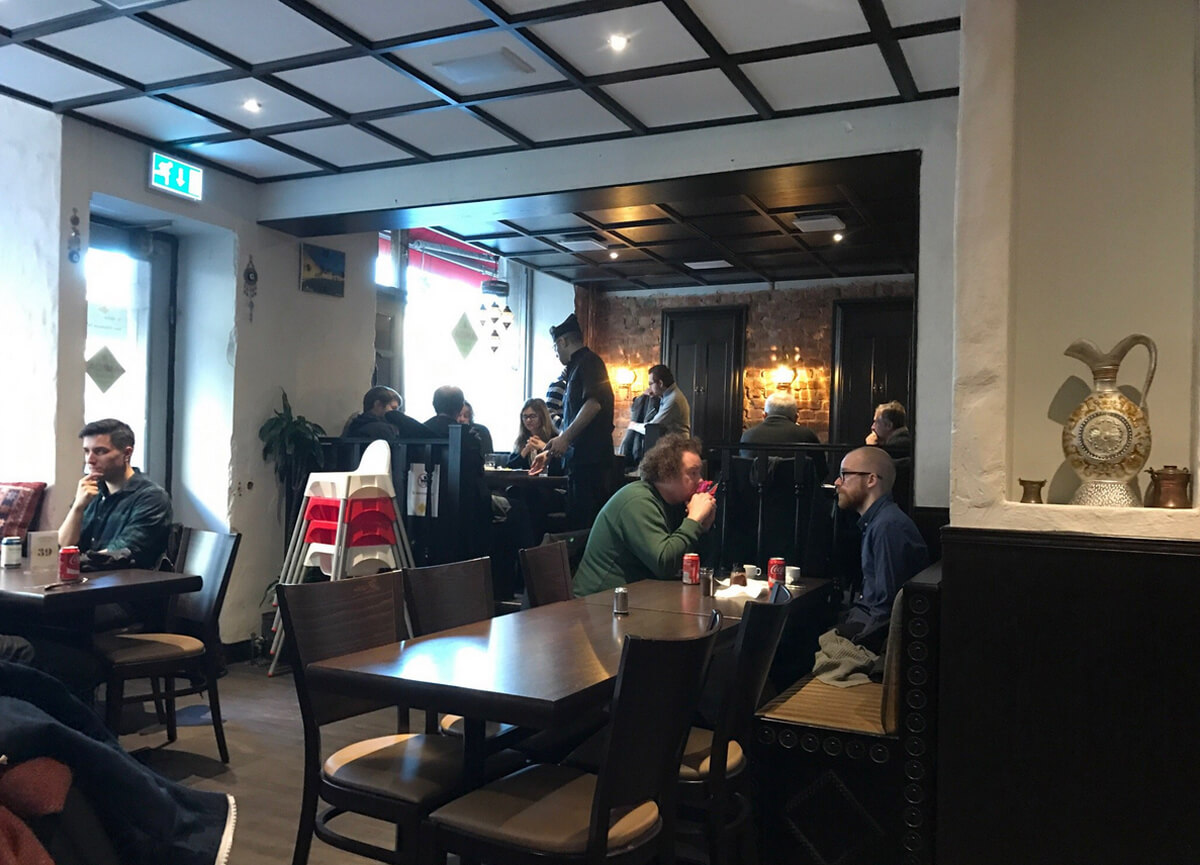 An interesting fact! The restaurant is named after the ancient city Amida, located in the eastern part of Turkey.
The menu is quite varied and the food is tasty and inexpensive. The average bill for two visitors is 200 kroner. A falafel portion for two with drinks will cost 150 kroner. The portions are large, and coffee and tea are served for free. There are tables not only inside but also outside, so on a warm, sunny day you can eat outdoors. The restaurant opens at 10:00, so you can have breakfast, lunch and dinner here after a walk through the city.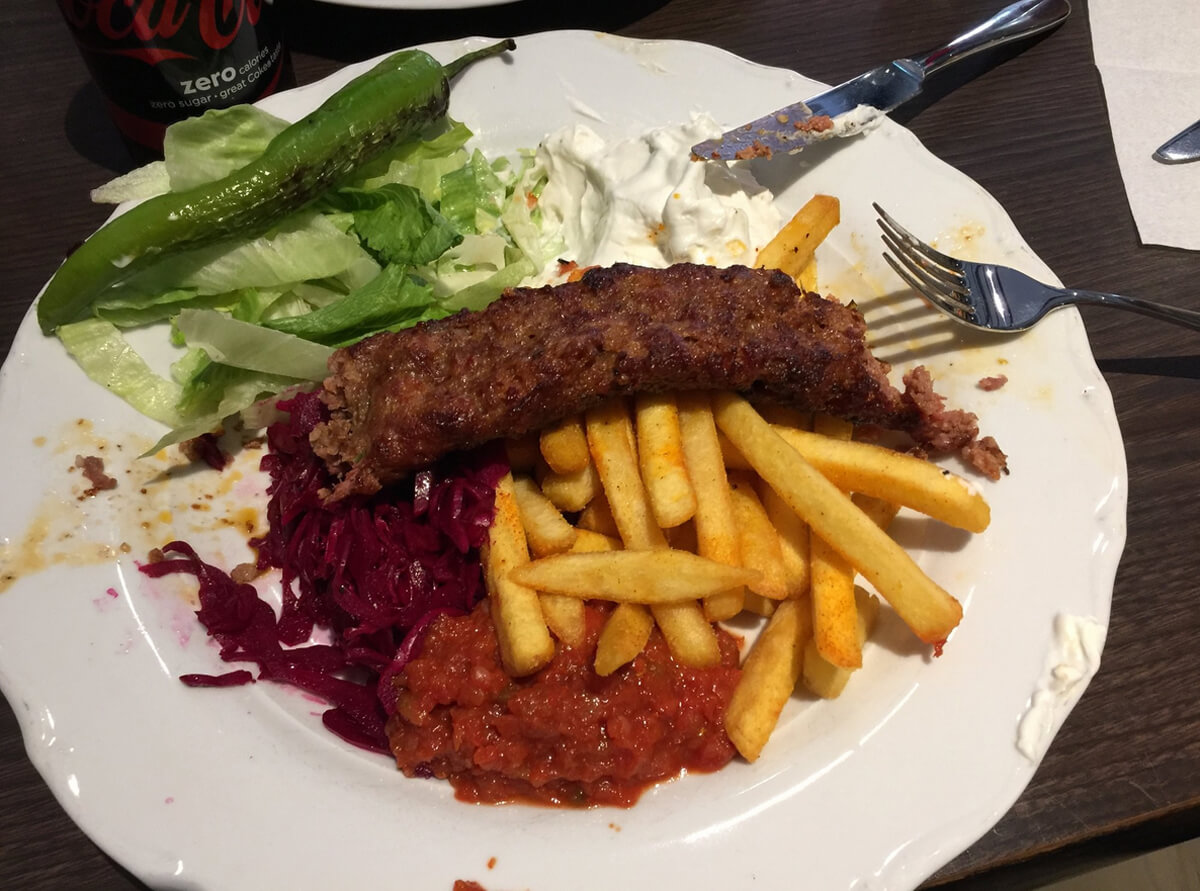 Good to know! There are long lines at lunchtime in Amida, but the service is fast so you won't have to wait long.
Where to find: Folkungagatan 76;
Open Monday to Friday from 10:00 AM to 11:00 PM and on weekends from noon to 11:00 PM;
Website: www.amida.se.
Nystekt Stromming
The traditional product for Sweden is herring, so when you ask where to eat herring in Stockholm, both locals and tourists will tell you where to eat herring inexpensively – in special mobile vans. One of them is located at the entrance to the old part of the city. They serve different herring treats – a simple sandwich with black bread (40-45 CZK), with mashed potatoes (78 CZK). You can also try herring roll or fish in a burger or shawarma.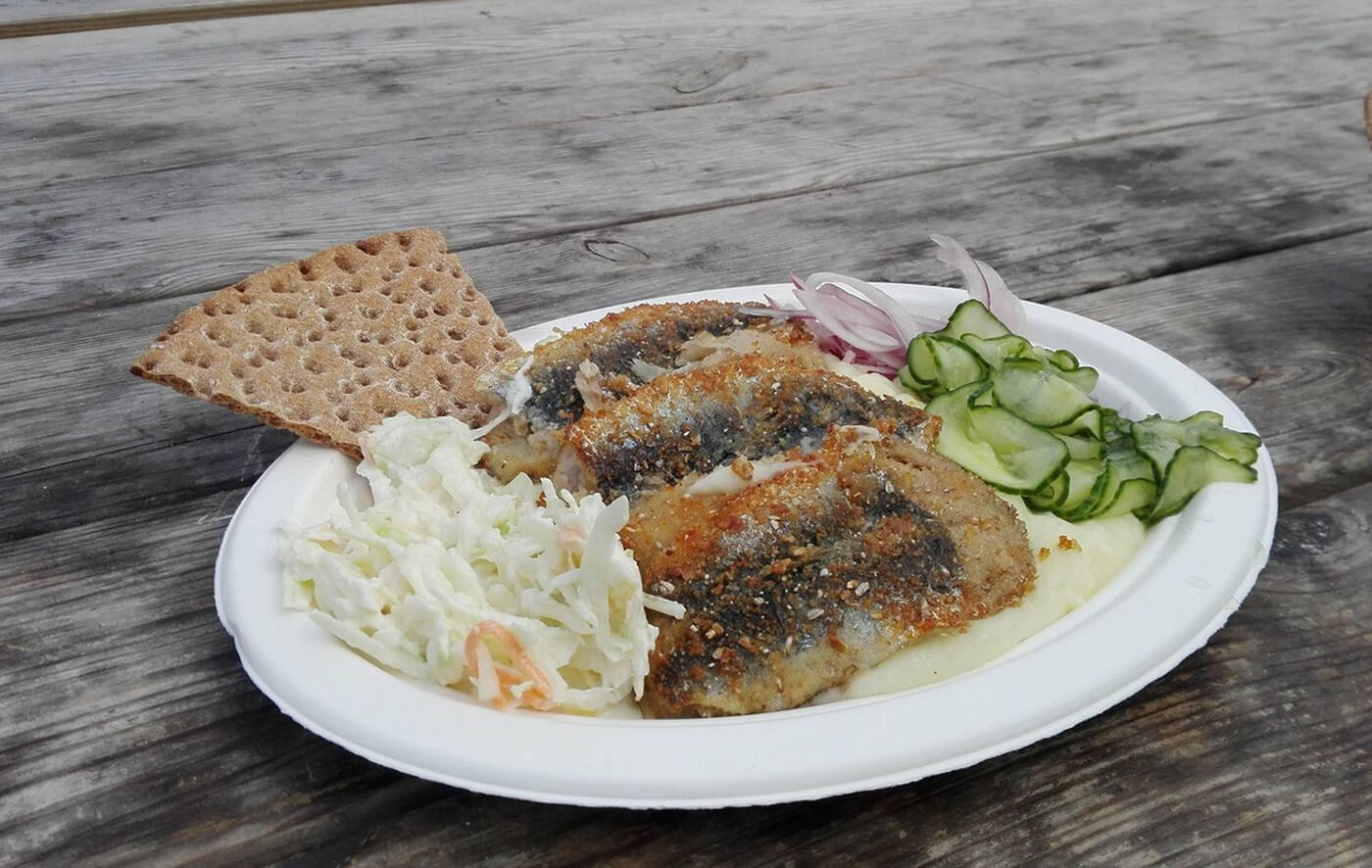 Good to know! You can pay for the treats in cash or with a bank card.
If you want to eat delicious, quick and continue sightseeing, choose a herring sandwich or rolls, and for those who want to eat more densely, the menu includes fish with mashed potatoes, salad and pickles. There are always tables set up next to the wagons.
In Sweden, you can easily debunk the myth that herring can be eaten pickled. For twenty years now in the capital there are kiosks with bright yellow signs in the form of fish.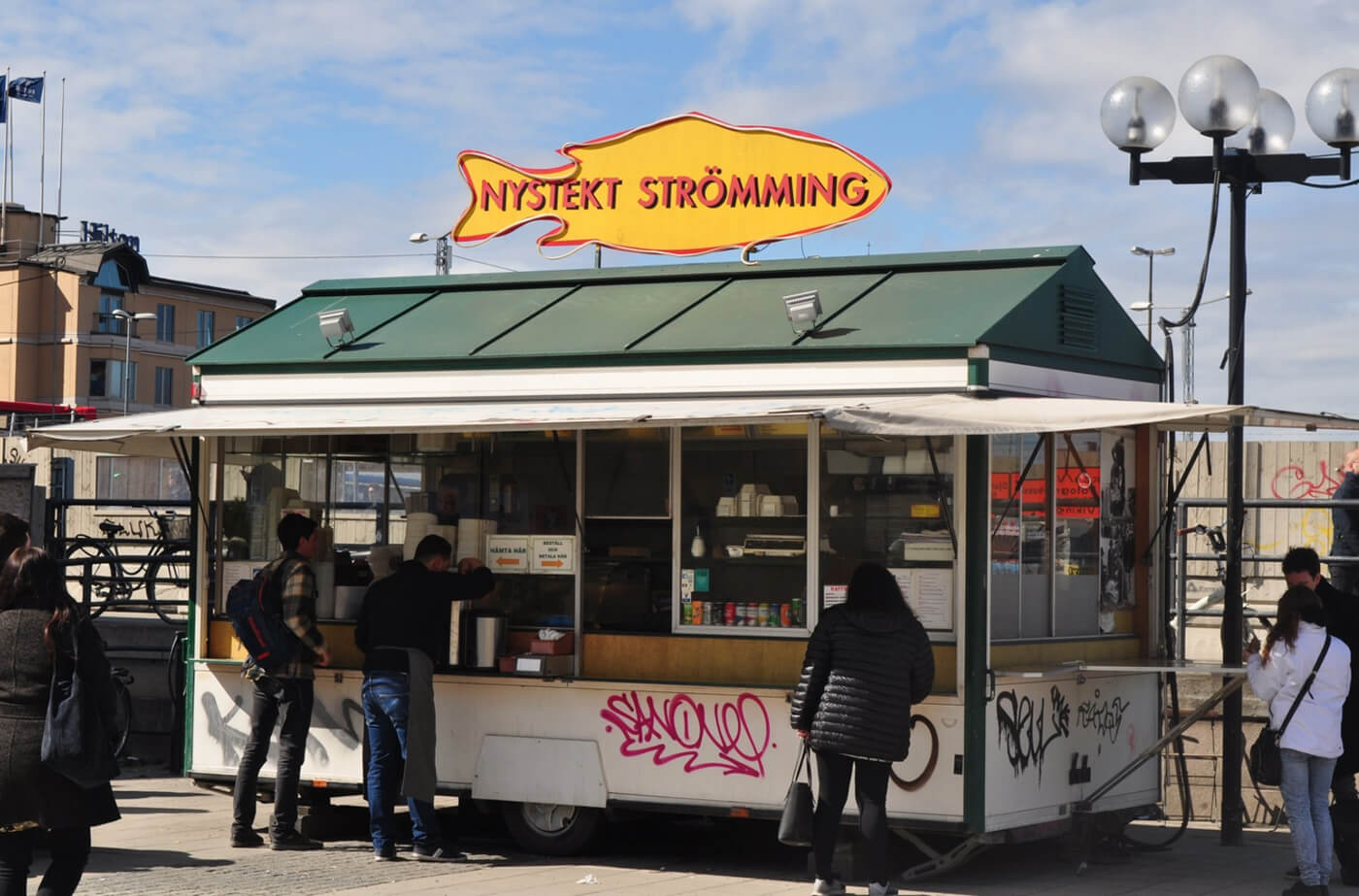 An interesting fact! Fried herring is served in many establishments in Stockholm, but the cost of the dish is much higher than in the mobile kiosks.
Address: Kornhamnstorg 4;
Official opening hours: from 10-00 to 21-00, but sometimes the booths are closed earlier;
Website: strommingsvagnen.se.
Fuori Di Pizza.
Where to eat in Stockholm delicious and inexpensive Italian pizza? Fuori Di Pizza is an island of Italian cuisine in the Swedish capital. Here they cook the most delicious pizza in Sweden – as evidenced by the reviews of visitors. Located on a famous pizzeria next to the hotel Elit. Guests note that this pizza has everything to call it the best – delicious, thin dough, lots of toppings. The main dishes are served with wine. In addition to traditional pizza, you can order the Italian treat, which is a culinary variation on the theme of the traditional treat – closed pizza in the form of a half circle.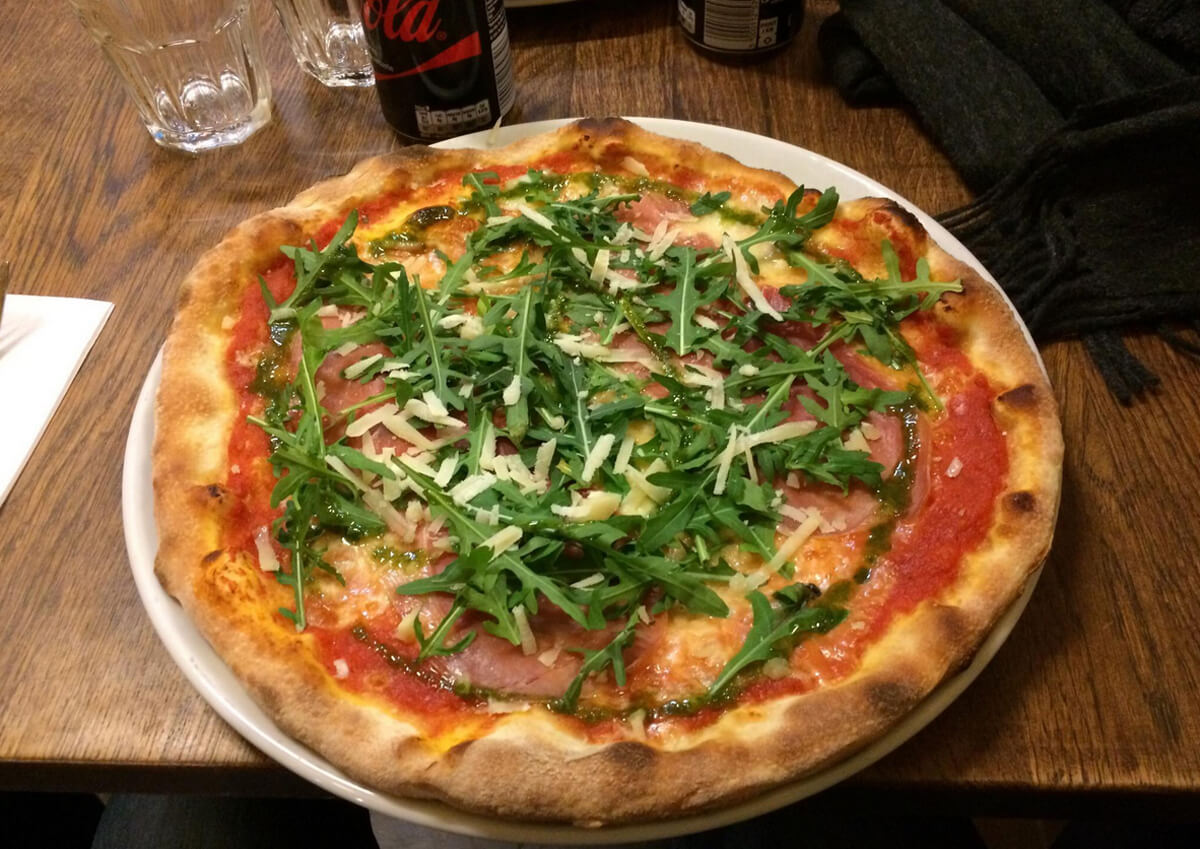 Also on the menu is lasagna, pasta, cooked according to different recipes. The cost of the dish is 100-110 SEK.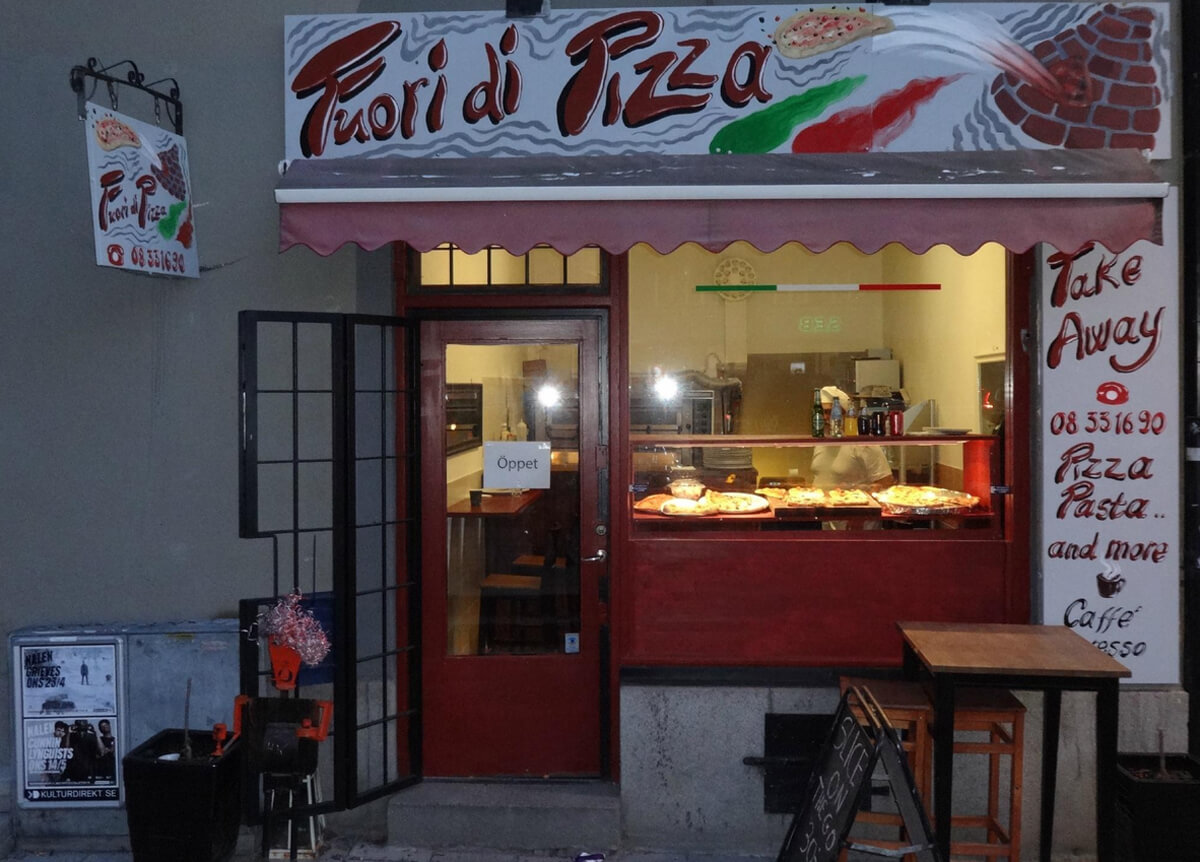 Address: Karlbergsvägen 35;
Opening hours: Monday to Thursday from 3 to 10 p.m., Friday and weekend from noon to 10 p.m;
Website: fuoridipizza.se.
Falafelbaren
Vegetarian bar Falafelbaren offers a large selection of delicious inexpensive falafel and pitta. Every meal is prepared with heart, it is a harmony of flavors, fresh ingredients and, of course, democratic prices. Friendly staff works here and there is a pleasant atmosphere. Today Falafel Bar is on the list of the best street food establishments in Stockholm. The bar appeared in 2012 and at first it was a small mobile kiosk, but the following year – 2013 – the first establishment opened at 39 Hornsgatan in the capital.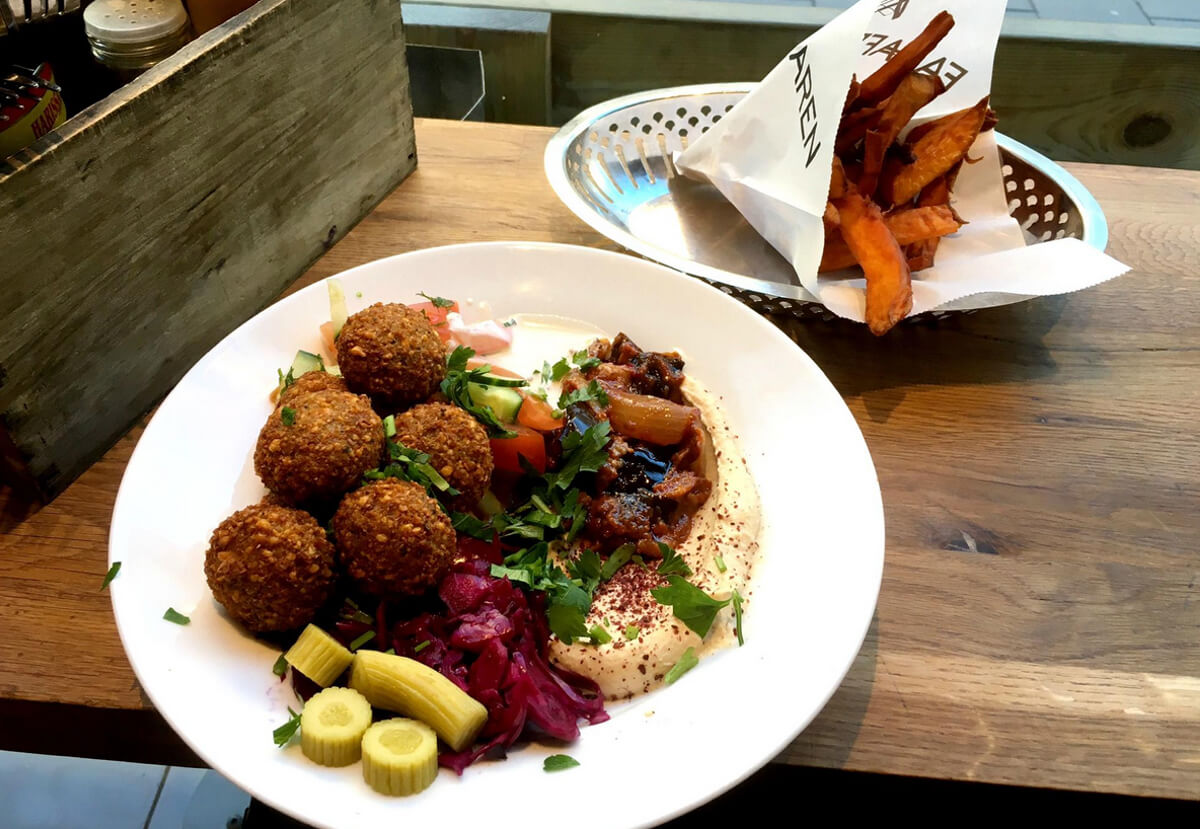 Falafel is served in crispy pita bread and garnished with red cabbage, cucumbers and tomatoes. You can also eat potatoes with caramelized onions. Chefs work only with organic produce and natural spices. Pitta is baked in a real stone oven with Swedish rapeseed oil. This technique gives the bread a great taste and excellent texture. Each table features sauces made according to the author's recipes.
Address: Hornsgatan 39;
Open Mondays to Fridays from 11 a.m. to 7 p.m., weekends from 11 a.m. to 6 p.m;
The price for a falafel varies between 75 and 90 SEK;
website: www.falafelbaren.se.
Hermitage
This vegetarian place works on a simple principle – you pay money and then choose a dish from the menu. The bar is vegetarian, so there are vegetable treats, bread and sauces on the menu. You have to pay separately for pastries and drinks, there is lemonade, tea, coffee, non-alcoholic beer. Water with mint and lemon is offered for free. You can order soup separately – the price is 50 SEK.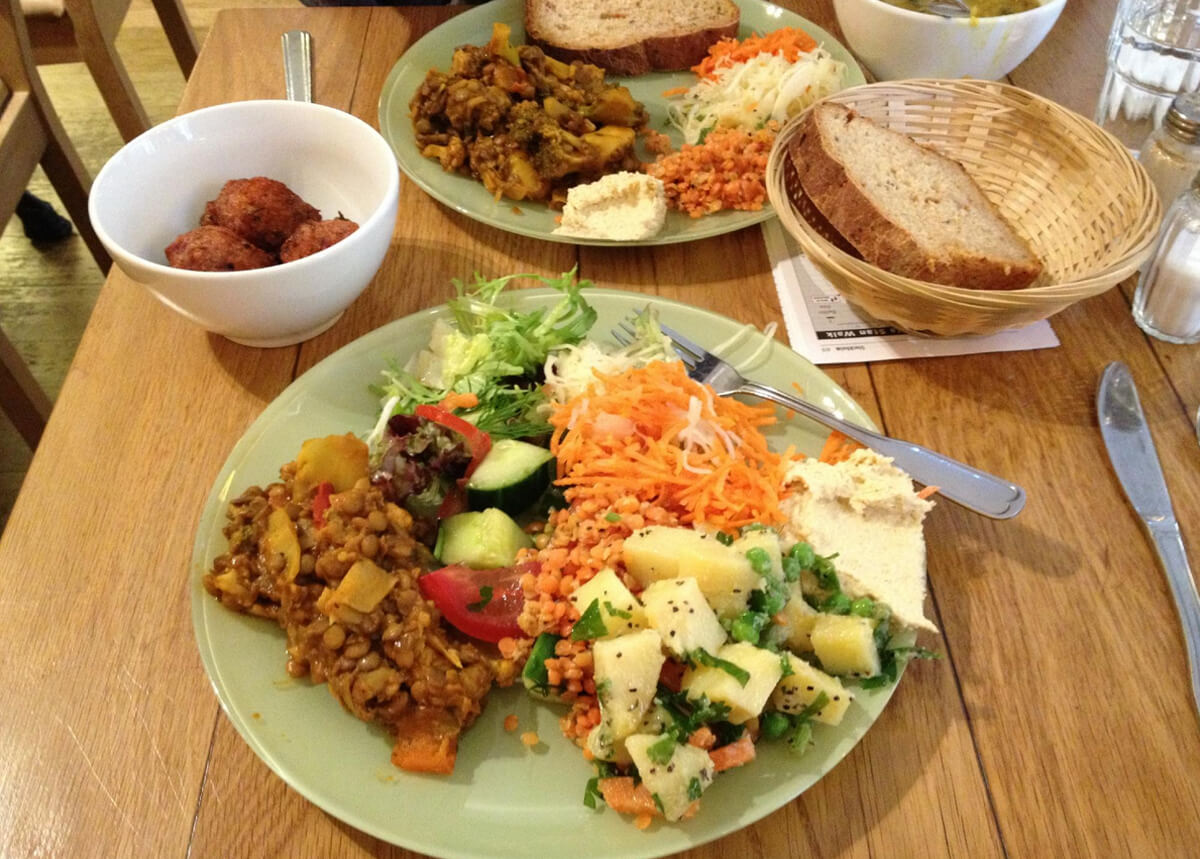 The food is always fresh, because the flow of customers is constant, the food runs out quickly and they take it out again. This is a very convenient system – for 130 SEK our guests get access to all the food they want and can choose the amount they want. A variety of desserts are available, including gluten-free ones. Be sure to try the inexpensive pies, they are served here with a variety of fillings – apple, blueberry.
Good to know! Most of the presented dishes are quite peppery, you should take this into account if you want to feed a child.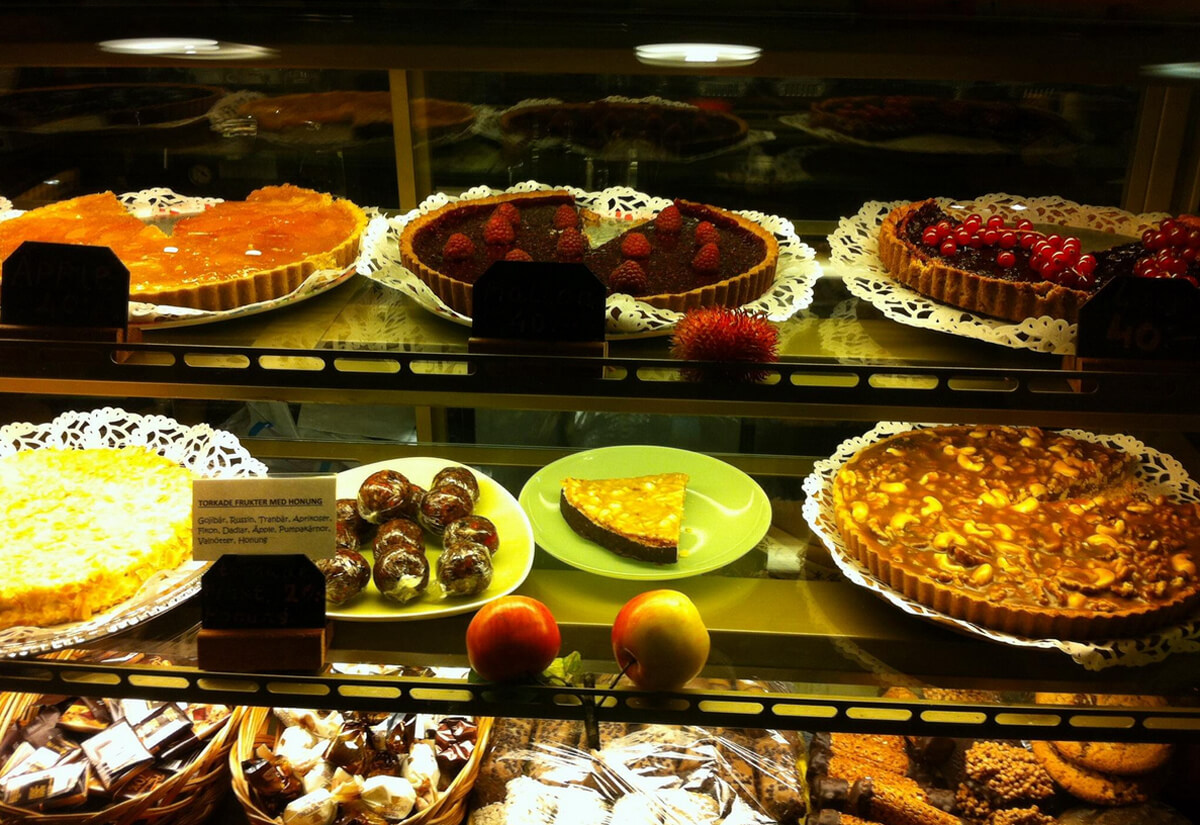 Where to find: Stora Nygatan 11, a short walk from Gamla Stan metro station;
The food can be taken several times, so for a very reasonable price you can easily, tastily and quickly eat your fill;
Opening hours: in summer from 11-00 to 20-45, in winter from 11-00 to 20-00 (weekdays), from 12-00 to 20-00 (weekends);
Website: hermitage.gastrogate.com.
Gunters korvar
Where's the cheapest hot dog in Stockholm? Gunters fast food is a legend in Stockholm. It serves sausages and sausages from all over the world. It's best to arrive just before it opens, as there are always a lot of people and you have to stand in a long line. There are especially many customers at lunchtime – many locals prefer a hearty hot dog snack.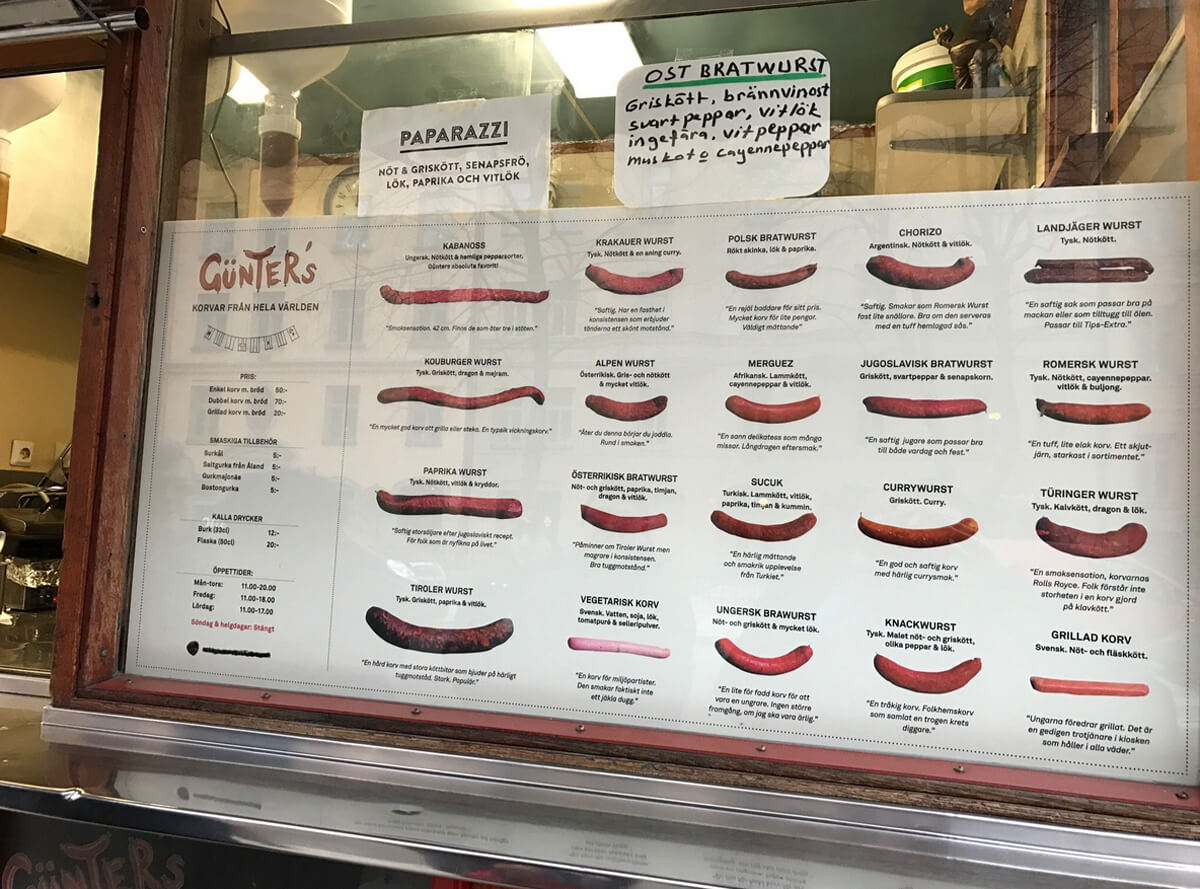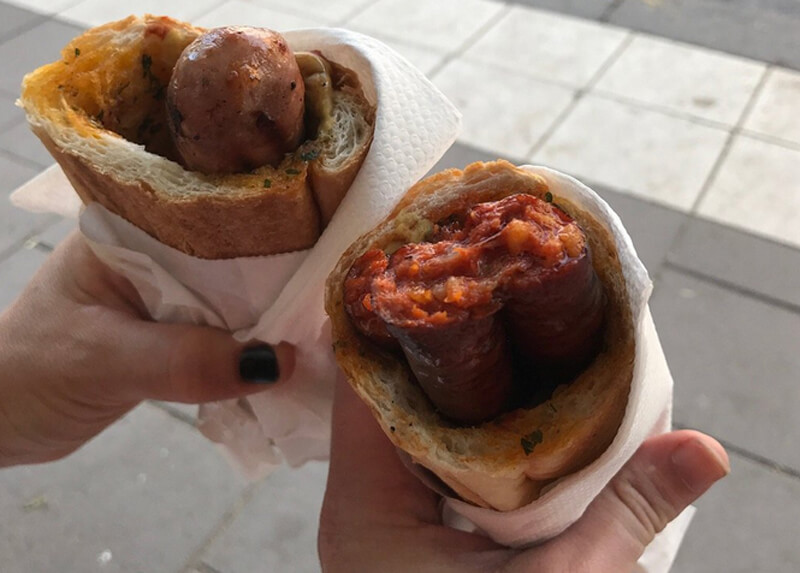 The choice in fast food is large, if you can not decide on the purchase, just ask the seller to cook the most delicious hot dog. Believe me, the result will not disappoint you. A bill for two people with two hot dogs, a simple side dish and a drink will cost about 100 SEK.
Address: Karlbergsvaegen 66;
Opening hours: weekdays from 11-00 to 20-00, weekends from 11-00 to 16-00.
La Neta
If you are tired of the Swedish capital's high prices and are looking for a budget meal in Stockholm, check out La Neta Mexican Restaurant. Here you can get five small tacos with different fillings – beef, chicken, pork and guacamole – for 105 SEK. A large taco costs 55 SEK. In addition to tacos, you can also get quesadillas and nachos. Any dish can be accompanied by sauces and a soft drink. The average bill for two people will cost 30 euros.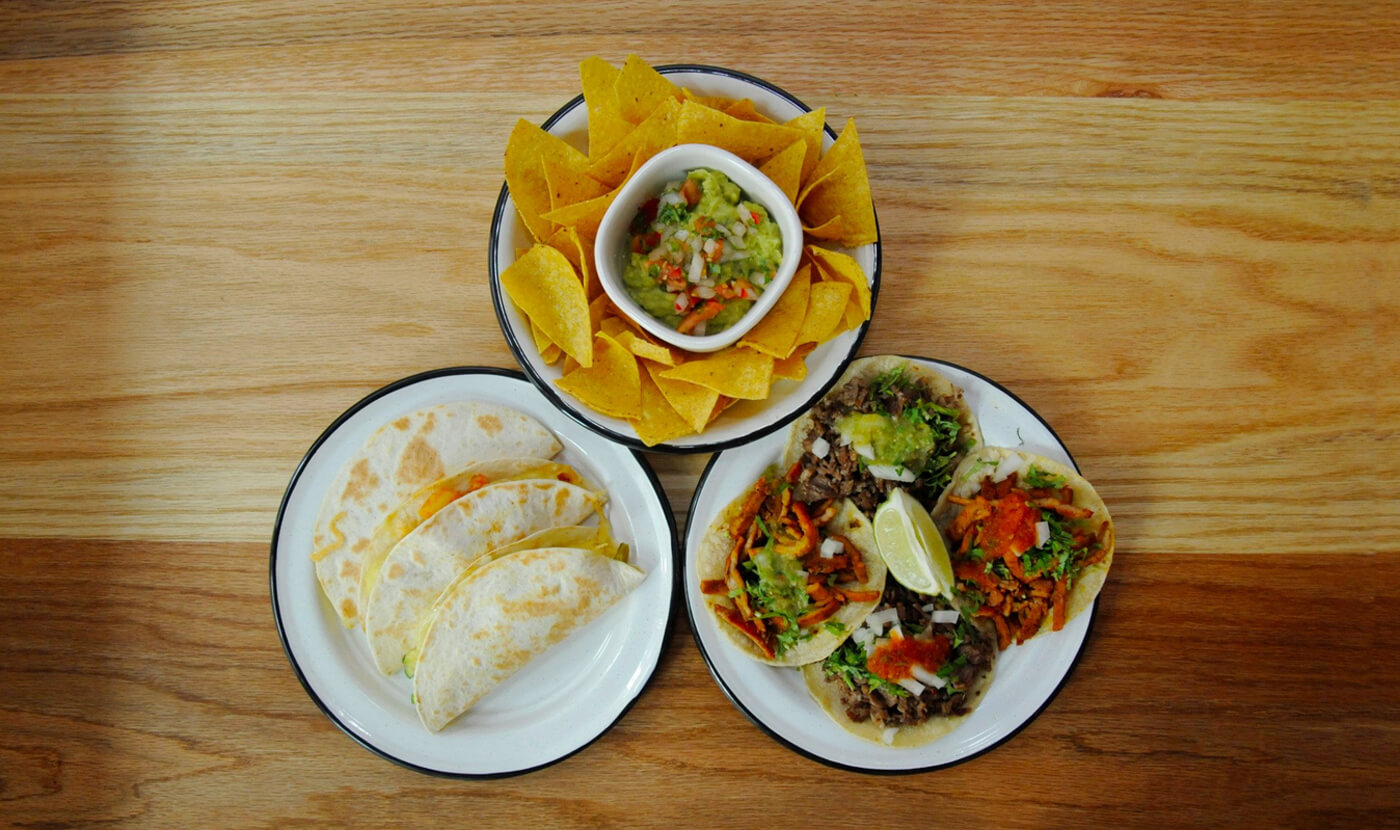 This great reasonably priced place in downtown Stockholm, decorated in an authentic style takes you back to Mexico. Also on the menu are vegetarian and gluten-free dishes.
Address: Barnhusgatan 2;
Working hours: Monday to Friday from 11:00 to 21:00, Saturday from 12:00 to 21:00, Sunday from 12:00 to 16:00;
Website: laneta.se.
Another iconic place in Stockholm. In one place, on Kungsgatan 25, gathered 11 restaurants where you can eat dishes from different cuisines of the world. The institution is very popular in the capital and attracts not only tourists but also locals. The food here is delicious and there is always a place for you.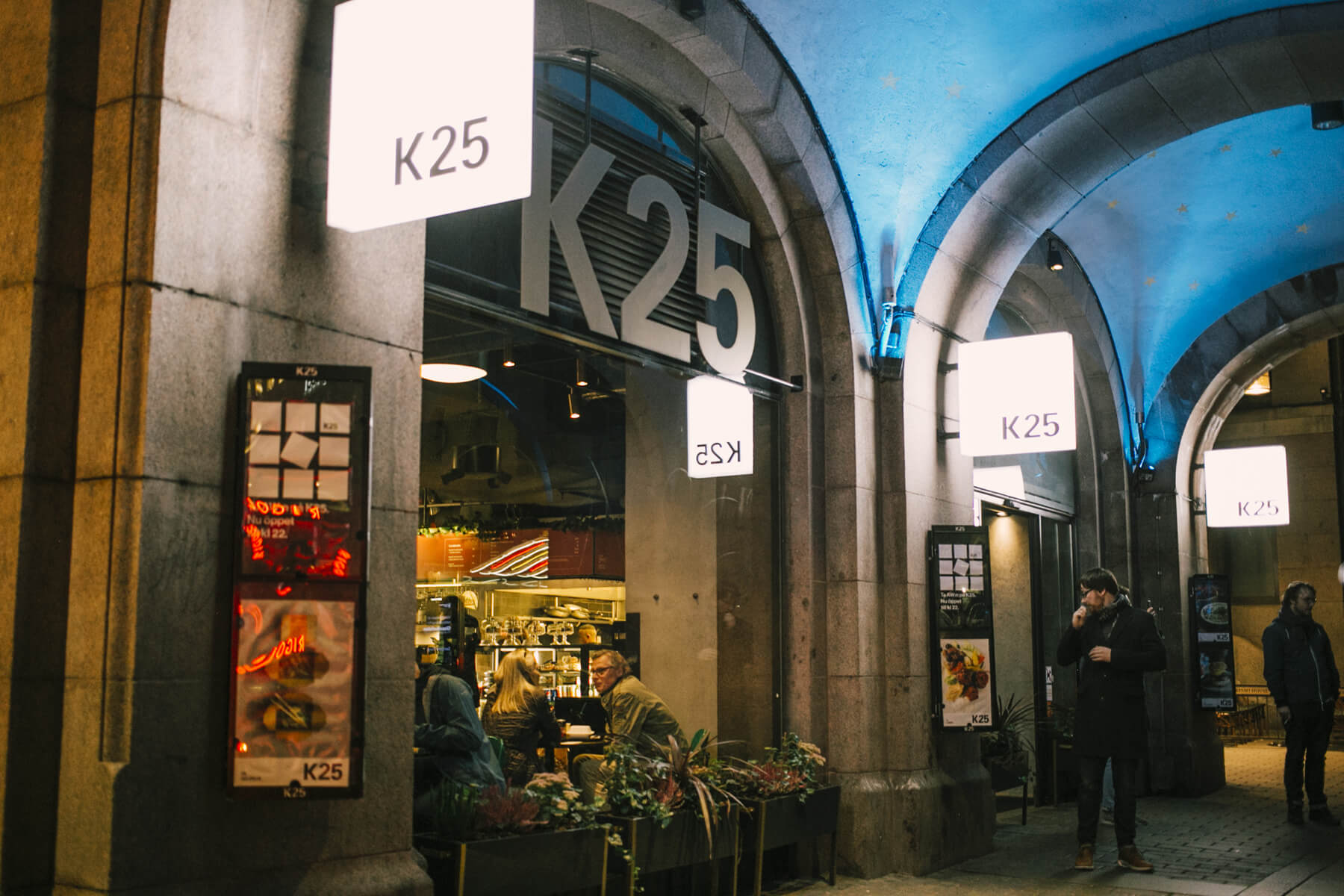 Good to know! You can pay for food only by bank card.
Most often people here buy Asian cuisine. The restaurant serves breakfasts, lunches, dinners, you can order takeout. On the website you can get detailed information about each restaurant and if necessary make an order by phone.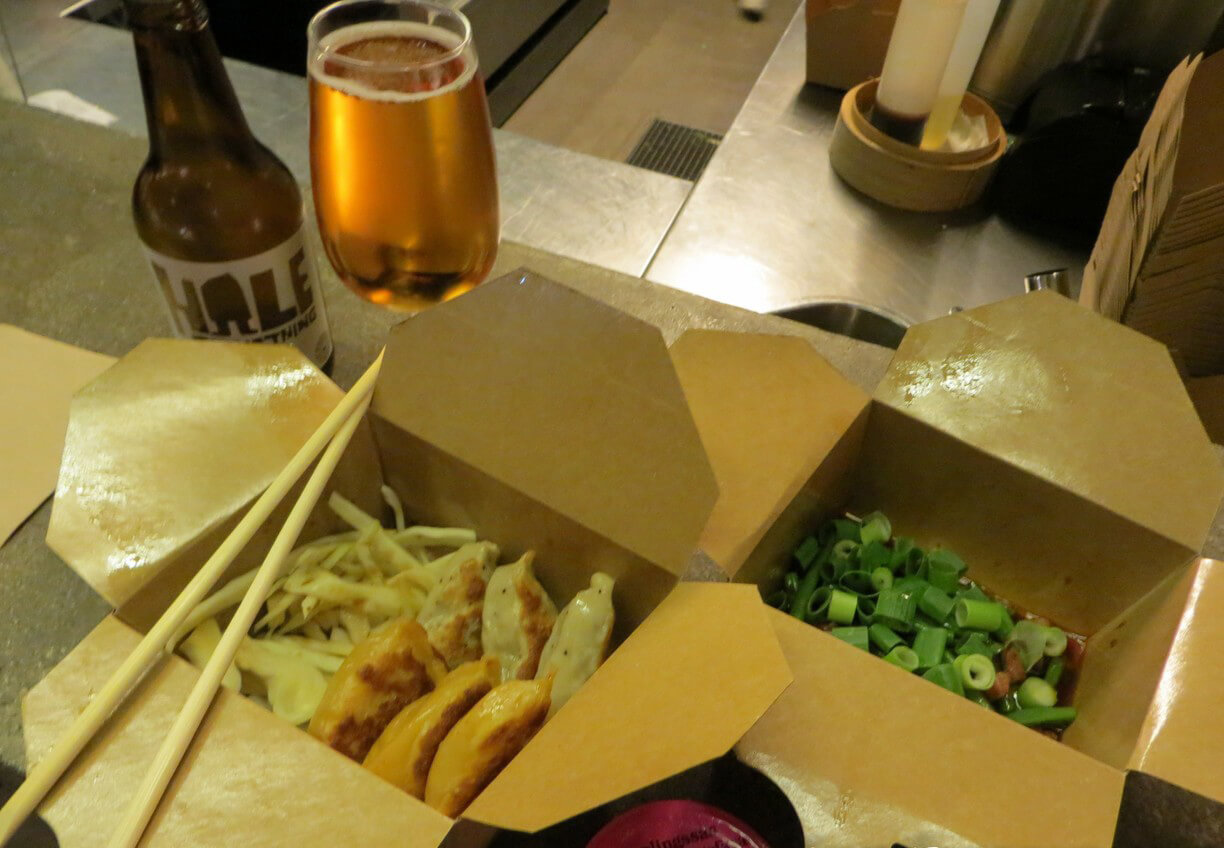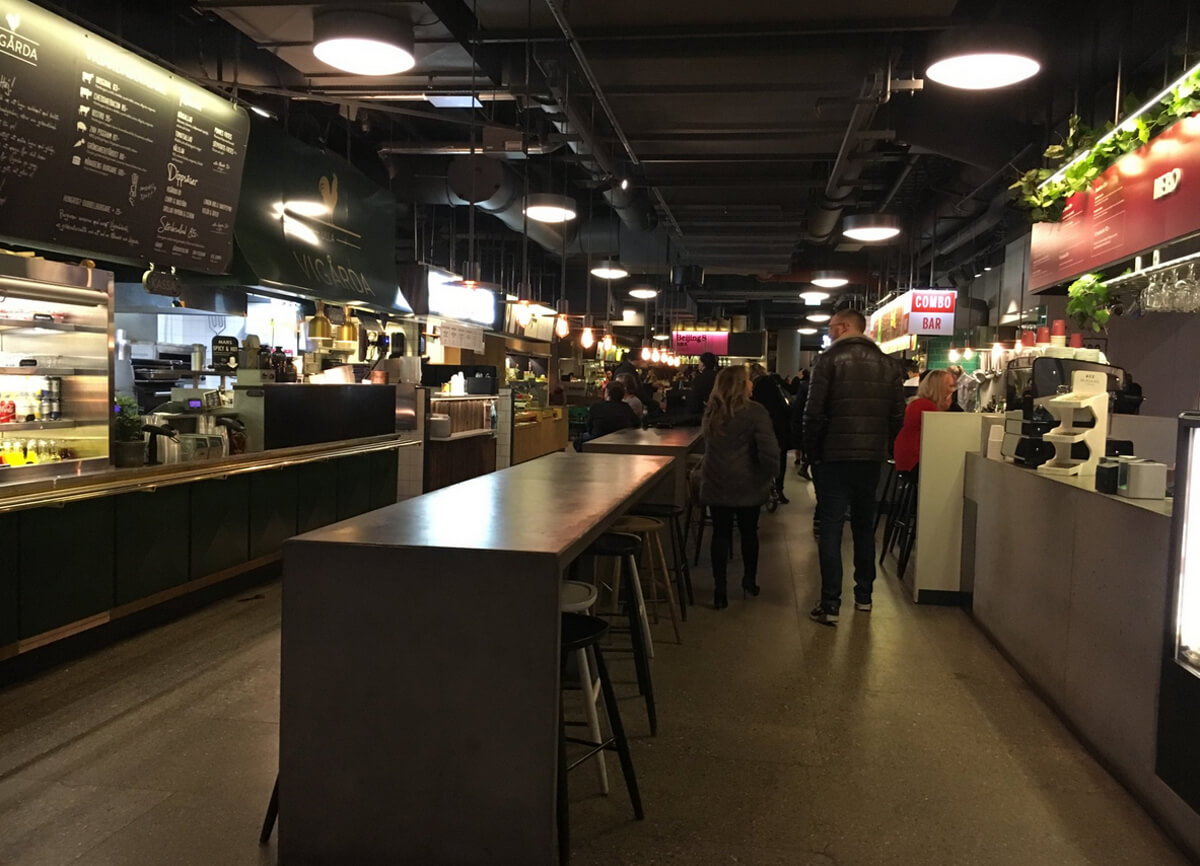 Address: Kungsgatan 25;
Every day from 10-00 to 22-00;
website: k25.nu.
The menu and prices in the article are for July 2018.
We told you where to eat cheaply in Stockholm in the center, suggested establishments of different formats, with different menus, but they are united by democratic prices and delicious food. Many restaurants in the capital offer business lunches in the afternoon.
There are a few other places to eat in Stockholm inexpensively – food trucks (mobile cars), as well as salad bars in major supermarkets.
Author: Julia Matyukhina
Updated: 23 Nov, 2019 Istanbul, being one of the most visited cities in the world,…
Updated: 24 Feb, 2021 Brussels – Mecca for connoisseurs of delicious and quality …
Updated: 29 Jun, 2021 The restaurants of Mui Ne are famous for their variety of gastronomic delights, able to satisfy the taste of…
Updated: 20 Feb, 2019 Vienna, being the epicenter of international tourism in Europe, literally…
Much is not true. Hot dogs are terrible. You can get a tasty hot dog in Estonia. Bread and water are free almost everywhere.
Hello Anton, the selection of establishments is based on tourists' reviews. Terrible or tasty hot dogs is a subjective opinion. And if in some places there is a queue for hot dogs, then definitely a lot of people like them.
Where to eat cheap in Stockholm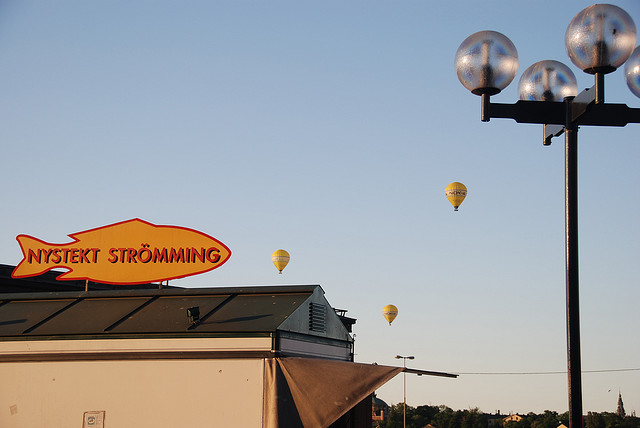 Advice on where to eat cheap in Stockholm and how not to go broke on food: inexpensive restaurants and cafes, markets, stores and fast food.
Stockholm is a city that can empty your wallet at once. Naturally, many travelers preparing for a trip to Sweden's capital are concerned about where to eat cheaply in Stockholm. The easiest and most familiar way to eat on a budget is, of course, the well-known McDonalds and Burger King: there are always the usual dishes and about the same prices. But do you need a century-old wooden hamburger and stale fries? Surely you've dreamed of Swedish national food in authentic restaurants rather than a run-of-the-mill fast food joint. So, we suggest trying out places where you can eat cheap in Stockholm.
Chinese and Japanese restaurants
You can go to Roppongi and try some good sushi after 2 p.m., as there is a 20% discount at that time. In general, the prices in the restaurant are the same as in Moscow. Address: Hantverkarg, 76 (Kungsholmen). Another Chinese restaurant is called Shanghai and is located at Sveavagen 47. After 15:00 you can also eat at a discounted price, buffet for about 110 kroner.
Thai takeaway
Another option for inexpensive eating in Stockholm is the Thai takeaway food stalls. It's tasty, quick, and budget-friendly.
Also read our article about free admission to Stockholm's museums (link).
Herring Kiosks
A must-try in Stockholm is herring! Be like the Swedes – eat at Nysteckt strömming near Slussen Underground Station for a great fried herring on rye bread, mashed potatoes, onions, vegetables, lingonberry jam – whatever you like. You have to wait in line for herring cooked to order! The kiosk is open from 10 a.m. to 7 p.m. on weekdays and from noon to 5 p.m. on weekends.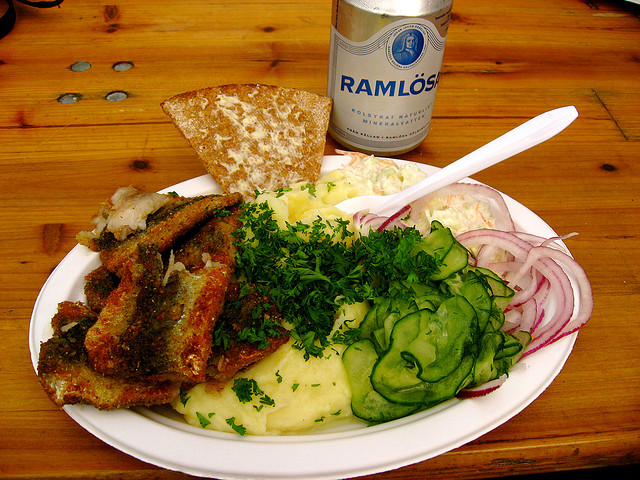 (photo © 917press / flickr.com)
Pizzerias
There are plenty of pizzerias in Stockholm – you can usually find them near subway stations. For example, Birkastans pizzeria is recommended – the pizzas are huge and delicious, with prices in the 70-90 kroner range. Well, and Pizza Hut no one canceled, of course.
Kebab houses
Jerusalem Kebab on Götgatan 59 in Södermalm and Jerusalem Kebab on Gåsgränd alley in Gamla stan – a plate of kebab, vegetables and fries is 75 CZK. There is falafel. The falafel is delicious!
Try the dish of the day
If you see the cherished words Dagens rätt or Dagens lunch on the menu, rejoice because it's a great chance to experience Swedish cuisine without having to fear the high cost of the bill. Dagens rätt/lunch is the so-called "meal of the day" or business lunch and costs considerably less than its counterparts on the menu – from 70 to 120 kronor. Dagens, as a rule, is valid only at certain hours (from 11 a.m. to 2 p.m.) – it depends on the establishment. A set lunch includes a choice of main course, salad, bread, drink (water, juice. ), tea or coffee. All Swedish restaurants and cafes offer this meal on weekdays, but the "meal of the day" is different every day except Thursday. Traditionally, rich and fragrant pea soup and divine pancakes with fruit, cream or jam are served every Thursday.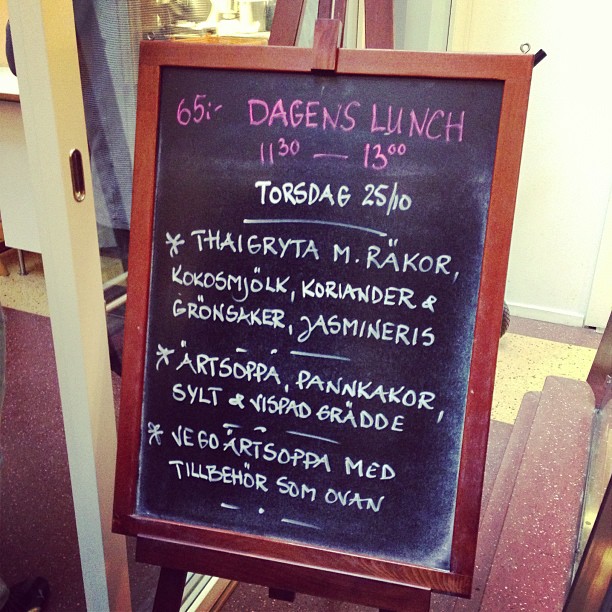 (photo © Ralf Träskman / flickr.com)
Food Galleries
Food galleries are a cluster of little stalls under one roof, like indoor markets the Swedish way. Visit the famous Söderhallarna, Hötorgshallen and Ouml;stermalmshallen food galleries to get a taste of everyday Swedish life – locals come here for fresh produce or just to eat. The galleries are famous for authentic cafes with delicious, fresh and inexpensive food.
At Söderhallarna market in Södermalm you can buy freshly caught fish and game. Address: Södermalm Söderhallarna 3, nearest metro station (T-bana) Medborgarplatsen. The market is open Monday to Wednesday from 10:00 to 18:00, on Thursday and Friday from 10:00 to 19:00 and on Saturday from 10:00 to 16:00.
Östermalmshallen, or Östermalms Saluhall on Östermalmstorg (Östermalmstorg) is a beautiful old gallery that has been functioning since 1888. Surprisingly, some of the pavilions have a long history – they have been passed down from generation to generation. You'll find plenty of stalls with fresh baked goods, cheeses, sausages, seafood, fresh fruits and vegetables in the gallery. And for a taste of the national flavor, it's also worth sitting down in a café or restaurant to sample traditional Swedish fare while watching the hustle and bustle of the marketplace. Tourists also come here to admire the old interiors of the shops, which are lovingly decorated by the owners. Open Monday to Thursday 9.30am to 6pm, Friday 9.30am to 7pm and Saturday 9.30am to 4pm.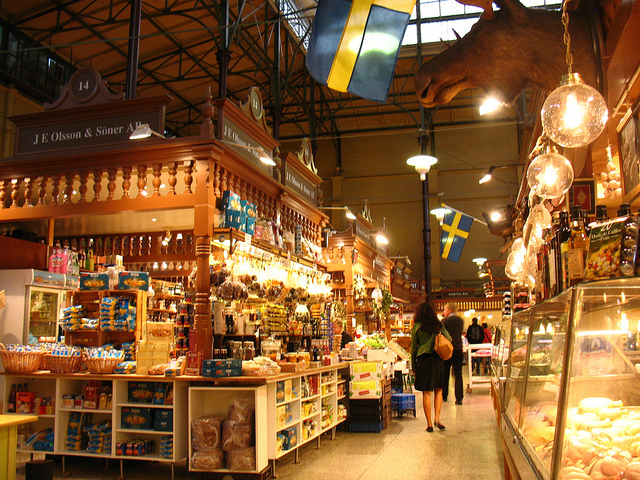 (photo © Vilseskogen / flickr.com)
Hötorgshallen, or Hötorg Hall, is another food market where you can sample the freshest produce. Opening hours are Monday through Thursday from 10 a.m. to 6 p.m., Friday from 10 a.m. to 6:30 p.m., and Saturday from 10 a.m. to 4 p.m.
The food stalls are closed on Sundays and public holidays.
korv kiosks (korvkiosk)
At korv kiosks you can buy a hot dog or a tunnbrödsrulle – a sausage with mashed potatoes wrapped in a soft toy
Food markets
Gooh!, ICA, Ahlens, Hemköp, Willys, 7-Eleven are a budget option if you have a microwave or stove in your hotel/apartment. In the supermarkets you can either buy ready-made food and heat it up, or products for cooking.
P.S. By the way, we advise you to use a useful website to find cafes and restaurants. In the search, you can set the filter to your liking: choose a city, neighborhood, day of the week and keywords. Once you've selected an establishment, you can see the address, menu and prices, as well as opening hours and lunch times.