Where to eat cheap in Florence – friendly neighborhoods
Is it possible to eat relatively cheaply in Florence? Yes! I'll tell you about the places that are popular with the locals. Tasty, inexpensive, and authentic!
Restaurants for "insiders", photo by Massimo Motta
Florentine restaurants are "famous" for their high prices. Particularly expensive establishments are located in the historic center. But is it possible to eat relatively cheaply in the capital of Tuscany? Yes! I suggest you visit establishments that are popular with the locals. Tasty, inexpensive, and authentic!
TIP!

If you're on a tight budget: – Note that prices in restaurants are lower during the day than in the evening, so try to eat during the day and only have a snack in the bar in the evening; – For lunch, come at noon, when the lunch menu is valid; – Ask if the price includes "serviso" (service) and "soregto" (set table), so as not to pay tips twice; – Ask the waiter how much it will cost you such "little things" as a bottle of water, decanter of wine, a cup of coffee.
Osteria Santo Spirito
Gelateria Perché No.
Antica Gelateria Fiorentina
Gelateria La Carraia
Trattoria Zà Zà
Trattoria La Casalinga
Trattoria Lo Stracotto
Trattoria Le Mossacce
Osteria Santo Spirito
Mussel soup, photo by Natasha Burchalova.
Let me clarify: Osteria is a restaurant with Italian cuisine and in the Italian style, aimed at regular customers. Here you won't see beautiful menus, the service is simple and the prices are lower than in other establishments.
Osteria Santo Spirito, this cozy little restaurant is on Piazza Santo Spirito in the historic Oltrarno neighborhood on the left bank of the Arno. Osteria Santo Spirito serves classic Tuscan dishes, with a large selection of antipasti (traditional hot or cold meat and vegetable snacks), seafood and sweets. An appetizer costs from 5 to 10 €, while hot dishes are 10-16 €. Local gnocchi with truffle sauce, risotto, ribollita bread soup and tortelacci with nut sauce are considered by many gourmets to be the best in Florence. The portions are very large and the dishes are served in beautifully painted ceramics.
Address: Piazza Santo Spirito, 16/R. Website: www.osteriasantospirito.it What to order: Zuppa di cozze pane agliato (mussel soup); tortellacci fatti a mano con crema di noci (tortellacci (dumplings) handmade with nut cream); gnocchi gratinati ai formaggi morbidi al profumo di tartufo (gnocchi (dumplings) baked with soft cheeses and flavoured with truffles); risotto. Average bill for a dinner for 2 people: 40 €.
All'Antico Vinaio
The old winemaker's diner is one of the best inexpensive places in town, photo by Chiara Bacchi
Three takeaway eateries selling panini (hot sandwiches) on Via dei Neri. A sandwich bar, an osteria, and a wine bar are all under the sign All'Antico Vinaio. Here they sell panini for 5 € with a choice of fillings: prosciutto and capocollo, sbrisolone, mozzarella, arugula, truffles and tomato. The sandwiches can be accompanied by wine. The line for paninis is usually long, but it moves quickly.
Address: Via De' Neri 74/R, 76/R, 65/R. Website: www.allanticovinaio.com/it. What to try: schiacciata (sciacciata – Florentine bread); porchetta (porchetta – baked pork roll); cinghiale (wild boar meat); salami; bresaola (bresaola – beef jerky); capocollo (capocollo – uncooked pork neck); prosciutto; stracchino, mozzarella, pecorino Toscano, truffle cream and eggplant cream. Average bill: 5-6 €.
Gusta Pizza.
Tasty, inexpensive, authentic; photo by Raul Low
Gusta Pizza is a pizzeria known to all locals on Via Maggio, in the Oltrarno area. This is where, according to the Florentines themselves, you can order authentic (and, importantly, inexpensive) Tuscan pizza baked in a wood-fired oven. You can watch the pizzaiolo at work. Ordered pizza will be cooked right in front of you in the open kitchen. The range is not large – about 6-8 items.
Address: Via Maggio, 46/r. What to try: Gusta Pizza and Margherita. Average bill: 5 to 10 €.
News Cafè
The barista's virtuoso work – drawing on the creamy coffee crema, photo by Jini Jun
A pleasant place in the city center near Piazza di San Lorenzo. It's an atmospheric little café that locals love to visit in the mornings. It serves excellent coffee, bakes delicious muffins and fresh rolls. The baristas at News Cafe masterfully create cappuccinos with delicate, creamy crema patterns. A cup of coffee here costs 1.80-2.50 €. Before lunch or dinner you can have an aperitif (good choice of drinks and reasonable price).
Address: Via del Giglio, 59. What to try: Coffee with whipped cream. Average bill: cappuccino and bun 2.40 €.
Gelateria Perché No.
Why not. photo by SUNBIN YOON
The name of this gelateria translates as "Why not. "The place is old and has been open since 1939. They make delicious natural ice cream: cherry, pistachio, hazelnut, vanilla and chocolate mousse. There are not only classics, but also original varieties: gelato with persimmon, rose, green tea and even arugula. There's also vegan soy ice cream. You put the ice cream in a waffle cone or paper cup. You can put several varieties in one cup.
Address: Via Tavolini, 19R. What to try: blackcurrant, pistachio, ginger, salted caramel, strawberry, hazelnut. Average bill: 2.5-3€.
Don't miss your chance to enjoy a divine Italian ice cream. There are 2 other gelaterias I can recommend.
Antica Gelateria Fiorentina Address: Via Faenza, n. 2A. Website: www.gelateriafiorentina.com.
Gelateria La Carraia Address: Piazza Nizario Sauro, 25r. Website: www.lacarraiagroup.eu
Trattoria Zà Zà
Steak Florentine, photo 우진혁
A popular and cozy trattoria near the market, on Piazza del Mercato Centrale. There are three combined rooms: bar, restaurant, cafe. The interiors are very colorful, original and atypical for an average Italian trattoria. The food is delicious and there are a lot of grilled dishes. The cuisine at Zà Zà is Mediterranean, European and Italian. Serves homemade wine and beer. Great service and offer a menu in Russian.
Address: Piazza del Mercato Centrale, 26r. Website: www.trattoriazaza.it What to order: ravioli crema di tartufo (ravioli with truffle cream); bistecca alla florentina (Florentine steak). Average bill for a dinner for 2 people: 45 €.
Trattoria Mario
Black cabbage soup, photo by Meiying Xu
A small family restaurant has been operating on the corner of Central Market since 1953. Trattoria Mario has modest interiors and simple service, but an excellent selection of Tuscan dishes. The menu is not too extensive, but thoughtful: two types of pasta, soup of the day, a dozen meat dishes and side dishes. Florentine steak – the well-known Bistecca alla Fiorentina – is cooked with blood. As a side dish we serve beans, green salad, boiled potatoes. Cooks buy fresh ingredients for the kitchen at the Central Market. The menu is updated daily and handwritten. Traditionally they serve fresh fish on Fridays. Open every day except Sunday from 12 p.m. to 3:30 p.m. on Sundays.
Address: Via Rosina, 2r. Website: trattoria-mario.com. What to order: Florentine steak; ribollita (thick vegetable soup with black cabbage); pasta. Average bill for 2 people for lunch: 40 €.
Da' Vinattieri
Sandwich Da' Vinattieri, photo by BumBm
A small sandwich bar with an inconspicuous sign tucked away in a narrow alleyway next to the Dante House Museum, selling sandwiches on traditional Tuscan schiacciata bread. At Da' Vinattieri, you have to try the lampredotto sandwiches (made from rennet (cow's stomach)). It's a traditional street food of old Florence: a tripe sandwich with tomato or garlic sauce. Here, locals say, they make the best Florentine lampredotto. They also make sandwiches with Tuscan salami, artichokes, truffle cheese and arugula; they make a thick ribollita soup and serve guests a pitcher of homemade wine.
Address: Via dei Neri 74 R. Website: www.davinattieri.com What to try: lampredotto. Average bill: 5-6€.
Trattoria La Casalinga
Trattoria La Casalinga, Photo by Jeroen Nasnl
Menu, photo by pepe gomez
Inexpensive family-run trattoria with a traditional menu on Via Michelozzi. The name of the place, La Casalinga, translates to "housewife". The atmosphere in the trattoria is typically Tuscan, homely and unpretentious. The dishes are authentic, with a distinctly rural flavor. There are always a lot of visitors here: during the day the Florentines mostly dine, and in the evenings lines of tourists gather. The menu includes soups, a large selection of appetizers, ravioli and pastas. Hot dishes are made from farm poultry, pork, veal; a "dish of the day" is offered daily, and homemade wine is served. Many desserts: crème caramel, tiramisu, sorbet with limoncello, pancakes and fruit pies, excellent panna cotta. The price for a Florentine steak is 40 € per kilo (you can order the side dish separately).
Address: Via dei Michelozzi, 9/R. Website: www.trattorialacasalinga.it What to order: Florentine steak; pasta, carpaccio, cheeses. Average bill for a dinner for 2 people: 30-40 €.
Trattoria Lo Stracotto
Pasta with truffles, photo by Delphine JOLIVEL
Trattoria in Piazza Madonna Degli Aldobrandini, next to Ponte Vecchio. The restaurant's veranda is set up in front of the Medici Chapel. The trattoria is relatively inexpensive and specializes in Tuscan cuisine. We recommend ordering steak Florentine style here: you are guaranteed optimal grill. There are pasta with truffles, thick tomato soup, other vegetarian dishes, local cheeses and wine, and delicious desserts.
Address: Piazza di Madonna degli Aldobrandini, 17. Website: www.trattorialostracotto.it What to order: Florentine steak; pappa al pomodoro (tomato soup with bread); pasta al tartufo (pasta with truffles); cheese specialties; desserts. Average bill for a dinner for 2 people: 40-50 €.
Trattoria Le Mossacce
Trattoria Le Mossacce, photo by Niels Demoen
This establishment, very popular with the Florentines, is located by the Cathedral. The Fantoni Mannucci family has been in business for more than half a century and keeps the tradition of Tuscan cooking and hospitality alive. Le Mossacce offers traditional regional dishes: minestrone and ribollita soups, homemade veal and veal cutlets, roast cockerels, Florentine tripe, Meat Scallops. They bake fruit pies, serve goat Tuscan cheese and gorgonzola, and fresh seasonal fruit. Locals love the trattoria for its friendly cozy atmosphere, tourists love it for its fast service.
Address: Via del Proconsolo, 55/r. Website: www.trattorialemossacce.it What to order: ravioli; Tuscan ribollita soup. Average bill for a dinner for 2 guests: 40 €.
La Sprada Restaurant
La Sprada, Pa Li photo
A truly Florentine establishment near Piazza Santa Maria Novella. Specializes in meat dishes, famous for its perfectly cooked steaks (medium rare) and an excellent choice of local wines (it has its own brand). Locals from Florence and experienced tourists love to dine here: the prices are comparatively low and the service is good even during rush hour. The waiters can advise on dishes and match them with wine. Next to La Sprada there is a restaurant with the same name (Rosticceria La Sprada) with inexpensive daily take-away dishes: pasta mezzemaniche, ravioli, gnocchi with mushrooms. Seafood specialties on Fridays.
Address: Via della Spada, 62/R. What to order: cappelletti romagnoli (cappelletti in broth); tagliolini (tagliolini Natascia with salmon); pasta with mushrooms; tiramisu; house wine. Average bill for 2 people for dinner: 42 €.
How do I save money on hotels?
It's very simple – look not only on bookings. I prefer the search engine RoomGuru. It looks for discounts simultaneously on Booking and 70 other booking sites.
Where to eat cheap in Florence
Florence is known all over the world for excellent Tuscan cuisine and at the same time – rather high prices. Nevertheless, even in the historic city center you can find budget cafes.
Information about where to eat in Florence inexpensively and deliciously will be especially relevant for tourists planning a trip to the capital of Tuscany for the first time.
The 9 best inexpensive eateries in Florence
I' Girone De' Ghiotti is a cozy eatery near Piazza della Signoria and Dante's house that offers typical Italian panini sandwiches. The toppings are varied: Tuscan ham, cheeses, and salami. You can buy a medium-sized panini for 3.5 € or large ones for 5 €.
>>> Rent a car in Italy. The secrets of renting a car, features and tips
SandwiChic is a great place with very tasty sandwiches for 3,5-5 €. The sandwich shop is so popular in Florence that the queue of those who want an inexpensive snack is lined up in the street.
Salumeria Verdi-Pino's Sandwiches – here you can not only eat sandwiches but also pasta with meat and vegetables for 9 €.
Amici di Ponte Vecchio Da Stefano – a pizzeria near the city center where you can get a slice of delicious pizza for only 4 € or a double portion for 7 €.
All' Antico Vinaio is a place in the Uffizi district where they make a huge sandwich in front of you (for example schiacciata or la favolosa for 5 €) from traditional Tuscan bread and toppings of your choice. A sandwich like this is enough to satisfy your hunger for a long time.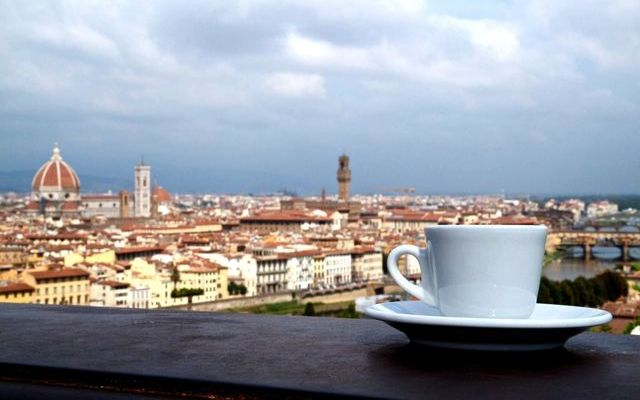 'ino Firenze is another budget establishment in the Uffizi, where you can eat inexpensively in Florence. It offers classic Italian sandwiches: panini, bruschetta, and focaccia, a wheat flatbread with a filling.
Semel is a sandwich bar 10 minutes walk from the center, next to Sant'Ambrogio market. The owner makes the most delicious and original paninis for 4 €: with pear and truffle, prosciutto of wild boar, with anchovies and oranges.
Il Coccolo is a cozy, atmospheric mini-café with cheap and delicious doughnuts, seafood cocktails and Tuscan deep-fried snacks. You can also eat great pasta there inexpensively for 7€.
Nobile Bistrò – It's worth a trip to try the lampredotto (4 €), a popular bun in Florence stuffed with boiled rennet – cow's stomach.
In a year in Florence, about 80 tons of lampredotto are eaten by tourists and locals. This famous Florentine sandwich has been known since the XV century. To this day it enjoys unwavering popularity among fast food lovers.
Budget Cafes in Florence
Despite the rather high prices of food in Florence, there are quite a few interesting establishments in the city that offer delicious dishes in the best Italian traditions at quite a budget price.
Gustapizza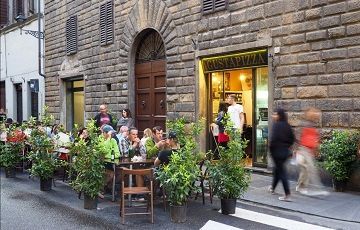 This small pizzeria near the Ponte Vecchio, near the city center, is considered one of the best in Florence. The pizza is cooked in a wood-fired oven, which is located here behind the counter. Everyone can watch the baking process. The taste and aroma are just divine! The cost of pizza – from 5 to 8 €. The only drawback – you can't pay with a bank card, only cash.
There are no waiters. After getting your pizza, you can sit comfortably at the high round tables. Of course, if there is room, because in Gustapizza there are usually a lot of students, tourists and neighborhood residents. Alternatively, you can get pizza to go and eat nearby, in Piazza Santo Spirito.
Gustapizza pizza menu
Trattoria il Contadino
When sightseeing in Florence's Santa Maria Novella neighborhood, check out Trattoria il Contadino. Here you will not meet many tourists, but you can plunge into the usual everyday life of ordinary Florentines – they often come here to eat inexpensive traditional Italian food.
The trattoria's atmosphere is simple and understated. Wooden tables close together, black-and-white tiled floor, paintings with images of historical scenes and local temples on the walls. All this gives the place an inimitable Italian flavor.
Trattoria il Contadino's main feature is set lunches and dinners. For 9 € during the day and 13,5 € in the evening you can choose any main dish with a side dish. It comes with 2 small bottles of water, a glass of house wine or a soft drink. Various types of pasta, lasagna and risotto are offered as a main course. Of meat, the Florentine favorite is boar, Florentine-style tripe, rabbit, and others.