Where to Eat Tasty and Cheap in Pattaya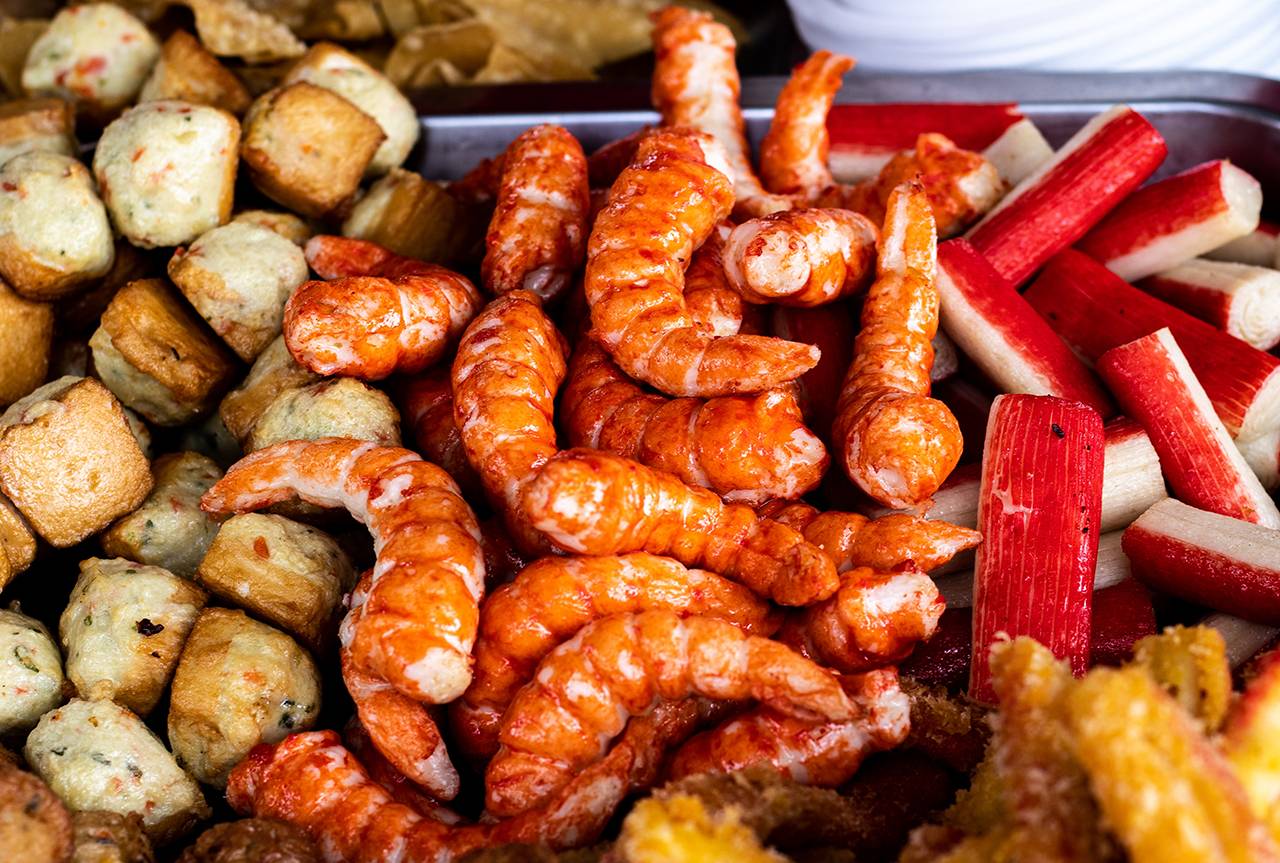 Asking where to eat tasty and inexpensive food in Pattaya is like asking a man covered with a clock what time it is. All the year round on the streets of Pattaya is a brisk trade of edibles. Choose what you want!
Look for the best deals on travel packages at Level.Travel and Travellata, which will find the best deals among the different tour operators. Want to save your money? Check out our 7 rules for buying tours online.
Exchange rate: 1 Thai Baht (THB) ≈ 1,5 RUB.
Contents:
Restaurants in Pattaya
Restaurants, where you can eat well in Pattaya, enough. We will tell only about those that we liked the most.
Santa Fe is an American steakhouse chain. You can find them in Central Festival, Central Marina, BigC supermarkets on South and North Streets. If Thai cuisine is too spicy for you or you just feel like eating something familiar, don't hesitate to come here! The interiors are styled like trains and railroads. Very clean and cozy.
What can you order in Santa Fe? Any kind of steak – pork, beef, chicken, ostrich and kangaroo meat with a side of fried potatoes and salad, cream soups and desserts. The quality is excellent, for 200-350 baht you have a hearty lunch for two. The only disadvantage – chefs cook slowly, so the waiting time can stretch up to 30-50 minutes.
Pupen Seafood – a seafood restaurant in Jomtien. Will please those who like crab, lobster, shrimp, fish, sea urchins and shark meat. The average bill for two, excluding alcohol – 500-600 baht.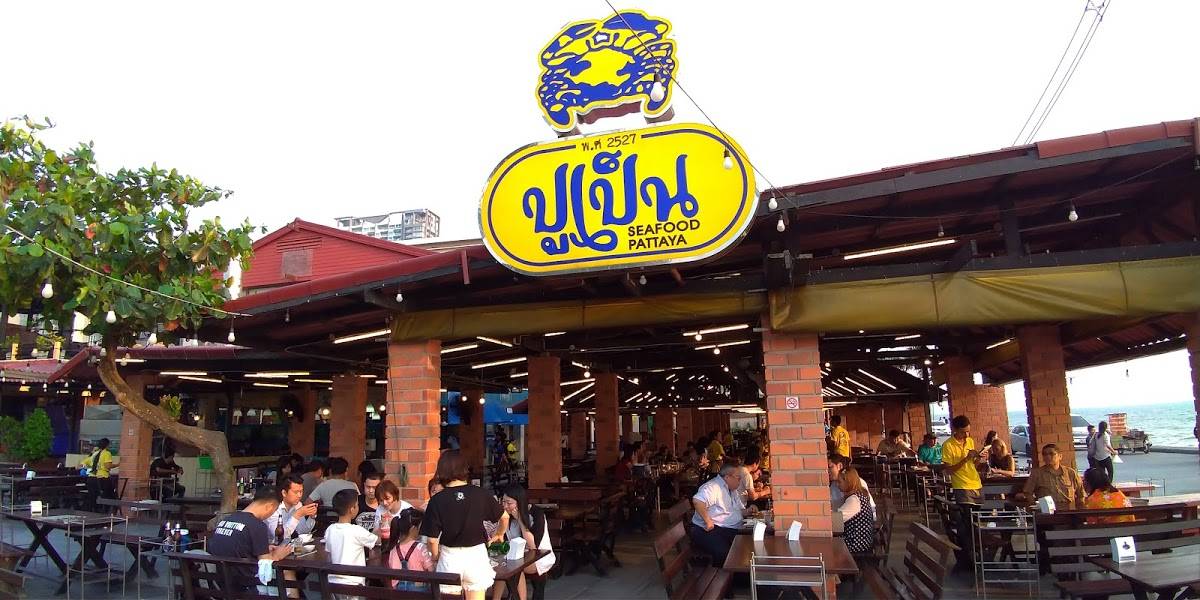 Pupen Seafood (Photo: facebook.com/pupen24)
Russian restaurants in Pattaya
Sometimes you want to taste okroshka, buckwheat with meat or pies with caviar. A good idea! However, in Thailand, foreigners can not work as cooks, so in the institutions of Russian cuisine is cooked by Thais.
Several times we tried to order the usual dishes, but borscht turned out to be sour and spicy, like tom-yum, and dumplings were shaped like gyoza. May you have better luck!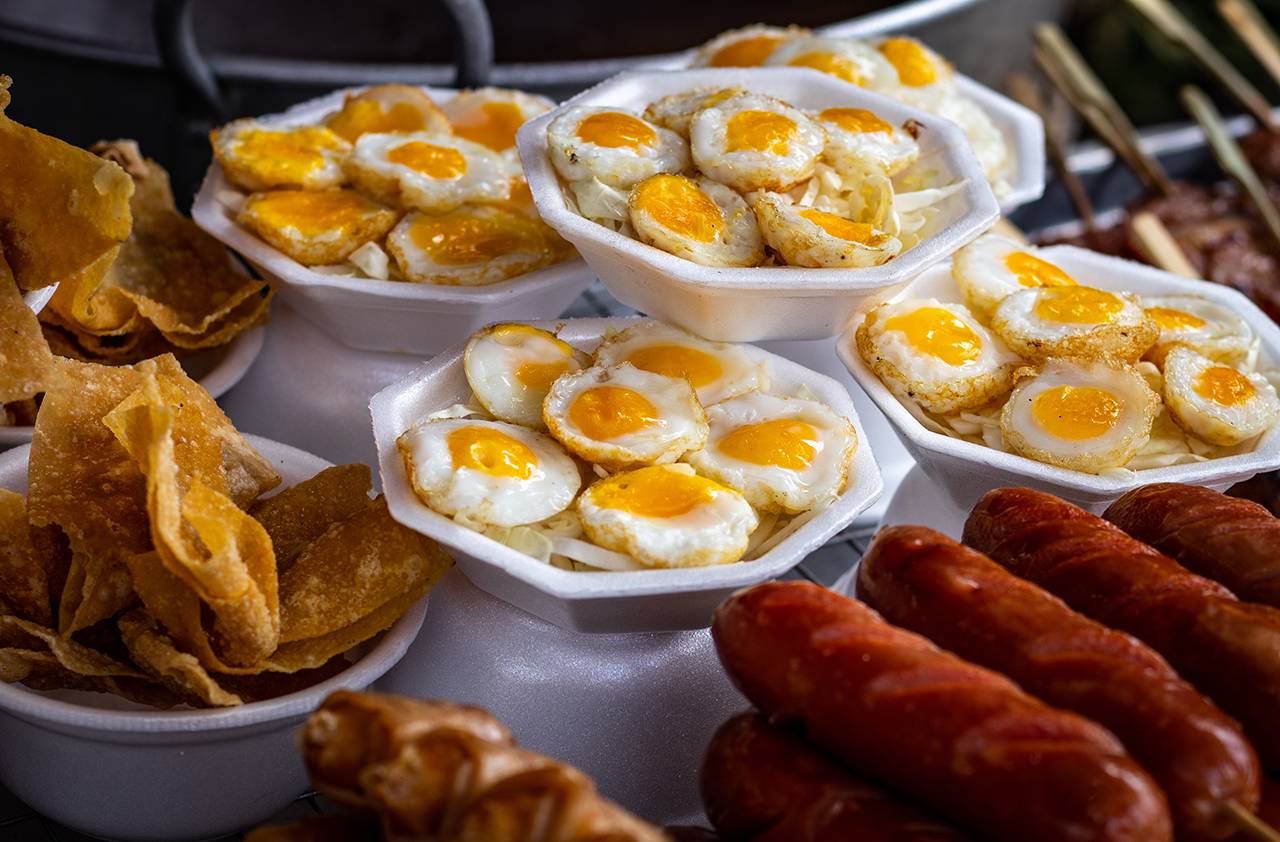 European breakfast with scrambled eggs and fried sausages (Photo: unsplash.com / @mybbor)
Pattaya Markets
There are several markets in Pattaya that sell vegetables, fruits, fish, meat and feed people. At first glance, the Thai eateries look unpresentable. They have no sinks, the dishes are plain, and the tables are covered with ordinary oilcloths. However, the food at the markets is excellent and inexpensive – 40-70 baht per serving. We advise to visit the Night Market on Theprasit Street, Food Market in the middle of Jomtien and Fish Market in Naklya.
The chances of getting poisoned in a street restaurant in Thailand are negligible. The owner of the institution makes sure that there are no such problems. Otherwise, he will put an end to the trade that fed his grandparents and father and mother. Reputation is paramount! The Thais follow this strictly.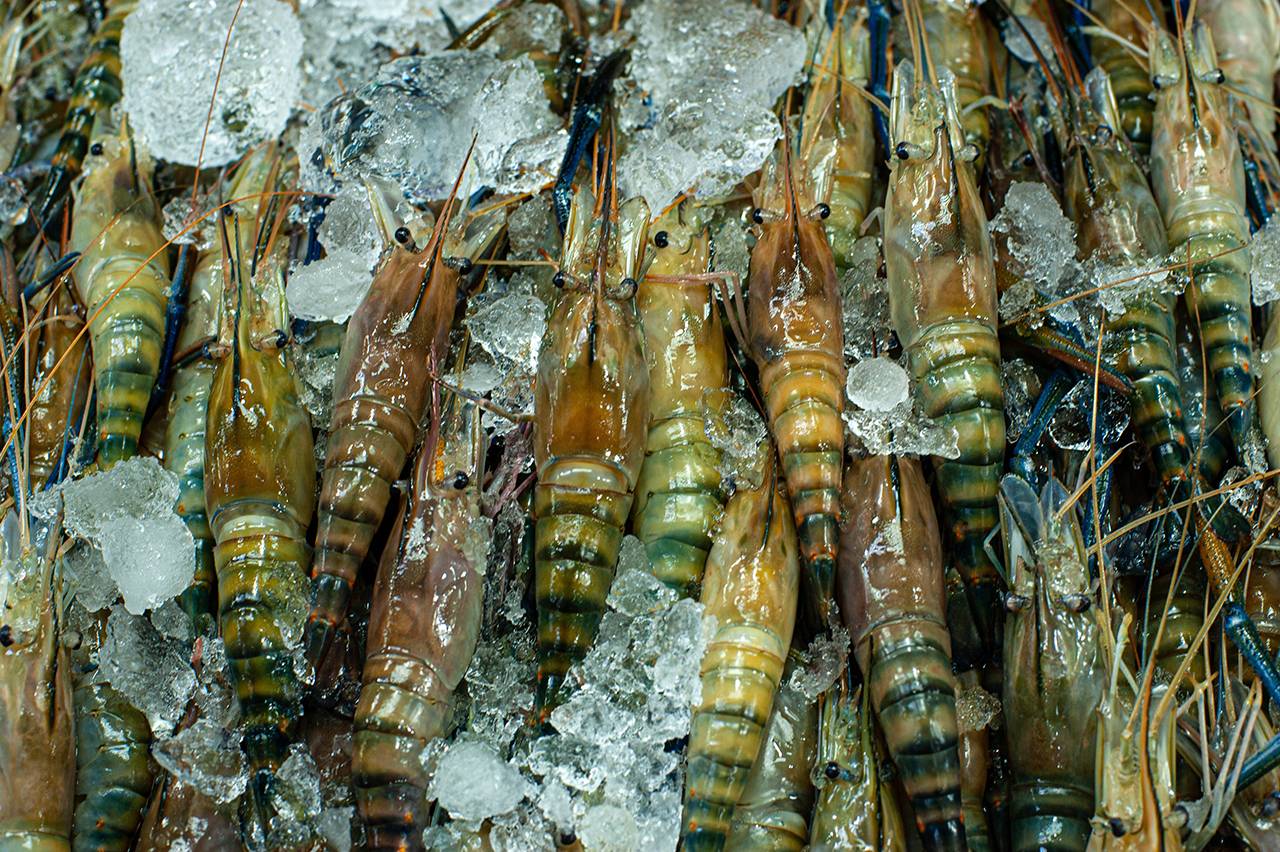 Shrimp tray at Pattaya market (Photo: unsplash.com / @arinaertman)
Makashniks
Don't be afraid of the macashtikas in Pattaya – you can eat there inexpensively and deliciously! It's unknown where the word came from, but it's the name given to vendors who sell food from motorcycles with sidecars and motorless kitchen crews.
What do they make at the macarons? Sweet pancakes, chicken rice, tom-yam soup, kebabs, fried sausages, grilled calamari, and other snacks. There are macashtnikas all along the streets and near the beaches. Not a bad way to eat on the go!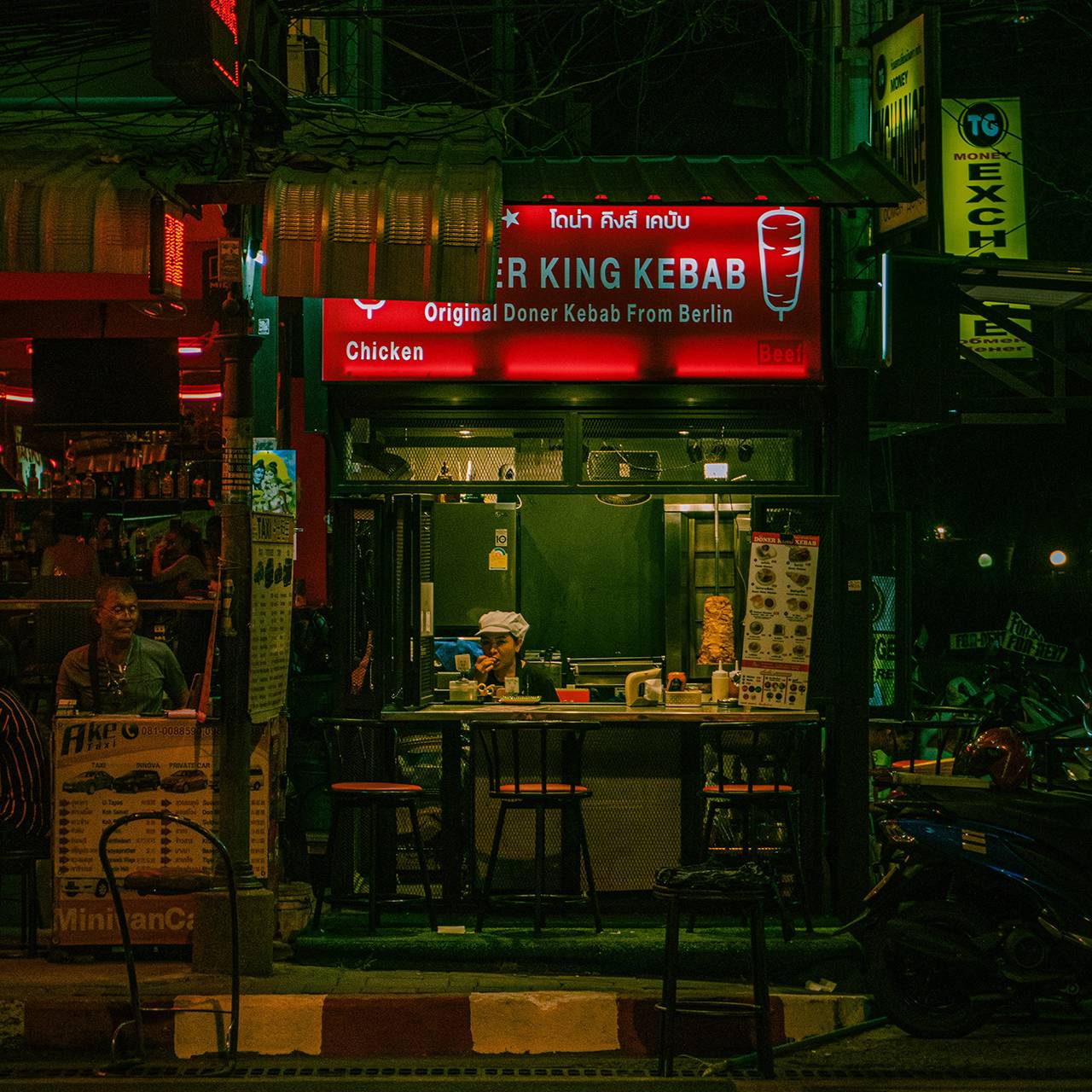 Kebab bar in Pattaya (Photo: unsplash.com / @haileydo74)
Pattaya Food Courts
Cheap and tasty food in Pattaya can always be found in the food court. They are similar to canteens, only the food is not made by one team of chefs, but several. Under one roof gathered small restaurants that offer tourists first and second courses, snacks, desserts and drinks.
Food courts are in all major shopping malls and supermarkets in Pattaya. You go inside, pay a deposit at the cashier, such as 200 baht, and get a card or checks. Then you walk through the food court and choose the dishes you like. The chefs cook them and deduct the amount from your card or keep the checks.
It's very simple! You don't have enough money – add it to the cash register. Left unused funds on the card or checks? The cashier will give you the cash back. Pros of food courts – low prices and availability. Cons – the average quality of food and the constant noise. There are a lot of people coming here!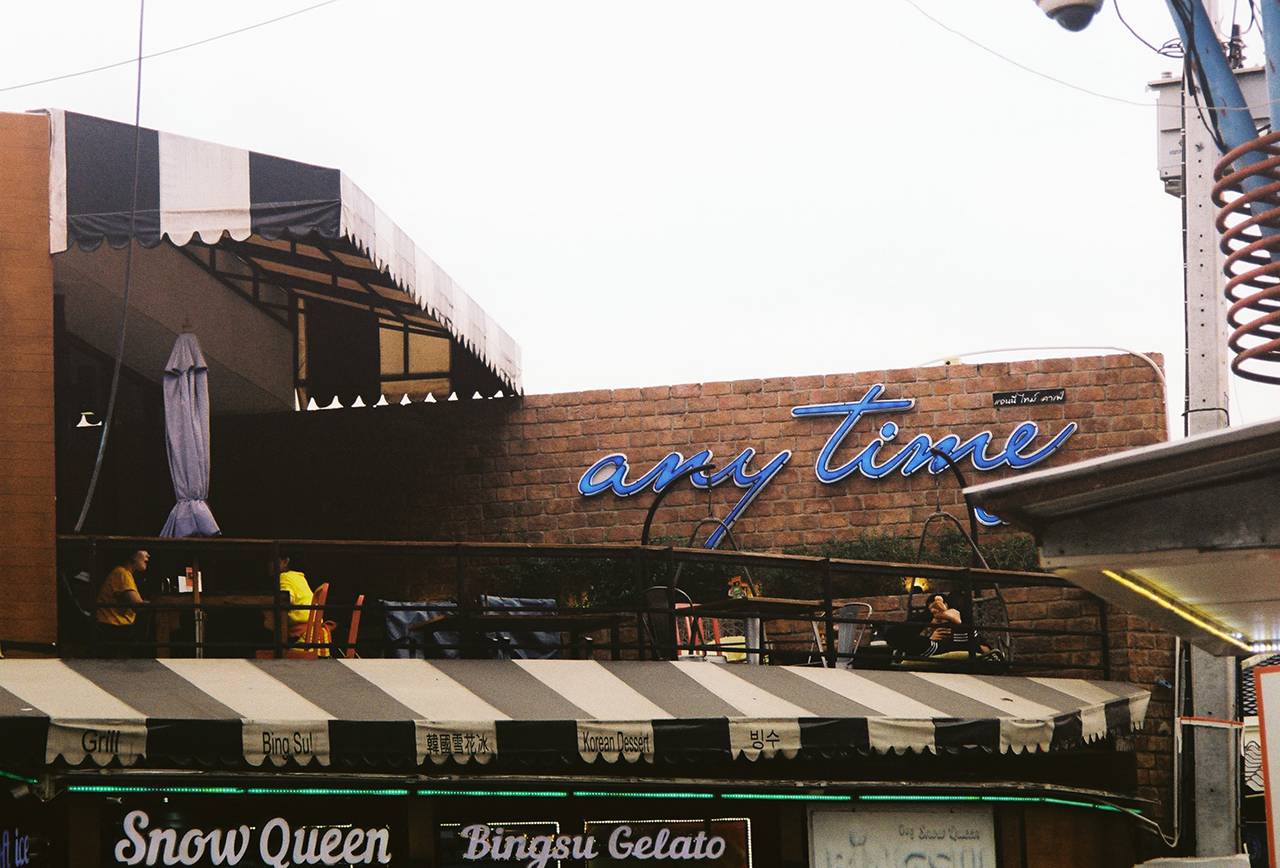 Anytime Cafe (Photo: unsplash.com / @a_pril)
Pattaya Buffets.
Very popular places to eat tasty and inexpensive food in Pattaya are buffets. They operate on the buffet principle. In Pattaya, there are several buffets of European, Japanese, Korean and Thai cuisine.
Popular with tourists Sizzler restaurants are in the shopping center Central Festival, Royal Garden Plaza and Terminal 21. The principle is this: when ordering a main course you can use the salad bar for two hours. Eat as much as you like! Choose meat or fish with a side dish and have all kinds of salads, soups, appetizers, fruits and desserts. There is a menu for children.
Asians like to sit down at the table in company, so unlimited buffets are popular in Pattaya. There are more than 50 of them in the city. These establishments operate on the "eat as much as you can" principle. There are restaurants with ready-made meals and places where visitors prepare their own food from semi-finished products.
Here are the addresses of the most delicious and inexpensive unlimited buffets in Pattaya:
All Seasons Steak Buffet – 5th floor of Central Festival Mall. Admission is 319 baht for an adult and 175 baht for a child. Beer and strong alcohol – for a fee. If you don't eat all you should pay 175 baht fine.
Red Kimchi BBQ Buffet – 1st floor of Royal Garden Plaza mall. An excellent option for lovers of Korean cuisine and one of the best sushi buffets in Pattaya. Admission is 345-389 baht for adults and 229 baht for children. Allow 90 minutes for a meal.
Panorama Revolving Restaurant – 52nd floor of Pattaya Park Tower. A seafood buffet in Pattaya, where you will not only have a delicious meal, but also admire the panorama of the city. For 1.5 hours the restaurant makes a complete revolution around its axis. Admission costs 600 baht. The bill for alcohol is separate.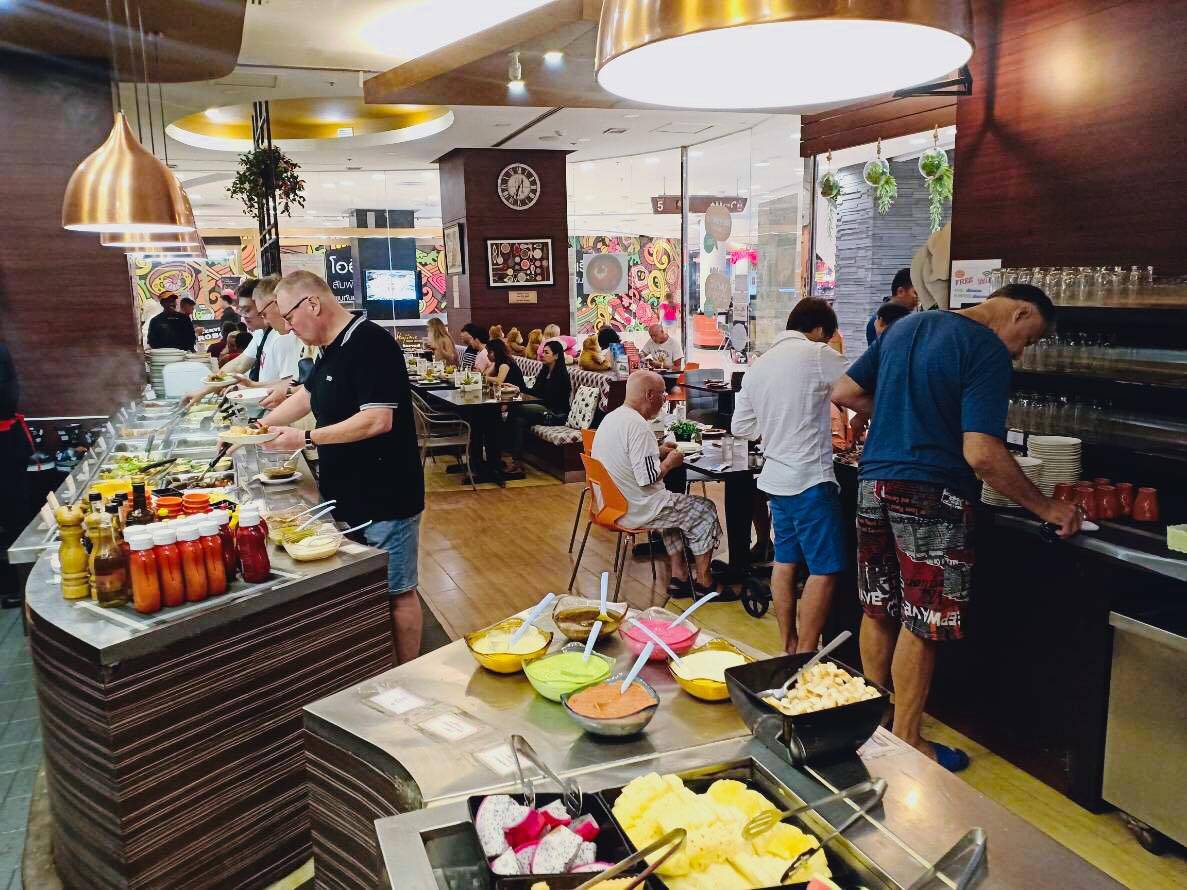 All Seasons Steak Buffet (Photo: facebook.com/allseasonssteakbuffet)
Tsunami Sushi Buffet – Third Street. Tsunami Buffet in Pattaya offers a large selection of hot and cold a la carte Japanese dishes, from baked rolls to sashimi. Admission costs 599 baht.
Hajime Restaurant – 5th floor Central Festival Mall. Popular unlimited buffet with original mechanical waiter treats meat, fish and seafood. The shabu shabu pays 379 baht for admission and 499 baht for tepanyaki.
Ninja BBQ Buffet Restaurant – Third Street. Ninja BBQ Buffet in Pattaya is liked by almost everyone. The food is always fresh, and it's fun to cook yourself. In addition, it is one of the most inexpensive: regular admission for adults costs 199 baht, and admission with a special menu that includes oysters and lobsters – 399 baht.
Sabushi oishi – Central Festival, Harbor Mall, Central Marina and Terminal 21. Unlimited buffets in Pattaya for those who prefer Japanese food. Admission is 419 baht for adults and 209 baht for children. The time limit is 1 hour and 15 minutes.
Sichuan Bar – B-Q-Buffet – Third Street. Visitors order ready-made meals and make their own soups and salads. Admission is 199 baht.
Nai Por – North Street. Choose an electric stove or grill pan and enjoy your dinner. Don't want to cook and fry yourself? Get ready-made fish and meat dishes. Admission is 169 baht.
Nenjar ("4471") – Naklya. Unlimited buffet "4471" in Pattaya with fresh seafood, fish, chicken, pork, beef, crocodile meat, vegetables, fruits and desserts. Admission costs 199-299 baht. Be sure to add a drink for 60 baht to the price of admission.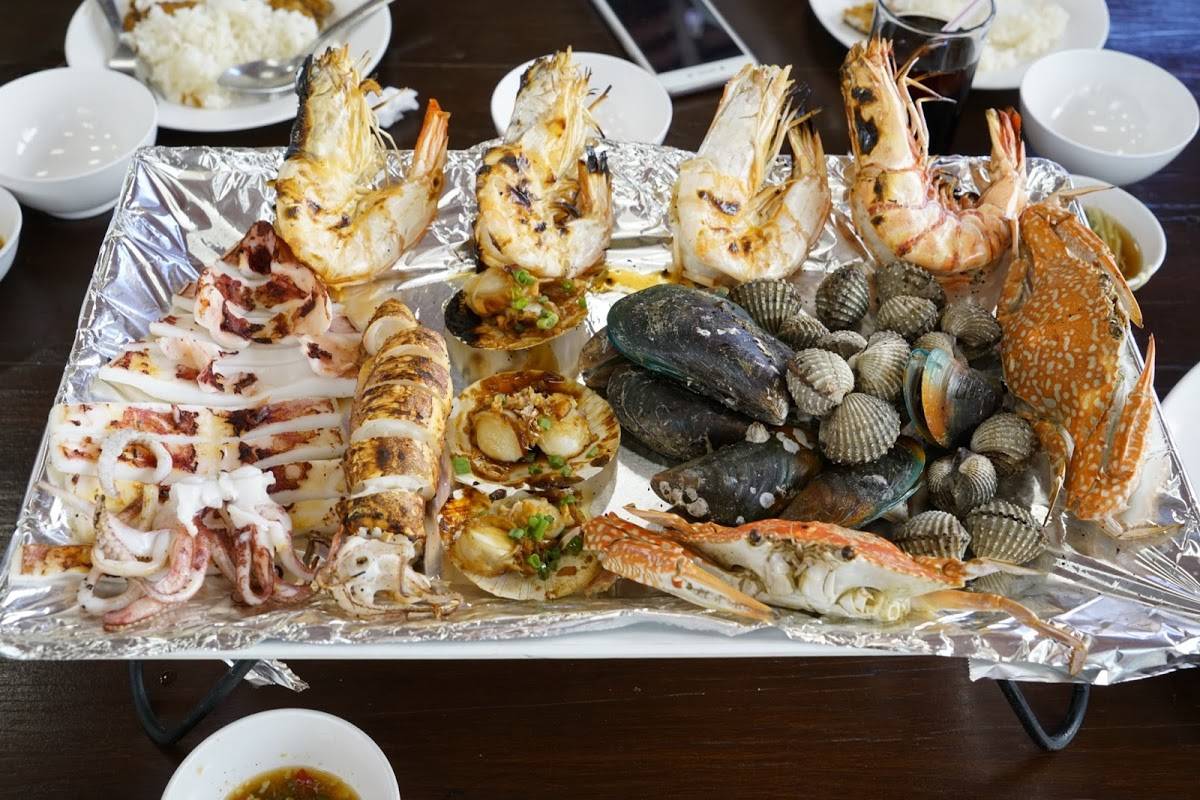 Seafood at Pupen Seafood (Photo: facebook.com/pupen24)
Case in point
Riding in a sangteo through Pattaya. In front of us sits a confused compatriot. He is asking: "Can you tell me where can I get a delicious, cheap meal in Pattaya? I don't know my way around here, I was about to call my friends in Moscow! We say: "There's a good restaurant over there, and that one is not bad, and around the corner…". He's incredulous: "How long have you been here?" We: "Five years now." He doesn't believe us, shakes his head: "Why are you so sunless?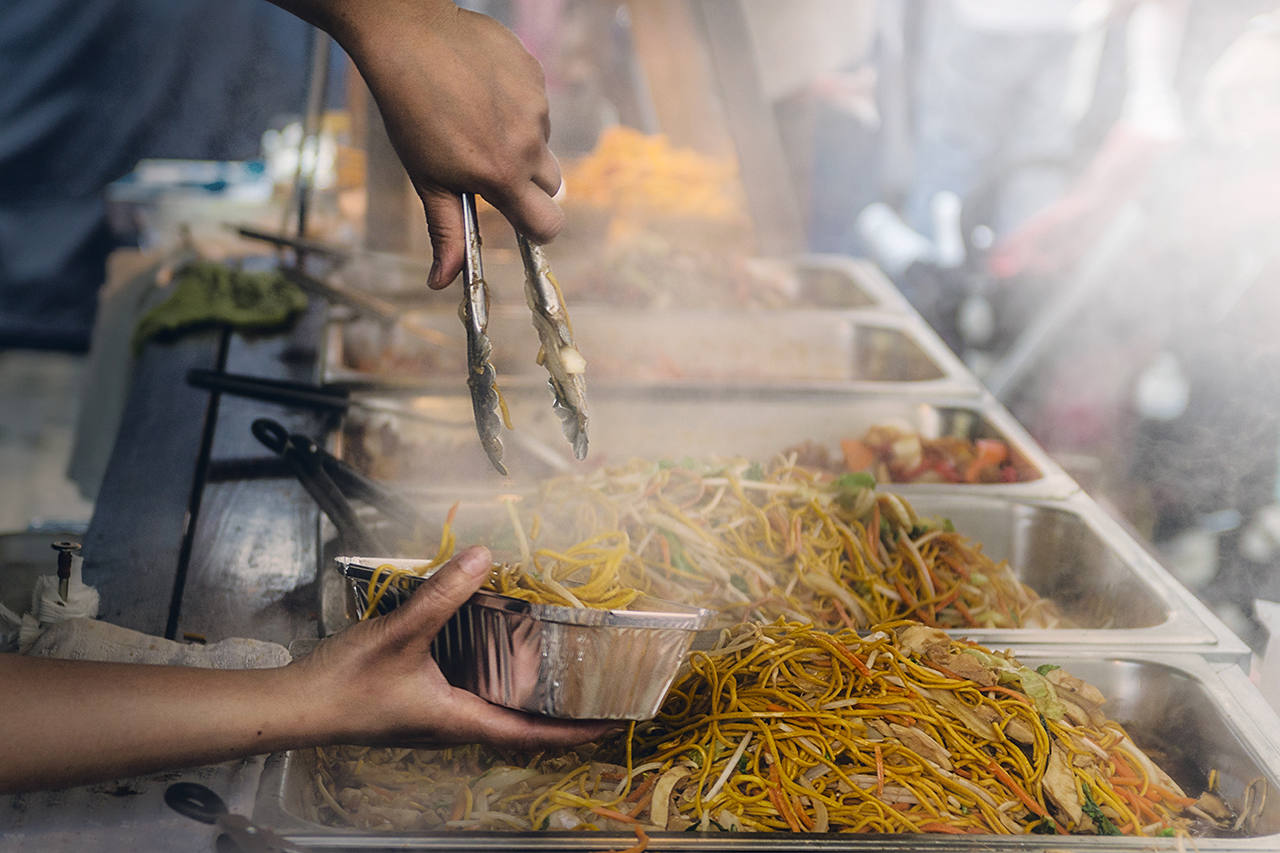 Street food in Thailand – delicious and inexpensive! (Photo: unsplash.com / @jamessutton_photography)
Food in Thailand. Where to eat tasty and inexpensive in Pattaya
Today we want to tell you about the food in Thailand, namely where you can eat tasty and inexpensive and where the Thais eat. In Pattaya, almost all the main streets are just dotted with different cafes and restaurants, designed to serve the endless flow of tourists. But this is not our option. We are going to live here for a long time, so we need to eat so that food would not become our main source of expenditure.
For the two weeks that we are here, we have more or less figured out what and where Thai people eat and how we should eat. So, here is a list of the main places where we get our own food:
Cheap street eateries;
Maquashtuks;
Food courts in large shopping malls;
Food markets;
Food at Tesco Lotus;
Food at 7-Eleven;
European food stores.
And now let's go over everything in order.
Eating out in Pattaya
Most Thais do not cook their own food at home, and eat exclusively on the street. We, too, decided that there is not much point in self-cooking, it is not even economically profitable. So now we only make our own breakfasts and have lunch and dinner at various cafes.
To find a cheap Thai tavern, you need to turn off the main tourist street somewhere in the alley, or move perpendicular to the beach deep into Pattaya. As a rule, the crowd in such places is always very small, and tourists in general almost never happens. Sitting here are either Thais themselves, or local Europeans. The main drawback of such establishments is either absence of any menu or its lack of translation into any familiar language. The menu usually consists of 4-6 dishes: a couple of soups, rice with chicken/duck/pork/seafood, noodles with chicken/duck/pork/seafood. Prices for all dishes are 40-50 baht. But in each tavern everyone cooks differently and with different recipes, so there are a lot of food options.
Also in such cafes we have difficulties with translation when ordering food. For example, 20 meters from our condominium there is a tavern, where I have already tried to eat soup twice, but so far, apparently not the fate. Every time we pass by, the nice Thais cheerfully shouted to us in Russian "Soup Napa". And every time I am tempted by the soup and tell them in their perfect English: "Noodle soup for me and rice with chicken for my wife", they stubbornly bring us two rice and chicken. I guess they translate my phrase: "and rice with chicken for my wife" as "I was kidding about the soup, bring us two rice. But I know for a fact that soup is there. I personally saw a Japanese man there with a big bowl of delicious soup. He couldn't have brought it with him. Anyway, I realized my tactical mistake and I won't say another word about chicken and rice.
Well, the main advantages of such places are the highest quality of food, low prices, and cozy home-like atmosphere. These cafes focus on their regular customers, so you will never be served a spoiled product. Service is as if only for you and opened his tavern.
By the way most of the food photos from the section "Food in Thailand" we took at these cafes.
Maquashnikas
In Thailand, a huge number of different kinds of macashniki, where you can buy food for every taste (macashniki are mobile mini kitchens). There are kebabs, and sausages, and pancakes, and noodles, and all kinds of seafood and a lot of other delicious and not very tasty.
Active trade with the macashnikh starts in the evening, from 19 o'clock. The Thais themselves love to buy food in such kitchens, well, we are also not lagging behind. When the whole day eating fruit, the evening is no longer able to absorb a large portion of food in a Thai tavern. So after eating a couple of kebabs of sea creatures, you feel awake and confident.
Here are some prices for food in the taverns of Pattaya:
Grilled sausage – 10 baht;
Pork shish kebab – 10 baht;
Chicken kebab – 20 baht;
Octopus kebab – 20-40 baht;
Squid kebab – 20 baht;
Cuttlefish kebab – 30-50 baht;
Large grilled chicken leg – 30-40 baht;
Whole grilled chicken – 115 baht;
Food courts in major malls
Also in Pattaya, you can eat tasty and inexpensive food at the food courts in large shopping malls, such as Tesco Lotus, BigC, Central Festival. Prices for food here start at 30 baht per dish. In addition to Asian cuisine there are a variety of European cuisines, including Russian.
Food markets
Fruits and vegetables in Pattaya, the best way to buy at large grocery markets.
Prices for vegetables in the markets of Pattaya:
Potatoes – 40 baht per kg.
Cucumbers – 30 Baht per kg.
Tomatoes – 35 Baht per kg.
All greens – 10 baht
Fruit prices in the markets of Pattaya:
A bunch of small bananas – 20 baht;
Pineapple – 25 baht;
Mango – 50 baht per kg.
Pears/apples – 20 baht for 4 pieces;
Watermelon – 60 baht apiece.
In general, for 100 baht you can fill up the fridge with fruit. In the beginning we did, but now we buy fruit a little at a time, as we do not have time to eat them.
The food at Tesco Lotus
In Tesco Lotus we have found very interesting sets of soups and salads. They are very actively bought by Thais and Japanese. The prices start at 25 baht per set. Yesterday we bought one such set, let's try making Tom-Yam soup.
Food at 7- Eleven
In addition, in Pattaya you can eat very cheap at 7-Eleven. They sell frozen, ready-to-eat food that is thawed and heated right there for you. We have not tried it ourselves, but Thais often use these ready-to-eat foods. It seems they even like it. At least, I have not seen any disgust on their faces while eating this product. Prices for frozen food at 7-Eleven in Pattaya start from 25 Baht per serving.
European food stores in Pattaya
And finally, for those who are not tempted by the Thai food, in Pattaya there are stores of European cuisine. Here you can find such familiar to the Russian people products such as dumplings, dumplings, meatballs, brown bread, kefir, ryazhenka, etc. But their prices are also much higher than the products made in Thailand:
A small loaf of black bread is 90 baht;
Manti – 250 baht for 0.5 kg.
Dumplings with cabbage – 176 baht for 0.5 kg
Kefir – 60 baht for 0.5 liters
Ryazhenka – 70 baht for 0.5 l.
We have not yet fully realized how we will eat over the next 6 months. While actively trying everything, eating out, something we cook ourselves. In any case, Thailand has a huge selection of all kinds of food for every taste and we certainly will not go hungry here.
More useful information about moving to Thailand permanently, read the post "How to move to live in Thailand? "