Where to eat in Prague inexpensively and deliciously – places on the map, passwords, passwords, tips and tricks
About where to eat in Prague inexpensive and tasty, I have written on the site more than once. But all this was scattered in various articles, and now it's time to finally bring together all the accumulated experience in one detailed publication. In it, I share all the ways we used during our long and frequent family trips to Prague.
ARTICLE CONTENT
Food stores
Street food
Fast food
Prague Dining
Affordable Restaurants
Cheap and Nourishing Czech Food
Tips & Tricks
Map of all establishments
First, you need to decide what budget you want to stay within. For me "inexpensive meal in Prague" means to spend up to 200 CZK for a meal for two. So it is this budget that I will focus on. That is in the Russian currency on average comes out 400-600 rubles. For Europe, it is very low prices, so the Czech Republic can please even the backpackers relative cheapness.
1. Grocery stores
When we travel, we always rent an apartment with a kitchen in Prague. When traveling with a child, I've long been accustomed to booking accommodations that have everything on hand to make something homemade. Not out of a great love for cooking on vacation, but just the kids may want to eat at any time, and jumping up every time to run to a restaurant is still a pleasure.
But in addition to convenience, it is also a great opportunity to save money. Many products in Prague are cheaper than in Moscow, while their quality does not suffer.
In short, choose chain stores "Albert", "Billa" and "Lidl". For a quick snack they always have a variety of sandwiches (called "klebichki" by Czechs), yogurt, sausage cuts, grilled chicken in the ready-to-eat sections, salads, vegetables and fruit.
Here are the current prices of the staples:
Because of sanctions, Booking.com, Agoda, and other foreign sites have gone
You now have to use only Russian hotel databases to book accommodation. We use service Hotelukwhich searches for rooms in all available hotels around the world, and also helps to find the best price by comparing prices in different booking systems. The benefit sometimes reaches 1-2 thousand rubles per day. Try it for yourself and compare!
Bread – from 2 CZK for a rohlik (the Czech equivalent of a small baguette);
milk – from 15 crowns for 1 liter of 1.5 % of fat;
sausages – from 10 crowns per 100 grams sliced (depends on the type of sausage, but on average 15-18 crowns per 100 grams);
yogurts – from 11 kroner per cup;
granola and cereals – from 30 kroner for a 450gr pack, but an average of 70 kroner for a Nestlé brand;
The prices of fruits and vegetables vary a lot; you just have to walk around, choose, weigh and price them.
In general, even staying at a hotel without a kitchen, you can always find snack food at affordable prices. In what stores in Prague and what to buy at the best prices, I wrote earlier on this site very detailed in a separate article.
2. Street food
All over the world, street food is one of the best ways to eat inexpensive. Prague is no exception in this regard. What's more, it's a real paradise for street-food gourmets. Tasty and hearty Czech dishes are sold in abundance in the central squares.
The Old Town Square is littered with klobasa (big sausages), Prague schnuka (grilled pork knuckle), brambocky (the equivalent of potato dumplings), and aromatic trdelnky. These famous cinnamon rolls, browned on a grill and sprinkled with sugar, are sold on every corner of the Old Town.
At Hradčanské náměstí (Hradčanské Square) you can try smážák (Czech fried cheese), halušky (stewed potatoes with ham and cabbage) and rohliks with fillings (the analog of Czech sandwiches). And for dessert you should try ice cream on tap. Especially delicious is sold in the cafe chain "Svetozor". I wrote an appetizing review of it in this detailed article.
3. Is fast food cheap in Prague?
There are chains of all known fast food restaurants in Prague. Leading the way, of course, is McDonald's, which is almost always packed with people. In second place, perhaps, is Burger King. And less popular are KFC and Subway. At least they almost always have free tables, and the institutions themselves do not look very presentable.
As for sandwiches, instead of Subway Czechs prefer the local chain Bagettery Boulevard, which sells fragrant and crispy baguettes with toppings. The cozy cafes of this chain are scattered throughout the city (I marked them on the map at the end of the article ↓↓↓).
It's commonly believed that burgers, sandwiches and fries are cheaper than a full meal in a restaurant. But in Prague, this is far from being the case. For example, the simplest burger at McDonald's costs from 29 kronor, but for 35 kronor at a regular Prague restaurant you can buy a nice, rich soup. What's more, normal burgers usually cost an average of 150 crowns. Instead, for this money you can eat a full meal of delicious local food.
The cheapest fast food we've come across is KFC's B-smart, which includes chicken and potatoes. It really is a very affordable offer, but you shouldn't judge the cheapness of such places by it alone.
4. Food in dining halls.
Dining halls are the cheapest option out of public eating places. Sounds bad, but you can't take it out of the bag. Prague canteens somewhat reminiscent of the Soviet Union – the first, second and compote for one price. And a very attractive price – from 90 CZK for the whole combo.
The so-called "dietary" canteen at the polyclinic.
If you are not picky, you can eat Czech food even on a minimal budget. The food is decent, the local canteens are clean and comfortable, so there is no disgust.
5. Local inexpensive restaurants
Of course, there is a wide variety of restaurants in Prague, but since we are discussing the most affordable food here, I will tell you about them. Here are links to my articles, where I describe some inexpensive places in Prague:
Pizzerias on the map of Prague – our personal top with relatively budget-friendly prices;
Eastern restaurants – look at the Middle Eastern comrades with their shawermas and kebabs, you can safely eat for 100-120 crowns (by the way, it has always been without consequences ;)));
Asian cuisine is another way to eat inexpensive, it is primarily various woks with rice or noodles, but sushi and rolls in Prague are quite expensive, but in the food courts in the malls are cheaper, so for them we go to the big stores in Prague.
As for inexpensive restaurants with Czech cuisine, I recommend paying attention to family restaurants. They usually do not look very presentable, open late (closer to noon, by business lunch time), have menus only in Czech, pay only in cash, are either not marked on Google Maps at all or have no reviews. So you can find them only by yourself by walking around the neighborhood not far from the hotel where you are staying.
One such restaurant, called "U Mlsného Bobra", not far from the Peace Square.
Prices for food in restaurants also not infrequently depend on the area of residence. It is to be expected that in tourist areas the cost of food in restaurants is higher than in normal residential areas.
In my experience, in Žižkov or Karlín, to eat cheapest, in Vinohrady also quite affordable. But in the central district of Prague 1, food is more expensive. It includes Stare Mesto, Nové Mesto, Malá Strana and Hradčany.
Below is a button with a link to my article, where there is a map and description of the pros and cons of the districts of Prague – it will help to orientate in the city and understand where is the best and cheapest place to stay and eat.
Other tips on how to eat in Prague inexpensively and deliciously
Let me finally summarize all of the above and add more unmentioned nuances.
What to order all the same traditional, but not expensive?
A careful study of the menus of various Czech restaurants for all our trips showed that the cheapest way to eat the following dishes:
goulash in bread – it's more of a soup than a meat stew, costs an average of 90-110 crowns, but is very hearty;
chicken schnitzel with side dishes – not quite a Czech dish in my opinion, but tasty and often offered at an affordable price;
pork knuckle – prices start at 99 crowns for 100 grams, so I recommend you get it for the family, it's delicious and very "nutritious";
galushki – stewed potatoes and cabbage with ham;
dumplings – a kind of bread made of boiled dough, they are really quite fancy, but nutritious;
smazak – fried cheese, often offered in the form of balls that go well with vegetables.
Soups are the cheapest – sometimes from 30 crowns. On restaurant menus, look for the "Polévky" section. The traditional soups are filling, so you can get a good meal out of one inexpensive portion.
But you can't get enough of beer, but it's the Czech Republic. Good local beer can be found starting from 33 CZK (~100 rubles) for a half-liter mug.
We eat goulash soup in bread for 89 CZK.
Other tips and tricks we discovered.
And a few more secrets from me personally. Many of these tips are, of course, not suitable for regular tourists, but, for example, students who have a limited amount of money. Nevertheless, in my opinion, such purely local findings are very valuable. Situations are different, and here you can get food in Prague almost for free. After all, are we backpackers or not?
The farther away from the center, the cheaper – this is one of the main rules, which works almost everywhere and in Prague, including, on the outskirts of the city can safely have a good meal to 100 crowns (we, for example, went to the Black Bridge Mall in the outer district, where the food court ate at these prices).
Denní nabídka or the so-called daily offer (analog of a business lunch) is usually a combo of several dishes at a reduced price, available almost everywhere from 11 am to 2 pm on weekdays.
The Foodsharing community is marching vigorously through Europe and encourages everyone who has extra food to share it. In Prague, there used to be a "public refrigerator" near Café na půl cesty (centrální park Pankrác), where you could get such food for free. But now, more and more often, the community's followers in their Facebook group simply throw in the address of the location where they are offered to pick up extra food.
For inexpensive fruits and vegetables in the summer, it's better to go to farmers' markets – it's really cheaper there. The most famous ones are near the Church of the Most Sacred Heart and on Náplavka.
Czech coupon maker Slevomat trades promotional offers on various services in Prague, including restaurants with discounts up to 50-70%, in detail I have described this tiphack in my separate article.
The app Not Eaten offers to take for cheap not eaten dishes from restaurants, not waste, namely those dishes that have been cooked, but by the time they close, no one has ordered them.
Apples, plums or nuts can be picked in the parks absolutely free, do not believe me, but in Prague on a special map counted all the fruit trees, so you do not have to look for them. Locals make winter preserves from the fruit picked in this way.
The Levné Potraviny chain sells products that are about to expire and are therefore discounted.
Map with my recommendations for places to eat in Prague
On this map I have marked all sorts of Prague goodies. There are dozens of restaurants, cafes and grocery stores. And this is only a small fraction of the ones we visited in person.
When you click on the labels, information about each of the places appears. Also the map zooms with "+" and "-" buttons, if you need it on your screen.
Gastro-tour in Prague – where to eat well and cheaply
Gastro-article on the topic – where to eat in Prague – you need to start with the words that accurately define the national cuisine – nourishing, delicious, and hard to pronounce. The capital of the Czech Republic cordially welcomes its guests not only by its old streets and hidden sights, but also by a wide range of establishments offering dishes of Czech and other countries of the world. Before you go on a gastronomic tour of Prague, take note of a few practical tips that will help you to eat not only tasty, but also inexpensive and enjoy the atmosphere of typical Prague.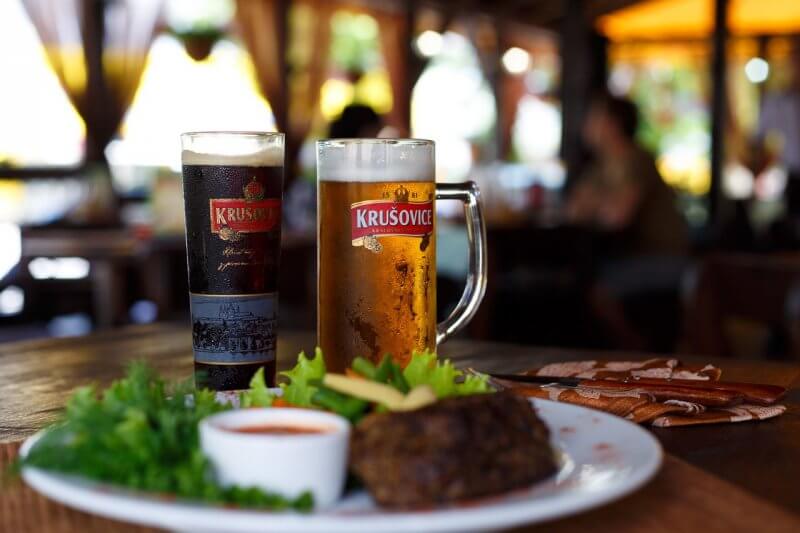 Tips for those who like to eat hearty and cheap
Today, Prague is primarily a tourist city, so many establishments where you can eat, located in central areas and near the sights, are focused on travelers. Accordingly, their prices are always quite high.
If you are not planning to spend a lot of money on food, but still want to get acquainted with the national cuisine of the Czech Republic, use the simple tips:
Look for a place to eat inexpensively in Prague, away from the main streets and attractions;
pay attention to the guests of the place – if locals are eating here, feel free to come in and help yourself;
on weekdays, the easiest way to eat inexpensively is to find a restaurant that serves a business lunch;
Look carefully at the portion size on the menu – for example, one serving of Veprev Knee is enough for a group of 3-4 adults;
If the menu is in Russian at the entrance, they are obviously waiting for tourists and the prices will be inflated.
Good to know! The price range of the place is easy to determine by the price of beer – if a glass costs 40 CZK, you can't eat there cheaply.
Sad Man's Tongue Bar & Bistro
Our list of cheap and tasty places to eat in Prague starts with Sad Man's Tongue Bar & Bistro. It is inconspicuous and does not catch the eye at first sight, but inside – a stylish interior in retro style, pleasant music and attentive staff. You feel as if you are visiting a good friend.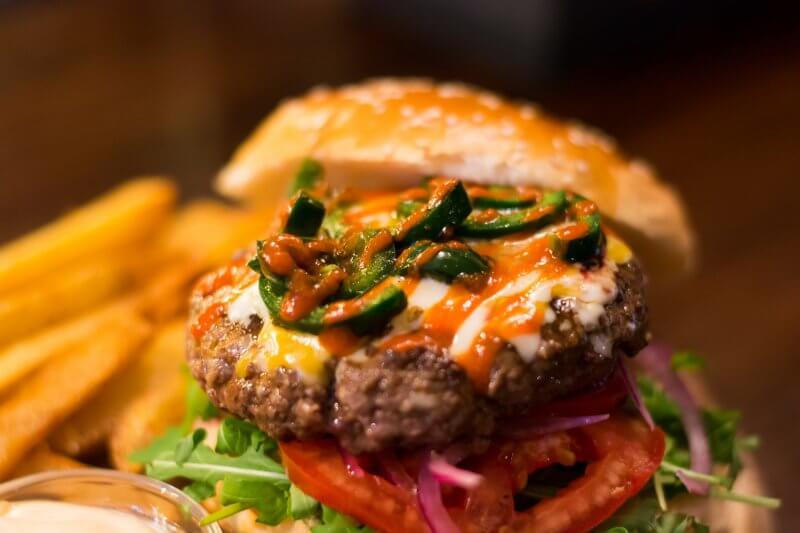 Here you can eat inexpensive burgers with an impressive layer of cheese and juicy meat. The red onion sandwich and the Prager have the most positive reviews. The portions are huge, and everything is hot and fresh. In reviews, tourists recommend trying the Porter beer.
There are always people in the institution, so it is better to come to the opening or reserve a table in advance. Payment is only in cash. An average bill for two will cost 600 CZK and the menu offers dishes from 59 CZK to 185 CZK.
Johnny Pizza
Address: Koubkova 685/16, Prague, Czech Republic.
Website: http://johnnypizza.cz/.
The restaurant is open Monday to Friday from 11-00 to 23-45.
For those who are looking for a question – where to eat cheap traditional Italian pizza in Prague, we suggest to visit Johnny Pizza. In this restaurant, where you can eat cheap and enjoy the taste of real Italian pizza, winning sincerity and good-naturedness of the owner, he is a chef – a jack of all trades. The restaurant is quite small, so the food is ordered to take away. Tourists who have been to Johnny Pizza, say that they were attracted here by the delicious aroma of pizza. The reality fully meets expectations – a large selection of Italian treats, thin dough and lots of toppings. Another peculiarity – the pizza is heated in the same oven where it is cooked, so there are no microwaves.
The pizza is available in two diameters, 33 cm and 50 cm; the small ones cost from 119 to 190 CZK, and the large ones cost from 190 to 290 CZK. Every day from 11 a.m. to 3 p.m. you can order a combined lunch.
PAPRIKA Mediterranean Bistro & Bar
Another place, where you can eat tasty and inexpensive in Prague, is PAPRIKA Mediterranean Bistro & Bar. The restaurant is located near metro station Pavlova. The interior is simple and unobtrusive, but the main thing here is cheap, homemade food and huge portions. The theme of the Israeli menu is complemented by appropriate music.
Important: The restaurant is closed on weekends.
Guests are recommended to try falafel and spicy coffee. Be sure to check with the waiter the spiciness of the dish, you can always ask to reduce or add ground pepper. Lemonade made according to the author's recipe is refreshing in hot weather. Hummus is very tasty. The menu includes both meat and vegetarian treats. Everything is very tasty and not expensive. The falafel is CZK 109, the shawarma is CZK 129 and the combination meal sells for CZK 389.
Mr. HotDoG
The next place on our gastro tour will please tourists who are looking for where to eat fast food in Prague inexpensively. Mr. HotDog offers a decent alternative to fast food, and you can eat here not only tasty, but also cheap. You will find a large selection of hot dogs, quality, Czech beer and attentive service. In their reviews visitors note the delicious French fries and lemonade with thyme.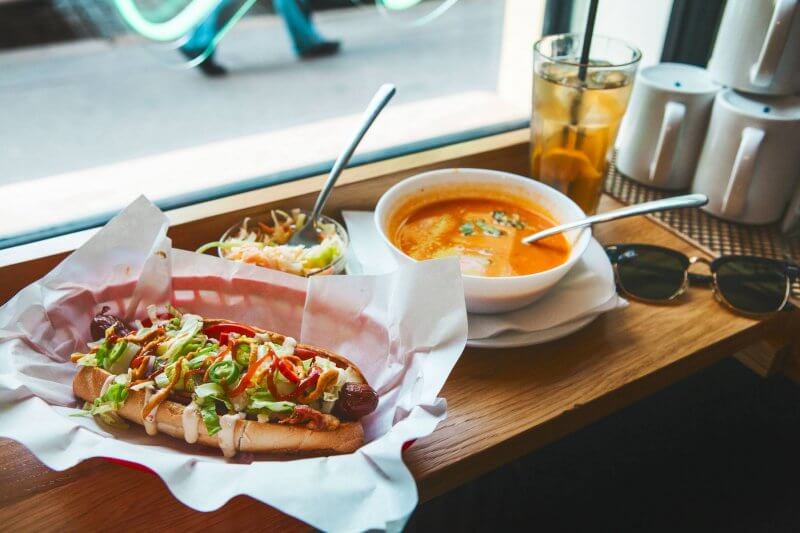 Tables at the restaurant are booked in advance, so make a reservation before you visit Mr. Hot Dog. During the warm season, you can sit at a table outside.
There are many cocktails on the menu, and there are vegetarian burgers with beet patty. Hot dogs cost from 59 kroner to 139 kroner.
U Magistra Kelly
Do not know where to eat on a budget in Prague and feel the flavor of the real Prague? We offer you a small and cozy restaurant, located in the courtyard next to the St. Vitus Cathedral. U Magistra Kelly is popular among locals, so the prices there are not overpriced and you can eat cheap. Payment is only in cash, and it is better to pay in local currency – Czech crowns.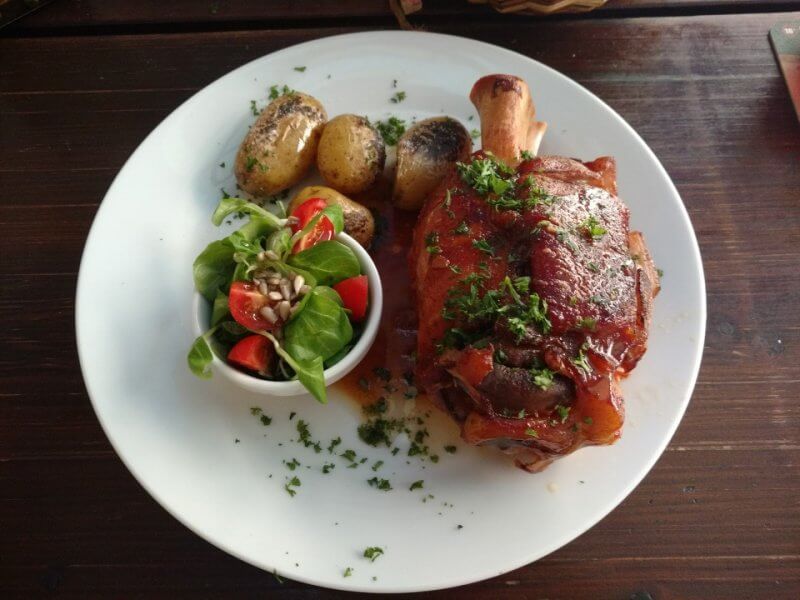 Smoking is allowed in the restaurant, so in nice weather it is better to choose a table outside. If you are planning to visit U Magistra Kelly in the evening, book seats in advance, as the restaurant is small – 7 tables – and during the rush hour there are practically no free seats.
The menu has a large variety of wines and beers. An order of two sausages, grilled cheese and two glasses of beer costs CZK 400. Tourists recommend trying the local beer Kozel. There are many positive reviews of roasted pork leg and smoked meat soup.
DEN NOC.
This small, cozy cafe is a 2016-2018 Tripadvisor Quality Award winner. It is located in the center of Prague and at the same time away from the noisy, touristy places. Guests are welcomed by a pleasant, modern interior, a huge selection of pancakes with a variety of fillings and hot drinks. Locals come here for breakfast.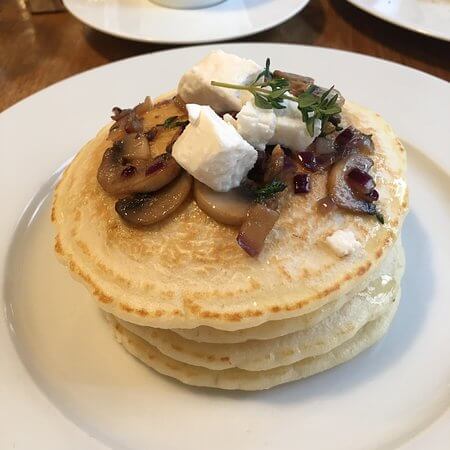 A breakfast for two people consisting of two servings of salty pancakes, one serving of sweet pancakes and two coffees costs 650 CZK. Tourists recommend trying pancakes with omelet, pancakes with mango, also many positive reviews of pancakes with avocado, bacon and cheese. What's noteworthy is that the portions are more like pancake filling and not the other way around.
The place is popular, so there are always a lot of people, so if you don't reserve a table in advance, you'll have to wait for about 10-15 minutes.
Restaurace Pod Vysehradem
Restaurant Restaurace Pod Vysehradem got into the list of places to eat cheap in Prague according to the reviews of tourists. It is particularly warm and cozy, and it will feed both fans of meat delicacies and vegetarians. Service is pleasant and unobtrusive. If we talk about the most interesting treats, it is undoubtedly Veprev Knee, French fries and a variety of desserts. Here you can inexpensively drink excellent Czech beer Budweiser.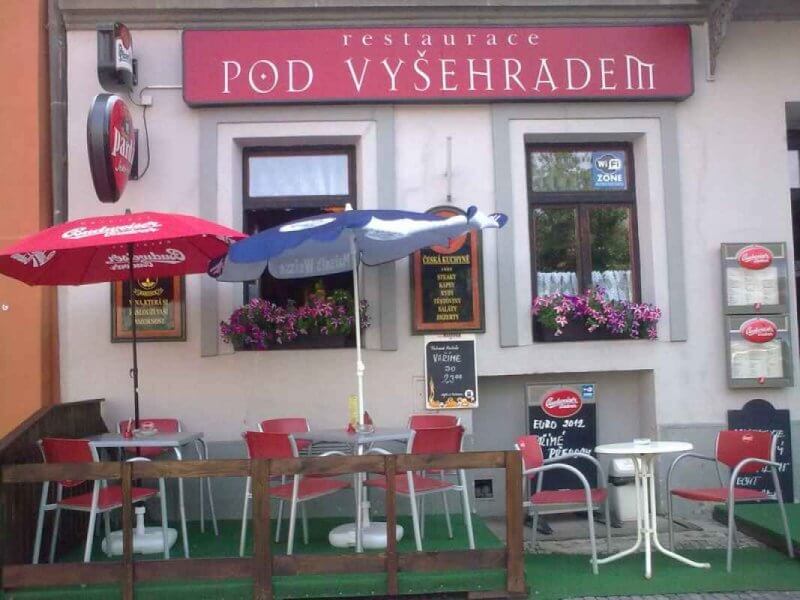 Payment is accepted not only by cash, but also by bank cards. The restaurant is located not far from Vysehrad Fortress, so after a walk around this place you should drop in Pod Vysehradem restaurant, have a rest and experience the color of Czech capital. A pleasant experience will be added by the cheap menu, for example for a portion of the famous Veper Knee you will pay only 190 crowns, and a full dinner for two will cost 550-600 CZK. Tourists also recommend trying the ribs, and the local tinctures will be an unexpected discovery for you. And be prepared for huge portions, which is not easy to endure.
Interesting fact! Locals love this restaurant not only for the fact that you can eat here cheaply, but also for the talent of the chef. Be sure to order his signature dish – steak with lingonberry sauce and cream.
Bistro Sisters
If you like non-touristy places, you are guaranteed to like Sisters Bistro. They serve some of Prague's finest chlebicek, or, to put it simply, cheap sandwiches or open sandwiches. Believe me, in this place your idea of a traditional sandwich will change dramatically. It is noteworthy that all the snacks are made exclusively from organic, farmer products. If you want to feel the taste of natural food, be sure to visit the institution in the Gourmet Gallery.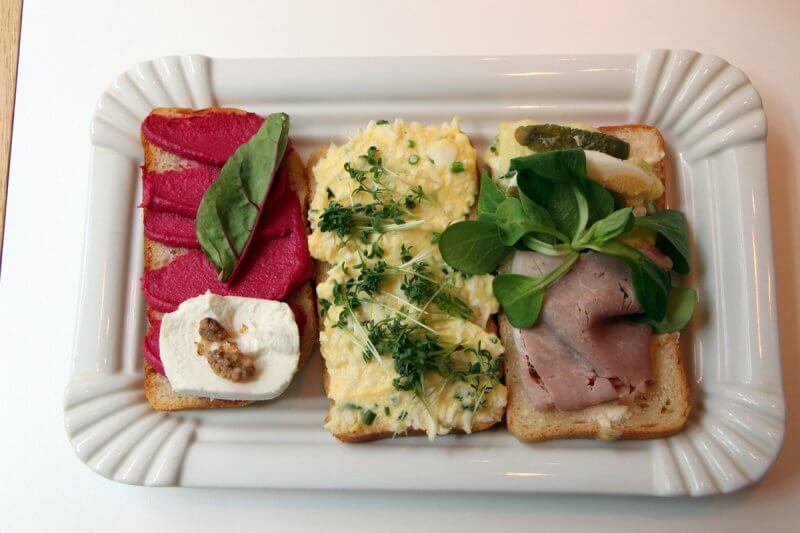 Good to know! These sandwiches are a great snack while hiking around Prague, and the food is not only tasty and healthy, but also inexpensive.
The roast beef sandwiches are especially popular and the vegetarian sandwiches are also in great demand. Visitors to the bistro also recommend trying the sandwiches – egg salad, beet with goat cheese and smoked salmon and cheese. The place is small, with only ten tables, so the food is mostly taken out and the sandwiches are packed into clear plastic containers.
A single sandwich costs 50 to 80 CZK, and the price of a combo meal is 229 CZK.
GastroBar 1402 Praha
Located in the center of Prague, near the Astronomical Clock. There you can eat cheap dishes of Czech cuisine cooked after original local recipes. The most popular dishes in the menu are pork ribs, potato soup and goulash, and also Kraft beer. If you're not a fan of foamy drink, order fragrant coffee, ale, lemonade or whiskey.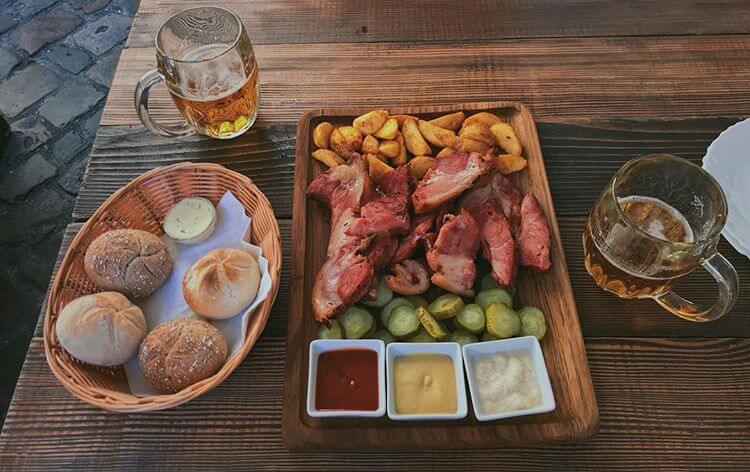 The bar has live music, attentive staff, great atmosphere and Russian menu.
The bar welcomes everyone who likes shots, such a cheap beer set costs only 100 CZK, for this money you can try several beers and make your choice. The only uncomfortable nuance – pay only in cash, cards are not accepted.
Interesting fact! The bar came up with a fun idea with stickers – you can write your name and city and glue the sticker to the wall.
GoodEats
Nerudova 208/8, Prague.
Web site: http://goodeats.cz/
Opening hours: Monday to Friday from 7:30 am to 4:00 pm, weekends from 8:00 am to 5:00 pm.
It serves delicious breakfasts. On the menu there are dishes that can be combined to make your ideal breakfast – scrambled eggs, pancakes with different additives (salty and sweet) and fresh fruit. You can eat inside and outside on the patio. That's not to say the food at GoodEats is cheap, but the pleasure you get from home-cooked, fresh food is worth the money you spend. The cafe has free wi-fi.
Good to know! You can order individual dishes, or you can choose a set of scrambled eggs, toast with butter and a drink to the visitor's taste (juice, tea or coffee).
The average bill for two people ranges from 350 CZK to 450 CZK. When ordering, you can change the recipe of the dish, for example, ask not to add bacon to the pancakes.
Restaurace U Matejicku
The restaurant is located not far from the Dancing House, where locals traditionally relax, drink tincture and beer. What attracts the citizens of Prague? Tasty, cheap food, convenient location. The staff is attentive, will definitely recommend a dish, tell about novelties. This place is great for families and young people.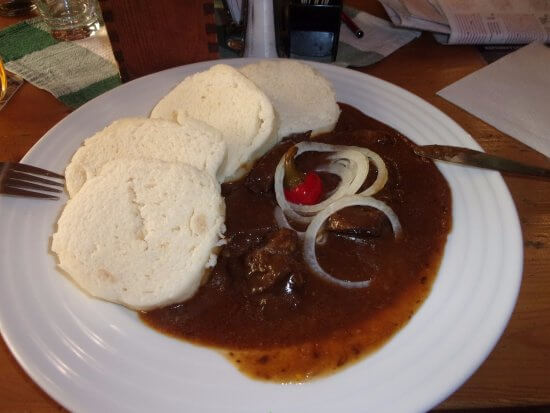 The interior is simple, there is no pathos; everything here is aimed at tasty, inexpensive food and pleasant emotions of visitors. The menu includes both national dishes and burgers. Free wi-fi for those who want to stay connected.
What they recommend to eat cheap and enjoy – sausages in dark beer, cheese burger, dumplings with berry sauce, pork knuckle. It is noteworthy that Restaurace U Matejicku is remote from tourist trails, so there is mostly Czech speech. Payment is possible both in cash and by card. A full meal for two will cost 450 CZK. The most expensive meal on the menu costs 200 CZK.
Fat Cat Pub & Brewery
Prices here are not cheap, but the price is more than offset by the large and varied menu and the great selection of beers, by the way, be sure to try the Fat Cat specialty ale. Steaks, tuna salad and burgers are cooked very tasty. The food is fresh and tasty. An interesting offer is the beer tasting set – the guest will be served 6 sorts of different beer 200 ml each at the total price of 350 CZK. If you want you can watch soccer matches. The pub originally served a cocktail – a glass and a half. When asked, the waiters say that such a full portion of the drink – when cream is added on top, part of the cocktail pours out and is poured into another glass. The pub fully lives up to its name – Fat Cat, because after lunch or dinner here is exactly how you feel.
As you can see, the question – where to eat in Prague – is quite extensive and no less fascinating than the attractions of the Czech capital. We have presented our selection of restaurants, bars, we hope that now it will be easier for you to make a choice.
All the dining establishments described in the article, as well as the best pubs in Prague are marked on the map.
Video: where to eat cheap food in Prague.
Author: Julia Matyukhina
Updated: 2 Feb, 2019 Phuket is not just a beach vacation, it's…
Updated: 24 Feb, 2021 Brussels – Mecca for connoisseurs of delicious and quality …
Updated: 20 Feb, 2019 Vienna, being the epicenter of international tourism in Europe, literally…
Updated: 20 May, 2021 Lisbon is the epicenter of Portuguese cuisine. Taverns, cafes and…