Where to eat delicious and inexpensive in Istanbul in 2021
Istanbul is visited by millions of tourists every year, dreaming of touching its ancient history, look at the Hagia Sophia Cathedral and the Bosphorus Strait. Here everyone finds something to their liking. And especially lovers of gastronomic tourism will like it here. There are thousands of cafes and restaurants in this famous city: there are elite establishments with fabulous prices, and there are economy cafes, where the cuisine is just as delicious. After reading this article, you will learn where to eat in Istanbul tasty and inexpensive, what dishes are worth trying and what cafes must be visited.
What you must try in Istanbul
The list of dishes that no self-respecting gourmet can pass by, looks as follows:
Kebab is a minced meat dish, usually beef or lamb. It can be wrapped in pita bread or served with vegetables and bread.
A dish called "balik ekmek" refers to Istanbul fast food and is grilled mackerel fillet with vegetables in a flatbread or pita bread.
Doner is a shawarma with different fillings (beef, chicken, lamb). The most popular type of street food.
Bagel simit is a traditional Istanbul pastry, commonly eaten with chocolate or cheese, found in every cafe.
"Wet" burger is a steamed sandwich with beef patty and tomatoes.
Lentil soup is a traditional first course. It looks like a puree soup and is served with lemon wedges and herbs.
Dondurma is a Turkish ice cream. Its consistency is more viscous than the Russian dessert.
Oriental sweets: baklava and Turkish Turkish delight of different tastes.
Mussels stuffed with rice. They are doused with lemon juice and eaten as a hearty snack.
Lahmajun is a kind of pizza with vegetables and fried minced meat.
Of the drinks that are prepared in local cafes, you should pay attention to Turkish coffee – it is especially good in Istanbul.
Menu and prices of food in Istanbul in 2021
In Istanbul's cafes a tourist will find something to satisfy his hunger at any time of day:
A Turkish breakfast or a version served on a single plate can be offered in the morning. The dish is called Kahvaltı tabağı and will include vegetables, cheese, egg, sausage. In addition you will get bread or simit, and honey or jam. Such a breakfast in a cafe can be taken for two (quite a big portion) and will cost you about 20-40 Turkish Liras, which in Russian currency amounts to 170-350 rubles.
For lunch and dinner the range of dishes is about the same: soup, kebab, vegetable salad, pide. The approximate price for such a meal is 50-70 liras (430-610 rubles). This price usually includes tea; if you want other drinks you have to pay more. Sometimes a hot dish in cafe is served with salad and then you can save around 10 Lira.
One of the options how to eat inexpensive in Istanbul is a street fast food. The cost of its dishes is low, but the taste is above all praise. You can buy a doner, a "wet" burger, a simit, take a coffee or tea and go sightseeing without spending a lot of money and time at the cafe. Such a snack will cost from 4 to 10 liras, which in Russian is 35 to 90 rubles.
Inexpensive and tasty places in Istanbul 2021
A list of cafes where any traveler can have a tasty and inexpensive meal in Istanbul:
Balkan Lokantasi. This is a Turkish canteen with a variety of dishes and very reasonable prices. Portions here are large, represented only national cuisine. For dinner for 2 people you will pay not more than 35 lira (about 300 rubles). The place is crowded and the staff is not always English-speaking – this is the only disadvantage of Balkan Lokantasi. Find it at: Hocapasa Mah. Hoca Pasa Sok. No: 12 | Fatih/İstanbul.
Sehzade Cag Kebap. This place specializes in cooking one dish, kebab. Lamb dishes are popular and served on skewers with pita bread and vegetable salad. Price for two at this cafe is around 45 Lira (approximately 390 RUR). Address: Hocapaşa Sokak No:6 D:4, 34110 Fatih/İstanbul.
Velvet Cafe. Not only inexpensive food, but also a beautiful interior. Great breakfasts, pastries and desserts. Average bill for two people is 30 lira (about 260 rubles). The only drawback is that the capacity of the cafe is small: only 20 tables, so you have to wait until there is some space. Address: Bereketzade M Kule Cikmaz 7A Beyoglu.
Sakarya Tatlicisi. This is one of the oldest baklava shops in Istanbul, but the prices are not as high as in other places that specialize in desserts. A kilogram of baklava you can buy there for 70 lira (just over 600 rubles). Address: Dudu Odalari Sokak 3, Balik Pazari, Beyoglu, Istanbul.
To find a cafe or restaurant with prices that do not break the budget, it is necessary to go away from the streets full of tourists, 200-300 – meters and you will find yourself among the institutions open to residents of Istanbul.
Delicious excursions and discount on them
Some companies are engaged in organizing tours to such places in Istanbul, where you can eat good food in the most unusual and unknown to the average tourist cafes. Popular are the following excursion programs:
"Gastronomic Expedition, or street food in Istanbul. For a day spent with a guide, you will get acquainted with all kinds of street food, walking through cafes and eateries that best reflect the Turkish color and are often hidden from the eyes of foreign travelers. The cost is 135 euros (about 11000 rubles). You can get a discount of 20% by booking on the website of the guide.
"The ABC of Tastes of Istanbul" is a group tour that will take you through local cafes and restaurants and allow you to plunge into the world of Turkish cuisine. The gastronomic tour begins on the ferry, the guide will reveal all the secrets and traditions of Istanbul's dishes. The ticket price for one person is 25 euros (a little over 1100 rubles).
"Istanbul with a sommelier" is not just a tourist tour, it is a real tasting of the best wines of Turkey and learning the basics of tasting. You will walk through many memorable places of the city and learn a lot from the mouth of the Russian-speaking guide. You have to pay 47 euros for one person (about 4000 rubles).
It is possible to reduce the cost, you can do this by booking several excursions, the organizers are usually willing to meet and do a discount.
What to pay attention to
As in all places popular with tourists, Istanbul has its own nuances, which is better to know before traveling:
In many classic Turkish establishments, the portions are large for one person. Here, you can only order half a plate. This is especially common when ordering meat dishes and soups. This allows you to save money, because you only have to pay half the price.
In restaurants with observation decks and views of the strait, prices are several times higher than in other establishments. Therefore, if you are on a tight budget, you can go to a simpler café where the cuisine is just as good and there are plenty of free panoramic views in Istanbul.
If you are trying street food, try to eat thermally processed food to avoid digestive problems.
Istanbul is a multifaceted city where tourists can come again and again. It can be rediscovered each time. Gastronomic tourism is a great reason to do it again, visiting the colorful halls of local cafes and trying the national dishes of Turkish cuisine.
Where to eat well and cheaply in Istanbul: 11 best places to eat
Istanbul, being one of the most visited cities in the world, is ready to offer its guests extensive gastronomic opportunities. There are thousands of restaurants, cafes and eateries in the metropolis, the prices in which vary significantly. But it would be a mistake to believe that all businesses in tourist areas deliberately inflate the cost of food. There are quite a few cafes in historic neighborhoods that are willing to treat tourists to delicious, but cheap, food. After studying the city's restaurants, we've compiled a selection of the best establishments in the budget segment. And anyone wondering where to eat in Istanbul will find plenty of inexpensive options in our article.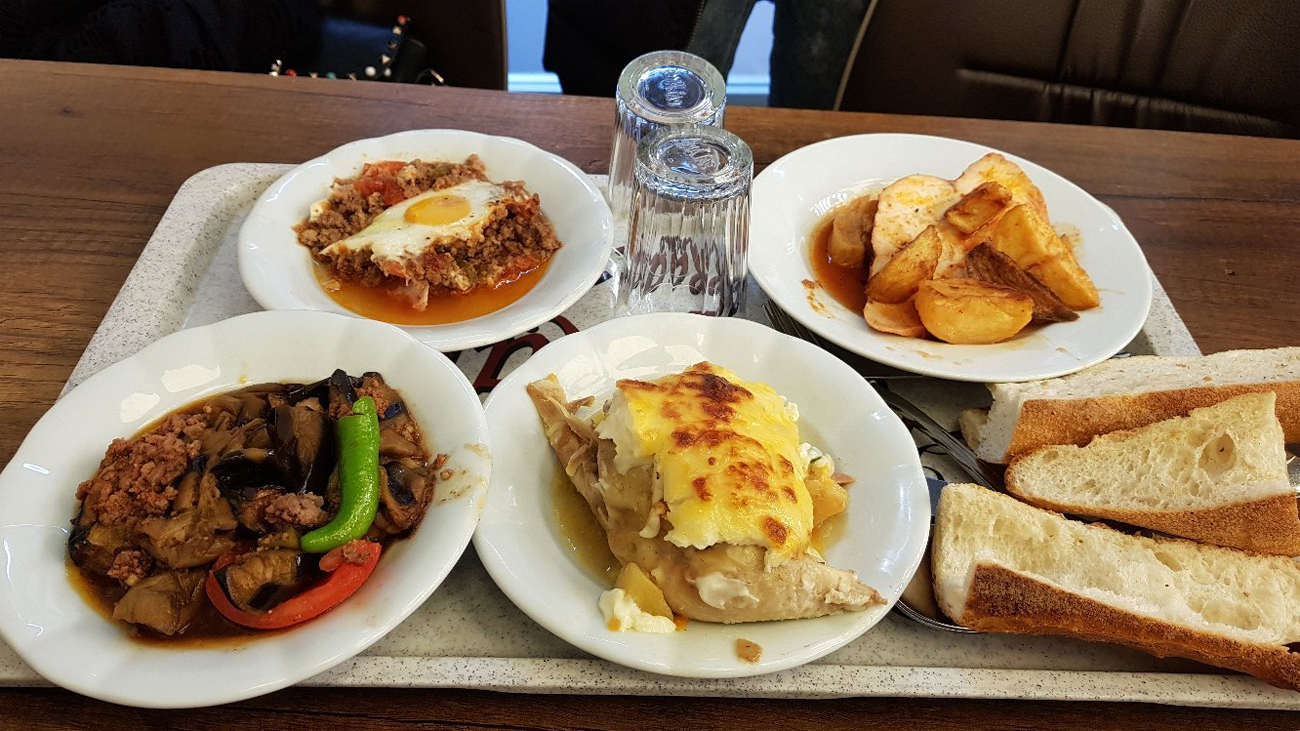 Galata Kitchen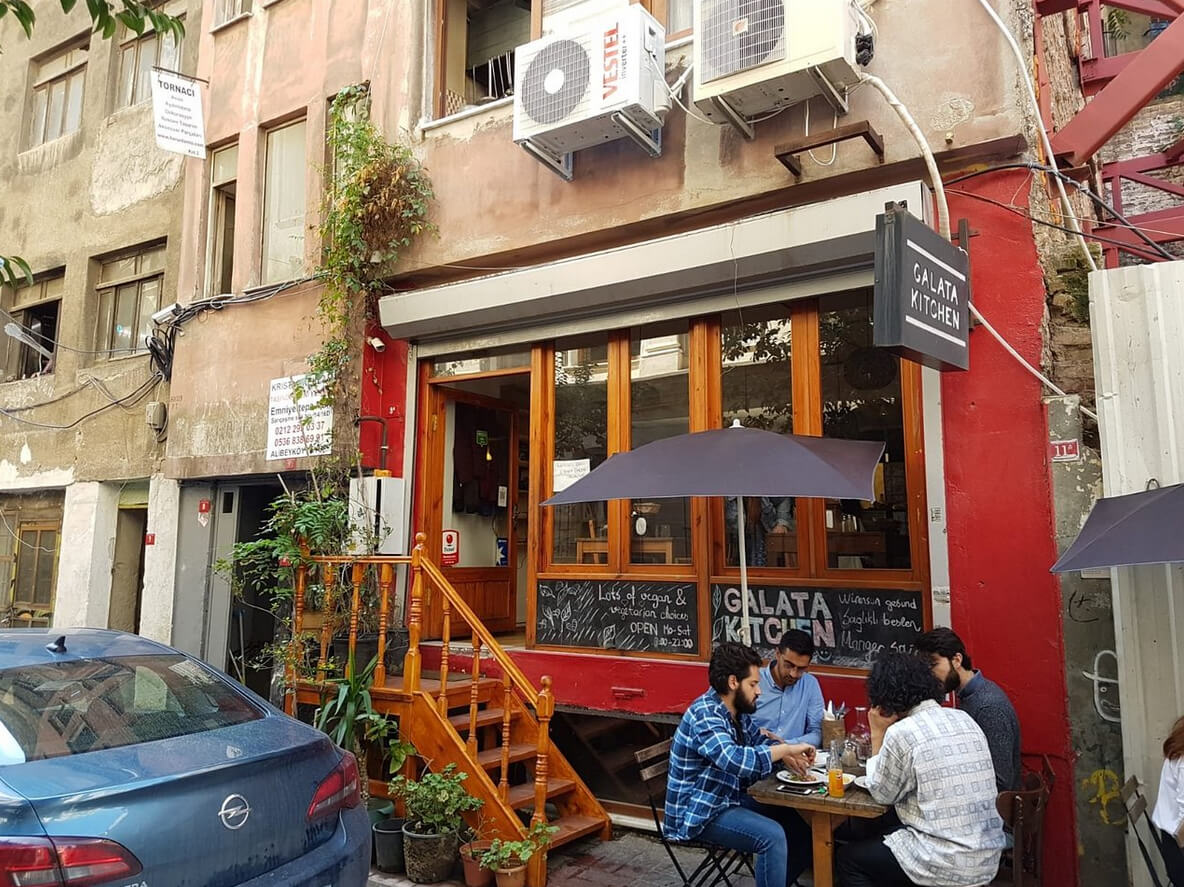 If you are looking for a cafe in Istanbul where you can eat inexpensively, go to Galata Kitchen. It is a quiet and cozy place, located away from the bustling main streets. The menu of this place includes home cooking, and there is a lot of meat and vegetarian food. But the greatest variety you will find in meze, which it would be a mistake not to try. "Meze" in Turkey refers to various kinds of appetizers, among which you can find both salads and sauces. It is noteworthy that Galata Kitchen has quite democratic prices, but the portions are very large. All snacks and main courses are displayed in the prepared form in the showcase, so you have the opportunity to see immediately what you order.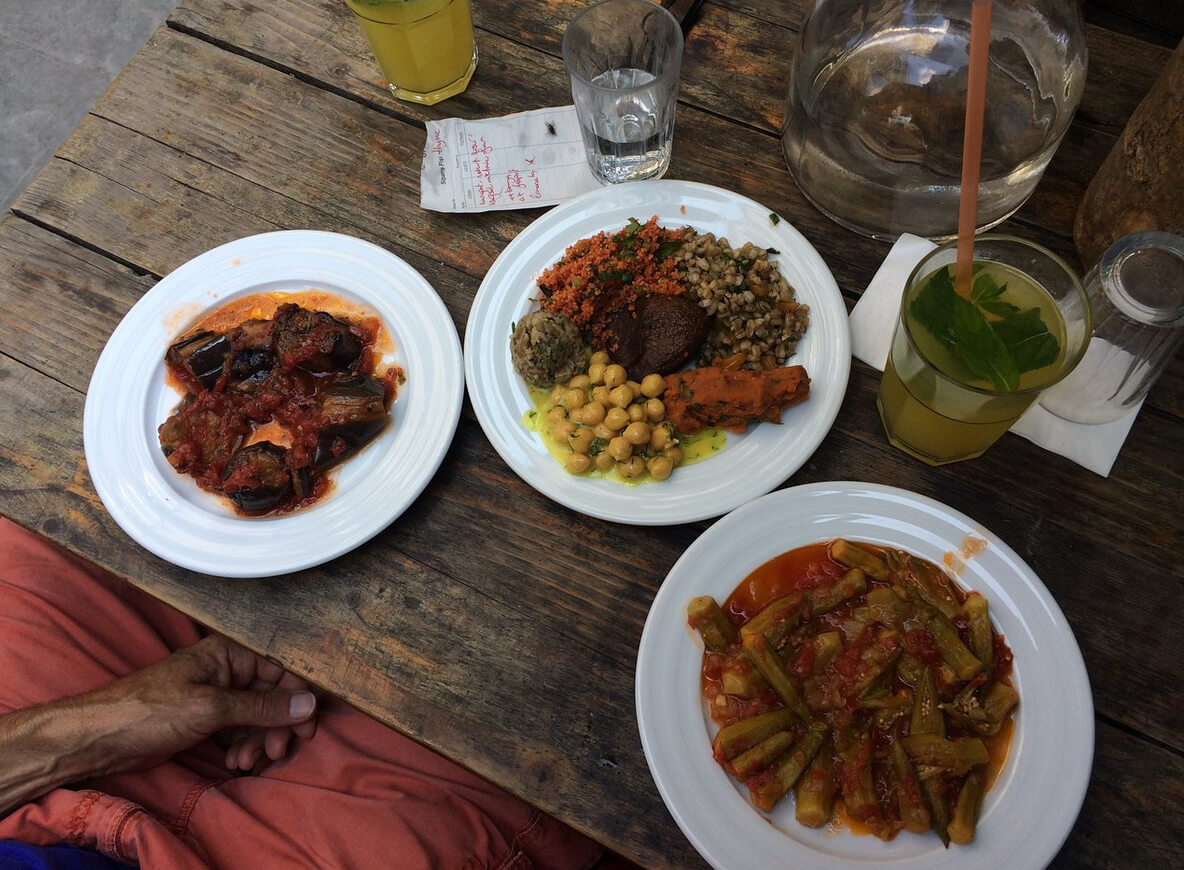 Most visitors to the diner note the high quality of food: all products are fresh and delicious. A hearty lunch for two is cheap: an average of 60 TL. Any quantity of bread is free, and at the end of the meal the restaurant's waiters offer black Turkish tea. Importantly, the staff at Galata Kitchen speak English very well.
Address: Müeyyetzade. Mah., Tatar Beyi Sk. 9 B, 34425 Beyoğlu/İstanbul.
Opening hours: Every day from 09:00 to 22:00. Sunday is a day off.
El Amed Terrace Restaurant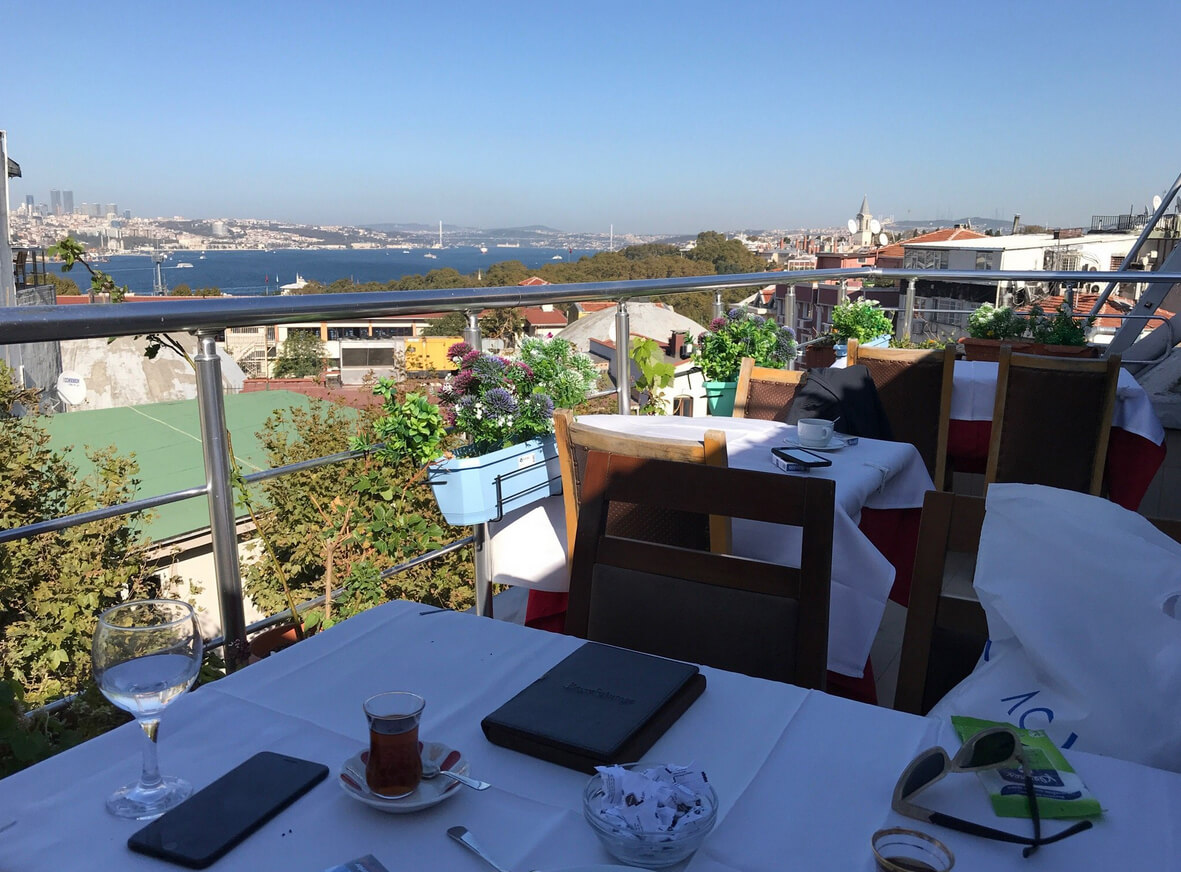 Update! As of November 2019, the restaurant is closed.
This is an inexpensive restaurant in Istanbul, where you can not only eat cheap and tasty food, but also enjoy picturesque views of the waters of the Bosphorus. The establishment occupies a terrace on the fourth floor, and to get here, you have to use the old two-seat elevator. The cafe specializes in grilled meat and fish dishes. The place is especially famous for its signature kebab with pistachio dressing. Of the seafood, the grilled sea bass is worth a try. After your meal, the restaurant treats you with black Turkish tea and delicious baklava as a compliment.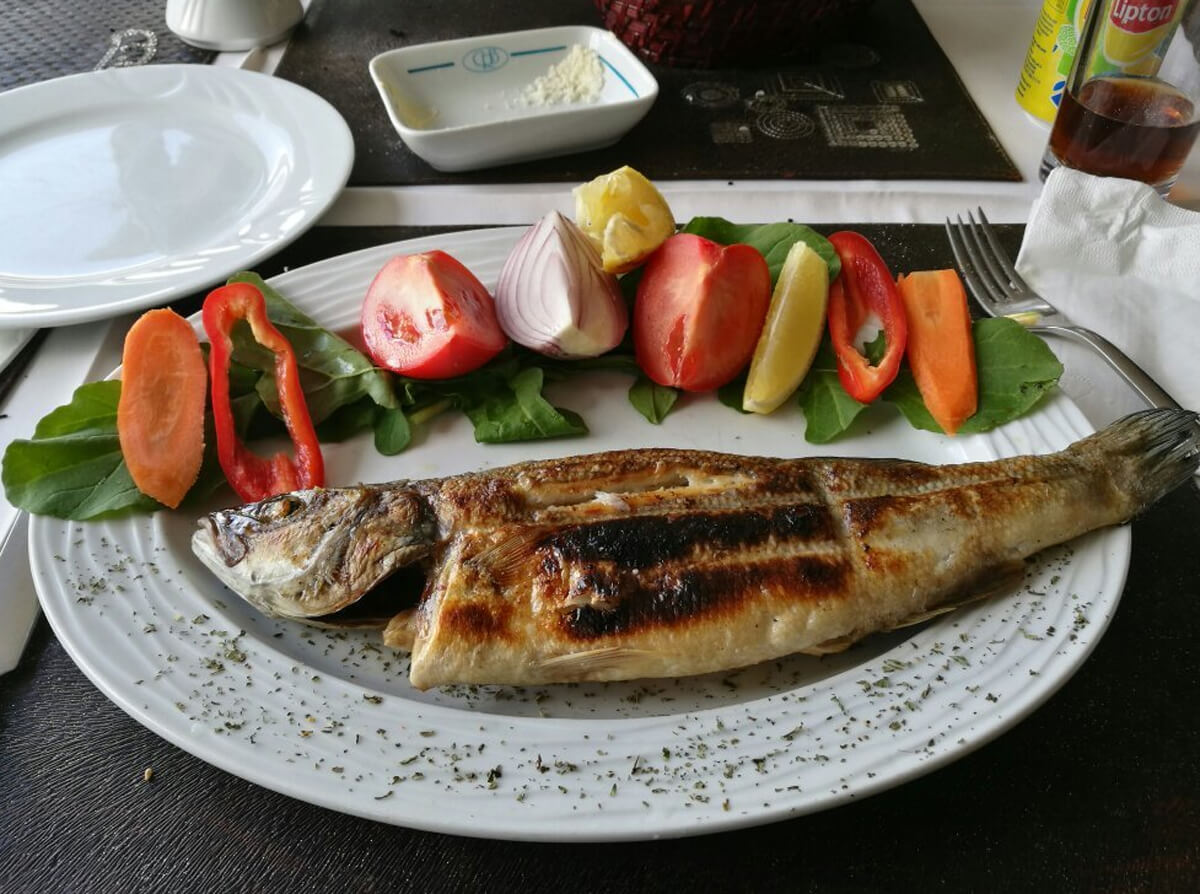 At El Amed Terrace Restaurant the prices are very reasonable. So, for lunch for two people you'll pay an average of 70 TL. A big plus of the café is its pleasant atmosphere and friendly waiters. But there is an obvious disadvantage: In rainy and dank weather you won't be able to eat here in a comfortable atmosphere.
Address: Alemdar Mh., Nuru Osmaniye Cd. No:3, 34110 Fatih/İstanbul 34110.
Opening hours: 10:00 AM to 11:30 PM. No days off.
Velvet Cafe, Galata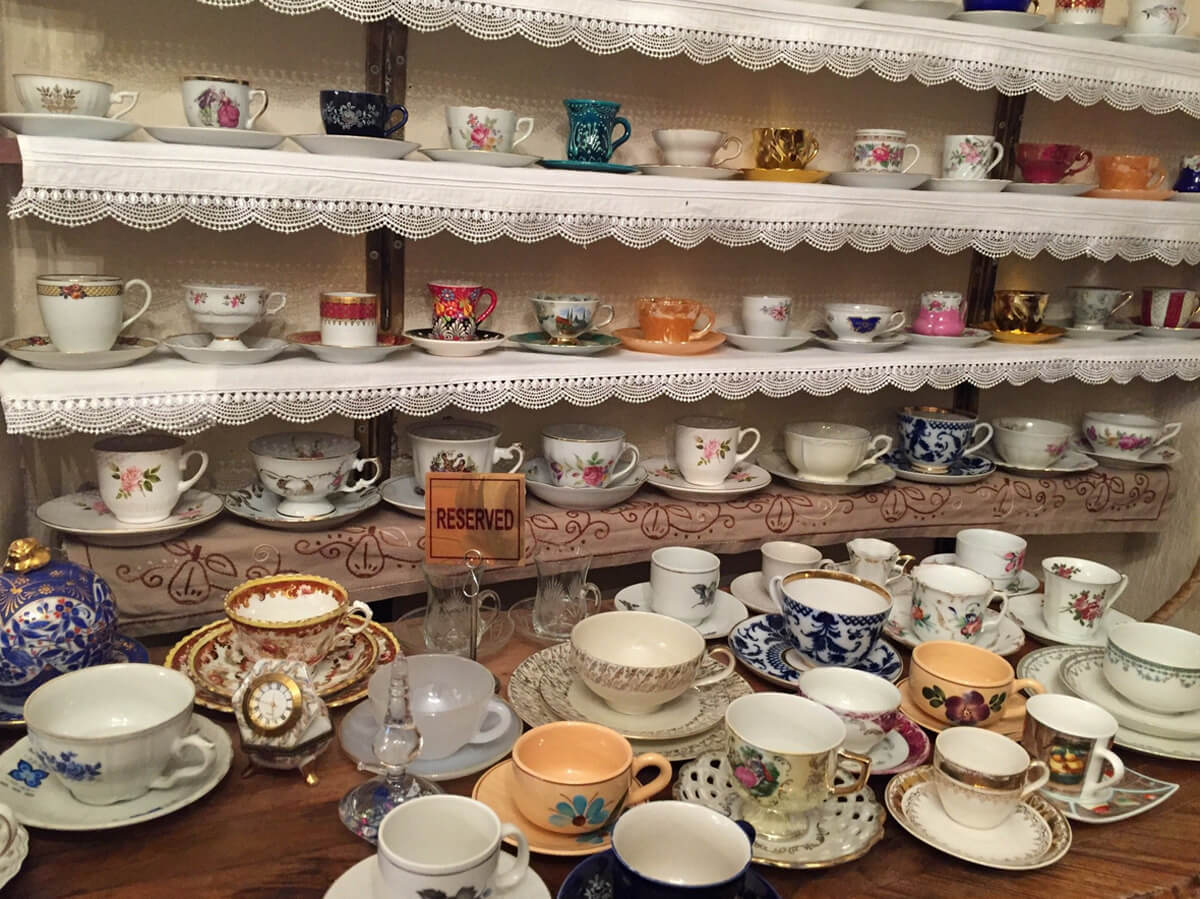 Food in Istanbul is diverse and diverse, as evidenced by this tiny, atmospheric café, which is a pleasant place to drop in after an exhausting walk through the city. It is an inexpensive place that serves breakfast in the morning and fresh Turkish pastries and fruit desserts during the day. Facility's specialty is the rich collection of coffee cups, both preserved from Ottoman times and brought from other countries. Hospitable owners of the cafeteria offer each visitor to choose, from which cup he will enjoy the taste of Turkish coffee, which, incidentally, is made according to their recipe. Almost every dish is worth tasting here, but homemade baklava and halva, strawberry pudding and chocolate cake have a special taste.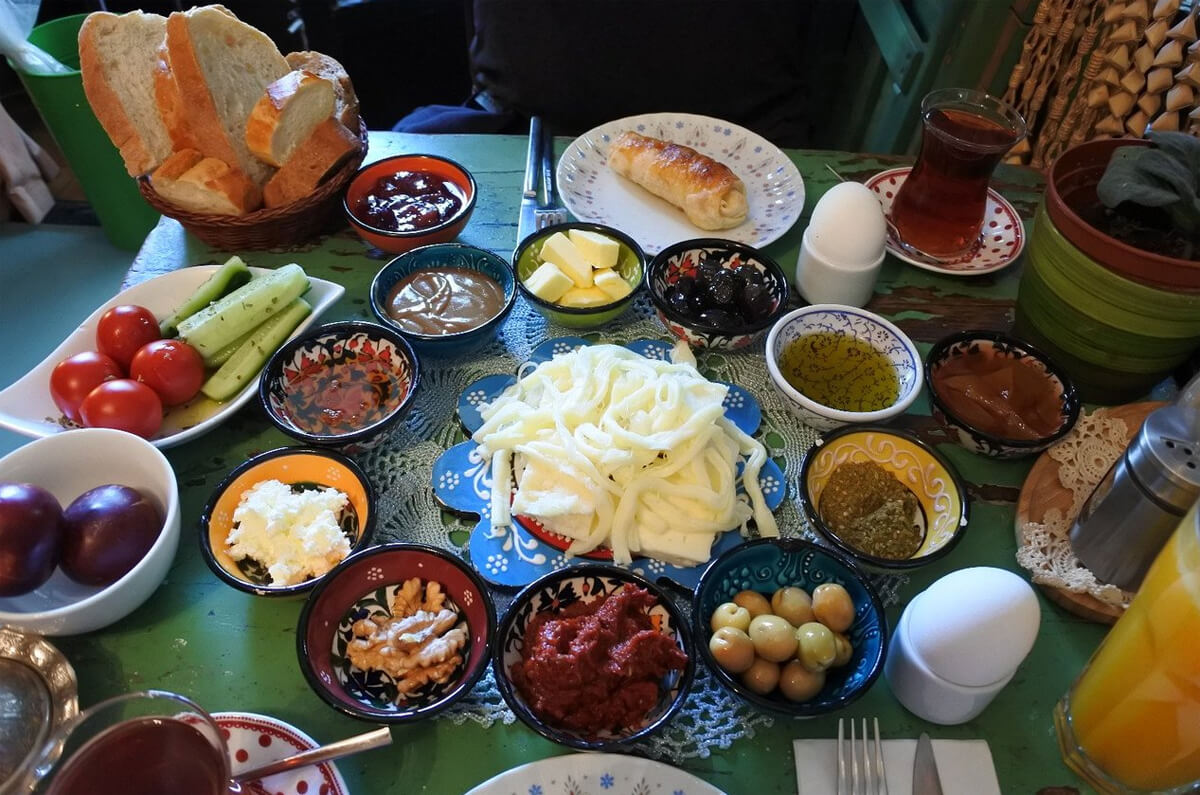 Prices at Velvet Cafe, Galata are moderate: pastries and desserts range from 7-15 TL, and on average you can eat here for 30 TL for two. The café's distinctive features are its unique interior and good-natured owners. But since the place is small and has a maximum capacity for 20 people, sometimes you just can't find a table here.
Address: Bereketzade Mahallesi, Büyük Hendek Cd. 34421 Beyoğlu/İstanbul.
Opening hours: Tuesday, Wednesday, Thursday and Sunday from 10:00 to 20:30; Friday and Saturday from 10:00 to 21:00. Monday is closed.
Balkan Lokantasi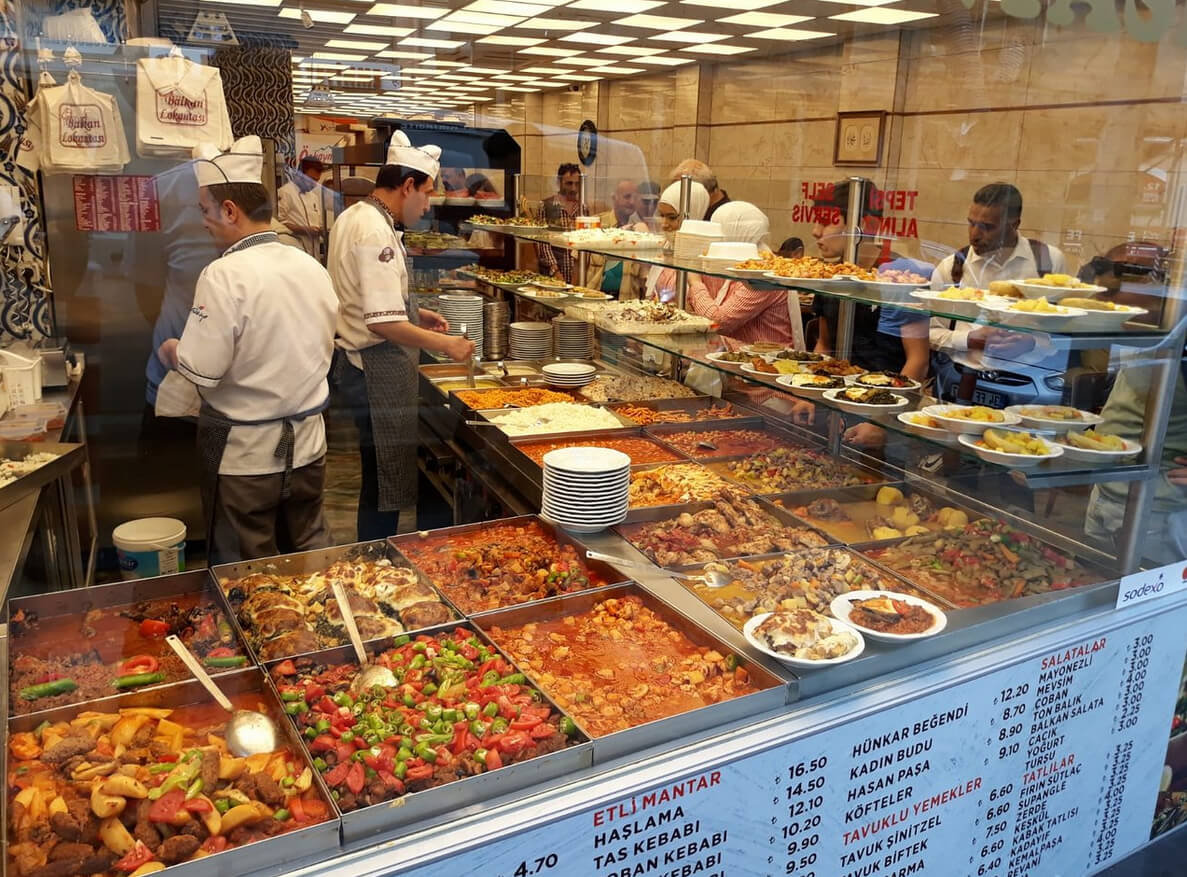 If you are in search of an institution in Istanbul, where it is possible to eat cheap, look into the inexpensive place Balkan Lokantasi. It is a standard Turkish dining room with a large selection of salads, soups, side dishes, meat dishes and desserts. Ready-made food is in the window, so you can immediately see what is available and make an order. Exquisite gastronomy is not worth waiting for here, but you can try lentil soup, chickpea, chicken and lamb dishes. The food here is really cheap and tasty, and the portions are big. The two of us can eat for 25-30 TL. But the canteen has two minor drawbacks: it is always crowded and the staff speaks little English.
Address: Hocapasa Mah. Hoca Pasa Sok. No: 12 | Fatih/İstanbul.
Every day from 07:00 to 23:00.
Ortaklar Kebap Lahmacun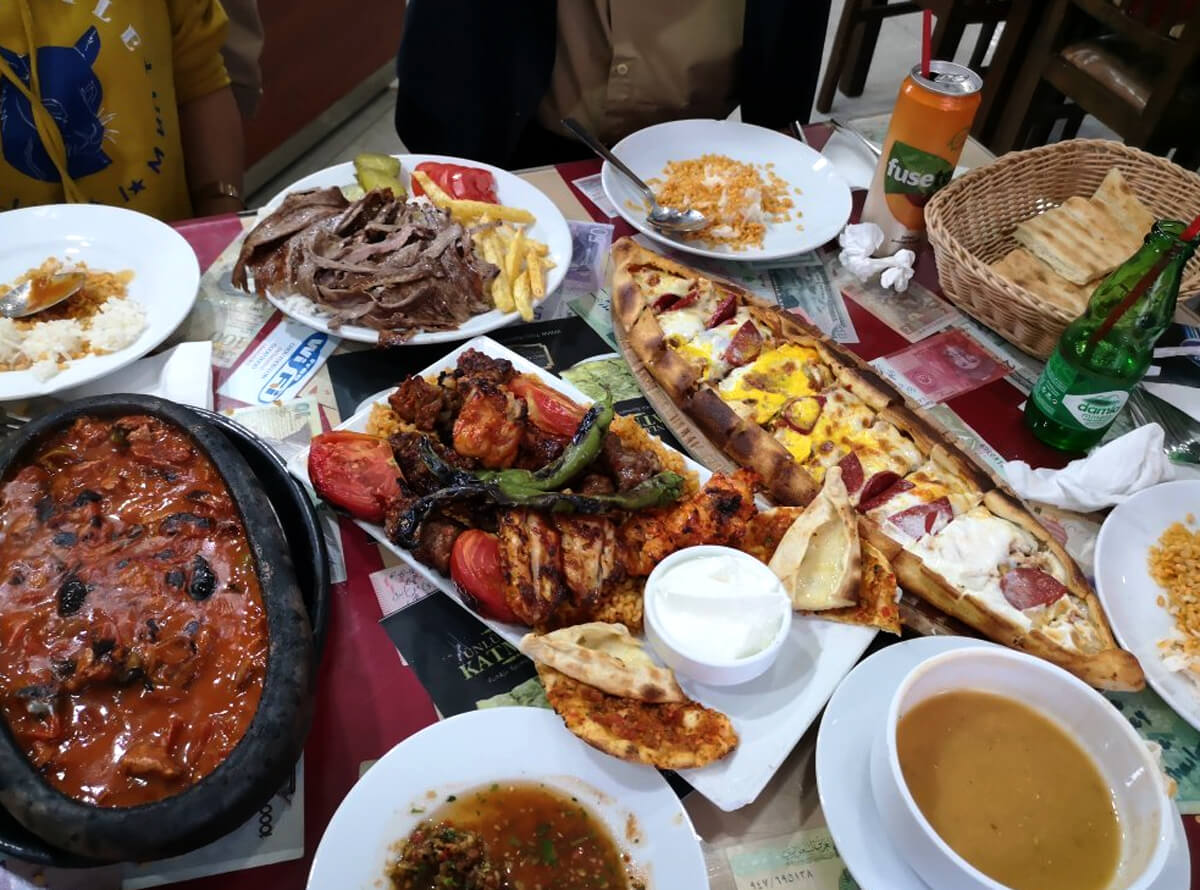 For those who do not know where to eat in Istanbul's Sultanahmet district this place will be a real discovery. Firstly, very tasty Turkish food is cooked here and, secondly, it is offered very cheaply. The menu at the restaurant is extensive, there are a lot of meat dishes, soups, salads and fish. Lahmajun and pideh, the famous stuffed Ottoman flatbread, lamb kebab and pomegranate juice are definitely worth a try. Though the cafe doesn't boast respectable interiors, its cheap menu makes up for any minor deficiencies. You can get a hearty meal for two for just 40 TL.
Address: Binbirdirek Mh., Peykhane Cd. No:27, 34122 Fatih/İstanbul
Open daily from 11:30 to 01:00. No days off.
Bilice Kebap
The cost of food in Istanbul can vary depending on the establishment, its location and its menu. And if you try hard, it is possible to find an inexpensive place specializing in meat dishes. One such place is Bilice Kebap where you will be served lamb and beef in a pita or on a plate on rice for a reasonable price.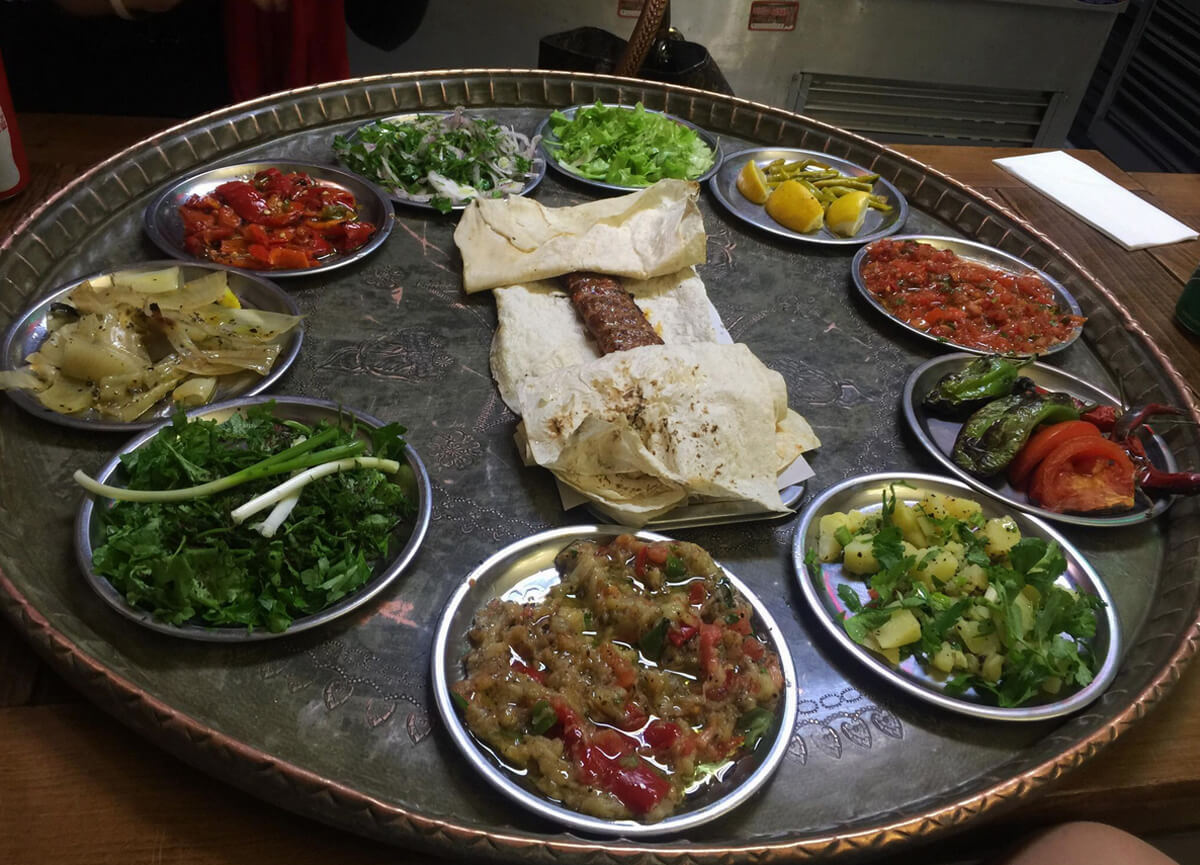 All kebabs are accompanied by a huge tray of appetizers and a bottle of water. And at the end of the meal they certainly treat you to tea. You must try the fresh meat kebab and lamb ribs here. The average meal for two at this eatery is 55 TL, which is cheap enough for a touristy Istanbul neighborhood.
Address: Asmalı Mescit Mahallesi, Asmalı Mescit Cd. No:8, 34430 Beyoğlu/İstanbul 34430.
Open every day, seven days a week from 10:00 to 02:00.
ZiyaBaba
ZiyaBaba is another one of Istanbul's most affordable and tasty places to eat. Turkish breakfasts are served here in the morning and cheap grilled dishes are served during the day. In addition to the standard meat menu, the restaurant also offers eggplant barbecue, which must be appreciated. The food selection is quite modest, but it is delicious and served in large quantities. Fresh tortillas and hot peppers come with the order for free.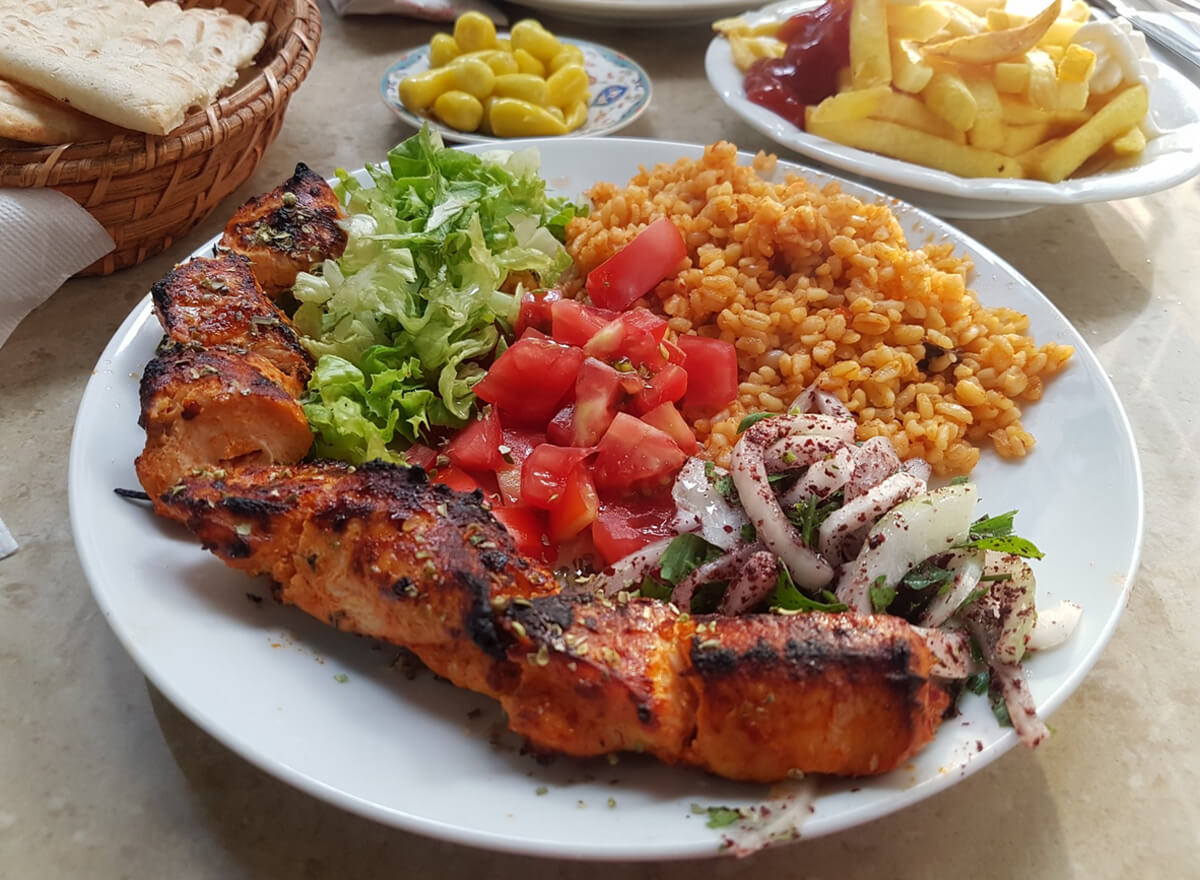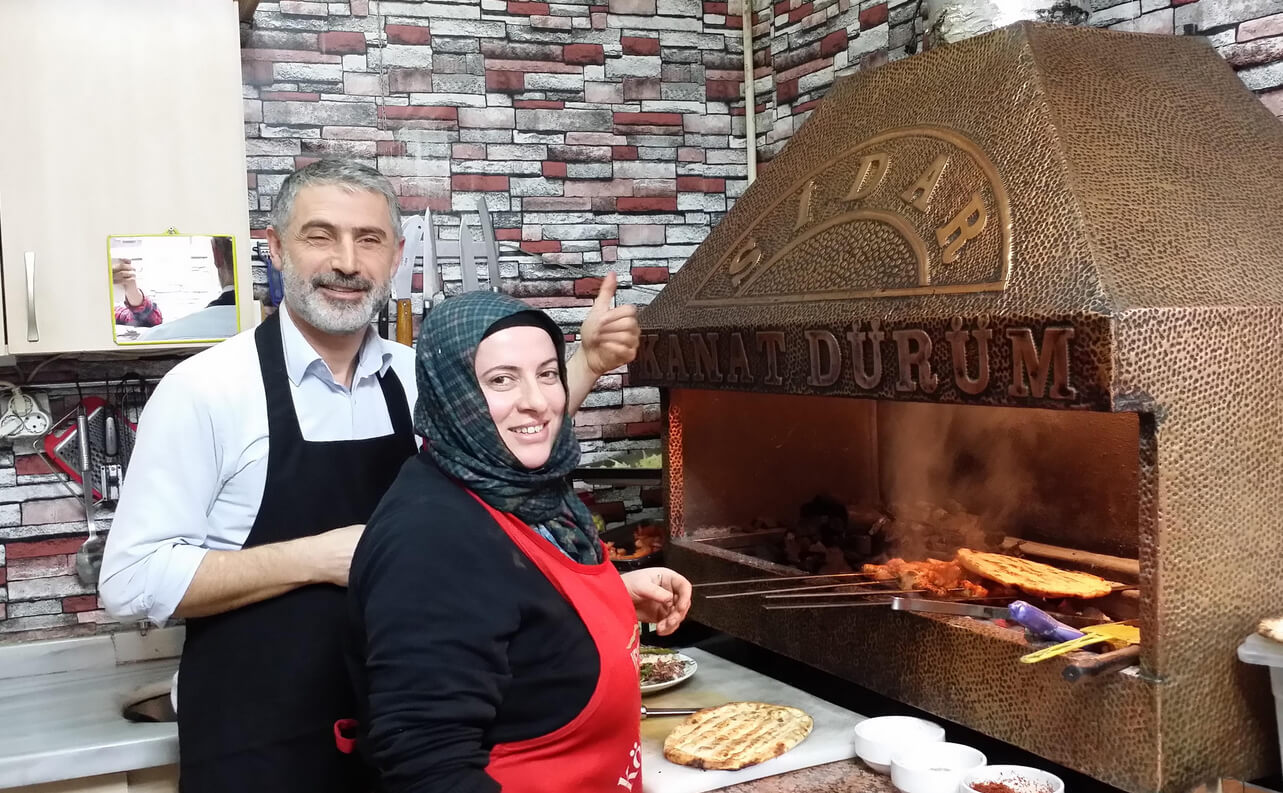 The diner is run by a married couple who are sometimes not exactly hospitable, but the value for money here is very fair. A couple of people can get a good meal for 30-40 TL and a big, delicious breakfast costs 50 TL, which is cheap for a city center meal.
Address: Küçük Ayasofya Mah, Kadırga Limanı Cd. No:136, 34122 Fatih/İstanbul
Every day from 08:30 to 22:30.
Tarihi Cesme
If you are looking for an inexpensive place to eat fish in Istanbul, head to Tarihi Cesme. Although the restaurant specializes not only in seafood but also in meat food, the fish dishes here are tender, very tasty, and most importantly, cheap. We especially recommend to try dorado, sea perch and shrimps with stewed vegetables. Well, for those who do not like fish, in the menu there are several kinds of kebab, as well as pide and various soups. You can finish your lunch with a juicy baklava.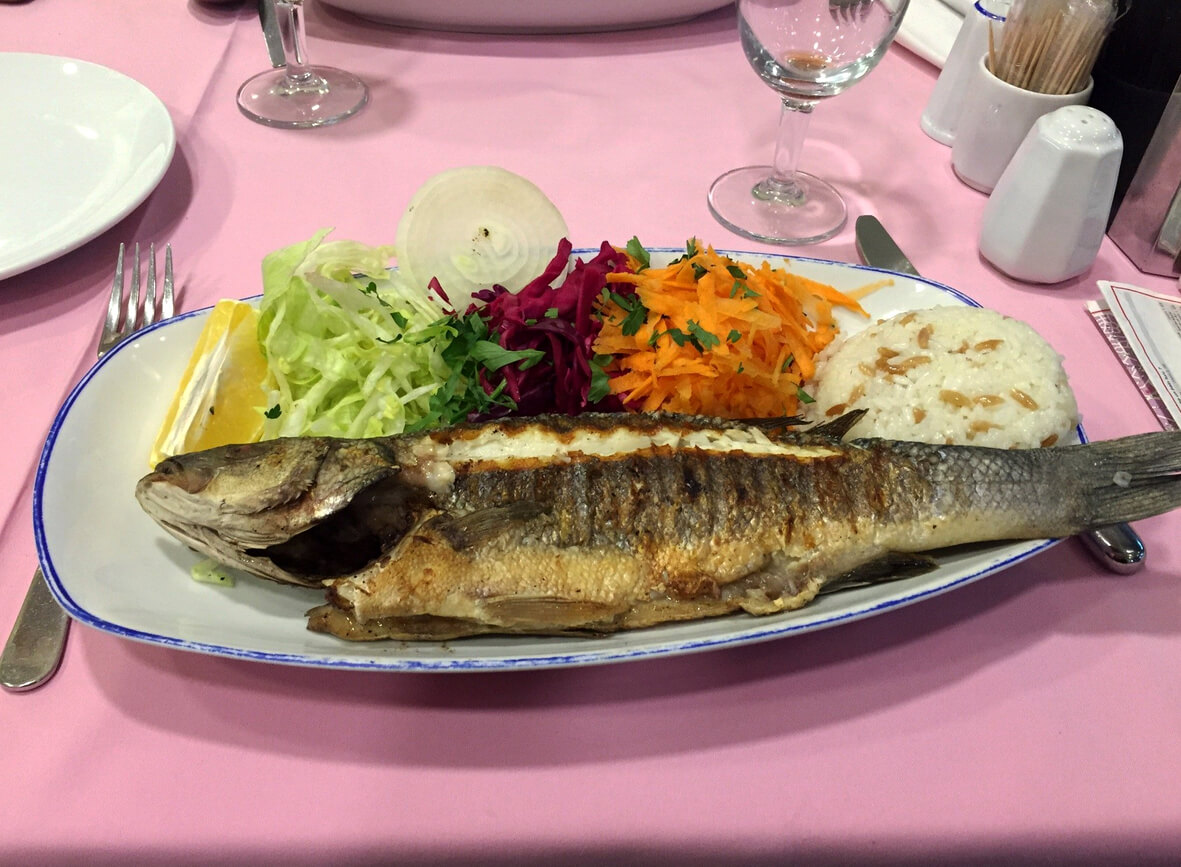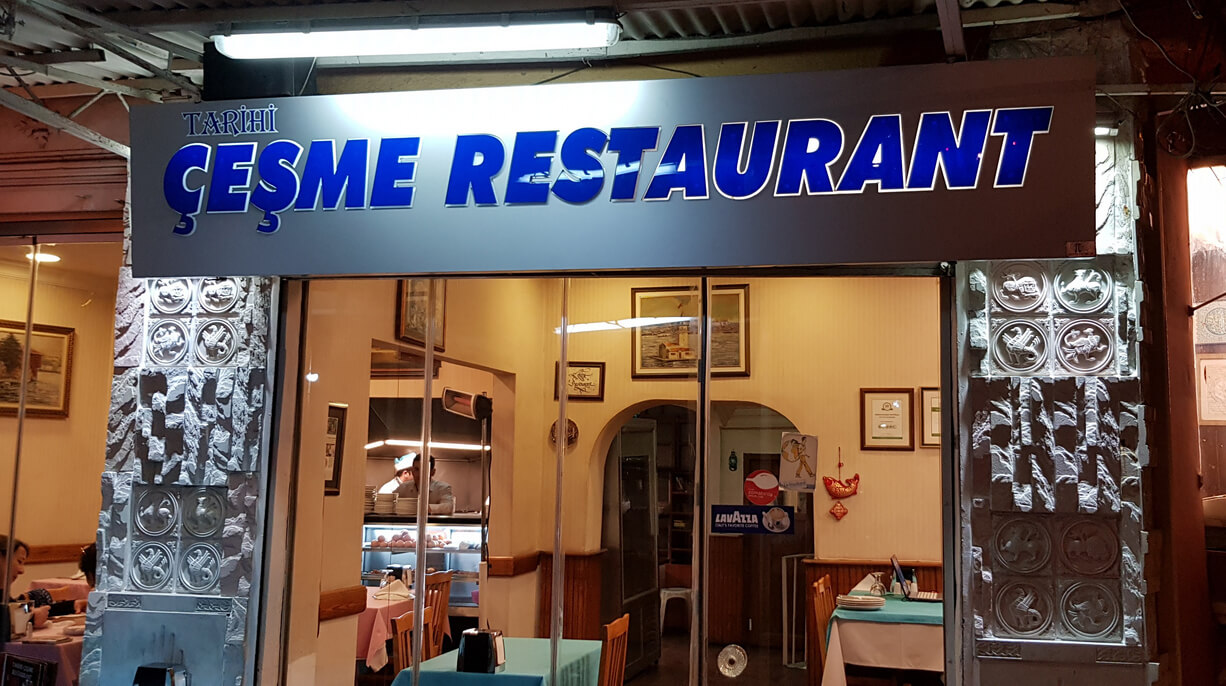 On average, you will pay 50-60 TL for a hearty lunch for two people at a restaurant, which is inexpensive for downtown Istanbul. Unlike most of the eateries we have described, Tarihi Cesme serves alcoholic beverages. For example, a glass of aromatic wine will cost you only 10 TL and a mug of beer 15 TL. The waiters are helpful and efficient.
Address: Küçük Ayasofya Mh., Küçük Ayasofya Cami Sk. No:1, 34122 Fatih/İstanbul
Opening hours: 12:00 to 00:00 On Sunday from 12:00 to 22:30.
Hoca Pasa Pidecisi
This is a reasonably priced and highly rated eatery in Istanbul. Its specialty is pide with different toppings. The menu offers a large selection of tortillas with fillings such as minced meat, egg, cheese, pieces of beef, etc. A particularly hearty and tasty option is the pide with meat and melted cheese. A fresh ayran would be an ideal drink to go with such a meal. Water and pickles from cucumbers and peppers are served free of charge with any meal.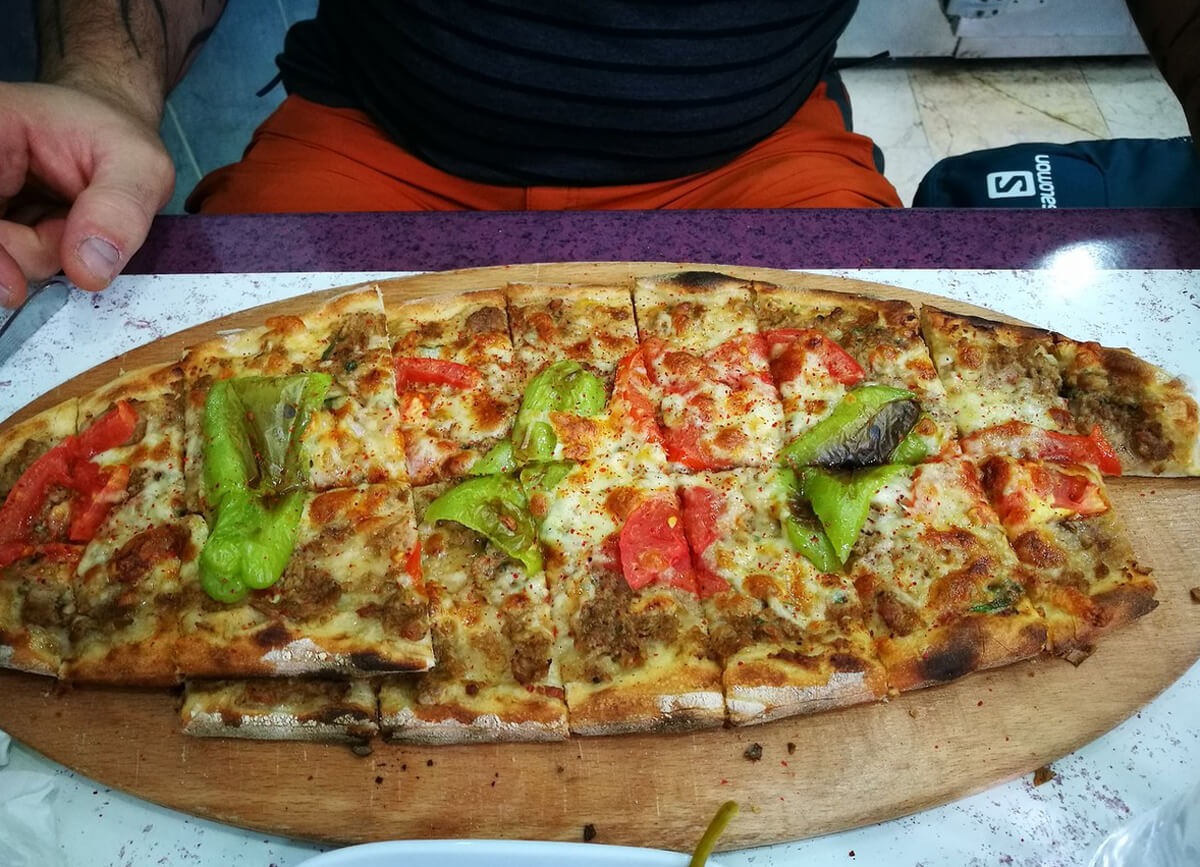 The pide here is cheap, but the cost per serving depends on its size: the average bill for two with drinks will be 30-35 TL. The order at Hoca Pasa Pidecisi is brought rather quickly: the maximum waiting time is 10 minutes. It really is a very tasty and inexpensive option for street food in Istanbul.
Address: Hoca Paşa Mahallesi, Ankara Caddesi & Hoca Paşa Sokak No:11, 34110 Fatih/İstanbul.
Every day from 11:00 to 21:00.
Durumzade
If you wonder how much it costs to eat in a cheap place in Istanbul, you will be surprised to learn that you can get a bite to eat in the city for 9-15 TL. Proof of this would be the small Durumzade café, where you have the opportunity to taste doner, kebab, liver and other delicious traditional street food in Turkey at a reasonable price.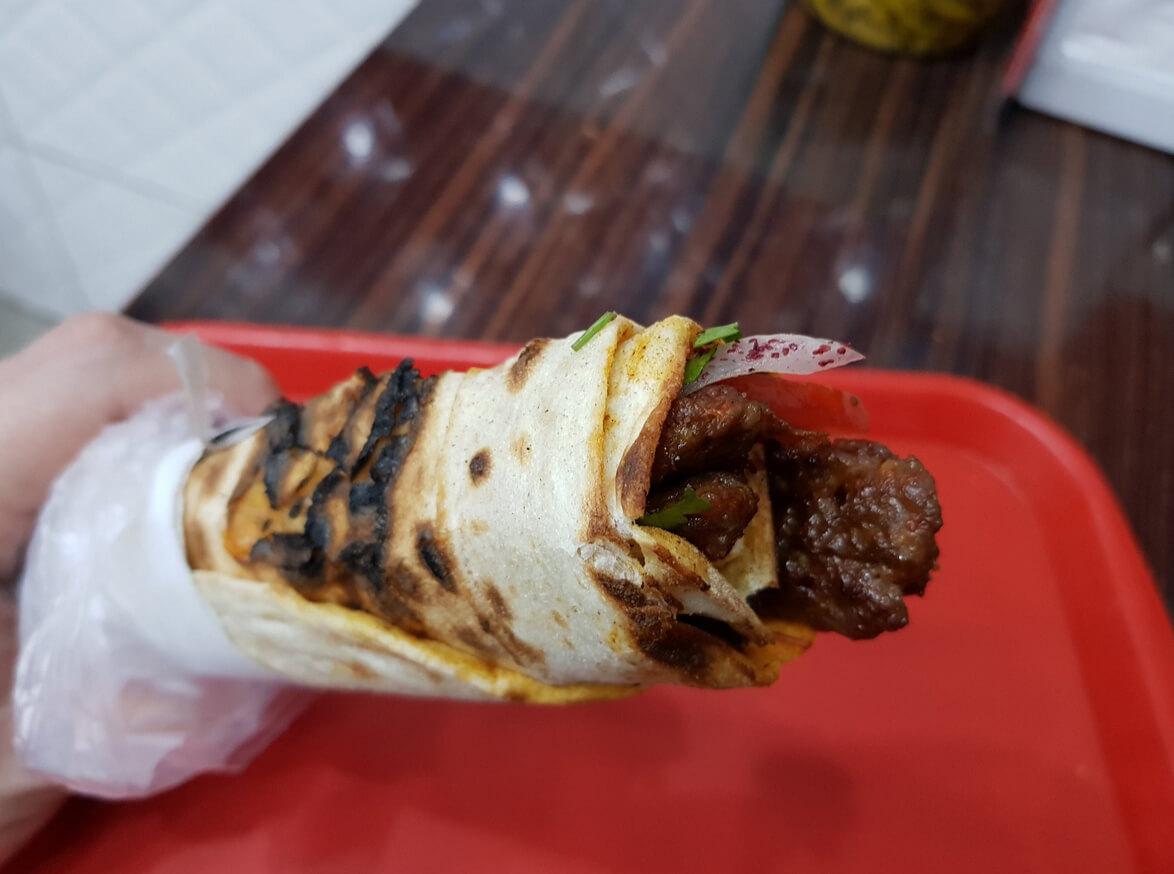 This peculiar Turkish fast food offers meat and chicken in pita bread, which are quite hearty and at the same time cheap, so be sure to appreciate their taste. Of the drinks, the only ones on offer are ayran and cola. To eat here for two you will need on average not more than 30 TL. It is a fairly small place with a minimal number of tables but will suit anyone who wants a quick bite to eat.
Address: Hüseyinağa Mahallesi, Kamer Hatun Cd. 26/A, 34435 Beyoğlu/İstanbul.
Opening hours: 24 hours a day.
Sehzade Cag Kebap
Sehzade Cag Kebap is one of the best places to eat in Istanbul. Facility's main product is lamb. Although the menu consists of only 7 items, in addition to meat here you can try lentil soup, vegetable salad and creamy dessert. Meat dishes are served in the form of kebabs on skewers along with freshly baked thin lavash.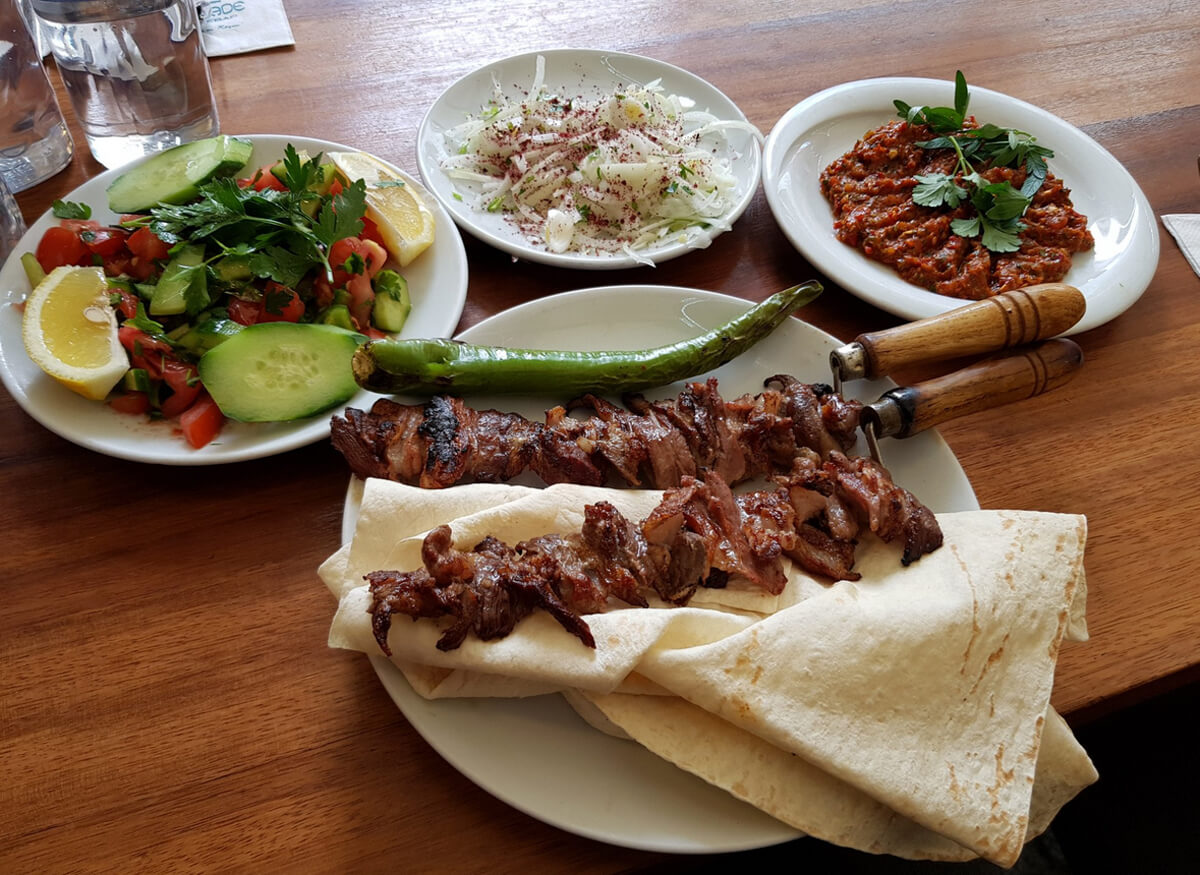 You should appreciate the juicy and tender taste of lamb cooked on a spit. The portion is medium-sized, but still big enough for a full meal. The service in the cafe is fast and unobtrusive. It is noteworthy that visitors here have the opportunity to watch the whole process of cooking kebab. A meal for two at the restaurant will cost about 35-45 TL, and such a price for food in Istanbul is considered quite democratic.
Conclusion
Now you know exactly where to eat in Istanbul. The options are varied and although each of them has some pros and cons, all the establishments we have described are united in one thing – they offer delicious food at low cost. And these factors are key for thrifty travelers.
Video: street food in Istanbul – what to try and prices.
Author: Catherine Unal
Stockholm is a city that not only delights with sights, but also quickly devastates…
Updated: 24 Feb, 2021 Brussels – Mecca for connoisseurs of delicious and quality…
Updated: 2 Feb, 2019 Phuket – it's not just a beach holiday, it's…
Updated: 30 Jan, 2021 Restaurants in Nha Trang fully reflect the multiculturalism of this…
Thank you so much for such useful and comprehensive information! This is the best article about food in Istanbul that I have read! Only I have a question, for what year are the prices presented?
Good day Lubov! Thank you! The prices are for 2018. They have increased slightly now due to the sharp drop in the lira last year.
We ate at Ziyababa a couple of times. The cuisine is tasty, though not varied. I liked the lentil soup. The average check for mid-May 2019 is 60-70 TL. The coffee is very good. Service is unobtrusive, there are no unnecessary smiles and that's nice!
Good afternoon, afternoon, Elena! Thank you for the recommendation and for sharing your experience.
Good afternoon! Thank you so much for the information! Very useful for the trip in September.