Phuket food courts: where to eat cheap and tasty Thai food
March 2016 (updated: 17.04.2022) 16
The word foodcourt can be translated as a restaurant courtyard or in more simple terms – self-service dining room. Eating in the food courts are mostly Thais themselves, as well as tourists wintering/living in Thailand. Food prices are quite low, eating in a food court is many times cheaper than in a restaurant. The only difference is that you bring your own food on a tray, well, and the interior.
How to order food in the food court
First, go to the cash register and give the money you expect to eat with. The two of us can eat for 200 baht or 500 baht. We averaged 150-250 baht for two.
You get a plastic card. When you order a dish you need to give the chef a card from which the amount will be deducted for the order.
As you have eaten, come back to the cashier and you get the rest of the money back.
As you can see, everything is simple. But most importantly, delicious and inexpensive. In the tourist cafes at Karon, Patong, Kata and other beaches, the prices are exactly 2 times more expensive. In restaurants, it is more expensive by 3 times or more. Here are approximate prices in Thai Baht:
Soup with chicken or pork from 40 baht, Tom Yam from 80 baht (can be with shrimp or chicken)
Catfish Tam from 40 baht (papaya salad)
Chicken and rice, pork rice 60 baht
Omelet 30 baht, just rice without everything 15 baht
Bottle of water 10 baht
Where to Find Foodcourts in Phuket? Food courts, as a rule, are always available in every major mall. Either on the very top floor or on the very bottom floor. In Phuket, we visited foodcourts in all the major malls and tried out the Thai food there.
The food court at Central Floresta in Phuket Town
Located in the new Central Festival on the bottom floor. The prices are the same as in the old mall but the atmosphere is more interesting. Recently ordered soup and noodles with pork. Had lunch for 200 baht.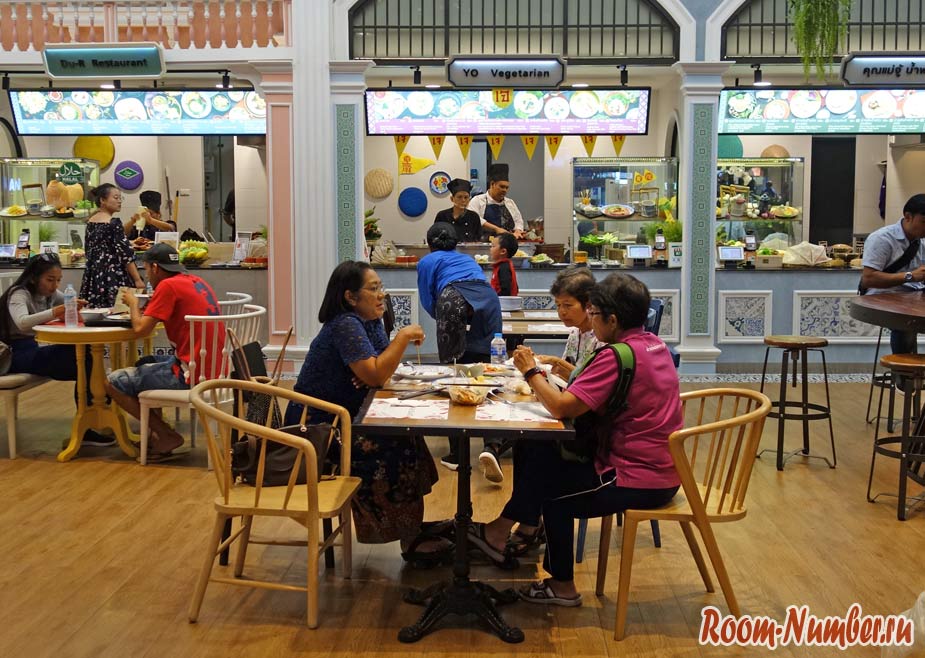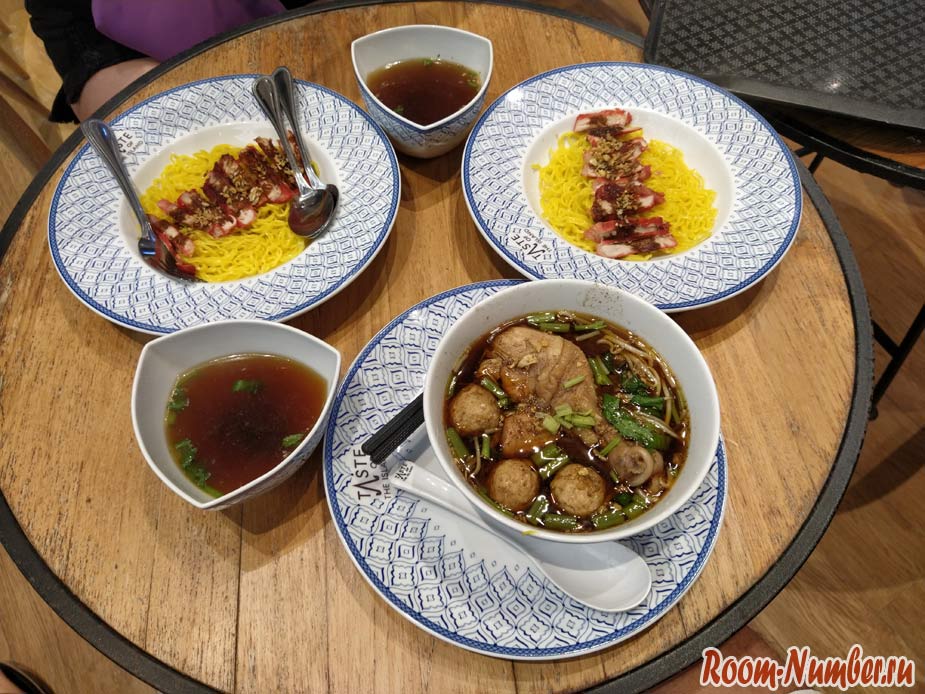 Food court at Central Festival Food Terrace
Come here at least once a week. The food is plentiful, the prices are reasonable, the tables are wide open, and it's cool. Tourists know about this place as well because many come to Central Festival for shopping. It is on the penultimate floor next to the movie theater. If you stand facing the cinema, you have to turn left.
This is what the payment card looks like 2 tom yam and rice – 175 baht ($ 5) Soups preferably should be in the diet at least a couple of times a week, which we do in the food courts. Even though we have a kitchen, it is easier and cheaper to eat soup here than to make it yourself.
Central Food Hall – food court in Bangtao at Porto de Phuket
A restaurant-type food court with service and European dishes. Located near the Central supermarket in Porto de Phuket Shopping Mall. You can order a steak, many kinds of meat and potato dishes. Cooked tasty. There is a bar with wine, beer and other alcoholic beverages.
In this food court, you don't need to put money on a cash card. Take a table number and show it when you order. Waiters will heat up the food and bring it to your table. Pay after the meal on the bill. You can pay by cash, card, phone or watch. Prices are a little higher than other Phuket food courts with Thai food. We ate here for two for 330 baht.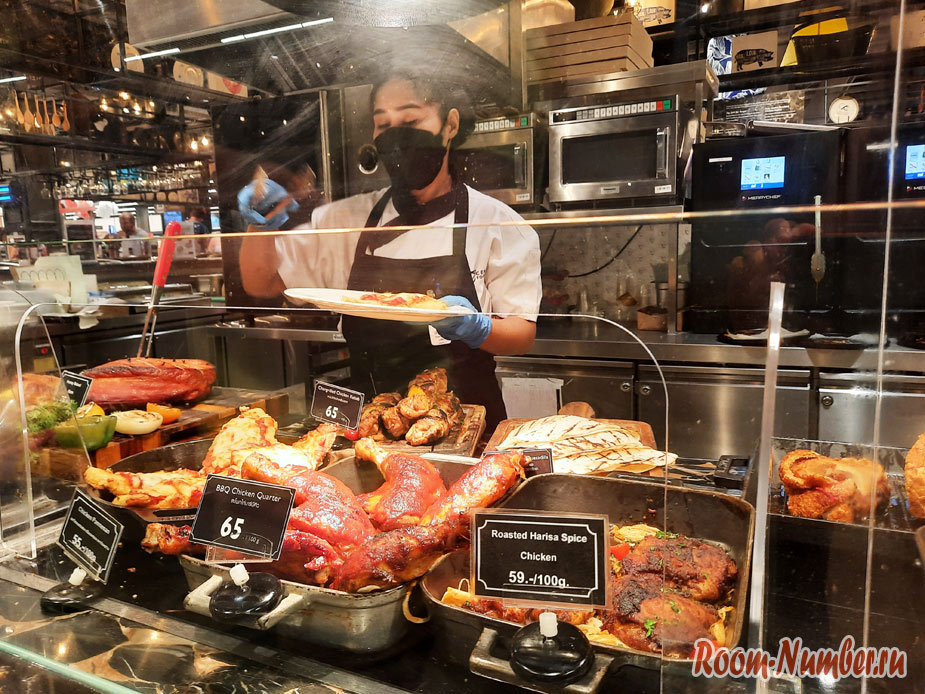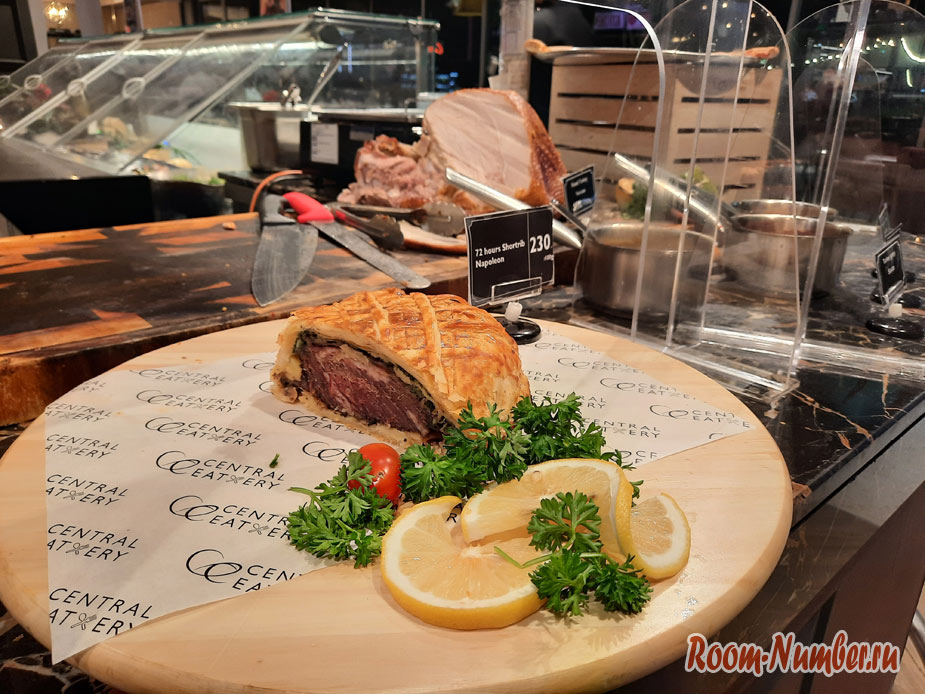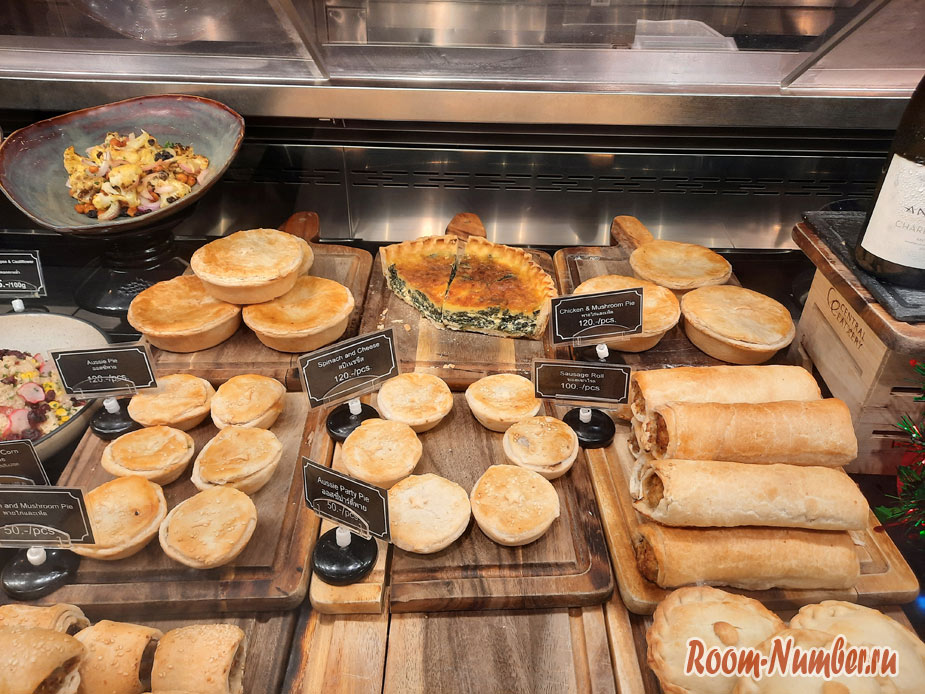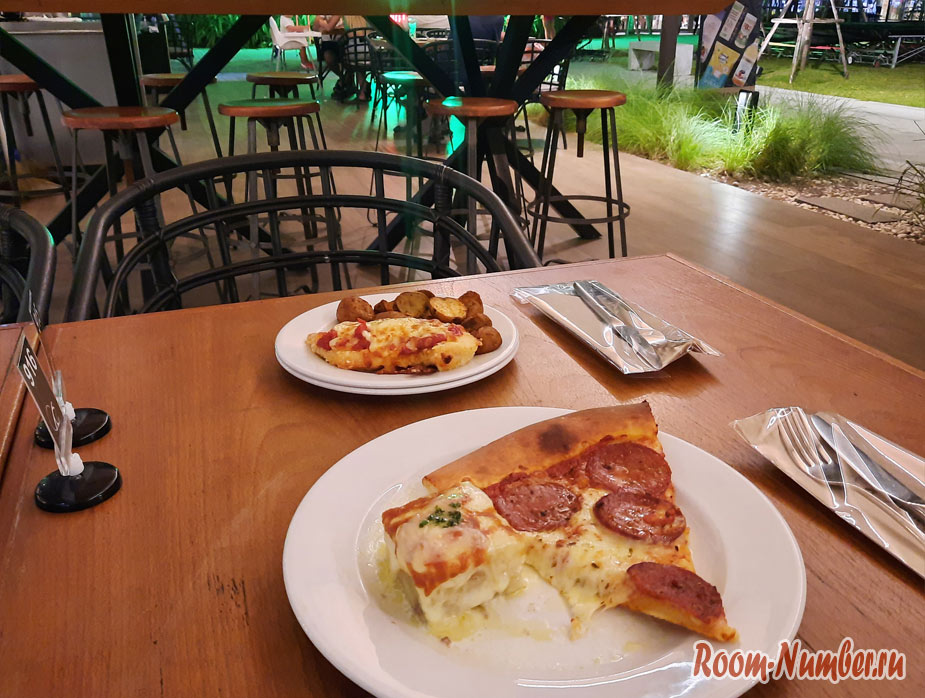 The food court at Phuket Grocery in the town.
Little-known mall in the west end of Phuket Town, near the central immigration office. Thai food from 35 baht. At lunchtime from 12 to 1 p.m. a lot of people come from the offices.
Dish of the day for 35 baht – rice with spicy chicken, broth for free
Food Bazaar – Patong food court at Jangceylon Mall (not open)
Jangceylon is closed during the pandemic.
The most original food court. It is located in Jungceylon Phuket mall in the basement and it is called FoodBazaar. It's hard to tell at a glance what's what. This food court is different from all the others in terms of ambience. Everything here is Chinese. There are red lanterns on the ceiling, every dish is dubbed in Chinese and there are a lot of Chinese people here. The prices are a little higher than the other food courts because it is located in Patong, in the most touristy area. But again, it depends on what you prefer to eat. If usually tom yam is 80 baht, here it is 120 baht.
A lot of unusual Asian food, which are sold only in this food court serving rice, soup with noodles and dumplings and soup with meat cost us 220 baht
The food court at Lotus Mall in Phuket Town
Tesco is not even in the town itself, but rather in the Katu area, not far from The Royal Place Condominium. It is located on the second floor of the mall. Foreigners are very few here. The prices are good. Not a bad selection of dishes. We sometimes eat here when we go to Tesco to get groceries.
Many of the dishes here are translated into Russian. As you can see, for 50-90 baht you can have a good meal.
Our order was rice, papaya salad (Som-Tam), spicy Tom-Yam soup and some kind of Thai soup with meat, something like noodle soup with chicken. All together 220 baht. There were surprises in this soup.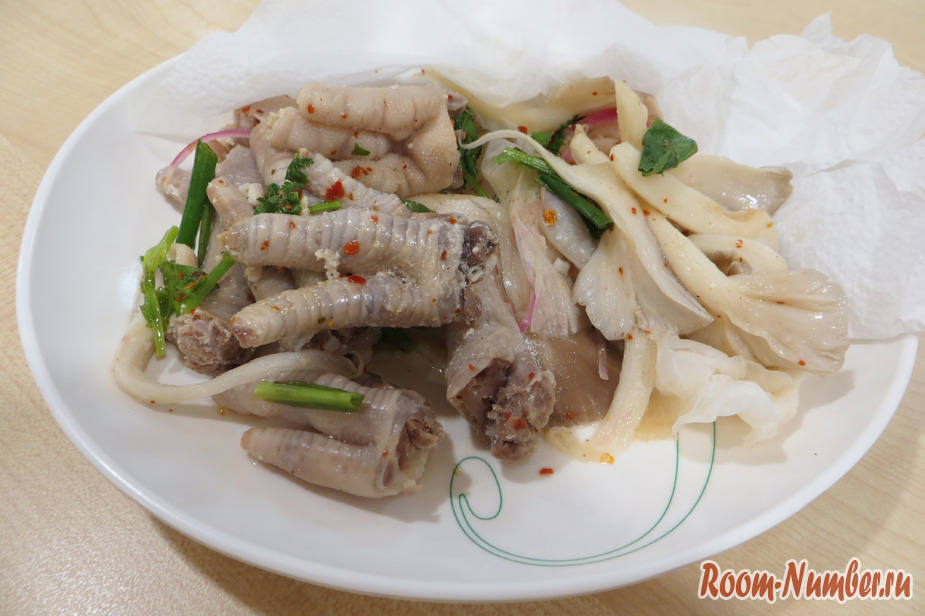 Thai goodies taken by inexperience This is certainly not everyone can eat. We had to take it out and leave it on the plate. The locals at a nearby table, watching us, even got away from their phones, smiling and giggling.
Food Park – a food court at Big C mall in Phuket Town
The cheapest food court we've ever been to. We often come here and get 150 baht ($4) worth of food so that we then sit for another 10 minutes, holding our bellies and relaxing.
Noodles, lots of meat and greens. Absolutely no spicy.
Very tasty Thai soup. Don't be intimidated by the brown color. Many of the soups are cooked in soy sauce. The soup costs only 40 baht. Huge plate, 2 large chicken legs and lots of noodles.
Som Tam papaya salad.
If you haven't tried it yet, make sure you do! Just ask for One chilli. It's the perfect proportions. You get a little spice for spiciness, not so much that your whole mouth is on fire from the heat. It only costs 40 baht to eat Catfish Tam. At the tourist cafes we saw a price of 150 baht for the same thing.
This kind of lunch of two soups and one salad comes out to 120 baht for two. Wonderful prices!
Foodcourts are very helpful, both tourists and long-timers in Thailand. In addition to the fact that here you can eat Thai food for normal money, you eat not in the heat, and in a pleasant atmosphere with air conditioning. The chances of poisoning in the food court is small. Since the flow of people and competitors around, so to sell a spoiled dish and earn a bad reputation will not be profitable to anyone. So, come try Thai cuisine and do not overpay.
If you've been to Thai food courts before, post in the comments what you tried, how much you paid, did you like it, or maybe felt squeamish about eating there? Maybe you know of other food courts in Phuket?
Subscribe to our Telegram and Instagram
How we travel under sanctions
Buying tours on Travelata
Searching for Tickets on Aviasails
Rent a hotel in Ostrovok and apartment on Supra.ru
We buy different insurance at Cherehap
Airport transfers with Kivitaxi
The World Travel Card with Tinkoff Black Cashback
How I missed the Thai cuisine. I have tried to order in different restaurants in my city, it was tasty but it was not very similar to what the Thais were fed, and how can you cook tom-yum with cream instead of coconut milk? And acquaintance with the cuisine of Thailand I started with the food court in Terminal 21 in Bangkok. My family was delighted, the number of dishes, smells, we thought we were in a good restaurant, what was our surprise when we realized that we were in the dining room and the check was a confirmation. In the evening we got to the street food in the form of macaroons. Thai food is berated by many for being sparse and spicy, but the cuisine alone would make me come back to this country.
I also ordered Tom Yam in Moscow. Not a bit similar in taste. Some kind of Russian version and a lot of black pepper for spice.
I think that Thai cuisine is very diverse and those who criticize it for being meager just haven't tried it.
Thai soups make me sick, and it's probably not from their spiciness but from the monosodium glutamate. So I always take rice with something (2-3 fillings), and I also like to take duck. I used to take yakisoba (noodles with pork in soy sauce) and at the same counter there are also pancakes and fried dumplings (gyzy).
In Phuket Town there is a large shopping center "Lime Light". There is a food court there, which I have been to. Thais eat – fork in one hand, spoon in the other – pretty convenient! And the Europeans with chopsticks somehow don't look natural.
It amuses me too when a European tries to eat with chopsticks. Only in the case of sushi and rolls it looks appropriate, not funny.
And we didn't go to that center. Thanks for writing about it. Maybe we will)
Yes we did! The Thais eat with a fork and spoon, and it looks like they were born with them, in fact it tastes better that way, I liked it.
Yes, in fact Thais were born with a bike.
The first time the food court at Big C made me depressed and I ran away from there. I felt squeamish, and these smells were killing me) The second time it was okay, or almost) Most of all I liked the noodle soup and chicken and rice with duck, my favorite set. But my favorite place at the festival is upstairs, not where the canteen is, but where the cafe is. There's one place that's a real winner, I don't remember its name, it's Yammy or Yommy, it's small and the sign is yellow. Sushi other things there are a bit pricey: 190-250 per serving, but they have cool sets of trays. I do not know how it is now, before the cheapest tray was 119 baht, and the basic price tag is 129-139 baht. The tray includes Japanese soup with tofu, seaweed, and miso paste, vegetable salad, and a portion of rice with chicken, pork, or fish, or a potato instead of rice. The food is very good, we liked to go there for a meal. Also there are very large glasses of cold and unreal delicious coffee) On the same floor used to be a buffet for 199 baht per person, with a time limit of 3 hours. If you wanted big shrimp or barbecue ribs, you went there. After 3 hours, rolled out with the full confidence that even a sip of water will break our overstuffed belly) But we ate not from greed so much, but because the variety, all delicious and everything I wanted to try) And about the chicken legs in soup, you just do not understand a damn thing about sausage scraps)))) I love chicken legs)
Zhenya, do you really eat these chicken legs?) I don't believe it!)))
I know which restaurant you mean. We're looking at them too.
The thing is, we don't eat seafood. Slava doesn't eat at all, and I only eat shrimp sometimes, and fish more often. And only red fish. I don't feel like eating sushi anymore.
And we like simple foods, like salad, rice, and potatoes with chicken. It looks nice on their menu, but we just won't eat it.) Already experienced more than once))).
Here we want pizza. We should go the other day at Pizza. Also in the Festival.
And in Tops is on the first floor buffet. Cost 299 baht per person buffet. We go by there all the time, but I think there's an emphasis on seafood too…
Really eating chicken feet) And here you have more and claws cut off) My favorite place is a pillow, like palms) I do not know why they got hooked, no one except me in our family do not eat them. Grandma used to make chicken and boiled them along with the meat, because they freeze jelly better. And she used to throw out her feet all the time, but I once tried them and liked them a lot, and I've been eating them ever since. I also love all seafood and fish, I love all the liver: But I don't eat cooked vegetables, only cabbage stew, and all kinds of broccoli, cauliflower, zucchini, eggplant, roasted peppers, I don't eat celery, asparagus, ginger, onions, greens like coriander, rucola, spinach, etc., but only dill) Everybody has his own preferences: No cakes, cakes, buns, pizza, or pies. If I'm very hungry, I can rarely eat a slice of pizza or pie. I don't eat chips, they taste awful, like powder, I don't eat burgers and very seldom I eat French fries. I don't eat cookies, gingerbread, candy at all. I'm not watching out for my figure, I just don't like the taste) But you can't drag me away from barbecue ribs or a good barbecue kebab)))) I remember that you are selective in the food too) I can not add photos here, so the link to the album will throw a photo of the cafe with trays) the first with chicken, the second with fish
And the belly of Slava is already bigger than ever! Especially noticeable sitting on the beach view from the side slightly behind … And this at 30 years old. And what will happen at 50 years old … …
Weekend Market: Inexpensive dining in Phuket.
Restaurants and cafes in Phuket require special attention, and street food in Thailand is available and inexpensive. Let me tell you where you can eat tasty and inexpensive in Phuket. There is a saying, if you want to really know the country – visit its markets. It is fully applicable to Thailand. Only here you can see the unique local color, wander among the insane amount of handbags, T-shirts and souvenirs, as well as taste Thai goodies. The best way to learn more about Phuket, in my opinion, are the night markets.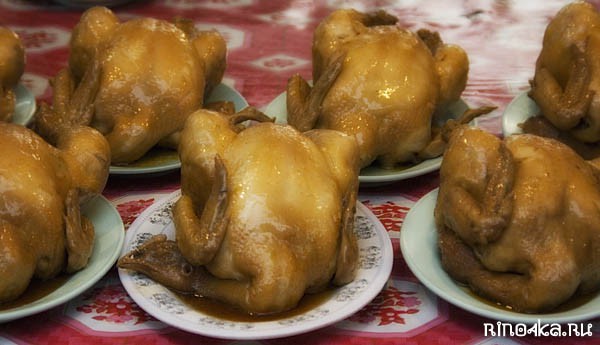 Street Food in Phuket.
There are several chaotic evening markets in Phuket, and they wander from place to place. They are called night markets only because, by Thai standards, they work all night – until midnight at most. On holidays there is a night market on Nanai Street in Patong. On the Chinese New Year taste the best to go to the Chalong Temple. And every Friday, Saturday and Sunday in Phuket Town in front of the Naka Temple, my favorite night market starts working.
There are different names for the market: Sandi Market, Knight Market, Naka Market, Chao-Fa Market, and so on. As early as 4 p.m., vendors start laying out T-shirts, shorts, souvenirs, and other junk, and chefs are busy working on culinary masterpieces. If you are still wondering what to try of food in Thailand, you should definitely come to Sandy Market. Let's take a little stroll through the market, it will be open until midnight.
Traditional Thai omelets are not like European omelets, they are crispy and airy. They are sprinkled with fresh herbs and eaten with spicy ketchup or the famous Siracha sauce.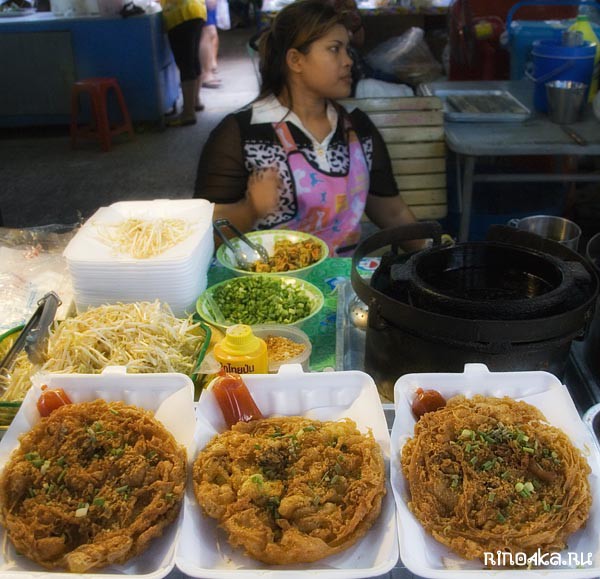 It is as natural for Thais to go to Naka Market on weekends as it is for some Europeans to eat at McDonalds. After all, there are so many delicious things to buy here! From grilled calamari to fried grasshoppers. The best street food in Phuket is only at Naka Market.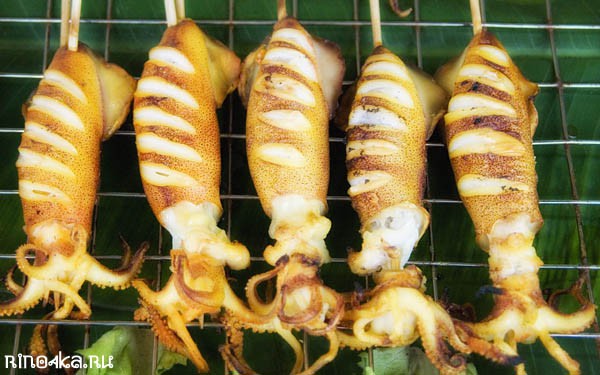 Seafood at the market is in abundance. Grilled calamari, deep-fried shrimp, boiled crabs with hot sauce. They will gladly pack your crabs to go, but it is better to eat them hot.
Cutlets of fish, shrimp or crab meat are cooked in a deep fryer. Such a deep pan is called a wok. Most of the dishes of Thai cuisine are fried in it. Conveniently, all food is lightly fried – stir fried.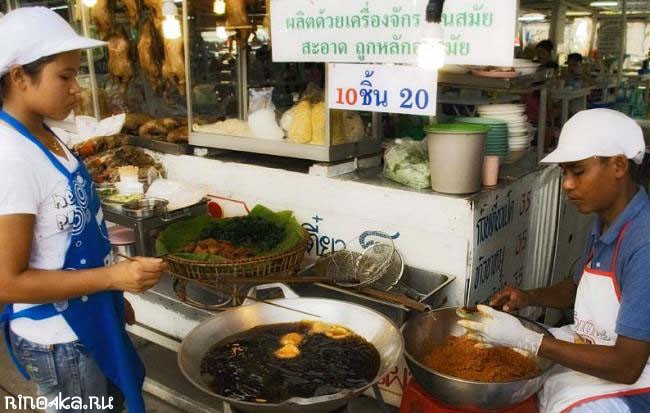 Most restaurants have tables where you can sit down in a large group and enjoy the delicious food, and the Thais gladly do this. It's a kind of small cafes and restaurants at the market.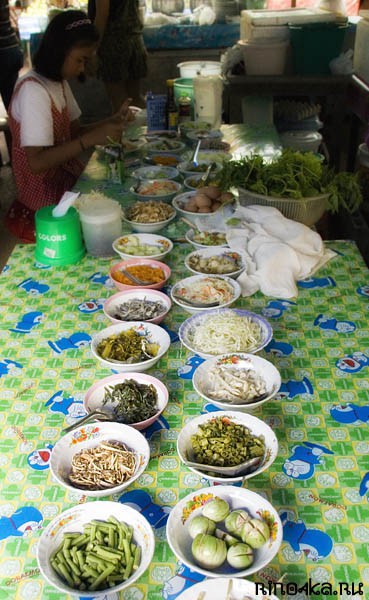 I love the little chicken kebabs – satay kai. They are fried on coals and served with a special peanut sauce. In addition to chicken, you can also find pork and heart-ventricles. That's exactly what you need to try in Phuket. The recipe for kebabs came to Thailand from Indonesia, they are very common in the south of the country.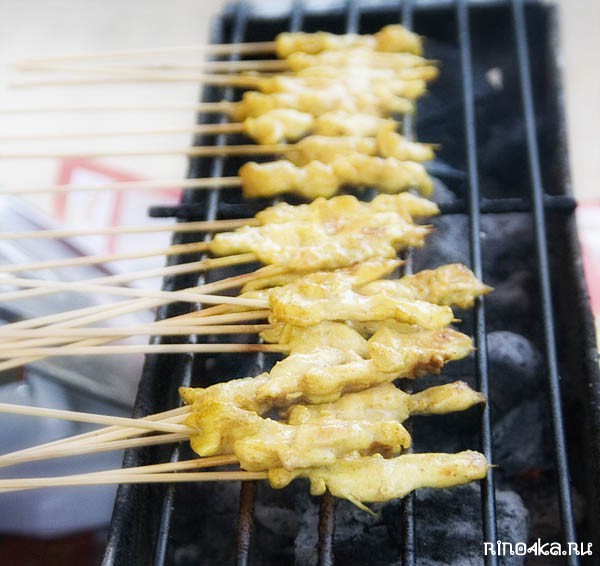 A portion of delicious Thai noodles with vegetables – yaki soba – costs only 20 baht. It is packed in a special plastic container. Perhaps the cheapest food in the markets of Phuket, not counting sushi by the piece.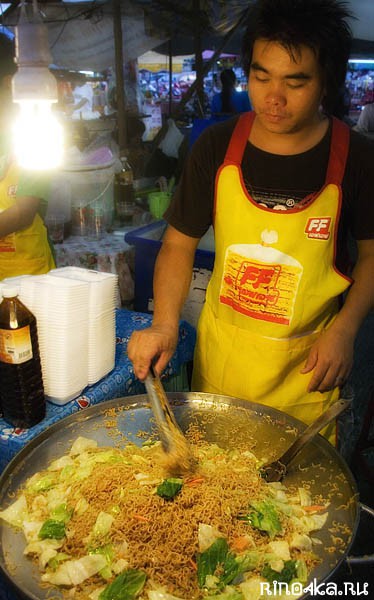 Sushi and rolls are presented in abundance. They cost 5-15 baht. There are traditional, with crab sticks, or more exotic – with black century eggs.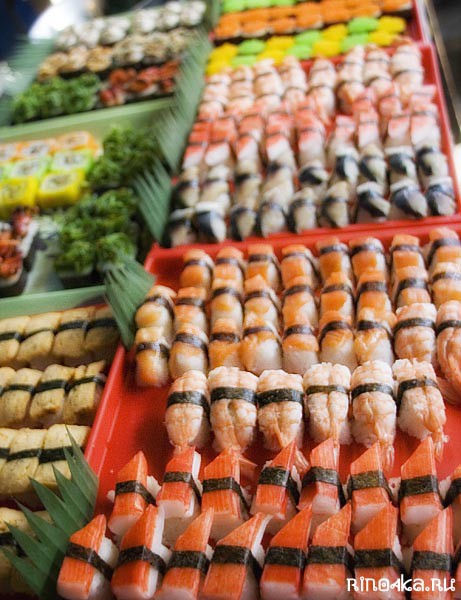 The Thais, oddly enough, are very fond of Japanese food. You can take everything home if you want. Recently, sushi with cartoon characters like Doraemon and Angry Bird have appeared.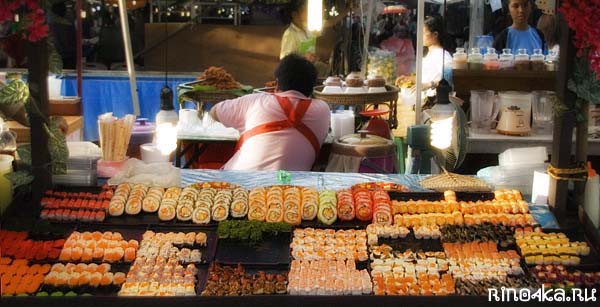 Usually Thais eat rice for lunch and dinner. Or rather, they use rice as a side dish. One of the traditional breakfasts is noodles. Insanely delicious dish – white boiled noodles poured with sauces based on coconut milk and curry. Phuket even has a signature dish – rice noodles khanom gin with lobster curry.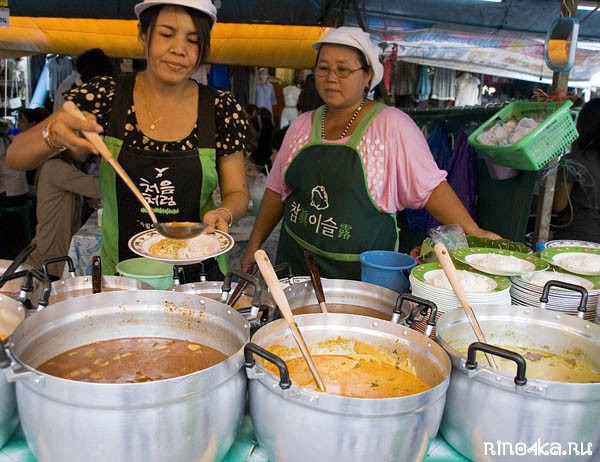 My favorite ho mok fish soufflé is made this way: layered with a mass of small pieces of fish and coconut milk, garnished with sauce and a piece of chili pepper and steamed. There are variations of fish, seafood, chicken, or vegetarian.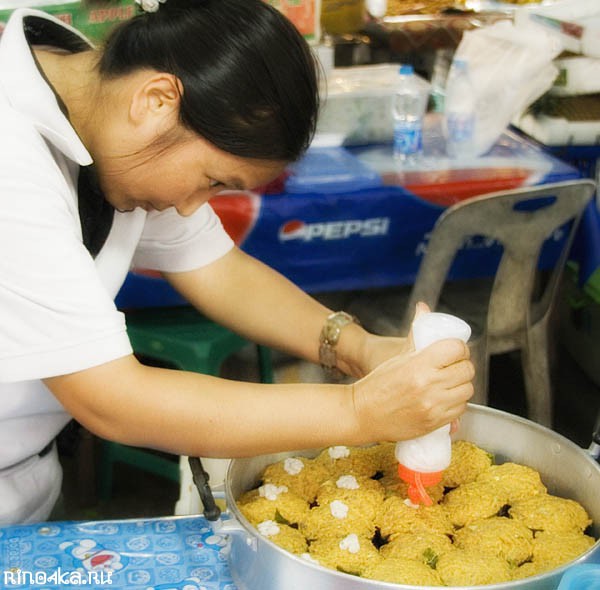 The Thais like to eat salapao and dim sum for breakfast. And at any other time of the day, steamed meat or cabbage patties are a great snack.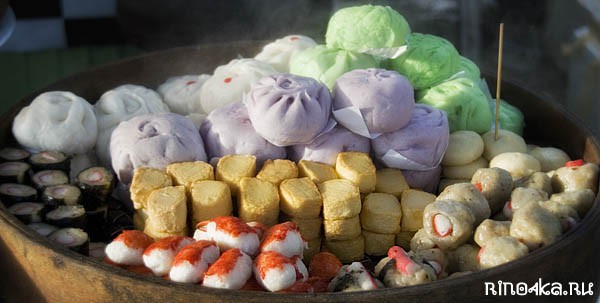 Pork shish kebabs, fish balls, shrimp in a chip and sausage – a great way to soak the worm
This snack is served with a spicy sweet sauce.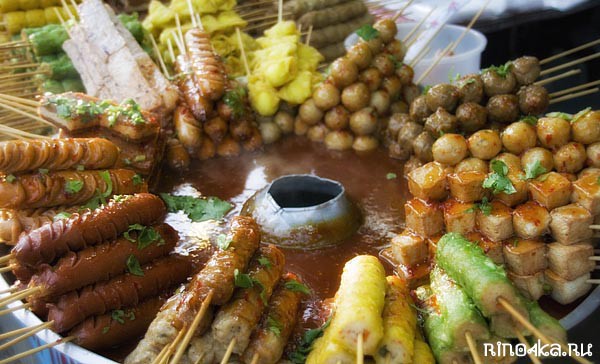 Small boiled quail eggs served with soy sauce. They are 10-20 baht, and it is also the most inexpensive food in Phuket.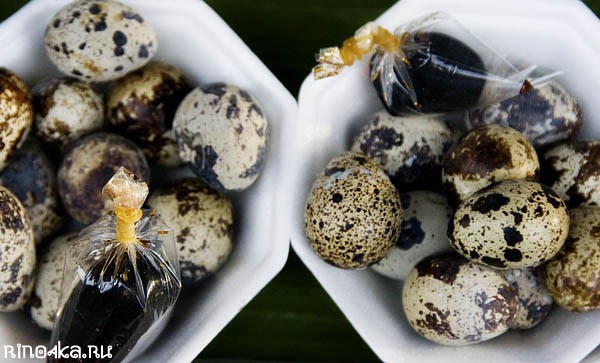 I love to eat miniature quail eggs sprinkled liberally with pepper.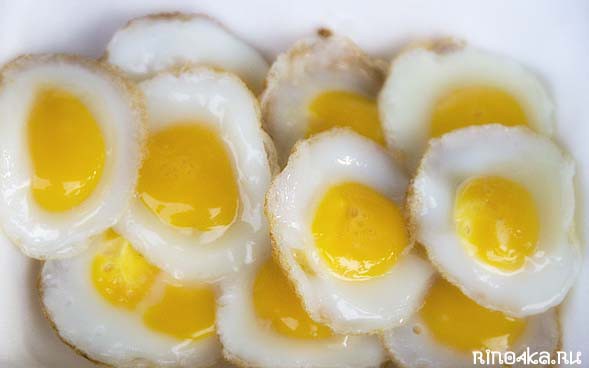 Such kebabs and sausages on a stick can be bought not only at the market, but also from the macaroons in any tourist place.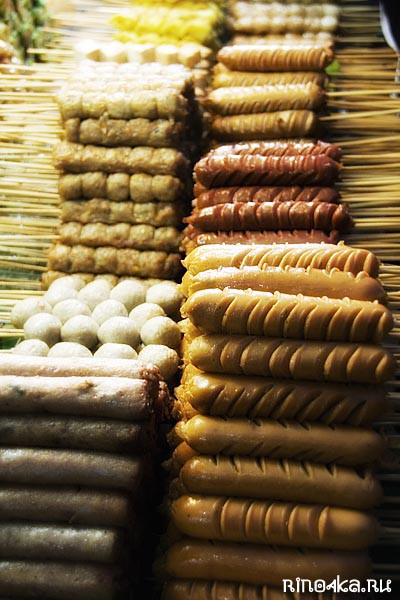 And this is this year's flavor, a novelty that struck me. A tornado of potatoes. A whole potato tuber is sliced in a special machine, deep-fried, and then sprinkled with a variety of spices. You can choose from pizza spices, cheese, peppers and more.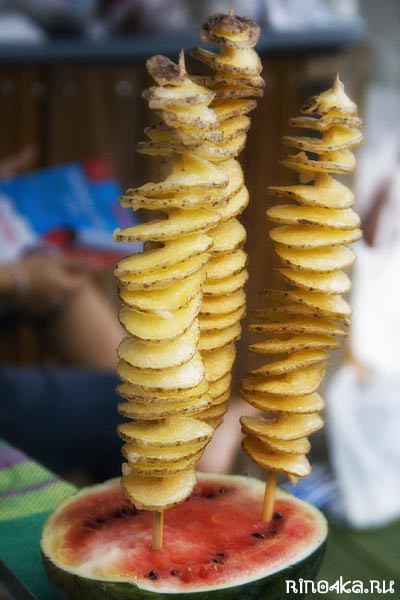 The Weekend Market offers a variety of desserts and sweets, as well as drinks.
How to get to Weekend Market
Get to Naka Market by cab, tuk-tuk or rented vehicle. It is located near the Central Festival Shopping Center. If you go from the store to Chalong, at the first traffic light you must turn left, and there you will see a huge market on the right. From the beaches of Kata and Karon there is a direct sun-too, which stops near the turn to the market.