Where to eat well and cheaply in Barcelona
Places in the center of Barcelona where you can eat and drink tasty but budget-friendly. Addresses and opening hours of establishments, food prices, and tips on what to try in Catalonia's capital city.
Look for interesting excursions on Sputnik and Tripster. Individual and group, without crowds of tourists and in Russian.
Barcelona is a city unique not only for its attractions, it's a true paradise for gourmet travelers. In the capital of Catalonia there is a huge number of catering establishments with reasonable prices and excellent quality of cooking, so you can easily find a place to taste and forget about harmful fast food.
In this article we will look at cafes, restaurants and bars in the center of Barcelona where you can eat and drink inexpensively and deliciously – for your convenience we will give you the addresses of establishments, their opening hours and prices for some dishes and business lunches or the average bill. In addition, we will share information about what you should definitely try in the city.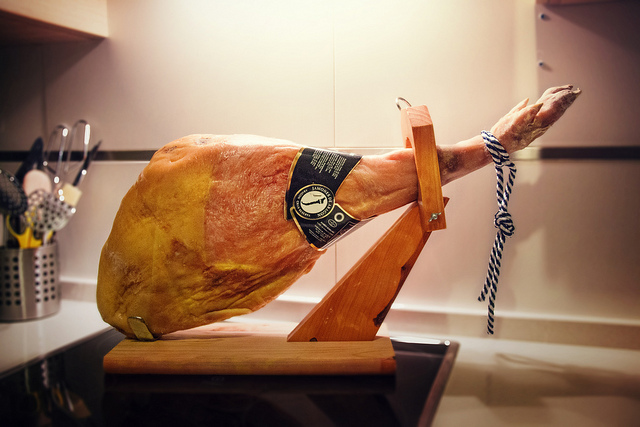 (Photo: Juanedc / flickr.com / CC BY 2.0 license)
What to try in Barcelona?
Cuisine in Barcelona is a mix of Spanish, Catalan and Mediterranean cuisine, and a large number of ingredients are used in the cooking process.
Must try:
cold tomato gazpacho soup (good in the heat);
paella;
Catalan sausage Butifarra (Butifarra);
Spanish-style potatoes (Patatas bravas);
seafood;
Spanish tortilla (potato omelette);
romesco sauce;
jamon.
Desserts include traditional Catalan cream, Turrón (nougat with nuts), Panna cotta and Panellets almond cookies. For an easy snack with alcohol you can go to tapas restaurants, small bar-style places serving hot and cold snacks (usually sandwiches, cold cuts, omelets, salads, olives or nuts).
The choice of alcoholic beverages in the city is very rich – an extensive wine list, beer, on a hot day is good refreshment sangria – local light alcoholic fruit and wine drink.
Tip: A very good way to save on food in Barcelona is to order a business lunch. Here it is called menu del dia and usually costs in the range of 9-12 euros. This includes the first meal, a hot meal, a salad, a glass of beer/wine or coffee with dessert. It's more than enough to feel full of energy. The menu del dia is usually open from 12 to 16 hours and is available at almost every restaurant.
Where to eat cheap in the center of Barcelona
Everyone knows that when looking for a cheap meal, it's better to turn off the beaten path and go a little farther from the center. But there are exceptions: Yes, you can eat out cheaply in the touristy parts of the city too. The Gothic quarter (El Gotic, Barri Gotic) and the adjacent Rambla are extremely popular with tourists and the prices are high. There are not too many budget places, but they can be found here.
Xeroga
To eat cheap in Barcelona, visit a newly opened restaurant of Spanish and Mediterranean cuisine with reasonable prices and a pleasant interior. You can dine out for 9-12 euros with drinks, and the del dia menu changes often enough not to bore regulars. Address: Carrer Parc 1. Open all days from 12 p.m. to 1 a.m., except Mondays.
The Benedict
A bistro bar featuring Spanish and American cuisine. Soft sofas with cushions colored like the British flag, lampshades, carved tables, mirrors, with all this splendor here is very nice and cozy. Traditional breakfasts: coffee, eggs, granola, appetizers, burgers, pancakes, dessert. Brunch is served Thursday-Friday from 10 to 16, Saturday-Sunday from 10 to 17, the average cost is 10.5 euros. Cocktails in the bar are quite reasonably priced, taking into account the location of this institution. The portions are large. Address of the bistro: Carrer d'en Gignas. Open: Tue-Wednesday 19:00 – 02:30, Thu-Sun 10:00 – 02:30.
Wok to Walk
A good way to eat on the go in Barcelona. Asian food establishments offer a choice of several types of noodles, seafood, mushrooms, spinach, jamon, salad, etc. The selection of ingredients is buffet or buffet style, then the chef fries everything and serves it in a box or plate. You can eat it right there in the café or continue on your walk. Given the high cost of establishments on La Rambla, you can save good money, a box of noodles costs 7-8 euros. The address is 95, La Rambla.
Milk Bar & Bistro.
Bistro of French and American cuisine where you can eat tasty and quite cheap in Barcelona. Nice bright interior in warm colors, light background music and calming atmosphere. Brunch is served from 9 am to 4:30 from 7.50 to 10.5 euros. Hot dishes 8-12 euros, snacks from 1,5-2 euros. Address: Calle Gignas 21. Open daily from 9 am to 2 am.
La Compania
Everyone who wants to taste a real Spanish ham, should definitely visit this cafe, located near the Rambla and Plaza Catalunya. Right at the entrance to the cafe the sense of smell teases with a strong spicy flavor. The highlight of this place is the meat is cut directly from huge raw hams, located in front of the visitors. There is a good selection of wine, several kinds of ham, the freshest cheeses, patatas bravas and other dishes of Spanish cuisine. Tasty food with alcohol you can eat for modest money – 7-12 euros. Address: Calle Santa Anna 25.
Useful things to do in Barcelona:
(Photo: insatiablemunch / flickr.com / CC BY 2.0 license)
The Eixample district is very popular with tourists as well as the Gothic Quarter and is home to Gaudi's famous buildings: La Sagrada Familia, Casa Batlló and La Pedrera. Shoppers also frequent the Upper Town for it has large shopping malls and brand name stores. Prices in the restaurants and cafes are high but there are also good places to eat out for very little money.
Brunch & Cake
A tasty and inexpensive meal in Barcelona is offered at Brunch & Cake. According to tourists, this cafe is one of the best for breakfast in the Eixample. It is better to come here in the morning, because in half an hour after the opening there are queues. Visitors flock to the wonderful aroma of coffee and pastries. The average cost of breakfast is 12 euros. Breakfast includes eggs Benedict, salads, porridge, focaccia, mashed potatoes with bacon, eggs and ham, sandwiches, pancakes, desserts, coffee, tea and juices. Sitting out on the summer terrace costs a little more: +10% added to the bill. Address: Enric Granados, 19. Open: Mon-Fri 08:30 – 21:30, Fri-Sun 08:30 – 22:00.
Lactuca
The buffet restaurant is located near the Sagrada Familia. The buffet costs €10.45 on weekdays and €11.45 on Saturday-Sunday. Large selection of dishes, including for vegetarians: soup, paella, pasta, potatoes, meat, salads (3-4 kinds), pizza, vegetables, fruit, desserts, drinks. A large spacious room, somewhat reminiscent of an improved dining room. A great place for a budget tourist. Address: Carrer de Provenca, 427. Open daily 12:00 to 00:00.
aQistoi
A small and cozy Spanish restaurant with pleasant service. A good place for a late breakfast or lunch. A portion of pancakes with meat – 2,2 euros, a baguette with pork – 4 euros, there are vegetarian dishes, cocktails and other drinks. This place is also convenient to visit before or after a visit to Sagrada Familia. Address: Gerona 94.
La Perla de Oro
This is a small Spanish restaurant of Spanish cuisine. Delicious cheeses, sandwiches, pâtés, jamón, olives, and a wide variety of wines. Menu del dia – 13,5 euros. Address: Bailen, 115. Open: Mon-Fri 13:00 – 16:00, Mon-Wed 19:00 – 23:00, Thu-Sat 19:00 – 00:30.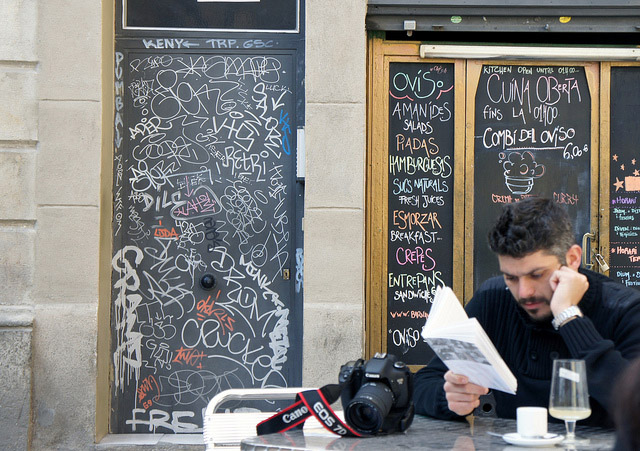 (Photo: Effervescing Elephant / flickr.com / License CC BY-SA 2.0)
Inexpensive bars in Barcelona
Perhaps it's impossible to join the lifestyle of a typical Barcelona resident without a visit to the local drinking establishment. The more so because the selection is vast and many of them are reasonably priced and have a nice, friendly atmosphere so it's easy to find something you like just by wandering around the streets.
The Box
An original Latin American bar in Gothic Quarter serving colourful cocktails and enormous hot dogs. Colorful cans of liquor line the shelves and the atmosphere is one of easy-going fun. They serve the best mojitos and long island in town. Cocktails from 3,5 euros. Address: Carrer D'en Gignas 30. Open: Mon-Thu from 6pm to 2am, Fri-Sat until 3am.
Nevermind Bar
An atmospheric spot in the Gothic Quarter where you can get a San Miguel beer for only 1 euro during happy hours – 18 to 22, plus free popcorn. Punk, grunge, graffiti on the walls and skaters practice their skateboarding skills. Address: Escudellers Blancs #3, Gotico | Tallers #68, Raval. Open Fri-Sat 5:30pm – 3:30pm, Sat Sat 5:30pm – 3:00pm.
Garage Beer Co.
A Spanish tapas pub in Eixample with an original design in a typically masculine "garage" style and excellent house-brewed beer, the signature drink is Garage beer. The average price for a drink is 2.8 euros. Address: Carrer De Consell De Cent, 261. Open: Sun-Thursday from 17 to midnight, Fri-Sat 17:00 – 02:30.
However, if you want to follow the tradition, you can borrow the habit of locals to visit one bar after another, trying drinks and tapas in different establishments, and compare where it is better. That way, creating a list of good bars in Barcelona will be much more interesting.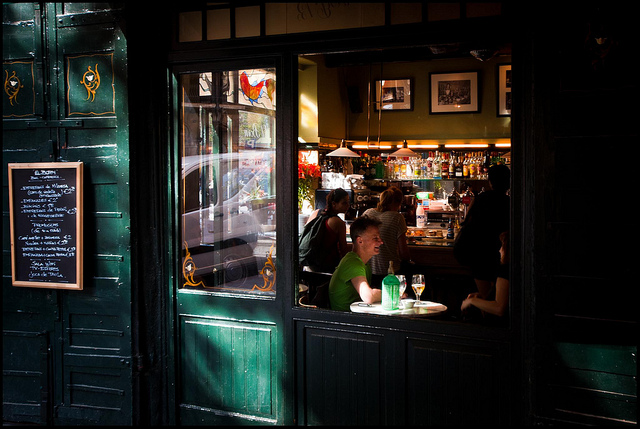 (Photo: Tchacky / flickr.com / CC BY-ND 2.0 license)
First photo: SpirosK photography / flickr.com / License CC BY-NC-ND 2.0.
Where to eat in Barcelona for €2?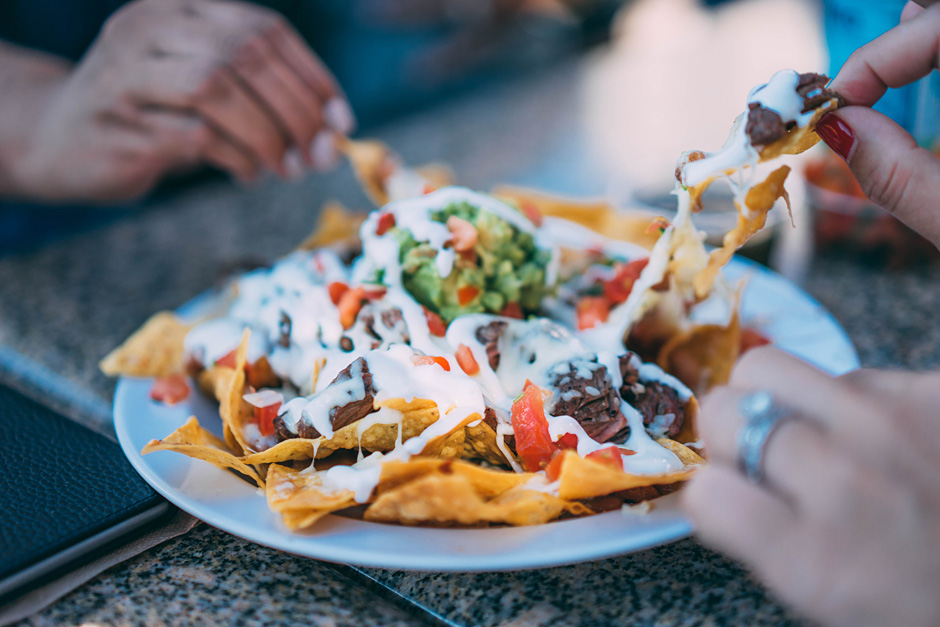 Sometimes in travel there comes a moment when you can't afford to dine in a fancy restaurant with white tablecloths or hang out at a loft coffee shop. Going completely broke in a big, expensive city is uncomfortable, but not fatal: culinary oases with not the most aesthetic and not always healthy food will come to your rescue. Paul Rodellar, author of Vice España, has shared a list of favorite places in Barcelona that can save you one day even if your food budget is less than €2. We're pleased to publish a guide to the main ultra-cheap places to eat in Catalonia's capital and highly recommend that you bookmark the google map: who knows when you might need it!
When we talk about lunch for €2 or less, we mean it. Of course you can always go to the supermarket and buy bread or lettuce and it will probably be even cheaper, but in this guide the authors carefully collected places where they cook food. In addition, the list does not include a variety of pastry shops (let's face it: it's impossible to eat a donut and stay full (-s) and satisfied (-s)) and the obvious, familiar chains like McDonald's or KFC.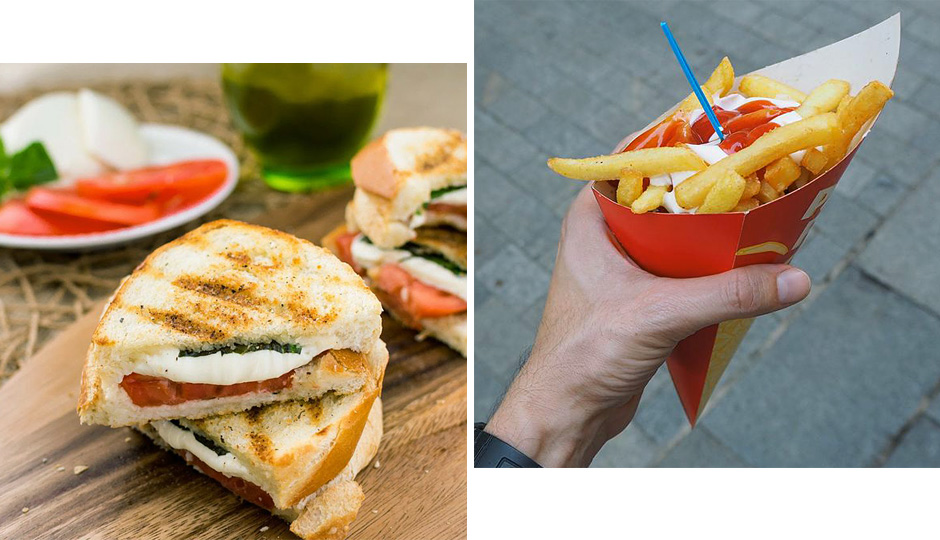 BOCATAS DE SULTAN
Where? Calle Joaquim Costa, 56
Calle Joaquim Costa is a gold mine for the bargain hunter. In Bocatas de Sultán the legendary €1 potato is served and respected by the majority of the neighbourhood: the whole community, from the local kids to the homeless, walks around with these red tubs. They are generously filled with enough potatoes for quite a hearty dinner, and you can pour as much ketchup, mayonnaise, or everything at once on top. Connoisseurs say that "the unusual blend of spices gives the potatoes an exceptional flavor," and some even claim that they "taste better than a first kiss."
Of course, if you don't get enough of one pile, you can always order a second one, and still not go over the €2 limit.
By the way, next to Bocatas de Sultán you can find Döner Kebab Amigo (Calle Joaquim Costa, 56), the place with the cheapest shawarma around. And go to La Bodegueta a couple of streets away for a budget beer.

Where? Calle Nou de la Rambla, 40.
The only thing you'll have enough €2 for is a portion of margaritas. Lucky for us, a slice of margarita with mozzarella, tomatoes and a basil leaf is generally the best thing you can order at Pizza Circus. However, their other variants with a variety of ingredients are also quite good.
One serving will be enough to soak the worm, but someone may need a little more. One and a half servings is ideal.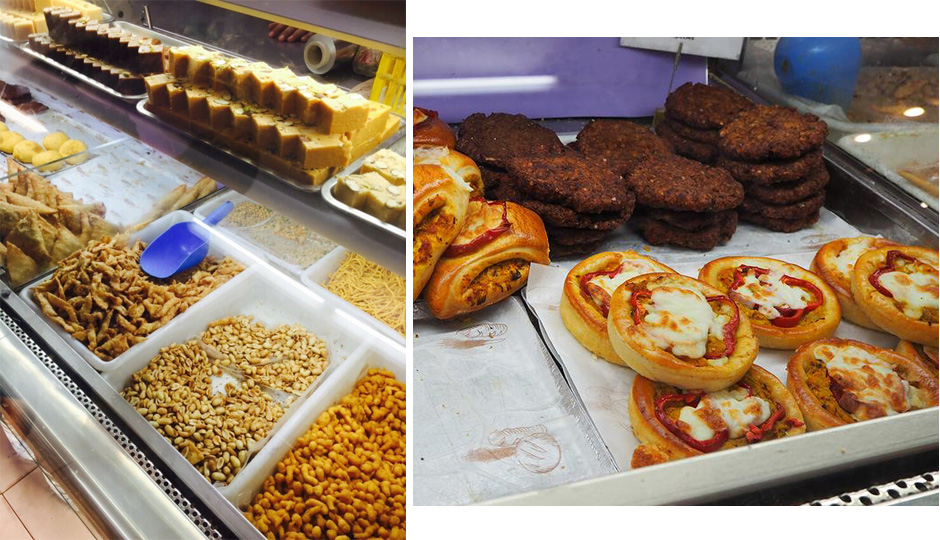 JHELUM SWEETS & BAKERS (JSB)
Where? 23 Calle Joaquim Costa.
Right in front of the famous Bismilla Kebabish (many consider it the best kebab in town) you'll find the mecca of the not-so-rich foodhunter, Jhelum Sweets & Bakers, better known as "el JSB" [el hee se ba] .
It's full of menu items cheaper than €2, and the list is almost endless. This is where the legendary "hamburgers for un euro" are born, as the vendor calls them, and quite rightly so: they cost € 1. Their sizes are very generous, so there's enough for a full dinner. Again, if you can't get enough, you can always go to Bocatas de Sultán for a pile of potatoes.
The burger is practically a balanced meal with vegetables and endless amounts of tricky, spicy spices. It should be noted that it is served without buns, lettuce leaves, or anything else, it is essentially just a cutlet that you have to hold in your hands. Fear not, it is quite compact and lies in a paper bag, though eating it in the street may not be a very aesthetically pleasing sight.
In addition to burgers, there is also samosa for 50 cents, chicken rolls for € 1 and an unreal number of puffs with meat or vegetables.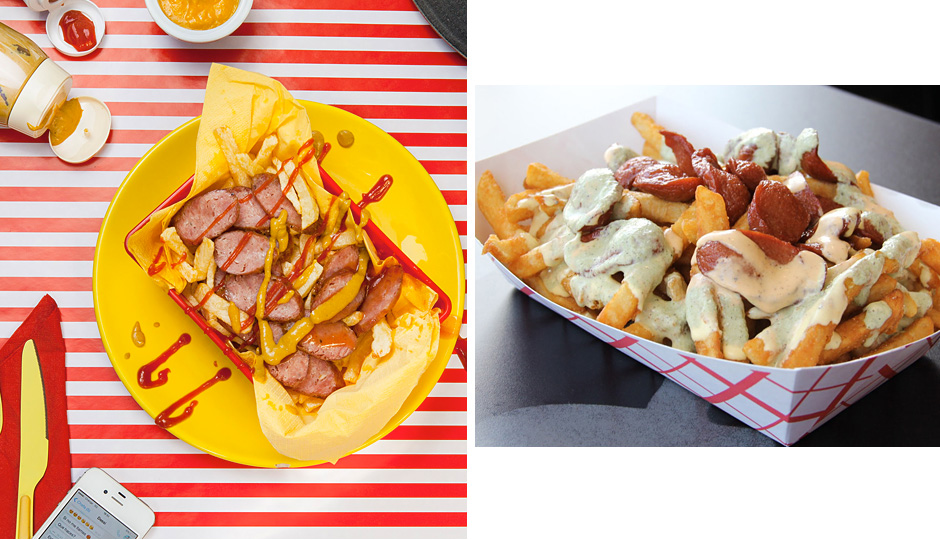 SHAWARMA PIZZERIA RICO
Where? Avenida del Metro, 14 (L'Hospitalet de Llobregat).
At the Santa Eulàlia exit of the metro, look for this kebab shop, which besides the usual menu of such a place, offers an introduction to the world of salchipapas – these are potatoes with sliced sausages that are baked in a ton of sauce (a choice) – a specialty of most university canteens. For €1 you get a standard portion, and for another €1 you can pump it up to the next level (size).
Also here they make something called pollopapa: for €2 they serve the same thing as before, but generously add shawarma meat (chicken or beef, or all at once). The portion is enough to feed one very hungry person or a couple of not so hungry.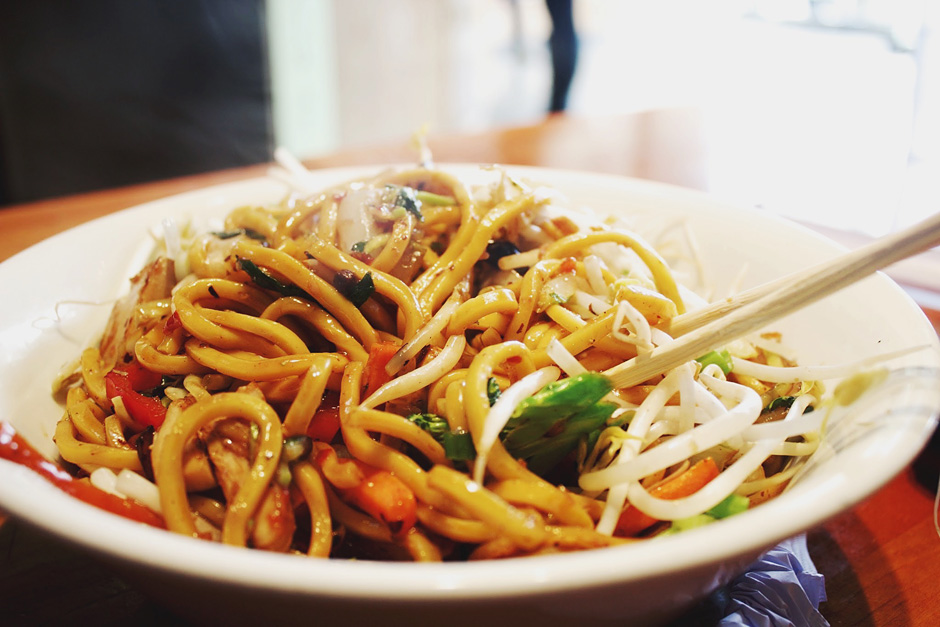 Where? Look in Ronda de Sant Pau and Sant Antoni.
Bobi Bar offers Chinese takeout: rice, spring rolls, noodles with meat and vegetables, and a bunch more. But the greatest joy for the humble traveler is the chicken wings at €1. For this token fee you are offered four (!) wings, carefully heated and wrapped in foil. That's when the quantity/price ratio clearly outweighs in favor of the customer.
The restaurant recently moved to new premises: the exact coordinates of the new location are unknown to the author, but he who seeks, he will always find.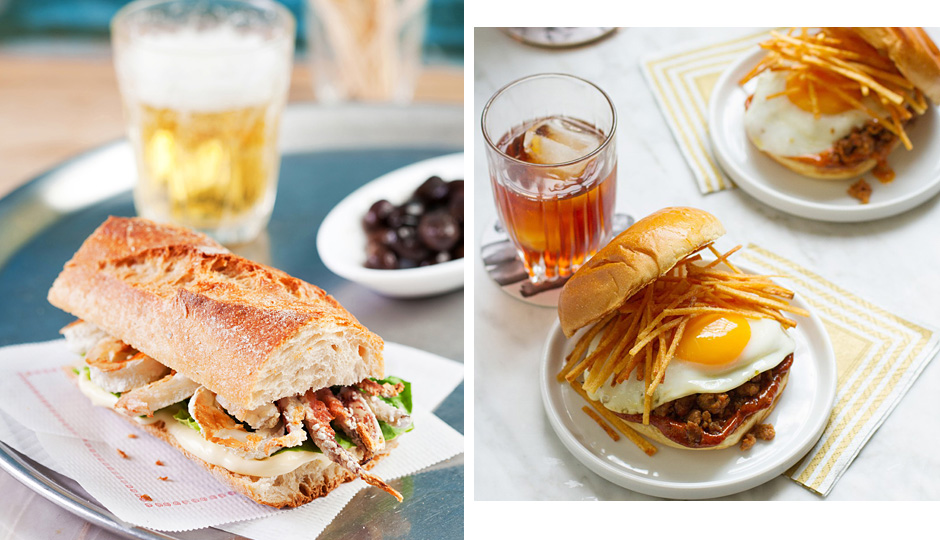 Where? Rambla del Raval, 28
There are enough places in Barcelona where they make huge, hearty sandwiches with lots of ingredients (lettuce, tomatoes, onions, carrots, some meat, tuna, potatoes…), and Atlas is one of them. These places tend to be very cheap, but usually ask for more than a two-euro coin. Nevertheless, the chances of finding a budget vegetarian tortilla sandwich (Spanish potato omelet) or picking your own are very good.
Cheapest places to eat in Barcelona on the map
Text by Pol Rodellar for Vice España, paraphrased by Aléxandra Murashko. Photo by Vice España, Herson Rodriguez, Pau Esculies, Colandcol