Where to go with a child in October – 11 popular options
Summer is over and, unfortunately, not everyone has managed to relax during this period, and the vacation may fall on a later time. Most often in October, children are taken on vacation, schoolchildren at this time continue the educational process. But sometimes we can take children, capturing the days of autumn vacation. In that case the question arises: Where to go with a child in October?
Very popular beach vacation, because so want to extend the warm days and spend them at sea. But a vacation with children – it is a kind of adventure, because its well-being depends on many factors. In this article I will talk about popular countries where you can relax with children at sea, comparing the most important for the parent, categories:
Weather conditions;
Visa availability;
Prices;
Duration of the flight, so that the child is not tired;
The availability of entertainment programs for children, excursions.
Look for hot trips on the search engines Onlinetours and Travelata. With the help of these sites you can compare offers from more than 120 tour operators at a time. Read the secrets of how to find the best bargains on tour tours.
© ansonfotos/ unsplash.com / CC BY 2.0
Hot weather and warm sea are guaranteed during the whole month. The most optimal temperature (+30-35 ° C) in the resorts of the Persian Gulf. In Abu Dhabi and Sharjah the water can reach +27 ° C.
Lovers of cooler climates can fly to the Indian Ocean. In the Gulf of Oman, the water temperature is lower (+24 ° C), but the heat is easier to bear because of the gentle differences between day and night.
Russian tourists, both adults and children, get visa on arrival in the country. Therefore, you do not need to apply for visa in advance. However, if the names of the child and parents are different, you must bring the birth certificate and its translation into English. Some hotels in the UAE may provide visa processing services.
Flying to the UAE with a child may not be the most budget-friendly venture, as the cost of the tour for a week starts from 100 thousand rubles minimum.
The flight takes about six hours, of course, it all depends on the starting point. On some planes they give a baby cradle to those who sit in the front seats, for example on Etihad. This should be clarified in advance.
It is interesting to visit the UAE, here you will find entertainment for all tastes: excellent widespread animation, a lot of water parks, oceanariums and attractions will not let you get bored.
Europe
© pxhere.com / CC BY 2.0
The beach season is coming to an end in many European countries. October weather is different, the gentle and warm beginning of the month can differ significantly from the unstable temperatures in the second half of October. This is especially evident in the Mediterranean countries. In the southeast, the weather remains attractive, so it's worth paying attention there. Good in Greece, southern Italy and France.
Best articles on the topic
Greece
France
© pxhere.com / CC BY 2.0
The velvet season on the island comes in early fall. On average, the air heats up to +27 ° C, and the sea water reaches +24. The mild climate makes the island favorable for holidays for the whole family and is perfect for those who cannot stand the hot weather. Cyprus – a rocky island, so when traveling with small children, give preference to sandy beaches, excellent resorts Protaras and Larnaca.
Yes, a visa is necessary. But its preparation does not take much time and to make it is not so difficult. If you have a Schengen visa, it will greatly speed up the process of obtaining documents to enter.
In Cyprus you can have a budget holiday with the family in October. For example, a week-long tour at a 3* hotel on the coast of Protaras starts from 90 thousand rubles. This includes a flight and accommodation, meals are not included.
The flight takes about 4 hours. When ordering a ticket you can specify about the cradle; it is provided for infants weighing up to 10 kg. On flights there is an equipped changing place. You must ask for such services no later than 24 hours before departure.
In Cyprus, parents who prefer to spend their holidays on the beach with children without fuss in a calm and comfortable environment will love it. However, entertainment on the island is also enough: camel parks, amusement rides, museums and excursions in abundance. But the animation is not in every hotel.
Turkey
© calflier001 / upload.wikimedia.org / CC BY 2.0
The hospitable country beloved by Russians enjoys a mild October climate. The air temperature reaches +25 degrees and the water in the sea reaches +24-27 ° C. The Black Sea and the Aegean Sea are getting colder, I recommend you go to Antalya, Alanya or Side as it rains less.
You don't need a visa if you spend in the country no more than 60 days.
Another undeniable plus in the direction of Turkey – low prices for tours. So tours to Turkey in an all-inclusive hotel can be found for a phenomenal 30 thousand rubles.
The flight from Moscow takes about 3.5 hours. You can easily handle a short flight even with a small child in his arms.
In October the number of tourists decreases and it becomes quieter on the sandy beaches of Turkey. Entertainment can be found everywhere, almost all hotels of any severity have children's animation and water parks. It all depends on the purse and category of the hotel. There are excursions and horseback riding centers. In the resorts of Turkey, the kids will definitely like it.
Best articles on the topic
Thailand and Vietnam
© @masonjonesphoto / unsplash.com / CC BY 2.0
Tours to Thailand and Vietnam are best taken in early October . The rainy season in southeast Asia can sneak up and ruin the whole vacation. The sea temperature reaches +27 ° C, minimum waves.
Visa is not required if tourists plan to stay in the country not more than 30 days. In this case, the customs will put a stamp at the border crossing.
Seven days hotel accommodation would cost on average 120 thousand rubles for a family. The price includes accommodation, flight, transfers, breakfast only.
Flying to Thailand and Vietnam is a tiresome experience for many adults, not to mention children. From Moscow the flight takes about 9 hours, so it is worth thoroughly preparing for the transportation of the kids and review all sorts of privileges and services of airlines.
The country boasts a rich history, so tourists are offered a wide range of excursions, many attractions will be of interest even to young children. Water parks and lots of other attractions are built for them.
The best place for a quiet family vacation in Vietnam is the island of Phu Quoc. There are very beautiful beaches and can not be afraid of the rainy season.
Best articles on the topic
© justnjames / unsplash.com / CC BY 2.0
Above are the most common destinations for tourism with children in the price-quality ratio. Of course, if the budget allows, you can go on an exotic trip to Jamaica, Cuba or Dominica. You can enjoy a wonderful holiday in October on the coast of Israel.
October favors rest in Egypt, a comfortable climate and good service is ideal for family vacations. Prices are varied, tours can be found at the most attractive price. The undoubted plus is the fact that you can get a visa on arrival, in advance Russian tourists draw up a visa is not necessary. Of the minuses is an unstable political situation. Parents should be especially careful to watch their hygiene.
Whichever direction the family has not chosen, the positive mood and love of parents are the key factors for an amazing vacation anywhere in the world. Have a great trip.
Family vacations in October
We tell you about the countries where to go with a child in October 2022. Where in mid-autumn sunny weather and warm sea? The best resorts and beaches for children's holidays. In what countries should not go with children.
Coronavirus and quarantine . This review is not about where to fly abroad now, but simply about the best beach destinations for this time of year. See the current list of open countries. See also where to go in Russia with children.
Look for last minute tours on Travelata and Level.Travel services – they will find the best deals among different tour operators. Want to save money? Take a look at:
Greece
Weather. In October at the sea with a child is good to rest on the island and mainland resorts in Greece. At the peak of the velvet season it is +22. +24°С. The sea water is gradually cooling, but its temperature is quite comfortable for swimming +22. +23°С.
Why to go. Greece has excellent sandy and pebbly beaches, a clean sea and large areas of shallow water. In the fall, the humidity is low, so it is easy to breathe. Parents are attracted by the short flight, developed infrastructure, delicious Greek cuisine and the opportunity to show children the ancient cities and archaeological sites. In October, holidaymakers at the resorts are few, so there is no noise and queues.
Beaches and resorts. According to tourist reviews, the best vacation with children in October on the islands of Crete and Rhodes. Here the weather is warmer and milder, and precipitation is less. For swimming you can always find a small, closed from the winds bay.
Beach holidays are more comfortable in the first half of the month. It rains and storms in Greece in October, so book a room at a family hotel with a heated pool.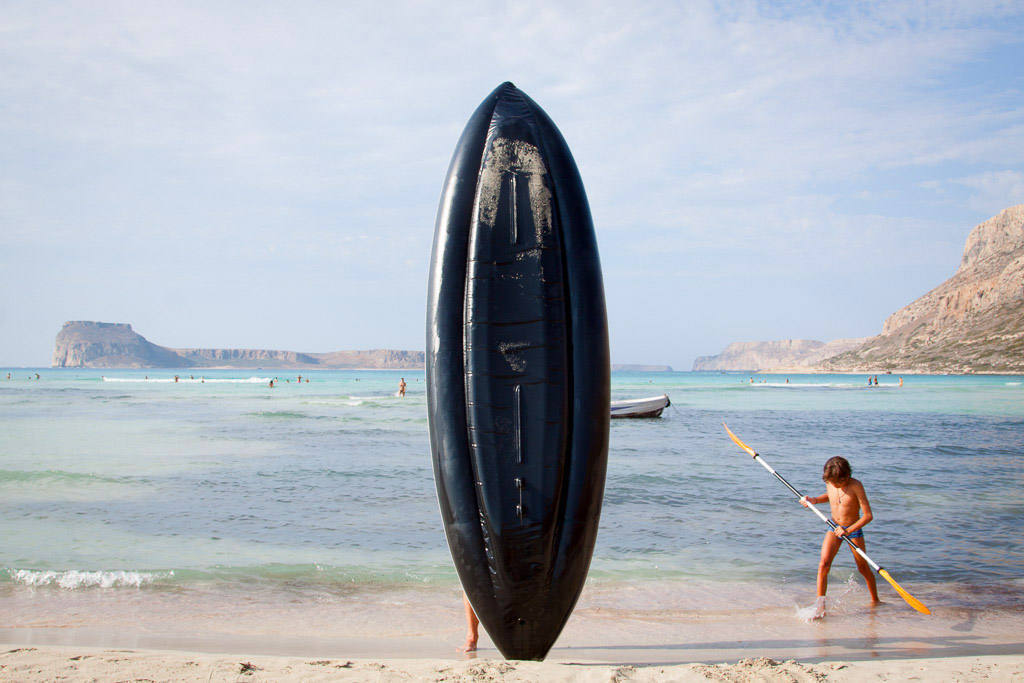 Balos Beach in Crete (Photo: Victor Bezrukov / flickr.com)
Turkey
Weather. If you have not decided where to go with a child in October, pay attention to the resorts of Turkey. In mid-autumn there is warm weather: the air temperature is +26. +28 ° C, and sea water +22. +23°С. Rest in Turkey in October →
Why to go. Autumn to rest in Turkey is cheaper. Prices for tours and flights are falling, so for a little money you can comfortably stay at the hotel with meals "all inclusive".
During holidays in Turkey in October, parents with children swim in the sea, sunbathe and go on interesting excursions. In the mainland, Ankara and Istanbul are already cool. For trips to national parks, the mountains and for evening walks you will need warm clothes.
Beaches and resorts. For a holiday with children in October at the sea choose Antalya, Alanya, Kemer, Marmaris, Side or Belek. On the southern coast of Turkey there are many sandy beaches, family hotels and children's attractions.
Green Canyon, Side (Photo: Scowl Broccoli / flickr.com)
Weather. Not a bad place to go with your child in early October 2022 are resorts in southern Cyprus. In the first half of the month the temperature during the day +25. +26 ° C, and at night +20 ° C. The sea has not yet cooled down after the hot summer. The water temperature of +25 ° C is suitable for the youngest swimmers. Holidays in Cyprus in October →
Why to go. Holidays in Cyprus enjoy a short flight, mild climate, clean sandy beaches and excellent service in hotels. Attractions for children on the island are few, but you can visit water parks, aquariums, aquariums and amusement parks.
Beaches and resorts . In Cyprus, there are more than 90 beaches, and almost all of them are suitable for children. The descent into the water is gentle, there are large areas of shallow water, and on the beach a lot of children's attractions. Families are happy to vacation in Paphos, Larnaca, Limassol and Ayia Napa.
According to tourist reviews, for a holiday with a child by the sea in October, Protaras is ideal. The popular resort has many wide sandy beaches, and the coastline is built up with cozy hotels and playgrounds for children.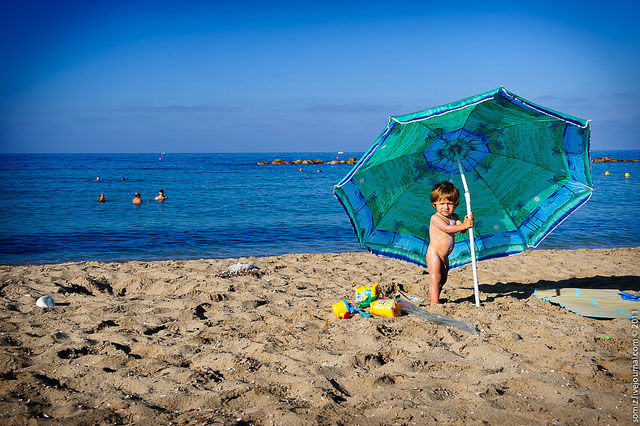 Paphos beach (Photo: somiz / flickr.com)
Weather. The end of October 2022 is worth a trip to the Arab Emirates with a child. The climate is suitable for children in mid-autumn: there are no sandstorms or rains, and there is no exhausting heat that wears out tourists from June to October. The weather on the coast of the Persian Gulf and the Gulf of Oman is moderately hot: +35 ° C during the day and +21. +27 ° C at night. The temperature of the sea water is +24. +27°С. Holidays in the UAE in October →
Why it is worth to go. In October, the UAE continues the low season, so the tours are twice cheaper than in January. The Arabs are great with kids and hospitably welcome tourists with kids. During the vacation visit the entertainment centers, take a trip to the desert and see the camel race.
Beaches and resorts. For a holiday with a child at the sea in October, any Arabian resorts are suitable. The UAE has excellent sandy beaches and good hotels. The hotter weather is in Dubai, Sharjah, Ras Al Khaimah and Abu Dhabi. Fujairah is a couple of degrees cooler.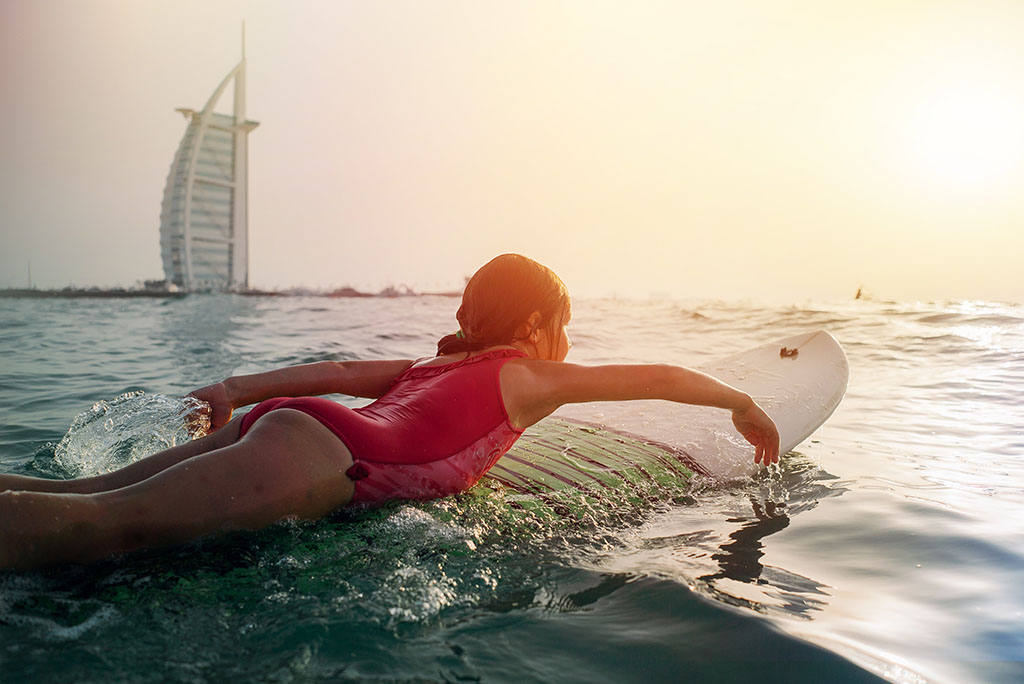 Dubai (Photo: unsplash.com / @chrumo)
Israel
Weather. In October, Israel's seaside resorts are no longer very hot. The air temperature is +28 ° C and the water +25 ° C. Especially nice beach vacation with children at the beginning of the month, before the seasonal rains and winds. Weather in Israel →
Why it's worth to go. Israelis love children and try to create the best conditions for family vacations. Many hotels have heated pools and excellent animation. Israeli resorts have built children's entertainment centers and museums, and cafes always offer parents a children's menu and high chair for the baby. Israel has excellent medical facilities, so vacation by the sea is easy to combine with treatment.
Beaches and resorts. In the Dead Sea children under 6 years of age are not allowed to swim. On the Mediterranean Sea for a holiday with a child in October will suit the sandy beaches of Tel Aviv, Netanya or Bat Yam. According to reviews from tourists, a very nice vacation at one of the best resorts on the Red Sea – Eilat.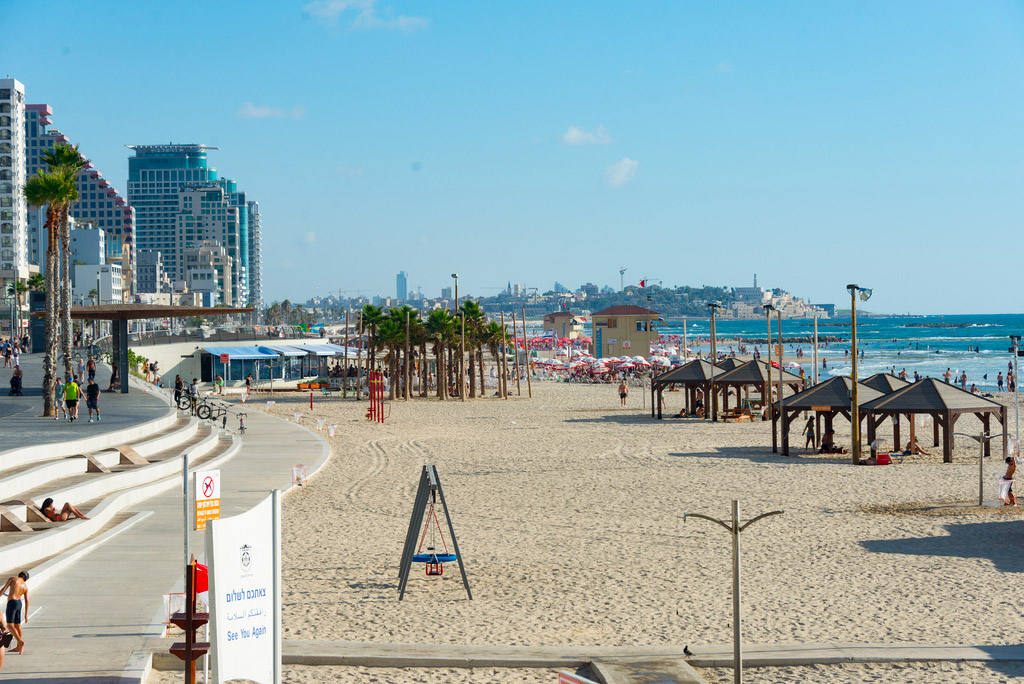 The beach area in Tel Aviv, includes several small and large beaches (Photo: xiquinhosilva / flickr.com)
Egypt
Weather. In October at sea with a child is a wonderful vacation in the resorts of Egypt. In the north of Africa in mid-autumn the air is heated to +28. +30 ° C, and sea water up to +25. +26°С. The dry climate is very beneficial for children who have a weakened immune system and are often ill with colds. Weather in Egypt →
Why it's worth to go. Egypt is loved for the mild weather, a small number of tourists, sandy beaches and clear Red Sea. Egyptian hotels are able to create comfortable conditions for parents with children. In October it's time to go on excursions and visit archaeological museums. Minus one – from Russia to Egypt will have to get with transfers. Reviews about recreation in Egypt →
Beaches and resorts. Where to fly with a child in October? Choose Sharm el Sheikh or Hurghada. Both resorts stretch along the sea and have many 3-5* hotels that cater to guests on an all-inclusive program. Sharm el Sheikh is quite a pompous resort, and Hurghada has more democratic prices.
Sharm el Sheikh (Photo: Freesally / pixabay.com)
Spain
Weather. In October in continental Spain for a beach holiday with a child by the sea is already cool. Parents with children prefer to go to the Canary Islands and Mallorca. In this part of the country is still warm +24. +26 ° C, and the temperature of the sea water is about +24 ° C. Holidays in Spain in September →
Why it's worth to go. Tourist season is over, so there are few people on the Spanish beaches. You can save a lot of money, because in October the prices of tours and hotels are reduced. The nature of the islands is beautiful. The child will see exotic plants and flowers, emerald lagoons and picturesque cliffs.
Beaches and resorts. While on vacation in Mallorca, visit the Palma de Mallorca Aquarium, the amusement park "Katmandu" and the dolphinarium "Marineland". Walk through the fabulously beautiful town of Valldemossa and take a tour of the Dragon Cave.
Tenerife is considered the best place for a holiday with children in the Canaries. The island is a lot of 4-5* hotels, which take tourists on an "all inclusive" program. The best places to visit are "Loro Parque" and "Siamese Park", see the botanical garden of Canaria, and take a trip to any of the national parks of Tenerife.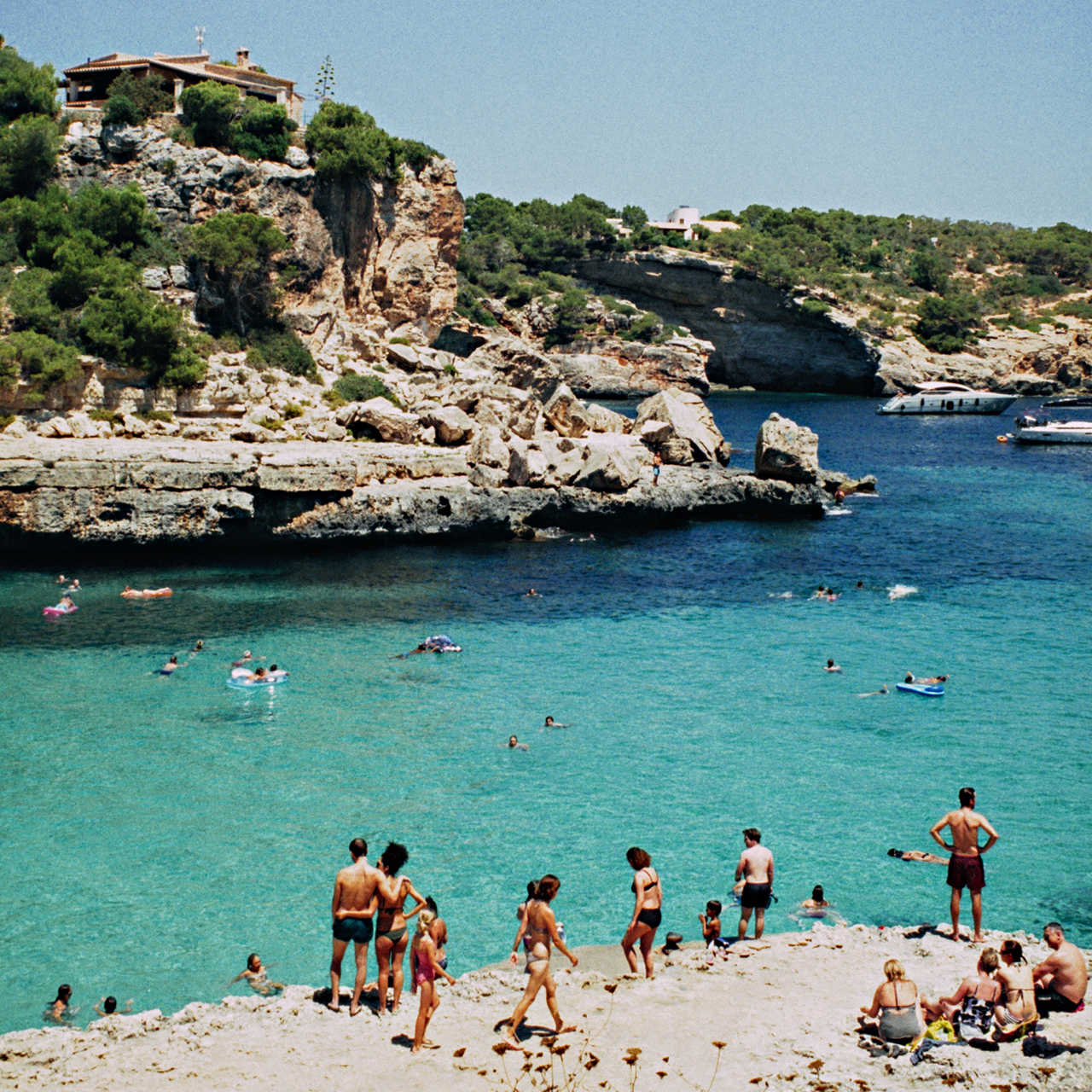 Beach in Mallorca (Photo: unsplash.com / @furbee)
Italy
Weather. In October in Italy, the velvet season continues. The weather is pleasant with warm and sunny days. The air temperature during the day is +23°C. +28 ° C and at night +14. +16°С. Swimming season in the Venetian and Ligurian riviera ends, and in the south of mainland Italy and the island of Sicily the sea water temperature is quite comfortable +22 ° C. +23°С. Holidays in Italy in October →
Why it is worth to go. Italy is an expensive destination, but in the mid-autumn tours get cheaper, and a vacation with a child at sea in October is quite budget-friendly. Italians spend a lot of gastronomic holidays and festivals. On a hot day it is nice to take a tour and see the historical monuments of Rome, Florence, Milan and Verona.
Beaches and resorts. For a trip to the sea with children in October 2022 are more suitable for the southern regions of Italy: Naples, Ischia, Sicily, Sardinia and the island of Capri. It is much warmer, with more sunshine and less rain.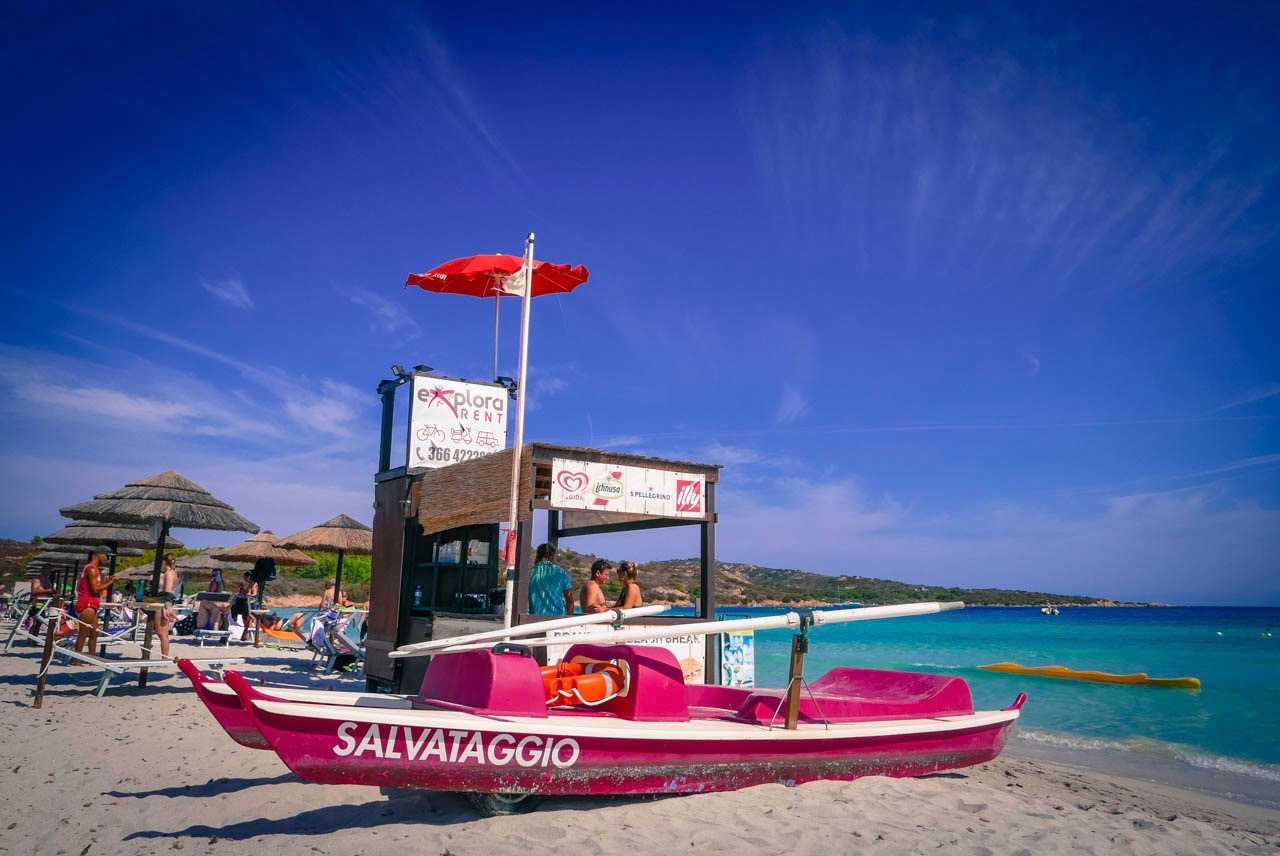 Cala Brandinca Beach, Sardinia (Photo: specchio.nero / flickr.com)
Jordan
Weather. Jordan is nice to go to the sea with a child in October. Autumn in this country is hot and dry. During the day the thermometer rises to +30 ° C. The water in the Red Sea is very warm +26 ° C.
Why is it worth traveling. Jordan is loved for its Arabic color, ancient monuments, sandy beaches and clean sea. Go on a tour to the Red Desert, see the famous city of Petra with children, admire the deep canyons and colorful cliffs.
Beaches and resorts. For a vacation with a child in October 2022 at sea, the Jordanian town of Aqaba is suitable. The small, quiet resort is surrounded by mountains and is famous for its excellent beaches and luxury hotels. Many of them are oriented to accommodate families with children.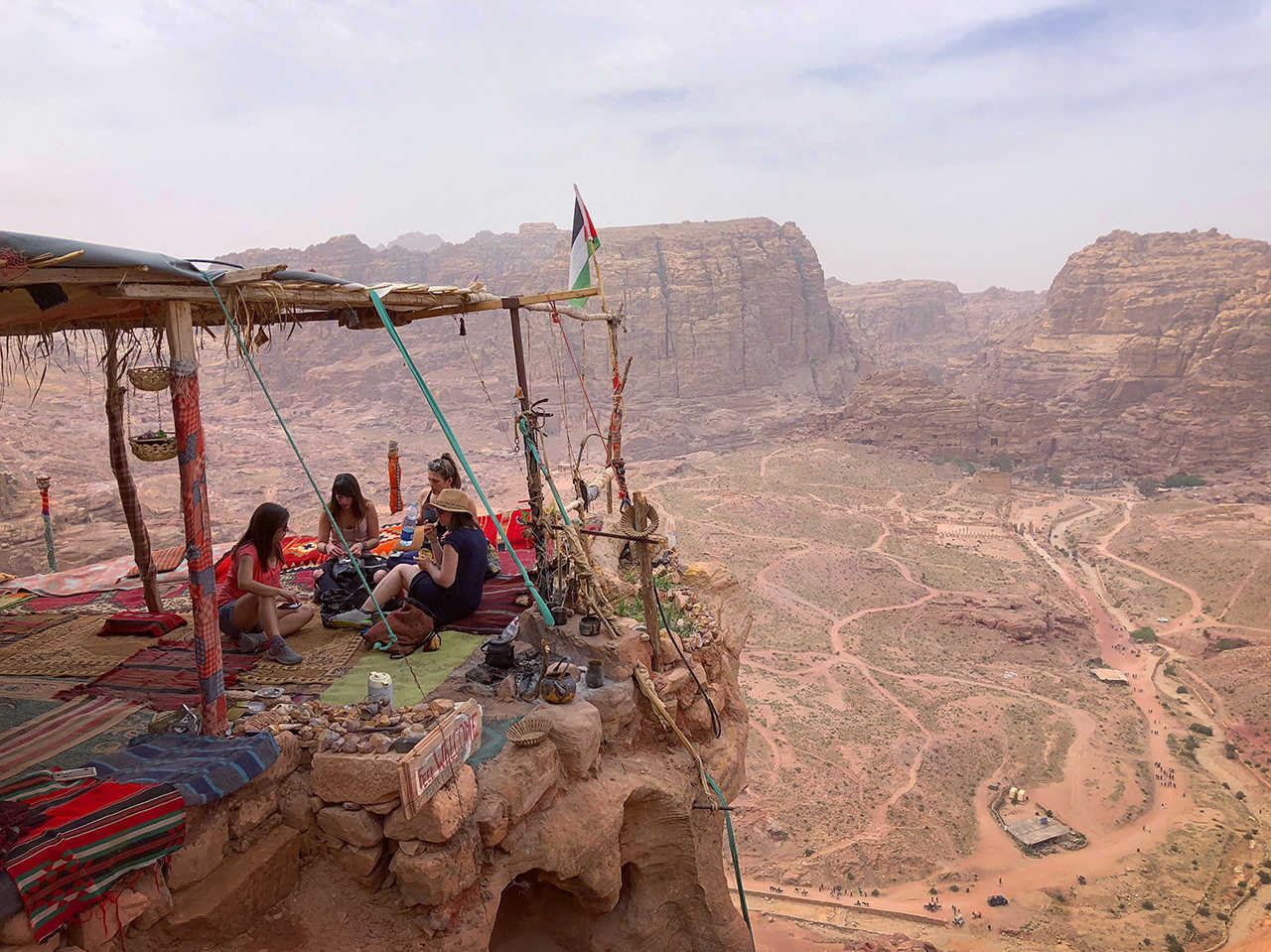 Around Petra (Photo: unsplash.com / @mousssssss)
Where else to go with a child in October by the sea
Where not to vacation with a child in October
In mid-autumn, Thailand, Hainan Island and the Dominican Republic have rainy weather. The monsoon period is in full swing, so the sea is often stormy. A lot of precipitation, humidity is high – vacation with children will not be comfortable. In addition, in the Dominican Republic in October, there is a high probability of tropical storms and hurricanes.