Big Sochi: a comparison of all resorts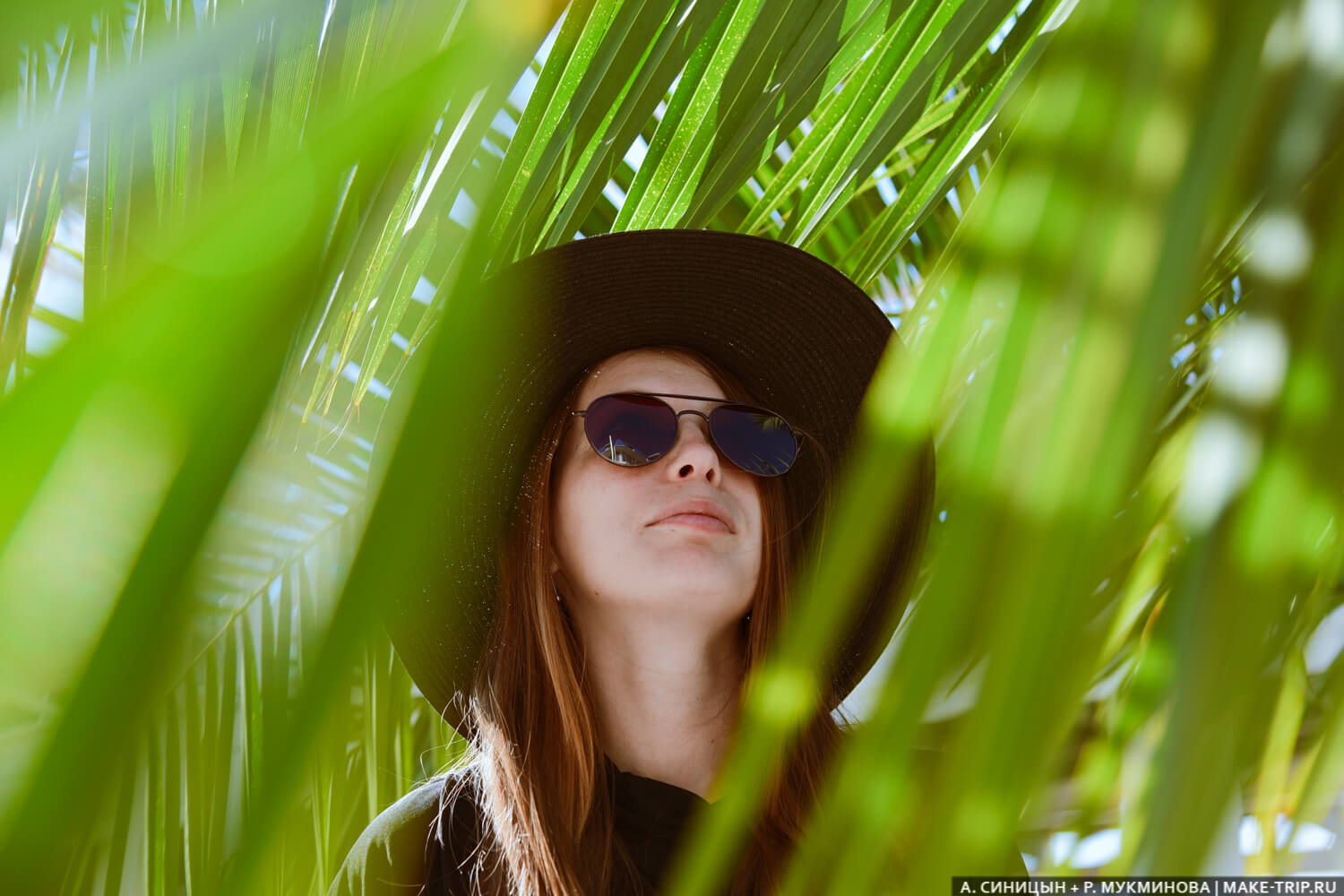 There are so many settlements in Big Sochi that you can be confused which one to choose for a vacation. We personally visited all areas and made an opinion about each. Let's together compare the resorts of Sochi and decide who and where it is better to rest in the summer of 2022.
Contents:
Which area to choose in Greater Sochi
Sochi is not only the city itself, but also several districts around it. Big Sochi begins almost from Tuapse and stretches all the way to Abkhazia. It is such a long city! So, let's deal with the districts. There are four of them:
Lazarevsky district is the longest and farthest from the city center. The most popular resorts – Lazarevskoye and Dagomys. I advise to stop in them if the developed infrastructure and beautiful nature are important. Also on hearing Ashe, Golovinka, Loo, but they are not so developed. The other settlements are quite small.
The central district is the city of Sochi itself. The most popular and developed area, but also the most expensive. It is suitable for those who want to combine a city beach vacation with excursions, shopping and cultural leisure.
Khostinsky area is suitable for a quiet beach vacation and easy day hikes in nature, as well as spa treatment. The main settlements are Khosta, Matsesta and Kudepsta. They are small, green and cozy.
Adler district = mountains + sea! It's the most convenient, lively, civilized district. There is an airport with a railway station, a new infrastructure for the Olympics, a lot of attractions and even Abkhazia on your doorstep. The region includes Adler, the Imereti Bay and Krasnaya Polyana.
Here I have told you briefly about the areas and major resorts of Sochi. Already at this stage you can figure out which area of Sochi is better to stay to rest. Now let's compare resorts!
Take a look at our other travel resort comparisons:
Del Mar neat and well-kept beach in the city of Sochi. Beach in Lazarevsky. This is what almost the entire coastline in the Imereti Bay looks like. The embankment in Imeretinka. In general, it is probably the most civilized resort of Greater Sochi.
Where to live in the center of Sochi
The best places to stay in the center of Sochi are Svetlana, Tsentr, Novy Sochi, Mamayka and Yana Fabritiusa neighborhoods as they are adjacent to the sea. We like the Center and Svetlana best – they are the most beautiful, well-groomed, comfortable and prestigious. They have the most entertainment and attractions, besides, it is convenient to go to other districts of Sochi from there.
Navaginskaya street, the center of Sochi. It is green, beautiful and nice to walk around! It is also nice to have a walk along the seaport and Sochi marina.
Where to have an inexpensive holiday in Sochi
You can have a rest inexpensively in almost any resort in Sochi! You can choose a small village in Lazarevsky district: Dagomys, Ashe, Golovinka, Loo, Shepsie, Vardane, Magri, Vishnevka, Makopse, Sovet-Kvadje, Golubaya Dacha, Chemitokvadje, Zubova Slit, Glubokaya Slit, Yakornaya Slit, Lower Beranda, Lower Khobza, Lower Uchdere.
In Khostinsky district you can also live inexpensively – in Khosta, Matsesta and Kudepsta. Find out how much it costs to relax in Sochi.
Well, the highest prices for recreation in the center of Sochi, Adler, Imereti Bay and Krasnaya Polyana, a little lower – in Lazarevskoye. Although even there you can rest inexpensively if you come in the Velvet season, to live in guest houses or cheap rent an apartment, as well as not to go to restaurants. For example, we had a very inexpensive vacation: we stayed at nice 3-star hotels in the center of Sochi and Imeretinka, and we spent ₽28,000 for two people for 8 days on everything except airfare. Not bad, huh? Find out how to vacation cheaply in Sochi.
There is another way to have an inexpensive vacation in Sochi – buy a hot tour for 15-30 thousand rubles for two people. Look for bargain tours on the services Travelata and Level.Travel – they will find the best deals among different tour operators. Would you like to save your money? Learn how to buy tours cheaper.
Where to find accommodation in Sochi:
– hotels and guest houses with discounts. – Lodging in the private sector of Sochi.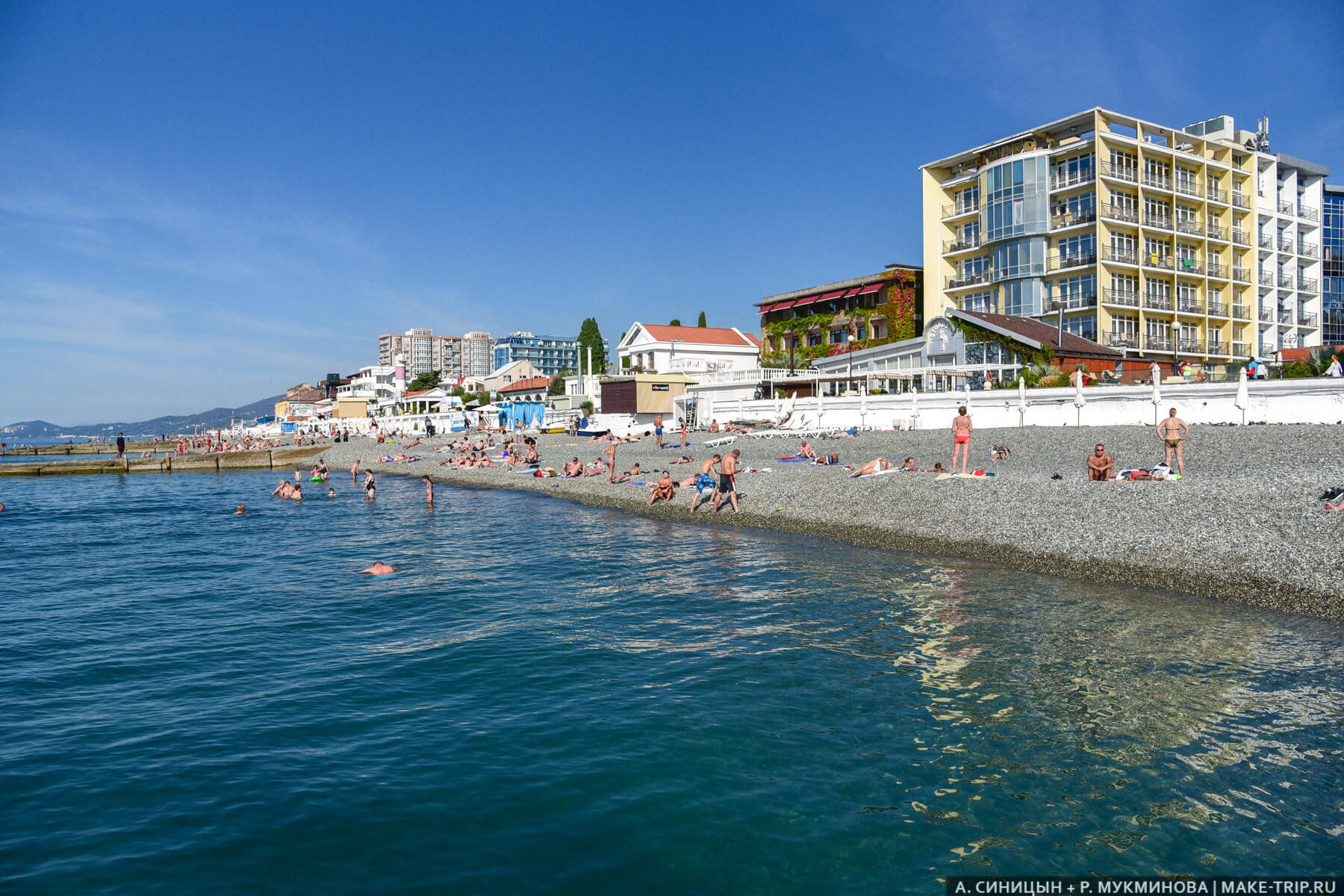 Adler – an inexpensive alternative to Sochi.
Where are the best beaches
All coastal areas of Sochi are pebble beaches. At some resorts, the stones are quite large and the entrance to the sea is also pebble, for example, in Asha and neighboring settlements. But in Khosta and Kudepsta the pebbles seemed to me more shallow.
In other resorts, the pebbles are shallower, and the entrance to the sea is sand with pebbles. This can be found on some beaches in Lazarevsky, Adler, Central Sochi.
There are beaches where the pebbles are mixed with sand. This we met in Golovinka, Vardane, Loo, some beaches of Central Sochi. In Adler, there are beaches with large sandy areas.
The only sandy beach is in Imeretinskaya Bay, but it is artificial. The beach belongs to the Radisson Hotel 5*, but it is free. If you want to rest on the sand, you must pay for a sun lounger. Since the beach is bulk, at the water's edge and at the entrance to the sea are still pebbles, so you will need aqua-shoes. Find out where in the south of Russia to find sandy beaches.
So where are the best beaches in Sochi? I prefer beaches mixed with sand, as the entrance to the sea is more gentle and comfortable. Plus, you can always take a sandy corner.
Such look for Lazarevsky, Adler, Central Sochi.
That's about how all the beaches of Greater Sochi look. In the photo – the transparent water on the beach "Mayak" in the center of Sochi. And on some pebble beaches there are sandy areas. On the photo – beach in Adler. The white bulk sand is only on the beach of the hotel Radisson 5* in the Imeretinskaya Bay.
Big Sochi resorts and beaches on the map
Where to have a better time
If you are more interested in sightseeing, it is best to rest in the central Sochi, Adler or Imeretinskaya Bay, as from there it is convenient to travel.
In the center of Sochi there are many interesting places you can see on your own: Riviera Park, Marine Station, Navaginskaya Street, the Arboretum, the waterfront, the Winter Theatre, the Museum of History, the Museum of Art. There are sightseeing tours around the center of Sochi, you can take a boat trip to the port. See where you can walk in Sochi.
Also from Sochi it is easy to go to the sights of Khostinsky district. There we visited a lot of wonderful places: Yew-Box Grove, Eagle Rocks, Agur Waterfalls, Ordzhonikidze sanatorium, Kvitko's dacha. There are also Vorontsovskaya Cave, Mount Akhun and Stalin's dacha. Find out about 20 cool places in Sochi.
From Adler and the Imereti Bay it is convenient to visit the arboretum "Southern Cultures", the Olympic Park with dancing fountains, the attractions of "Sochi-Park", the resorts of Krasnaya Polyana, Psakho Canyon, Akhshtyrskaya Cave and Abkhazia.
In Lazarevskoye, too, it is convenient to rest if you want to see the nature. From the village we went to Svirskoye Gorge, "Berendeyevo Tsarstvo" and Mamedovo Gorge, to Volkonsky dolmen. Also nearby is the Crab Gorge and the waterfall "Miracle Beauty".
Abandoned sanatorium Ordzhonikidze in Sochi – the most popular abandonment. Wet canyon Psakho is one of the most beautiful places in Big Sochi!
Where to have a rest with children in Sochi
The water there is cleaner than in the center of Sochi, and there are more attractions for children. Sochi-Park" stands for nothing!
Often families choose Lazarevskoe and Dagomys – it is quieter there than in Sochi, but with a very well developed infrastructure.
Many people stay in Adler. Near the resort there is an airport and a railway station, so there is no need to go with a child far and long.
Someone prefers total privacy and chooses quite small and unknown settlements.
As for rotavirus and norovirus, you can catch it everywhere, not only in Russian resorts. Watch children and do not allow them to swallow sea water, wash hands and fruit thoroughly with running fresh water. Drink bottled water and do not take perishable goods to the beach, so as not to be poisoned. Find out how to pack first-aid kit on vacation.
A roller coaster in "Sochi Park" in the Imereti Bay. Riviera Park in the center of Sochi is a popular place to vacation with children.
Resorts for youth recreation
The most youth resorts are the center of Sochi and the Imereti Bay. Nightclubs, discos, striptease clubs, bowling, karaoke – there are many entertainments. We do not like such places, so we cannot advise on particular places.
If you like active recreation, you should better stay in the center of Sochi, Imeretinka, Adler and Krasnaya Polyana. At these resorts a lot of excursions: sea and horseback riding, diving, rafting, jeeping, day hikes, trips on motorcycles, quad bikes, bicycles around the Greater Sochi. Just see what interesting excursions there are on Tripster:
Resorts for Older People.
Elderly and middle-aged people are better off vacationing in the less noisy resorts of Sochi. For example, it is quiet and calm in Kudepsta. People of middle and elderly age are perfect for Dagomys and Golovinka. And in Adler and Matsesta there are many sanatoriums, where they treat sludge mud and sulfurated baths. Khosta, despite all its greenery, has a difficult mountainous terrain, but the resort also has a good sanatorium base.
In what area of Sochi is better to rest? Our review and tips

My head exploded the first time I read about Sochi. Look: Sochi Airport is located in Adler, the resort of Lazarevskoe is 70 km from Sochi and at the same time is considered its district, the length of the Big Sochi is about 150 km – what.
Let me explain at once: there is Big Sochi, or in other words Sochi Region, which includes Adler, Lazarevskoe, etc., and there is just Sochi as an independent city.
In this article I will tell you what areas of Sochi is better to choose for a holiday – both in the city itself and in the "region". Which is suitable for a long stay, where is cheaper or, on the contrary, more expensive?
Synopsis of
Neighborhoods of Greater Sochi – where is the best place to rest?
Four districts officially belong to Big Sochi:
Lazarevsky,
Central (the city of Sochi),
Khostinsky
and Adler.
If you take the microdistricts within each, there are, of course, many times more, and this will be discussed below. The central district is called the city of Sochi, Khostinsky – the territory between Adler and Sochi, and the other two are Adler and Lazarevskoe resort and everything around them. By plane, tourists arrive at Sochi Airport, which, oof, is in Adler. If you go by train, the resort towns are as follows: Lazarevskoye, the city of Sochi, Khosta and at the very end Adler.
Central area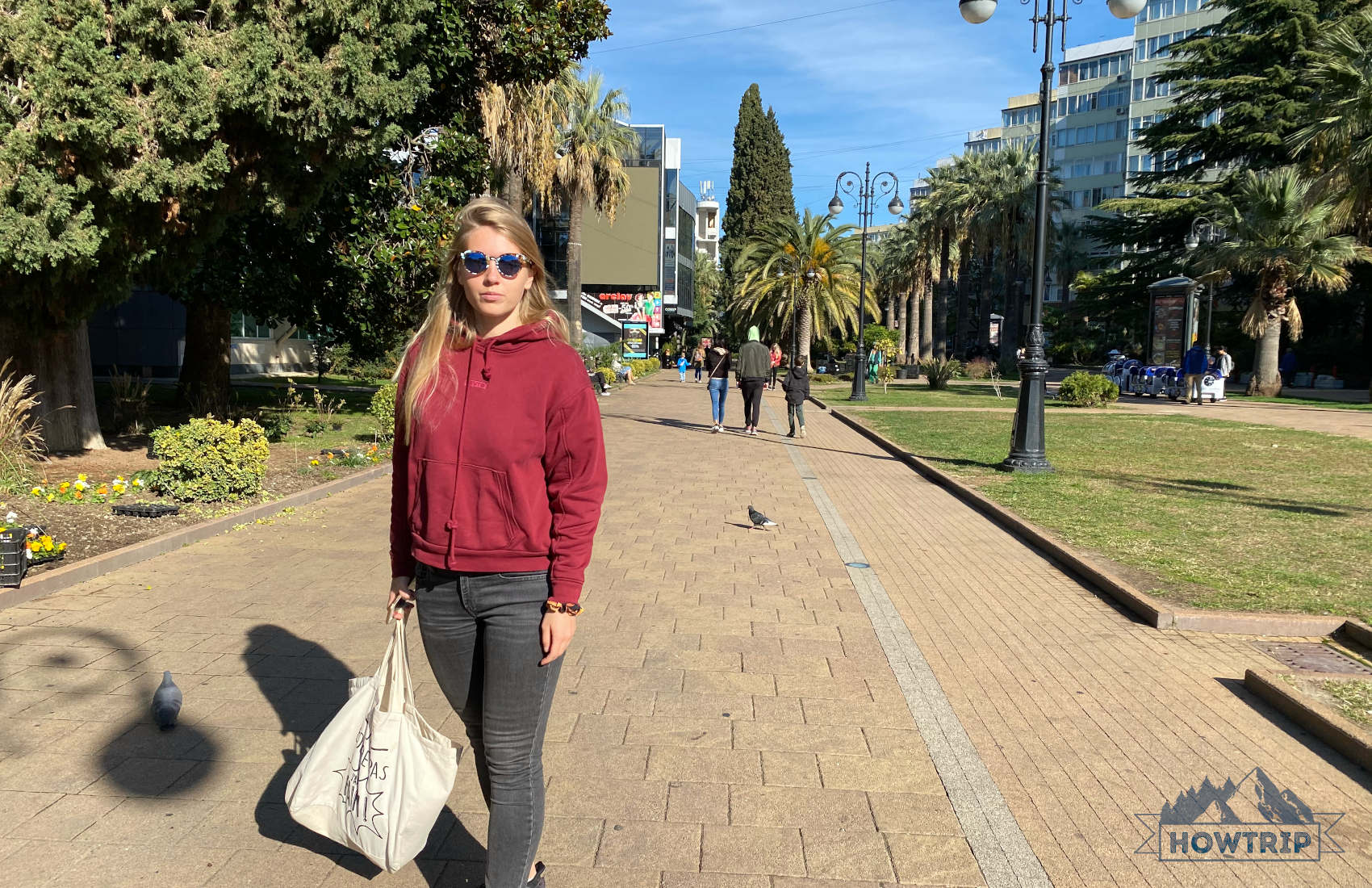 The city of Sochi itself, the item of the program "must visit" those tourists who stay in other areas. The infrastructure is better developed here than anywhere else (there are even vegan cafes!!), and there is a decent share of the main attractions.
Sochi is noisy, hectic, and has little space, but it is very natural and green. Personally, I would recommend a different area for a beach vacation. But if you like an urban holiday by the sea (that is when the beach, cars, big shopping centers, lots of people) – it is an excellent option. There are a lot of neighborhoods inside Sochi: not all of them border the sea, and I will briefly describe the main ones below.
Also the city is hilly. To be more exact, if to take its compact center, there are no abrupt rises, but farther from the sea… And the main minus for me, as for a tourist, is a problem with parking – how it lacks space! Even in November, in the low season, I had a hard time finding a place to leave the car. In summer, you can probably not try and go directly to the public transport or cab. Well, or leave in a paid parking.
On beaches: they are pebble mixed with black sand, the stones are large. Because of the sand, the sea does not seem clean, the water is turbid.
Look at Apartments and rooms in Sochi on Sochi.ru (as avito, only with reviews and tenant protection). ✓ Tours – on Travelata. ✓ Sanatoriums – yes, they still exist! – at Sanatory.ru. Hotels and guest houses are on the Russian Hotellook. I will list a few popular hotels with great reviews, and explore the whole range on the site.
Hotel recommendations:
Cheap
– 3* Magellan O'Dean – yes, a bit far from the beach, but still in the city center near the train station; rooms – spacious and without Soviet patina, service – friendly, parking available, breakfast – delicious!
– 2* Coocoorooza Pension – if all pensions were like that – with fresh redecoration, in the first line, with a view to the sea and for a reasonable price – it would be wonderful.
– 3* Hotel Plutus – good location in the middle of everything: you can walk to the railway station, and to Navaginskaya (main street), and to the beach.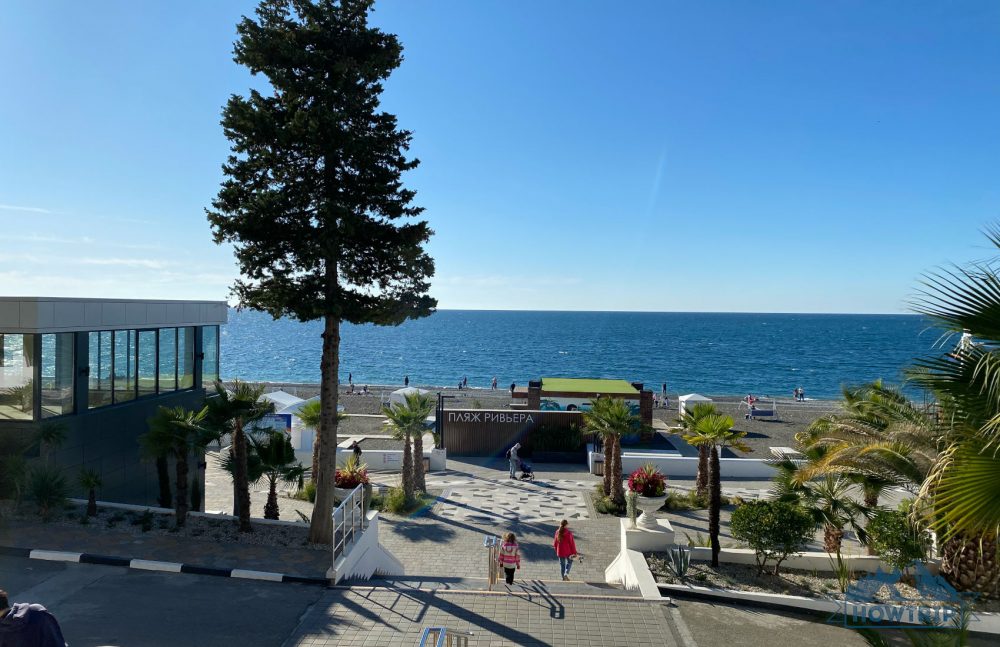 Medium
– 4* Mercure Sochi Center – worthy representative of international hotel chain; multistory building near the seafront, almost first line. The view of the city is as good as the sea view, the rooms are large and clean. Guests can use the sauna and gym of the neighboring Pullman (this is the "more expensive" category).
– 4* Denart – there are questions about the interiors, but still the reasonable price includes a good breakfast, large rooms, 5+ cleanliness and a central location – hence the many reviews with high ratings.
– 3* Aparthotel Brevis – full-fledged apartments by the sea with more area than the average Russian apartment. Secured area, daily cleaning, parking attached.
More expensive
Super-luxury options so you will not regret that you have not chosen Turkey. Here the rest bloggers and all who are not pulling pocket a price tag of 15 000 rubles per night.
Khostinsky district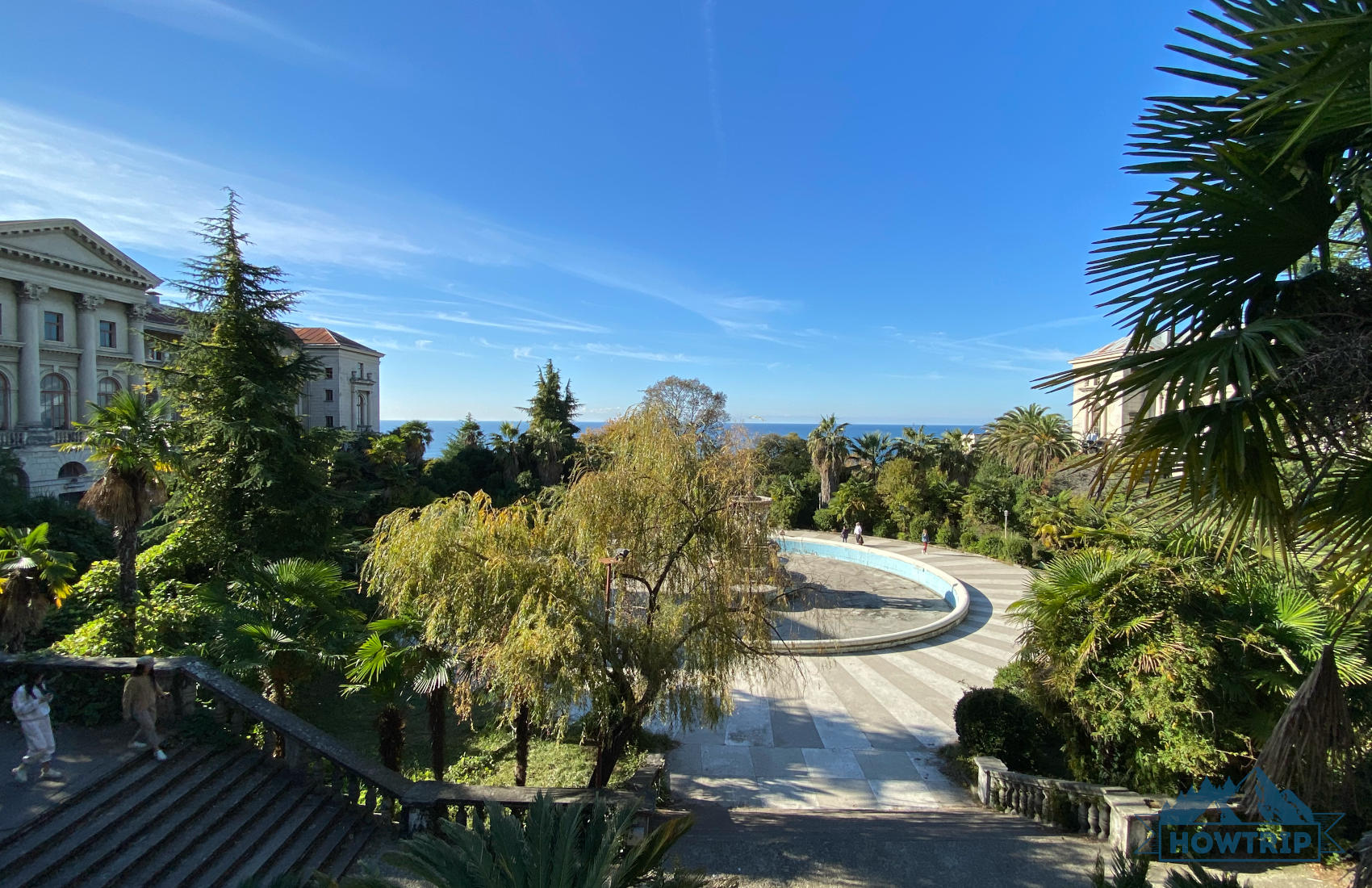 It is less popular among the four districts of Greater Sochi, but there are many iconic places here: the famous Matsestinskiye sulfurous waters, Eagle Rocks, Yew-Box Grove, Vorontsov Caves, Stalin's dacha. There are interesting routes for hiking (walking with sport bias) – one of them is Terrenkur. Khostinsky district is divided into Bytkha, Maly Akhun, Matsesta, Khosta and Kudepsta neighborhoods.
But the beaches in this area are not the best, and the sea is not the cleanest. In addition, along the beaches there are railway tracks. And if we consider the place by cultural places and modern cafes, there are either no, or very few. So, it is a bit cheaper in Khosta than in Sochi or Adler.
Lazarevsky district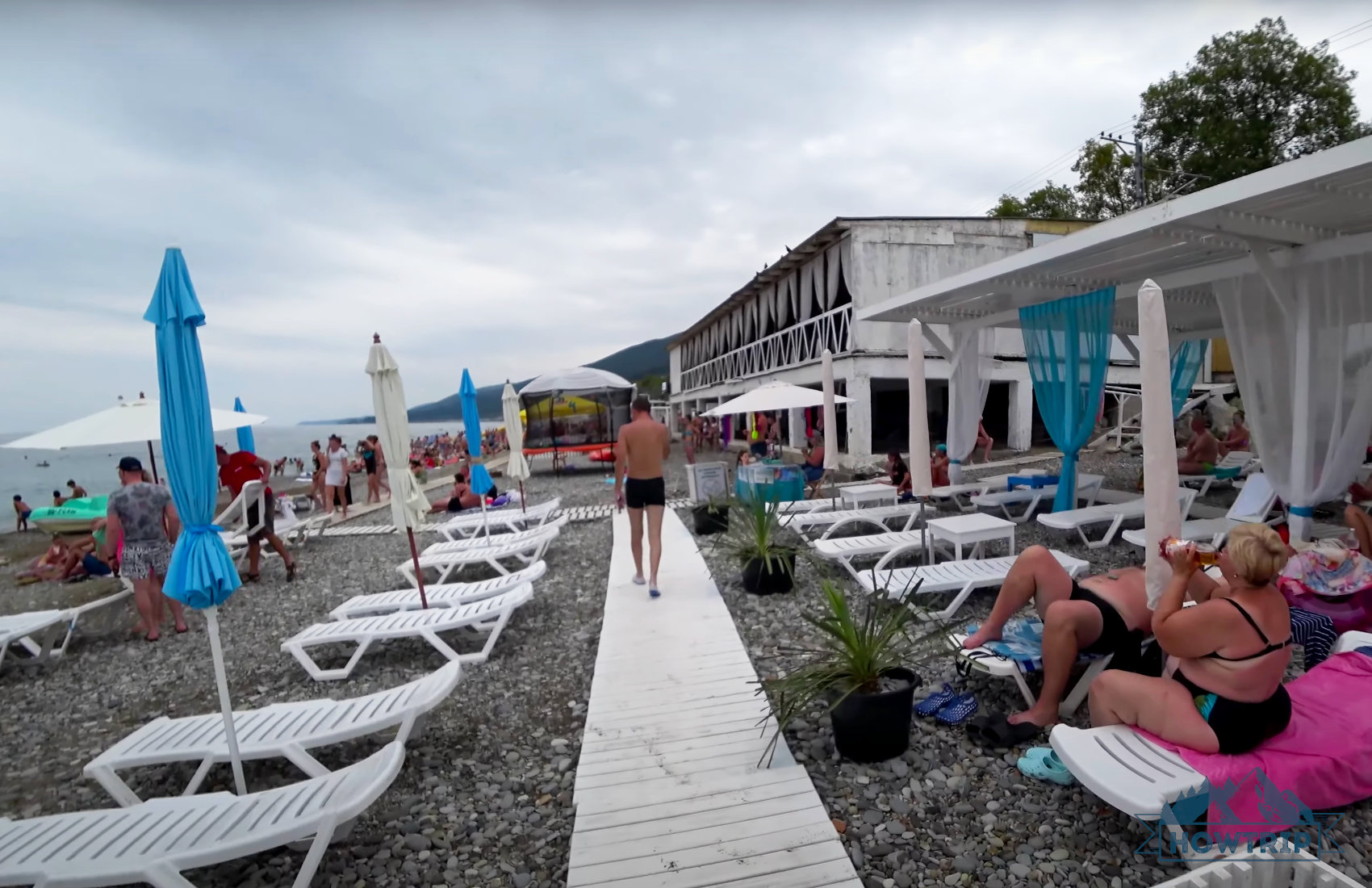 What area is the farthest from the airport and the coldest at the juncture of the seasons? Lazarevsky! Unbelievable but true: it's here in late autumn and winter it can snow. Popular tourist settlements are Loo, Dagomys and Lazarevskoye itself.
If calm and measured rest combined with the sea is important for you first of all it is not a bad choice, most tourists note the central beach in Lazarevsky with finer pebbles, "just a relief from the cobbles of Sochi".
From the airport the trip here by car will take about 2-3 hours, if there are no big traffic jams. To get here you will have to go through serpentines, and not everyone likes such a "trip". But: the train will save about two hours, because this is the first resort of Sochi, where the train stops.
If you make a comparison, the infrastructure in Lazarevsky area lags behind, because the main vector of development before and after the Olympics was aimed at Adler and Sochi. Of the residential buildings there are five-storey buildings and the private sector. From here it is not convenient to get to the attractions of Sochi and Adler.
The beaches of Lazarevsky are different. Judging by the reviews of tourists, some are quite wide, while others are very narrow, and during the season there is no pushing. What certainly will not be to your liking, so it is the railroad tracks that run along the coast. The railway tracks running along the coast are a pleasure to stare at from the shore.
Look for apartments and rooms in Lazarevskoe on Sudno.ru. Hotels and guest houses on Hotellook.
Hotel recommendations:
Cheap
– Hotel Hollywood is an economical option near the sea, and tourists like it.
– Zarya is a popular guest house on the first line.
Medium
– 3* Storm – hotel on the first line, with fresh repairs and managed by a new owner, who is attentive to the wishes of guests.
– Villa More – excellent rating and reviews, located near the sea, 150 meters. There is parking for cars, good territory and European style.
More expensive
Two hotels, better than which in Lazarevskoye you will not find – and at a cost they do not go in any comparison with Sochi or Adler:
Adler district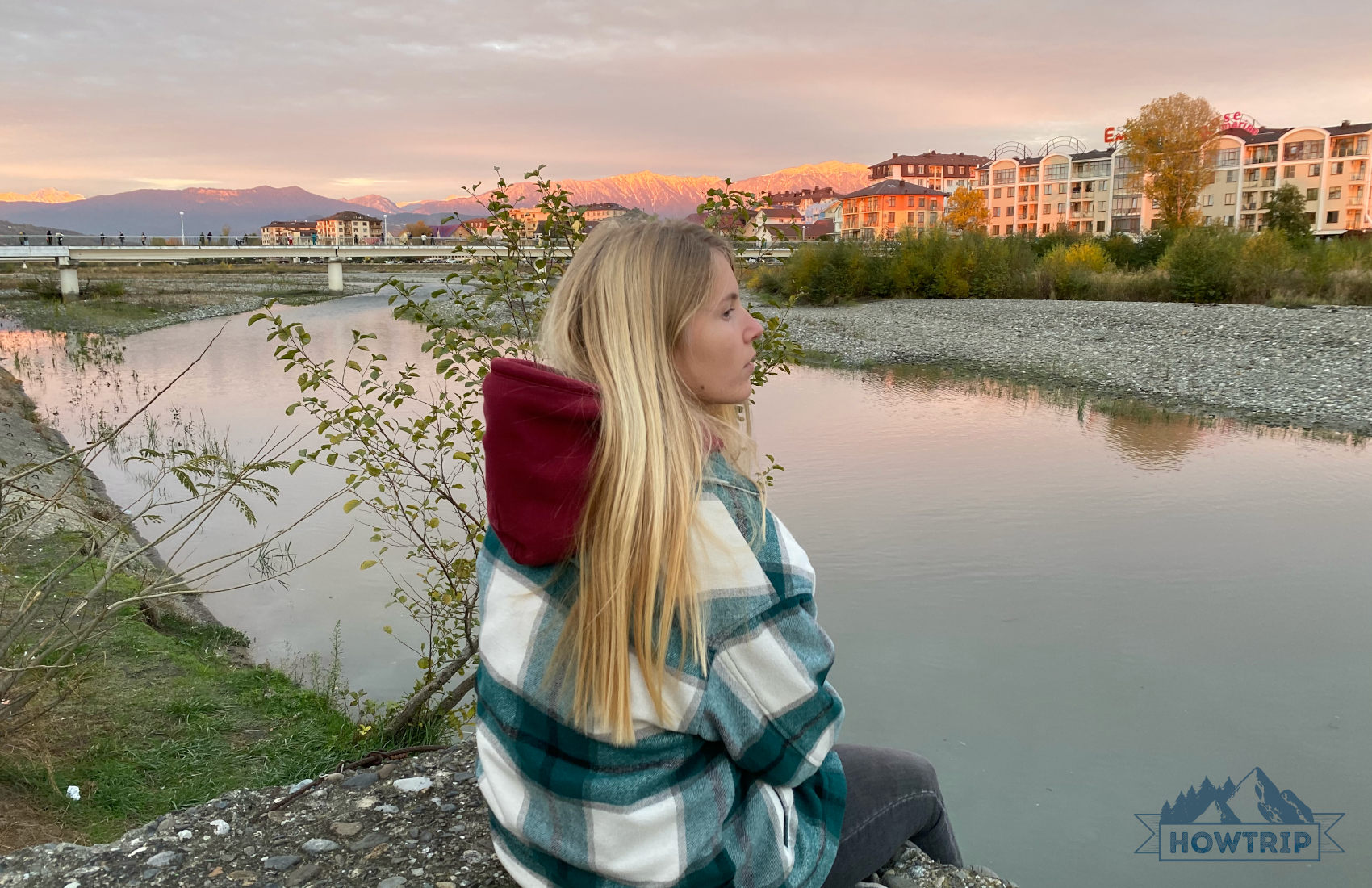 I will summarize the areas of Sochi, where it is better to rest in summer, with my favorite place – Adler. Developed, touristy and at the same time quiet, modern. It consists of neighborhoods:
Nizhneimertinskaya Bay,
Central Adler
and, surprisingly, Krasnaya Polyana (yes, the mountains are a part of Adler!).
Both times in Greater Sochi we stayed in Imeretinka, and we wrote a guide to the area, it is at the link above.
In my opinion, Adler is the perfect place for a summer vacation. There is a good infrastructure here, with good modern cafes and establishments, stores, and equipped beaches. And the sea is cleaner and more beautiful than in Sochi (specifically in the Imereti Bay). Here are the main Olympic sights, Abkhazia is very close and another absolute plus is the flat terrain, without much hilly terrain, which is convenient for traveling with children or the elderly.
If you are interested in a comparison of Sochi and Adler, read it here!
Tourists who come in winter to ski or snowboard often stay in Adler, because lodging is cheaper than in Krasnaya Polyana, and the coast and mountains are connected by direct trails.
Look for apartments and rooms in Sochi on Sochi.ru. ✓ Tours – on Travelata. Hotels and guest houses on Hotellook.