Where to rest in Hainan – 7 resorts
We can help you choose where to rest best in Hainan. Where to go young people, older people and families with children. Pluses and minuses resorts in Hainan and tour prices.
China does not yet accept tourists from Russia. Take a look at the list of open countries. For convenience, we give pre-departure prices for stays and flights. Information about visas and flights may not be current, so please check with official resources.
Search for Last Minute Deals at Level.Travel and Travellata, which will find the best deals among different tour operators. Want to save money? Take a look at:
Contents:
Map of Hainan resorts
Sanya
East Hawaii's main resort is located in the south of the island. Because of the fresh sea breezes, the climate here is milder and the heat is easier to bear than in other parts of the coast.
Who it suits. Sanya is the best place to stay in Hainan for parents with children, everyone who loves excursions, diving, surfing, paragliding, sea fishing, and shopping. Tourists enjoy visiting the ethnic park of small nations "Betel-Nat", Monkey Island and the Buddhist temple Nanshan. Tourist reviews of Sanya →
Prices . The resort is inexpensive. In high season, a tour from Moscow for two for 11 nights costs from 107 thousand rubles.
Pros and cons . Sanya has a good infrastructure, a large choice of accommodation and many restaurants with delicious seafood. Disadvantages – the beaches are across the street from the hotels, and the sea water is not as clean as in other resorts in Hainan.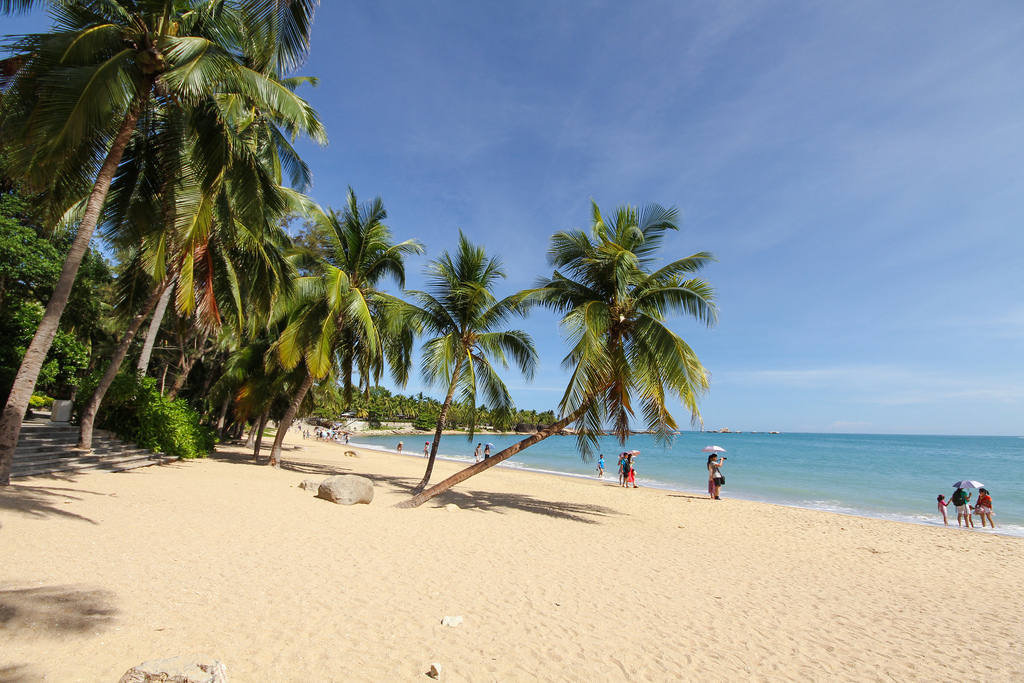 Tiania Haijiao Beach in Sanya (Photo: Mark 爱生活 / flickr.com)
Sanyawan
One of the island's largest coves stretches 22 km west of Sanya. It is a great place for a beach vacation.
Who's Suitable. If you're looking for an inexpensive vacation by the sea in Hainan, book a hotel in the popular resort of Sanyavan. Along the beaches stretches a succession of hotels, restaurants, and stores. The coast is covered with fine beige sand, and swimming areas are fenced off with buoys. The large shallow water is ideal for a holiday with children.
Prices are not too high. In high season, a tour from Moscow for two for 11 nights costs from 120 thousand rubles.
Pros and cons . Conveniently, the airport is nearby, and the disadvantage is too strong tides.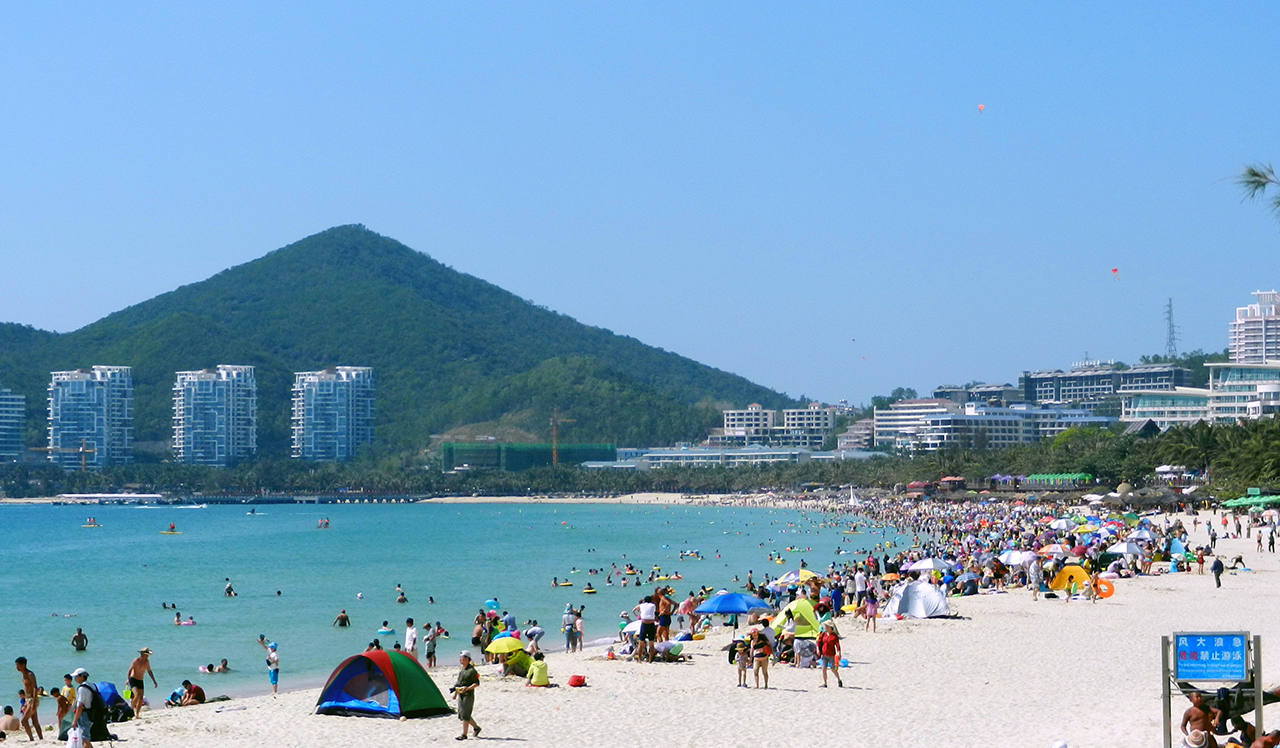 Sanyavan Bay in Sanya (Photo: wikimedia.org / Tanya Dedyukhina)
Dadunhai
The resort is located 3-4 km from Sanya. Dadunhai beaches are some of the most beautiful on the island.
Suitable for whom. There are many Russian-speaking tourists vacationing in Dadunhai – families with children and elderly travelers. Along the coast, the winds constantly blow, so Dadunhai is appreciated by fans of surfing.
Prices are moderate. In high season, a tour from Moscow for two for 11 nights costs from 110 thousand rubles.
Pros and cons . There are a lot of signs in Russian at the resort, and the hotel staff and restaurant workers speak Russian quite well. The beaches can be crowded, because the locals like to relax here. During a storm piles of algae are thrown on the shore.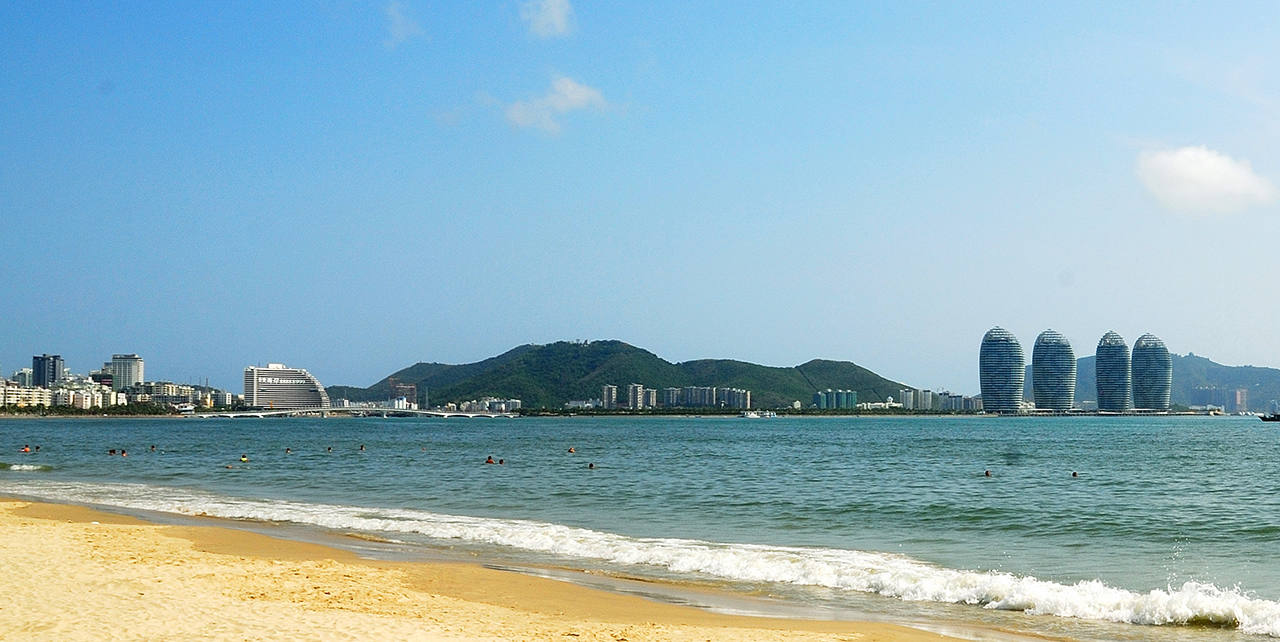 Dadunhai Bay in Hainan (Photo: wikimedia.org / Anna Frodesiak)
Yalunwang
An exclusive resort located 25 kilometers from Sanya. Yalunwan has the most beautiful sea and 7 kilometers of sandy beaches.
Who is suitable for. 5* hotels and excellent service will satisfy connoisseurs of luxury vacation by the sea.
Prices . The resort is expensive. The high season tour from Moscow for two persons for 11 nights costs from 220 thousand rubles.
Pros and cons . Transfer from the airport takes 40-50 minutes. In addition to comfortable hotels, there are stores and interesting museums in Yalunwang. For nightlife, you have to go to Sanya.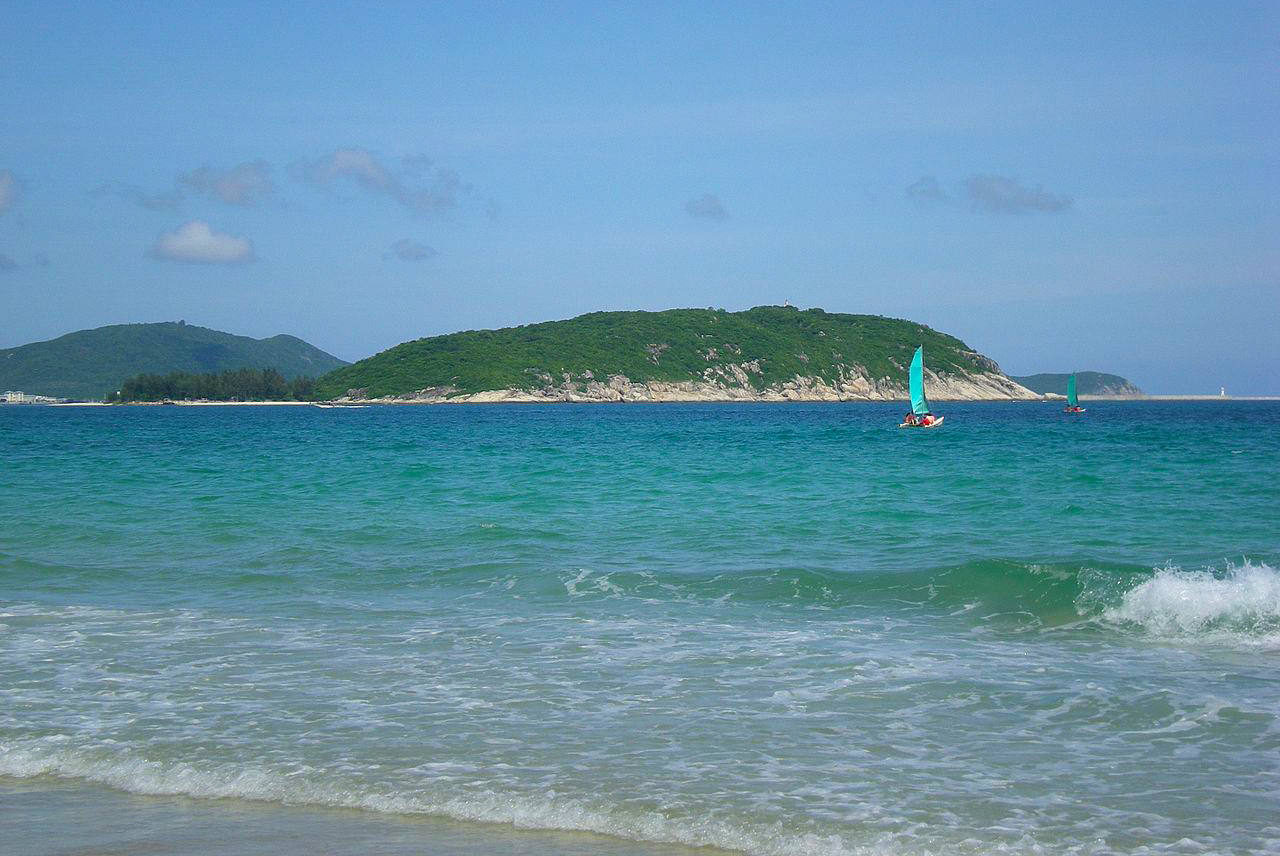 Yalunwang Bay (Photo: wikimedia.org / Jie Yang)
Xiaodonghei
Between Sanya and Dadongkhai is a small cove with clear blue water and white sand. The resort is quiet and relaxed.
Who is suitable. This part of the coast is good for families with children and older tourists.
Prices are quite budgetary. In high season, a tour from Moscow for two for 11 nights costs from 116 thousand rubles.
Pros and cons . In Xiaodongkhai excellent conditions for beach holidays, and there are not as many people as at neighboring resorts.
Xiaodongkhai. Photo: habar2005 / depositphotos.com.
Clear Water Cove (Qingshuivan)
A popular resort located 35 km northeast of Sanya.
Who it suits. Spacious sandy beaches appeal to lovers of seclusion and water sports. Clean Water Cove has expensive hotels, but most of the hotel sector is budget apartment hotels with kitchens and washing machines. There are few foreigners. Most of the vacationers here are Chinese themselves.
Prices are average. In high season a tour from Moscow for two for 11 nights costs from 144 thousand rubles.
Pluses and minuses . The entrance to the water is gentle, the depth increases gradually. On the shore, tourists get gnats and sand fleas, so do not forget to use repellents.
Water and sand in the bay
Haitang
Haitang Bay is a beautiful sandy cove 30 km from the resort of Sanya. The 25 km long coastline is covered with golden quartz sand.
Who it suits. Haitang is famous for its picturesque coral reefs. This is the best place to relax in Hainan for lovers of beach holidays, diving, snorkeling, windsurfing and kitesurfing. The water in the sea is clear, the bottom can be seen at a depth of 10-15 meters. Vacationers ride on hydro scooters and go on boat trips.
Prices . In the high season tour from Moscow for two for 11 nights costs from 205 thousand rubles.
Pluses and minuses. Tourists like Haitang good for transport accessibility, spaciousness and privacy. The green areas of the hotels are like beautiful parks. The main disadvantage is the battering currents that are dangerous for swimmers.
Haitang (Photo: cnneil / flickr.com)
Who and where best to vacation in Hainan
Sanyavan, Dadong Hai and Xiaodong Hai are the best places to visit with children.
Young people and active vacationers are advised to pay attention to the resorts of Sanya, Haitang and the Clearwater Bay.
Older tourists like Sanya, Dadonghai, and Yalunwang, and cultural and sightseeing lovers like Haikou. Find out about the best excursions in Hainan.
When to vacation in Hainan
The Chinese island has a tropical monsoon climate, so resorts in Hainan are popular at any time of year. The South China Sea is always warm +25. +29°С. There are more than 300 days of clear, sunny weather, and 1500 mm of precipitation per year.
The rainy season begins in May and ends in November. The heat and precipitation make the coast sweltering. In midsummer, it's hot, the weather turns bad, and there's a threat of typhoons. At this time, the resorts of Hainan rest tourists who are well tolerated high humidity and heat.
The best vacation at sea in Hainan is from December to March. In winter the temperature of the sea +25 ° C. On the coast +17. +20 ° C, so go out of the water can be cool. In spring, the air warms up to +23. +28 ° C, and the sea water – up to +28 ° C.
Where to vacation in Hainan Island 2022
Which resort in Hainan is the best to choose for a vacation? Which resort has the best beaches, where are the most fun and where are the best hotels on the island? Which bay has cleaner sea and more beautiful beaches? Where in Hainan the most luxurious hotels, but the most expensive vacation? Read all about cities and resorts in Hainan on Tour Calendar!
Flights, hotels – all in one place. Cheapest prices on Yandex.Travel
Have an interesting vacation. Local excursions on Tripster.
Flights from 1045₽ on Aviasales.ru
Compare tours from different tour operators on Travelate
Haikou. Capital city of Hainan
Haikou is the capital of the island. If you come to Hainan not by plane but from mainland China, you will most probably be greeted by a warm welcome from Haikou. It is reached by ferry across the strait, which takes about an hour and a half.
Video: What to see in Haikou?
The vast majority of vacationers arriving on the island head to its southern part – the resort of Sanya, with its comfortable hotels and beautiful beaches. For those who want to explore Haikou, let us outline the main attractions of the city and its surroundings. First of all, we can recommend a walk through the historical center of the capital, there are many old buildings. About 30 kilometers from Haikou, there are a number of ancient monuments from the Ming dynasty that ruled China for about 300 years. The most popular ones are the academy in honor of the scholar Qiu Jin, Wugong Temple, and the tomb of Hai Rui.
Within 30 kilometers is an unusual observation deck. Its uniqueness is that it is equipped on the edge of the crater of an extinct volcano. Climb the platform you can go up the stairs of magma, and the top is a mesmerizing view of frozen lava, relic tropical plants and other volcanoes, towering very close.
Sanya. Hainan's premier resort
The resort of Sanya is located in the bay of the same name and is considered the main center of leisure in Hainan. It's quite a big town (population about 700 thousand people), and it has an entourage typical for any urban center in the form of large shopping and entertainment centers, hotels, catering chains. The uniqueness of the city lies in its location: Sanya stretches from west to east along the coast for almost 100 kilometers. Namely the beaches and bays with hotels for all tastes and wallets are the main place of attraction of the main resort of Hainan. In the city center most hotels are located on the second line, but in remote areas away from the center you can find many options for the first line.
Video: Testimonial of a family with children on vacation in Sanya.
Rest in the resort town of Sanya is not limited to the beach, there are ample opportunities for a variety of entertainment and activities. The clearest sea and a rich underwater world is suitable for diving enthusiasts, a wide range of hotels allows you to find an option for VIP-service, and those who want to save money, and picturesque tropical nature will complement a peaceful holiday on the beach excursions.
From Sanya is also convenient to get to the main attractions of the island – the ethnic park of small nations "Betel-Nat", Reserve "Monkey Island" and the Temple of Nanshan, which is the largest Buddhist shrine built after the founding of the People's Republic of China. Sanya has all conditions for active sports: surfing, biking, paragliding.
Yalunwang. Luxury vacations
Among tourists, Yalunwang is considered the most elite area in Hainan. The resort is located only 25 km from Sanya, so if you want you can always take a cab from here and enjoy all the benefits of the main resort of the island. For cab fares to Sanya and other cities in Hainan, see KiwiTaxi.
The main advantage of the Yalunwang Resort is the wide, white sandy beaches. This is where the most fashionable hotels and popular dive centers are located. A big plus of the resort is considered predominantly calm sea, it is believed that the water is the most transparent. The main disadvantage – Yaluwan is not too developed infrastructure of entertainment outside the hotels, so if hotel activities are not enough, you will have to go to Sanya.
Video: Yalunwang Bay trip review
Dadunhai. Favorite resort among Russians.
This resort is located just three kilometers southeast of Sanya and is one of the favorite vacation spots among Russians in Hainan. All hotels in Dadunhai Bay are located on the first line, but the beaches are often crowded with vacationers. Dadunhai is popular among fans of surfing, who consider the local winds the most convenient for this sport. One of the disadvantages of the bay – after storms the coast is often polluted with seaweed.
Video: Features of Dadunhai Bay and tips for choosing a hotel
Sanyavan. Emerging resort
The eponymous Sanyavan Bay is located not too far from Sanya City Airport, but the local infrastructure is still developing. Another drawback is that most hotels are across the road and the sea water is less clear than in, say, Yalunwang, nevertheless the local picturesque scenery makes up for these shortcomings a bit.
Video: View of Sanyavan Bay
Which bay in Hainan is the best choice for a vacation?
In our article we have already discussed some of the pros and cons of different resorts in Hainan, it remains to choose which bay and which resort will suit you best. We hope that the answers to the remaining questions you can get from our video.
Video: Comparison of coves and resorts in Hainan
What are the prices for vacations in Hainan?
Find out the latest prices for vacations in Hainan, you can on the leading sites to choose the best tours, excursions and airline tickets.
Remember you can buy tours to Hainan cheaper on Travelata.ru – search trips from hundreds of tour operators! Use our promotional codes AF2000turcalendar for additional discount of 2000 rubles (tours from 100 rub), AF1500turcalendar 1500 rubles (from 80 rub), and AF1000turcalendar 1000 rubles (from 60 rub)!