Where to rest in Spain in 2022
Where can I go on holiday in Spain in 2022? We tell you about the best resorts in the country: where to rest in Spain by sea, where to go for excursions, what city to choose for a trip with children.
The first part of the article – an overview of resorts in Spain by type of holiday (beach, sightseeing, inexpensive, with children).
The second part – detailed information and reviews of the most popular holiday destinations.
How to find an inexpensive tour to Spain? Try services Travelata and Level.travel – they compare the cost of tours in all tour operators find the best value for money.
learn 8 rules for finding a low-cost tour
use promo codes and discounts
Where to vacation in Spain – 2022
Beach holidays
Where better to go in Spain for a beach holiday at sea in 2022? Almost all regions of the country are suitable for this purpose, especially in the south – both mainland and islands.
In most regions, the Mediterranean Sea is warm enough for comfortable bathing in early and mid-June, the season lasts until October. Some tourists sunbathe and swim in May, but the water at this time is still quite cold.
The best mainland resorts in Spain by sea in 2022 are Costa del Sol, Costa Brava and Costa Dorada. Among the islands, the beaches on Tenerife, Mallorca and Ibiza get good reviews.
Photo: © Arran Bee / flickr.com
Excursion vacations
Almost every Spanish city has architectural sights that will be interesting to see for excursion lovers.
There are especially many of these attractions in the Costa Dorada and Costa Brava: ancient churches, fortress walls and Roman aqueducts.
If the main purpose of your trip to Spain is sightseeing, you can go to one of the major cities like Barcelona, Seville or Madrid. There are both natural and architectural attractions, many museums.
Holidays with children
With a small child is better to go to a quiet region of Spain with good beaches and a gentle approach to the sea, such as the Costa Dorada or Costa del Maresme. It is good to rest in the Costa Brava (especially in the resort of Tossa de Mar and Blanes) – there are comfortable hotels on the first line, animation, attractions.
Older children will be interested in entertainment, so you can go on vacation in the south of Spain – Costa Blanca (many amusement parks) or the city of Salou by the sea near Barcelona (the largest park Port Aventura in Europe).
Holidays with children on islands (Mallorca, the Canary Islands) are also possible, but will cost more than in mainland Spain.
Are you going on vacation with your family? You will be useful our article about vacation in Spain with kids – it's about the best resorts and hotels for families. And don't forget to take out travel insurance!
Where to rest in Spain for cheap
A budget beach vacation in Spain in 2022 is possible on the Costa Brava, Costa del Maresme and Costa Dorada. The prices on hotels and food in cafes and restaurants are lower there.
Holidays in Ibiza, the Canary Islands and the Costa del Sol are considered very expensive – there rest mostly rich tourists.
Photo: Port L'Ametlla de Mar, Catalonia © candi… / flickr.com
Overview of the best resorts in Spain
Costa del Sol
The southernmost, warmest and most expensive beach region of Spain. Bathing season in this part of Spain lasts longer than in other areas of the country (from June to mid-October).
The Costa del Sol is best for a holiday at sea with children, as well as diving, windsurfing and golfing. There are lots of good 4 and 5 star hotels on the coast.
The most popular resorts on the Costa del Sol in Spain are Marbella, Benalmadena, Fuengirola.
Costa Blanca
This is a youth region full of events and parties. The coast has a mild climate and many good beaches. The main resorts in 2022 are Alicante, Benidorm, Torrevieja.
Tenerife (Canary Islands)
Tenerife is popular with tourists due to its mild climate without the exhausting heat and lack of heavy rains. The south of the island is sunnier and warmer than the north.
On the island, it is possible to combine a beach holiday with a visit to the entertainment complexes and national parks, sightseeing of the volcano Teide. Water in the sea in Tenerife is colder than on the resorts of mainland Spain, but in July, August and September, to swim in it is quite comfortable.
To get to the island is easier than to other Spanish resorts: Tenerife has an airport, where there are direct flights from Moscow.
Photo: Auditorio de Tenerife © Kent Wang / flickr.com
Costa Dorada
The Costa Dorada region allows you to combine a beach holiday with a visit to ancient architectural monuments. A good option for those who choose where to go to Spain for the first time.
The region is often chosen for a holiday with children because of the good beaches, hotels, developed infrastructure and the availability of entertainment (for example, a large amusement park Port Aventura).
The main seaside resorts in 2022 are Salou and Sitges. If the presence of entertainment for you is not critical and you want a more relaxing vacation at the beach – you can go to a small town like Tarragona or La Pineda.
The Costa Brava
The Costa Brava is considered the "coldest" region for a beach holiday in Spain, but from June to October to swim and sunbathe as well as in other places. During the high season (July, August) the weather is not as hot as in other Spanish resorts (+26 … +28 ° C).
Most of the Costa Brava resorts are located close to Barcelona, so you can go on excursions or spend a few days in the Catalonian capital. Tourists go mainly to Lloret de Mar, Blanes, Tossa de Mar.
Photo: Faro Cabo de Palos Lighthouse © Ian_woodhead1 / flickr.com
Mallorca
The island is rich in its nature: magnificent beaches, mountain ranges and a large protected area. Tourists go to Mallorca for beach vacations, diving, rock climbing, and golf.
The atmosphere at the resort is quiet, there is little nightlife – so Mallorca is often chosen for the rest of older tourists and couples with children.
The beaches on the island are many: there are small, located in the bays, there is a sandy and even grassy.
Most of the interesting places on Majorca you can visit on their own: the farms for growing artificial pearls, monasteries, old towns and museums. If you rent a car, a trip across the island will take an hour and a half.
The island is high humidity, so the summer heat is not easy to endure (especially in July), and in the fall, it often rains. On vacation is better to go in June or in September and early October: the heat is not as strong, there are fewer tourists, the water in the sea is warm.
Planning to visit several regions or resorts in Spain? The most convenient way to make such a trip is by car. Find out prices for car rental and especially for driving in the country: Rent a car in Spain.
Ibiza
It's worth going to Ibiza for a youth vacation: life on the island is bustling day and night. Numerous cafes, bars, clubs in high season are open around the clock. Two of the ten most fashionable clubs in the world – Privilege and Space – are located in Ibiza. It is better to buy tickets there in advance online to avoid the long lines.
The advantages of Ibiza: beach holidays, well-developed infrastructure, an abundance of good hotels and a lot of entertainment (including windsurfing and diving). On the other hand, the island is considered one of the most expensive in Europe.
The beaches in Ibiza are landscaped, along the coastline there are many cafes and restaurants.
If you rent a car, you can visit the side of the island where there are no discos and bars. It is quiet and very beautiful: an evergreen pine trees and azure sea.
Photo: view of Ibiza © Mark Lehmkuhler / flickr.com
Barcelona
One of the most popular resorts in Spain is Barcelona. A vacation in Barcelona allows you to see all the sights and lie on the beach. The most popular tourist areas are the Old Town, Monjuïc, Gracia and Eixample.
In addition, the easiest way to get to Barcelona from Russia – there are direct flights from Moscow and St. Petersburg and low-cost low-cost flights from the Baltic countries.
Most places of interest can be visited on your own by Bus Turistic. If you want, you can easily get from Barcelona to the popular Spanish beach resorts on the sea (for example, the Costa Brava).
Photo: Platja de Sant Sebastià, Barcelona © cat_collector / flickr.com
What resort to choose in Spain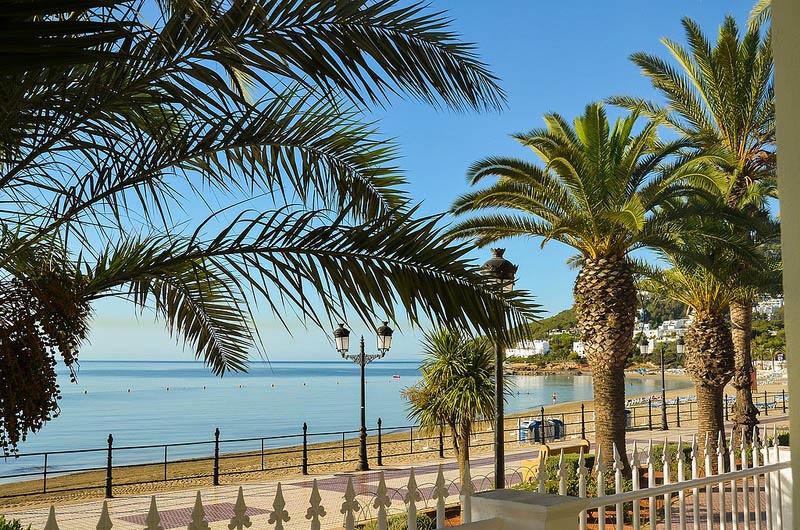 Where can I have a good vacation at the sea in Spain? We have studied tourist reviews of the leading resorts in the country and determined where it is best to vacation with children, where it is best to go for young people and what resorts are suitable for people of age.
Spain is a big country: some of its territories are located in continental Europe, and some are in the Canary Islands and the islands of the Balearic archipelago. Beach recreation is popular in summer; in winter the ski resorts are opened in the Pyrenees. The beaches of Spain are considered some of the best in Europe, and the island of Ibiza has long been a center of youth culture.
– bargain tours – hotels with discounts
Contents:
Where to vacation in Spain
Costa Brava – just the perfect place to relax with beautiful clean beaches, evergreen plants and rocky landscape. The most popular resorts are Blanes, Tossa de Mar and Lloret de Mar. There are many inexpensive hotels, and Blanes with its huge water park is often chosen for holidays with children. There are rafting, snorkeling, hiking, mountain climbing, horseback riding, and mountain biking. An hour's drive from the Costa Brava is the main tourist gem of Spain, Barcelona.
The Costa Dorada is a great option for a vacation in Spain with children. Golden beaches, ancient temples, unusual museums. Children's theme park "Port Aventura" is already known no less than Disneyland in Paris. Vacationers go surfing, diving, sea fishing and fly hang gliders.
Costa del Sol is a southern resort known for its beaches, although the water in the coastal waters rarely gets warmer than +22 ° C. Judging by the reviews of tourists, this is the place where it is best to vacation with children in Spain. This stretch of coast was once heavily influenced by Arab culture, as evidenced by the surviving mosques and other landmarks. Nearby are the famous Spanish cities of Seville, Granada, Ronda, through Gibraltar – the ancient Moroccan city of Tangier. Tourists play golf, go scuba diving and windsurfing.
Ibiza is a true center of youth culture, an island that never sleeps. Nightclubs, discos, rowdy parties, bars and markets. Scuba diving and windsurfing schools are found on almost every beach, and DJs from all over the world play at night in the club areas.
Mallorca and its sandy beaches are preferred by older people and those looking for the best place to stay in Spain with children. Here the climate allows you to relax all year round, there is no rampant nightlife, as in Ibiza, and all high-class hotels. For children, there is Disneyland, an aquarium Palma Aquarum and marine animal park. For adults, there is golf, tennis, yachting and excursions to the pearl factory and the ancient Roman town of Pollentia.
The Canary Islands are the place of preference for lovers of quiet rest and excursions. The most popular resort among our compatriots – Tenerife. Unusual colorful beaches, exotic plants, national parks and the famous volcano Teide – these are the main attractions of the island. Tourists also enjoy surfing, parasailing, diving, and yachting. Want to know more about vacations in the Canary Islands? Read about prices, reviews and weather in our article.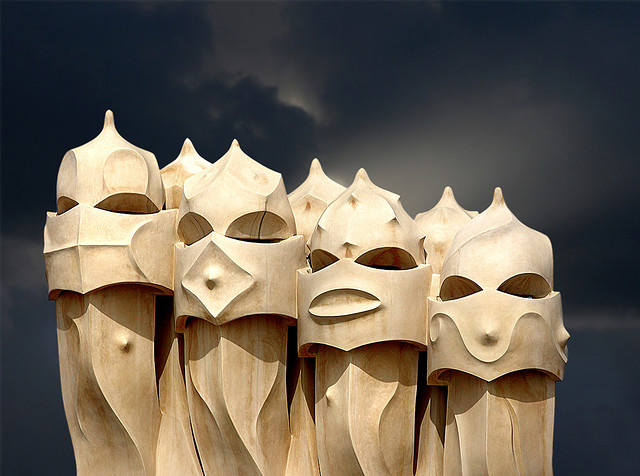 (Photo: angelocesare / flickr.com / CC BY-ND 2.0 license)
Luxury and budget resorts in Spain
Mallorca is considered a prestigious resort, here often rests wealthy people, politicians and show business representatives. Costa del Sol and the Canary Islands are also chosen by people with good financial resources. Ibiza is a well-known resort for the young and not necessarily rich, there are both luxurious villas and hotels for the golden youth, and quite modest guest houses.
People of average income prefer democratic resorts of Costa Dorada and Costa Brava. Budget hotels in the Costa Brava are located a bit far from the sea, moreover, along the coast lies a railroad line.
Young Resorts
Where to vacation in Spain by the sea for young people? Tourists are advised to choose the San Antonio and Playa den Bossa in Ibiza, Lloret de Mar (Costa Brava) and Salou (Costa Dorada). Their popularity is explained simply – holidays here are not too burdensome for the wallet, plus a lot of available entertainment. Music and dance parties and festivals are often held on the beaches.
Selection of housing :
Resorts for seniors.
There are thermal and spa hotels in Spain in the Costa Dorada, Costa Brava, Costa Blanca and Costa del Sol, in addition, the elderly often choose to vacation in the Canary Islands. They like the mild climate without sudden temperature jumps, the lack of active nightlife and the availability of places to walk and excursions.
Cultural and sightseeing vacations
Those who are interested in sightseeing besides the beaches are better to rest in Spain on the Costa Brava and Costa Dorada. From here it is convenient to visit Barcelona and other popular cities: Seville, Madrid, Toledo.
If you want to see the real Spanish bullfighting, you should go to Madrid, Seville, Malaga, Granada or Valencia. Most performances are held in the spring and summer, tickets cost from 4 to 120 euros.
And of course, what a vacation without a gastronomic experience! Spain offers light snacks: tapas, which can be found in any bar, delicious jamon and paella with vegetables and seafood. And do not wash down all this splendor with beer. The choice of wine in Spain is not worse than in Italy or France. When planning a trip, keep in mind the siesta: from 14 to 17 many establishments are closed for the afternoon break.
A useful selection: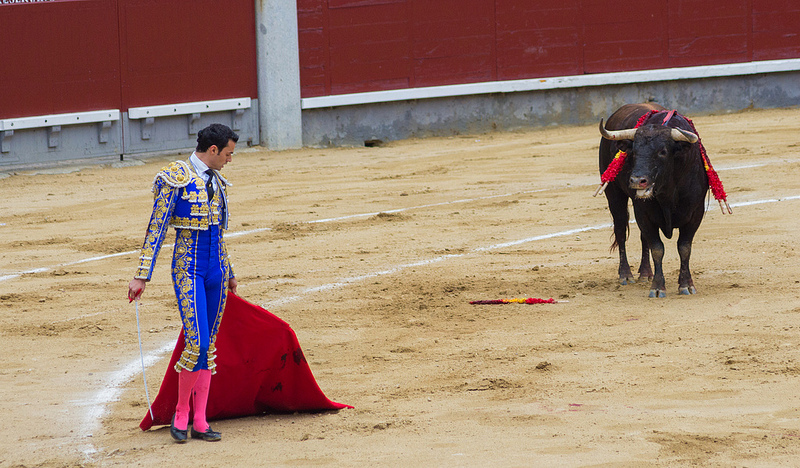 (Photo: Gilbert Sopakuwa / flickr.com / CC BY-ND 2.0 license)
Where in Spain is better to vacation with children at sea
According to travelers' reviews, it is desirable to choose a hotel of at least 3 stars to have a good vacation with your child in Spain. Some hotels offer babysitting services, a children's room and animation. Hotels on the Costa Dorada and Costa Brava are known for their democratic prices, while a vacation on the Canary Islands and Mallorca will be more expensive. The Costa del Sol has a beautiful coast, but the water is often cool, which is not suitable for the youngest tourists.
On the Costa Brava, the leading resorts are Blanes and Tossa de Mar. These are the places where it is best to vacation in Spain with children. Most hotels are located here on the first line, animators, there are swimming pools and playgrounds, and the restaurant offers a children's menu. You can go with children to the botanical garden, water park, zoo and dolphinarium.
In the Costa Dorada is best known among holidaymakers with children resort La Pineda. There are great family hotels and a large amusement park. With older children can go to Barcelona, they will be interested in seeing the creations of Gaudi, visit the Chocolate Museum and the zoo.
Tenerife is Spain's best holiday destination with kids, as its hotels are all-inclusive, and there are plenty of natural attractions and parks to keep them entertained. Children will be interested in trips to the volcano Teide or to a bird park.
Find the hotels in Spain that are best suited for holidays with children on this page.
When to vacation in Spain
Spain is a very warm country, with hot summers and humid short winters. In winter the temperature is below zero only in the center and north of the country, and in summer rises above +35 ° C in the south, while the northern coast is moderately warm +25 ° C. Pleasant weather all year round in the Canary Islands, with temperatures of +16. +20 ° C in winter and +28 ° C in summer.
During the winter months, the coast of mainland Spain is wet, windy and cool +10. +13°С. The mountains offer ski resorts. Sierra Nevada is the place where tourists say it's best to vacation in Spain in winter. In January and February it is +8. +10 ° C. Comfortable in the Canary Islands: air from +16 to +21 ° C, water +17. +20°С.
Early spring and late fall are characterized by rainy and capricious weather, relatively warm and dry in the Canary Islands and Balearic Islands. In March and April it is +16. +19 ° C in March and April, and +20 ° C in November. The weather in the center of the country is damp and cool +12. +15°С. The sun is scorching in May, very warm in the south +24. +26 ° C, sea +18. +20°С. Mallorca is already swimming and sunbathing.
The beach season opens in June on the mainland: the air is +26. +28 ° C, water +23 ° C. In July and August it gets very hot in the south (+30. +35 ° C and above), in Spain at this time it is better to rest in Andalusia and the Canary Islands.
In September in Spain, the heat gives way to a mild heat of +25 ° C and the sea +24 ° C. In October, the swimming season ends, it's still warm (about +20 ° C), but the sea is already cooled to +22 ° C, at this time is very good to go on excursions.