12 best places to stay in Barcelona cheap and comfortable
How to have a cheap vacation in Barcelona? The recipe is simple: look for ticket sales and book a cheap hotel. If with the tickets it's easy – compare flight prices here and choose the cheapest one, the prices for hotels in Barcelona are "biting", and one night in a hotel can cost like a plane ticket. That's why experienced budget travelers first check on what dates and where to stay in Barcelona for cheap, and then they pick up tickets for transportation for these dates. If you can't change the dates of your trip, here are a few tips and a list of cheap hotels in Barcelona to choose from.
Barcelona, Spain
Use these tips to make cheap hotel reservations in Barcelona:
Book your hotel three months in advance, and for summer and holidays six months in advance. If you don't make it in time, try three weeks in advance, then 1 to 7 days in advance, which is when free reservations are cancelled, so you have a chance to find a hotel in Barcelona for cheap.
Do not be afraid to book hotels with advance payment without cancellation, as such hotels are usually the cheapest. But in this case, be sure of the dates of the trip, otherwise the money for the reservation will not be refunded.
Those who travel solo or in a large group are better suited to a hostel. Hostels offer accommodation in a common room with other travelers for 4-10 people, but it is cheap and you can meet new friends. Hostels are usually run by friendly, outgoing people. Very interesting! And for a large company hostel is an opportunity for all together to stay in one room at a low price.
To avoid searching for time, we have prepared a list with cheap hotels, hostels and apartments in Barcelona – only the best and proven options! Use and add in the comments your favorite hotels.
As a side note, a travel tip. Average prices for hotels in Barcelona: cheap hostels – from 15 euros per person, cheap hotels in Barcelona – from 45 euros per room for two people. Inexpensive hostels – from 30 euros per person, hotels – from 70 euros per room. Keep in mind that from June to September, as well as during the holidays, the prices double. So, for example, if in August you can find a good hostel in the center for 25 euros or a hotel for 60 euros – it's very cheap for Barcelona, don't hesitate to book.
Barcelona, Spain
List of the best hotels in Barcelona by value for money:
Lowest prices: best cheap hostels in Barcelona – from 20 euros. . in the center and near the beach.
Best Cheap Hostels in Barcelona
Hostel is not necessarily a "dorm", there are also rooms for two (often – with a shared bathroom). But in the hostels, unlike hotels, hostels often provide a kitchen where you can cook, and you can also use a free washing machine, which is important during a long trip. In addition, it is much easier to find inexpensive hostels in Barcelona than hotels.
The youth hostels often have free excursions, fun parties, communal dinners, free yoga classes, and more.
By giving out a good place to stay, you risk the next visit to stay without a room – yes, it happens))). About the hostel number 1 in this list friends asked me not to write – and so places need to book in advance, and double rooms are busy even in the off-season. But my opinion: the competition among hostels in Barcelona is big, so every year there are better places to stay than the previous ones. In the meantime, this hostel is really the best in Barcelona:
1. Yeah Barcelona – the best hostel in the center of Barcelona
Hostel Yeah Barcelona
Here it is #1 – the Yeah Barcelona hostel – clean, comfortable, modern and with a rooftop pool. Showers are in every room, not one on the floor like in other hostels. The beds are comfortable, the linens are the freshest, you get a good night's sleep. There's a comfortable common living room with couches and guitars, games, and books. Of course, there's the internet and desks to work on. But the best thing here is the friendly homely atmosphere. As if you are not visiting, but your best friends. You do not yet know what Spanish hospitality is? Don't know where you can find lots of real friends from all over the world in just one day? This is the place for you!
Rooftop View of Barcelona
There are free guided tours in the morning, and in the evening everyone goes to bars together or organizes dinners where you can meet everyone. Of course, all this is optional. The price starts from 30 euros.
2. Casa Kessler Barcelona is an inexpensive hostel in the center of Barcelona.
Casa Kessler Barcelona is an affordable youth hostel in Barcelona.
Modern youth hostel. Price from 20 euros per person (bed in a shared room for 8 people). Has a terrace for rest and shared kitchen. In addition to dorms, the hostel has double rooms with private bathroom. All reviews and prices, see here.
Note that in Barcelona they charge an additional city tax for tourists – sometimes it's already included in the price, but it happens that they charge it additionally when checking in (it's normal). The exact amount of tax depends on the hotel and is always mentioned in the description.
3. Jam Barcelona is the best cheap hostel in Barcelona and the most welcoming
Jam Hostel Barcelona is always fun
Cozy and clean, Jam Hostel Barcelona is located in the bohemian district of Gràcia in Barcelona, between the Sagrada Familia cathedral and Park Guell. The best of the cheapest (from 25 euros per person). Here everything is well thought out: each bed has a personal locker with a magnetic key, as well as a shelf with a socket for charging your phone; two common living rooms, a library and a terrace for yoga classes, a washing machine. If you're lucky, you'll get to the "family dinner" that the hosts sometimes host for all hostel guests. See photos of rooms, reviews, and prices here.
Fabrizzio's Petit is a hostel in the heart of Barcelona.
Fabrizzio's Petit is a hostel in the heart of Barcelona
Fabrizzio's Petit is centrally located, a 15-minute walk from the Sagrada Familia and Plaza Catalunya. There are both dorms for 8 people and double rooms (as pictured). There are free snacks throughout the day – croissants, jam, cereal, juice, milk, eggs. A shared kitchen and a washing machine are free for guests. See photos, reviews and prices here.
5. Inout is a unique and very cheap hostel in Barcelona.
Inout is a unique hostel located in a park.
This hostel may not be the best and most comfortable, but it is very cheap (from 17 euros) and has its own characteristics. It is located outside the city, in a park, 20 minutes by train, then 10 minutes on foot. The nature around is magnificent! Near Collserola Park, where you can walk and meet boars. Ideal not only for visiting Barcelona, but also for a relaxing holiday away from the hustle and bustle of the city. Not suitable for those who came quickly to see Barcelona in one day. See all the photos, reviews, and prices here.
The Best Cheap Hotels in Barcelona City Center
Hotels are convenient because the room has its own bathroom and you are independent of anyone. You can also find cheaper rooms in mini-hotels or guest houses if you share a bathroom.
6. EddyRooms Barcelona – a cheap mini-hotel in the center of Barcelona
Where to stay in Barcelona for cheap? EddyRooms is a cheap mini-hotel in the center of Barcelona.
An Art Nouveau-style guesthouse, located near Plaza Catalunya. The best of the cheap hotels, price from 46 euros per room for two people. It has a good atmosphere of Barcelona. There is a terrace where you can have a coffee. Guests can also cook in the fully equipped kitchen. See photos, reviews and prices here.
7. Amrey Sant Pau – good value hotel in Barcelona
Amrey Sant Pau is an inexpensive hotel in Barcelona with spacious rooms, a balcony and a beautiful view.
Walking distance from all the main attractions, but in a quiet area. The non-touristy Turo de la Roviro lookout is very close by. The hotel has spacious rooms with private bathroom , there are even rooms with balcony and good views. Prices vary a lot for different dates, but even in summer you can find a room for 60-70 euros per night! So check different days. See all the pictures and prices here.
Lifehack! If you stay in Barcelona for more than 2 days, do not get stuck on one hotel, but combine different accommodations. For example, it will be cheaper to stay in the center on weekdays, and a little further away from the center – at weekends. This way you not only save money, but also time, living first in one area, then in another.
8. The Cantón is a cheap hotel in central Barcelona
The Hotel Cantón is in the heart of Barcelona.
The Cantón is located in the center of the Old Town and a 10 minute walk from the sea. The rooms are small but have an en suite bathroom. Prices start from 60 euros per night. In summer you can also find "inexpensive dates" from 80 euros. See all the photos and prices here.
9. Casita Amarilla is a cheap hotel in Barcelona next to Park Guell. We offer champagne as a gift!
Hotel Casita Amarilla
If you are looking for a cheap hotel in Barcelona for a summer vacation, but a comfortable one, this is the best option! For the price of a hostel, you get a room with a private bathroom and a bottle of champagne when you check in.) See reviews, photos, and prices here.
10. Cheap hotels by the sea in Barcelona
Where can I find an inexpensive hotel in Barcelona by the sea? There are no good hotels close to the beach in Barcelona. For the undemanding there is a hostel Safestay Barcelona Sea, very cheap, first line by the sea, but it is difficult to call it comfortable.
Inexpensive hotels in Barcelona by the sea start from 120 euros in the summer, and are more expensive in August.
The NH Hesperia Barcelona del Mar is one of the cheapest hotels by the sea in Barcelona. There are often discounts, so you have to monitor prices.
NH Hesperia Barcelona del Mar – Hotel by the Sea in Barcelona
See pictures and prices here.
If you choose a hotel not on the first line, but at least 10-15 minutes from the beach, and not in the city center (by subway to the center), a good option is Hotel BestPrice Diagonal.
But it is better to go to the outskirts of Barcelona and rent an apartment by the sea for the price of a cheap hotel in the center of Barcelona. Especially since it's only a 20-30 minute bus ride away. Here are the best options:
Cheap apartments in Barcelona.
Those who go with children, for three or more days, it is more convenient to rent cheap apartments in Barcelona or the surrounding area. In this case, you can rent an apartment close to the sea and combine vacation in Barcelona with the beach. The cheapest apartments in Barcelona in the summer are up to 100 euros, the cheapest – 100-150 euros. But to stay in an apartment can take 3-4 people, so it is more profitable to rent an apartment instead of two hotel rooms – the price is the same, but the comfort is much greater.
In the past it was possible to rent an apartment in Barcelona for cheap through AirBNB. Unfortunately, lately the city authorities are struggling with landlords without a license, and now more and more often you can meet the reviews of tourists, for whom the reservations were cancelled at the last moment. This is why we have included in our list only the checked variants of apartments, with which there will be no problems on arrival. Here are some of our cheap rentals in Barcelona:
11. Apartamentos Atica – cheap apartments near the center
Affordable Apartamentos Ática in Barcelona
You are only a 10-minute walk from Sagrada Familia and 5 minutes from the metro. There is a kitchen and all the necessary utensils. Experiment with the dates – for the summer you can find prices up to 100 euros per night. Keep in mind that for one day the price will be higher than for three or more. Photos and prices, see here.
Royal Marina Gardens – inexpensive apartments near the sea
Apartments by the sea in Castelldefels, on the outskirts of Barcelona
If you want to live near the beach and not too many tourists, choose the modern apartments Royal Marina Gardens in Castelldefels. Excellent apartments 5 minutes from the sea: studios, single and double. All around silence and beauty, only cheerful parrots talk. To Barcelona, buses L95 and L94 (to Plaza Catalunya) run every 10-20 minutes, the stop just opposite the apartment, – convenient: we alternate beach holidays with walks in Barcelona. If you have a car, there is free parking nearby. Tip: In order not to pay extra for cleaning, you can wash your own dishes afterwards and leave everything clean. See all the photos and prices here.
If you need a hotel right away, here are the current specials in Barcelona:
Tell us where you prefer to stay – in apartments, hotels, or hostels? In the heart of the city or in a remote area? Let's discuss where to stay in Barcelona in the comments.
Friends, join us on – Facebook or Vkontakte or Odnoklassniki – exchange experiences, give out LIFHAKES, tell us about current discounts! And also pictures and tips for travelers on Instagram and Telegram.
Where to stay in Barcelona: 12 options from 61€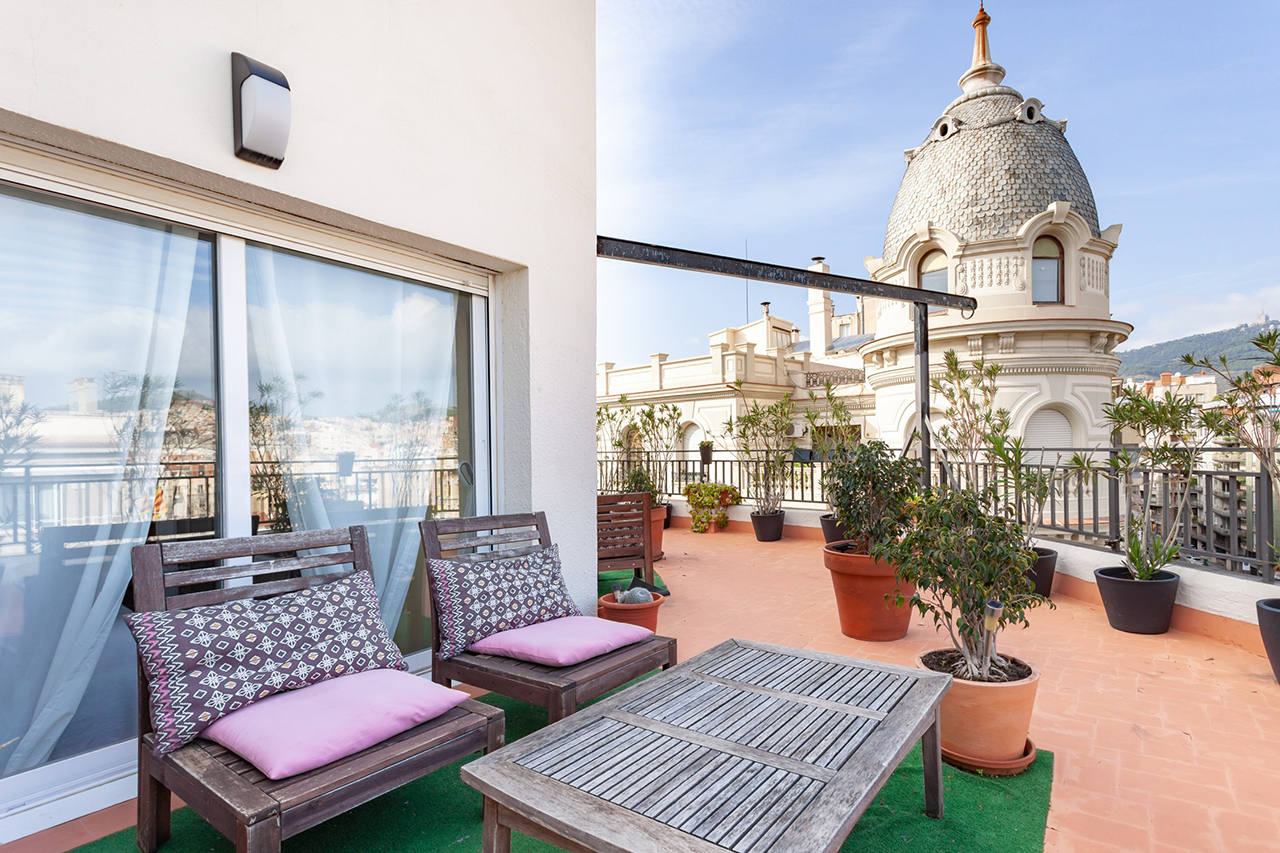 Comfortable accommodation in Catalonia's capital that you'll want to return to. We're telling you where to stay in Barcelona. Where to stay recommended by tourists. How to save money and choose the right option.
We've prepared a selection of relatively inexpensive accommodations in the center and the outskirts of the city: lofts, apartments, apartments and yachts. They are convenient for a holiday for two, with children and for a small group of friends.
Look for discounted hotels on Skyscanner Hotels and private accommodations on AirBnb. Here are the main rules of searching for hotels.
Which Barcelona neighbourhoods are the best for tourists to stay in
The choice of the area where you will stay depends on the purpose of the trip.
Old Town . The historic part of Barcelona includes the famous La Rambla, Raval, the Gothic Quarter and the medieval quarter El Born. Life in the city center is very colorful. Housing is expensive, but you can easily get anywhere in Barcelona.
Barceloneta . Part of the Old Town was once a fishing village. Today this is where those who have a beach holiday plan stay. But it's also where the young and party-goers flock to.
Eixample . The area around the Sagrada Familia Temple is a great place to stay in Barcelona for sightseeing. The surrounding streets are full of modernist architecture. Parents with children and shopping lovers love the Eixample.
Gracia . Despite its remoteness from the sea, the beautiful neighborhood is popular with tourists. Gracia is home to Park Guell, and Barcelona's best bars and restaurants.
Poblenou . The seaside neighborhood will appeal to beach lovers. Known for its quietness and good fish restaurants.
Nou Barris . Inexpensive accommodation in Barcelona is available near the Collserola Natural Park. The green corner is connected to the city center by public transport, so it's easy to get to the iconic sights.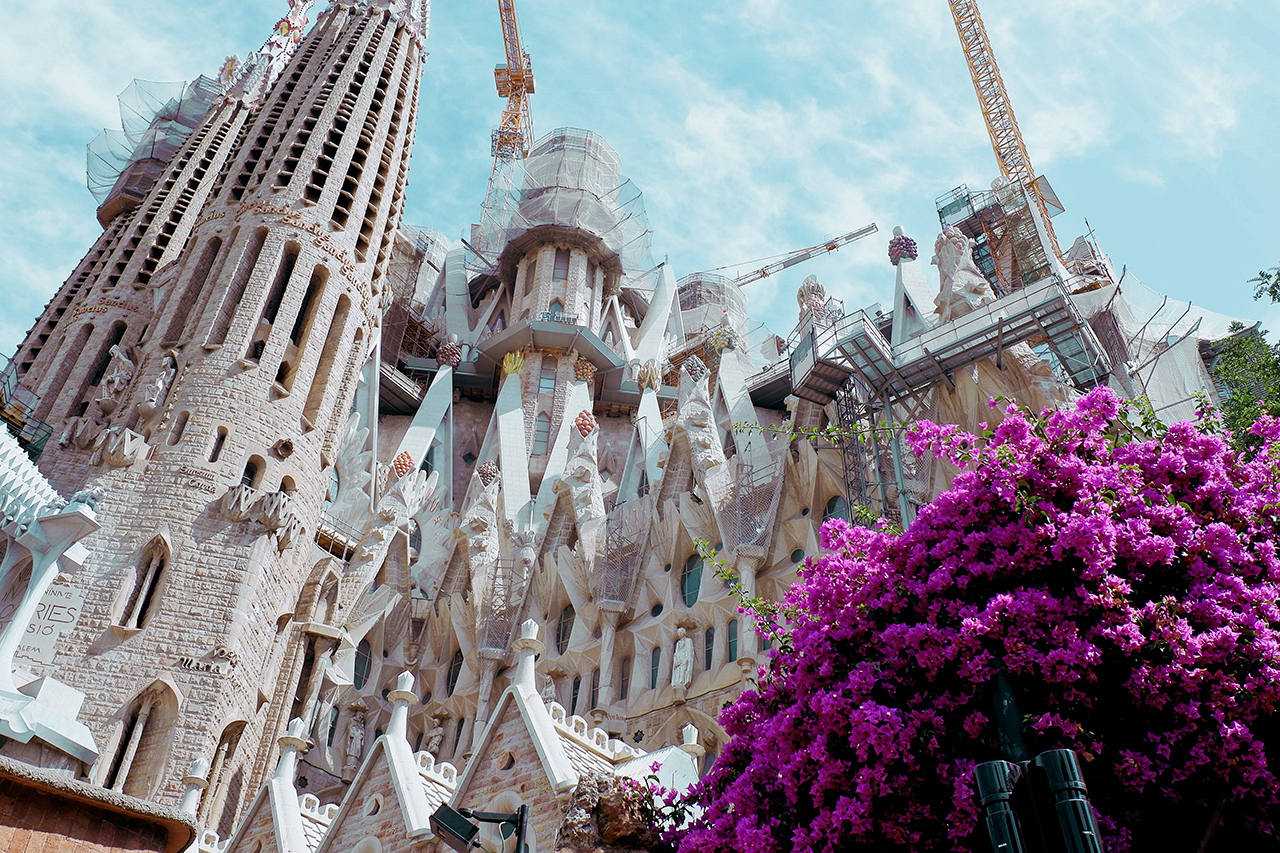 Sagrada Familia (Photo: unsplash.com / @strider_)
Dangerous neighborhoods in Barcelona
The capital of Catalonia is a safe city for tourists. There are no neighborhoods here where tourists are not allowed to walk and have fun. Nevertheless, be careful in public places. Near the Sagrada Familia, on the Rambla, and in Park Guell, beware of pickpockets. In the Raval district there are people who sell drugs.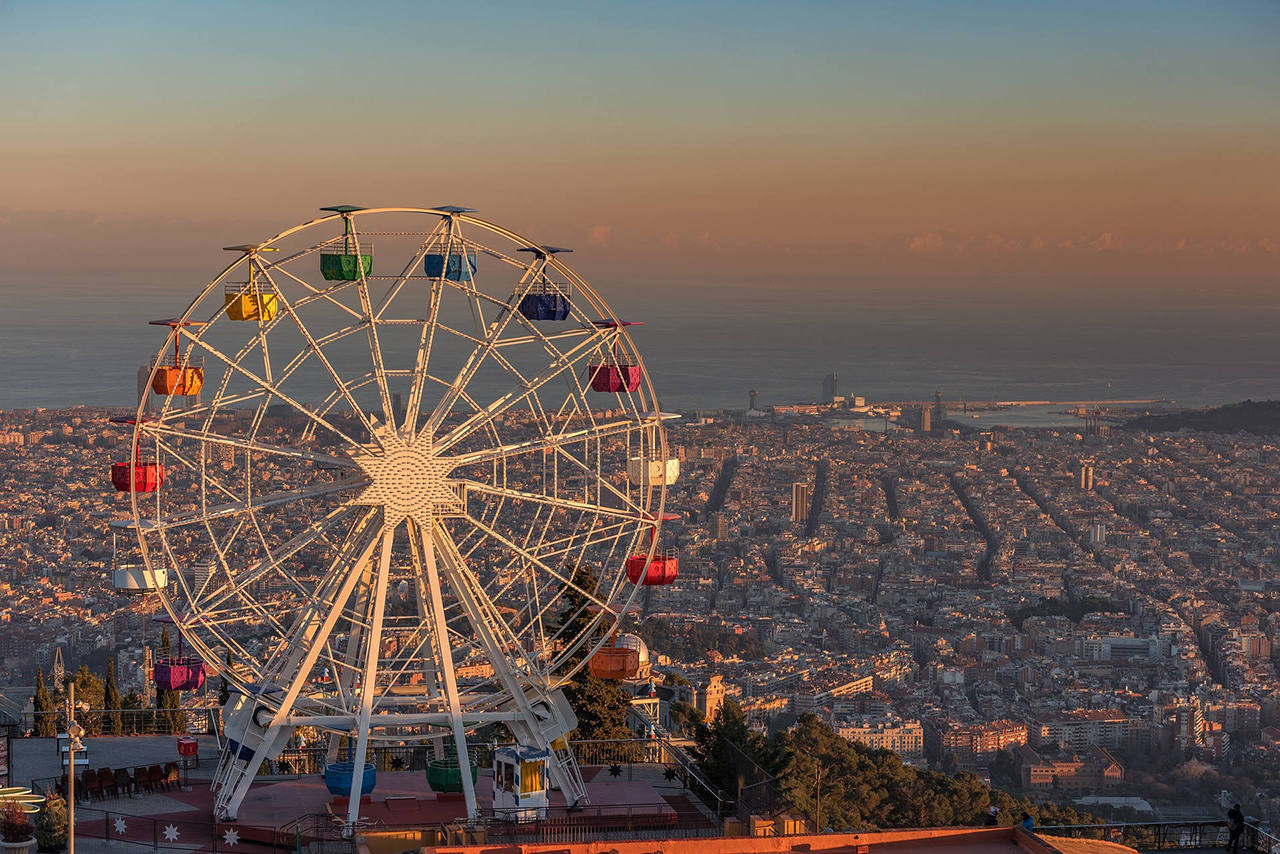 View of Barcelona from Mount Tibidabo (Photo: suetot / pixabay.com)
How to save money and find comfortable accommodations
Barcelona has a shortage of tourist housing, so it's expensive. During the high season, prices for a double room in a 3* hotel start at 90€. Hotels in the center of the city cost even more. To save money, tourists prefer to stay in apartments and flats. If you come to Spain with three or four people, it is 30-50% cheaper than staying in a hotel.
Here are ways not to overpay in Barcelona:
Start looking for housing at least 2-3 months before your trip and book your favorite options in advance.
In the dead of the season, from mid-October to late March, prices are lower.
Food in Barcelona is not cheap, so many people choose apartments with a kitchen and cook on their own.
Housing is expensive in the city center and cheaper in the suburbs.
Come to Barcelona on weekdays. Prices go up on weekends.
Look for interesting guided tours on Sputnik and Tripster sites. Individual and group, without crowds of tourists and in Russian.
Loft at the Barsa Stadium
Not sure where best to stay in Barcelona with a small child? This large 40 square meter loft with a cozy patio is located 8 minutes from the city center. It's a spacious, bright and well-planned home.
The loft has a large double bed, sofa and a comfortable bathroom. The open kitchen is equipped with a refrigerator, stove, coffee maker, toaster, blender, kettle and a full set of dishes. Use the washing machine, changing table, folding crib and high chair for nursing the baby.
The accommodation is designed for three people. In low season it costs 130€, in high season it costs 282€.
Living room and bedroom Kitchen and living room
Attic with green terrace for relaxing
The best place to stay in Barcelona for self-guided tours is a bright loft in the Gracia district. The apartment is close to Gaudi's famous Casa Vicença.
The air-filled apartments attract you with their stylish design. Relax on a large comfortable bed, a convertible sofa and prepare your own meals in the kitchen. The outdoor terrace is filled with tubs and pots with potted plants. It offers a picturesque view of the city streets. Relax on the hammock beds and enjoy Barcelona's fabulous skyline!
The loft can sleep up to three people. In low season it costs 130€, in high season 135€.
Living Room Bedroom
Sagrada Familia overview
If you haven't decided where to stay in Barcelona with friends, check out the loft apartment near Sagrada Familia. One of Antoni Gaudi's finest creations can be seen right in the palm of your hand.
The 30 square meter apartment is divided into a living room, attic, kitchen-dining room, small terrace and a bathroom. Use the washing machine, microwave, dishwasher, toaster and coffee maker. Climb up to the attic and take a closer look at Barcelona's main architectural landmark!
The apartment sleeps four people. At low season it's 150€, at high season it's 220€.
View of the Cathedral Bedroom
Lodging on a boat
Where to stay in Barcelona near the beaches? Stay on a comfortable boat! A great option for a family vacation or a group of friends is offered on the stylish yacht Chris Craft. The beautiful boat is moored at Port Forum. Nearby is an amusement park and Forum Park, where festivals and concerts are held regularly. The nearest beach is a 5 minute walk away.
There are comfortable berths, a kitchenette and a stateroom on board. Restrooms, showers and restaurants are on shore. Enjoy the sea breeze and relax at your pleasure!
The boat is designed for four people. A night's stay on it costs 100€ in low season and 137€ in high season.
The boat inside Korma.
Apartments near the street of shopaholics
In the southwest of the city stretches the district of Ospitalet de Llobregat. If you don't know where to stay in Barcelona, check out this comfortable 30-square-meter apartment with an outdoor terrace. It is 5 minutes from Barça Stadium and the shopping mecca of Carrer de Sants.
It is convenient to come here at any time of year. In summer it has air conditioning, and in winter – wooden floors and electric heating. Cook in the kitchen and enjoy the fresh air on the large green terrace!
Apartments are designed for two people. Prices are €110 in low season and €125 in high season.
Bedroom
Elegant apartment near the market
The accommodation is located on Rambla de Badal, near the covered market where fresh fish, seafood, fruit and vegetables are sold every day. Near the entrance is a small cafeteria.
Lovers of stylish design will be pleased with pastel-colored walls and curtains, unusual posters and dandelion-like bright chandelier. The apartment has everything you need for comfortable living. There is a fully equipped kitchen, a dining corner, a bathtub and a balcony overlooking a quiet street.
The apartment is designed for three people. In low season it costs 115€, in high season 164€.
Bedroom Living Room
One bedroom apartment in the district of Gracia
Looking for options where to stay in Barcelona for cheap? For a group of friends or a family with children, a spacious apartment close to Joanic metro station is perfect. It is very close to the city center and close to Park Guell.
The apartment is located on the fourth floor in a building with elevator. The apartment has a kitchen and balcony overlooking the beautiful Plaza Joanic. Specially for guests the owners have placed on the walls of the photos of the most famous sights and a detailed map of Barcelona.
The apartment can accommodate up to five people. In low season it costs 108€, in high season 165€.
Bedroom Living Room
Spacious apartment with huge terrace
Stylish accommodation in a quiet neighborhood, 5 minutes walk from Sagrada Familia. The apartment is on the 5th floor in a building with an elevator. It is divided into two bedrooms, living room, kitchen and bathroom. To make it easier for tourists to travel around the city, the owners offer modern electric scooters for rent.
The outdoor terrace has wooden chairs with a table and chaise lounges. Have breakfast, sunbathe and admire the old buildings of Barcelona!
The apartment can sleep up to three people. At low season it costs 92€, at high season it costs 182€.
Terrace Lounge
Studio in the center
In the Raval neighborhood, tourists are offered cozy accommodations that are decorated in an ethnic style. There are plenty of bars and restaurants around. The attractions of the old town are within walking distance.
The studio is on the first floor and will suit young people and fans of active nightlife. It has a double bed, sofa, full kitchen and a bathroom with shower. Perfect for a walk through the historic center of Barcelona!
The apartment can sleep up to two people. At €122 in low season and €168 in high season.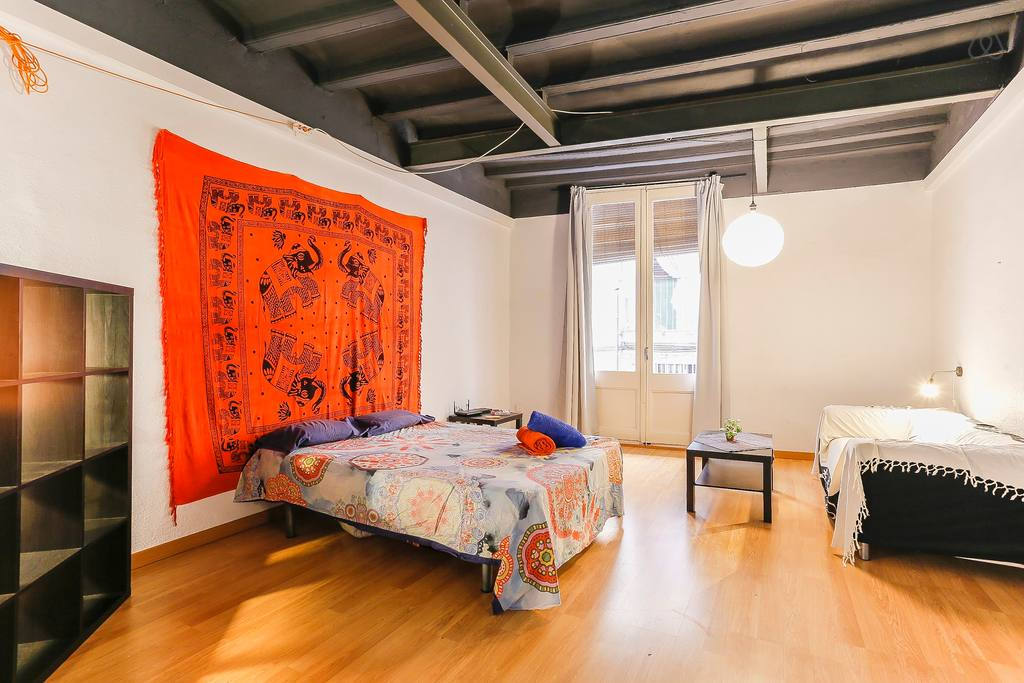 Bed
Best views of Barcelona
Looking for bargains on accommodation in Barcelona? Not far from Marina metro station and green parks, rent a small studio apartment with private bathroom and shared kitchen.
The room with a double bed is decorated in pleasant white and blue colors. The kitchen has a stove, refrigerator, oven, electric kettle and utensils. But most importantly, the view! Step out onto the balcony and admire the Sagrada Familia Temple, the 34-story Agbar Tower and the city neighborhoods. With a cup of coffee or a glass of wine it's nice to plan new routes around Barcelona!
The apartment is designed for two people. It costs 96€ in low season and 115€ in high season.
Bedroom Kitchen with access to the balcony
Comfortable apartment near the train station
Stylish accommodation near Barcelona Sants Train Station. If you are looking for a cheap place to stay in the center of Barcelona, this is a very good option! The house stands on a quiet and safe street, 100 m from the metro station.
There is an elevator and Wi-Fi connection. The computer desk is in front of the window, behind which you can see the old buildings. Cook in the shared kitchen and relax at a table on the balcony!
The apartments are designed for two people. Rates are 83€ in low season and 85€ in high season.
Living Room Bedroom
Cheap accommodation in the city center
Near Rocafort metro station, tourists are offered apartments in a traditional old house l'eixample. From here it is just a few minutes drive to Plaza Catalunya, Barcelona Sants train station, and 1.5 km to the beach.
The room has a balcony. There are lounge chairs in the common hallway. Within walking distance of the old house Emili Batlle and the large green park Joan Miró.
The apartment is suitable for two people. It costs 61€ in low season and 77€ in high season.