Where to stay in Milan
Where to stay in Milan for the tourist. Learn more about the different neighbourhoods of Milan and get useful information before booking your hotel or apartment in Milan. Choose the right places! Talusha shares her experience.
Milan (Milano) is a city as interesting and varied as the capital of Italy, and just as big, noisy and crowded. The main thing, in my opinion, when choosing a hotel in Milan – decide what the purpose of your trip, because first of all it will depend on the location. The purpose may be shopping, or viewing the city itself and its grand cathedral, plus a visit to the "Last Supper," or perhaps you want to use the capital of Lombardy as a base for the survey of the surrounding area. You should choose your accommodation according to your goals, not without considering the budget of the trip.
Combinations are also possible (assuming a long stay in Milan): let's say to stay in the center for a few days and see all the main attractions, and then move to the train station to visit nearby cities and not waste precious light time on the Milan Metro. There are always exceptions to every rule: for example, if you are going to the capital of Italian fashion in order to do some shopping, you don't have to stay in the Via Montenapoleone, you can live near the central train station and spend the money you saved on unnecessary things. If your trip is planned in the first half of January or in mid-July, it is worth to start booking hotels in Milan as early as possible, because on these dates in the city are on sale and the city is overcrowded.
In what area of Milan to stay?
Below we will discuss hotels in different areas of Milan. First of all, we will talk about the historical center of the city and the surrounding areas:
Hotels close to important sites such as:
Finally, this article will conclude with some attention to the issue of apartment rentals:
Near the Milan Cathedral (Duomo)
The area around Duomo is one of the most popular accommodation areas in Milan. Nearby, in a radius of 5-10 minutes on foot, there are many stores, the theater "La Scala" is about 10 minutes walking distance, to all the city sights – 5-30 minutes, and the famous shopping area – about 15-20 minutes, and the active shopping starts right at the Duomo – in Via Vittorio Emanuele (Corso Vittorio Emanuele). At the same time, this area is relatively expensive, and it's worth thinking whether you're willing to pay 120-250 euros per room or better to settle a little further away and save a couple of hundred euros on a silk dress for yourself. The disadvantages of the area, in addition to high prices, can include some general "shabby" many hotels – their owners are apparently convinced that tourists will visit Milan anyway, to go anywhere else, and therefore do repairs not necessarily. In addition, hotels in the center are often characterized by such deficiencies as small rooms, where you can not turn around, tiny elevators (or lack of them), Internet, which is available only in the lobby (although promised in the room) and other unpleasant things up to outright deception – I particularly know cases when tourists were faced with additions to the bill, or even found that they were put in a higher category rooms without warning and were required to pay extra money for it when checking out. The area around the cathedral is also noisy, so when booking a room overlooking the courtyard and as high as possible (assuming the hotel has an elevator). Another nice thing about Milan is that even by Italian standards breakfasts are poor: the choice is small and there are often no hot dishes, and breakfast rooms can be so narrow that at peak times there are lines at the tables (however, this problem can be solved by getting up early). All these and other nuances are usually described in the reviews on the reservation sites, which is why they should be carefully read before you book and pay for a room in the hotel you like. In my opinion, hotels like Hotel La Madonnina or Hotel Spadari Al Duomo are interesting options for staying in the Duomo.
"Fashion Quarter
Just north of the Duomo is the so-called "fashion district" (aka Quadrilatero d'Oro or Quadrilatero d'Oro). Orient your map to Via Montenapoleone (via Monte Napoleone), which is its center, or to the Montenapoleone metro station. Here you can find boutiques of all kinds of fashion houses, the Duomo and La Scala are just 10 minutes on foot. Some of the hotels here are owned by fashionable brands and claim to have designer labels for their rooms. For example, the Armani Hotel Milano, which in the corridors smells of the brand's different fragrances, is worth looking into if you are not afraid of the price tag of around 500 euros per night. Hotels in this area also have outrageous prices for parking, so you should think twice before renting a car in Milan or come here by car. Breakfast and even coffee in neighborhood bars are also expensive, so it is better to have breakfast somewhere nearby – for half the price and not worse than in the institutions of the "fashionable quarter. On the other hand, unlike hotels near the Duomo, there are many more or less modern buildings, and the hotel may well have all the amenities of civilization – for example, a wellness center with a modern fitness room, Turkish bath and whirlpool, as at the Hotel Manzoni.
Between the Duomo and Castello Sforzesco
Northwest of the cathedral, the Via Dante and the Cairolli Castello metro station is also a pretty neighborhood. Located between the Cathedral and Castello Sforzesco, you're still in the middle of the city, near both the Cathedral and the fashion district (the Piccolo Teatro, halfway between the Duomo and the Castello, is a great landmark). Hotels here are predictably expensive, but the area is greener than those described above – the fortress and the large park around it have an impact. One of the main problems of the area are noisy streets, so it is worth carefully reading the reviews to find out if the hotel you chose is soundproof and if there are no complaints about the noise from the street. The famous Milanese shopping continues here as well with endless rows of stores all the way to the Ducal Castle. Plus, there are noticeably more nutritious establishments, and in terms of prices, they are more affordable than the Duomo. There aren't any "problematic" neighborhoods here, but as you approach the castle steer clear of the black guys waving colored string – they say they can entangle your hands with it and rip out your purse or wallet. And the Parco Sempione, which surrounds the fortress, should probably not be visited at night.
Surroundings of Milan University
If you want to live close to shopping, but at the same time not to overpay for hotels, you may want to pay attention to the east of the Duomo, where there are a number of hotels, including chain hotels, such as the NH President. The prices in this area are already lower and not as crowded as the cathedral, but all the stores and attractions remain within walking distance.
The University of Milan (Università degli Studi di Milano) is also located here, southeast of the Duomo. In practice, it often happens that when there are student campuses nearby, the neighborhood is noisy and dirty, but in Milan everything is relatively decent, and living in university districts is quite possible. The disadvantages are often the same as those around the Duomo – cramped rooms and breakfast rooms and very heavy traffic below the windows, so it's worth booking a room with a window facing the courtyard. The Best Western Hotel Ascot is one of the best hotels in the area.
Surroundings of Milan Central Station
Milan has several train stations, but the main one, where probably the largest number of tourists arrives, is Milano Centrale . There are a lot of hotels around the station and judging by the number of reviews on booking sites they are very popular. No wonder: prices of hotels in the area of the station are one and a half to two times lower than in the historic center, but at the same time to the center close – Milano Centrale Metro Station is right next door, and you can walk to the same Duomo (to walk about 30 minutes). The Citysightseeing sightseeing bus stop is also nearby. Finally, the Aeroexpress trains and buses to Malpensa Airport depart from here. Staying here is a great option if you want to save on hotel costs but not at the expense of quality, or if you plan to travel around Lombardy by train. On the downside, the station square is crowded and the traffic is heavy, but many hotels emphasize that their rooms are soundproofed, and it's true. In the building of the station are beggars and tramps, but outside the station I have not seen them, the station square is also quite clean. I stayed in a hotel near the central station – not a bad option. In particular, I advise to pay attention to Hotel Michelangelo or Starhotels Echo, located near the station, especially if you like to have a good breakfast and want good things like air conditioning and a TV with satellite channels.
If for some reason you do not want to live directly near the station, you can look at the area between the station and another shopping street – Corso Buenos Aires. You can orient yourself, for example, on Via Mauro Macchi. Once you pass a couple of blocks from the station, as the number of cars decreases sharply, and you find yourself in a quiet and very respectable residential quarter, where the station is only 5-10 minutes of walking and the shopping is about 10 minutes, and if you want you can even walk to the Duomo (about 30 minutes of walking through the shopping streets). There are also small cafes where locals go and even a Billa supermarket. In the area, Hotel Mediolanum is worth checking out for a reasonable price for Milan.
Corso Buenos Aires
In fact, Corso Buenos Aires is also a nice place to stay if the main purpose of your visit to Milan is shopping. The street is kilometers long and full of stores and you can easily stay in one place, especially if you take into account that there are a lot of small cafes and a quite decent supermarket "Pam" where you can buy at least some fruit. Hotels are also available but consider that this is a busy traffic street and when checking in you should ask for a room that overlooks the courtyard, so you can sleep peacefully at night. The railway station is about 15 minutes away on foot and there are regular buses to the airport, so from a strategic point of view these hotels are also quite conveniently located. In Corso Buenos Aires you can also walk to the Duomo, which again takes about 15 minutes. In Corso Buenos Aires I would advise you to check out the Hotel Cristoforo Colombo, Hotel Napoleon and Best Western Hotel Galles.
Surroundings of Porta Garibaldi Station
Another transportation hub of Milan is the Milano Porta Garibaldi train station, located southwest of Milan Centrale, between Milan's central station and the aforementioned Castello Milano. It is a relatively new neighborhood, where construction is still going on, including skyscrapers, so part of the quarter near the station is blocked by scaffolding and there is not much to walk around. At the same time, nearby is Corso Como street, which has a lot of cozy cafes, bars and clubs and a shopping center "10 Corso Como", so you can find something to eat or hang out. It's a 20-25 minute walk to Piazza Duomo and about 15 minutes to Central Station, plus there are shuttles to Milan's airports. The NH Grand Hotel Verdi and UNA Hotel Tocq are great options in the area. Despite the good transport links, I would advise staying here only if you have an early morning flight from Porta Garibaldi Station or if you arrive late at night.
Hotels near Milan's exhibition centers
Milan is one of the world capitals of exhibitions. Here are held furniture, shoes, jewelry, and many other exhibitions. So it is quite natural that Milan has quite a lot of hotels targeted specifically to participants and visitors of these events. But still keep in mind that there is the old Fair Center FieraMilanoCity, located within the city (near Sempione Park) and the new Fair Center, in the suburbs of Rho and Pero, which, as a matter of fact, is called Fiera Milano Rho-Pero. A list of hotels near the old fairgrounds can be found here, and near the new complex in Rho-Pero, here.
The vicinity of the San Siro Stadium
For soccer fans one of the centers of attraction is Milan's Giuseppe Meazza Stadium (or simply San Siro). Of course there are hotels in its vicinity. It's hard for me to understand this fascination, but if "soccer" is not just a word to you and "San Siro" is not just a stadium, then the following list of hotels is worth checking out. The stadium is quite far from the historic center, so it only makes sense to stay nearby if you are going to Milan specifically to watch a soccer match. In all other cases you shouldn't go for the local hotels.
The area around Malpensa and Linate airports
If you're flying into Milan from Malpensa airport early in the morning or arriving late at night, you'll have a choice: you can either splurge on a cab or stay overnight at a hotel near the airport. The second option for me personally is preferable, because the hotels near the airport are much cheaper than Milan hotels, and the next morning you can easily get to the city by train for three or four times less than the cost of the trip from Malpensa to Milan by cab. Near the airport I advise to choose from chain hotels (they try to keep their brand), which provide free shuttles from the airport to the hotel. At Malpensa Airport, for example, such an option for me is the Holiday Inn Express Milan-Malpensa Airport, where the more than reasonable price even includes a good breakfast. A more complete list of hotels near Malpensa Airport can be found here.
Also keep in mind the existence of the airport Linate, which is located almost in the city limits of Milan. Directly from Russia there are no flights to this airport, but flight connections are available. If you can fly through Linate, it's much more convenient than flying through Malpensa – in this case the question of finding a hotel for overnight stays near the airport disappears in principle. However, if necessary, you can also find hotels near Linate (see the list here).
Tip: If staying in a hotel in Milan itself is expensive, you should consider staying in larger neighboring cities (e.g. Bergamo or Brescia) where hotels are cheaper and transport connections are not worse, especially if you plan to use Milan as a base point to explore the cities of Lombardy. This rule applies to almost all European capitals and major cities.
Renting an apartment in Milan
If you do not like hotels, Milan also has a large number of apartments scattered throughout the city. Milan apartments are usually real apartments in apartment buildings, where you can feel like a real local. These apartments are usually fully equipped: they have not only a kitchen with appliances and utensils, but also air conditioning and wi-fi. Perhaps the disadvantage for some will be the fact that, as a rule, cleaning in the apartment is made only before moving in, then you yourself clean and tidy, but sometimes there are apartments, where the cleaning is still there, but then again, as a rule, only on weekdays. But the dishes have to wash them yourself, as well as understand where and how to take out the trash (this is an important question, because in a number of Italian cities are strict rules for carrying garbage – often it is necessary to collect it separately by group: glass, tin, paper, organic waste, etc., so it is worth clarifying this issue for yourself or in advance, or upon receipt of the keys). If you want to not only heat pizza in the microwave, and eat full Italian food, then it's worth scouting out where nearby supermarkets are, and if you like tea, then you'll have to either bring a kettle (in Italian apartments usually only coffee maker), or heat water in a pot. A nice and inexpensive option is, for example, the apartments of Residence De La Gare, located on a quiet street 5 minutes from the central station. For more information about apartments in Milan, read below.
Where to stay in Milan: 8 options from 60 €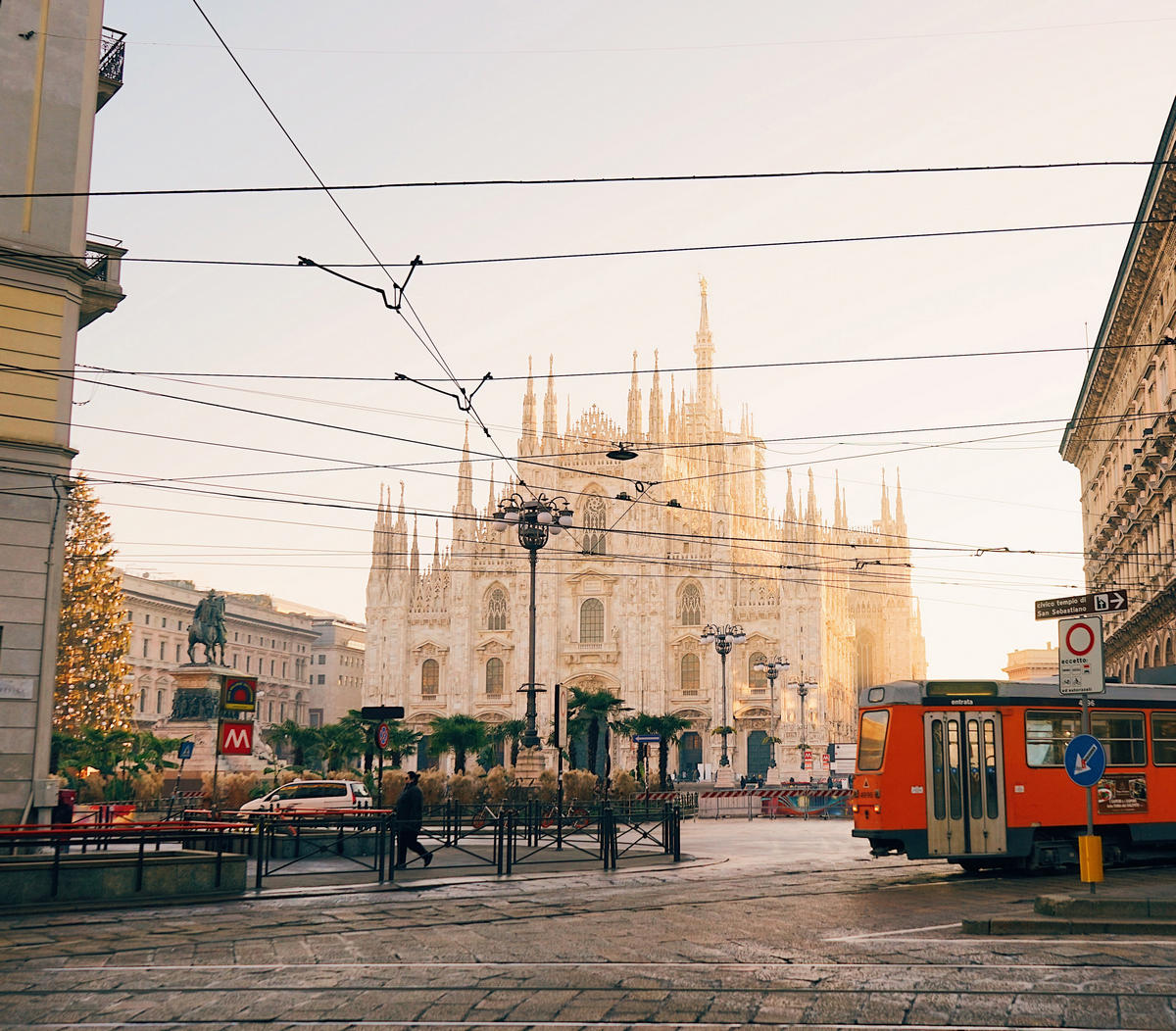 The best places to stay in Milan. We've listed the apartments and apartments in Milan that you'll want to visit again. We'll guide you on where to stay in Milan. We have made a list of the best apartments in Milan for rent.
For both adults and children, Rentxpress offers a wide range of apartments in Milan for short- and long-term stays. Rentxpress offers cheap and mid-range accommodation in Milan.
Look for discounted hotels on Skyscanner Hotels and private accommodation on AirBnb. Here are the main rules of the hotel search.
Milan's neighbourhoods, where to stay
Milan is divided into 9 administrative districts. Most tourists choose accommodation in the center – within walking distance of the main architectural and historical monuments.
The historical center . The heart of the city is the Gothic Milan Cathedral, or Duomo. Around it there are ancient squares, the theater La Scala, several museums and the Royal Palace. Everything can be reached on foot, but from morning to night the central part of the city is flooded with noisy crowds of tourists. Lodging prices are medium to high.
Golden Quadrangle . The Quadrilatero D'Oro represents the northern part of the historic center. It combines the world-famous shopping streets. A shopper's paradise!
Magenta . Magenta is a quieter neighborhood to the west. Here is the church of Santa Maria delle Grazie. Travellers from all over the world come here to see Leonardo da Vinci's famous "Last Supper".
Near the Central Station . Tourists who go to see Milan and go to other Italian cities prefer to stay near the transport hub. Nearby is the shopping street Corso Buenos Aires and the Naviglio Pavese Canal, which is famous for its nightlife.
Ticinese . Where to stay in Milan if you want to feel the flavor of old Italy? Choose Ticinese, famous for its old churches, bars and antique shops.
Brera . Milan's Montmartre attracts tourists with its Baroque palace with the Pinacoteca Brera gallery, cozy cafes and small stores.
Look for interesting guided tours on Sputnik and Tripster sites. Individual and group, without crowds of tourists and in Russian.
Disadvantaged neighborhoods
Milan is quite a safe city for tourists. Nevertheless, foreigners are not advised to rent apartments in areas with a lot of migrants. Bad reputation have Barona, Baggio and Quarto Oggiaro neighborhoods, the neighborhood of Corso Buenos Aires and Padova.
How to save money and find a comfortable place to stay
Milan is a popular destination, so there is a lot of tourist accommodation in the city. Seasonality is not very pronounced. It's easy to find a comfortable option in both summer and winter.
We know how not to spend extra money and choose the right accommodation in Milan:
Look for cheap apartments in the areas of Loreto, Vittoria and Citta Studi. You can find affordable accommodations in Corvetto.
Budget options with a convenient location are in demand, so book in advance.
Milan's main streets are noisy. Choose an apartment in quiet alleys or with windows into the courtyard.
If you are planning a trip in summer, find out if the apartment has air conditioning. When visiting during the colder seasons, find out what the heating system is in the building.
To save money on cabs, get an apartment near the subway.
Do not want to spend money on food in restaurants and cafes? An apartment with a kitchen or a kitchenette is a great solution!
Choose housing near a supermarket, grocery store, or market.
Useful selection:
Piazza Duomo in Milan (Photo: unsplash.com / @jilburr)
A small apartment near the canals
In one of the most charming areas of the city, near Viale Tibaldi, tourists are offered a quiet apartment of 20 square meters. It is just 10 minutes from Milan Cathedral. It is surrounded by picturesque canals, old taverns and restaurants.
The apartment is located on the second floor in a house without elevator. The double bed is on the mezzanine floor and is accessed by stairs. There are easy chairs in the living room and a kitchenette with a stove, microwave and utensils.
The apartment is suitable for two people. It costs 94€ in low season and 100€ in high season.
Living room and then the kitchen Stairs to the bedroom
The Loft by the Underground
If you haven't decided where to stay in Milan, head to the bustling Canal District, where the city's nightlife is buzzing. The exit from the Romolo Metro Station is 150 meters from the house.
The apartment is located on the first floor and it has a separate entrance. The internal space is divided into two zones. Upstairs there is a bedroom with a bed and downstairs there is a living room with a sofa bed and a kitchenette.
Tourists like the soft pastel colors of the walls and furniture, stylish stools with ropes, photos with sea views and original lamps. The owners are happy to prepare an Italian breakfast with excellent espresso coffee, tea, jam and cookies for their guests.
The loft is designed for three people. It costs 65€ in low season and 75€ in high season.
Living room and kitchen Bedroom
Typical Milanese ringhiera.
In the heart of Milan's nightlife, near the Naviglio Pavese canal, a spacious accommodation is for rent. From here, streetcar number 3 runs to the city center. The apartment is on the third floor in a house with a cozy courtyard. It is perfect for a friendly company. The air conditioning allows you to rest well in the heat. Admire the artwork on the walls and cook in the kitchen.
The lodging accommodates four people. It costs 102€ in low season and 115€ in high season. Breakfast is included.
Living room Bedroom
New apartment 15 minutes from the city center
If you are not sure where to stay in Milan, why not stay in a comfortable apartment? If you like comfortable apartments you will love a cozy apartment in the area of Via Momza. The center is 6 stops by subway, and the Milan Cathedral can easily be reached by bike. Within walking distance of a large green park Trotter, stores and good restaurants.
The apartment has a stylish bedroom with a large double bed and an equipped kitchen with a washing machine. All guests are impressed by the large wrought iron chest and the crooked portrait of Lenin hanging on the wall.
The apartment is designed for two people. It costs 83€ in low season and 98€ in high season.
Portrait with Lenin Bedroom
A great option in the city center
Where better to stay in downtown Milan? A great solution is a luxury studio apartment with a separate bedroom and kitchen. It is in a house on the second floor, a few steps from Lima metro station. Central Station is 8 minutes away on foot.
The apartment has air conditioning and heating system. This means that you can come here at any time of the year. Guests love the parquet floors, white furniture, wicker chair and nice posters on the walls. Relax and plan to walk to La Scala Theater, Milan Cathedral, the Fashion Quarter and Milan's most famous shopping street, Corso Buenos Aires.
The apartment is designed for two people. It costs 93€ in low season and 106€ in high season.
Bed Dining area.
Studio in a house on a quiet street
Where to stay in Milan for cheap? This new lodging is offered in one of the most cosmopolitan areas of the city. It is a short walk from the Cimiano/Udine metro stations and a 15-minute drive from the center. There are cafes, a supermarket and small stores in the neighborhood, which are open until late at night.
The bedroom is in the attic and is accessed by a wooden staircase. Downstairs there is a kitchenette and a comfortable bathroom with shower. You'll be pleasantly surprised by the minimalist design, quiet blue walls and light curtains on the windows. Make a coffee and go for a walk in the city!
The apartment is designed for two people. In low season it costs 60€ and in high season 72€.
Bedroom Bathroom
Apartment with antiques
The 1930s house offers tourists chic accommodations decorated with books, paintings, stylish photographs and musical instruments. The apartment is 300 meters from the yellow subway line, which provides easy access to downtown. On Friday mornings, a farmers market opens nearby.
This option will suit you if you are looking for a place to stay in Milan with family or friends. The spacious apartment has two comfortable bedrooms, a kitchen and a bathroom. Cook at home and feel like real Italians!
The apartment accommodates four people. Rates are 105€ in low season and 112€ in high season.
Bedroom Living Room
Apartment near the university
This cozy place near Piola Metro Station is a comfortable place to stay in Milan for anyone who appreciates mobility. This quiet neighborhood with stores and supermarkets is adjacent to the Technical University of Milan. The Duomo is an easy 30-40 minute walk away.
Relax on the large cushioned sofa and cook in the kitchen. Guests love the brightly decorated bedroom, stylish bathroom, and comfortable place to work on the computer. Minus – the accommodation is in a semi-basement, so there is not much natural light.
The apartment is designed for two people. In low season it costs 73€, and in high season it costs 91€.