Where to rent an apartment in Rome. My experience and feedback
The article is useful to those who prefer private apartments to hotels. It allows you to save money not only on housing costs, but also on food, because you can cook by yourself and not to spend 2-3 times a day in cafes or restaurants.
For those who prefer a hotel, I recommend the site RoomGuru. It will help you find the best value hotel and do not overpay for it. In addition, you can reduce your expenses by as much as 20% with CashBack.
Prices for apartments in Rome
Before you rent an apartment in Rome, it is better to know the approximate prices, so as not to overpay and be aware of the upcoming expenses. The first thing I want to say is that there is no seasonality in prices, because this is the capital of Italy and there will always be a demand for housing.
The minimum cost for renting an apartment for a day starts at 50 €, and the upper range is very high and can reach several walls. Costs can be slightly reduced if you rent only a room. Some will find it uncomfortable, while others will enjoy the pleasure of communicating with locals, sharing a roof with them for a while. In this case, prices for a night start from 30-40 €.
Where to rent an apartment in Rome
I prefer to book accommodation on Airbnb and I recommend you, as I've personally tested it dozens of times. It has the highest availability of private apartments worldwide. The only advice is that for everything to be great, you need to choose an accommodation only with a lot of positive reviews. It gives almost a 100% guarantee of success.
What was the deal with renting an apartment in Rome?
I did not have a good time when I rented an apartment for a couple of days. In the beginning to save money I was looking for a room, but the cheap rooms had already ended and the ones that were very far from the center and had to rent an apartment in Rome.
Location:
Normally I was lucky with the location of the accommodation, but this time the apartment was far from the center, but very convenient for those who come to the airport Fiumicino. The apartment is a 15 minute walk to the Roma Tuscolana station, where the regional train from the airport stops for 8€.
The sights of Rome and the Vatican can be reached directly by streetcar, which stop is a 2-minute walk away.
To the central station from the apartment you can walk 30-40 minutes or take the 5,14 and 50 streetcar for 10 minutes and 1,5 €. The most uncomfortable way to get to the train station Roma Tiburtina, or have to change trains or walk 40 minutes.
Roma Tiburtina was just my case the most uncomfortable option. The road on foot in this case is very colorful. If to walk from the vocal to an apartment, in the beginning it is necessary to pass through gypsies tabor, which live in dilapidated cars vans, but there is nothing to be afraid of here they are absolutely peaceful, any molestation and aggression was not noticeable. And after the gypsies have to walk along the cemetery, but it can be considered even a plus, as it is a sight in Rome, where you can take pictures of the original family vaults.
The setting near the apartment:
There is a contradictory opinion here. In the morning there is a vegetable market on the street near the apartment, and in the evening a cafe opens in place of the market. In between these events the street is filled with young people from Africa, from the side it reminds our gop-companies, but everything happens peacefully – no fights, do not cling to passers-by, just look eerily.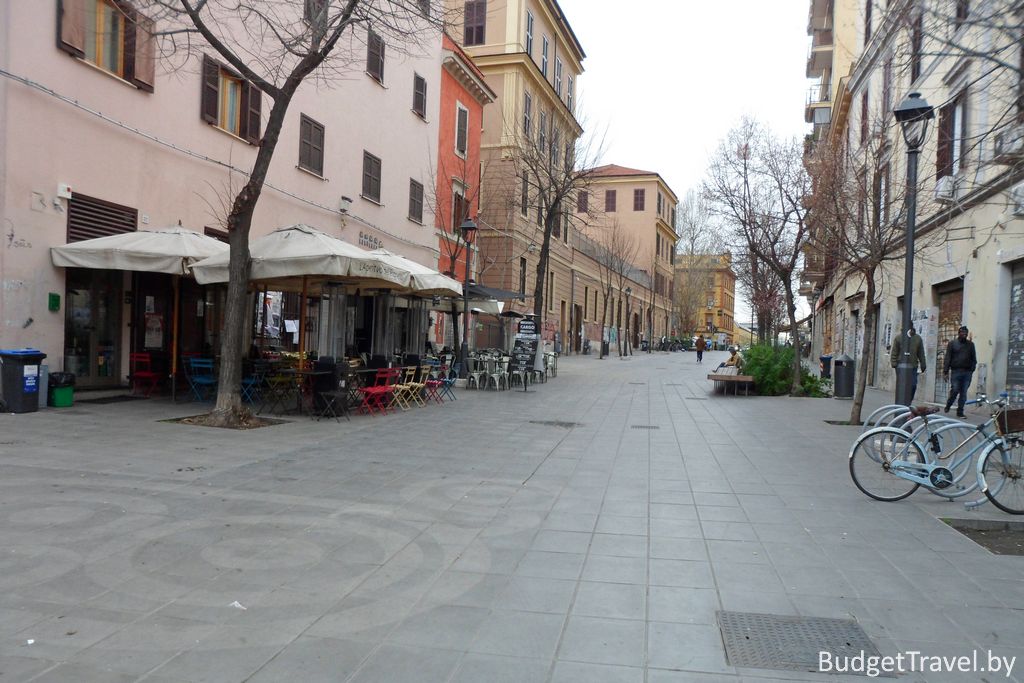 The cost of the apartment:
I booked these apartments and they cost me 101€, but you can get cheaper if you're not registered and haven't used your gift voucher. You can do it all by following these instructions. Below is an excerpt from the reservation.

Apartment Furnishings:
I managed to rent an apartment in Rome that turned out to be a two bedroom. It was a separate bedroom and a living room combined with the kitchen.
Kitchen. A minimum set of everything necessary except for a kettle. But the kettle is a big problem in Italy, because I had the impression that many Italians do not know what it is, or just save on electricity.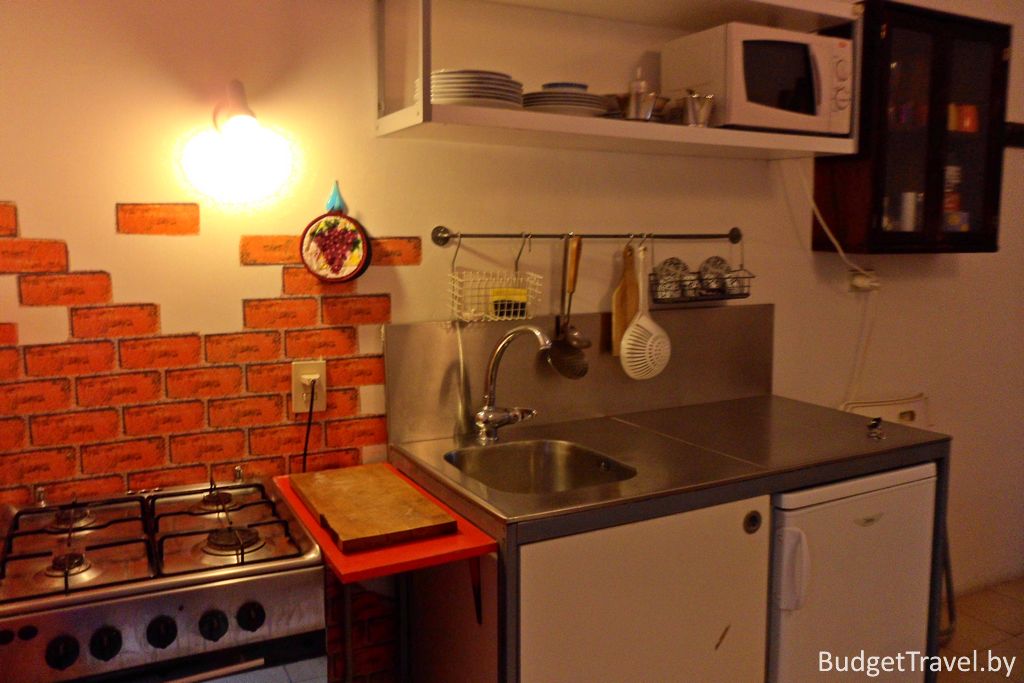 Hall aka kitchen. Minimal furniture, but was a small sofa which if desired can accommodate 2 guests. Also a dining table for 2-3 people. Still can mention a small TV which at this distance is almost not visible. Below is not a photo of me but a promotion photo, you can see it by clicking on the above link for booking an apartment in Rome.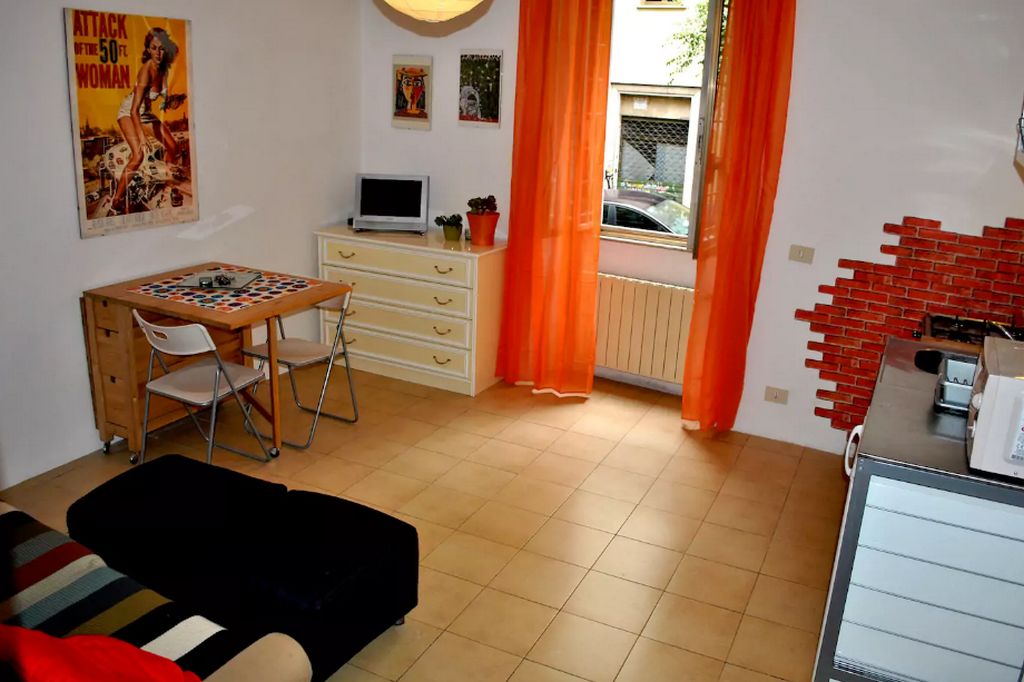 Bedroom. Here too, everything is simple, a small room with a large bed and chest of drawers. A photo of the dresser with a coat rack at the beginning of the article.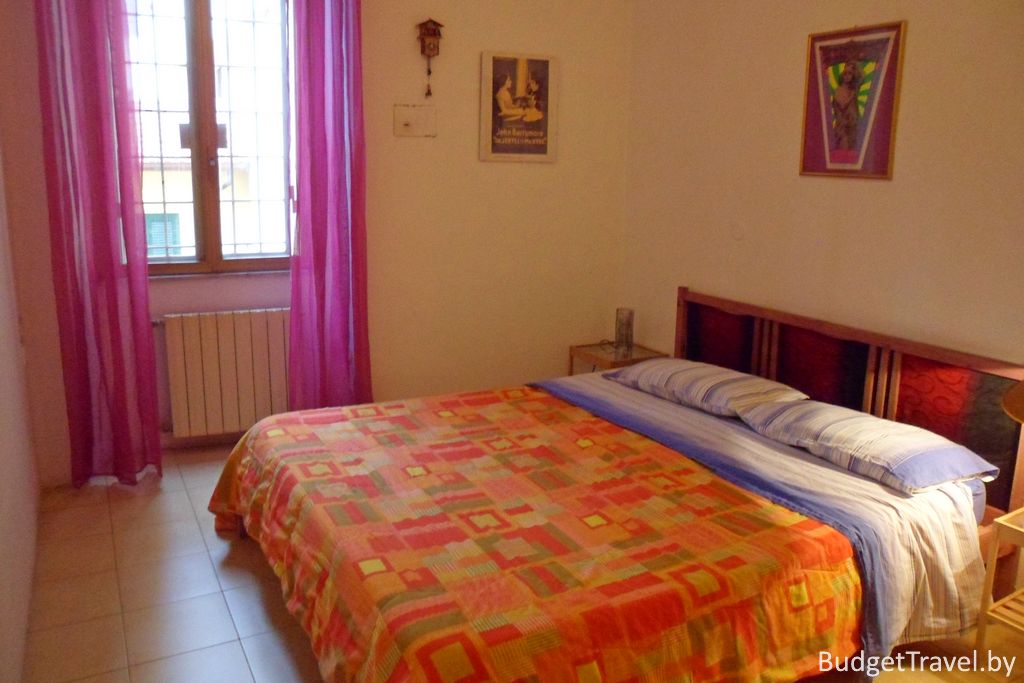 The bathroom. It was also minimalist and there was nothing else but toilet paper and soap. Although not quite right – was a washing machine which we did not use, but it did not get in the frame.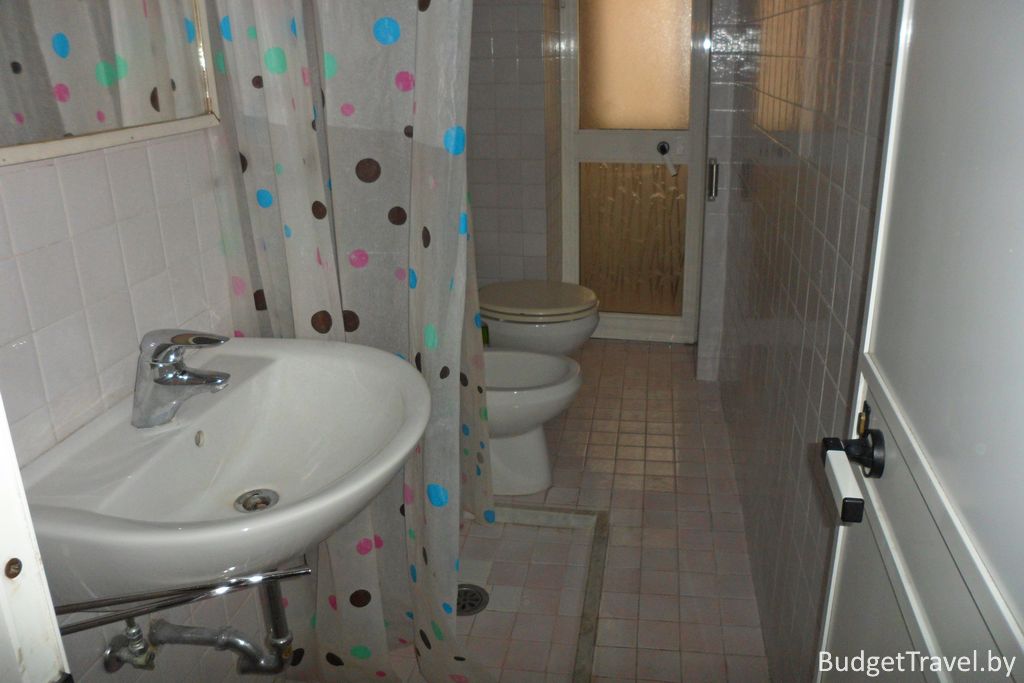 Heating. This for some will be the most important parameter. If you come in the heat, the apartment will be a salvation at the expense of the cold floor, as it is on the first floor and plus all lined with tiles and the floor is always very cold.
The owners save money on heating and set the regulator to 16-18C, maybe for them it is comfortable, but for us it is not. You can turn the regulator on your own if you know how, and for example set it to 25C before you go, and by the time you come home the apartment will be warm. But not the floor, it is always cold.
Communication with the owners . It was very quick, so can not characterize them. We were quickly shown and given the keys, apparently they were in a hurry.
Useful Links from BudgetTravel
Apartments, Hotels, Hostels
HotelLook – apartments and hotels for rent. Don't forget to use coupons.
Where to stay in Rome – 7 cheap apartments from €40
Here's a selection of places to stay in Rome-from budget-priced apartments to large apartments with a terrace. Which neighborhoods are better to stay in and which are dangerous for tourists? How to save money?
We have chosen comfortable accommodations in Rome, where it is convenient to stay for two, family or with friends. Inexpensive and medium price category. Location – in or close to the center.
Search for private accommodations on AirBnb and discounted hotels on Roomguru.com. Here are the top rules for finding hotels.
Content:
How to look for accommodation in Rome?
The main helper is a rental service from owners AirBnb. There you can find not only normal rooms and apartments, and very non-trivial housing: boats, apartments with a terrace, yachts, and even a house on a tree. The options on this service are many times cheaper and much more interesting than hotels.
If you feel more comfortable staying in hotels or cheaper staying in hostels, look for a room in Rome on the service Roomguru.ru – it compares prices from a variety of booking systems and finds the best.
What to look for when choosing an accommodation in Rome
The advantages of living in the center . Rent an apartment in Rome close to the center – it is convenient. You can walk to historical sites and travel freely to other neighborhoods. The apartment in the center of Rome is not cheap – on average rent per day in June 110 euros, in July and August – 160 euros. However, find a relatively inexpensive option is still possible.
In what areas is better to stay in Rome?
Esquilino near Termini station. Tourists love this area for its inexpensive apartments and hotels. We recommend renting an apartment closer to the Basilica of Santa Maria Maggiore.
Prati – moderate prices and convenient infrastructure.
Monti – This is the best place to stay for those who like nightlife. There are plenty of bars, nightclubs, and stylish cafes.
Celio by the Colosseum – A friendly and cozy neighborhood for a relaxing vacation.
San Saba is a quiet neighborhood on the Aventine Hill.
Parione is loved for its beautiful streets and market selling fresh fruits and vegetables
Trevi is chosen for its famous fountain and the mecca of shopaholics, Via del Corso.
Do you want to feel the Italian flavor? Stay in Rome's authentic Trastevere neighborhood. Ropes of laundry hang between the houses, and restaurants serve delicious carbonara.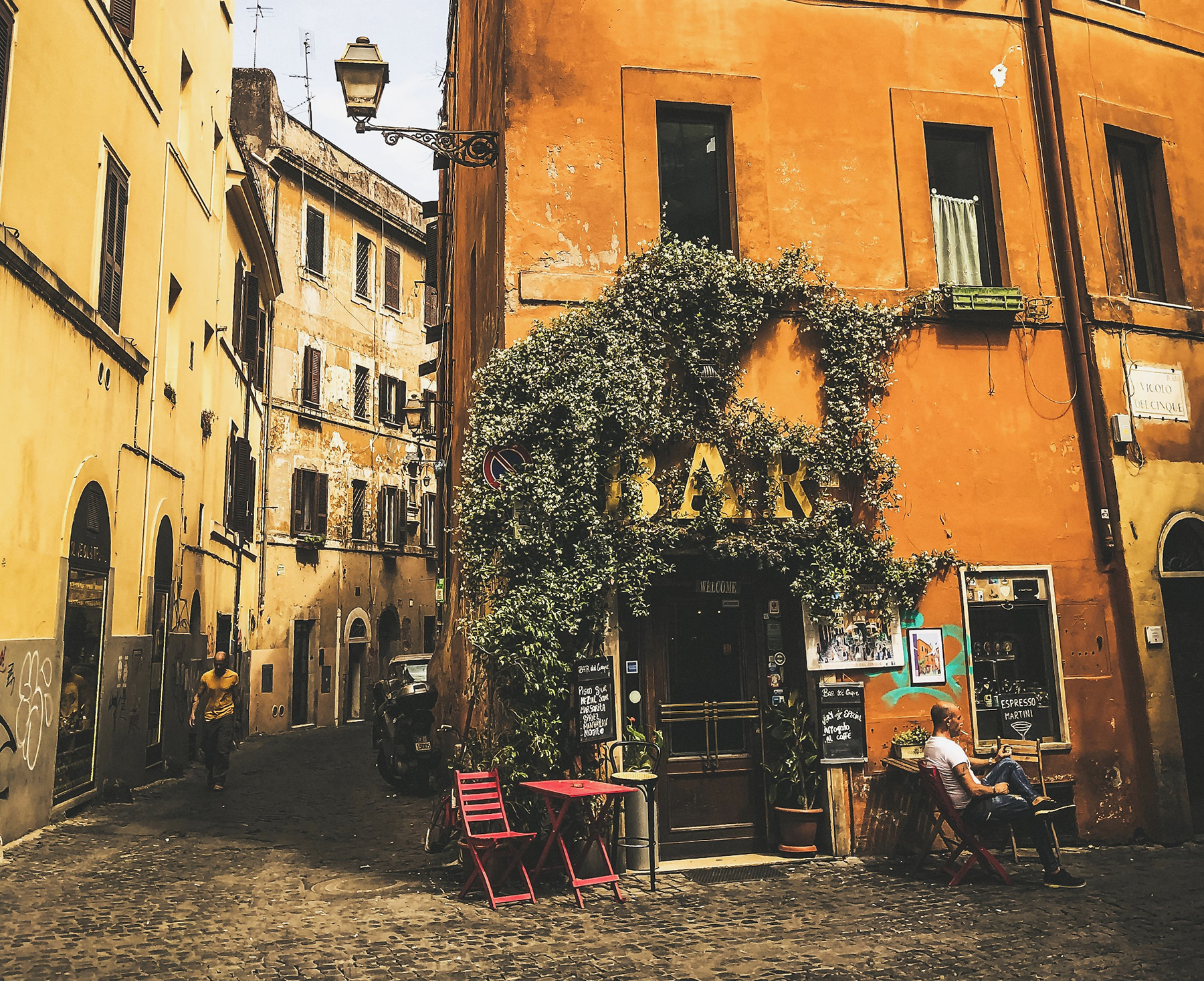 The narrow streets of Trastevere. Photo: danielesalutari / unsplash.com.
Dangerous neighborhoods . There are places in Rome with a tense crime situation. Visitors are advised to avoid them and not to rent apartments there. These are the neighborhoods of San Basilio, Corviale, Pignetto, Torpignattara and the Tiburtina neighborhood.
How to save money . Here are some simple tips on how to spend less money:
Choose hotels, apartments and apartments with kitchens and cook on your own.
It's cheaper to live within walking distance of attractions. You don't have to pay for public transportation and cabs.
Book rooms and apartments you like in advance.
Look for author tours on Sputnik and Tripster. Individual and group, without crowds of tourists and in Russian.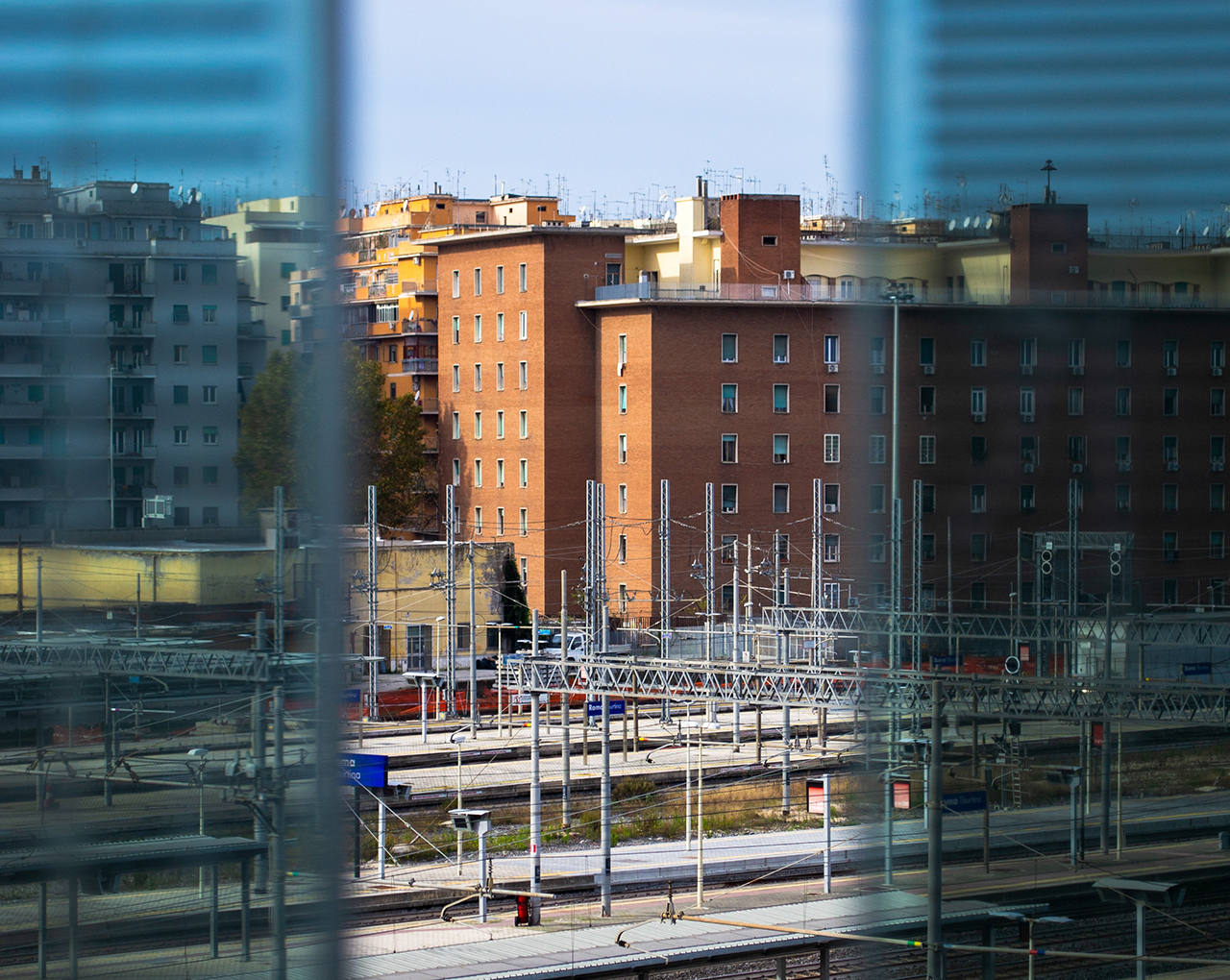 There are many inexpensive hotels and hostels near Tiburtina station, but because of the proximity to the station, there is a high crime rate. (Photo: unsplash.com / @serenarepice)
Romantic Apartments
One place to stay in Rome is a neat and inexpensive apartment on the ground floor. It has a wonderful view of the green courtyard. The room and bathroom are decorated in pleasant pink tones.
The apartment is located in a lively neighborhood with many restaurants, cafes and boutiques. Nearby stands the Cathedral of St. John the Baptist on Lateran Hill.
The apartments are for two people. In low season they cost 40€ and in high season 65€ per night.
Bedroom Table in the kitchen
Trendy apartment with terrace
Where to stay in Rome for 3 days? A nice clean apartment is located in the neighborhood, which is adjacent to the Ostiense train station. White furniture, a stylish blue sofa and bright posters on the walls will cheer anyone up. Flowerpots and a mottled rug on the floor add warmth and homeliness to the space.
Cook a meal in the modern kitchen and dine on the outdoor terrace under the awning. The windows overlook a small courtyard with flowers, so it won't be noisy!
The apartment is designed for four people. Rates are 53€ in low season and 112€ in high season.
Exit to the balcony from the bedroom Table under the canopy
Lodging for connoisseurs of authentic Rome
A wonderful option for anyone looking for a place to stay in Rome is in the Quadraro Vecchio neighborhood. There is a full kitchen with stove and dining table, a clean bathroom with toilet, and a bedroom in gentle pastel colors. Significant perks include an elevator, washer, free wi-fi, coffee maker, iron, hair dryer, air conditioning and regulated heating.
The accommodation is located 15 minutes from Rome Ciampino Airport. To reach the historical sites in the center, use the metro.
The apartment can accommodate up to three guests. It is possible to come with pets. The accommodation costs 75€ in low season and 133€ in high season.
Bedroom Kitchen
Luminous apartments near the Vatican
Where should you stay in Rome if you want a quiet getaway? Excellent apartments in an apartment building in the Prati district. A few minutes on foot you can walk to the Sistine Chapel and the Vatican Museums.
The walls are decorated with author's photographs with views of the Italian capital, so start your journey through the city without walking out the door. Cook and dine at home, use the Internet and modern furniture, watch the life of the Romans from the openwork balcony.
The apartments can accommodate up to four people. They cost 108€ in low season and 195€ in high season.
Living room with access to the balcony View from the balcony to the neighboring house
Microhouse with a sunbathing terrace
If you're looking for a cheap place to stay in Rome, take a closer look at this apartment with a kitchen. The room, which is decorated in calm blue tones, is adjoined by a large 100-square-foot terrace. Put up a comfy lounger for sunbathing, drink coffee at dawn and admire the view of the ancient Basilica of San Giovanni.
The apartments are designed for two people. In low season they cost 54€, in high season 70€.
Room with kitchen overlooking the city from the terrace
Stylish loft in the heart of Trastevere
Where to stay in Rome if you want to live in a lively and trendy neighborhood? Choose Trastevere! The house stands on a quiet street surrounded by the best bars.
The living area and amenities are on the first floor and the cozy bedroom is on the mezzanine. All of the city's major tourist spots are easily accessible on foot. Enjoy the comfort and enjoy exploring Rome!
The loft is designed for two people. It costs 64€ in low season and 139€ in high season.
Living area with kitchen Bedroom
Typical Roman house for an intimate group.
Where's the best place to stay when you're bringing four or five people to Rome? A great choice is a large two-bedroom apartment decorated in the best traditions of a Roman house. The building is in the center of the city, 50 meters from Piazza San Cosimato. Use the living room, kitchen, air conditioning, internet, bath, shower and other amenities to make your stay comfortable.
The house is designed for five guests. It costs 64€ in low season and 128€ in high season.