Venice neighbourhoods: where to stay a tourist
In this article I will tell you which are the best places and districts for living in Venice. And which ones to avoid in order not to spoil your vacation.
The best areas where to stay in Venice
1. San Marco district in Venice
2. Dorsoduro in Venice
3. Cannaregio district in Venice
4. San Polo district in Venice
5. Castello district in Venice
6. Santa Croce district in Venice
Where to stay 1 night in Venice
Where to stay for 2 nights in Venice
Where to stay in Mestre
In this article I will talk about 6 districts of Venice, and about Mestre, the mainland of Venice, where you can also stay.
To choose the area that is right for you, you will have to answer the question: what do I expect from my stay in Venice? Whether you are looking for romance, convenience, luxury or a cheap option, I am sure you will find an area to suit your tastes.
The best areas where to stay in Venice
First, I suggest walking through the main districts of Venice (or "sestieri" as they are called in Venice) to get acquainted with their features.
San Marco is perfect for beauty and luxury . This area has the most 5* hotels, and the main attractions of Venice, so it is one of the most expensive options for accommodation;
Dorsoduro – for those staying 2 or more days . My favorite area to stay in Venice. There are a lot of bars and restaurants that are frequented by locals and accordingly the prices of food there are inexpensive.
Cannaregio is for those who have seen Venice many times and want something new . This is another area where a lot of locals live. So here you will feel more like a part of Venice than just a tourist. The center is not so close, so you will have to take public transportation or walk a lot.
San Paolo – for those who want a beautiful view . A touristy area, especially if you live near the Rialto Bridge. The views of the Grand Canal are great here, but you'll pay extra for the beauty. You can easily walk to the city center.
Castello is for those who have been to Venice and want something new . An old working class neighborhood with its own character. Don't expect to find a traditional Venice with little side streets, little canals, etc. There are lots of squares and big streets, so Castello is very different from other neighborhoods.
Santa Croce is convenient for those who come by train or for short stays . This area is quite far from all the attractions and places of interest, so the cost of accommodation can be very advantageous!
Giudecca – for those who want to see tourists from the outside . It is a large island south of the Dorsoduro area, which is not connected to the center of Venice by a single bridge. I do not recommend staying here for the first time, because you can only get to Venice by water transport. But if you are not in Venice for the first time, you can stay here, this way you will get a different impression of the city.
1. San Marco district in Venice
San Marco is the center of the city. Here you will find the most famous sights of Venice, such as St. Mark's Bell Tower, St. Mark's Cathedral and the extraordinary St. Mark's Square. And the view from the promenade is amazing!
It's a great area to stay close to the main attractions.
If you want to grab a cup of coffee at one of the cafes in St. Mark's Square with a beautiful view of the cathedral, be prepared to pay dearly for such a treat. An espresso here can cost 10 euros.
If you want to see the real beauty of the city, come here at sunrise. You'll see San Marco in a completely different guise, nothing compared to how it looks at 2 o'clock in the afternoon.
The 3 best hotels for my taste :
– It's as if you go back in time when you stay in this elegant, luxurious, yet trendy hotel. It is truly unique. – It is a beautiful and atmospheric place to stay in Venice. It is more of a boutique hotel for a romantic stay. – It is one of the cheapest hotels in the area with a convenient location between the Rialto Bridge and St. Mark's Square.
2. Dorsoduro in Venice
As I said before, I love the Dorsoduro area and in my opinion, it is the best place to stay in Venice.
The reason I like the area has to do mainly with the feeling I get when I visit the local restaurants and cafes. I feel like I "belong," like I'm a real Venetian. This means that no matter where you go, the best value for money awaits you everywhere.
You can easily come to Dorsoduro from any other area just for dinner and spend the night here. You should definitely do it to experience the difference.
Campo Santa Margherita Square is considered the center of Dorsoduro. Despite this, don't be surprised if you see kids playing soccer in it. In the mornings all the cafes are crowded. Visitors drink cappuccino and croissants. These are the places where you can feel like a real Italian.
The best hotel options to live in the Dorsoduro area :
– This is one of my favorite hotels in Venice, located in the heart of Dorsoduro. One of the best services I have ever been given. Great hotel design. – It is a traditional hotel that is located in an old building from the 16th century. Good value for money. The hotel is quiet and pleasant, here you will feel more like a local than a tourist.
Restaurants that I recommend to visit in the area:
– A great seafood restaurant. The clam pasta is exceptional. Be sure to visit this restaurant no matter where you are staying in Venice. . A modest osteria with a few tables in a small square, perfect to spend time here on a sunny fall or spring day. Great Italian homemade food . A nice little place with its own garden next to the canal. They make one of the best pizzas in town (although Venice is not famous for its pizza in general).
3. Cannaregio district in Venice
Cannaregio was a Venetian ghetto where Jews lived during the Republic for three centuries (starting in 1500).
Five different synagogues were built during this period: a Czech, a French, a Turkish, a Spanish and an Italian synagogue. Each building still retains its original appearance.
Most of the native Venetians have lived in this neighborhood for generations. Walking through the streets, you'll feel like you're in a pretty village rather than a big tourist city. There are lots of tiny squares and hidden nooks, like a real maze.
Cannaregio residents speak Italian with a strong Venetian accent, while the older ones speak the local dialect.
The neighborhood is great value for money, but it's a long way to get to major attractions, including St. Mark's Square.
You can find fairly cheap hotels here. But when choosing this area, consider how much money you will spend extra on transportation and how long it will take you to get to the center.
Personally, I would recommend settling in Cannaregio during your 2nd or 3rd visit to Venice. Then you can already explore the local area or take a ferry to the islands of Burano and Murano.
Where better to stay in the Cannaregio area:
– It's a nice cozy hotel. It doesn't have any fancy design and doesn't have the best breakfast in town, but it has a clean room with a big bed. And all for a very reasonable price per night.
A couple of restaurants I would like to highlight in the area:
: simple food, home-style service, a tiny little restaurant off the main streets with lots of tables and a view of the canal. One of the smallest eateries in Venice, only 4 tables. So it can be difficult to find a free seat. But the reward for the wait is great food and a great price.
4. San Polo district in Venice
San Polo is famous for 2 things:
It's home to the second largest square in Venice, Campo San Polo. A great place to relax a bit, especially on a warm summer evening. Piazza San Polo has one feature that is definitely lacking in St. Mark's Square – silence. It can be very quiet here, especially during the low tourist season.
The world-famous Rialto Bridge is located here, and obviously anyone visiting Venice for the first time should definitely see it.
Accommodations in San Polo can be quite expensive, especially if the hotel is near the Rialto Bridge or overlooking the Grand Canal. But the views of the canal justify the cost.
The best hotel options to stay in the San Polo area :
– One of the best hotels in the Rialto Bridge area. Nice cozy rooms. – A hotel with a view of the canal. The price is very reasonable considering the great location. Rooms with a view of the canal sell out quicker than standard rooms, so it is better to book in advance. Breakfast is not included in all rooms but only the ones with a view of the Grand Canal.
Personally, I would avoid restaurants along the Grand Canal in the area unless you want to sit at a table with a beautiful view. It's better to walk to the Dorsoduro area in 5-10 minutes and eat there.
The San Polo neighborhood is within walking distance of St. Mark's Square and the Santa Lucia train station, which is very convenient if you are traveling by train.
5. Castello district in Venice
Castello is only suitable for accommodation if you come to Venice for the Venice Biennale, which takes place in the Arsenal complex.
Some streets of the Castello district are quite far from the center, so from some hotels you will have a long walk to San Marco.
I think this neighborhood is better chosen for a second or even third visit to Venice because Castello is different from what you might expect to see. The streets are quite wide, there are lots of squares, and there are not those little tangled alleys and streets that have made Venice famous.
This in no way means avoiding the area. It's just a warning against possible disappointment for first-time visitors to Venice. But if you're coming to this city for the third time and want to try something new while avoiding the touristy areas, you might be pleasantly surprised by staying in Castello.
6. Santa Croce district in Venice
This is really not the most impressive neighborhood in Venice in terms of sights, but one of the most convenient:
Where to stay in Venice: 9 options from 61€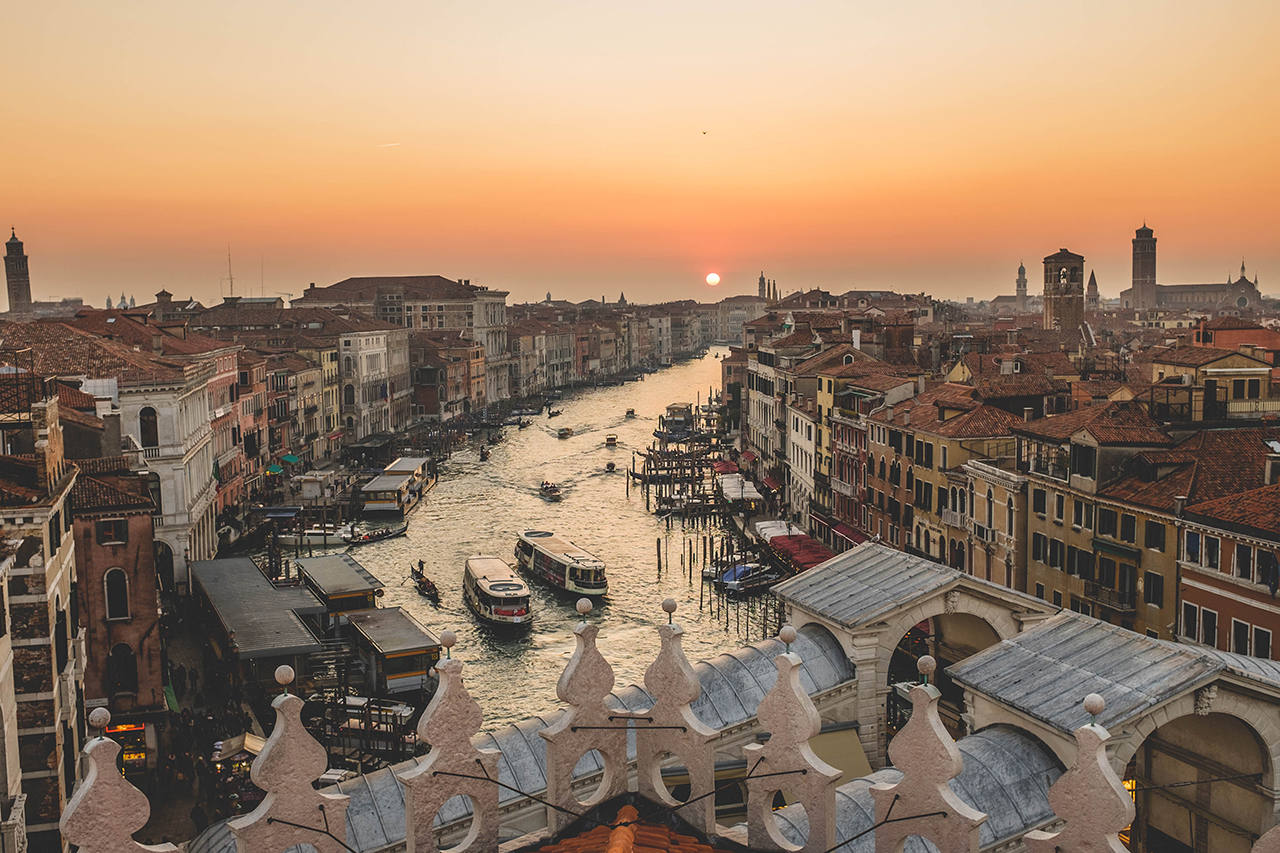 Here are the apartments in Venice that you will want to return to. Here's how to choose where to stay in Venice and which neighborhood to live in. Here are some tips on how to save money and how to choose an apartment for your trip to Venice.
We've put together a selection of relatively inexpensive and beautiful accommodations on the mainland and the islands. It is convenient to stay there as a couple, with children and a small group of friends.
Look for discounted hotels on Skyscanner Hotels and private accommodations on AirBnb. Here are the main rules of the hotel search.
Venice neighborhoods where a tourist should stay
Choosing a place to stay in Venice is not as difficult as it may seem. There are many interesting sights and medieval buildings in any part of the city.
Mestre . This is the mainland part, it is connected to the islands by public transport. It takes 15-20 minutes by bus or train. The best places to stay in this part of Venice are those who want to see also Padua and Verona. Popular accommodation near Piazza Ferretto and near the Venezia-Mestre train station.
Piazzale Roma . It's a big transportation hub, so it's noisy. There's a bus station, a train station nearby, and a terminal where cruise ships arrive.
Cannaregio. The long neighborhood is adjacent to the train station. It is not part of the tourist routes, so there are inexpensive apartments in Cannaregio. It is very quiet and peaceful in the back of the neighborhood.
San Marco . A popular tourist area with the famous Piazza, San Marco Cathedral and other iconic sights of Venice. Tourists flood the streets from morning to night, and one can only dream of silence. Almost all accommodation, with the exception of a few family apartments, is expensive.
Look for interesting tours on Sputnik and Tripster. Individual and group, without crowds of tourists and in Russian.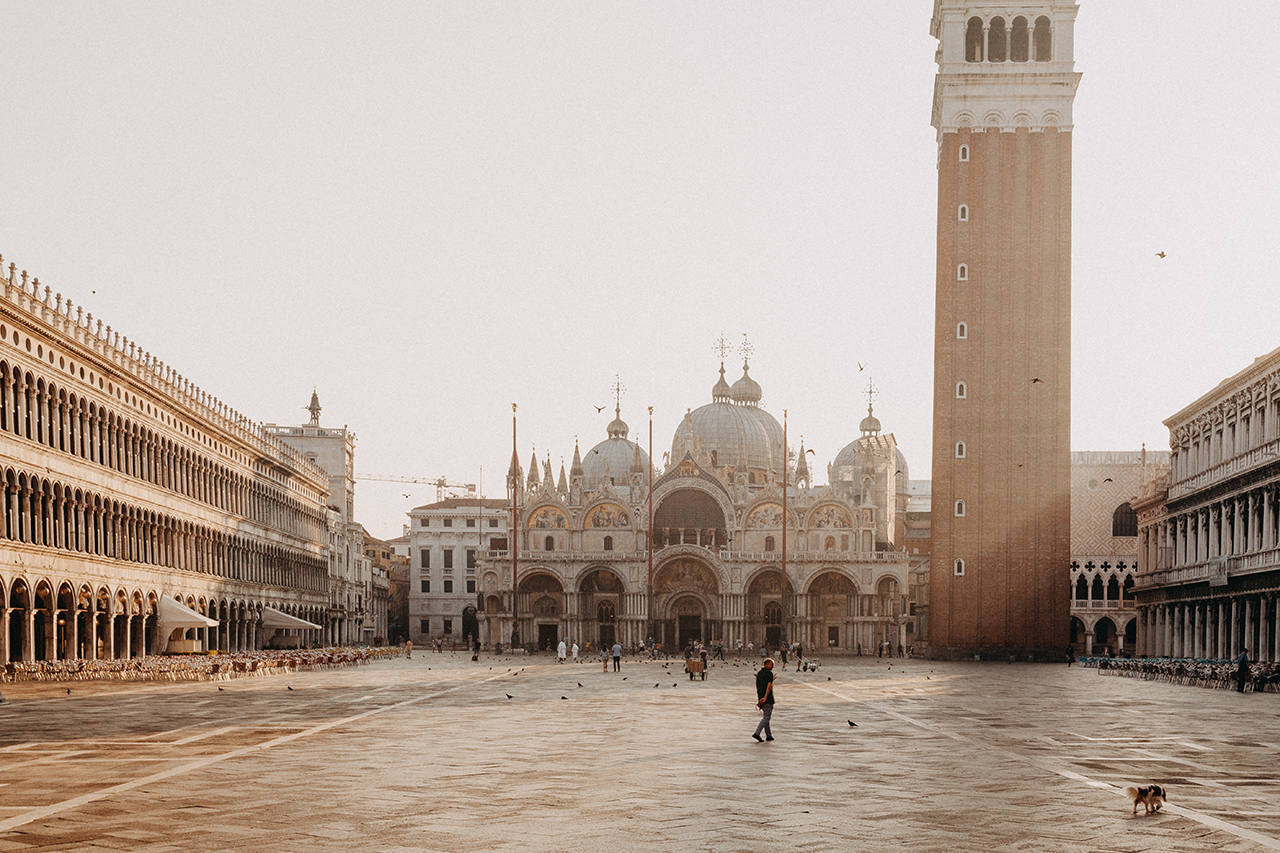 Piazza and San Marco Cathedral (Photo: unsplash.com / @dimush)
Castello . If you want to stay in Venice inexpensively, choose this old neighborhood. The farther away from Piazza San Marco, the lower the price. Accommodation around Via Garibaldi is especially in demand.
San Polo . From this part of town you can quickly walk to Piazzale Roma and San Marco.
Dorsoduro. The area is famous for its picturesque promenades and views of the Grand Canal. One of Venice's most beautiful churches, Santa Maria della Salute, is a short walk away.
Giudecca Island . If you don't know where to stay in Venice, look out for apartments on the island. On Giudecca, it's easy to feel like a regular Venetian.
The island of Lido di Venezia is chosen for the beach vacation. There is a long beach with a gentle entrance to the sea.
How to save money and find comfortable accommodation
Venetian hotels are expensive. The quality of rooms in old buildings is not so good. Rooms are small and old-fashioned, so many people prefer to stay in studios and apartments.
We advise how to spend less and rent the right accommodation in Venice:
Apartments in mainland Mestre are 1.5-2 times cheaper than on the islands.
In winter and during the off-season prices are lower.
Budget options are always in demand, so book an apartment in advance.
In Venice a lot of money is spent on food. Rent an apartment with a kitchen and cook for yourself. Look for places close to a supermarket or market.
Before you book, pay attention to additional fees and taxes. Usually take a city tax of 3-4 euros a day per person, plus sometimes a cleaning fee.
Useful selection: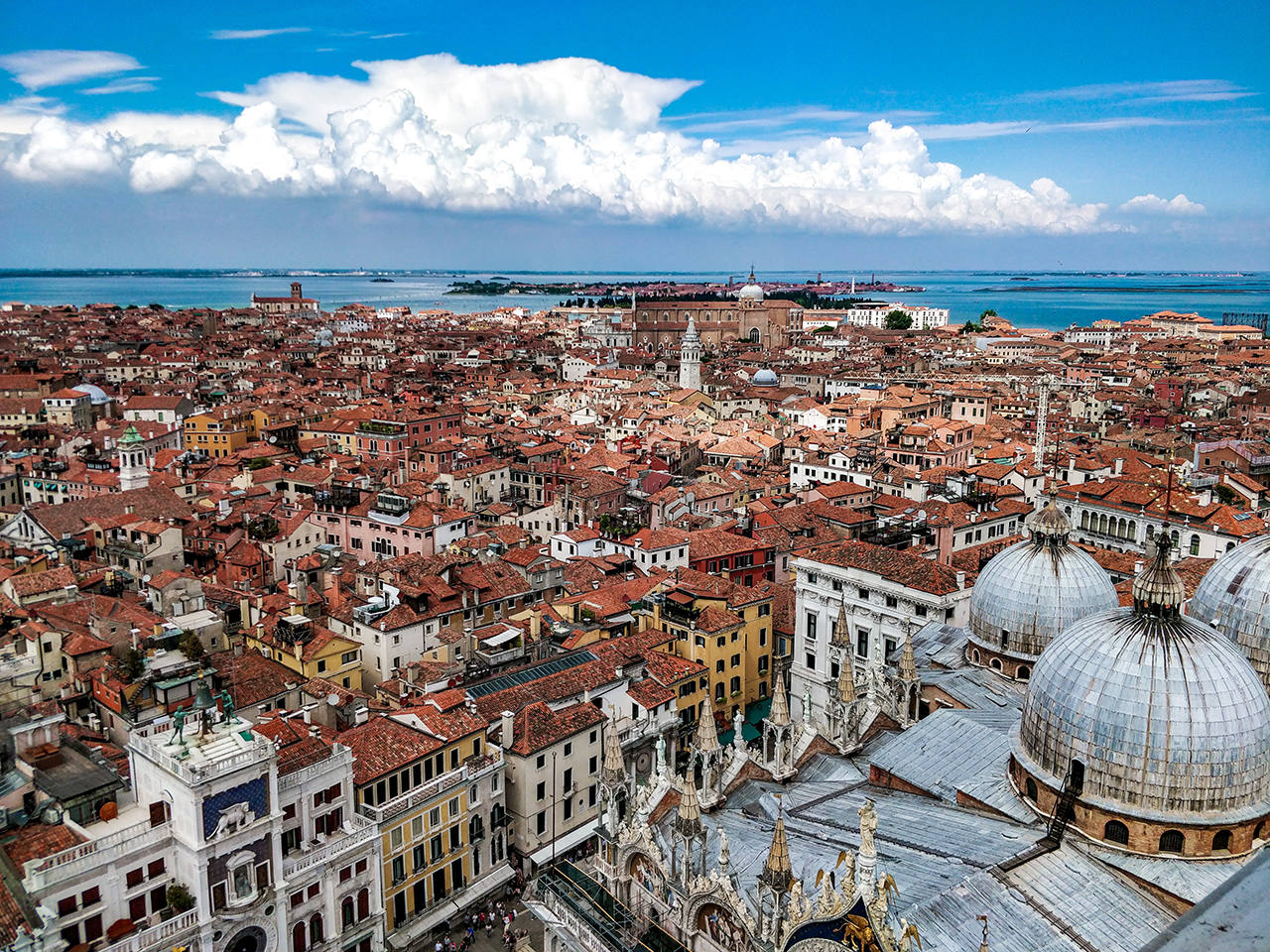 View from St. Mark's Bell Tower (Photo: unsplash.com / @crystaltempest)
A cozy apartment close to downtown
Feel like a regular Venetian! The bonus of this apartment is a separate entrance and a small green courtyard where it's nice to sit in the evening. Step outside the stone fence and you are near the trattorias, restaurants, cafes and stores. The apartment is almost in the center, but the area is quiet and peaceful. The layout is comfortable, there is a full kitchen. The decor is made in calm blue and blue colors.
The apartment can accommodate up to 4 people. In low season it costs from €63 and in high season from €123.
Bedroom Dining Room + Kitchen
Studio on a canal – right next to the gondolas
Where better to stay in Venice to experience life on the water? Stay in a small but cozy, romantic studio with windows overlooking the canal. Pull back the curtains and enjoy the gondolas slowly passing by! Nearby is the lively neighborhood of Campo Santa Margherita, the center of youth and nightlife with many pizzerias, trattorias, bars, supermarket and market.
The apartment has flood protection, a full kitchen and a small bathroom, there are spacious closets.
The studio is designed for two people. It costs from 68€ in low season and 112€ in high season.
Bedroom Kitchen
Duplex apartment in an old Venetian building
One of the best areas to stay in Venice is around Piazza San Marco. Five minutes from it stands an ancient house. The apartments in it are small, but the ceilings are so high that the owners have put a staircase and divided the room into two levels. Upstairs is the bedroom and downstairs is the living area with a bed, bath, kitchen and washing machine.
The apartment is comfortable for couples and friends. In low season they cost 80€, in high season 148€.
Bedroom Stairs to the second floor
Family option near the station
Looking for the best place to stay in Venice with a child? Near Santa Lucia, it's easy to rent a studio with a double bed and a large pull-out couch. Don't be afraid of the noise! The entrance of the private home opens onto a quiet courtyard.
There's a kitchen with stove, microwave, and utensil set, and a bathroom with modern fixtures and a washing machine. There's a dining nook, a bookcase, and an elegant screen door.
The apartment is designed for 2-3 people. It costs 64€ in low season and 124€ in high season.
Bedroom Rack of Books
Apartment near Galleria Franchetti
Not sure where to stay in Venice with friends? Many people like the downtown options. Rent a cozy apartment 5 minutes from San Marco. Nearby is the vaporetto stop Cà D'oro and a supermarket. The historical sites are not difficult to reach!
The apartment accommodates a double bed and two single beds. Cook in the fully equipped kitchen and enjoy fast, free Wi-Fi. The massive wooden ceilings, carved doors and paintings on the walls remind you that you're in an old building.
The accommodation can sleep up to four people. The rent during low season is €82 and during high season €148.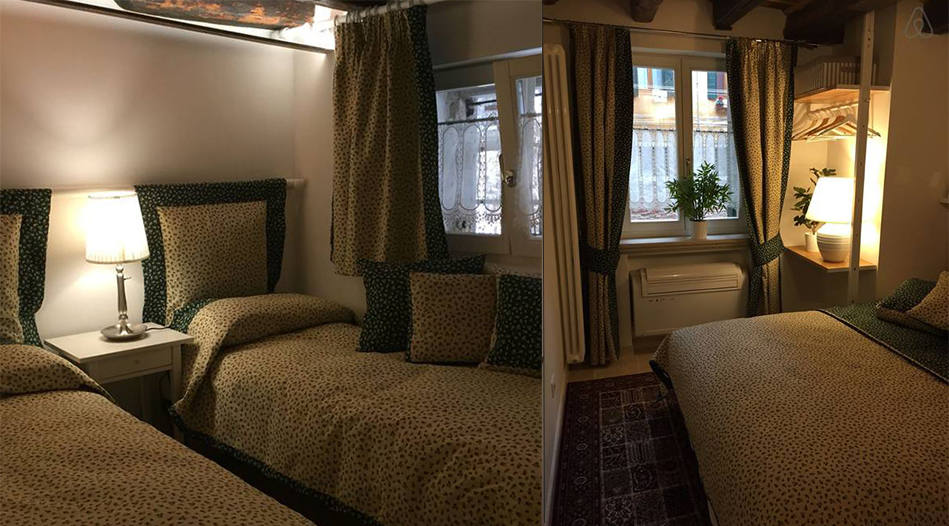 Beds
Cosy garden apartment
Enjoy privacy in the bustling Via Garibaldi with a private garden. This central location will please those who like to explore the city on foot, just a few minutes from Piazza San Marco. There are many museums and great restaurants around. Cook in the kitchen and enjoy your time in the comfortable green garden!
Apartments are for two people and cost from 119€ per night.
Bedroom Kitchen and access to the garden
Design studio on the mainland
Accommodation in a new house near the train station Venezia-Mestre will appeal to everyone who likes mobility. The station is 10 minutes away on foot and the city center is a 15-minute bus ride away. In front of the house there is a small courtyard.
In the room of 20 square meters. m installed a large bed, a kitchenette with microwave and a desk to work at the computer. Fans of unusual design will be pleased with lights, hangers and a drawing on the wall.
The studio is designed for two people. In low season it costs 61 €, and in high season – 79 €. One and a half times cheaper than on the islands!
Bed Light on the bedside table
Sunny apartments in Cannaregio
Where can I stay in Venice with a small group of friends? Tourists leave good reviews about apartments in one of the historic districts of the city. From here, it's a 10-15 minute walk to the most iconic places in Venice. There is a supermarket, bars and restaurants in the neighborhood.
Brick walls, wooden ceilings and elegant bright furniture make the apartment cozy and warm. Cook meals in the kitchenette and use all the essentials in the bathroom.
The accommodation is designed for three people. It costs 62€ in low season and 133€ in high season.
Bed Vestibule
Railway style lodgings
Some tourists come to Venice in transit and stay near the Venezia-Mestre train station in the mainland. The apartment is located in an old house, but has an original modern design. This is a functional apartment with kitchenette and original furniture.
The apartment is designed for two people. In low season it costs 61€, in high season 79€.