Holiday in Bali.
Bali is an island in the Malay Archipelago and the most developed resort in Indonesia. It's located between the islands of Lombok and Java, surrounded by two oceans – the Indian and Pacific.
People come to the island for beach rest, surfing, visiting volcanoes, walking through tropical forests and banana groves. There are many temples and buildings of colonial architecture which attract fans of sights.
This article contains information about Bali: the best time to go, what to do, what the prices are, where to live, and how to get there.
When to go on vacation
You can vacation in Bali all year round, but there are 2 seasons. The best time to travel to the island is considered the period from May to October. Due to the equatorial monsoon climate during this time there is almost no rainfall, and the air temperature rises to +30 … +31 °C. From November to March is the rainy season. The showers are heavy, but short and at night.
Is it possible to travel to Bali now
At the moment (March 2022) you can travel to Bali from Russia. You can fly to Denpasar (the capital of Bali) or Jakarta (the capital of Indonesia) with connections via Istanbul, Dubai, Abu Dhabi or Doha, and then continue to the island. The cost of tickets depends on the number of connections.
In terms of covid restrictions in Bali there is a quarantine (5 days in a special hotel), PCR test is required, a certificate of vaccination for anyone over 12 years old ("Sputnik V" is accepted).
Visa-free travel to Bali is still suspended. On February 2, 2022, the Indonesian Ministry of Foreign Affairs announced that one cannot apply for a tourist visa on one's own. Those planning to visit the island need an invitation from a private person or a local Indonesian company. In other words, a "business visa" in electronic format (e-visa) is required. You can find an intermediary who can arrange it in Bali.
Where to vacation
Bali, the resort of Kuta (Photo: Sebastian Puskeiler | License Unsplash)
The island stretches from east to west for 180 km. There are a number of tourist resorts along the coast, each with its own special features.
The resorts of Bali are
Amed and Lovina are suitable for relaxation lovers. Here you can relax on the ocean, watch dolphins, swim in the hot springs.
Jimbaran and Sanur – the best places for a respectable beach holiday. Sanur has no nightlife, so families with children often come here. Jimbaran attracts tourists with a long sandy beach and numerous fish restaurants.
Kuta and Seminyak – popular hangout centers with nightclubs, bars, restaurants, shopping malls. Seminyak is considered a respectable area. Kuta is a more accessible resort for young people and surfers.
Nusa-Dua is an elite spot on the Bukit Peninsula with a large number of 5-star hotels and expensive restaurants. The beach in this resort area is considered the best in Bali. It is separated from the ocean by a chain of coral reefs, so it does not have high waves.
Ubud is a mountain town in the center of Bali. They come here for the reserve "Monkey Forest", walks through the jungle and rice paddies, to explore the artistic crafts.
Changu and Uluwatu are popular resort areas for surfers. In these areas, strong gusty winds constantly blow, and high waves do not always allow swimming and bathing on the beaches.
Bali Islands
Nusa Penida (Photo: Alfiano Sutianto | Unsplash license)
In addition to Bali itself, many tourists like to visit the smaller islands located in the neighborhood. Nusa Penida attracts visitors with its rustic setting and deserted, sandy beaches. Here you can go scuba diving and visit a temple dedicated to the demon Mechaling.
Nusa Lembongan is a great place for water sports enthusiasts. They come here for surfing, diving, and sapboarding. Specially for guests are organized trips to the mangroves, which are held on a motor or rowing boats.
Nusa Ceningan offers miniature beaches hidden between steep cliffs. In the Blue Lagoon of the island is a popular surf spot "Ceningan" with a high and beautiful wave. For the extreme, there are special platforms designed for jumping into the water from a great height.
Beaches
Seminyak Beach (Photo: Travelphotographer | Pixabay license)
The entire coastline of Bali is occupied by picturesque beaches with white or gray volcanic sand. Because of the big waves, strong tides and high tides, not all of them are suitable for swimming, especially in the southern part of the island, washed by the waters of the Indian Ocean. In the east of Bali, the beaches are large and great for diving. The beach areas on the west coast are compact, with rocky shores and pristine natural surroundings.
Popular beaches in Bali
Seminyak
Batu Bolong in Changu
Nusa Dua
Dreamland on the Bukit Peninsula
Keramas near Sanur
Kuta
What to see
Tanah Lot Temple (Photo: Harry Kessell | Unsplash license)
Bali is often referred to as "the island of a thousand temples." There are many places of worship, including some unique on the water or in caves. You can combine tours of the shrines with water sports, museums, and nature reserves.
Bali Attractions
Tanah Lot Temple
Pura Besaki Temple Complex
Ulun Danu Temple on the island of Beratan
Goa Gajsa Cave Temple
Tirtha Ganga Water Palace
Activities in Bali
Surfing
Diving and snorkeling
Turtle Watching on Serangan Island
Visit Bali Barat National Park
Bali Botanical Garden
Excursions
Bali tours help you immerse yourself in the history and culture of the island and discover its identity. Our guides are experienced and dedicated to making the most of our Bali tours.
Bali: Picturesque Plantations, the Monkey Forest and the Colors of Ubud
Discover Bali from all points of the island, see how the locals grow coffee and rice, experience the energy of the Saraswati temple, and experience the beauty of nature.
Bali's Paradise Beaches
On this tour you can spend the day on the pristine beaches with clear water and beautiful landscapes, forget your worries and problems and feel at one with nature.
Order tours online
The cost of the tour depends on the size of the group, usually it is from $ 55 per person. It is convenient to choose and order individual or group tour online.
Rest with children
Because of the big wave, most beaches in Bali are not suitable for family holidays, but the resort is still a few places where you can have a good holiday with children. The best areas for a trip with a child are considered Bukit Peninsula, Amed and Lovina. Here there are family-oriented hotels, and the beaches are closed from the waves by coral reefs.
For entertainment, you can go to the adventure park Bali Treetop, Waterboom Water Park, an elephant park in Taro or a safari park in the Gianyar area.
Holidays in Bali are affordable for tourists with different budgets. The average cost of a week trip to the resort during high season ranges from 40,000 rubles per person, in the off-season – from 35,000 rubles.
Hotels and hotels
You can stay in Bali in luxury hotels, tourist complexes or villas, as well as in cheap guest houses, lodges and hostels. The most expensive hotels are in Nusa Dua, Seminyak, Sanur, more affordable – in Changu and Kuta.
A week's rest in a 5-star hotel costs from 37 800 rubles per person in the summer and from 24 600 rubles in the rainy season. Staying in a hostel will cost from 6 700 and 2 400 rubles, respectively.
You can check prices and book a room on Ostrovok.
In order not to overpay – compare prices in the hotel search Avianity. The search has 16,500 accommodation offers in Bali, including hotels with discounts up to 60%.
Apartments and condos
Bali has plenty of options for private rentals. There are comfortable apartments, cheap rooms and luxury villas. The price for a day starts from 900 rubles.
At any Balinese resort, you can find restaurants and cafes of different cuisines of the world. The most popular among holidaymakers enjoy the "Varungi" – the local eateries, which offer a taste of Indonesian cuisine. When visiting them, it is worth ordering kebabs "sate lilit", noodles "mi goreng", meatballs in broth "baxo", pie "martabak", suckling pig "babi guling". Dinner at a cafe costs from 400 rubles on average.
Popular cafes and restaurants in Bali
Warung Janggar Ulam – a place with delicious food and incredible views. Address: Jl. Raya Teges kangin, Peliatan, Kecamatan Ubud (Google Maps)
Warung Bukit Cinta Restaurant and Bar is located in the countryside, with a pleasant natural atmosphere, views of the rice fields and delicious food. Address: Jl. Raya Sebali, Keliki (Google Maps)
Wild Air is an Indonesian restaurant, located in a quiet area, view of the jungle. It is very quiet and tasty. Address: Jl. Bisma No.888, Ubud (Google Maps)
Massimo Restaurant – Our Italian restaurant serves great pasta, pizza and amazing ice cream. Address: Jl. Danau Tamblingan No.228, Sanur (Google Maps)
How to get there
You can get to Bali by plane, it's the fastest way to get to Bali.
Plane
Ngurah Rai International Airport (Denpasar) is located on the island of Bali, 13 km from Denpasar, the capital city of Bali.
Airport address: Jalan Raya Gusti Ngurah Rai, Tuban, Kuta, Kabupaten Badung, Bali 80362 (Yandex Maps | Google Maps)
Flight prices to Bali
from 27 000 rub from 32 000 rub from 24 000 rub from 34 000 rub
From 34 000 rub From 35 000 rub From 33 000 rub From 35 000 rub
Cheapest air tickets to Bali
The cheapest airline tickets to Bali purchased through Avianiti's search.
Bali's Best Beaches and Resorts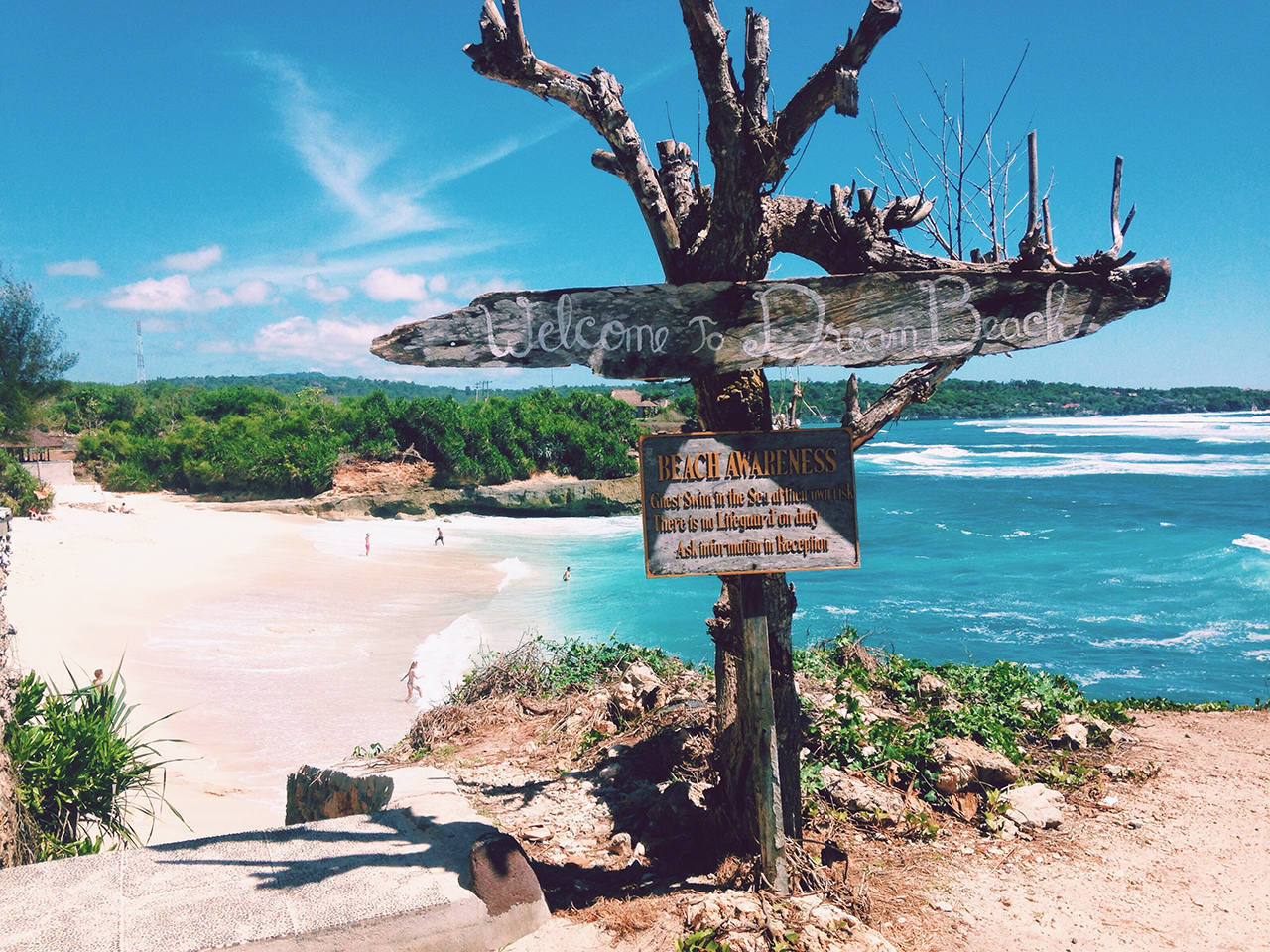 Find out which resorts in Bali are the best to vacation at! We tell you about prices, beaches, infrastructure, waves, attractions and choose the best places for a beach vacation.
Bali is a unique island in Indonesia with a special national color and natural charm. To choose the best Bali resort, you need to decide on your vacation plans.
How can you rest in Bali? Here you can surf, dive, snorkeling, visit temples and wildlife sanctuaries, explore the local life and customs, do yoga and basking in the spa. Some tourists do not stay in one place – the island is small in size, and it is easy to travel around in a short period of time. In this review we will tell you about the best resorts in Bali for beach vacations and surfing spots.
and Level.Travel – hot tours to Bali, search among 120 tour operators. – Search for hotels in Bali with discounts.
Bali's best resorts and beaches:
The best resorts for vacations in Bali
Not so long ago, Kuta was a favorite destination for hippies, now it is Bali's most famous and lively resort. It is conveniently located (close to the airport), with good infrastructure and good sandy beaches. Kuta has a water park, and 20 kilometers from the resort is the famous temple of Tanah Lot, towering majestically over the ocean.
A beach holiday in Kuta is perfect for young, active people who come to Bali to surf. The spots are suitable for beginners – medium sized waves, no dangerous reefs and rocks. During the daytime, very crowded on the beaches, constantly pestering holidaymakers vendors, imposing their goods and services, at night the life boils in bars and clubs. Rest in Kuta →
Leghian is located 2 kilometers from Kuta. A little quieter there, it is a good place for the young and fun-loving, who prefer to relax on the beach during the day and go to noisy Kuta at night. Behind Legian is the resort of Seminyak. These three resorts are literally adjacent to each other, forming a single resort area. And if Kuta and Legian offer accommodation at democratic prices, Seminyak is focused on the golden youth. There are expensive hotels and restaurants, and the rest is supposed to be lazy, serene, as it should be a tourist category VIP.
Kuta beach (Photo: hk0330 / flickr.com) The rock, where the temple Uluwatu (Photo: wikimedia.ru / CEphoto, Uwe Aranas)
Jimbaran
A small village where the local population earns mainly by fishing. One part of Jimbaran beach is occupied by fishing gear and boats. The other is coastal restaurants where you can try fresh seafood (they are considered the best in Bali), and expensive 5* hotels. The resort has good places for diving and snorkeling, but only the well-off can afford to rest here – the prices are high. Swim peacefully in the southern part of the beach, protected by a cape.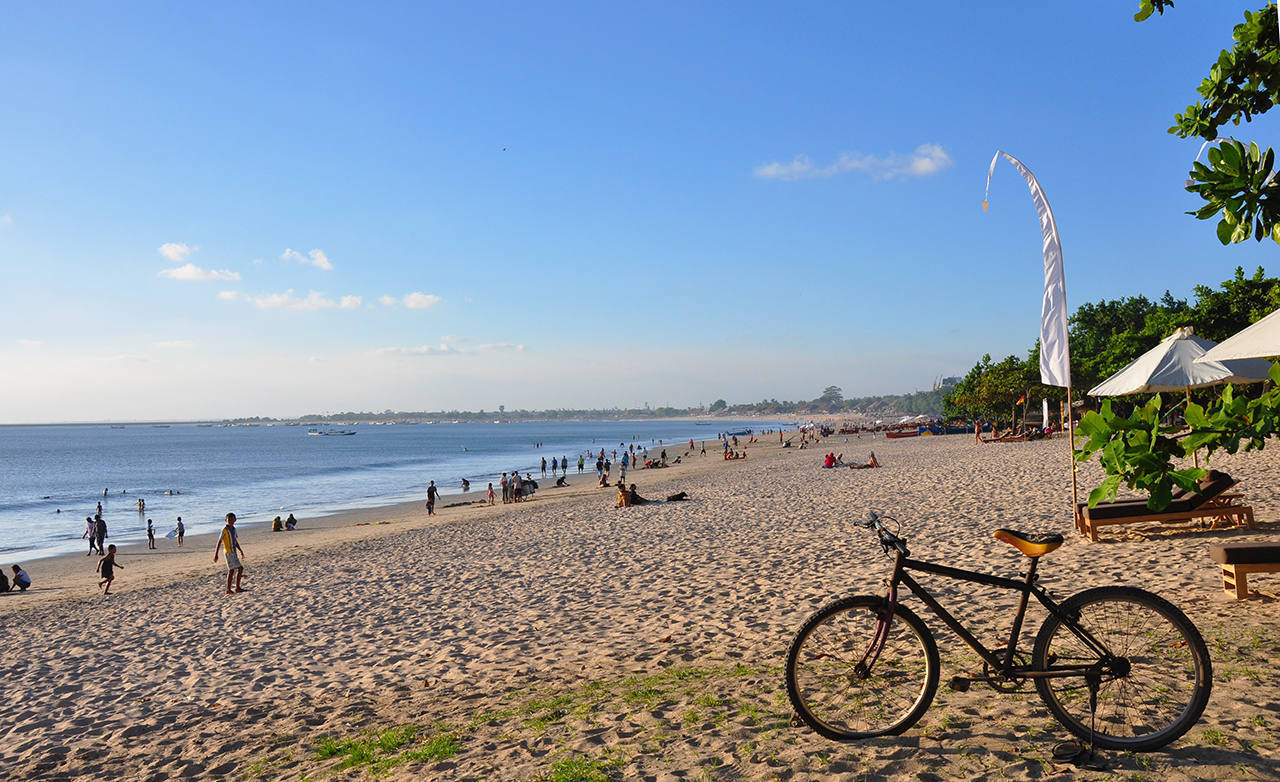 Beach in Jimbaran (Photo: Trans World Productions / flickr.com)
Nusa Dua
Once home to mangroves, this is now one of the best places to vacation on the island of Bali. Nusa Dua has all the amenities for a relaxing vacation: luxury hotels, golf courses, tennis courts, and bike paths. Holidays in Nusa Dua →
Nusa-Dua is the only resort in Bali, where the beaches are closed to locals, but its isolation makes it impossible to explore the unique culture of the island. There are no sights in Nusa-Dua – in fact, it is a street, along which there are hotels, cafes and stands with excursions. If you have come on a tour and want only a beach holiday, the resort is right for you. If you want to explore the culture of the island, it is better to choose another resort of Bali, such as Ubud.
Prices for accommodation and food in Nusa-Dua are much higher than elsewhere on the island.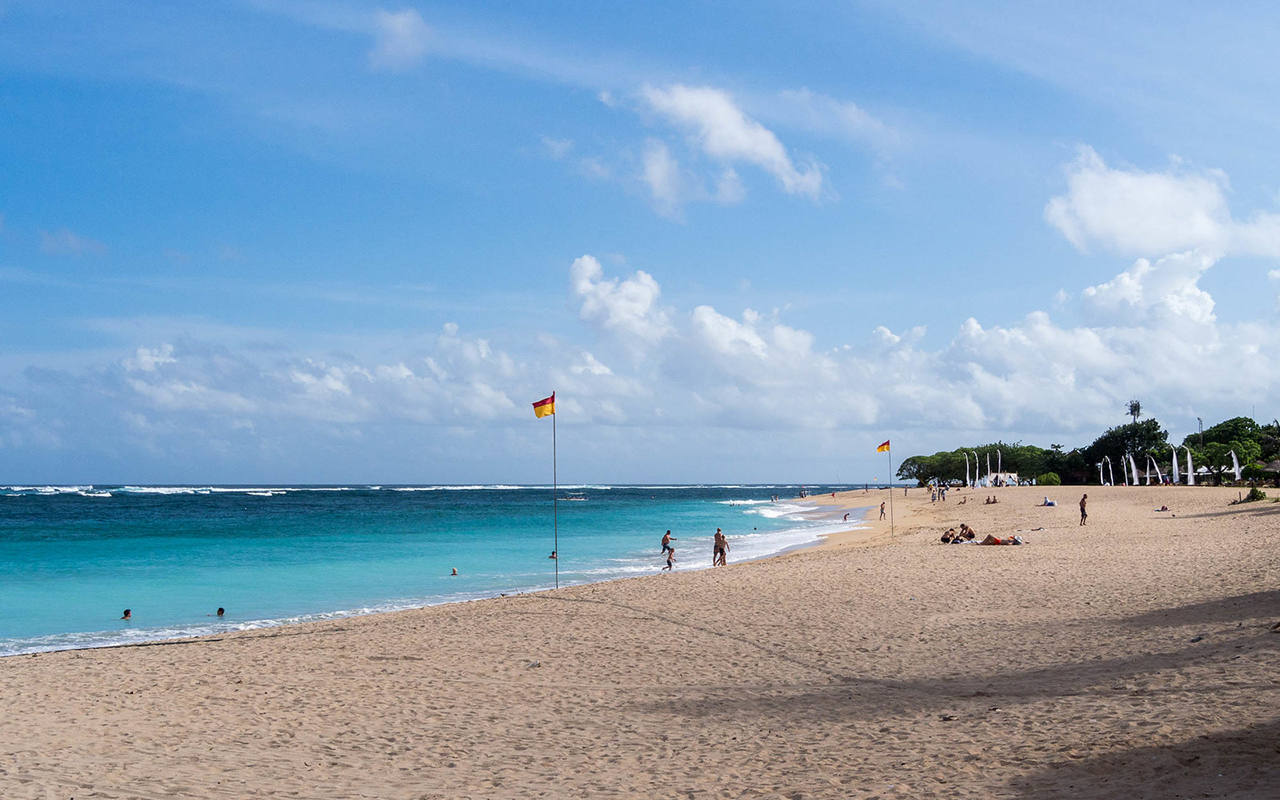 Beach in Nusa Dua (Photo: Jumilla / flickr.com)
Tanjung Benoa
This developing quiet resort, which emerged on the site of a fishing village, is located next to Nusa Dua. It differs from its fashionable neighbor by the presence of 3-4* hotels and loyal prices for recreation. It has beautiful beaches and an internationalist population. In Tanjung Benoa coexist with different religions of the world, as evidenced by the temples and mosques, located next door to each other.
Vacationers ski, surf, snorkel and skydive during the day, and dine at one of the restaurants in the evening. Loyal pricing policy attracts honeymooners and couples who crave privacy.
Beach at Tanjung Benoa (Photo: dannymfoster / flickr.com)
Sanur
This is the oldest resort on the island, and its well-developed infrastructure makes it one of the best places to relax in Bali: there are hotels in different price ranges, cafes and stores, many well-kept tropical gardens. Recreation is cheaper than the decent resort of Nusa-Dua, but more expensive than the bustling Kuta. Most often, families with children have a rest here, since the shore is flat, and active people – the calm water is conducive to snorkeling and diving. And the downside – at low tide, the water goes very far.
Sanur has ancient temples, a museum of the artist Adrien de Merprez and a large entertainment center with water slides and rides. From Sanur is convenient to Bali's volcanoes and hot springs, and not far from the resort is an island with giant turtles.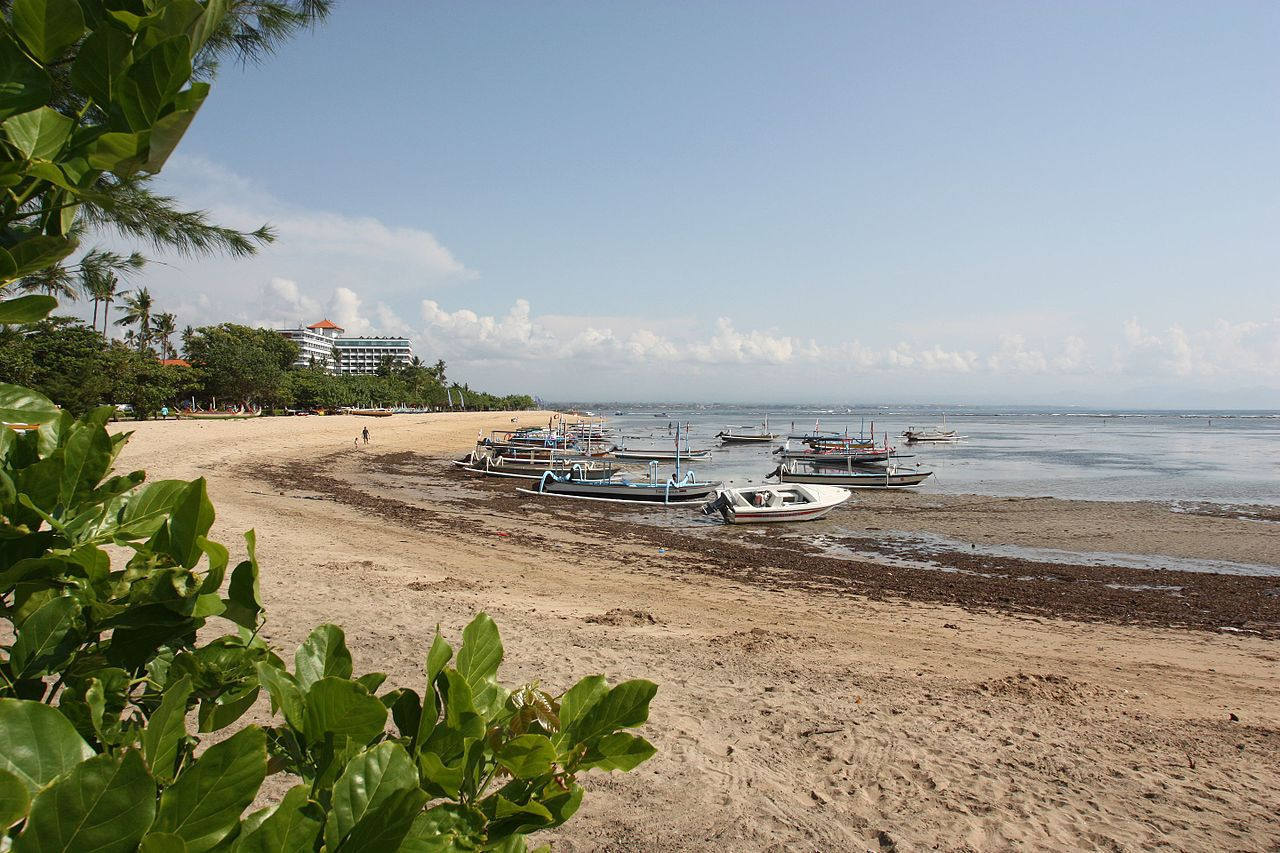 The tide in Sanur (Photo: wikimedia.ru / Sententiosus)
Ubud is the cultural capital of the island and the best place to experience the customs and traditions of Bali. The town is nestled among the tropical forests in the highlands of Bali. There are no beaches, nightclubs, or bars, but there are plenty of temples, souvenir shops, and restaurants. Accommodation prices are affordable for any tourist.
There are many museums, craft workshops and art galleries, where periodically pass international exhibitions. You can regularly see performances with Balinese dance and music concerts.
In the stores you can buy handmade souvenirs. This town is remote from the coast, but excellent for hiking and biking. The scenery is picturesque – rice terraces, green hills, rainforests and rivers. There is the famous Monkey Forest.
Ubud (Photo: eurodrifter / flickr.com)
Bali's best beaches for swimming
A special feature of Bali are the constant waves . Most places have them, which makes swimming difficult. The exception is the relatively calm beaches of Nusa Dua and Sanur, but they also have their own drawback – the tides, which make vacationers have to stick to a schedule. When the ocean goes away, there is algae and other debris on the sand, and the water level is knee-deep. When choosing where to vacation in Bali, pay attention to the beach and read the reviews of tourists.
In Sanur, the beaches are wide and long, with shallow waters near the shores. To swim as an adult, you have to go a few tens of meters, but the kids swim great.
Tanjung Benoa beach is spacious and clean, with fine white sand, but the same problem with the tides, as in Nusa Dua.
A great sandy beach in Bali can be found in Jimbaran. It is located in a small cove, the shore is shallow, the water is quite clear and calm, making it safe for children to swim.
A nice beach for swimming in Bali is Padang Padang. Here the water is crystal clear, there are almost no strong waves near the shore. Surfers always go farther away to ride, so you can not be afraid of a sudden blow to the board.
Pandava beach is quite unusual – perfectly clean with white sand and calm water. At the edge of it there are several caves where you can take pictures, and along the beach there are cafes, you can rent a kayak or lie on a lounge chair.
The glamorous Dreamland Beach is one of the few bounty beaches in Bali. It is very popular with tourists, but the waves are high and not everyone can swim here.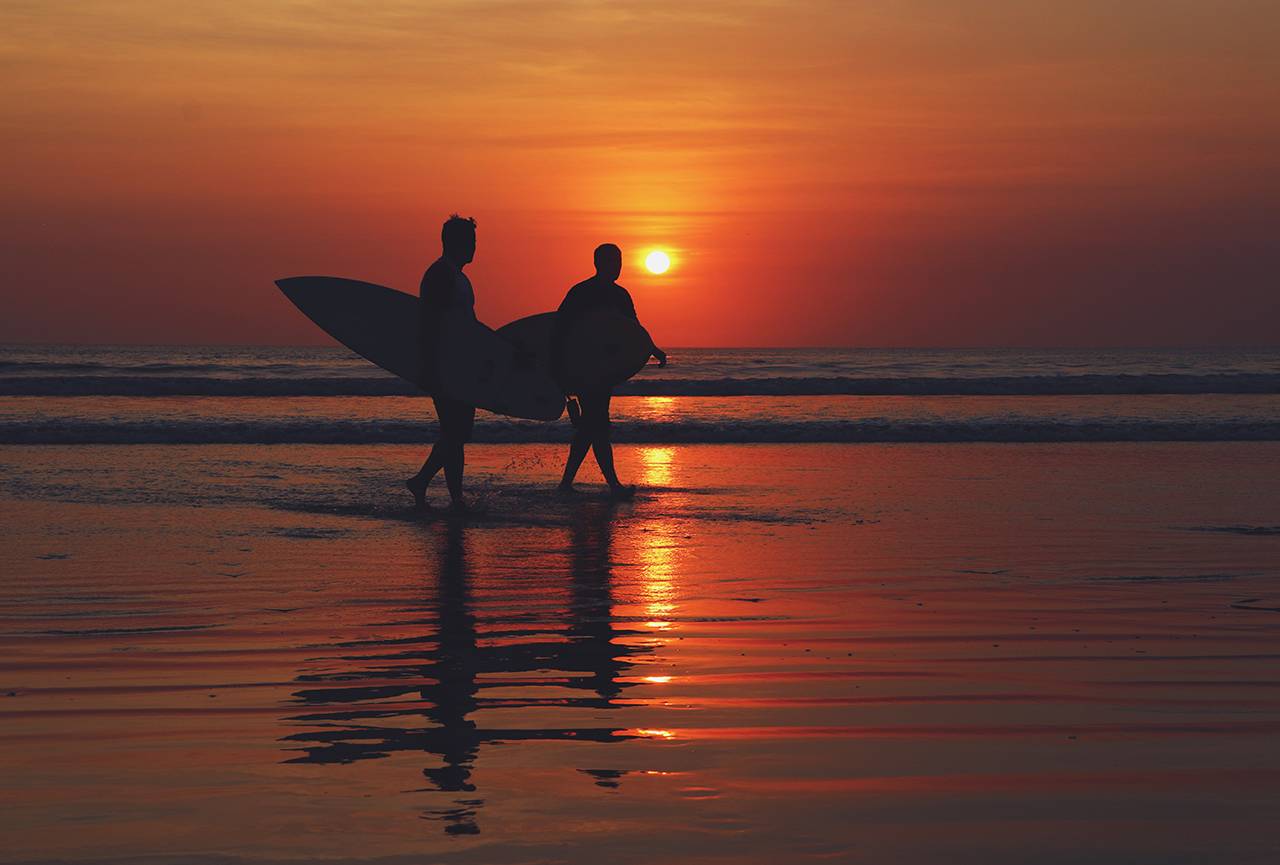 Bali has ideal surfing conditions: year-round small and strong waves, warm sea and no dangerous predators in the water (Photo: unsplash.com / @hakannural)
Bali's Best Surfing Beaches
The vast majority of Bali's surf spots are located in the south of the island within a few kilometers of Kuta. During the dry season there is always a right wave, so safe swimming is only possible in the evening when the waves subside and most of the athletes move to the pubs. Bali beaches such as Legian and Seminyak have fewer surfers, but the strong waves do little to help swimming. Waves are even higher in Changu and in Uluwatu. These beaches are popular with experienced surfers.
In conclusion, it should be noted that each resort and beach island is beautiful in its own way, and only after visiting all its corners, you can determine for yourself where the best place to relax in Bali.
Search for Bali tours at MyBaliTrips.com. Here are the most popular: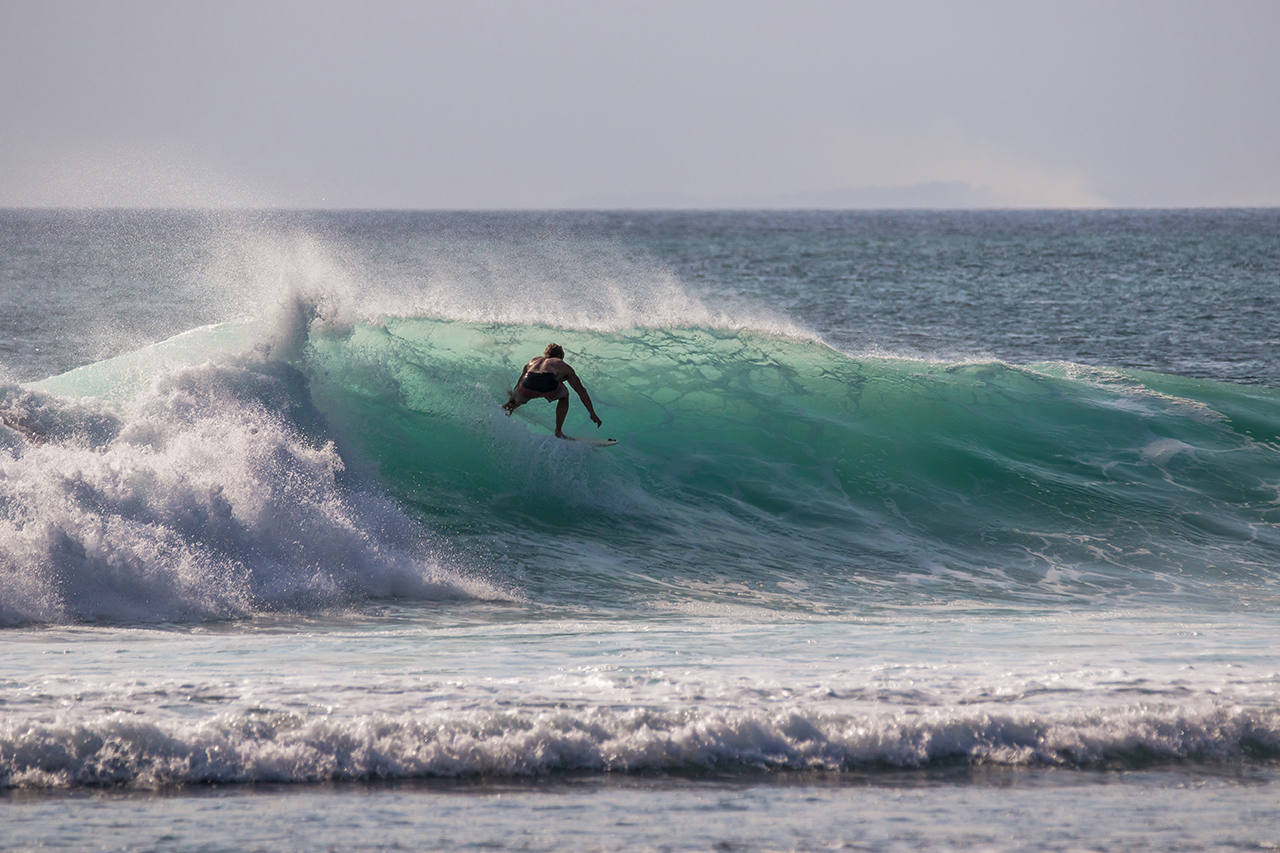 Learning how to surf is best in Kuta: After the waves crash, dense foam forms on which you can learn to stand on your board (Photo: unsplash.com / @marcuslofvenberg)
Bali resorts and beaches on a map
Anton Ptushkin's film about Bali
The famous blogger and presenter understands what the phenomenon of Bali's popularity is, and talks about surfing, beaches, and hotels. Check it out!