12 REASONS TO COME TO TBILISI
From ancient times it was believed that the key to the Caucasus was in Tbilisi. Traders and travelers from all over the world aspired to this beautiful city, and great generals and famous rulers dreamed of conquering it. And so far the city has managed to maintain the spirit of antiquity and has a unique charm and charisma. Here, modern infrastructure neighbors with pristine monuments of history, and the bright colors and fascinating views of a unique Georgian nature delight the eye. Today we would like to present you 12 reasons to love this extraordinary warm city of Tbilisi.
TAKE A WALK IN OLD TBILISI
Tbilisi is a very warm city, because this city is saturated with hospitality, warmth and caring attitude, starting from the weather and ending with the people who live here. Tbilisi is an authentic city, it is beautiful for its antiquity and its wrinkled, unvarnished facades, cracked sidewalks and Italian courtyards filled with children's laughter. It has its own history, its own life, its own heroes and traditions, its own achievements and victories.
The old two-storied houses with carved wooden balconies, the facades of which are often wrapped with grapevine (intricately running through the cracks), the real Georgian small yards with their unique atmosphere – in all this you can feel the spirit of old Tbilisi. Here in the yards men play backgammon, clothes dry on ropes and you can hear the laughter of children playing soccer. It is a pleasure to walk through the old town, the quiet streets, to find unusual courtyards, to notice the outwardly unremarkable, but very colorful details.
Walk through the Botanical Garden, it's very quiet and peaceful, there are many interesting plants and at the end of the garden there is a beautiful waterfall. And then take a cable car to Narikala fortress (one of the oldest monuments of Georgian architecture of IV century), go to the Metekhi temple, and then walk around the area of famous sulfur baths. Take the new pedestrian bridge, which is the second most complex in the world, to the left bank of the Kura River and visit the new park called Rike, which has the contours of a map of Georgia. There's plenty for the kids to do there: human-sized chess, a huge grand piano, lots of flowers, and playgrounds for them to play in.
Walk along Leselidze and Chardin Streets (a very cozy European street with most of the secular cafes, bars, clubs, stores and galleries) and walk to Rustaveli Avenue, the main street of the city, which is named after the author of the world famous poem "Knight in the Tiger Skin," the 12th century Georgian poet.
VISIT A REAL GEORGIAN FEAST
In the Georgian language there is a beautiful proverb: "The guest is a gift from God," so Georgians are very fond of guests and often receive them. The table is full of dishes, which are put on top of each other, forming a whole pyramid, toasts and the voice of the toastmaster can be heard. And Georgian cuisine is an art form: it is ancient, precise, painstaking, beautiful and, of course, delicious.
Let's start with the appetizers – pkhali (a mixture of herbs finely ground in a special mortar and then adding nuts and spices). Main pkhali are made of spinach and beet and eggplant rolls with nuts are especially tasty. Cheese occupies a special place on the Georgian table – raw, baked, fried and boiled, as a snack or as a main component (for example, in dishes of gomi and khachapuri). Each region in Georgia can boast its own cheese: sulguni in Mingrelia, soft mint gadazeli cheese and Imereti cheese in Imereti, mutton guda cheese in Mtiuleti, stewed and kobe cheese in Javakheti. Very tasty cheese dishes are nadugi (cottage cheese with tarragon wrapped in a thin layer of sulguni cheese) and gebjalia (cheese rolls with matsoni and mint sauce). But the most favorite dish with cheese is, of course, khachapuri. Khachapuri also differ by region: Adjarian (a boat of dough with cheese, egg and a piece of butter inside), Mengrelian (cheese inside and cheese and egg on top), Imeretian (thin dough, cheese inside), Khevsurian (grass inside except cheese), penovani (layered khachapuri), Kakhetian (khachapuri on a spit), and Rachin lobiani (with beans) and Svan kubdari (with meat), this is not khachapuri, but rather a kind of pie.
Georgia is a country rich in vegetables, from which a lot of dishes can be prepared: eggplant, beans, cabbage, tomatoes, beets and spinach. For example, only lobio (a dish made of beans) has 400 different recipes. Vegetable dishes come in fried, steamed, boiled, stewed, and pickled forms. In eastern Georgia, mostly beef or lamb dishes are eaten, and in western Georgia, poultry, chicken, and turkey dishes are eaten. Meat dishes: pork (muzhuzhi, kupati), lamb (mtsvadi (kebab), chakapuli, buglama, chanakhi and hinkali (large dumplings with meat that is chopped with a knife until it becomes jelly), beef (kharcho, kashlama) and poultry (satsivi, guruli, chakhobili and shkmeruli). For cooking poultry under pressure there is a special wide metal pan, called tapa, and for frying and roasting stone pans – ketsi are used.
There is a certain order of serving dishes in Georgian tables: appetizers (cold dishes) are served in the beginning, followed by pkhali, assorted cheeses (sulguni, Imereti, smoked cheese, nadugi), bread and mchadi (corn tortillas), different salads, after khachapuri (usually megrul or Imereti, Adjara khachapuri is a separate dish) and finally hot meat dishes are brought to the table.
Be sure to visit the restaurant "TABLA" (Chavchavadze, 33), every day at 20.00 there is a small performance of the national dance group and the Georgian choir. On the first floor khinkali, kababs, Adjarian khachapuri and baked ton bread are served. We organize an exclusive gastronomic master class for the whole family, where children can learn how to bake bread, mold khinkali and cook khachapuri with great pleasure. There are two large halls with a fireplace, a stage, elegant screens, carved shutters and b/w photos on the walls on the second floor. In addition to the main dishes, be sure to order the elardi bolls (cornmeal balls with cheese), which are served with a baje sauce (made from walnuts).
Also a great restaurant for the evening is "TSISKVILIi" (Beliashvili Street, Digomi). This restaurant has the status of a museum: on the walls there are various national costumes, musical instruments, and other antique items. There is a garden and even a waterfall on the territory of the restaurant justifying the name of the place. We recommend ordering assorted cheeses (Imereti, sulguni, nadugi), assorted pkhali, fried chicken breast in tkemali sauce, Georgian salad (tomato-cucumber) with nuts, fried trout in pomegranate sauce, Mingrelian khachapuri, pork, veal, lamb and turkey kebabs, mushrooms with sulguni on ketsi (clay crockery), tolma (ground meat in grape leaves), served with matsoni sauce.
Why we love Tbilisi: 11 reasons to visit
Find out what Georgia's capital is good for and why it's a must-visit.
Tbilisi is a colorful city with soul and history. Visually, it is a mixture of Baku, St. Petersburg and Istanbul. We feel at ease there, and it is safe and pleasant to walk around, peering at the facades and state rooms. Here are the reasons why you won't miss Tbilisi just once.
The splendor and squalor of Tbilisi's stately homes
Tbilisi's main staircases are gala halls, not entrance halls. One is more beautiful than the other: delicate staircases, artistically painted walls, rich moldings, parquet and massive wooden doors. In the hall of the house on Griboyedov Street, 15, the ceiling is not inferior to the paintings in the Hermitage. And the former hotel "London" is like an abandoned movie set. Every front door has a story. Alas, all this is in a deplorable condition, but decay only adds charm. It's all decadence.
Let's explore the amazing paradels of Tbilisi. In the photo: Hotel "London". One of the main paradels of Tbilisi.
Italian Courtyards
You know the song "Where does childhood go?" I think I know where – to Italian courtyards of Tbilisi. In the narrow but cozy courtyards, surrounded by diverse balconies, terraces and staircases, the time seems to stand still: green-eyed cats squinting on window sills, leaves are buzzing, toys are scattered and the sun is always shining. An old man smokes a cigarette, children run around, a neighbor removes her dried laundry, and it feels so good.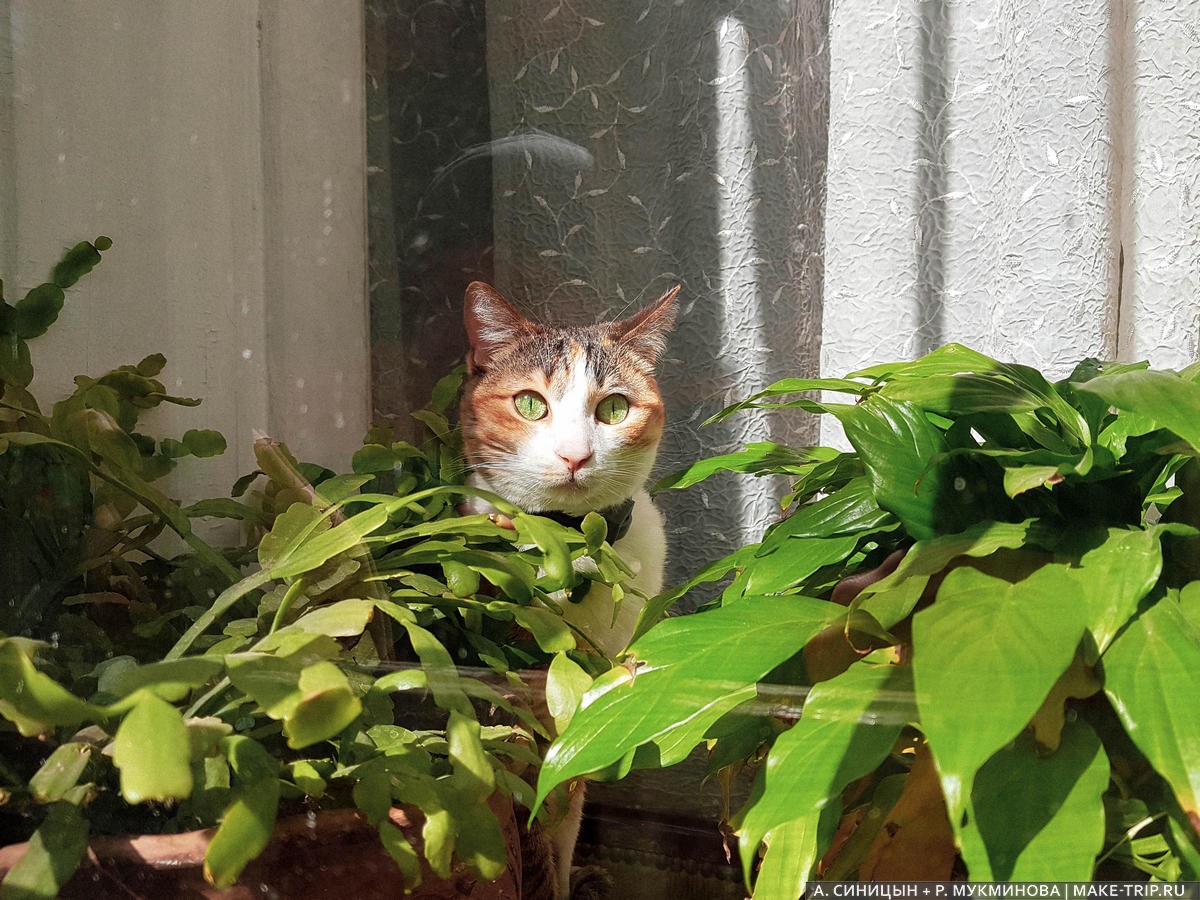 Tbilisi green-eyed cat.
Tbilisi is cozy. It is dilapidated in some places and abandoned in others, but still very cozy. It is the wonderful streets of the city that make it homelike and warm, which is why it is such a great pleasure to walk around, look at the details, and explore.
The people of Tbilisi are doing a great job of preserving this heritage. When you live in a large city, it is very important to have a quiet and familiar place where everything is simple and familiar, where life goes on unhurriedly, where everyone is at home, and where it is warm, cozy and calm. I hope these beautiful yards will live forever! And I advise you to visit them for sure – it is a portal to the past.
Courtyards of Tbilisi. Courtyards of Tbilisi.
The food is ugly, impossible, horribly delicious! Blessed khachapuri, khinkali and lobiani! You won't leave without extra pounds for sure.
Tastiest Georgian khinkali. There are different fillings: meat, cheese, mushrooms, and others. 5-8 pieces will be enough to fill up your plate. Portions in Georgia are big! On the photo: a rich Georgian soup khashi.
Georgia is a country where the expression in vino veritas has become a motto. Winelab, Wine Cellar – you see such signs everywhere in Tbilisi. The Internet advises to drink only homemade wine, as if it's better than the factory wine. We can't say anything about that, we bought Kinsdmarauli in the store and we weren't disappointed.
Lemonade
Unexpectedly for us from Georgia want to take home not wine, cheese and churchela, but creamy lemonade. The drink is unusually delicious! Chocolate and saperavi are also good. We recommend drinking it at the Lagidze Waters café.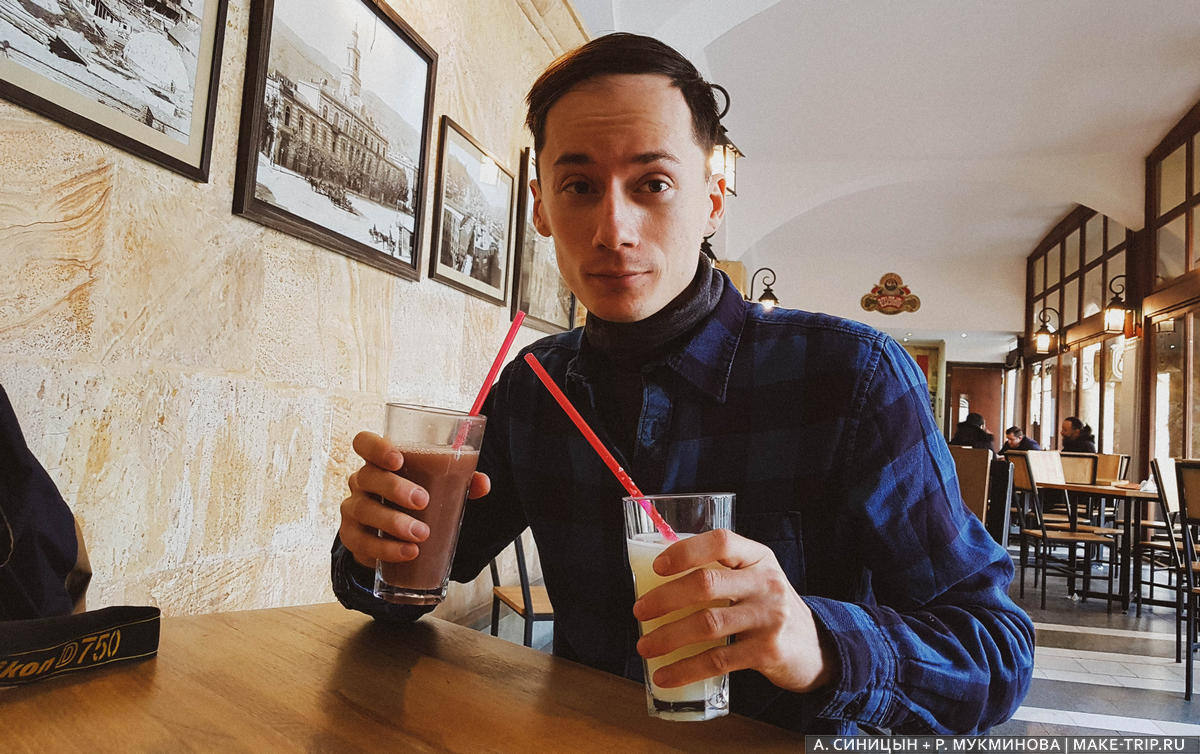 Chocolate and creamy lemonade.
Russian speaking environment.
Almost everyone knows basic Russian, which is why it is not so difficult to speak it abroad, but there is no language barrier. We met only one person who does not speak Russian. The older generation speaks Russian well, young people speak a little or don't know it at all.
Something to see in the suburbs
You can go from Tbilisi to many places for 1-2 days with excursions or by yourself: Mtskheta, Gori, Borjomi, Kazbegi, and Georgian Military Road. We went to Mtskheta by shuttle bus for half a day – it was nice to be in nature after a busy day in the capital.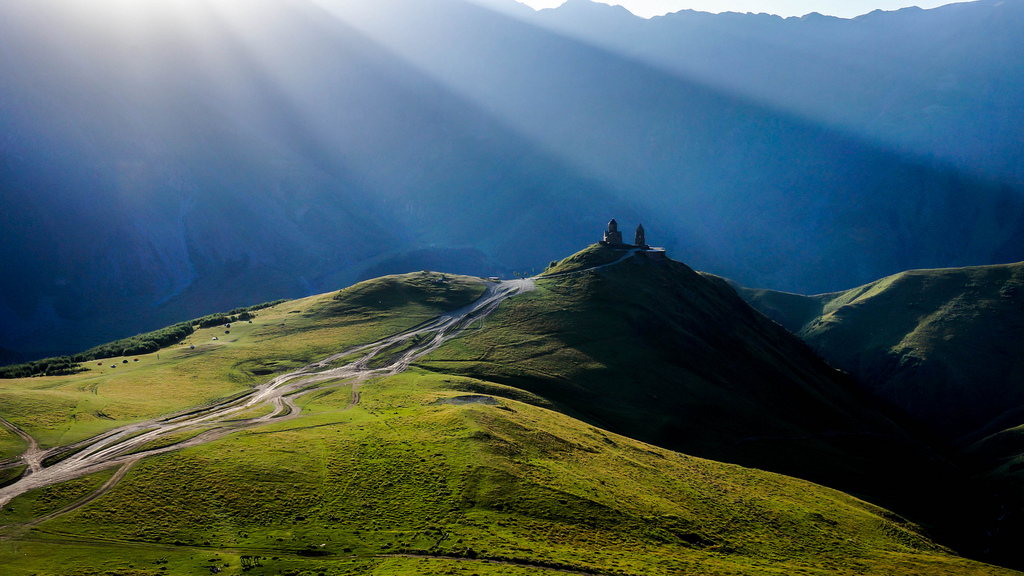 Trinity Church in Gergeti (Photo: Ronan Shenhav / flickr.com).
Everyone says Georgia's greatest treasure is the people. You have to socialize, go to visit and drink wine with them. We had almost no contact with anyone. However, the fact that no one drives you out of the front door, grumbles and swears (hello, St. Petersburgers!) already speaks volumes. On the street can come up and ask if you need help. Minus – cab drivers and tour guides are overly intrusive.
Convenient and cheap to fly.
From many Russian cities, tickets to Tbilisi cost in the range of 15 thousand rubles, and during sales are even cheaper. There are direct flights from Moscow – only 3 hours and you're in Georgia!
Low prices
The prices are pleasant! The medium-sized khachapuri in Oajarian, after which it is impossible to get up from the table, is only 9 lari – about 220 rubles. The accommodation is inexpensive – in a spacious one bedroom apartment in the center we lived for 1700 rubles in low season. Transport is cheap too: metro ticket 0,5 lari, shuttle bus to Mtskheta 1 lari.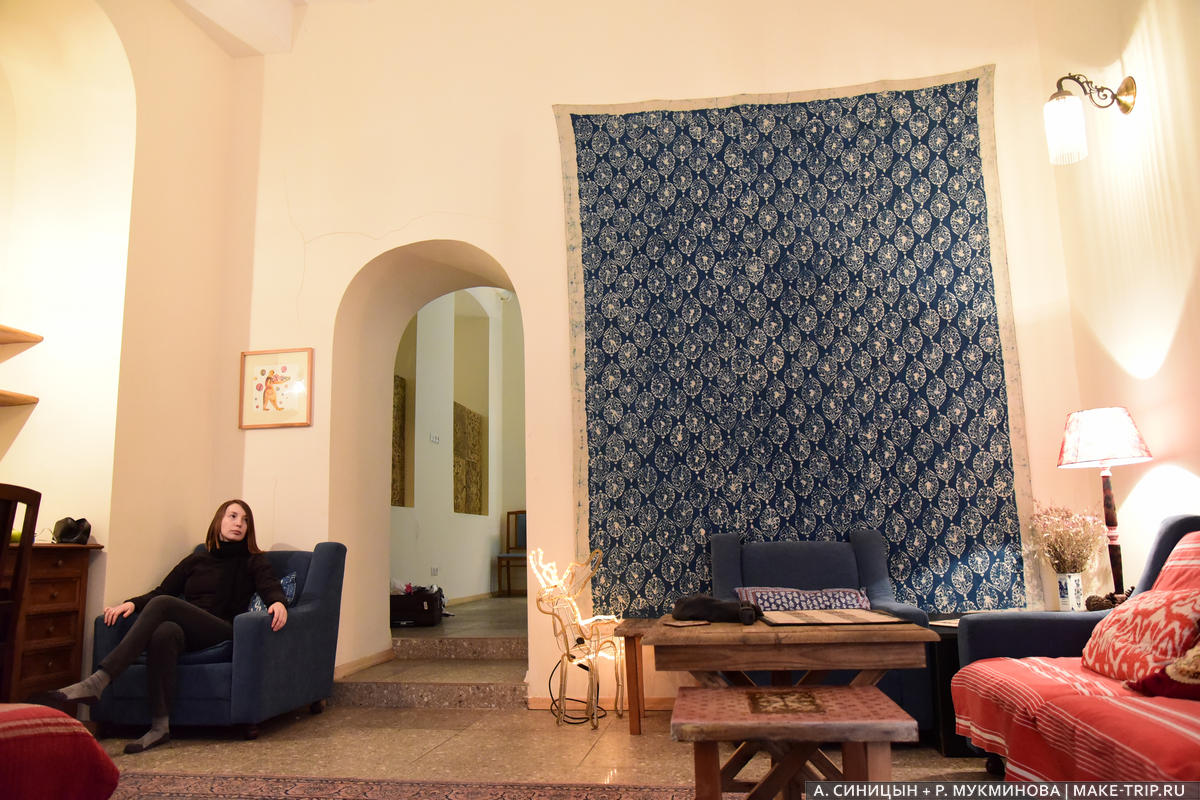 Our cozy apartment in Tbilisi with national style and high ceilings!
A city with history
I love cities like Tbilisi, Istanbul and St. Petersburg because they have history and spirit. And it's not just the city itself that has it, but each neighborhood, each house, each apartment. How it would be nice if all our cities were as lively and colorful as they are gray and faceless. It would be so much more pleasant and fun to live in!