Where to go in Russia in winter 2021-2022
Domestic tourism is still relevant, and more and more people in Russia are discovering new destinations. You can choose mountains, the sea, the forest, active recreation or a spa, warm weather or real frost. A separate advantage is that in winter the prices for flights, accommodation and entertainment are reduced. Where can you go in the current constraints, have a good time and get the most out of it? Eighteen options for all tastes in the selection below.
Sochi and Krasnaya Polyana
The most popular, but no less attractive option would be a trip to Sochi and the ski resorts of Krasnaya Polyana. In winter it can be cloudy and rainy, but in general the weather is warm. Many people like the gloomy views of the sea in the off season, deserted beaches, no queues and falling prices of accommodation and entertainment. In Sochi itself there is really something to see, and without a beach holiday – more in the guide.
On the contrary, in Krasnaya Polyana the season is just beginning, so it is better to book accommodation in advance in the most convenient aggregator Hotellook. This is still the highest quality ski resort in Russia with the best slopes, hotels and restaurants. And, of course, picturesque mountain views, especially beautiful in winter.
Golden Ring
Many put off a trip to the Golden Ring for summer or fall, but in the cold season, the ancient Russian towns take on a special charm. Wooden houses, drifts of snow, snow-white ancient churches and monasteries – everything is like in the paintings of great artists. You can go warm yourself in museums or cafes, which appear more and more, even in small towns.
Start your trip with Yaroslavl, Vladimir or Kostroma, and read the full route in the article: Journey to the Golden Ring.
Flickr / Victoria Tsukanova
Baikal
Baikal looks completely different in every season. In summer, it's a place for beach vacations, water walks, and hiking. But in winter you have a unique opportunity to see the "Baikal strings" – unusual lines on the ice. Landscapes and sunsets are also quite different than in summer. Another plus is low ticket prices, check conveniently on aviasales. And the main disadvantage is that it can be very cold.
Flickr / Marla Rochester
St. Petersburg
Many will discourage a trip to St. Petersburg in the cold season, but there are still advantages. First of all, the New Year's decorations that appear from early December. They create a cozy atmosphere, which is more noticeable against the background of the gloomy and dark city. Even though there are no New Year's Eve fairs in 2020, all public spaces tend to put up decorations and create affordable entertainment. For New Year's Eve cheer, be sure to stop by New Holland and Sevcabel.
Another plus is that in recent years St. Petersburg winter months are quite warm, which means the weather will not interfere with the enjoyment of strolling through the sights and unusual places that one trip is not enough to see. What to see in St. Petersburg in winter.
Karelia
In winter, people go to Karelia for ski slopes, cottages, recreation centers and the Ruskeala Mountain Park. At this time the park looks completely different, and even if you have already been here in the summer, it is worth going again. Marble canyons covered with snow, forest and special lighting create a fairy-tale mood. And for a full immersion, you need to get on a special Ruskeala Express. Feedback on the trip.
Murmansk region
Not everyone is ready to go to the far north in these months, but such a trip is worth it. First of all, it is the northern lights, which is almost guaranteed to be at least one night – they even create special hotels with a transparent ceiling (like here) for this purpose. Also the unique northern nature, the polar night and the ocean shore, which can be seen in Teriberka.
Murmansk itself is also interesting, and there are good ski slopes in Kirovsk.
Flickr / Max Kostyna
Elbrus and Mineralnye Vody
The cities of the Caucasian Mineral Waters keep a comfortable temperature, so you can walk through the parks, mountains, museums, and admire the architecture and breathtaking scenery. Tour of Pyatigorsk-Yessentuki-Kislovodsk followed by a visit to Prielbrusya is one of the most comfortable and budget tours you can find in Russia. You can move by your own car, by public transport or by excursions.
Cheap tickets are almost always available to Mineralnye Vody, and inexpensive lodging is easy to find on Hotellook.
Flickr / Mika Stetsovski
Dombai
Dombai is often called Russian Switzerland because of its alpine scenery, snowy peaks, and good ski resorts. The level of service is gradually increasing, but what for sure does not disappoint is nature.
Kaliningrad and the Curonian Spit
The Curonian Spit is a narrow elongated area with beach dunes and forests, surrounded by the Baltic Sea. The spit has its own microclimate and a special atmosphere which you can feel just being here. There are quite good resorts on the coast: Lesnoy and Rybachy.
The real resort towns are closer to Kaliningrad: Zelenogradsk and Svetlogorsk. At all times of the year, Kaliningrad region is interesting with its German heritage, which includes preserved kirches and castles. They will especially appeal to lovers of abandoned buildings, as many of them are in a sad state of disrepair.
Vologda
Vologda is the epitome of a typical Russian city with neat churches and wooden houses. Vologda is considered the Russian north and usually has a classic snowy winter. In Vologda, it is easy to step back in time and history, visit the local small museums and ancient churches.
Yakutia
People come to Yakutia for its national colors, extreme sub-zero temperatures and unique nature. Here is better to go with special tours, as tourism in the region is not yet very developed. Tours can be booked, for example, here. Travelers advise visiting agricultural farms and meeting reindeer herders.
Veliky Novgorod
All ancient Russian cities are especially beautiful in winter. Perhaps it is because of how organically look ancient churches and wooden houses in snow drifts. It is convenient to stop in Veliky Novgorod on the way to St. Petersburg: one day is just enough to see the main sights and dive into the history of these places.
In the Crimea go not only for beach holidays, but also for historical and architectural sights, which is convenient to visit when there are almost no people. Choose interesting excursions, big cities and walks through the cities – then you won't regret it.
Moscow
Moscow is most of all decorated for New Year, no exception will be made this time as well. Despite the lack of festivities and fairs, many still come here for the New Year, so you will not be bored in the center. In winter in Moscow is good to walk in museums, admire the architecture and go to the picturesque parks, such as Tsaritsino or Kolomenskoye.
The capital has the largest number of interesting excursions from local guides, which can be a great opportunity to see it from a different angle. For example, dive into architecture or history, go exploring the outskirts or visit the favorite places of famous personalities. Choose excursions on the trusted Tripster resource.
Veliky Ustyug
Veliky Ustyug is known for the residence of Ded Moroz, which means it will be especially interesting for children. For them, special entertainment programs and shows are planned. But do not think that there is nothing else. This is one of the oldest cities of the Russian north with a rich historical heritage. Veliky Ustyug is guaranteed to have a traditional snowy winter, and a special excursion with a local guide will help you immerse yourself in history.
Altai
In Altai, a snowy winter combined with sunny weather awaits you. It is called one of the most beautiful regions of Russia for its impressive mountains. Gradually the tourist potential is also developing, there are more and more comfortable accommodations and activities, such as snowmobiling or sledding.
Flickr / Pavel Kazachkov
Arkhyz
Arkhyz is becoming another popular resort for fans of downhill skiing, snowboarding and sledging. The destination does have great potential, and the peaks will be of interest not only to athletes, but also to connoisseurs of mountain nature, waterfalls and forests.
Krasnodar Territory
In addition to Sochi, the Krasnodar region has many excellent places worth visiting at any time of the year. In Anapa, the weather is usually good, and without the heat you just get a long walk along the mountain range of the Caucasus Mountains.
Krasnodar itself surprises with a variety of architecture and fashionable places, concentrated on the main street – Krasnaya.
Join the group Vkontakte and watch for new posts and other photos.
The first updates are always on Instagram
Please do not use photos or other information without a link to the site.
If you have questions, send them to email.
Please do not use photos or any other content without the link to the site.
Winter Holidays in Russia – 8 Best Places to Go
Top 8 places to go for a winter vacation in Russia. Ski resorts, sightseeing trips, nature vacations and other options ideal for a vacation in December, January and February.
Look for the hot tours on Travelata and Level.Travel services – they will find the best deals among different tour operators. Want to save your money? Explore our 7 rules for buying tours online.
Contents:
Krasnaya Polyana
The most obvious decision, where to go in winter in Russia (including with children) – Krasnaya Polyana. At the resort – modern hotels, working baths, swimming pools, cafes. Almost all hotels have a shuttle to the ski complexes. If you get bored with skiing and snowboarding, go on an excursion to Sochi, visit the Olympic Park, the aviary complex in Esto Sadka, dolmens in Krasnaya Polyana and Akhshtyrskaya cave.
Prices. Tours from Moscow to Krasnaya Polyana in winter 2021-2022 cost from 20 thousand rubles for two people (7 nights). Flights from Moscow to Sochi and back cost from 3000 rubles. Hotels start at 2500 rubles for a room for two.
The ski resort Rosa Khutor in Krasnaya Polyana. Photo: irinabal18 / Depositphotos.com.
Veliky Ustyug
Veliky Ustyug – here's where to go with kids in winter 2021-2022 in Russia! In late December and early January there are New Year's programs – you can visit Santa Claus at his country residence, it's a half-hour drive from the city by bus or car. Tourists on holiday visit merchant mansions, ancient temples and fairs, where they buy souvenirs.
Prices. Double accommodation in a hotel costs from 2000 rubles per day. In the winter there are tourist trains from Moscow, Vologda, St. Petersburg and some other cities. You can fly to Cherepovets, from there every Tuesday and Thursday flights to Ustyug. You can also take a train to Vologda, and then take a bus for 9 hours.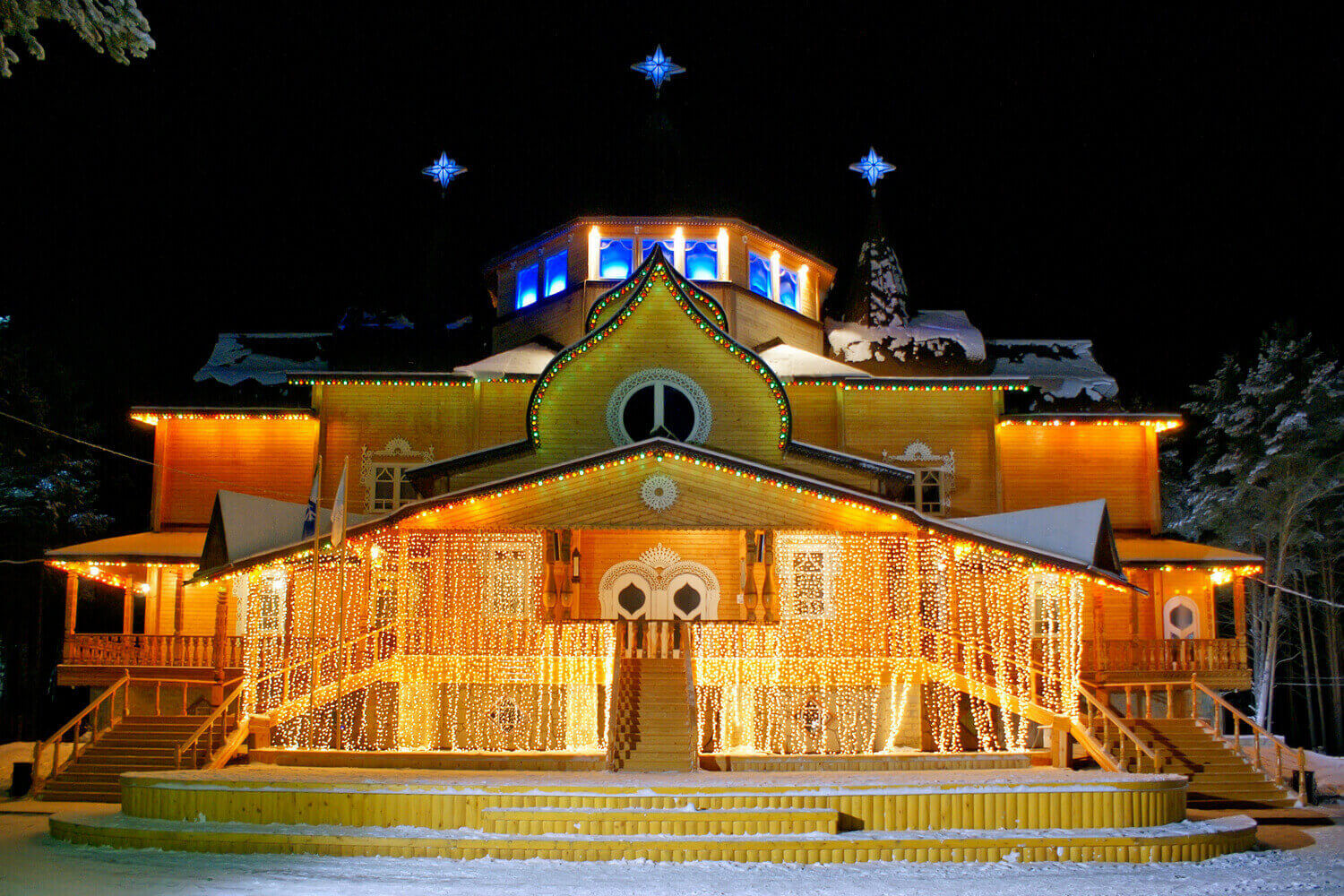 The Terem of Santa Claus in Veliky Ustyug. Photo: benzobak / Depositphotos.com.
Karelia
Where to vacation in winter 2021-2022 in Russia if you want excursions and entertainment? Karelia is popular with tourists in December, January and February. Go to Petrozavodsk: in winter you can walk along the embankment, visit museums, churches and the Old Quarter, go on an excursion to the island of Kizhi. Active recreation lovers can go to the ski resort "Gorka", where there are two slopes with ski elevators and an ice rink.
For recreation you can also choose other cities and towns of the republic or settle out of town – at the recreation center. Entertainments abound: fishing, sledding, sledding, snowmobiles and so on.
Prices. You can get to Petrozavodsk by train, bus, car and plane. Airline tickets from Moscow cost from 7200 rubles. Double rooms in hotels – from 1400 rubles per night. Check out the prices for recreation bases in Karelia.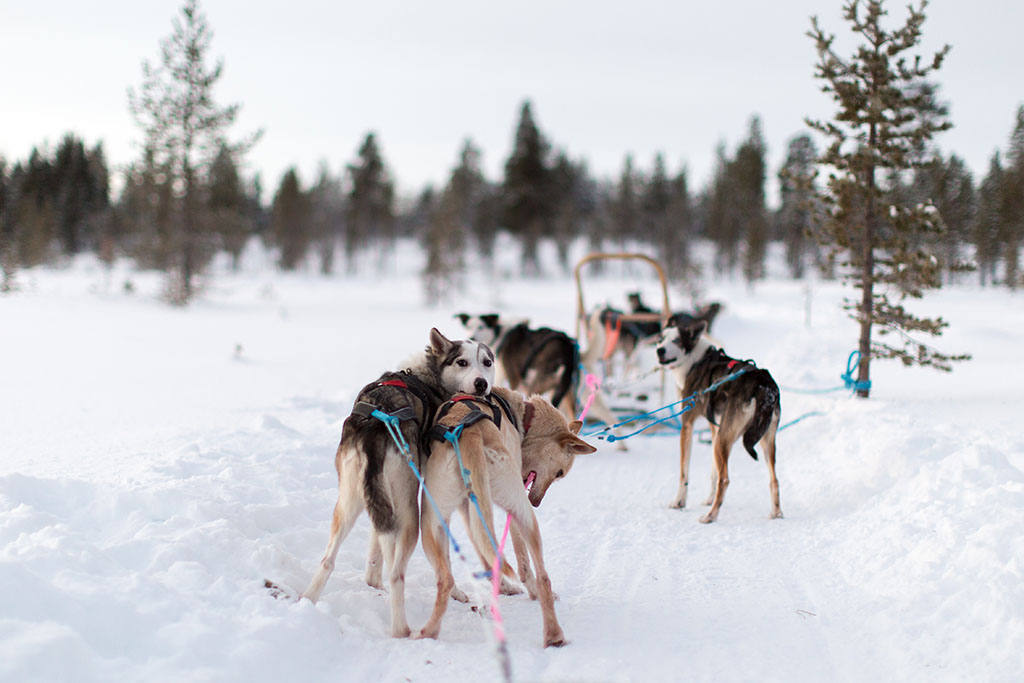 Photo: unsplash.com / @ozgut.
Inexpensive holiday in winter 2021-2022 in Russia is real – fly to the Crimea. Winter Yalta will surprise not at all winter weather, almost deserted embankment and low prices. Wine, long walks and leisurely excursions to palaces and museums – that's the main entertainment in winter. Climb Ai-Petri, visit the botanical garden in Nikita, or take an excursion to Sevastopol, Alushta, Sudak and other interesting places in the Crimea.
Prices. Tours of the Crimea from Moscow for 7 nights cost from 30 thousand rubles for two. Flights from Moscow to Simferopol and back – from 4400 rubles. Get to Yalta and other resorts can be by cab, bus, minibus. A room in a 3* hotel costs from 2000 rubles per night. Even cheaper in winter is the private sector in Yalta.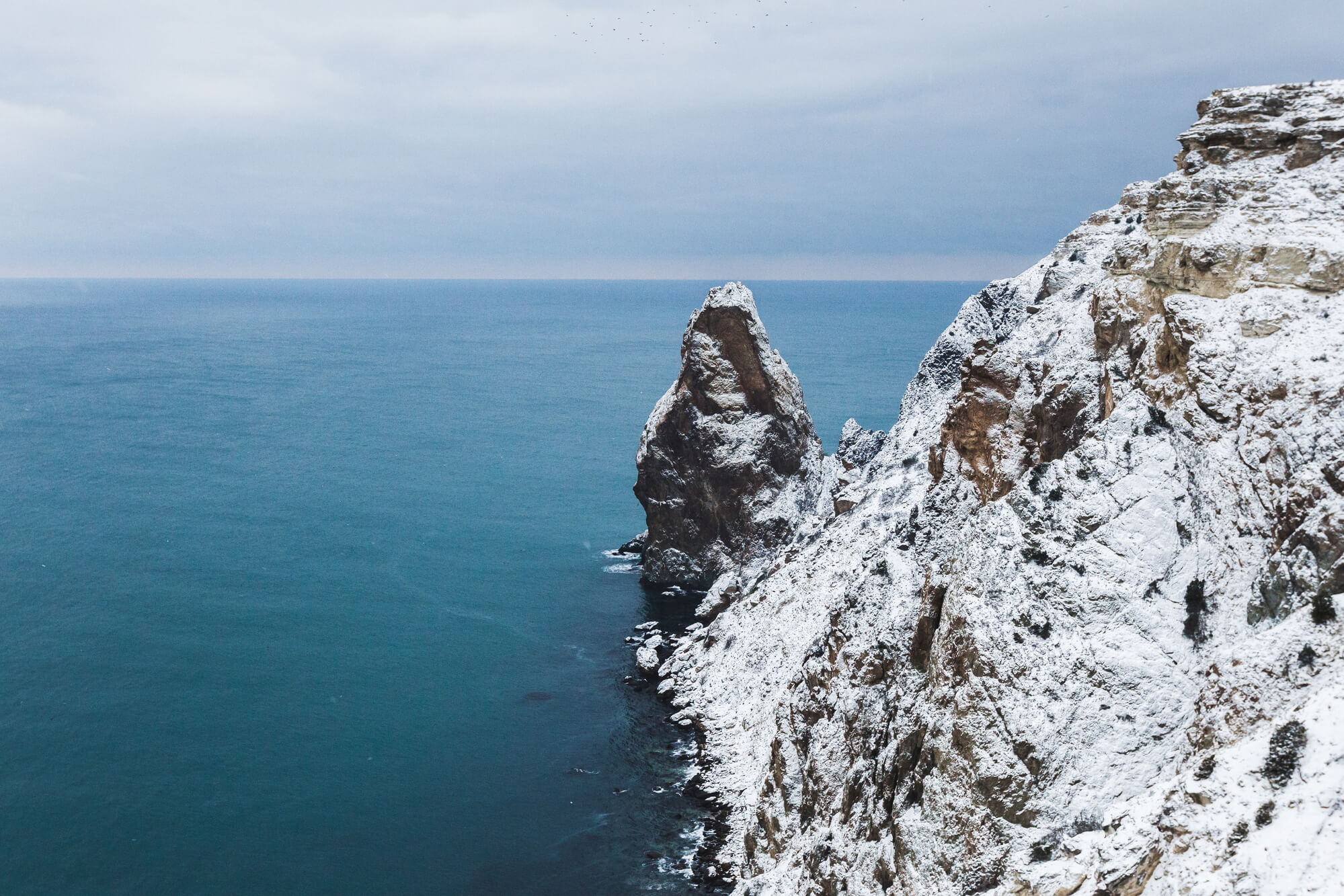 Cape Fiolent in winter. Photo: olegbreslavtsev / Depositphotos.com.
The Caucasian Mineral Waters.
This is a great place where a winter vacation in Russia will be not only pleasant but also useful! Drink healing mineral water, take a walk on ecological trails, go on excursions. Clean mountain air, especially fresh in winter, silence and little physical activity will allow to have a good rest and relax.
Prices. Airfare to Mineralnye Vody from Moscow cost from 4000 rubles. Tours to Kislovodsk for two in December 2021 cost from 30 thousand rubles (departure from Moscow). The cost of living in a sanatorium or spa hotel – from 2000 rubles per day, but there are also more budget hotels.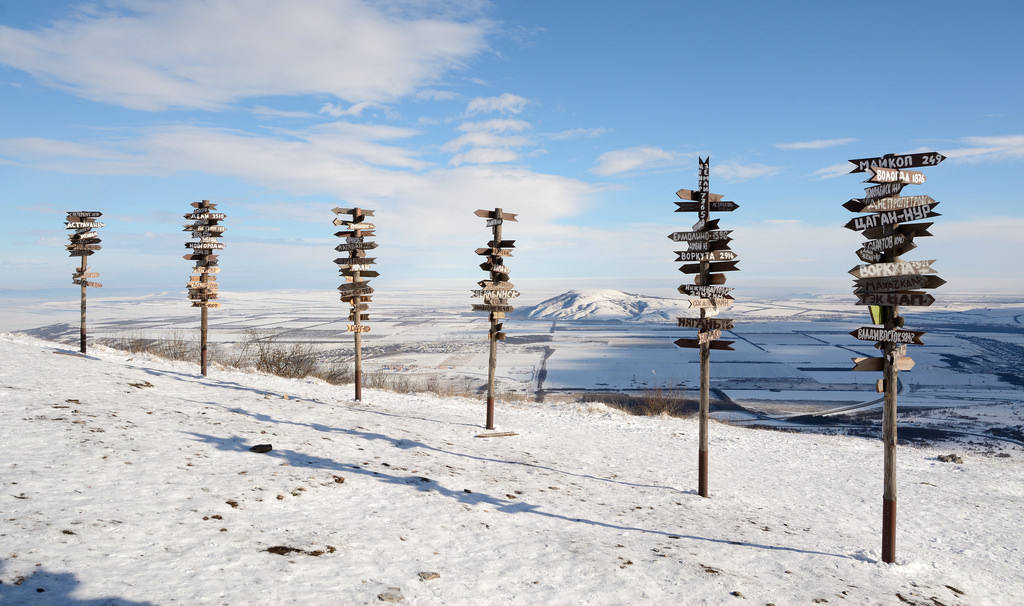 Photo: Klad-rnd / flickr.com / CC BY-NC-ND 2.0 license.
Kaliningrad
Kaliningrad is a non-trivial option for winter 2021-2022 in Russia. It has romance: Kant's Island with the Cathedral, the Fish Village, military bastions, German villas, and ancient castles in the vicinity. Explore the city on your own, and to see the surrounding area, take an excursion. True, in December, January and February the weather is very changeable, and almost always cloudy.
Excursion tours cost from 30 thousand roubles for two persons. Flights from Moscow start at 6,000 rubles. To get the most convenient plane, for a trip by train it is necessary to have a transit visa of Lithuania and the passport. Hotels in Kaliningrad cost from 1100 rubles per day.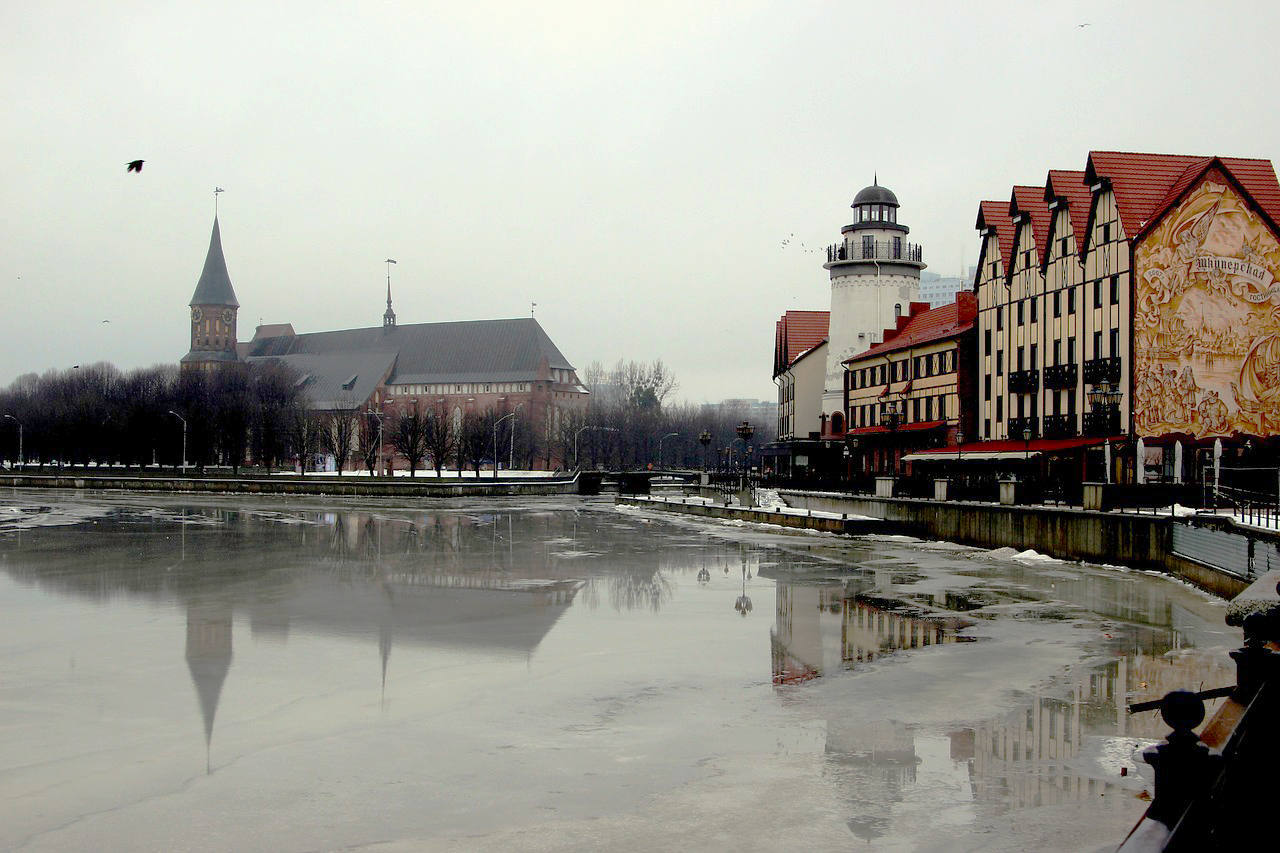 Photo: ermakovasve / pixabay.com.
Lake Seliger
Feel all the power and charm of a real Russian winter at one of the tourist bases of Lake Seliger: fluffy snow and clean air, saturated with the needles of the surrounding green pines, neat houses made of natural wood. Tourists ride on sleds, skis and snowmobiles, go on excursions to Nilova Pustosh or the town of Ostashkov, go ice fishing. Seliger is a great place to come in the winter as a family vacation with children and fun company.
Prices. The average price for renting a cabin for 4-6 people is 12000 rubles per day (without meals). The best way to get from Moscow is by car. You can also take a train to Ostashkov and get to your destination by minibus or bus.
Photo: n0rthw1nd / flickr.com / CC BY 2.0 license.
The Golden Ring of Russia
Going to Russia's ancient cities in January or February, when the majestic ancient Russian structures are beautifully powdered with snow, is a great idea. There are fewer tourists, and that is a definite plus. You can visit all the cities in a week, or you can visit any one of them and take your time to see all the sights.
You can get a 3 or 4 day sightseeing tour around the Golden Ring for 18,000 rubles for two people. One day tour to selected cities starts from 4,500 rubles. It's easier to get to Moscow first and then take trips to individual cities or arrange a tour. Learn how to see the Golden Ring of Russia.
Photo: fergunia / flickr.com / CC BY-NC 2.0 license.
Where else can you go in winter in Russia
Of course, this is not all the interesting places in Russia, where you can rest in winter. Fans of winter entertainment and extreme sports rush to Dombay, Arkhyz and Prielbrusye, to the Urals, Baikal, Altai and Kamchatka. Others visit the beautiful cities of Russia: St. Petersburg, Kazan, Veliky Novgorod. And you can just go to a country resort or relatives in the countryside to enjoy nature, silence and a good night's sleep.