Leisure in Lago-Naki in winter 2022-2023: where to go and what to see
Both the climate and entertainment at the Lago-Naki resort in Adygea are ideal for a family vacation. There are mild winters, a quiet atmosphere, no casinos or nightclubs, where the music booms until morning. But a lot of mini-hotels, which are happy to put beds for babies, arrange children's menus, and accept guests with pets.
Go down the mountain on a sled, ride a horse or a team of huskies and huskies, go on a tour in a cave and see the icy waterfall – all this includes a holiday in Lago-Naki in the winter of 2022-2023. And while such things will not surprise those accustomed to Courchevel, lovers of cozy gatherings by the fireplace and budgetary pleasures will definitely appreciate these places.
As a bonus – incredible Caucasian cuisine. Lamb shashlik, Adygei cheese, rich broths of chicken and vegetables, pita bread with adjika, Khvorost cookies dipped in mountain honey – if it were not for the activities in the mountains, tourists would definitely have to update the closet: a couple of extra pounds ensured.
"Rafting Workshop".
Rafting on the Belaya river in Adygea all year round! In spring and summer, there are delightful waterfalls, green mountains and canyons of incredible colors. In winter (just imagine that at this time, too, you can rafting) are waiting for snow-covered landscapes, as if in a fairy tale. "Rafting Workshop" will take care of your equipment and safety, even families with children are allowed on some routes.
Ride a trio of horses in December
In the middle of the first winter month the resort celebrates two holidays at once: the opening of the ski season and the International Mountain Day (its official date – December 11). At this time there is a lot of fun. Local authorities and managers of tourist complexes fill skating rinks, hold outdoor fairs, and hold tastings and cooking duels. Tell me, what is "gypsy"? You don't know? You won't get an award. It is one of the main Adygean dishes: meat with grits or wheat porridge.
Near large hotels fill skating rinks, skates can be rented there. Photo: Tatiana CHERNIKOVA
If you're not lucky in the kitchen, you'll be lucky in a fight. Build ice castles, throw snowballs, assemble an army of snowmen – the judges will appreciate the creativity.
And if you want a New Year's Eve mood and a movie atmosphere, ask the hotel staff to help you. On the eve of the holidays here are decorated pine trees in front of the entrance to the complexes or inside hotels, hung garlands and tinsel. The extra hands are certainly welcome. You can go to the forest and decorate your own tree, turn on your phone "A Christmas tree was born in the forest" and lead a circle dance. As an option – rent a trio of horses and arrange a real Russian horseback riding. It will cost you 1500-2000 rubles.
To bathe in thermal springs in January
In early January, Lago-Naki has the most tourists, the temperature drops, the prices go up. But there is also more entertainment. Some hotels arrange humorous Christmas fortune-telling: guests are given candles, coffee mugs, mirrors to find out about their future. In the cafe treat with fortune cookies.
The tourists' favorite entertainment is to dive into the snowdrift after bathing in the thermal pool. Photo: Tatiana CHERNIKOVA
If you are planning a rest in Lago-Naki in the winter of 2022-2023, you should take a closer look at the Baptismal tour to the thermal springs, there are more than 20 of them in the republic. The main part of the pools is located in the villages of Tulsky and Flower, the entrance price starts at 250 rubles for an adult and 100 for a child. But there are also "wild", freely beating from the ground fountains with boiling water where you can take a bath for free. They are not equipped and not big, you will have to go back to the car wet, and you can catch a cold there. The chemical composition of such water is rich in zinc, cobalt, boron, bromine, sulfur, silicon and other trace elements. It is useful for health, especially for the nervous system.
If you're fed up with your work, come here immediately to relieve your stress. The main thing to remember: a little of each good thing. Do not make hour-long swimming, maximum – 20 minutes, but first check with doctor, if you have no contraindications.
At the end of January in Lago-Naki there are sled dog races with dogs native to Siberia. For example, you can get a ride on a sledge with a Husky for 1000-1300 rubles.
Ride a snowmobile and go to the waterfalls in February
"The windows of February sometimes throw up surprises for the fans of winter sports. By the end of the month it may get noticeably warmer, so snowboarders and skiers prefer to come to Lago-Naki till the 14th. And on the 14th day of the month there are a lot of couples in love. Separate tours are organized for them: with romantic hits of Stas Mikhailov in the bus and hotel rooms, decorated with rose petals. And necessarily with a visit to St. Michael's Monastery, one of the highest in the country. There are usually asked for prosperity and eternal love. Of the iconic places – the font, laid out back in the 9th century, and the icon of the Virgin Mary "Blessed Sky", painted by monks more than 130 years ago.
If you like more extreme entertainment, go for a short snowmobile ride. Photo: Tatyana CHERNIKOVA
For the Defender of the Fatherland Day offer a completely different kind of entertainment. For example, riding a snowmobile. You can drive it yourself, or you can hand the reins to the driver. He will take you on a breeze through the snowdrifts and give you a tour. The most popular route takes two or three hours. During this time travelers will see the Stone Sea Ridge, Abadzeshsky and Maikop Passes, Blam and Oshten Mountains. There are also longer destinations: to get to the "Fisht" shelter, it will take at least 6 hours. But it is possible to get acquainted with those places which are seldom reached by people. You can visit rivers Tsitsa and Belaya, lake Psenodakh, observation points, from which you can see the Main Caucasian Ridge, Aibga and Pseashkho mountains. The price – from 4500 rubles.
New Year in Lago-Naki.
Do you remember the video "Last Christmas", which starred George Michael? Snow-covered mountains, Christmas trees over the roof, a cozy hotel and hearty get-togethers – if you have long dreamed of such a holiday, you're right here. New Year and Christmas in Lago-Naki – it brought to life a picture from videos and movies. Demand for such magic is high, so you need to book rooms in advance. For a banquet will have to pay extra, a party with treats will cost 5,000-10000 rubles.
Each hotel in Lago-Naki is decorated for the New Year, and a festive atmosphere prevails everywhere. Photo: Tatyana CHERNIKOVA
You'd better stay at the hotel where you stayed. In late December at Lago-Naki plateau it often snows, sometimes roads are so snowbound that it's hard to get to the nearest restaurant. Most hotels offer banquets with live music. Get ready: you will see a show with dzhigits throwing sabers at the walls, Caucasian dances and songs.
Active recreation in winter
For those who prefer active rest, the simplest thing that is offered in Lago-Naki in winter 2022-2023 is terrainkur. You walk along snow-covered trails along gorges and canyons, look at ridges and frozen waterfalls. If you take your guide, you can pester him with questions "Whose footprints are these? Surely not a bear?". The Caucasian biosphere reserve is nearby, so there are foxes, wolves and hares. But predators are not fools, they do not come out to people, so you can walk calmly. The trip will take an hour or two, so you should keep warm and take a thermos of tea or mulled wine.
You can go for a drive on a sled with Huskies and have your photo taken with them at the end of January during the competitions. Photo: Tatyana CHERNIKOVA
If you'd like to try something more extreme, choose a windless day and book a flight on the glider – feel like a Caucasian eagle soaring over the Guamskiy Gorge. The pleasure will not last long – about 15 minutes, so don't forget to charge your camera or phone. During the process you can take pictures and then review the frames on long winter evenings.
Where and how to rest in Lago-Naki in winter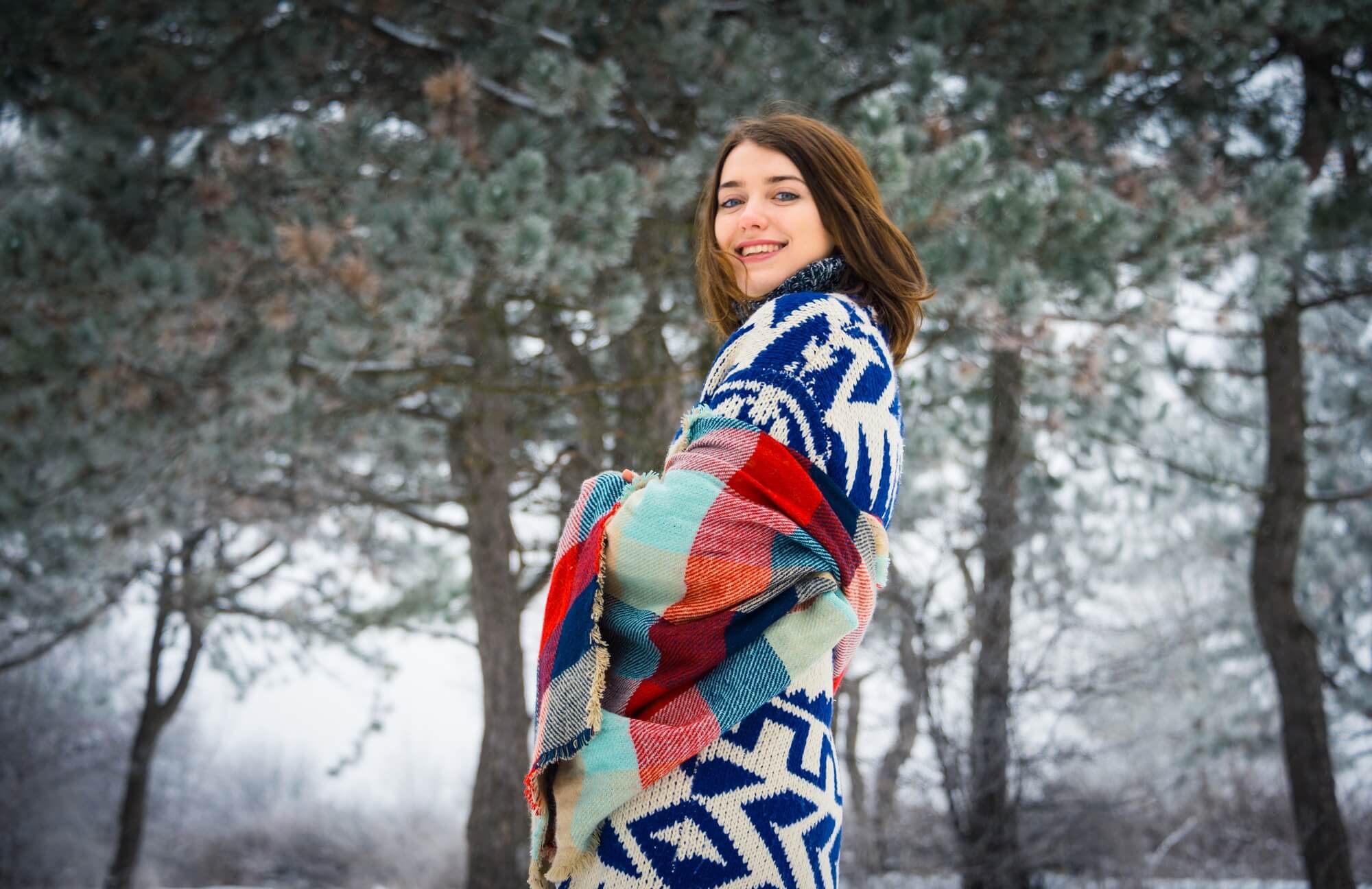 Learn about a holiday in Lago-Naki in winter 2021-2022. What to do and how to spend time? Prices for recreation centers with thermal springs in Adygea. What weather in the winter months? Reviews and tips of tourists.
Contents:
What to do in Lago-Naki in winter
In the cold season in Adygea there are many opportunities for outdoor activities. Alpine meadows and forest roads are covered with snow, and it is convenient to travel on snowmobiles.
On snow-covered slopes it is nice to take a ride on alpine skis and snowboards. This area of winter recreation in Lago-Naki is just developing, so there are not many slopes. Elevators belong to certain hotels and recreation centers. The longest one is situated near Azish-Tau hotel complex and is 600 meters long.
Lago-Naki is an extended karst plateau, which is famous for its beautiful underground cavities. Look at the stalactites and stalagmites in the Tender Cave and Big Azish Cave. They are fully equipped for tourist visits, and therefore absolutely safe.
If you came to Lago-Naki in winter to relax with children, show them the beautiful natural sights – snow-covered Khadzhok gorge and Rufabgo waterfalls. Admire the ridges and valleys from the observation points. We advise to spend the evening in one of the local cafes and enjoy hot pancakes, aromatic mountain honey and odorous herbal tea.
Useful pic: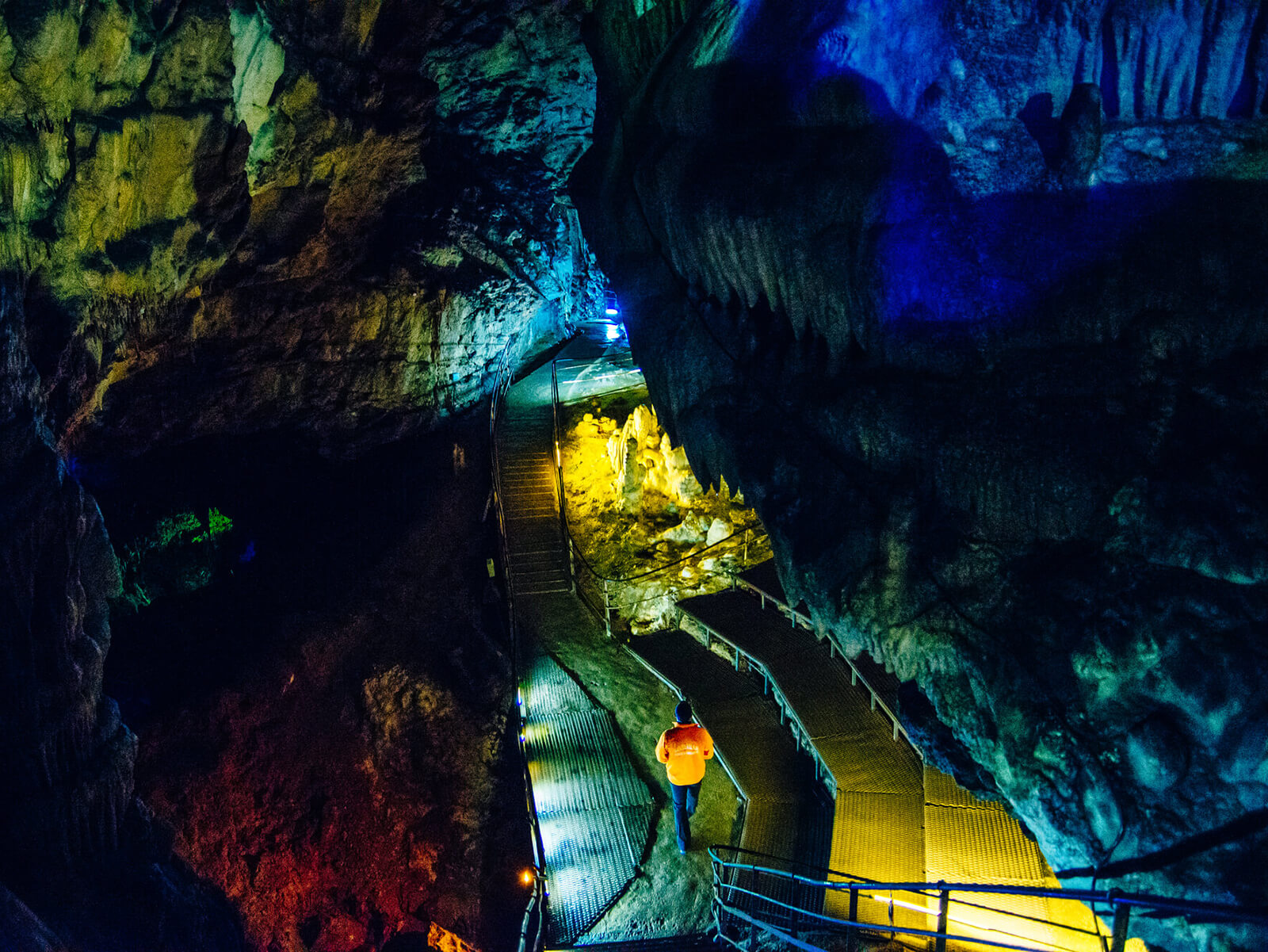 Inside the Azish Cave. Photo: ibrester / Depositphotos.com.
Prices for holiday campsites in Lago-Naki in winter
Look for vacation bases and hotels with discounts on Bookings and Rumguru. Here are the ground rules for finding hotels.
With the onset of cold weather there are fewer tourists in Adygea. Summer tourist bases close until spring, but hotels with heating take guests all winter.
Lago-Naki offers many accommodation options in winter. Especially popular are accommodations near ski slopes and in balneotherapy resorts. Adygea has many campgrounds, resort hotels and pensions that have swimming pools with healing hot water.
Prices for Lago-Naki holiday resorts with thermal springs:
In Dakhovskaya offers double rooms from 2900 rubles. The price includes breakfast and use of the pool with hot water.
"White River" in the village of Guzeripl is excellent for winter sports. A double room costs from 2500 rubles.
"Park Khadzhokh" in the village Dakhovskaya is good for family holidays and friendly companies. A hotel room for two with breakfast costs from 2100 rubles, and a cottage for 4 guests with breakfast – 6500 rubles. – Popular thermal resort in the town of Maikop. A cozy room for two with breakfast costs from 3000 rubles.
"Aqua-Thermo" is a recreation center in the Tulsky village. A comfortable room for two costs from 3500 rubles.
"White Nights" in Tulsky offers tourists accommodation, meals and a large swimming pool with mineral water. On weekdays a double room costs 3500 rubles, and on weekends – 4000 rubles.
"Vodnaya Riviera" is a recreation base with thermal pools in Tulskoye. There is a separate children's pool. Staying in a room for two people costs from 5,000 rubles, and in a cottage with a pool for 2-4 people – 10,400 rubles.
Weather in winter in Lago-Naki
In Lago-Naki is a mild and very snowy winter. In January, the coldest month of the year, the thermometer does not fall below -10°C. In February there are plentiful snowfalls and the temperature rises to -10°C. In July the warmest month is January, when the weather is freezing. In February, there are heavy snowfalls. Tourists who come to Adygea from Central Russia and northern regions of Russia like the fact that in winter there is a lot of sun in Lago-Naki.
During the cold season, the air temperature ranges from -3°C to +3°C during the day. Perfect conditions for walks! You should dress up warmer. For outdoor activities you'll need thermal underwear, a sweater, a windproof suit, a warm hat and gloves. On cold evenings a winter jacket comes in handy.
Tourists from Central Russia and Northern Russia like that there is a lot of sun in Lago-Naki in winter. Photo: igor_d / Depositphotos.com.
Reviews of tourists about recreation in winter in Lago-Naki
A trip to the picturesque foothills of the Main Caucasus Range makes a strong impression. Tourists who vacationed in Lago-Naki in winter 2021-2022, left positive feedback about the beauty of local nature and winter entertainment. The main disadvantages are low level of service and noisy neighbors at the camping sites.
Tatiana: "I liked this place – both adults and children. The hosts were hospitable and sympathetic. Rooms are clean, cozy and warm, which is important when you have a rest with children. The nature is gorgeous. Definitely will be back again.
Yulia: "You book one thing and get another. Clean linens and warm rooms, but poor soundproofing. Rest quietly and peacefully you will not get.
Nina: "Green Guy is a wonderful new base. Rooms with all amenities. Good textiles. Cozy and clean. Batteries in the room. Cafe with a real fireplace – just fire! With cell phone service is not so good, but it's not a problem.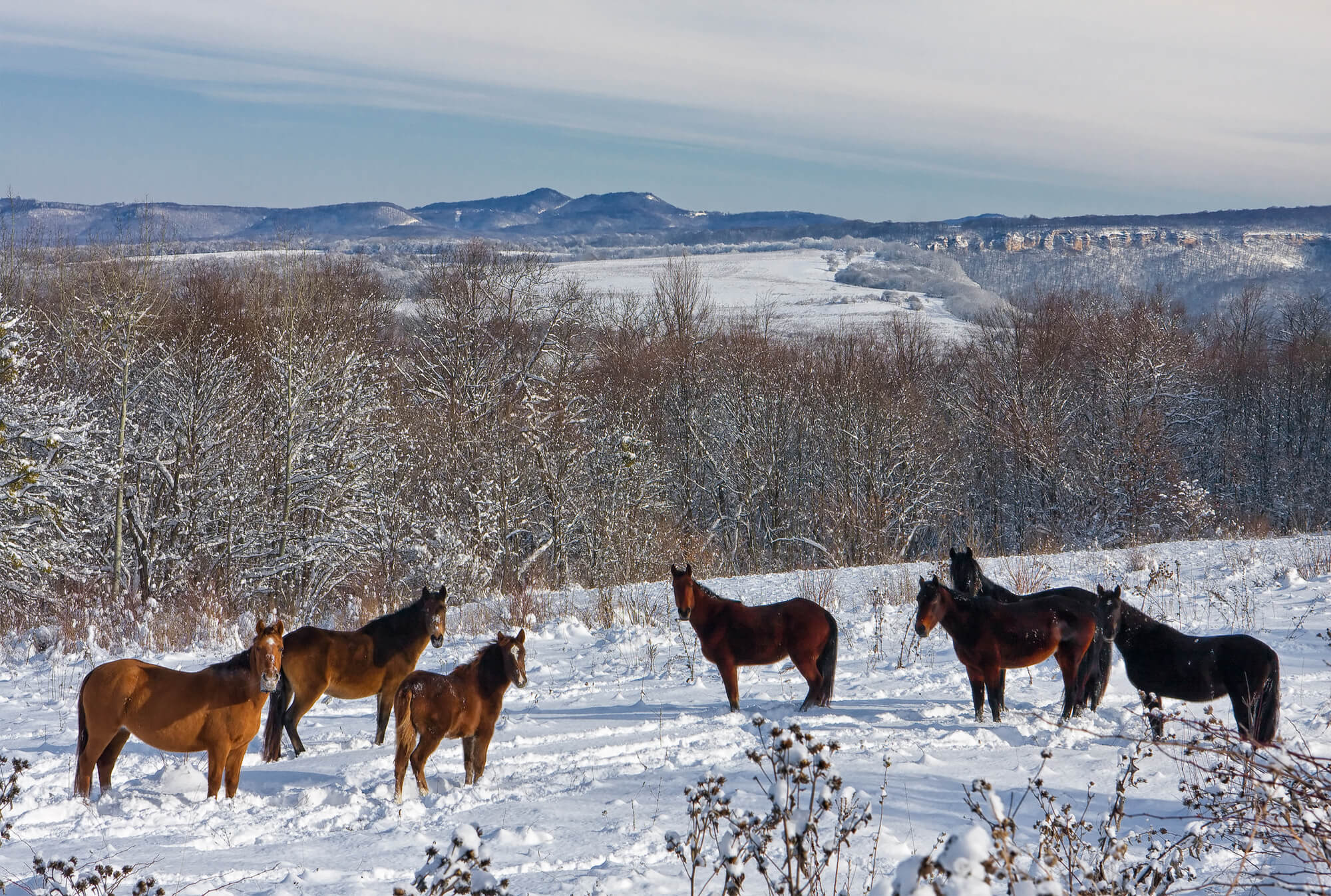 Horses on a walk in the winter. Photo: EvgeniiDikii / Depositphotos.com.
Tips for a holiday in Lago-Naki in winter 2022
Recreation in winter in the mountains of Adygea likes lovers of active tourism. If you are focused on a high level of service, excursions, shopping and entertainment centers, it is better to go to Sochi.
Skiing in Lago-Naki is suitable for children and beginner skiers. You don't have to carry all the equipment with you. You can rent ski and snowboard kits, sleds and "tubers".
Thermal water helps cure many diseases, but has contraindications. You should be especially careful when bathing in hot springs with radon. Before the trip get advice from your doctor.
Usually the recreation centers in Lago-Naki are half-empty, but on weekends and holidays in Adygea come residents of the Rostov region, Krasnodar and Stavropol Krais. During the New Year and winter vacations, accommodation prices are high. Book your favourite accommodation in advance or plan your holiday in Lago-Naki in December, second half of January or in February.
Useful pic:
If you are focused on a high level of service, excursions, shopping and entertainment, it is better to go to Sochi. Photo: Kutredrig / Depositphotos.com.