Treat yourself: rooftops, palaces and other unique accommodations in St. Petersburg
In St. Petersburg, not to drink, but to live beautifully! If you're tired of apartments a la IKEA showroom converted from communal rooms, choose something special. I've found 12 variations of unusual housing in St. Petersburg – from economy apartments with antiques to fabulously expensive but chic palace apartments. Get inspired, check in, enjoy!
We are convinced that good accommodation is half the battle for success on holiday. So we decided to make for our readers a series of short notes about hotels and apartments in Russian cities with the best accommodation options. These selections do not include advertisements, all options are our unbiased choice. As travelers with extensive experience, we choose only comfortable and cozy accommodation with excellent reviews of vacationers, which is sure to please you.
Where to book your lodging favorably:
– will find a hotel at a discount. – A huge selection of rooms, apartments, houses from the owners. Cozy, beautiful and economical for a large company!
Art Nouveau Museum Apartment
I love apartments with a million cute details that you can touch and examine without the gaze of a strict old lady who sooner or later will shout: "Lady, get away from the picture! And don't grab the door handles!" Such apartments are a sight in themselves.
Some museum apartments look cool, but life in them is full of surprises: a faucet falls off, the walls are cardboard, the doors creak. In this apartment, on the other hand, modern renovations and appliances with amenities co-exist organically with antique furniture, pre-revolutionary editions of books, old photographs, tiled stoves, oak parquet and modern doors. It's perfect! As the owners write, "we offer you to plunge into the atmosphere of the early century, to see what it looked like this lost St. Petersburg. To live in an Art Nouveau era environment is a unique experience of traveling through the pages of the city's history. We have tried to restore everything that has not been lost during the Soviet period.
The beautiful and unusual apartment is located in the Stenbock-Fermor house, which is protected by the state. This is the center of St. Petersburg, metro Zvenigorodskaya. There is a park nearby.
The apartment is huge – 280 sq.m. – one does not see that often in St. Petersburg! It has 5 bedrooms, so it may accomodate up to 13 guests. The price of a museum apartment is as impressive as the interior – 32,000 ₽ per day. However, if you want to accommodate a large group, the price can be shared.
A bedroom in a modern apartment. Tiled stove. Kitchen.
Futuristic apartment
The designer of this unusual apartment in St. Petersburg seems to have been inspired by movies about the future: original lighting, jagged lines, minimalism with bright accents. But the most remarkable thing is a glass bathroom and a glass floor with plants! The apartment costs from ₽16,000 in the summer and from ₽10,000 in the low season.
Bedroom with glass floor. Living Room. Kitchen combined with the living room.
Creative apartment.
The owner of the apartment is a designer, so the dwelling turned out to be bright, youthful, and very St. Petersburg. Unconventional color combinations and unexpected interior items are sure to cheer you up! You will not see moldings, antiques, or a fireplace, but get a warm and emotional space that will help you feel the atmosphere of St. Petersburg.
The apartment is located in the center of St. Petersburg, near the arrow of Vasilevsky Island, so the main attractions are close at hand. It can accommodate 5 people. The price for the apartment – 9000 ₽.
Kitchen-living room. Antique piano. One of the bedrooms.
Attic apartment with access to the roof.
After all, what St. Petersburg would be without romantic rooftop walks? Well, to live in an apartment with access to the roof – a separate pleasure. When we lived in St. Petersburg, we just had a key to the attic, so I know what I'm talking about. Well, if you live in a regular apartment or hotel, read how to walk on the rooftops of St. Petersburg.
In general, if you want to drink tea, coffee, or something stronger on a private terrace with a beautiful view of the city, you are welcome to stay here. It's a loft-style apartment with cool skylights and three rooms, but it's a bit of a mess (old stock, after all) – read about it in the reviews. The price is 12,000 ₽ per night.
Kitchen-dining room. The light from the skylights won't interfere with sleep because there are heavy curtains. View of the rooftops of St. Petersburg from the terrace.
On the roof of St. Petersburg
One of the most unusual apartments I have seen in St. Petersburg is located on the roof. A pity there is no exit to the roof, but what a fantastic view! The interior of the apartment is very simple and pleasant, without any frills, but with nice details. The price is 6,400 ₽ per night.
Look at the view! It's gorgeous at night, too. Kitchen. Bedroom.
Aristocratic apartment.
This apartment occupies the two restored state rooms of the mansion of the nobility A.B. Neidgardt, with a total area of 140m². The stucco moldings on the ceilings of 5,5 m high and pilasters on the walls have been partly restored, there is a working fire-place. Restrained luxury, pastel colors. The only pity is that the kitchen and the bathroom were not built in this style. But the front of the house is just chic.
If you have time, be sure to talk to the hostess. She will give you a tour of the mansion, tell its history and show the roof. The price for the pleasure of living in another era is ₽10,000 per day. The apartment can accommodate 4 guests.
Bedroom. Canopy bed. Front room.
The Imperial Apartments are almost a palace.
Napoleon Apartments in St. Petersburg is a beautiful apartment for those who love luxury. Three imperial suites in the house built in 1908 recreate the atmosphere of the residence of the Emperors of France. Heavy drapes, massive beds, stucco and gilding, painted ceilings, a white grand piano – it seems that this is a museum, not an apartment!
In the apartment you can just stay or organize an event: a celebration, a buffet table, a romantic dinner. The cost is high. Apartments cost 40,000 – 80,000 ₽ depending on the type, and the price for all at once is from 290,000 ₽.
Chic Imperial Suite. Musical living room with a white grand piano. Dining room. Other Apartments.
Designer apartment for an entire floor
This four-room apartment has a very cozy interior in the spirit of a country house: a lot of wood, textiles, curious little things, paintings and books. In the kitchen and bathroom the original brick from 1881 has been preserved. In the reviews write that only two days can be spent to study all the details of the apartment. It is gratifying that the owner did not limit herself to a beautiful interior and created a very functional housing: the apartment has everything, from French press and slippers to warm floors, boiler, dishwasher and orthopedic mattresses. The apartment also has a split-level layout and a great location in the center of St. Petersburg next to the Etazhy loft project. Price from 11,000 ₽ per day in the summer of 2022.
Living room. Dining room. Bathroom.
Neoclassical apartment for aesthetes.
Arched windows overlooking Alexandrinsky Theater, portieres, mirrors, paintings, moldings on the ceiling, elegant chandeliers. It is a beautiful exquisite Petersburg apartment in which you feel yourself at least an aesthete, but at most – an aristocrat. Or an aesthete aristocrat. From more down-to-earth things I would mention a sauna, which is a huge plus in St. Petersburg's climate. Up to 8 guests may stay in the apartment. The price is 31,000 ₽ per night in summer and 27,000 ₽ in the low season.
Living room. One of the bedrooms. Bathroom.
Outbuilding on the Petrograd side.
Exclusive offer! In the center of St. Petersburg, you can essentially live in a separate house with a closed courtyard-parking. Freestanding outbuilding designed and decorated by professionals, so it looks like in the fashion magazines. The interior is minimalist, but with a twist: wooden beams, metric tiles, a real fireplace, rare floor mirror, plants. In the center of the apartment is the main art object that catches the eye – a coffee table lined with fireplace tiles. In the outbuilding quality furniture and appliances, important and necessary little things such as bathrobes, slippers, iron and a set of dishes. The outhouse sleeps four guests. The price is ₽11,000 per night. You can easily split this amount with friends and have a great vacation or weekend together!
Our guides, made with love:
The living room is adorned with a table with fireplace tiles. The monolithic blank kitchen fronts to the ceiling in deep green look very cozy. Bedroom. Outbuilding is fully autonomous and is located in a closed courtyard. You can park your car here and have picnics at the table.
Apartment with painted ceilings and sauna
This unusual apartment in St. Petersburg will suit fans of Renaissance interiors. Painted ceilings, moldings, heavy textiles, chandeliers. Judging by the reviews, there are a lot of connoisseurs of this apartment! But its main advantage is the sauna, which saves from the Petersburg colds and colds. And the price is fantastic for the city – only 5,500 ₽ in the summer and 4,000 ₽ in the off-season.
Look at the ceiling! In St. Petersburg's off-season or winter, the sauna is quite appropriate, I think.
Loft squared.
This "loft" is a little bit old-fashioned as there are many apartments in this style in Petersburg, but I decided to include this apartment in our selection because it is a loft in a square (or cubed?). It seems that the owners of the apartment without a single deviation followed the spirit and the letter of the style. There is nothing to explain, look at the photos and you will understand everything yourself.
This apartment is unusual because it has a separate entrance from the courtyard, so it is surprisingly quiet, although the Nevsky Prospekt is 100 meters away. You'll sleep like a baby! Price – 8000 ₽ per night in summer and from 5000 ₽ in other seasons.
Unusual apartments in St. Petersburg: Top 5
Inspiration is very important for the creative, or any person. So I draw it from my travels, and the main object of contemplation for me is architecture and the interior decoration of houses, especially those in which you can feel the breath of history. It's not the facade or even the gala, but the interiors of apartments, perhaps crippled by communal life and layers of paint, but not killed by European renovation.
So all lovers of towers, bells, old staircases, fireplaces, wooden parquet, unusual doors, high ceilings and unique views from the windows invite you to see 5 interesting apartments in Petersburg.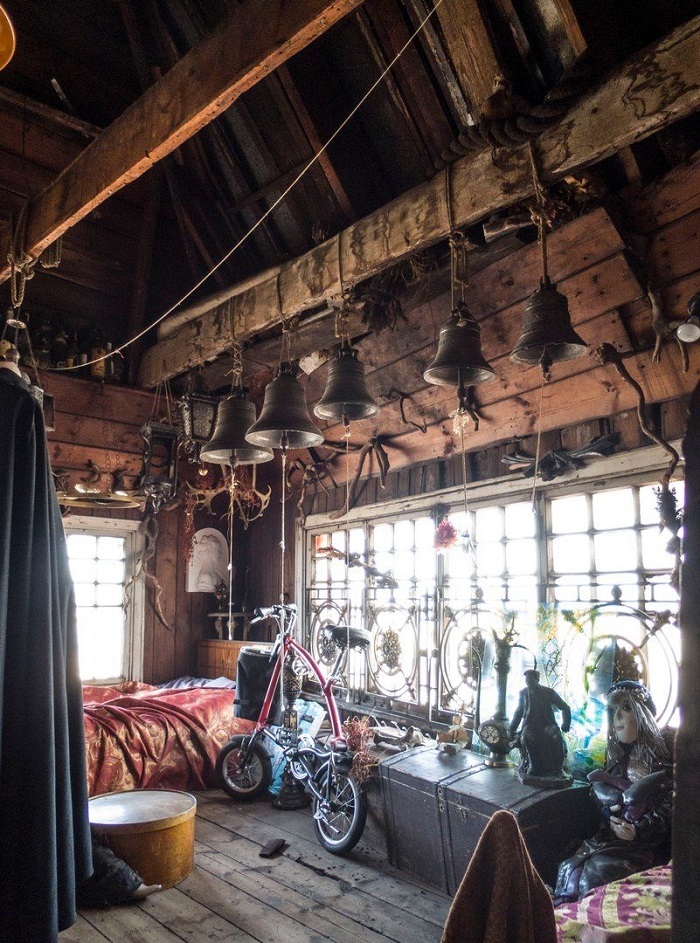 Here is the first masterpiece – an amazing loft space with a residential tower in an old Petersburg house. Directly from the apartment you can go up into the tower. They say that Gumilev wanted to arrange in this apartment analog of Ivanov's tower. And those who suggested that a magician lives here, have no idea how right they are.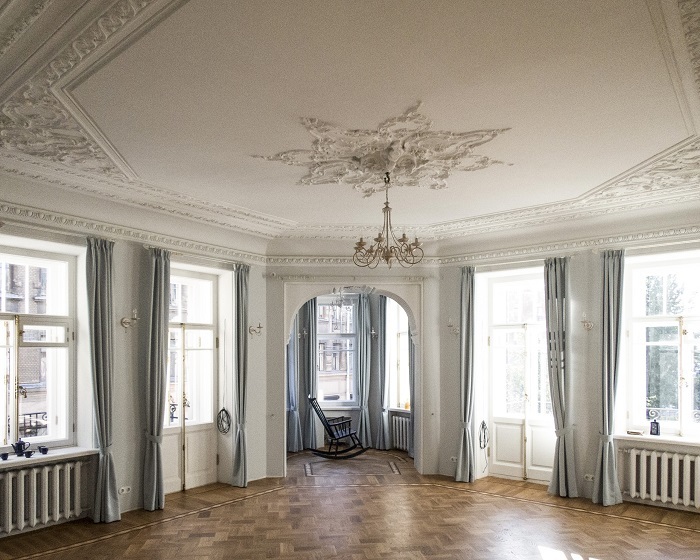 This is the house in 1905 on the Petrograd Side. A spacious hall with a bay window and two balconies in a quiet corner of the Northern Capital.
A few years ago it was a communal apartment, and a wall ran right through the stucco. The apartment has fallen into good hands, and a few years later, it is exactly as it was when the house was built in 1905. The owner has got the old plans of the apartment for different years and he found out that there were times when this hall was divided into three rooms at once.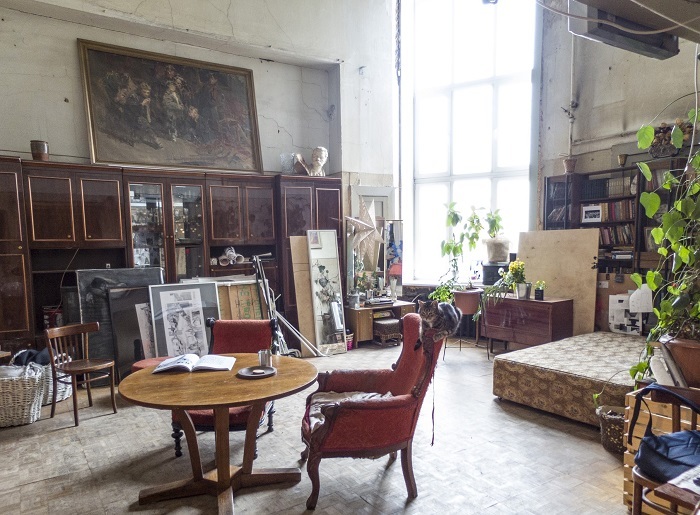 3. A stunning studio in Buck's house on Kirochnaya Street, which is actually a living room in a communal apartment.
According to the lodgers' legends, Lev Bakst himself created in this studio. He actually lived and worked in Buck's house from 1906 to 1910, but exactly in what apartment is still a matter of dispute.
4. Here I was attracted by the details. These are the interiors of an apartment in the Egyptian house at 31 Zverinskaya Street.
The apartment has a rare tile stove from the factory "Abo" (model 176), as well as pieces of furniture left by the original owners.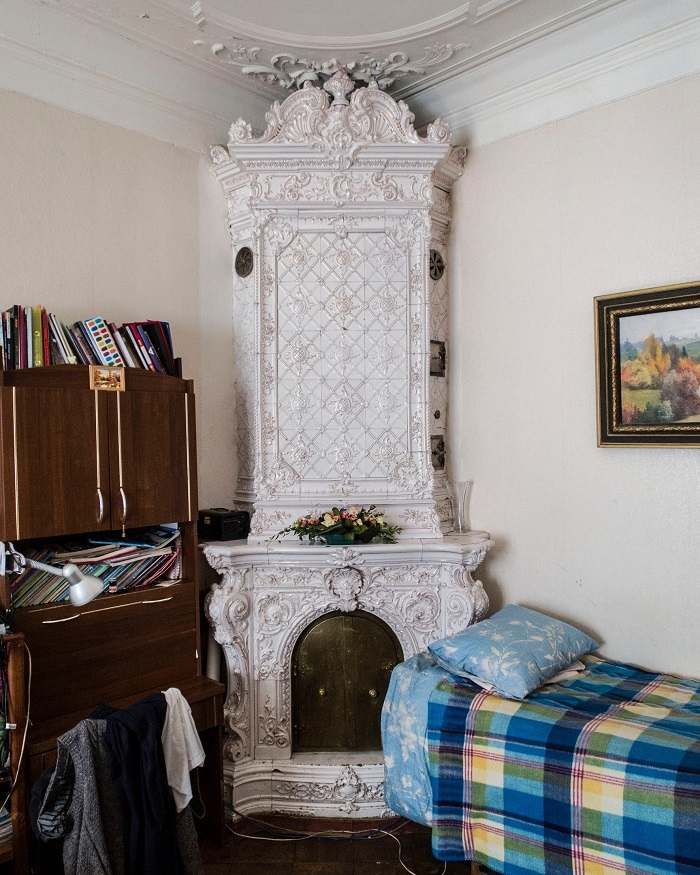 5. The former living room in the apartment of Andrei Petrovich Kiselyov, author of the most popular Russian and Soviet school textbooks on mathematics. In 1910, he bought a lucrative house on Vasilyevsky Island, an example of laconic Northern Art Nouveau. He lived in one of the apartments in the house until his death in 1940.
In the post-war years, his apartment became a communal apartment, and it remains so to this day.
first the text, then the fucking picture.
@moderator please help a man with sources of posts, – in this post link to real estate agency, in the past to the site of building materials, even earlier to the site of smm agency, and the links are not even articles, but the stupid home site.
The Egyptian house on Zakharievskaya.
Start interesting, the author continue)))

Answer ptefn in "Cafe in South Korea"
ZIL in St. Petersburg in the style of a comic book.
The story of selling one apartment (and why realtors need to find a new decent job)
So, I decided to sell an apartment in St. Petersburg, in a pretty good area. At first I did not want to get involved with realtors (gypsies), as I did not want to pay a percentage of the apartment for posts on "Avito" and similar sites. Paid for the ads, so they were at the top, because the sale is rather urgent – I want to exchange two-bedroom on one-room. Literally 3 hours later I start getting 8 calls from these guys who offer to sell my apartment. I emphatically answer "No." However, one day a realtor called me from company "N" who would just "Add to their bases" the apartment, without posting on the sites. I agreed, as there was no cost on my part in this. I immediately told him that the realtor interest and other nonsense, let him keep to themselves or grandmas in the Leningrad region. After 4 hours, my ad appears DUBLED from their company on the Cian, with a Possible bargain. In summary, if you hear the word "agent" when you call, you can drop this crap, and I advise all realtors to enroll in night school or college to get some skills, other than gypsy!
What's up with real estate prices?
Greetings, everyone, and apologies to subscribers for not writing about real estate in a while.
I should disclose in advance: conclusions are made from personal observations, I do not claim to be a financial analyst
The place of action: St. Petersburg and nearby Leningrad region
And so, what happened over the past six months with the prices of real estate?
As we all remember, in February the central bank raised the rate to 20%, then lowered it to 17, 14, 11, and now it is 9.5%. Keep in mind that the central bank rate and the bank rate always differ by 1.5-3% upwards.
At the end of February/beginning of March, there was a lot of panic in the market, people were running to invest their savings / trying to jump into the last wagon, were afraid of the dollar rate of 200 and so on. Many sellers took apartments off the market, postponing transactions so as not to be left with notes in hand.
On a personal example: I sold a client's 3-bedroom apartment to buy an apartment in a new building. We accepted an advance from clients with a military mortgage at the end of February, on the condition that if the situation was not clear, we would return the advance.
In the military mortgage has a nuance: the contract of sale is signed, is sent with all the documents to the ministry, considered, and only then proceed to the stage with the conclusion of the credit agreement/payment. It all takes 1-2 months. Weighing all the pros and cons, we decided to wait. Moreover, most developers have indexed prices / took apartments off the market, we did not know what we buy instead. And "sitting on the money" was very risky.
So what's happening now? According to my observations, the secondary market is down slightly. I think by 10%. Although if you take into account the fact that after February, people began to claw prices, the market is likely to have returned to the values of January 2022.
What about the numbers?
The second example: a year ago, a client came to me, a young guy, he wanted to buy an apartment. I consulted him, he left to save for a down payment. At the end of February, he wrote that there was such and such an amount, 15% of the average price for a one-room apartment. But given the rates, taking out a mortgage was suicide.
Back to buying in June.
To buy a secondary house at ~11% with a payment of 60 thousand rubles (and that for 30 years!)
And builders have a program, 2.99% rate and 0.01% with 1 child. The cost of the apartment rises by 17-30%.
For a payment of 60 thousand rubles, he was not ready at all.
I took it under the builder's program. The apartment cost 7 700,000 (197.4 rubles per m2, Euro-double) for conventional mortgage / cash payment, and 8,800,000 (225.6 rubles per m2) at 2.99%. The payment came out 31500.
For comparison: in the same apartment complex, a year ago was bought two-room apartment 54 meters square at 7 800 000 (143.7 per m2) at 4.7% per year (a family with 1 child)
Developers, on the other hand, are not lowering their prices. They're taking them very actively, because there are no alternatives now.
Is it profitable? Everyone will decide for himself.
Personally, I'm bored that the conditional young unit of society can not afford the apartment without the "bondage" for 30 years.