The traveler's check-list: how to pack a bag and not to forget anything
As a rule, the packing is stressful: you need to finish work, do not forget to print out reservations, download maps and applications, recharge your gadgets. At the same time don't forget to put the essentials in your suitcase.
We have compiled a universal list of everything you need to check before your trip. Of course, the checklist may vary depending on whether you're going to the sea or the mountains, winter or summer, for two days or two months, for two people or with children and a dog. Nevertheless, we have tried to give general advice. The list is divided into categories, so that the preparation for the trip ceases to be tedious and stressful.
The most important
Passport – without it you can neither leave nor go anywhere. Do not forget your passport if you're going abroad. However, you should always take your Russian passport with you. If you suddenly lose your passport, you must present your internal passport, documents confirming the loss of the passport, and a certificate of permission to leave the country in order to return home.
Tickets – print or save itinerary receipts on your phone in advance. You must show your passport to board the train and the boarding pass to get on the plane. Ticket is issued at the check-in counter at the airport, in self-check-in machine or during check-in online.
As a rule, you do not need to print tickets. However, it may be useful in case of technical difficulties.
Book a hotel or apartment – so you can check in without hassle. Be sure to print out the booking information and keep it with you. This way you can compare the list of services with what the hotel provides. If there are any problems and discrepancies, contact the support team of the site where you booked your room.
Printed reservations can be useful when passing through customs. At the border crossing you may be asked where you are staying.
MHI policy – if you need help while traveling in Russia. With compulsory medical insurance you may receive medical care in any region of the country, regardless of where you permanently reside. Check in advance that the policy is valid. If it is not valid, contact any insurance company and obtain a temporary certificate.
Medical insurance – if you need help outside Russia. If you want to travel abroad, you will need to have travel insurance. You need it to get high quality medical, legal, and administrative assistance outside of Russia, without spending a large sum of money.
Wallet – with cash and bank cards. Always keep some cash with you in case you have problems with the bank. If you're traveling abroad, check in advance what currency is used in the country and whether your cards work at your destination.
Phone and charger – you can't go anywhere without them. On any vacation we often take routes and photos, so you can't go out without a charged smartphone. If you go abroad, check what kind of outlets in the country. In the case of non-standard, it is better to buy an adapter. If you're traveling with a large group – bring an extension cord. Sometimes hotels have few outlets, and you need to charge several gadgets at once.
Headphones – so that the road does not seem eternal. Surely you'll want to pass the time on the road by watching a movie, listening to music, and listening to podcasts. While traveling, headphones will also come in handy – in case you download audio guides to your destination city and its main sights.
A portable battery so your phone won't run out at the wrong moment. When traveling, you need to be in touch: call your loved ones, post photos and videos, see the way to the hotel, check reservations or show documents.
Driver's license – if you prefer to be behind the wheel even on vacation. When you are traveling in Russia, your driver's license will help verify your identity just like a passport. If you intend to drive abroad, take two driving licenses at once: a national one and an international one.
If you are traveling by airplane, include the essentials in your carry-on luggage. Even if your luggage gets lost, you won't be left with nothing. Photo: unsplash.com
Gadgets
Camera and memory cards – for high quality pictures. In addition to basic equipment, photographers can benefit from interchangeable lenses and filters. Note that some airlines don't allow tripods in carry-on luggage.
Adapter – in case of non-standard outlets at the destination. An extra adapter can come in handy if you have many gadgets on the trip and need more than just a cord to charge each one.
An extension cord – when there are too many gadgets. If you're traveling with a group and know that everyone will need to charge their phones at the same time in the evening, an extension cord will save you from having to wait in line for the outlet. In addition, hotels often do not have multiple outlets, and you need to charge your smartphone, headphones, batteries, and laptop at the same time.
E-book – to have something to do on the road. If you don't want to carry an extra load in the form of books, but you want to entertain yourself, install on your smartphone application-reader and download books. Or take a tablet.
Plug adapters for outlets – so there are no surprises. Find out which outlets are available in the country you want, and get the right one. It is convenient to take a universal gadget on a trip to several countries.
Chargers are for all gadgets without exception. Check if you took the charger not only for the phone, but also for a camera, e-book, wireless headphones, portable charger.
A hair dryer is in case it's not in your room. Look out for travel formats – they are more compact and will last more than one trip.
Before the trip don't forget to charge all gadgets, free up memory on your smartphone or camera. Photo: unsplash.com
Cosmetic bag for the road
Wet wipes – for cleanliness in any condition. A thing that definitely comes in handy. Especially when traveling with a child. If you're flying, don't forget to put wipes in your carry-on luggage: they're convenient to keep with you.
Disposable tissues for face and hand care and cleaning surfaces. Indispensable if you suddenly have a runny nose. Handkerchiefs are convenient to take with you even in a small bag – as a rule, they are compact and lightweight.
Hand sanitizer – for quick disinfection. Use antiseptics that contain at least 60% alcohol. These can be gels or sprays sold at any drugstore. Please note that you can take only small packs of antiseptic up to 100 ml in the cabin. Larger containers may be placed in your luggage.
Moisturizing cream – if the skin peels quickly. When we travel, we often use antibacterial wipes and antiseptics with alcohol. These products are very drying. Only mini-formats can be carried on board the plane.
Eye drops – will save you if there is a long flight or you plan to visit a water park or pool on the trip. Moisturizing drops are also necessary for those who wear contact lenses (also remember to put spare ones in your carry-on luggage).
Seasickness medication – to prevent the trip from becoming an ordeal. To prevent motion sickness, it is best to drink a lot and eat something light a couple of hours before the trip: vegetables or fruit.
Hygienic lipstick – for flaky lips. If you're going to the sea or traveling in the hot season, take lip balm in a tube. Otherwise, a regular lipstick can melt in the strong sun.
A pocket mirror in case you need to put on makeup.
In hand luggage are allowed all cosmetics, except for explosive and flammable. One strict rule: no products larger than 100ml are allowed. Photo: unsplash.com
Personal care products in a suitcase
Toothpaste and toothbrush . Put them in your suitcase if you're traveling by plane. For those facing an overnight train ride, it's best to put the supplies out at once so you don't have to search through your bags for them.
Shampoo and hair conditioner . Shampoo and shower gel are already available in most hotel rooms, but they are usually of poor quality. If your hair is picky about new products, it is better to get your own from home or buy them locally.
Moisturizer for the face and body . If you're willing to endure a couple of weeks without your usual products, you can take a universal cream or balm for the whole family. If your skin requires special care, get the usual one from home.
Razor and shaving products if you really need them. Shaving products can be bought locally in any city or country. In a pinch, you can use soap or shower gel.
A cleanser and facial toner are for gentle cleansing. As a rule, when traveling, facial skin is stressed: a long road, a sudden change in temperature and climate, long walks on the street. Don't forget cleansers to get rid of all impurities at once.
Deodorant . If you are flying with hand luggage only, take solid or liquid deodorant in a can under 100 ml. Aerosol goes in the suitcase.
A set for manicure – scissors and file. It is better to buy a travel kit in a handy case. Don't forget that you can't carry sharp-slashing items in your hand luggage, and it's safer to put them in your luggage.
Eyeglasses and things for lenses – solution and container. If you wear lenses, it is advisable to bring several pairs to make sure you have enough for your lenses.
Sunscreen – when it comes to the summer vacations. It, as well as other large bottles, is better to choose a container with a screw cap. This way the product will not squeeze out in a filled suitcase, and you will not have to engage in unwanted laundering of things during the vacation.
Perfume . In order not to take large bottles, buy a small road-format.
Decorative cosmetics. And along with it – gel or milk to remove makeup.
Other little things – comb and elastic bands for hair, cotton swabs and disks, hygiene products.
When choosing cosmetic products, it is better to forget something and then buy it on vacation than to take too much and add weight to your luggage. Photo: unsplash.com
First aid kit
A properly assembled travel kit can save your vacation. The list includes only basic emergency remedies and treatments for common ailments. Most will help with minor ailments and do not negate the need to see a doctor.
Painkillers – Nurofen, No-Spa.
An antipyretic – "Nurofen", "Paracetamol".
For colds – plates, syrup, cough spray.
For allergies – "Cetrine", "Zodak".
From bruises and pain – "Diclofenac", "Voltaren", iodine.
From motion sickness – "Vertigohel", "Dramina.
For poisoning – "Polysorb", "Mezim", "Cerucal.
Band-aids for blisters.
Antibiotics.
Individual medications.
Means from mosquito bites and insects.
Clothes and Shoes
Before you pack your suitcase, estimate how many things you really need and check the weather. A basic set of the essentials is below.
Clothes:
Underwear by number of days.
Underwear and warm socks if you are going in the winter.
T-shirts.
Shirts.
Dresses and skirts.
Jeans or pants – make sure you have the right belt.
A sweatshirt or sweater – in case of chilly evenings.
Shorts – if you are traveling in the summer.
A windbreaker if the weather is not pleasant.
Clothes for home and sleep – to feel at home in any hotel.
Swimsuit and beachwear – if going on a resort vacation.
Shoes:
Sneakers – choose familiar worn shoes so as not to rub your feet.
Exchangeable pair of shoes.
Flip-flops – for the beach, the pool, and sometimes to take a shower in the room.
Go-away shoes-if you're going out for a cultural night out.
Accessories:
Bag for walking around town – so that it doesn't get in the way, but can hold your passport, money, phone and a bottle of water.
Hat, scarf and gloves – if you travel in cold weather.
Belt.
Umbrella.
Sunglasses and a small microfiber.
Sun hat if you're going to a resort.
A shopping bag.
It's best to choose comfortable items that don't crease, dry quickly, and match well. Add comfortable shoes and a few accessories, and you have a versatile set. Photo: unsplash.com
What you need to remember to do before your trip
Once your suitcases are packed, run through your list of important things to do. Getting ready will make your vacation easier, mentally at least.
17 things that will save you while traveling
A non-trivial list of 17 super-useful things we always take with us on trips and vacations. Things that have been proven over the years. They will save your nerves, health and time. Take note!
Our list does not include reusable water bottles, lunch boxes for food, solar panels and other fashionable but useless junk for hipsters. Only truly useful items for any traveler or vacationer.
Content:
Wi-Fi Repeater.
This is our most useful purchase from Aliexpress. When we travel, good Internet is important, and the repeater allows us to strengthen the Wi-Fi signal. Almost every other hotel has a weak signal, and the Xiaomi repeater really helps. Even if you do not need the Internet for work, repeater helps to talk normally on video, upload photos to social networks, or watch videos without interruption.
It charges from a power bank or phone adapter, and is set up in the Mi Home app. Tip: Bring a pin to reset the device before connecting to a new network. You can buy on Aliexpress.
The price is 800 rubles.
Wi-Fi Repeater
Power bank
Xiaomi 20,000 mAp Power Bank is also an indispensable thing in our travels. From it you can fully charge your phone or other gadgets 5 times. Very helpful in the road and airports – no need to look for outlets and worry about the battery charge. Bought also on Aliexpress.
The price – 1500 rubles.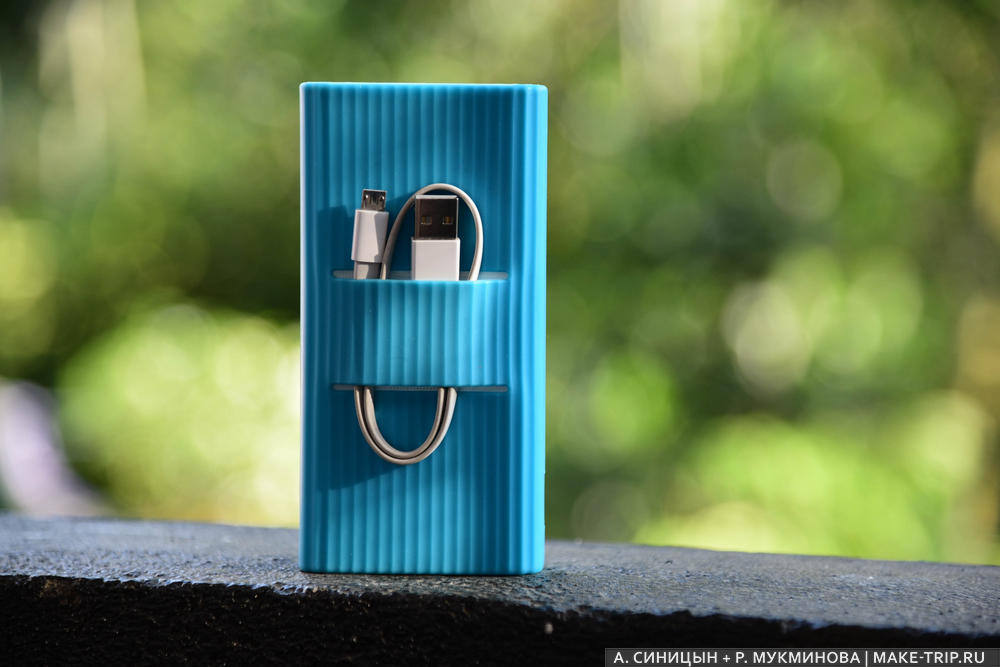 Power bank
A small folding knife – also our eternal companion. Of course, only if we fly with luggage, not allowed in hand luggage. We especially use it in Southeast Asia: for example, to cut and peel fruit, or divide baked goods.
Price 200-1000 rubles.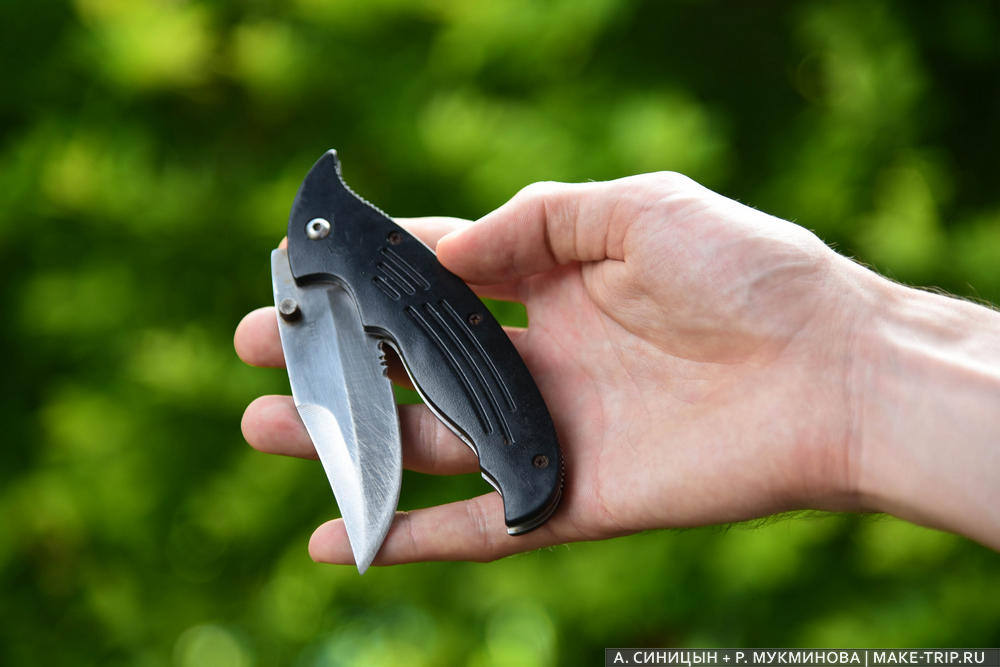 Folding knife
Boiling mug + mug + spoon
These three things more than once brightened up the trip, because the hotel room is not always an electric kettle and a set of dishes or a common kitchen. It's so nice to warm up with tea after a long walk through the city in cold weather! They also come in handy in emergency situations – to brew medicine if you have a stomach ache or a cold. Our teapot is the most simple and compact, a mug – a light camping metal 0.5 liters (does not weigh anything).
The price for the entire kit – 300-500 rubles.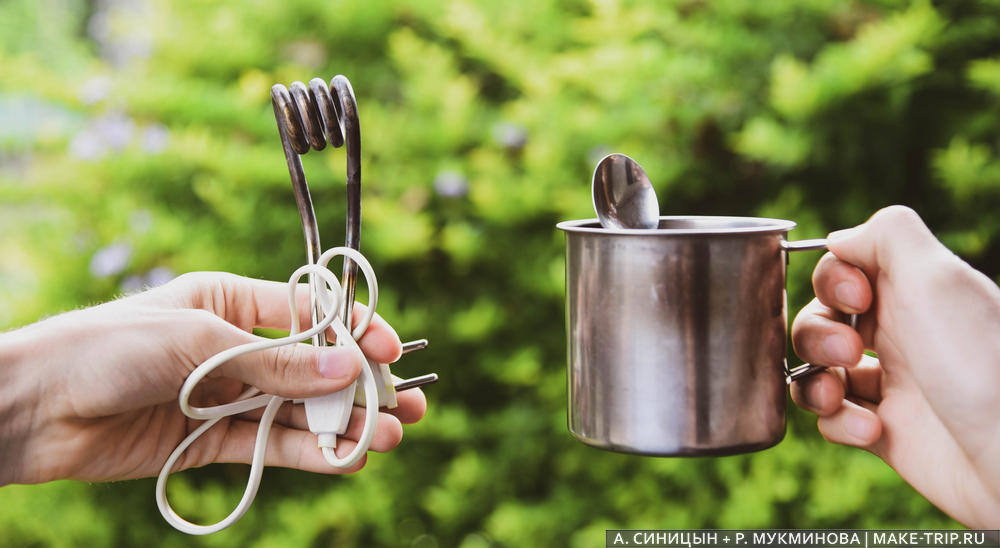 Kettle and mug with a spoon
Extension cord
It happens that in the room only a couple of outlets! And one of them is out of reach under the ceiling (there were many times in Indonesia, Vietnam, Thailand and Morocco), and the other under the bed or behind the bedside table. Both funny and sad! Saves an extension cord – carry a light and small tee.
Price – 300 rubles.
Extension cord
Universal adapter
So that in different countries not to look for adapters to the sockets, bought a universal adapter. Easy to find on Aliexpress or in electronics stores.
Price – 300 rubles.
Universal adapter
Super-thing for active travelers! Comes in handy for hiking and rides on the bike – protects your face and neck from sunburn, chill and just a cold wind. Convenient for ordinary long walks around town, as well as for trips on local transport (so as not to get winded in open Moroccan and Lankan buses, for example).
Easy to wash, quick to dry, transforms into anything – a mask, bandana, scarf, etc. We have a company Buff, any other will do.
Look at Buffs in different sports stores – you can often find discounts.
Price – 1000-1500 rubles.
Read on the website training365.ru also about other useful sports stuff for travel and outdoor activities. It was the authors of this site have introduced us to such cool things like Buff, trail running shoes and good thermal underwear. Traveling just got easier and more enjoyable!
Buff
Fumigator and plates.
Without a fumigator and plates, travel becomes hell. Few hotels have mosquito nets or a canopy over the bed, but mosquitoes are almost everywhere.
Price fumigator – 150 rubles, a pack of 10 plates – 30 rubles.
Fumigator
Earplugs
With earplugs you can not be afraid of neither cheerful neighbors in the hotel nor snoring in the cabin car, or screaming children on the plane, not trance-inducing monotonous Indian music on the bus or ruthless Asian karaoke. We have the most common of foam earplugs – the noise is not completely remove, but muffle. You can replace the vacuum or noise-canceling headphones.
Price – 100-200 rubles.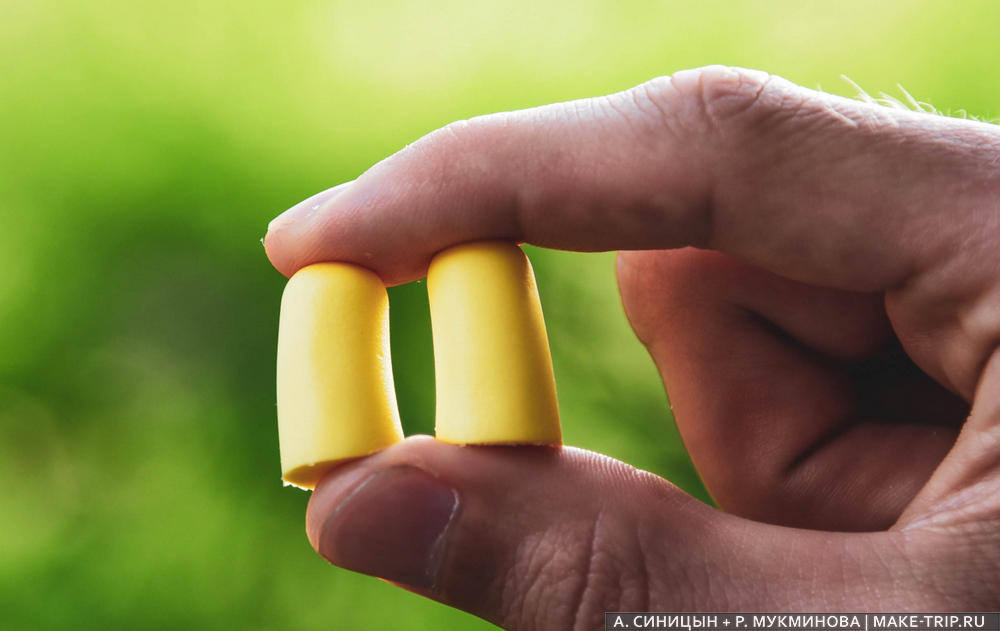 Earplugs
Roll of bags
Such a simple thing as an ordinary plastic bag will help out many times: to wrap a leaky tube, to remove the dirty or half-dry things, to hide the remains of fruit and crumbs so that you will not wake up in the morning in the ants' kingdom.
The price is 40 rubles.
Bags
Bezmen
If you fly a low-cost airline, it is important to know the exact weight of hand luggage, so that in a hurry in front of the check-in desk not to shift things. Although we have flown so many times that we can determine the entire backpack by eye to within half a kilo, we still carry with us an electronic compact changer. It can hold up to 40 kg – you can even weigh a suitcase for luggage.
Another use, which in just a few times will pay off the expense on the bezo is to check if you are being weighed at the market. This is common in many tourist spots. Sellers are shocked by this!
The price is 400 rubles.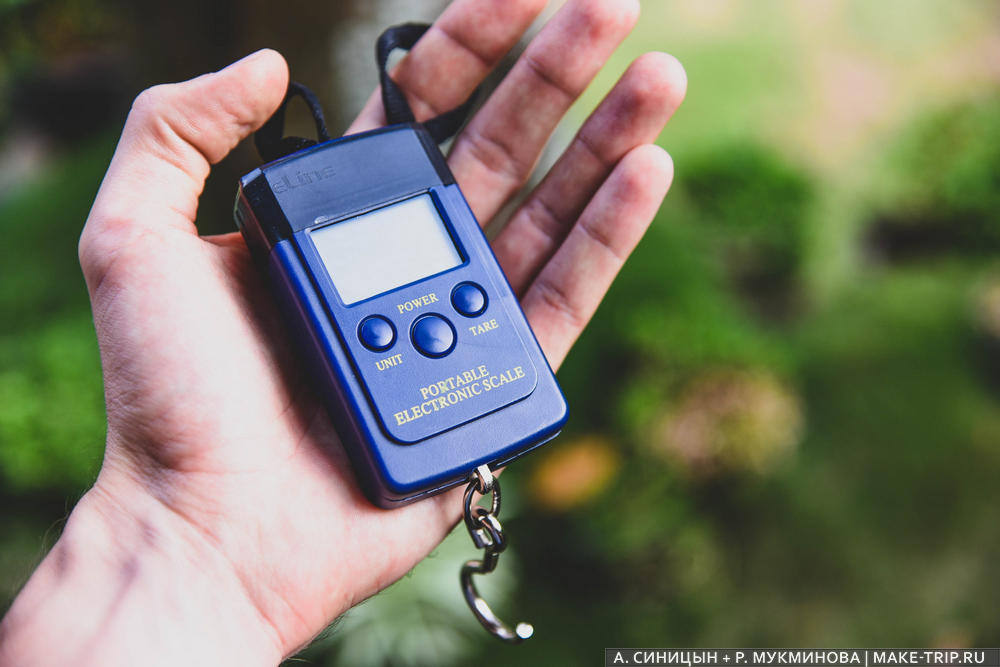 Bezmen
"Panthenol
Tube Panthenol take both in cold and hot countries. When it is cold, helps to soothe skin chilblains, dryness and chicks. In hot weather, it is the first aid for sunburn and simply for redness from the sun. Has helped many times in the Caucasus, Altai, southern Russia, Europe and Asia. In Southeast Asia can be replaced by a gel with aloe vera.
Price – 100 rubles per tube of the cheapest company EVO (dexapanthenol 5%).
Panthenol
Nuts and mush in sachets
We always take 100-300 grams of cashews with us. It's a lifesaver when you suddenly feel like eating in transportation, the airport, or late arrival to a new city.
Sometimes we take a couple of portions of oatmeal packets which do not require cooking. This is also convenient in cases of emergency: an early departure or departure, illness, bored with the local food. Help out in Europe – for example, normal cafes are still closed early in the morning, and you do not want to eat pastries (Andalusia, Sicily, Prague). By the way, with them you can save good money on breakfast in some countries!
Price – 150 rubles for 100 grams of cashews, 10 rubles – a bag of cereal.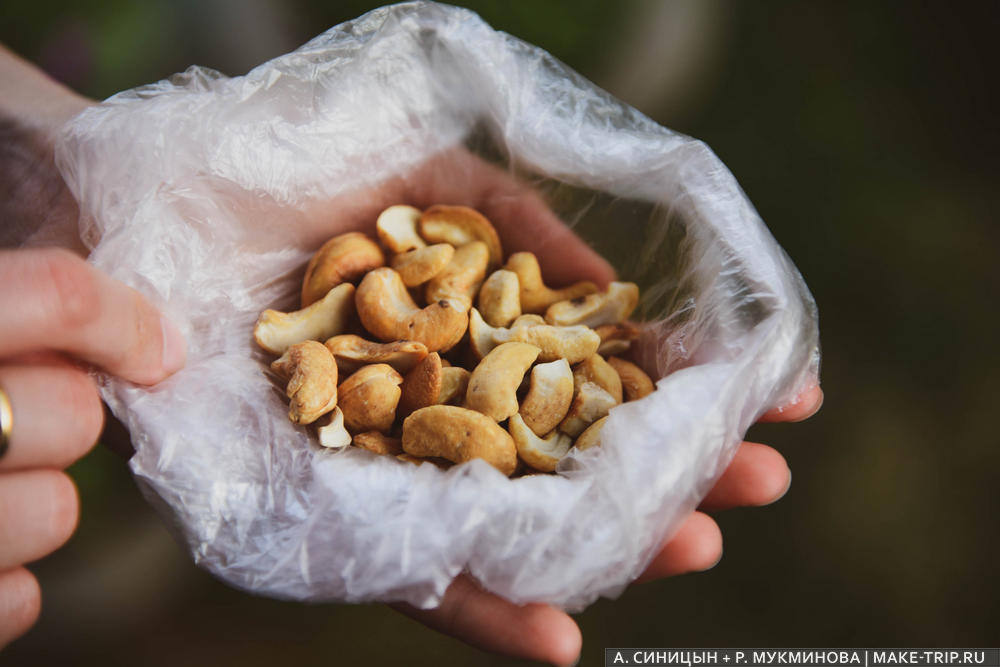 Cashews
Column
A small Bluetooth-speaker is also always with us – to listen to music, talk to your family on Skype, watch a movie or a fresh episode of the best travel-blogger on YouTube Petenka Lovygin. We have a speaker JBL – quality sound and a pleasant price.
The price is 1300 rubles.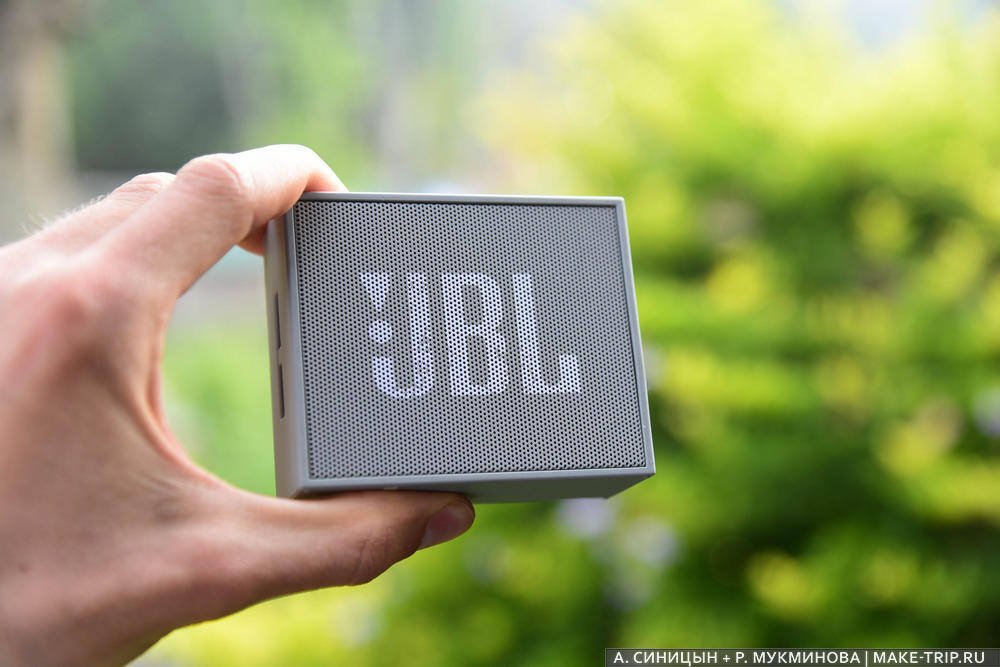 JBL speaker
Headphone splitter
If you are traveling alone and want to watch a movie, but the sound insulation is poor in the hotel – headphone splitter helps. With the same you can listen to music for two in public places.
The price is 100 rubles.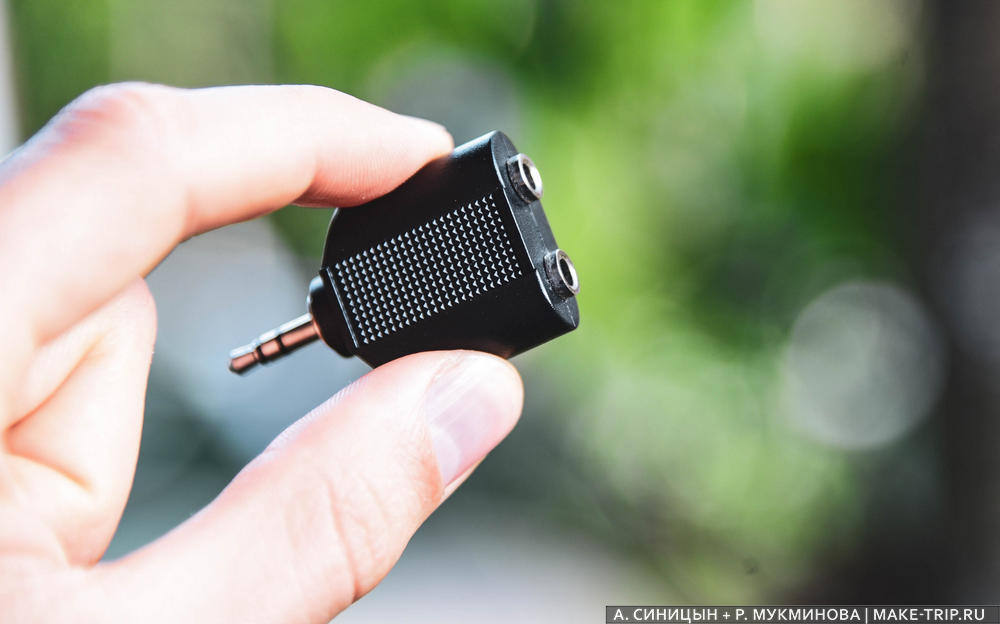 Splitter
Compact bag
Our bag from Decathlon holds 15 liters, but folds into a pocket the size of a fist. Passes in hand luggage of low-cost carriers, including Pobeda. Convenient for the city and travel.
The price is 500 rubles.
Bag of 15 liters in the folded state
Lock
A small lock for a suitcase is a protection against fools. It will not save from a serious thief, but it will help against theft in the hotel – the maid will not climb into the locked bag.
Price – 150 rubles.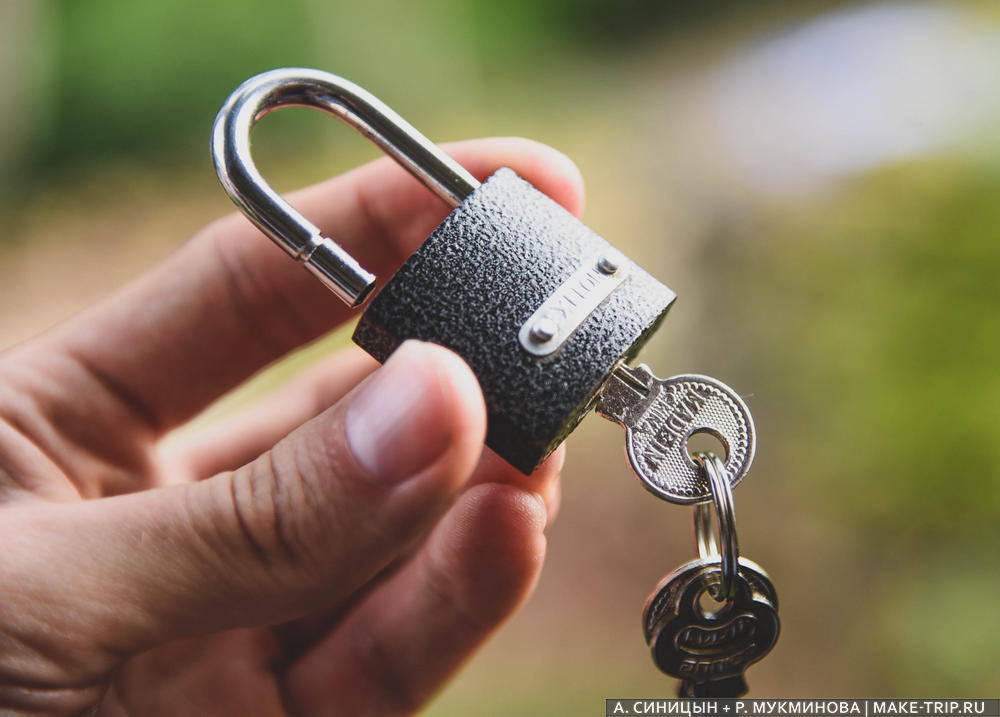 Lock
Conclusions
We highly recommend to buy this set and always take it with you on trips. This is really useful things, not some junk.
Lots of space, these things do not take, and the weight is almost not add – the whole set will only hold 1-1.5 kg.
The total cost of all things – about 7500 rubles. It's not much to save time, nerves, energy and health.
Always with us when traveling.