A dream trip to provincial Italy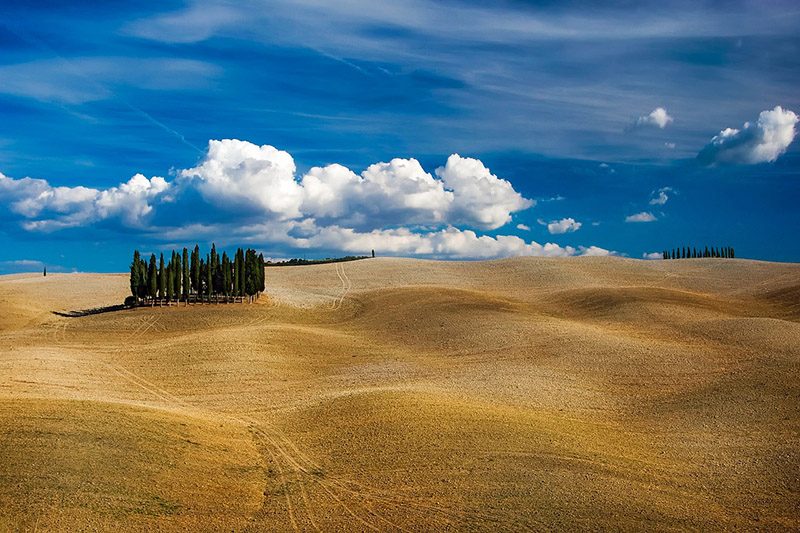 Journey to Italy. Program and route of the trip to the province: Florence, Tuscany, South Tyrol.
The travel program was written for a contest 30 000 rubles for a dream trip organized by the site MAKE-TRIP.RU. The task was to come up with an original idea and route of a trip and to keep within 30 000 rubles for flights. The best texts of the participants will be published in a separate rubric.
The sponsor of the contest is the Skyscanner cheap flights search service. It allows you to compare prices of all airlines and buy tickets at the lowest price. Get acquainted with its effective smart search tools:
Search for the cheapest airline tickets to any destination. Check out →.
Up-to-date information about the best airline fares. View →.
Author: Julia Nikulina.
The sweet smell of ciabatta and freshly brewed coffee waft through the narrow medieval streets. They just beckon to share the morning with them in one of the local coffee shops. The sun's rays glide affectionately over my face and then over the tiled roofs. I close my eyes, breathe in the cool, pure air. and. wake up. Alarm clock. And next to it are two tickets to Florence. Thanks to progress and the modern search engine Skyscanner, the pass to the dream was quick and easy! Tomorrow the dream will come true, and my loved one and I will go to the long-awaited and delicious trip. Italy.
On Tuesday evening the plane will take us to Florence. Right at the airport we will rent a car and stay in a hotel in the style of a medieval castle, I Parigi Corbinelli, in a rural area of Florence. Florence. A true mecca for art and culture lovers. The Cathedral, Uffizzi Gallery, Boboli Garden, the Old Palace. One can admire its treasures more than one day, but we have very different plans.
Early in the morning, after a breakfast of cinta, panforte and drinking a fragrant latte, we go to the small ancient town of Montepulciano. There in the farmhouse San Gallo, among vineyards and endless green valleys, we will stay for 3 days. Once settled, we will walk through the medieval streets and see the town hall and the palazzo of Taruggia and the Signoria. After dining on the terrace of our manor house with a Florentine steak cooked by the local hosts and enjoying the local wine and the evening scenery, we go to the embrace of Morpheus.
Early in the morning we will have a photo session with the extraordinary fogs that like a blanket envelope the green Tuscan hills. Then we will visit the cellars where the famous Brunello is born and visit a cheese factory. And then we will buy pasta and cheese for dinner at the market. The next day we will climb the volcano Amiata. The mountain promises stunning views of the hilly valley, it is the highest point of Tuscany. It also has its own attractions – in addition to the beech and coniferous forests, geysers are beating here. We will spend the whole day in this splendor, have a pizza dinner at the local trattoria in the evening, and then head back to our farmstead.
In the morning, after capturing ourselves for the thousandth time in the background of Tuscany, we will rush to South Tyrol. It's a long way to Trentino, but it's worth it! Crazy combination of alpine scenery, pleasant climate, fresh air and the Mediterranean way of life – this is exactly why we are going there. But first we will admire Lake Garda, we will enjoy its scenery from Monte Baldo. To do this we climb to a height of 2200 meters by cable car. Once we descend, we settle at the foot of the mountain, in a simple roadside hotel in Lumina.
After spending the night, we hit the road again. This time we will stay for 2 days in an alpine hotel in the mountain village of San Leonardo in Passiria, 20 minutes away from Merano. In the old town we will have a leisurely walk in medieval streets and squares, see for example the Roman bridge, and then go to a neighboring town Tirolo, where there is a castle of the same name.
The next morning we will drive on the South Tyrol wine road. Stunning views of the vineyards, Kalterer See lakes, picturesque villages where the amber drink is made. We will visit a couple of them, among them Magre. There we'll experience the local color to the full, admire the vine, which is already 5 centuries old and have a feast in the South Tyrolean style – with pizzoccheri pasta and aromatic tagliatelle on the grill.
We continue our delicious and picturesque journey to Bolzano, immersed in vineyards and orchards and surrounded by the peaks of the Dolomite Alps. In Bolzano we will visit the Old Town and the Cathedral and then watch the sunset on the green meadows of the Prati del Tagvera. In the evening tired, but immensely happy, we go to our hotel. We need a good sleep, because we have a long journey back to Florence and a flight home. With us we will take a sea of emotions experienced in these wonderful lands, and here we will certainly leave a bit of the soul. To come back again. To close your eyes, breathe in the fresh air, and understand that this is not a dream. This is how dreams come true.
How I dreamed of a trip to Italy, or Eight Simple Steps to the Dream
When I was about ten years old, my mother went to Italy. She was gone for two whole weeks, and when she came back, she talked for a long time about how beautiful and warm it was, and everyone was smiling.
My mother also showed me pictures. There were a lot of sunshine, greenery, old buildings and she was happy and contented. And then I decided – I will definitely go there. Someday.
So I had a dream. It was bright and shining, like a glass ball, inside which was the sun, smiling people, an airplane and me walking around Rome and not believing my happiness.
I cherished my dream for a long time. I dusted it off, gazed at its reflection, and promised myself: as soon as I grew up, I would be there.
When I was a child, I had a dream: smiling people, an airplane and me walking in Rome and not believing my happiness. Photo source: Flickr
As time went on, the dream eventually had to be put away on the mezzanine. She was very unhappy, panting and resisting, but I was adamant: "Sorry, I can't yet. I have to finish school. And university. Otherwise I won't find a job. And without a job – no money for a ticket. Do you understand?"
She didn't understand, but there was nothing to do. So the dream was at the back of her mind. Sometimes it flipped from side to side, causing me a slight sigh of disappointment.
Almost ten years had passed. I was twenty-five years old, had a husband, a child, a job, and a pretty stable life. But I sighed more and more, disappointed that I hadn't been able to go to Italy. Sometimes I was alone, I took out my dream and blew the dust off it: "Honey, forgive me, okay? Where am I going now? You see, I don't have any extra money, and the baby is small, and how can I leave my husband? You stay here for a while, okay? When my son grows up a little bit, we'll pay the loans someday, and we'll go for sure! She was resentfully silent, but she was still with me.
One day a friend, let's call him Leopold, came to visit us. He was tall and thin, wore a beard, and always smiled enigmatically. He reeked of some kind of calmness and confidence, and he talked about NLP, the Universe, resources, endless possibilities, and other things I did not understand.
Over a cup of tea I complained to him that I really wanted to go to Italy, but that I hadn't been able to for years.
– Do you really want it? – I want to, of course, but it's unreal. And there's no money, and where am I going to take my son? And your husband? He'll never let me go! – Do you really want it? – Yes, I'm telling you – I want to, but it's impossible. – I'm asking you for the last time: "Do you want it? All these years of waiting, and you're mumbling? Opportunities are in your hands, and you do not see them, your stupid head! Answer me honestly, quick!" – Yes, damn it! I do! I really do! – Do you have a pen and paper? – Yes, of course, what a question. – Well, if you've got a pen and a paper, then you'll go.
He's not normal, I thought. What's a leaf and a pen got to do with it?
– Take it and write. I'll tell you one way that works without fail. Find an hour of time, and according to the plan I'll give you, sit down and write everything. In detail. Take your time. Think hard. Can you find the time? – Well, I'll find the time, that's all right. Go ahead, tell me.
And Leopold told me how to turn dreams into reality. Even if you don't believe it. Even if you don't understand how it works. All you have to do is take a piece of paper and a pen and write. But not just for fun, but according to a mysterious plan.
– Did you write it down? – Yep. Does it help? – You do it first, and then we'll talk.
Leopold left, and I was left with this piece of paper, on which eight points were written. I look at it and think – well, how will this piece of paper help me? Well, I'll write, even in detail, but the money is not from this appear. And my husband won't let me go. And the son will not suddenly become an adult and independent, so he can be left alone. And who will work? We are already understaffed, how can I leave?
Dream got angry: "Look, is it so hard for you? The worst that can happen is that it won't work. I'll survive, I've been gathering dust on your mezzanine for so many years that it won't get any worse. So why don't you stop sitting around whining? I'm sick of hearing about it, honestly. If you don't write, I'll melt, okay? And then for sure you won't go anywhere!"
I got scared. What if it really does melt?
A magical plan.
I took out my notebook and pen, opened a sheet of paper with a plan and read the first item:
№1. Formulate your goal in a positive way. What do you WANT? Don't use negative words and denials. Write it like it's already happened.
What do I want? I want to go to Italy. That's ridiculous, it's obvious. Okay, let's not use negative words, just for the sake of the experiment. Like it's already happened? Okay. I write, "I'm in Italy!" Hmm, interesting. For a split second, I actually believed it. The dream smiled to itself: "Finally…"
So, okay, what's next?
№2. You are in control of your goal. What can YOU do to make it happen? If your goal includes other people, then choose YOUR behavior toward them.
That's some bullshit. What can I do? It's not like there's anything I can do, there's no money, and there's a little kid and everything…
The dream could not stand it and squealed: "Uh-oh, I think I'm going to melt!" Oh, okay, okay, I'm writing. Let's think about it.
Well, at the very least, I can get myself a passport. I can? It's not that complicated. And it's inexpensive, a couple of days' tip and you'll have enough money.
What else? We were told at work that there's a program for all employees of our hotel chain to book a room at a special rate. I'll have to find out. I can also talk to my husband. He may not be too happy about it, but it won't be a big deal. At least I can explain to him how important this is to me.
I could get a second job, or at least not spend my tips left and right. I make really good money, I just never save anything. I can look at some promotions on tickets and buy them in advance.
It makes me feel warmer. Indeed, but I can do a lot of things. And no one can do it for me. Okay, what's the next item?
№3. How will you know when you've reached your goal? What will you see, hear, and feel when it happens? Write in as much detail as you can.
What kind of shamanism is that? Okay, I'll give it a shot. Well, the goal will be achieved when I'm there, it's obvious…
All of a sudden, I see a plane. And I'm sitting in it. I'm looking out the window, waiting for takeoff. And everything inside is bouncing with impatience, I'm scared and happy at the same time.
And here I am walking through the narrow streets of Rome, the street is warm and smells of flowers. I smile at people, look up at the sky and feel infinitely happy. I'm in a coffee shop. There are a lot of people there, I hear laughter and beautiful Italian speech, the clinking of dishes and music that makes me want to dance. I drink espresso, and for some reason it smells like chocolate…
The chocolate-scented espresso.
I opened my eyes and stared at the dream, "Did you see that?" She grinned, "I've been looking at this for years. It's good that YOU saw it. Come on, keep writing!"
After what was presented to me, the whole thing with the list didn't seem so pointless anymore. I wondered how this story would end. I grabbed a piece of paper and read the next item.
№4. Where, when, with whom, by what date? Make sure the deadlines are real.
Hmm. Let's think about it. I want it to be summer, but it's now March. So there's only three months left. Can I make it?
Then the thought occurred to me that it's either now or never. Or I'll be there in three months, or do not go at all. Dreamy nodded, "It'll work, you've wanted it for so long, it just can't not work!
Well, let me put it this way: I'm going to Italy in June 2011. And I'm going alone, I want to fully enjoy this trip. For ten days. Oh, that's a little scary.
All right, let it be, I'll finish it first, and then the dates can be changed. What's the next number?
№5. The goal must be environmentally friendly. It must not negatively affect the world and people around you. Think about what you might lose in achieving the goal. What good is there already now, when the wish is not yet fulfilled? And will that "good" remain? This is very important. And be sure to think about the positive side effects of achieving your goal. Think of at least five points.
How will my trip to Italy affect my world around me? My world right now is family and work. At work everything is fine, I'll take a vacation, nothing global will happen in ten days.
My family… Of course, they will miss me, and my husband will have to adjust his schedule a little, but in general – it's just ten days. It's no big deal.
What have I got to lose? I'm not likely to lose anything. I won't get fired from my job, and my husband certainly won't file for divorce, that's ridiculous. Maybe he won't be thrilled with my idea, but then again – it's only ten days.
What's good right now? Nothing, to be honest. Home-work-home. Boring. There was nothing interesting in life for a long time. Stability, yes, but life has become boring. Will I lose my stability? I don't think so. It's only ten goddamn days! No one is going to die and the sky is not going to fall to the ground.
What could be the added bonus of the trip? Okay, I'll have to think about it:
I'll learn how to plan a trip on my own, might come in handy later for, say, a family vacation.
I will have new experiences! It's worth it.
I have an excuse to learn Italian, I've wanted to for a long time.
Maybe I'll already believe that everything is possible?
A separate bonus can be written that returning after a trip and seeing that all is well – the apartment is there, no one died of hunger, and generally my son and husband have a great time together (and so it will be, I understand it somewhere in the back of my head) can finally breathe out and accept the fact that I do not have to do everything myself.
Hmm. Interesting. I hadn't even thought of that. And I've really taken it all on myself, and I'm not giving my husband even the slightest chance to participate in organizing our family life…. So, okay, it seems to be clear with this, the goal is environmentally friendly, we can move on.
№6. Check the scale of your goal.
There are two ways to do this:
Enlarge your goal: What greater opportunities do you have to achieve your goal? If it all works out, you can go somewhere else. Maybe even go around the world…
Deconstructing your goal: What's stopping you from doing it right now? What are the obstacles? What might be a solution? What could be done?
I have no money. And no passport. And no ticket. Or a visa. Or a visa, or anything else. I should probably make a step-by-step plan – what should be done and in what order. And do not do everything at once, but gradually.
If the goal is too big, break it into several smaller ones. You have a whole scheme of small goals: make a passport – buy tickets – book a hotel – make a visa – TO GO!
№7. What resources do you need? Resources aren't just about money. It's anything that can help you – time, people, your skills and abilities, your inner qualities – anything. Where and how can you get these resources? When do you need them? How will you seek them out?
That's an interesting approach. I thought I only needed money. However, if you think about it, I also need time. To make that same passport, or to find the best deals on tickets, in general, to plan an entire trip, make a visa, and a bunch of other things.
I also need the inner confidence that I can do it. I need support, that's a resource too. If everyone is against my trip, it will be much harder for me to do it. Money, of course, too. Oh, mommies, where have I gotten myself into… Okay, take it easy. Where can I get the money?
I wrote and wrote and wrote. In the end, I drew a fairly clear plan of travel – at this point I need a passport, and here – the tickets, and here in this time should already apply for a visa.
I felt the confidence awakening in me and the fear disappearing. I can do this. I can do it. It's not so scary if you do everything gradually. Where do I start? Yeah, that's what this next point is all about!
№8. What will be your first step? When will you take it? Determine a clear time and DO it.
Oh, it's easy. First you have to get your passport done. And to get it done, you have to take pictures and make an appointment to apply. Tomorrow I still have a day off, and I have three hundred rubles. Tomorrow I'm going to take a picture. As soon as I take my son to the garden, there's a photo studio nearby…
Dream smiled: "Well, shall we?
Three months later
I was sitting on the terrace of my hotel room, overlooking the city. I recently returned from an evening stroll and now I'm just enjoying the wine and the smell of flowers. It smells like flowers everywhere. They grow on rooftops, on balconies, in the street and everywhere you look. There are flowers on my balcony, too. And it's warm. And very quiet.
Presents from the universe in action: I miraculously ended up in one of the best hotels in Rome.
I drink my favorite Chianti, look at the city and think about how I want to come back here. My dream glows with happiness, exposing its mirrored sides to the evening sun.
I think back to the first day in Rome, when I couldn't find the train station to buy a ticket to Milan. When I found one, I couldn't figure out how those mysterious ticket machines worked. I was so worried I almost cried. And then some guy I didn't know offered to help me. And he helped me buy a ticket. And showed me where the central park was. I ended up walking through most of the city, staring around, feeling like this wasn't happening to me.
I had lunch at a summer café, and there was a very nice waiter in his sixties. So kind and helpful, I stopped being afraid. I greedily asked him about Italy, how people lived there, where to go, and where the best pizza was. In the evening, when suddenly it turned out that the subway was already closed, and I almost cried from not knowing how to get to the train station. I went back to the cafe, and the same waiter drove me and gave me some delicious homemade wine for the trip. As we drove, he told me amazing stories from his life. He didn't even charge me any money.
In Milan I found a friend. When I was looking for those very resources and opportunities, I remembered him – we had met in the U.S. at a language practice and exchanged contacts. And I wrote to him, and he remembered me, too. He met me, showed me the city, told me a lot of interesting things and treated me to a local cocktail. And he even invited us to his house, where his mother fed us with delicious risotto and wine. She also helped me get tickets to La Scala.
Thanks to Riccardo, I got to know Milan and his mother taught me how to make risotto.
I remember a charming German couple I met at the hotel. They approached me because they thought I was lonely. And we became very good friends during the two days they were in town.
Then there was another couple from America. They spoke to me because they heard me speak English and mistook me for a compatriot. I remember how surprised they were to find out I wasn't American. And we chatted all night with a glass of wine.
The espresso at the hotel smelled like chocolate. When I asked the bartender where I could get that particular kind of coffee, he took it and just dropped a whole can on me.
There were also some guys from the United States that I met in Rome. They gave me a bottle of great wine, saying: "we got a little greedy and they won't let us take it out of the country anyway, we have ten of them."
And so it is every day. Someone will help. Someone will smile. Someone will give helpful advice. Those ten days were a fairy tale. No, the fairy tale began the moment I decided that tomorrow I would go to be photographed for my passport.
I still can't believe I pulled it off. For the first time, I experienced what it's like to have the universe on your side. Just a couple of days after I took the pictures, I got a very generous guest who left me so much money that I had enough not only for my passport, but also to put aside for tickets.
Suddenly the affiliate program kicked in, where I booked Hilon hotels for absolutely ridiculous money. I was very fortunate to hit an airfare sale and saved a decent amount of money. My mom, seeing how much I wanted to go – also threw money.
My husband supported me, once I was honest with him about how important this trip was to me. Of course, he didn't want to let me go, but it's only ten days. The child misses me, but I call almost every day and promised to bring gifts. And so, bit by bit, little by little, I gathered my dream for three months. Was it worth putting it off for almost ten years?
Tomorrow I will fly home. My dream did not melt, it shines with delight, because it no longer needs to entresol, it will go to my memories, where it will not be bored and lonely.
Instead of an epilogue.
I look into the mezzanine. My dreams, small and big, pant and jostle: "Я! Я! Take me!" I smile, and reassure them: "Don't worry, I remember everyone, do we take regular censuses for nothing? Today I decided that I want to move. Here, I see: "I dream of living by the sea". Poor thing, you've been lying here for so long… let's go, it's time to fulfill you!"
There have become many of them. They are all different: there are tiny ones that don't last long, there are bigger ones, and there are huge ones that I'm afraid to take on yet. But I do not forget about them – I wipe the dust, stroke them gently, and I know that it will come to them. All in good time. And they trust me, do not melt and do not crumble, patiently waiting for their turn.
I already know the list of questions by heart, sometimes it is enough to scroll through the whole process in my head to make it work. But if the goal is complicated and big, and I'm afraid to approach it – I remember the words of Leopold: "Got a leaf and a pen? Then you will go.